1. 88% of Apple's Trillion Valuation Has Been Generated Since Tim Cook Took Charge.
Tim Cook: The Apple CEO has built a cordial relationship with President Trump, despite a number of touchy issues, mostly involving Apple's presence in China. Since Cook succeeded Steve Jobs as CEO in August 2011, Apple shares have rallied 750%. In other words, about 88% of Apple's valuation has been generated with Cook in charge.
https://www.barrons.com/articles/apples-is-nearly-worth-2-trillion-should-you-sell-the-stock-51596846734?mod=past_editions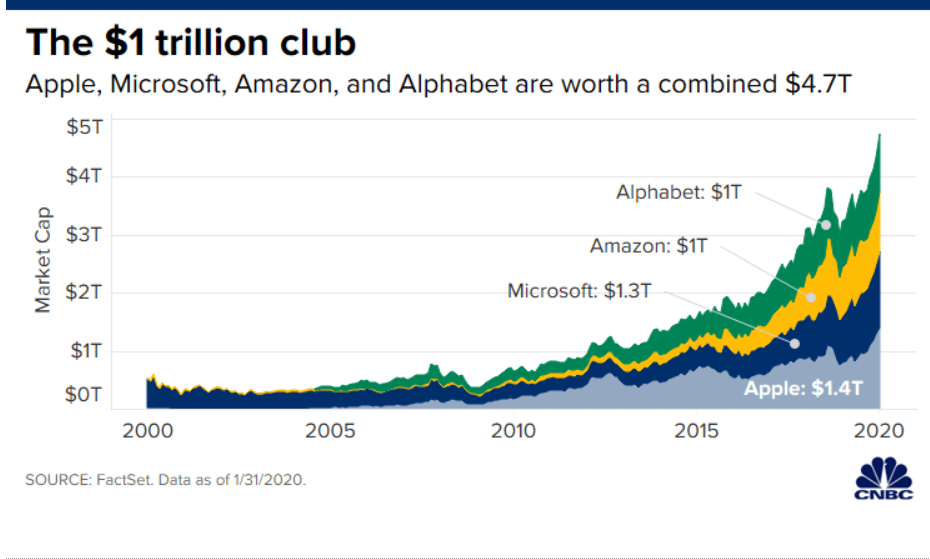 https://www.cnbc.com/2020/01/31/apple-amazon-microsoft-and-alphabet-and-the-road-to-1-trillion.html
2. Covid No Help for Weed Stocks….
High in TLRY Chart was $150….$8 last.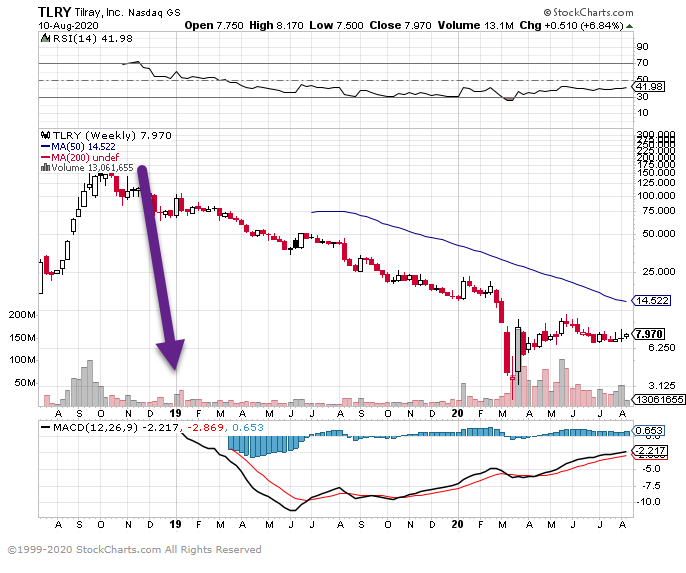 MJ-Weed ETF High Above $40….$13 last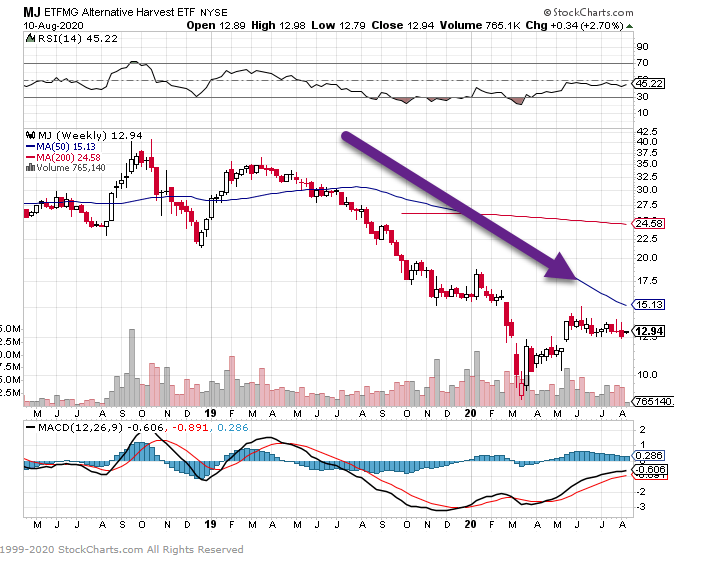 3. Number of Biotech IPOs Hit Record….Averaging 34% Pop First Day of Trading in 2020
WSJ
During Covid-19 Pandemic, Biotech IPOs Already Surpass Record
Some investors are wary of run-up and warn of risks to chasing companies at early stages of development– By Corrie DriebuschSo far this year, U.S.-listed biotech companies have raised roughly $9.4 billion in initial public offerings, already beating the $6.5 billion raised in all of 2018, the biggest year on record, according to Dealogic data going back to 1995.This year's biotech issues have jumped an average of 34% on their first day of trading, the biggest average first-day pop for the sector since the tech boom in 2000
https://www.wsj.com/articles/during-covid-19-pandemic-biotech-ipos-already-surpass-record-11597051800?mod=itp_wsj&ru=yahoo
4. Tech Being Adopted Faster than Ever….Time Needed to Reach 50 Million Users.
Investment U Blog
Technology is being adopted more rapidly than ever before.
It used to take decades for a technological innovation to become a fixture in our lives. But as technology advanced and the world got smaller, the time frame of widespread adoption condensed.
Tech Stocks: Shares of This Innovation Are Skyrocketing–By Matthew Carrhttps://investmentu.com/tech-stocks-shares-of-this-new-innovation-are-skyrocketing/
5. I Mentioned Transports Yesterday ….Transports Vs. Nasdaq Relative Strength Reversal?
All-Star Charts.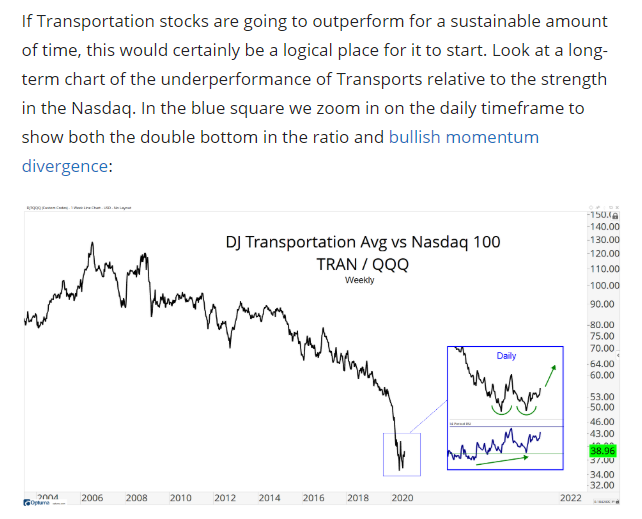 Found at Abnormal Returns Blog www.abnormalreturns.com
6. Putting Gold Rally in Historical Perspective Vs. Bonds/Stocks
Gold's recent jump higher—and its year-to-date outperformance versus stocks—is, well, historically atypical. Since US investors could legally own investment gold in the mid-1970s, it has posted a cumulative 868% gain.[ii] Sound shiny? Consider Exhibit 1, which shows stocks have crushed gold over this span. Even government bonds' total returns are far, far ahead of gold.
Exhibit 1: Gold Returns Lags Stocks' and Bonds'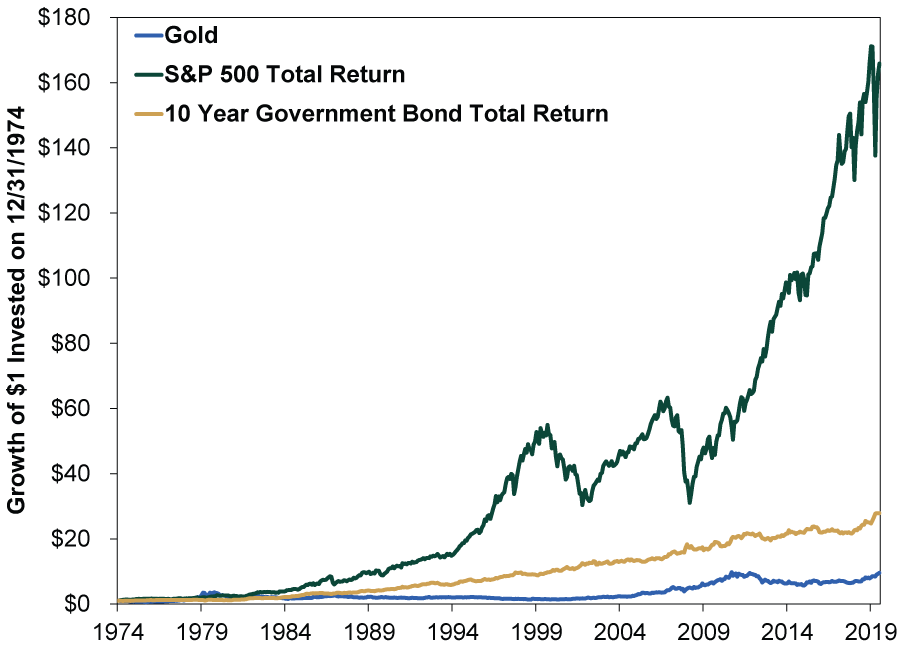 Source: Global Financial Data, Inc. as of 7/9/2020. Growth of $1 invested in the US 10-Year Government Bond Index, S&P 500 Total Return Index and gold prices, 12/31/1974 – 6/30/2020.
Gold Climbs, Still Isn't a Good Long-Term Investment–Despite nearing record highs set nine years ago, gold still isn't a good choice for the huge majority of investors, in our view.
By Fisher Investments Editorial Staff, 07/17/2020
https://www.fisherinvestments.com/en-us/marketminder/gold-climbs-still-isnt-a-good-long-term-investment
7. Putting Airline 2 Week Run in Perspective
Today, the WOLF STREET airline index of the seven largest US airlines – Alaska, American, Delta, JetBlue, Southwest, Spirit, and United – jumped 7.0%. Since word of the second $25 billion bailout package started circulating last Monday, the index has surged 15.7%. But it's still down 44% from the end of the Good Times in mid-January 2020, and down a whole bunch more since January 2018. That 15.7% gain since last Monday is the little thing sticking up on the right of the chart (market cap data via YCharts):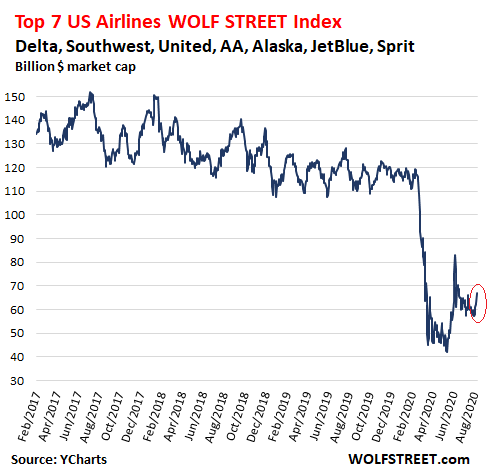 No, Americans Aren't Suddenly Flying Again, Despite What the Media Said Today to Boost Stocks of Airlines and Boeingby Wolf Richter • Aug 10, 2020 • 53 Comments
8. The end of Hong Kong's political freedom is here
Bethany Allen-Ebrahimian, author of China
Illustration: Annelise Capossela/Axios
The end of Hong Kong's relatively free political system is no longer looming. It's here.
Why it matters: The Chinese Communist Party is already wielding the new national security law it forced upon Hong Kong just over a month ago — and through the extraterritoriality enshrined in the new law, Beijing has signaled that its push against pro-democracy activism is going global.
What's happening: Hong Kong police have arrested top media and political figures, searched the offices of a major news organization, and indicted overseas activists.
Early in the morning on Aug. 10, about200 police swarmed the offices of Hong Kong newspaper Apple Daily, and arrested its owner, the pro-democracy media tycoon Jimmy Lai, and several other media executives.
Agnes Chow, former leader of the pro-democracy organization Demosisto, was also arrested on Aug. 10.
On July 31, Hong Kong authorities issued arrest warrants for six activists based abroad, including a U.S. citizen, for "incitement to secession and collusion with foreign forces."
Hong Kong Chief Executive Carrie Lam also announced on July 31 that she would postpone the upcoming elections for one year.
Last week, the U.S. sanctioned Lam and other top Hong Kong and Chinese officials deemed responsible for the destruction of the city's political rights.
The big picture: The Chinese Communist Party under President Xi Jinping has learned it doesn't need tanks and machine guns to stop a vibrant political movement.
In Hong Kong, the party has used repressive police action and the hammer of law to crush dissent, a phenomenonknown in Chinese tradition as"rule by law," rather than "rule of law."
The new national security law circumvented Hong Kong's traditionally independent courts and established a secret police, quietly bringing in state security officials from mainland China to convert a hotel into a new Hong Kong headquarters.
The vaguely worded law criminalizes sedition, terrorism, separatism, and collusion with foreign powers, defining them broadly and imposing harsh penalties.
Critics have said the vague wording is intentional, since it pressures people to practice sweeping self-censorship to avoid crossing unknown lines.
What they're saying: Observers abroad have expressed anger and profound concern at China's latest moves in the city.
"The arrests, and the raid on the newsroom, are a direct assault on Hong Kong's press freedom and signal a dark new phase in the erosion of the city's global reputation," the Foreign Correspondents Club of Hong Kong said in a statement.
"Today's arrests have confirmed our gravest fears about how the #NationalSecurityLaw will be used to silence the press and deny fundamental freedoms in Hong Kong," the Inter-Parliamentary Alliance on China, an organization comprised of current lawmakers from around the world who aim to counter China's authoritarianism, tweeted Aug. 10.
"Crazy arrests. The end of freedom of press in Hong Kong. The national security law is quashing the freedom of our society, spreading politics of fear," Nathan Law, a former Hong Kong lawmaker who fled to London after the national security law came into effect, wrote on Twitter Aug. 10.
But, but, but: Many Hong Kongers haven't given up.
On July 12, more than 600,000 Hong Kong residents cast votes in a primary for the upcoming election, despite official warnings the campaigns might be illegal under the new law.
Tuesday editions of Apple Daily, Lai's newspaper, flew off the stands in the early morning as city residents rushed to buy it after police raided the newspaper's offices.
What to watch: Article 38 in the national security law states the law applies to everyone, everywhere.
The indictment in late July of U.S. citizen Samuel Chu, who resides in the U.S., for "collusion with foreign forces" — in other words, Chu's own government — heralds the opening of a dark chapter both for Hong Kong and the world.
Go deeper: With new security law, China outlaws global activism
9. Ranking States by Fewest Corona Restrictions.
Wallethub
All states have at least partially reopened after keeping non-essential businesses closed for months due to the COVID-19 pandemic. However, many states have recently experienced spikes in coronavirus. As a result, some have chosen to pause their reopening processes or even reinstitute restrictions that they previously lifted. In order to determine the states with the fewest coronavirus restrictions despite a surge in cases across the U.S., WalletHub compared the 50 states and the District of Columbia across 19 key metrics. Our data set ranges from whether child-care programs and restaurants have reopened to whether the state has required face masks in public and workplace temperature screenings. Read on for the state ranking, additional insight from a panel of experts and a full description of our methodology.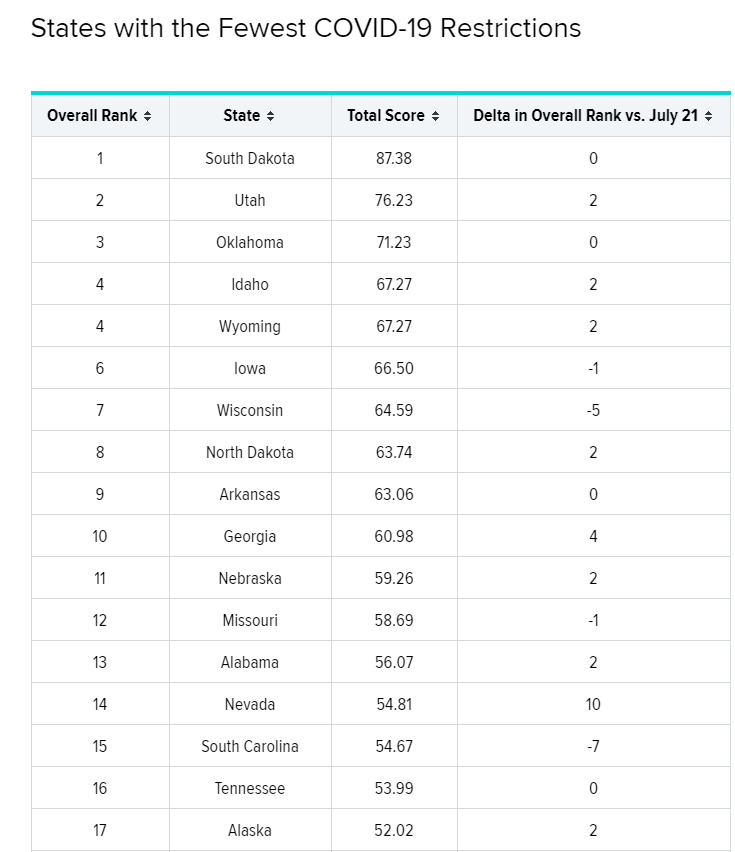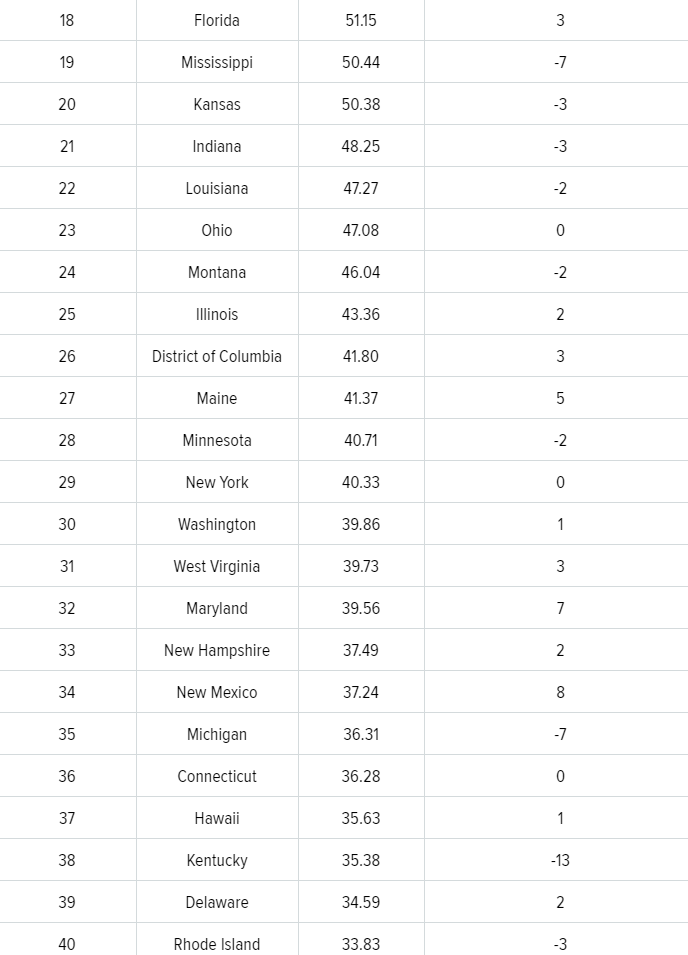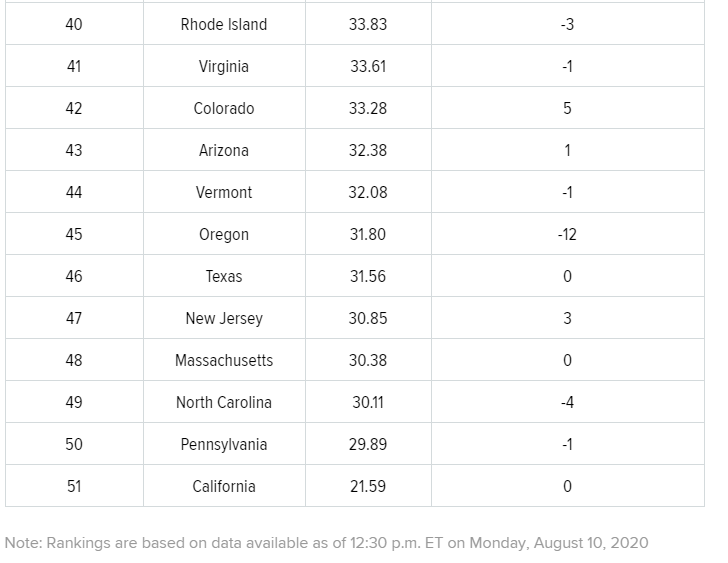 Wallet Hub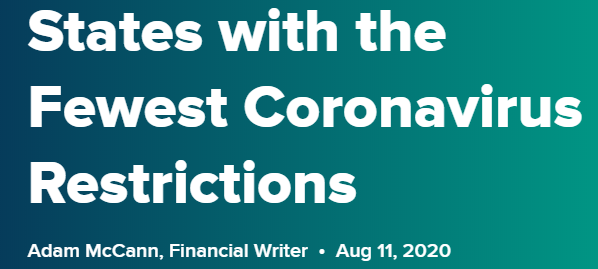 https://wallethub.com/edu/states-coronavirus-restrictions/73818/
10. Don't be a busy fool!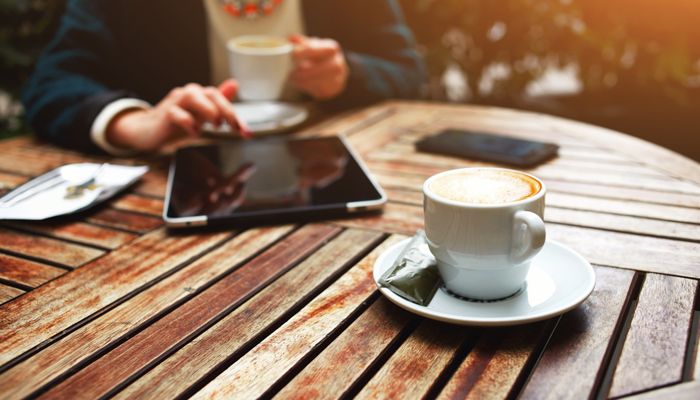 Working over coffee from Shutterstock.com
Sep 012015by Chris MerringtonPrint This Article
With summer almost over and the post-holiday pressure starting to pile up, it's easy to fall into the trap of becoming a busy fool.
The pressure to run faster can come from many different sources. It might be clients who want everything yesterday or a boss who always want us to deliver more in less time. But for many of us, biggest source of pressure is us – the pressure that we put on ourselves.
Busy-ness is like a disease. It gets worse over time. It's easy to work more hours than ever before whilst not being as productive as we should be. But working longer and harder is where the disease starts. If we want to avoid becoming busy fools and stay healthy, we need to focus on the right priorities and work smarter.
Stephen Covey talked about the "activity trap" whereby we busily climb the ladder of activity without realising it is against the wrong wall. It's easy to be too focused on the doing and the implementation and not enough on the outcomes and the end results.
That's why rushing has become the new normal. Clients make out that a rushed deadline is the most important goal. Yet once the work is delivered, the deadline is often forgotten and the actual result becomes the critical issue. When we rush there is a strong likelihood we won't produce our best work and we are more likely to make mistakes.
What is the impact on our business? The danger is we become purely focused on the short term rather than the bigger picture and longer term goals. Yet it is vital to strike the right balance between the short and long term goals.
Many people have a "to-do list" which they diligently work through from top to bottom. Forget it. Instead, identify your real priorities. Chose three things and focus on them first. Then tackle the next three priorities. And develop a "to-think list" identifying areas in which you need to spend time thinking.
Here are 10 other tips to help you be more effective and achieve more each day.
1. Firstly recognise that everything that happens to you in business is your responsibility. The buck stops with you! Set aside time to plan and really think about your business and where you want be in 2-3 years time.
2. "Plans are nothing, planning is everything" Eisenhower said. It is the act of thinking and planning which is more important than the actual plan. Build time into your diary every week to spend at least a couple of hours to think and plan – that's only around 5% of your work-week. The busier you are the more the need to plan. Making plans is relatively easy: the hard part is the execution of the plan.
3. Get better at what you do. In fact, be the very best at what you do. Be outstanding at a few things, not average or mediocre at many things. Find your niche and specialise.
4. Get away from your desk to think creatively and innovatively. Typically our best ideas and thinking come spontaneously when we least expect them. Identify when you get your best ideas.
5. Push back on ridiculous deadlines unless it is a crisis or if there is a real need to move fast. Will you always get more time? Of course not but you will much of the time. Beware of automatically saying 'yes' without thinking.
6. Solving problems by yourself can be tough and sometimes overwhelming. Find a buddy to chat through problems. Explaining and articulating your challenge to them forces you to clarify your thinking by putting the challenge into words.
7. Don't procrastinate. Do it, delegate it or dump it. Be decisive. Don't sit there wondering where to start. Get started. Don't just do what you find easy and in your comfort zone. Do what's effective. Do what's needed.
8. Systematise. Find ways and processes to streamline those repeated tasks. Beware of re-inventing the wheel each time. This can reduce the time taken and improve the quality of the output.
9. Take time to anticipate what is likely to happen and be said at important meetings. You can then prepare your options and response in advance without the pressure 'in the moment'.
10. Finally, for one week keep a detailed diary to see where you are really spending your time. Is that the best use of your time? How could you reduce your time working and be more effective during that time?
Categories:
ABOUT THE AUTHOR
Chris Merrington
Chris Merrington is the author of Why do smart people make such stupid mistakes?" His company, Spring 80:20 specialises in working with sales teams in their profitable growth and success.
https://www.management-issues.com/opinion/6923/dont-be-a-busy-fool/
Disclosure
Lansing Street Advisors is a registered investment adviser with the State of Pennsylvania..
To the extent that content includes references to securities, those references do not constitute an offer or solicitation to buy, sell or hold such security as information is provided for educational purposes only. Articles should not be considered investment advice and the information contain within should not be relied upon in assessing whether or not to invest in any securities or asset classes mentioned. Articles have been prepared without regard to the individual financial circumstances and objectives of persons who receive it. Securities discussed may not be suitable for all investors. Please keep in mind that a company's past financial performance, including the performance of its share price, does not guarantee future results.
Material compiled by Lansing Street Advisors is based on publicly available data at the time of compilation. Lansing Street Advisors makes no warranties or representation of any kind relating to the accuracy, completeness or timeliness of the data and shall not have liability for any damages of any kind relating to the use such data.
Material for market review represents an assessment of the market environment at a specific point in time and is not intended to be a forecast of future events, or a guarantee of future results.
Indices that may be included herein are unmanaged indices and one cannot directly invest in an index. Index returns do not reflect the impact of any management fees, transaction costs or expenses. The index information included herein is for illustrative purposes only.