1.Interesting Charts ….Nasdaq Percentage of Stocks Above 50day and 200day Fell Hard at End of July.
Naz Above 50day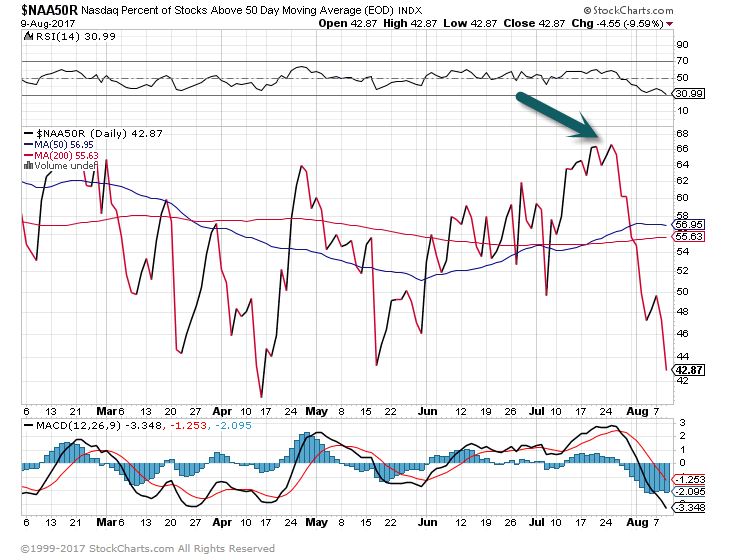 Naz above 200day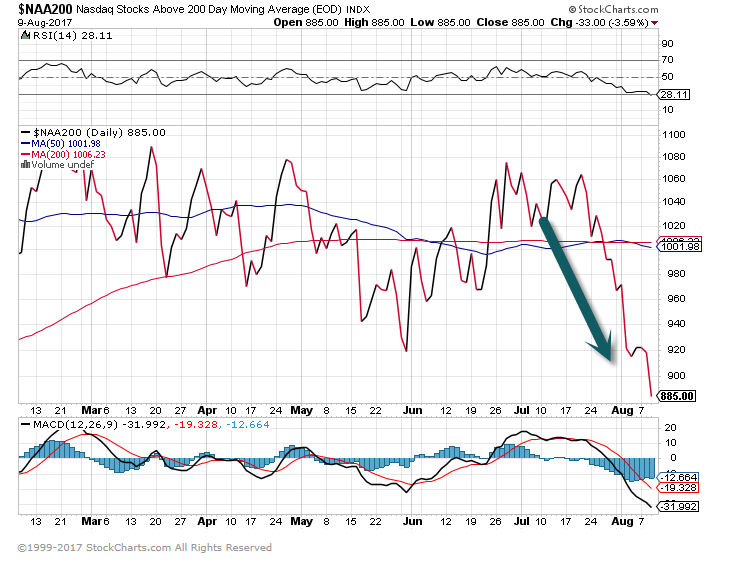 2.Retail Investors Selling Stocks.
Over the past month, small investors have pulled $17 billion out of U.S. stock mutual funds and exchange-traded funds and added $29 billion to bond funds. That's the latest leg of a long-term trend: Since the internet-stock bubble burst in 2000, investors have withdrawn half a trillion dollars from U.S. stock mutual funds.
Instead of chasing this rising market upward, individual investors have been backing away from it. That retreat is increasingly automatic and has become an integral part of how the stock market works.
https://blogs.wsj.com/moneybeat/2017/08/04/this-market-really-is-different-this-time/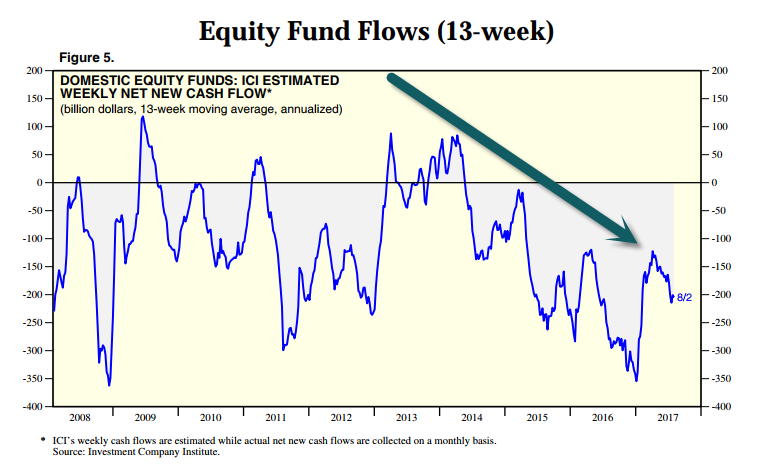 https://www.yardeni.com/pub/ecoindiciwk.pdf
3.Investors Pulled $120 Million from SPDR Retail ETF in July.
The stresses have pushed investors to yank about $120 million from the SPDR S&P Retail ETF in the last month – Investors have also increased bearish options bets on the SPDR S&P Retail ETF, or XRT. The number of bearish put options outstanding has increased by 25% since the beginning of April, while the number of calls, or bullish options, has fallen by 26% over the same time period.  Thanks to Dave Lutz at Jones for stat
S&P Retail ETF Sideways Since 2014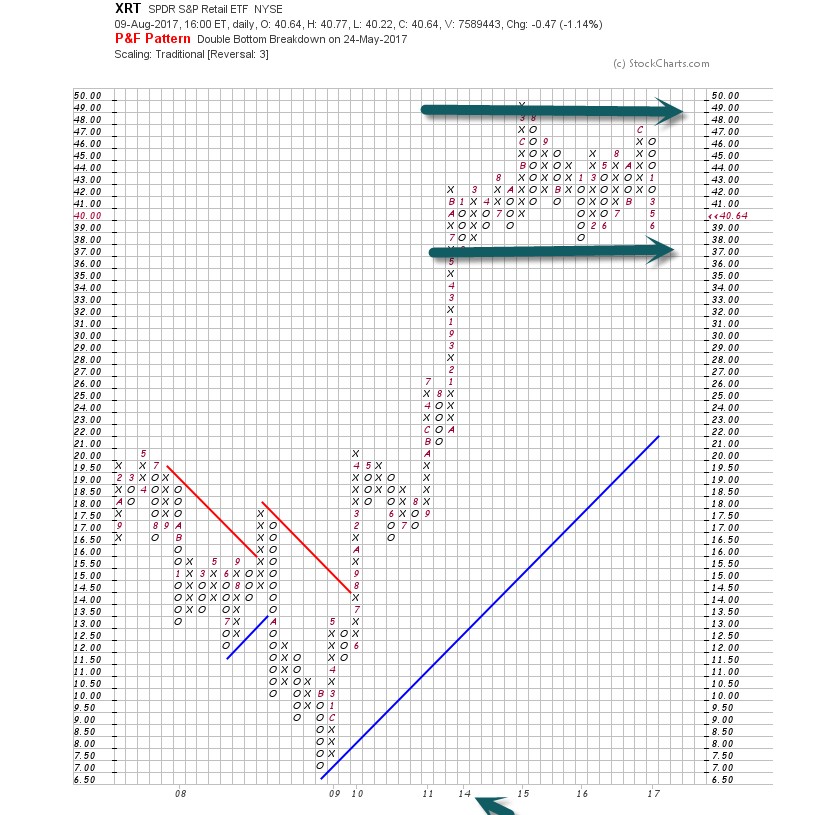 4.Credit Spreads Very Tight.
Credit spreads—the extra amount of yield that investors demand to hold debt that is riskier than Treasuries—are uniformly low these days. That tells us that liquidity in the bond market is abundant, systemic risk is low, and the outlook for corporate profits and the economy is healthy. '

Swap spreads (see a short primer on swap spreads here) are arguably the bedrock and most important of all credit spreads. "Normal" spreads on 2-yr contracts are roughly 20-40 bps. At today's 25 bps, 2-yr swap spreads are perfectly normal. This tells us that bond market liquidity is relatively abundant. Fed tightening has not created a shortage of money, as it usually does in advance of recessions. It also tells us that systemic risk is perceived to be low. As the chart above suggests, swap spreads tend to be good predictors of conditions in the broader economy; spreads tend to rise in advance of recessions and decline in advance of recoveries.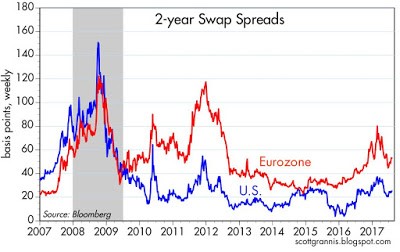 As the chart above shows, swap spreads in the Eurozone are elevated. Conditions are not as healthy there as they are here. Eurozone spreads are not dangerously high, but they do reflect some systemic risk, which is likely related to the perception that the Eurozone still faces existential risks from countries thinking about "exiting" the Eurozone. Given the higher spreads in the Eurozone, it is not surprising that Eurozone GDP growth has been lagging that of the US for a number of years. Riskier markets tend to receive less investment—and consequently less growth—than less risky markets.
Read Full Story
http://scottgrannis.blogspot.com/2017/08/credit-spreads-tell-bullish-story.html
Found at www.abnormalreturns.com
5.European Junk Bonds Yield is Equal to U.S. Treasury?? 
So Euro Junk is considered "riskless"???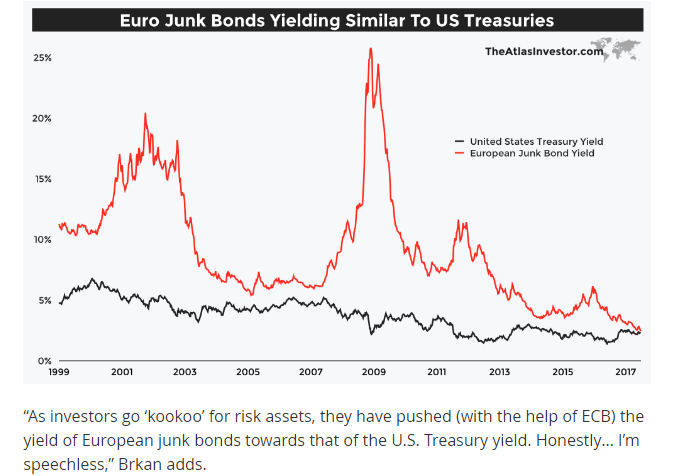 http://www.marketwatch.com/story/this-could-be-the-scariest-chart-in-the-financial-markets-right-now-2017-08-10
6.U.S. Dollar Impact on Sector Returns.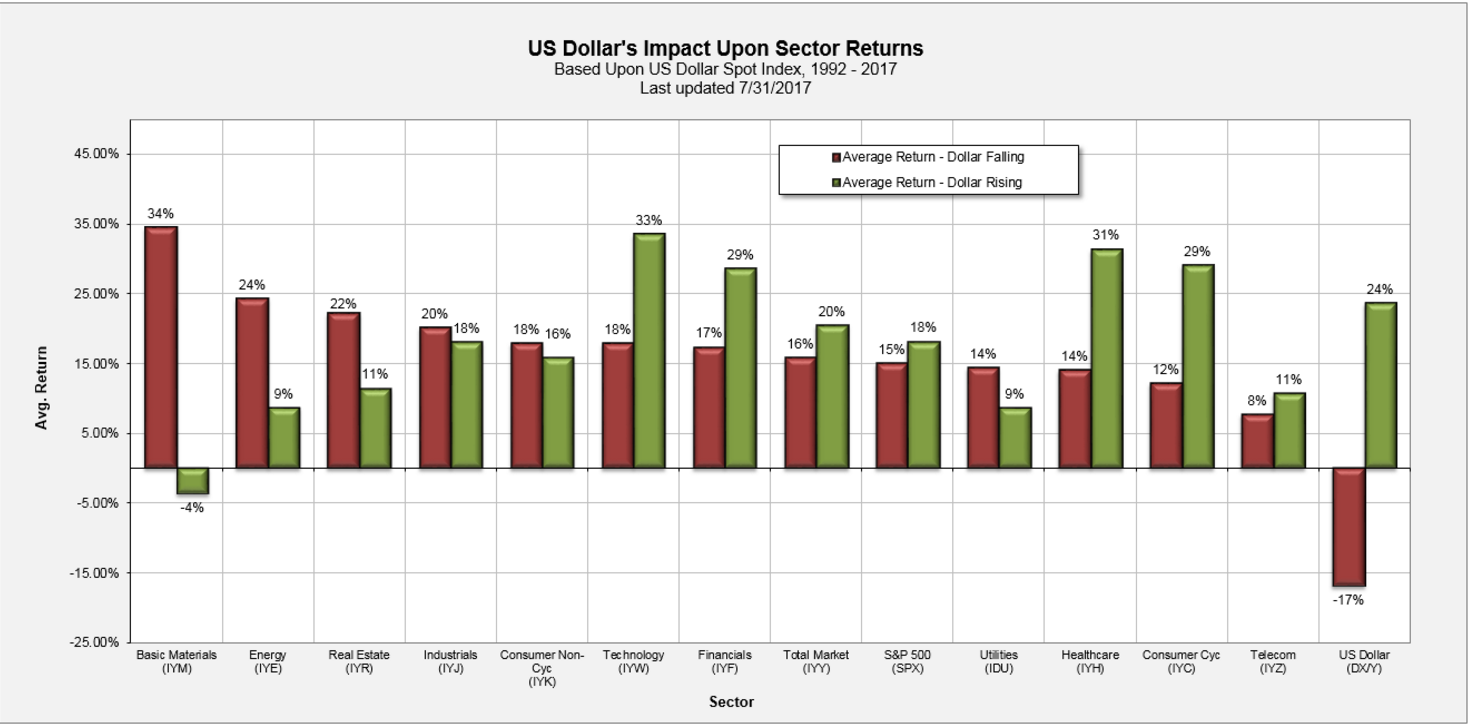 7.Small Business Optimism Back to 2006 Highs.
The Index of Small Business Optimism rose 1.6 points to 105.2, preserving the surge in optimism that started the day after the election. Seven of the 10 Index components posted a gain, two declined, and one was unchanged. Since the recession, the Index peaked at 105.9 in January, just 0.7 points above the July reading.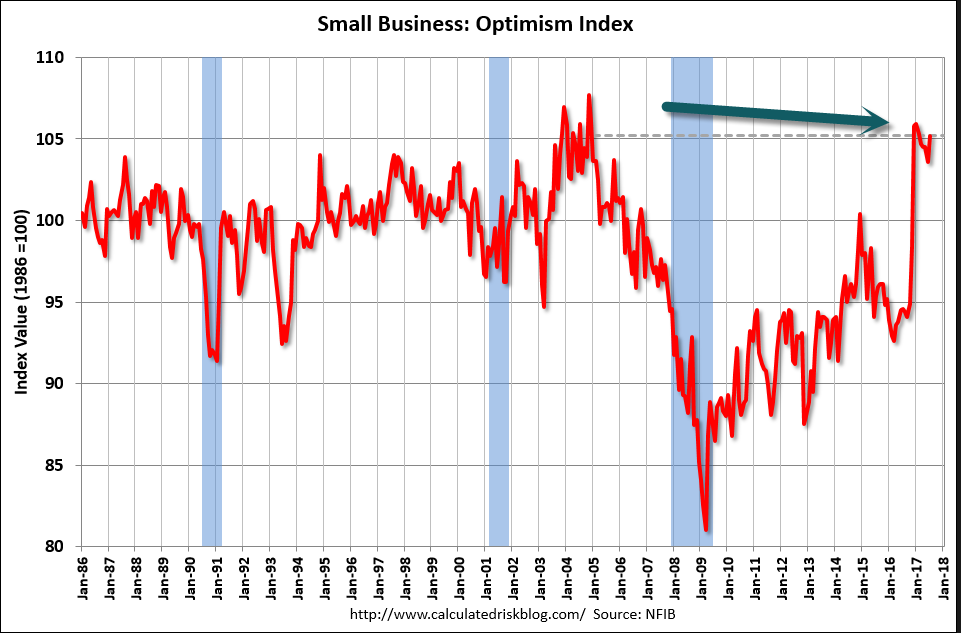 http://www.calculatedriskblog.com/2017/08/nfib-small-business-optimism-index.html
8.Private Equity Sitting on $1 Trillion in Cash.
Exchange-traded funds flush with cash as private equity struggles invest record $1 trillion
With private equity firms sitting on a record amount of cash they're struggling to invest, their clients are turning to exchange-traded funds for relief.
By: Bloomberg | Updated: August 10, 2017 10:35 AM
The amount of dry powder — money raised but not yet invested — could hit trillion by the end of year in private equity alone. (Image: Reuters)
With private equity firms sitting on a record amount of cash they're struggling to invest, their clients are turning to exchange-traded funds for relief. BlackRock Inc. and State Street Corp., two of the world's biggest providers of ETFs, say an increasing number of institutional investors are using their products to park money earmarked for private funds. These investors — pension plans, foundations and endowments that are under pressure to meet obligations — are trying to eke out an extra return on cash that would otherwise languish in a money market fund.
"They can't afford to have money sitting in cash or similar low-yielding investments," said Armit Bhambra, who works for BlackRock's iShares U.K. institutional team from London. "It's difficult to justify sitting in cash for 24 months, so they're having to think about different ways to fund these types of mandates."
The amount of dry powder — money raised but not yet invested — could hit $1 trillion by the end of year in private equity alone, after reaching $963 billion in July, according to researcher Preqin Ltd. That's pushing out the average time it takes for new commitments to start being invested to as long as three years, up from one year previously, according to State Street.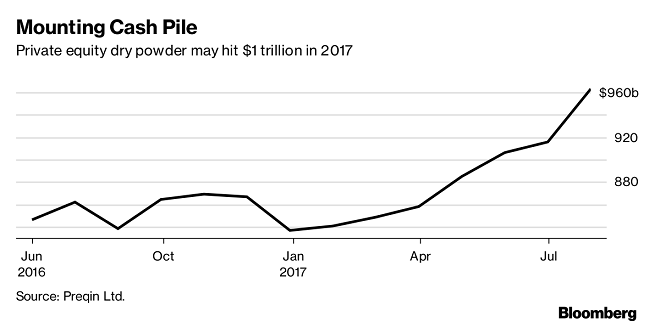 9.Opioid Epidemic.
Food for Thought: Daily opioid dose.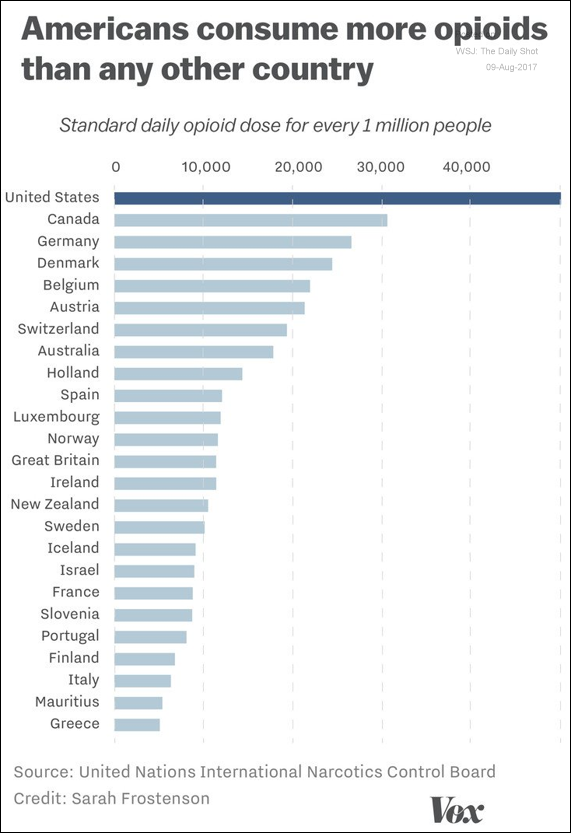 Source: @voxdotcom; Read full article
Physicians from better-ranked medical schools prescribe fewer opioids.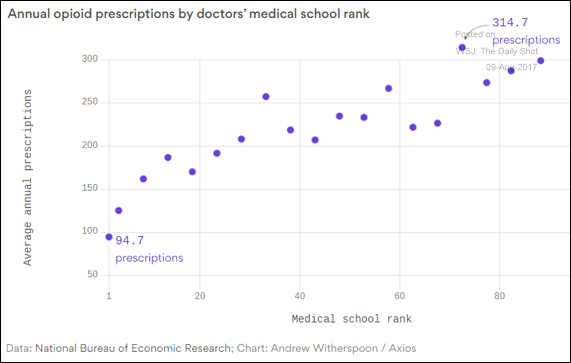 Source: @axios; Read full article
10.5 Traits of People With High Emotional Intelligence
This is the secret sauce for accelerating and amplifying your success.
One of the biggest realizations I've had in my career is also one of the purest: the simple fact that people are drawn to likable people. It's human nature. People want to do business with people they like.
Yet when you look around, you'll notice that many people don't make it a priority to learn the habits of likable people. They overlook honing the emotional intelligence needed to build great relationships and attract new levels of success.
Whether interacting with customers, vendors, partners or employees, we can all make great strides in our personal relationships and career by raising our emotional intelligence (EQ).
Here are five traits shared by people with high emotional intelligence.
1. They attract more opportunities
There is a direct correlation between the development of my emotional intelligence and the number of opportunities that have come my way. When you build better relationships and come across as likable, people tend to share more information with you, make introductions on your behalf and invite you into new opportunities. It's been a big source of my success over the last five years.
2. They receive the benefit of the doubt
If you treat people well, you'll get the benefit of the doubt. I've experienced this positive outcome in my own business life.
One time while negotiating with a sizable company, we made an honest mistake which, frankly speaking, could have been interpreted as deliberate. But my counterpart quickly told me, "Andrew, I know you're a good person. I know you meant no harm. We're all good."
The trust I had earned by building a meaningful relationship with this person gave me the benefit of the doubt – and an opportunity to move forward without any hiccups.
3. They are effective leaders
By building the soft skills associated with likable leaders, chances are you'll find yourself earning greater respect, handling challenges with poise, leading your team through change more effectively, and communicating more persuasively.
4. They possess long-term vision
People with high emotional intelligence understand that entrepreneurship is a journey, and that success is a process. They are better able to handle the ups and downs of everyday life as a business owner. Emotionally strong entrepreneurs are able to stay focused on the long term and "stay in the middle," while others with low EQ are often hurt by their impulses and unchecked emotions.
5. They can read people (and situations) better
People with high EQ foster their natural curiosity, asking questions – and then listening — to get to know people and situations better. By developing these traits, we can give ourselves a leg up to negotiate for better outcomes, build stronger teams, and neutralize any toxic relationships that are counterproductive to success.
Putting it all together
Many theorists have built on the idea that EQ is more important than IQ, especially when it comes to achieving our goals. Just as you can stretch your mind to learn more, knowing how to relate to others and interact effectively are skills you can develop. For as much time as you focus on thinking and your mind, focus on your emotional intelligence. Together, they will help you enjoy a new level of success.
The opinions expressed here by Inc.com columnists are their own, not those of Inc.com.