1. Average Quarterly Returns by Presidential Terms
Dorsey Wright

https://www.nasdaq.com/solutions/nasdaq-dorsey-wright
---
2. Caterpillar New Highs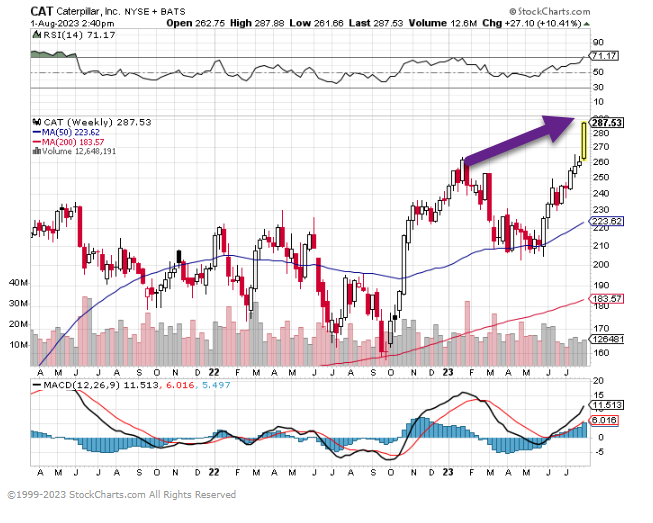 ---
3. PFF U.S. Preferred ETF…75% Financials
50day thru 200day to upside.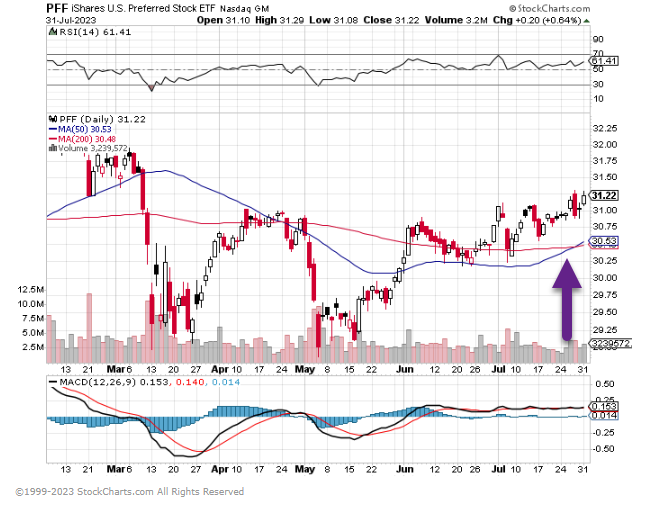 ---
4. Shortage of Single Homes for Sale….AMH American Homes for Rent +25% Year to Date
AMH 50day thru 200day in late May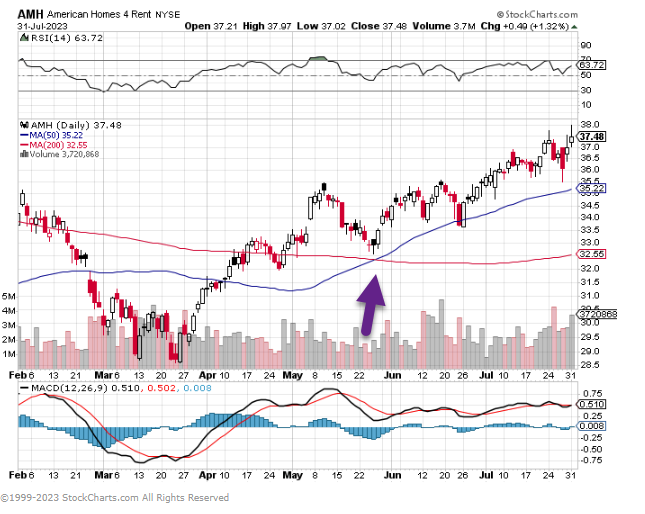 ---
5. Blackstone Real Estate Interval Fund Continues to See Withdraw Requests….9 Months Running
BREIT Hit By Ninth Consecutive Month Of Redemptions; Plans Pivot To AI Data-Centers BY TYLER DURDEN ZEROHEDGE
Blackstone has limited investor redemption requests from its $68 billion real estate trust for high-net wealth investors for eight consecutive months while storm clouds continue to gather over commercial real estate markets.
According to a letter obtained by Bloomberg, Blackstone Real Estate Income Trust (BREIT) recorded investor outflows of $3.7 billion in July — the lowest redemption requests since the run on the fund began in November 2022. However, BREIT only returned about $1.3 billion, or approximately 34% of what was requested — as it continues to gate redemption to prevent massive outflows. 
"This structure was designed to both prevent a liquidity mismatch and maximize long-term shareholder value.
"A shareholder who began submitting repurchase requests when proration began has received approximately 94% of their money back and the semi-liquid structure is working as intended," according to the letter.
BREIT has been working through redemption requests for the last eight months. We have provided a detailed account of the panic out of BREIT as CRE markets come under pressure in a high-rate environment: 
Remember when BREIT received a $4 billion bailout cash infusion from the University of California earlier this year?
Late January, Blackstone President Jonathan Gray told Financial Times that BREIT was experiencing a "backlog" of redemption requests. 
Redemption requests surged in Spring:
Bloomberg said BREIT had sold CRE assets to raise capital: 
BREIT has sold $12 billion of real estate assets since the beginning of 2022, generating $2.5 billion of profit during its ownership, according to Blackstone. Recent transactions include an $800 million sale of a Texas hotel, and a $2.2 billion deal to offload a self-storage business.
https://www.zerohedge.com/markets/breit-hit-nine-consecutive-months-withdraws
---
6. Meanwhile Global Bonds 17th Consecutive Week of Inflows
Irrelevant Investor Blog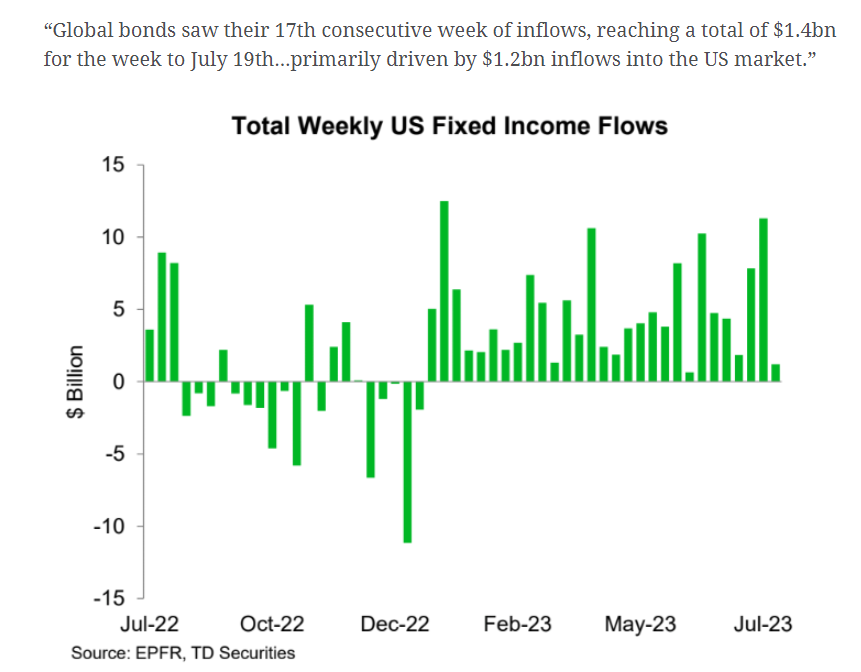 https://theirrelevantinvestor.com/2023/08/01/a-generational-change/
---
7. Follow-Up From Yesterday….Hedge Fund Short-Covering the Most Aggressive Since 2016
Equities: Hedge funds' short-covering this summer hasn't been this aggressive since 2016.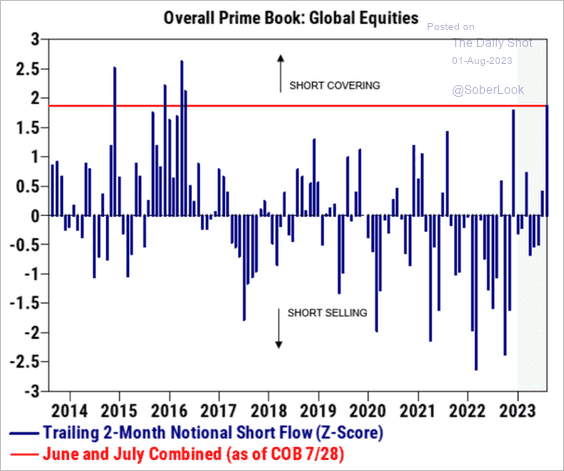 Source: Goldman Sachs

Source: @markets  Read full article
---
8. TIPS Bond ETF has not Traded Above 200-Week Moving Average Since September 2022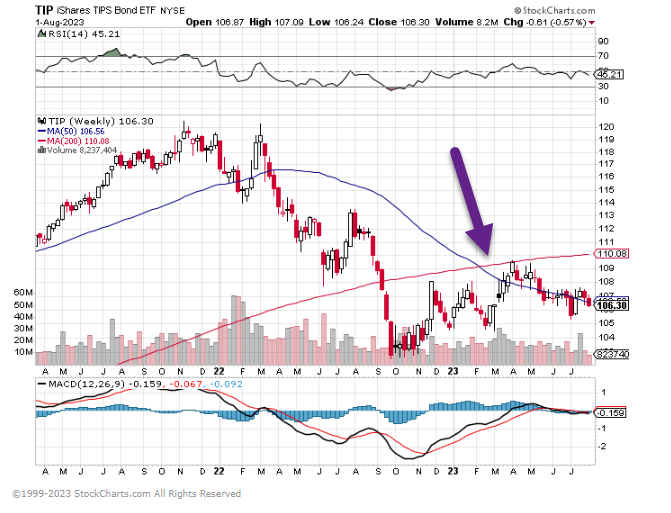 ---
9. Income Needed to be Happy in Your State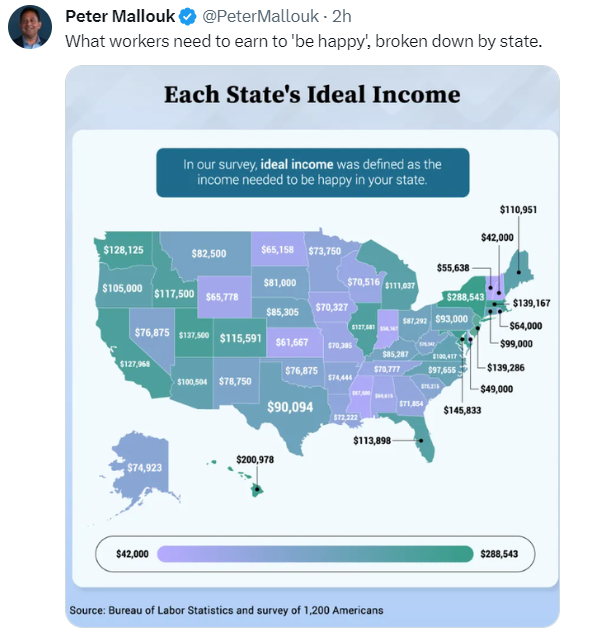 ---
10. Mark Cuban says he avoids wasting time at work, and that meetings are the main culprit-Business Insider
In a June conversation, Mark Cuban called out the No. 1 time waster in the office.
Cuban says he will only take meetings and phone calls if there's "no other way."
Earlier in his career, Cuban would run standing-only meetings to ensure they ended faster.
Get the inside scoop on today's biggest stories in business, from Wall Street to Silicon Valley — delivered daily.
If you're a believer that most work meetings could be condensed into emails, you're in very wealthy company.
Billionaire investor Mark Cuban called out meetings and phone calls during a June conversation with author Chris Voss on the streaming platform Fireside. Cuban does his best to avoid meetings and phone calls as he believes they hinder the productivity of the workplace. 
"I try to only do meetings if I have to come to a conclusion or there's no other way — same with phone calls," Cuban said to Voss. "It kills so much time."
When he does attend meetings, the "Shark Tank" star said, most get bogged down with small talk and take away from talking through the important points of the agenda. His sentiment toward meetings remains unchanged from the early days of his career when he'd run standing-only meetings.
"It's amazing how quickly meetings get over with if no one has a chair or someplace to sit," he said in the interview.
He's not the only exec who thinks meetings are a waste. Earlier this month, Shopify bosses introduced a plug-in for employees that would track the dollar amount spent during a meeting. According to the company's COO, it was an attempt to cut down on meetings so workers could "get shit done."
Now, as an executive, Cuban has more control over his own schedule, and he takes advantage of it. For him, emails are the preferred form of communicating about work.
"I can respond to those in the middle of the night. Or I can respond to those on my schedule as opposed to have to arrange everything around other people," Cuban said.
Despite his success and wealth, Cuban remains dedicated to continuing to work. In an October 2022 interview, the billionaire said retirement isn't for him just yet because "he's too competitive."
https://www.businessinsider.com/mark-cuban-avoids-meetings-and-phone-calls-at-work-2023-7