1. Hedge Funds Cover Shorts
Bloomberg Lu Wang Pro managers who make both bullish and bearish equity wagers last week slashed positions on both sides of their book, also known as de-grossing, according to data compiled by JPMorgan Chase & Co.'s prime brokerage unit. The rush to tweak positions was frantic enough to push total client stock flows to the highest level since the retail-fomented short squeeze in 2021.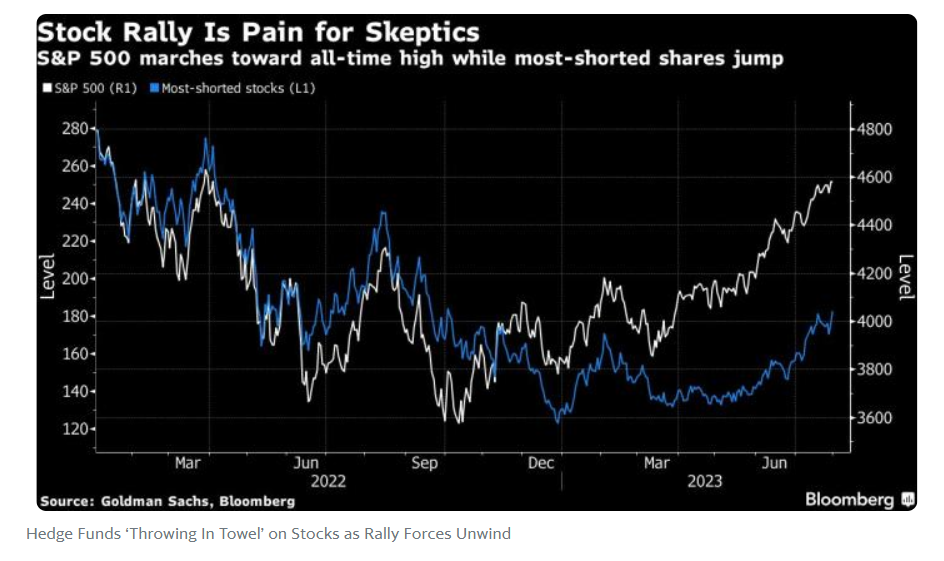 https://finance.yahoo.com/news/hedge-funds-throwing-towel-stocks-201254115.html
---
2. Dow Dividend Payers vs. Non-Dividend
Bespoke-Dogs of the Dow for the Dog Days of Summer
With the Dow coming off of a historic winning streak last week, below we check in on performance of the index versus the Dogs of the Dow. The Dogs of a Dow is a stock-picking strategy that invests in the index members with the highest dividend yields at the end of a year holds them through the end of the next year.  On a total return basis, the Dow's recent winning streak has been a benefit to both the overall index and the Dogs alike. That said, the gains to the former have brought the index up near 2022 highs on a total return basis while the Dogs of the Dow has much further to go given the overall weakness of dividend-oriented equities recently.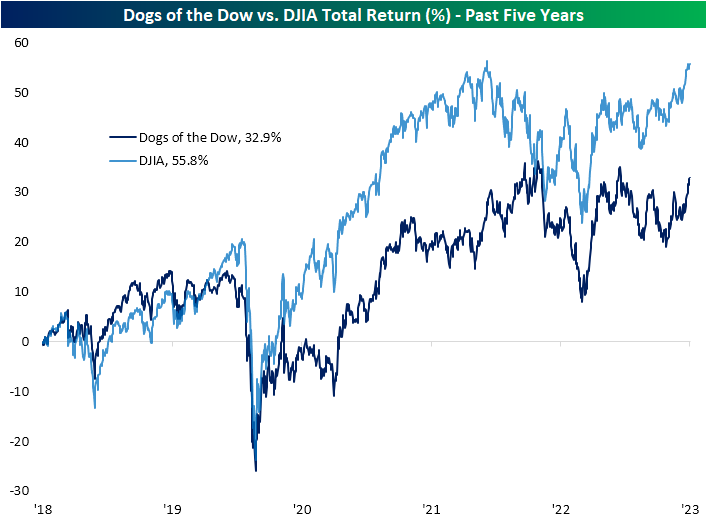 In the table below, we show the returns of this year's Dogs of the Dow and all other individual Dow members.  The Dogs of the Dow are host to some of the stocks with the worst performance this year like Verizon (VZ) and Chevron (CVX), however, there are also a couple of big winners like Intel (INTC) which has returned nearly 42% YTD or JPMorgan Chase (JPM) which has nearly posted a 20% return. However, the biggest gains in the index have come from non-Dogs.  In fact, the largest gains this year have been from those with the lowest or no dividend yields at the end of last year like Boeing (BA), Salesforce (CRM), or Apple (AAPL).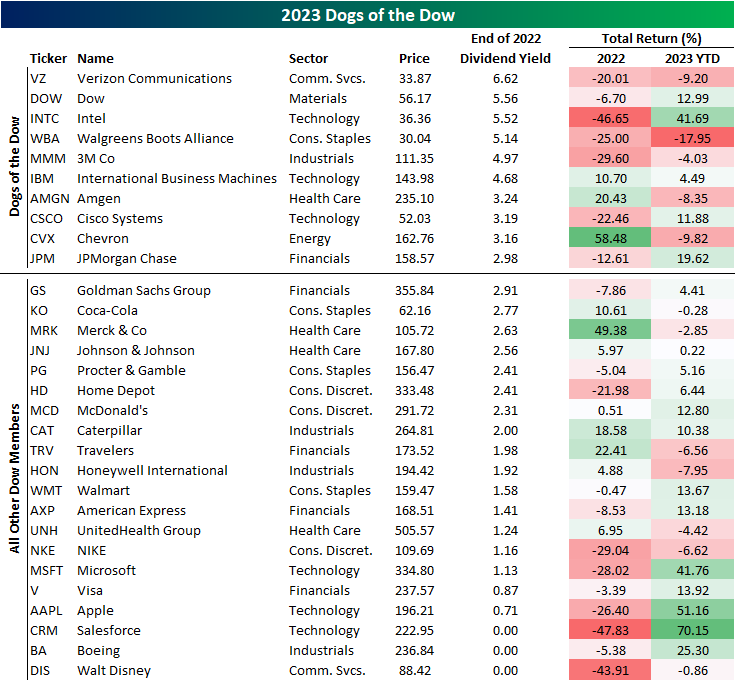 https://www.bespokepremium.com/interactive/posts/think-big-blog/dogs-of-the-dow-for-the-dog-days-of-summer
---
3. Share of Banks Tightening Lending Standards
Axios-Courtenay Brown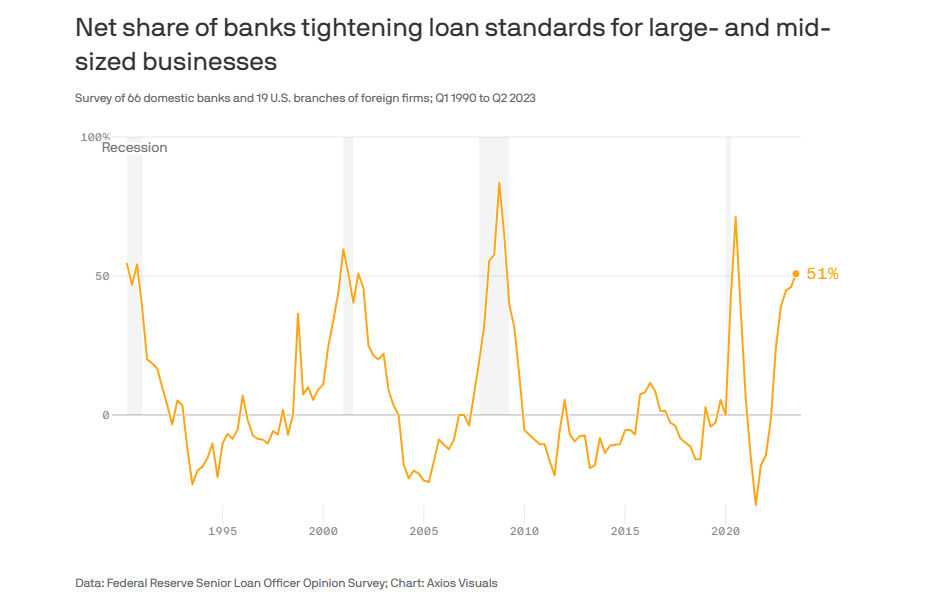 Banks report toughest loan standards in years (axios.com)
---
4. Demand for C&I Loans

Dave Lutz at Jones Trading Bloomberg reports The Fed's survey of senior loan officers at 2pm may show the long-anticipated stiffening of lending conditions is finally playing out amid restrictive monetary policy and new capital requirement rules. The shift in the credit cycle may cut inflation-adjusted GDP in the US and Europe by 1%-2% by the end of 2024, Citi said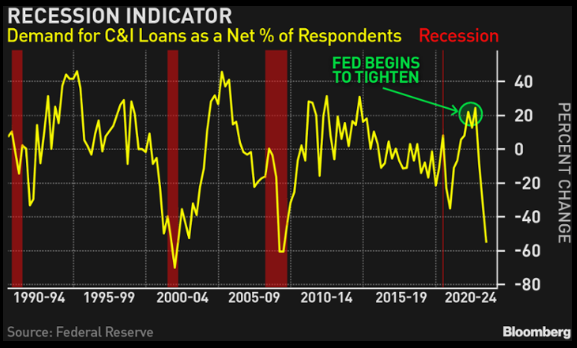 ---
5. Energy Stock ETF Close to New Highs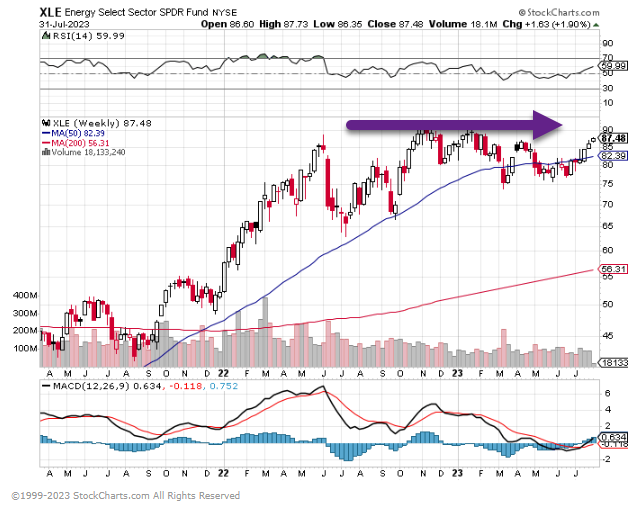 ---
6. U.S. Annual CO2 Emissions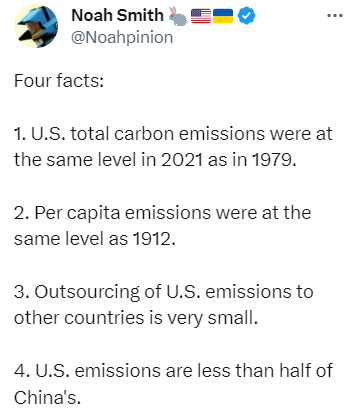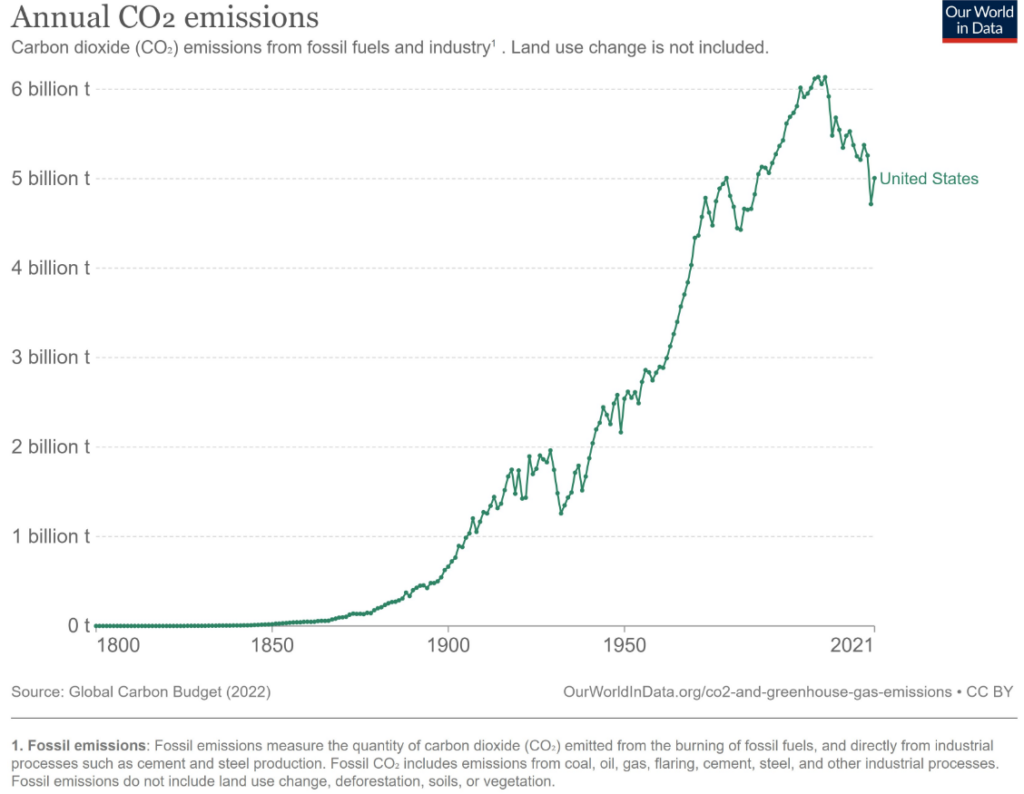 ---
7. Bitcoin Still at Center of Crypto Universe
---
8. Average Monthly Student Loan Payment $200
Torsten Slok, Ph.D. Chief Economist, Partner Apollo Global Management  There are a total of 45 million people with student loans, and the average monthly student loan payment is around $200, so resuming student loan payments in October will subtract roughly $9bn from consumer spending every month, or roughly $100bn a year, and this will mainly have an impact on younger households, see chart below.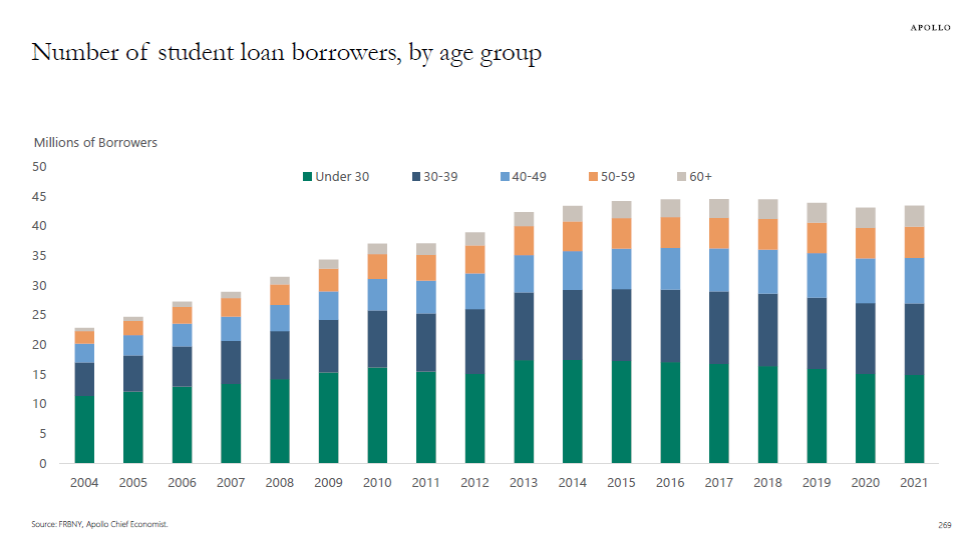 ---
9. The Median Starter Home Price is 46% Higher than 2019
@Charlie Bilello Example: the median price of a starter home in the US is 46% higher than 2019 levels. The monthly mortgage payment needed to purchase one of these homes has more than doubled over that time period.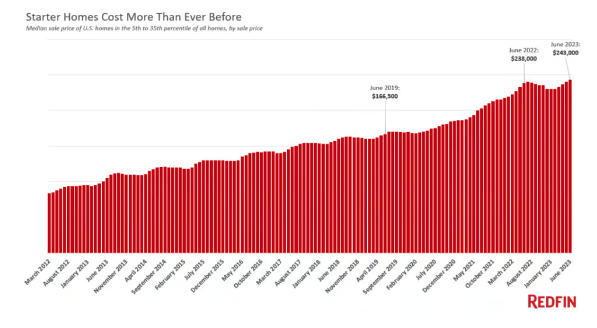 ---
10. What is the Function of Worry?
The Daily Stoic One of the most timeless lines in all of the Stoic writings comes from Epictetus, "What upsets people is not things themselves, but their judgements about these things."
It's a powerful idea. And it's made all the more transcendent by the remarkable fact that nearly every other philosophy has come to the exact same conclusion. We recently talked to Sam Harris on the Daily Stoic podcast. While Harris' work is heavily influenced by Eastern philosophical traditions, on the podcast, Harris talked about one of the overlaps between his work and the Stoics:
With mindfulness, you're not doing anything but noticing what is happening. Everything—thoughts, sensations—arises by itself. And it's in that recognition that you see that the problem you thought you needed to solve a moment ago isn't even there. The problem of your anxiety or of disappointment—these are thought-based delusions. That's not to say that there aren't challenging experiences. Things like physical pain don't magically go away once you learn how to meditate. But so much of our suffering in response to something like physical pain is because of our psychological contraction around it and our anxiety about it and our fear that it won't go away and our fear of what it means.
The Stoics had this very much in hand—the whole issue of, what is the function of worry? Either you can do something about the problem right now or you can't. If you can do something about the problem, do whatever that is. And if you can't, worry doesn't add anything to your capacity to do anything—it just makes you miserable twice over.
East, west, north, and south—worry is pointless. As Marcus Aurelius writes in Meditations, "Today I escaped from anxiety. Or no, I discarded it, because it was within me, in my own perceptions—not outside." Remember this the next time you get anxious, the next time you're stressed or overwhelmed with worry—these are thought-based delusions. I can discard them. I can let it go.
Don't let these things make you miserable twice over. Change your judgment about these things.