1.2016–Russell 1000 Value +15.83% vs. Russell 1000 Growth +7.28%.
Since then, the iShares Russell 1000 Value ETF (ticker: IWD) has returned 17%, versus 9.1% for the iShares Russell 1000 Growth (IWF). The last stretch of significant outperformance for value ended in 2006, and it was a whopper. Value beat growth by double-digit percentages in five out of seven years, starting with the 2000 dot-com stock bust.
http://www.barrons.com/articles/will-2017-be-the-year-of-the-trump-rooster-1483169072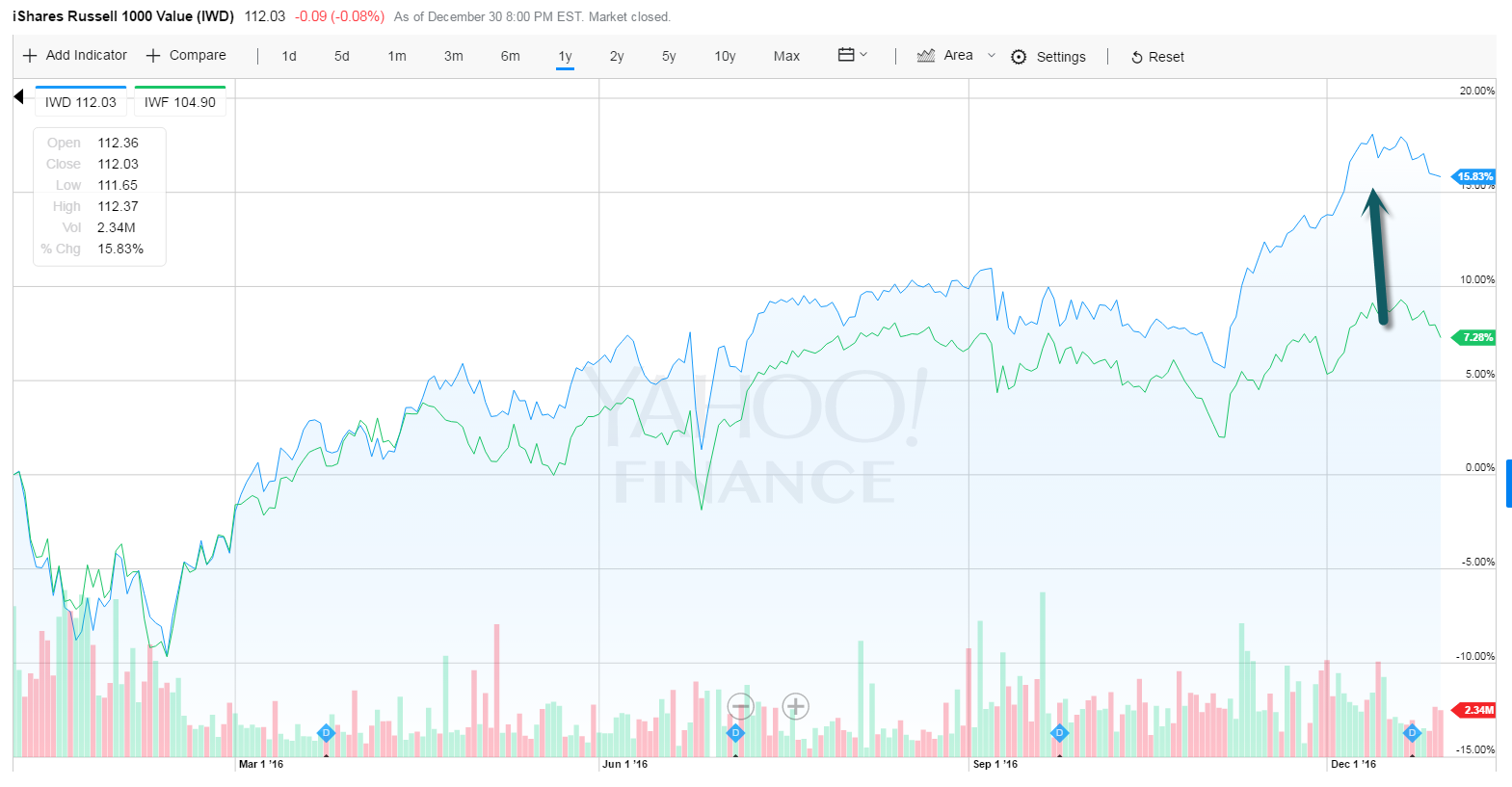 2.ICE Dollar Index Rallied 80% Between 1981 and 1985…Driven by Fiscal Stimulus and Rate Increases.
 The ICE Dollar Index rallied more than 80% between 1981 and 1985, driven by a mix of fiscal stimulus pushed through by then-President Ronald Reagan and a series of rate increases by the Federal Reserve in the decade's early years.
http://www.wsj.com/articles/u-s-bond-yields-set-for-second-year-of-gains-after-volatile-2016-1483110428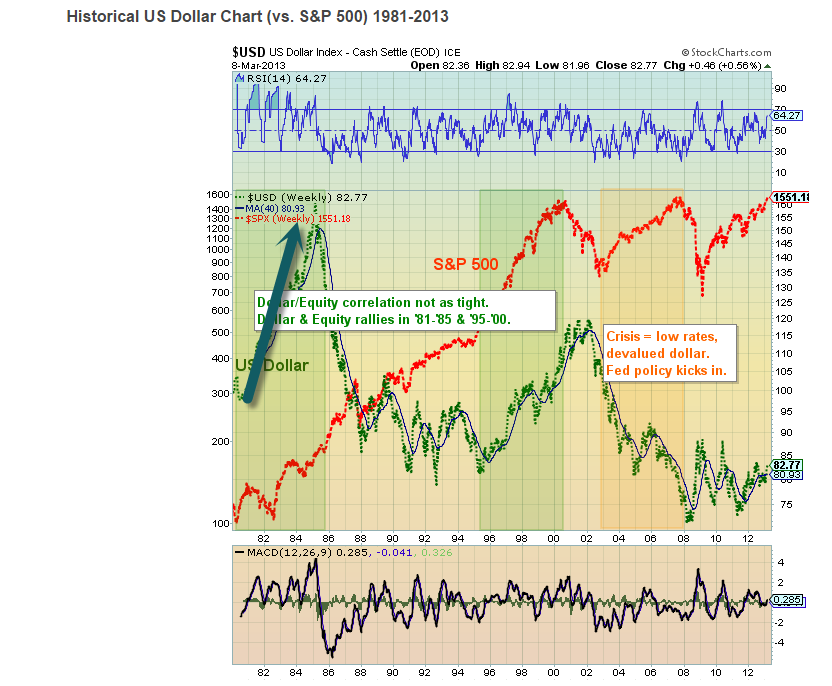 https://www.seeitmarket.com/historical-us-dollar-chart-and-the-macro-equities-correlation-13236/
3.Technology and Trading…The Takeover of Trading by Technology was Massive and Quick.
In One Chart…Death of the Trading Pit….90% of Volume to Zero in 8 Years.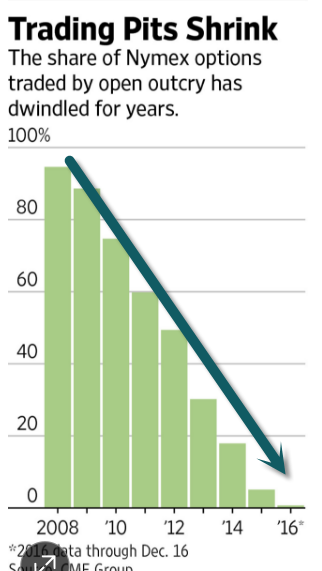 http://www.wsj.com/articles/nymex-trading-pits-shut-down-marking-end-of-an-era-1483030301
Dec 30, 2016
Get Bespoke's 2017 Outlook Report with a 30-day free trial to Bespoke's premium research!  Click here to learn more.
The chart below is pulled from the Intro section of our 2017 annual outlook report.  We've broken the S&P 500 into deciles (10 groups of 50 stocks each) based on analyst buy and sell ratings at the start of 2016.  The 50 stocks in decile 1 were the most loved stocks by analysts at the start of the year, while the 50 stocks in decile 10 were the most hated.  We then calculated the average percentage change in 2016 for the 50 stocks in each decile.  This allows us to see how well the most loved and hated stocks did this year.
As shown, analysts didn't have a great year.  The 50 stocks with the highest percentage of "Buy" ratings were up an average of just 2.88% this year, while the 50 stocks with the least amount of "Buy" ratings were up an average of 15.29%.  Deciles 7, 8, and 9 all posted huge average gains as well.
Let's see if 2017 is a better year for the analyst community than 2016 was.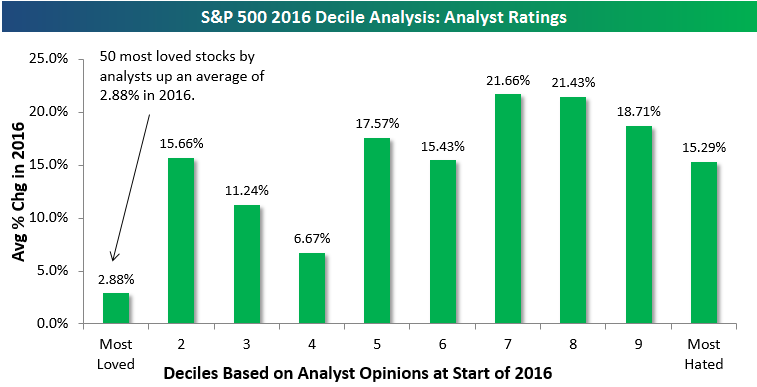 https://www.bespokepremium.com/think-big-blog/
5.Global Value is Historically Cheap.
Meb Faber.
And depending on the particular regime they find themselves in, investors come to different conclusions.  Remember everyone clamoring for the BRIC stocks (Brazil, Russia, India, and China) in the mid-2000s?  That pushed valuations to stratospheric levels resulting in CAPE ratios in the 40s and 60s – true bubbles!
Eight years of sorry foreign performance followed, resulting in many to question the usefulness of foreign diversification at all.  But one regime sets the stage for the next, and now we find ourselves in an environment where US has outperformed everything since the 2009 bottom, but outperformance alters values, and now the US is one of the most expensive stock markets in the world at a CAPE ratio around 27 (though nowhere near the peak valuation of 45 in 1999).
Foreign value has lagged badly, including three consecutive years of underperformance to the S&P in 2013-2015.  This has pushed the CAPE ratio of the cheapest basket to a value of around 9 or 10, less than half the valuation of US stocks.  (Actually it is almost a third the value of the US!)  A global value approach is having a great year in 2016, and we look for that to continue for the foreseeable future.
So, maybe instead of chanting U-S-A, investors should be thinking C-A-P-E?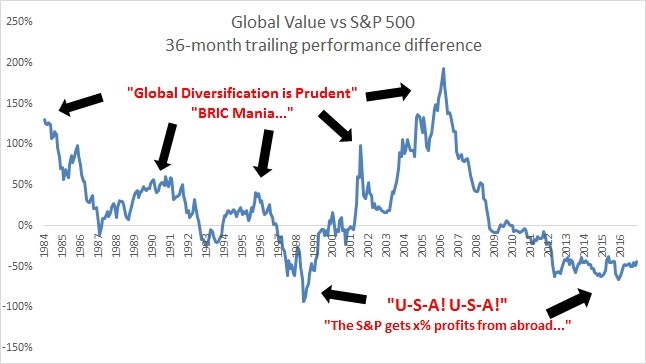 http://mebfaber.com/2016/12/28/u-s-u-s/
6.2016-$3.6 Trillion in M&A…Down 16% Year over Year.
 Chart from Barry Ritholtz Blog.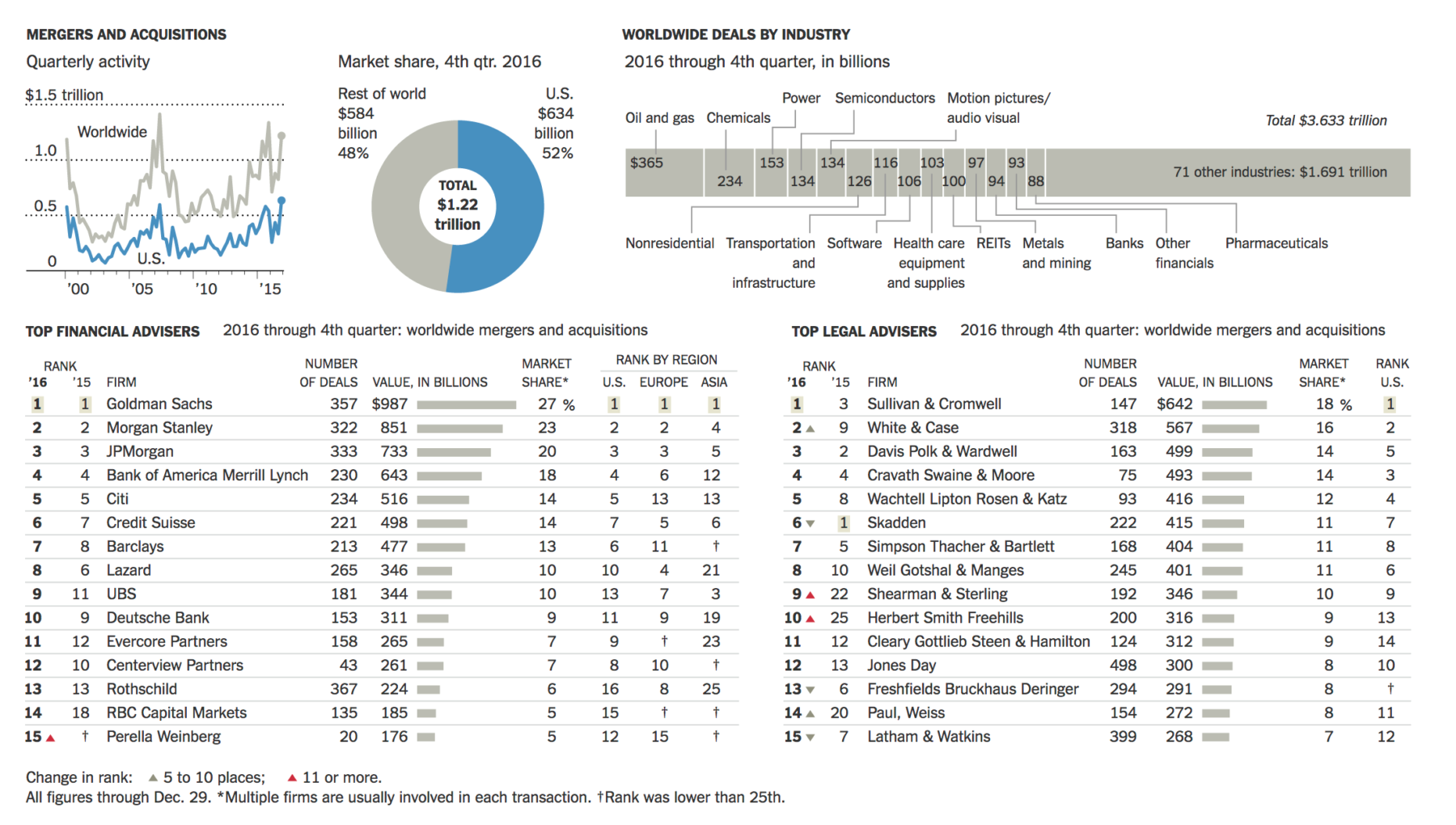 http://ritholtz.com/2017/01/2016-36-trillion-ma-deals/
2017 Outlook on M&A from KPMG.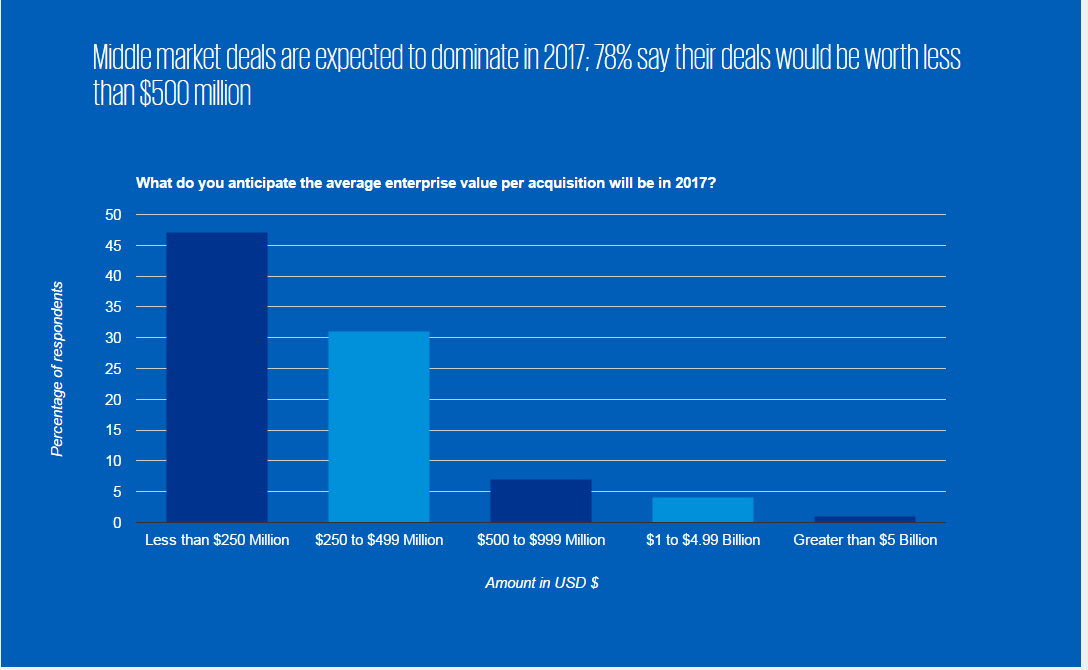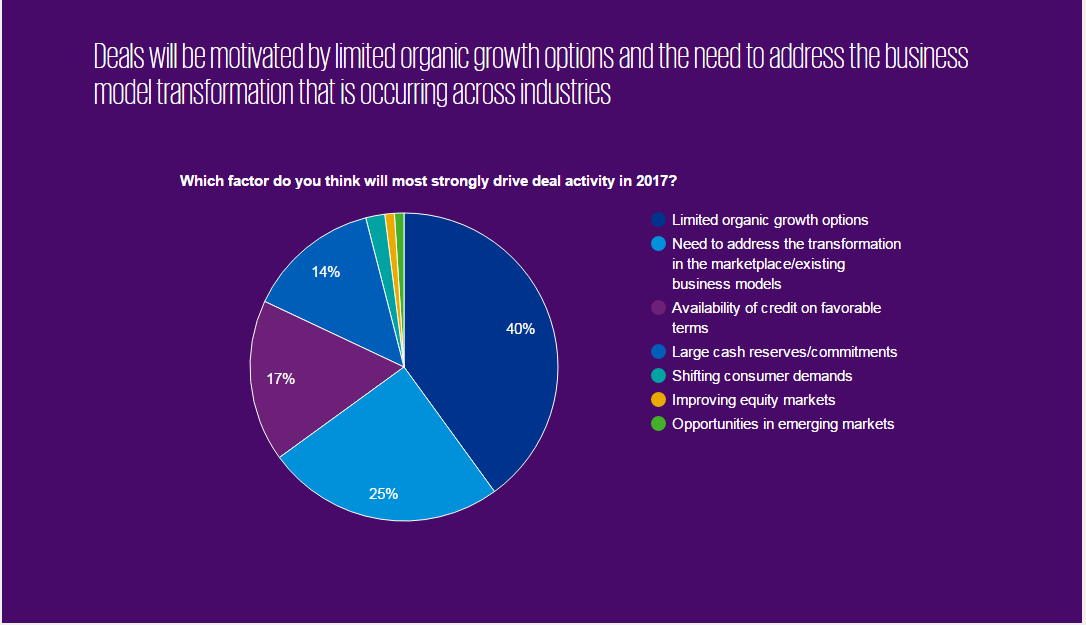 Good Full Read.
https://info.kpmg.us/ma-survey-2017.html?gclid=CK2Aksn4pdECFYWKswodkgULog
7.So Much for Brexit….London FTSE Hits All Time High.
FTSE London-50day About to Cross Above 200day on Long-Term Weekly Chart.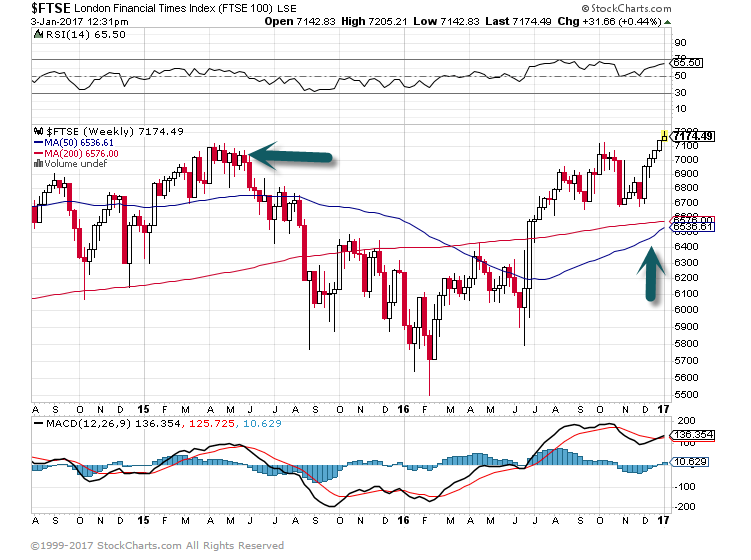 UK Manufacturing Index Hits 30 Month High.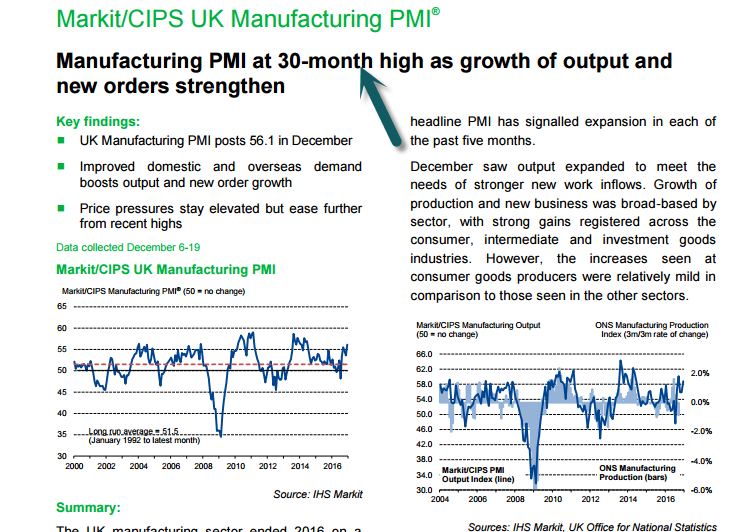 https://www.markiteconomics.com/Survey/PressRelease.mvc/f0f8bc99ea5c44698c0c0cb1a841fe1a
8.Read of the Day….Deutsche Bank $20B in Profits Since 1995…$15B will Ultimately be Paid Back in Fines.
In addition to Mr. Jain, they included Edson Mitchell, a charismatic builder of businesses at Merrill Lynch who, in 1995, was given a mandate by Deutsche to create a world-class investment bank in London and spare no expense in doing so.
Mr. Mitchell recruited two colleagues from Merrill to help him in his task. William S. Broeksmit, a derivatives trader with a risk manager's nose for spotting financial dangers, was one. And Mr. Jain, then just coming into his own as a purveyor of the exotic to hedge funds around the world, joined him.
Today, two of these three men are dead.
Mr. Mitchell died in a plane crash in 2000 at age 47. Mr. Broeksmit committed suicide in 2014 at 58.
Deutsche has been a primary offender in two of the biggest banking scandals of the past decade: promoting toxic mortgages to unwitting investors and manipulating for profit the main lending rate for banks in London. In the process, it has agreed to pay over $9 billion in fines and consumer relief. The bank has sold tax-reduction products to hedge funds, and is alleged to have helped Russian investors illegally move money overseas.
This is also a bank that marketed complex derivatives to Europe's sickliest bank, Monte dei Paschi in Italy. And it is one of the largest lenders to Donald J. Trump, having extended roughly $300 million in loans to the president-elect's businesses.
Analysts calculate that of the 20 billion euros in profits that Deutsche's trading and banking unit accumulated since 1995, as much as 15 billion euros will ultimately be returned to regulators via fines and penalties. Of course, not all of this lands in the lap of Mr. Mitchell — and more recently, Mr. Jain.
This is also a bank that marketed complex derivatives to Europe's sickliest bank, Monte dei Paschi in Italy. And it is one of the largest lenders to Donald J. Trump, having extended roughly $300 million in loans to the president-elect's businesses.
Analysts calculate that of the 20 billion euros in profits that Deutsche's trading and banking unit accumulated since 1995, as much as 15 billion euros will ultimately be returned to regulators via fines and penalties. Of course, not all of this lands in the lap of Mr. Mitchell — and more recently, Mr. Jain.
By the time of the financial crisis, 90 percent of the bank's profits would come from the London-based global market's division — fueled mostly by derivatives-driven trading bets and its dominant positions as a foreign currency trader.
Click for full read
http://www.nytimes.com/2016/12/30/business/dealbook/deutsche-bank-flew-and-fell-some-paid-a-high-price.html?ref=todayspaper&_r=0
9.Growth in Working Age Population…Not Sure I buy this Thesis Due to Longevity.  People will be Living Longer and Working to Later Age Across the Globe.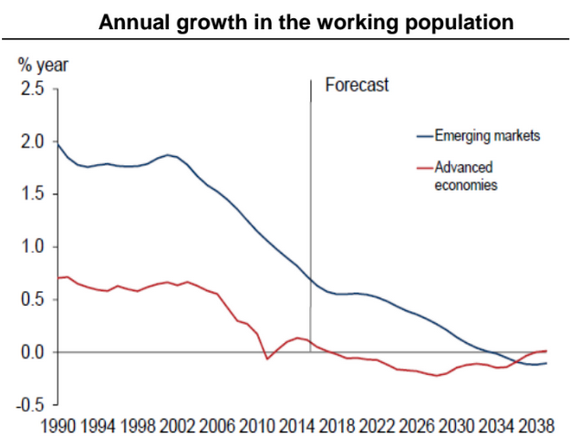 Food for Thought™: This longer-term forecast of the working-age population suggests that global growth will be capped in the years to come.
Source: Macquarie, @NickatFP
10.17 Bad Habits You Need to Kill in 2017 to Be More Successful
Finally take control of your destiny by deleting the negative habits that have been dragging you down
Many of you will resolve to start a new positive habit in 2017. Adding good habits can be fun, but unfortunately (most of the time), they don't work. Approximately 38% of Americans will make resolutions, and only 8% will succeed.
Instead of adding a new diet or workout regime, let's remove the negative habits that have been holding you back.
Here we go:
Kill your habit of checking social media during the workday.
Social Media platforms are masters at making you stay there. Getting lost in Facebook can be fun, but it's counterproductive during the day — especially while you're trying to build that presentation for your investors.
Now that we're on the subject, turn off the notifications on your phone too. You can check your Snaps on your break.
Kill your habit of thinking it's all about you.
Your frowning boss isn't conspiring to fire you, as much as the cashier isn't giggling about your tie. They're thinking about themselves, and their own problems. Not you. I promise.
It's not about you. So cut it out. Run on that assumption when dealing with every human interaction in your life, and you'll be much happier.
Kill your habit of multi-tasking.
Science tells us that only 2% of us can really multi-task. So don't try. Try this instead: When attempting to get something off your "to-do" list, shut down every browser and APP on your screen except for the one you need.
Otherwise, you'll get notifications for LinkedIn requests to Facebook Live posts, to Tweets. A never-ending stream of distraction. So shut down everything except the program you need, and finally get things done.
Kill your habit of comparing yourself to everyone.
You will never win this game. There will always be someone smarter, better looking, richer and (seemingly) happier. Always. Focus on yourself, your mindset, your health, the state of your being, and you'll win.
Kill your habit of complaining.
It's just not worth it. Be aware of the words that come out of your mouth. They affect you and the people around you.
Speak of good things, and more good things happen. Speak of negative things, and more negative things happen. Simple.
Kill your habit of wasting time with negative people.
If they don't love and support you, get rid of them. You don't have to shout, kick and scream. Just stop being available to them. They won't notice. They're too self-centered to care.
Kill your habit of taking or organizing long and unnecessary meetings.
Less meeting means more doing. We're all adults. Take the meeting, do what you need to do, and go and do it. You can still be social, and have fun, and succeed in making meetings more efficient.
Try this in your next meeting. Set an agenda. As you run through the agenda go around the room and have everyone share:
What they're working on.
What they've completed.
What they need to complete what they're still working on.
It works, I promise. You'll shave 1/2 hour off your meeting time.
Kill your habit of saying "yes."
You may think you don't have enough time. You do. You just spend your time doing the wrong things.
Stop saying "yes" to everything. Embrace "no." Love "no." No is your word for 2017. Love it, live it, and use it.
Kill your habit of self-loathing thoughts & beliefs.
Enough is enough. You are good at what you do. You have it in you. If you can't silence that voice in your head, begin a regiment of meditation. If you need some quick wins to feel good about yourself, write three things you want to change this year. Right now. Go ahead, I'll wait.
Congratulations, you took the first step. Feel that little endorphin release in your brain? That's what you're looking for. Keep doing that, and you'll break that habit and create a new one. A habit where you actually get things done. Go — do things.
Kill your habit of sitting.
Get off your backside. Run, exercise, move. But stop sitting. Oh, and get a standing desk while you're at it.
Kill your habit of underachieving.
You're better than this. You have more in you, and you're not getting any younger. Start that business. Resign from that horrible job. Do it now. The only thing stopping you is you. Not your family, not your bank account.
Kill your habit of bragging about your resolutions before they happen.
Your brain thinks you've accomplished them when you announce them to the world. Stop that. This TED talk helps to explain the phenomenon.
Kill your habit of creating excuses.
While you're at it, kill the habit of creating reasons. They're just excuses with lipstick on.
Kill your habit of reality TV/celebrity gossip etc.
You're an adult; this shouldn't be a part of your entertainment. It's junk food for your brain. Feels great at first, but there is always a negative mental consequence.
Kill your habit of obsessing over dooms-day scenarios.
It's good to have some healthy skepticism, but pessimists don't change the world, motivate people, or come up with innovative ideas. They only bring the people around them down.
Kill your habit of obsessing over things outside of your control.
Focus your time, energy and resources on improving yourself. You can control everything you put in your body, think about and do. Master yourself and become ruler of your universe.
Kill your habit of making sure everything has to be perfect.
It ain't happening. Ever. This is just a complicated form of procrastination. Which is a deeper manifestation of your fear. Get out of your own way, and let it rip.
The opinions expressed here by Inc.com columnists are their own, not those of Inc.com.
http://www.inc.com/chris-dessi/17-bad-habits-you-need-to-kill-in-2017-to-be-more-successful.html