1. Possibly the Biggest Data Point from FED Meeting….Projecting U.S. Growth to Stay Around 2%.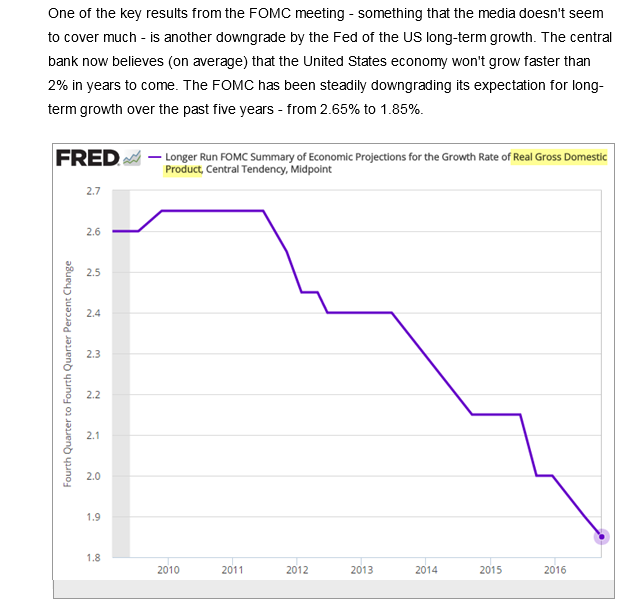 2. Lower Longer Plus Slow Growth Equals the Rise of Jumbo Bond Offerings…Equity Markets Rewarding Leverage. Corporate Mega Bond Offerings on the Rise…$5B and Up
Would you like to supersize that corporate bond sale?
Companies selling their debt to eager investors have replied with a collective 'yes.' They've opted to increase their issuance of mega-sized bonds of $5 billion or more to a record $330 billion in 2015, according to data from HSBC Holdings Plc.
The trend's gained traction quickly, with a single Verizon Inc. bond in 2013 equaling almost all of 2012's mega-bond total. Such 'jumbo' issuance was novel that year, but is increasingly characterizing the market and now accounts for almost a third of total sales in 2016, HSBC analysts say. Like junk food, however, the growth of outsized debt deals comes with a health warning as it may result in a handful of huge issuers dominating the market, or allow companies to increase borrowing levels to subsidize greater payouts for their shareholders.
"It is no secret that the equity market generally rewards companies that add leverage their balance sheets, whether to finance M&A or shareholder-friendly actions such as share buybacks and/or dividend increases, in the absence of sustained organic growth," HSBC analysts led by Edward B. Marrinan wrote. "Jumbo issuance has become key to capturing this value."
http://www.bloomberg.com/news/articles/2016-09-20/supersized-corporate-bond-sales-are-taking-a-bigger-bite-out-of-an-8-trillion-market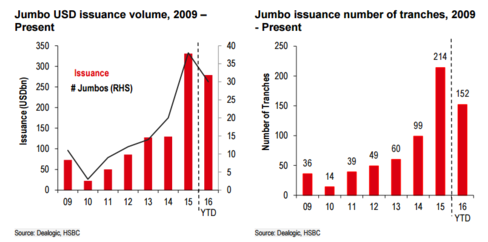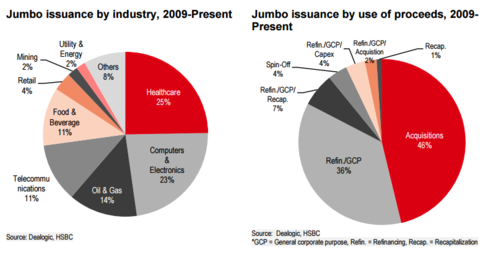 3. As Rates Stay Low, World Public Debt as Percentage of GDP Surges.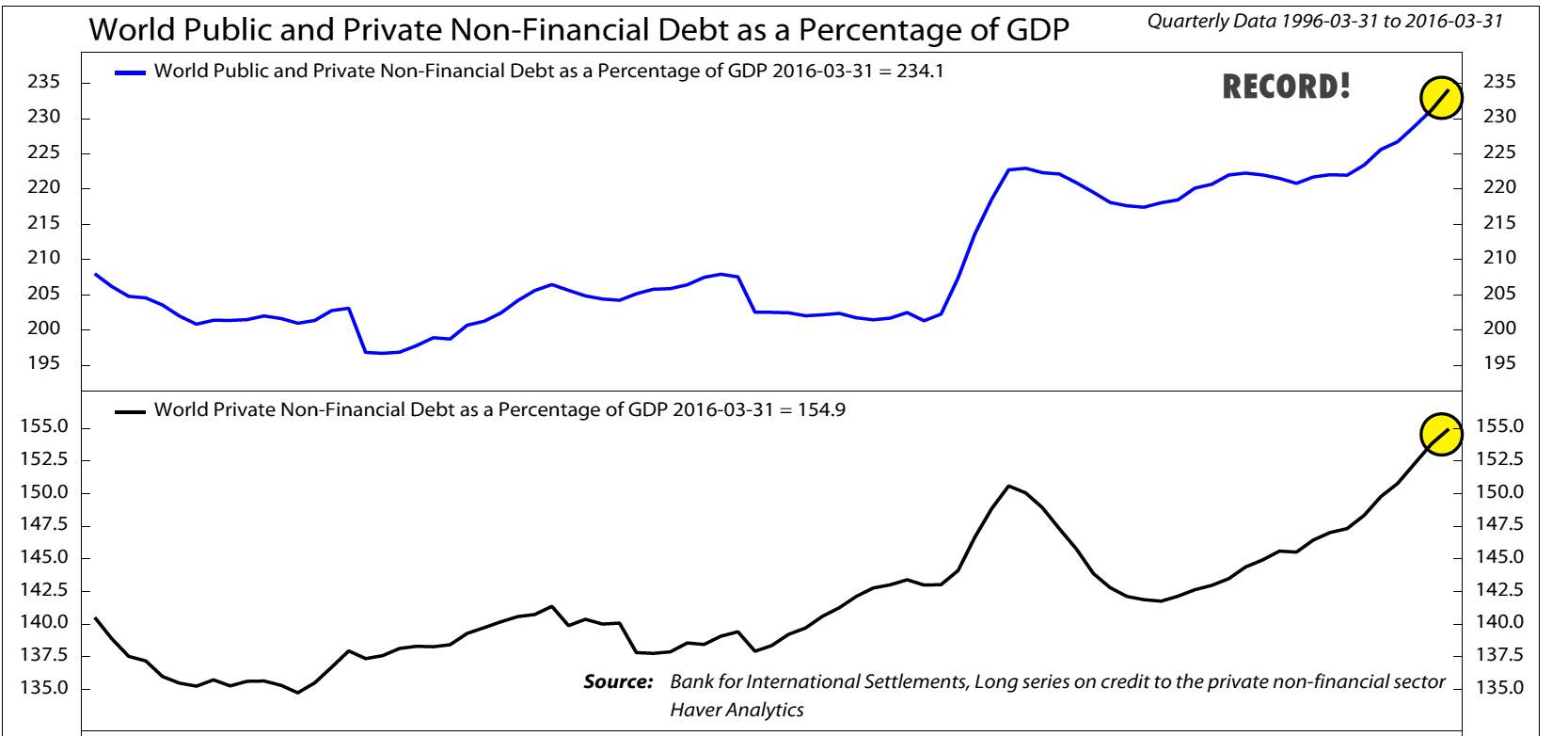 Emerging Market Public Debt Contained.

Ned Davis Research Group
4. Banks Go Back into a Holding Pattern….Trailed Market Rally Yesterday by 60bps.
The success of negative interest rates has been heavily debated, but now Citigroup is offering proof that at least one of part of the economy is suffering from the unconventional policy tool: Banking.
As this chart below from the Wall Street giant shows, lenders that operate in a negative-interest rate environment are now valued at just 75% of what they were at the year's start. That compares to almost unchanged stock prices for banks in countries with rates above zero.
To represent countries with negative rates, Citi used stock prices for Japanese and the eurozone banks. It used banks in the U.S., the U.K., Canada and Australia to represent countries without negative rates. Not included: Sweden, Denmark and Switzerland — nations where benchmark rates also begin with minus signs nowadays.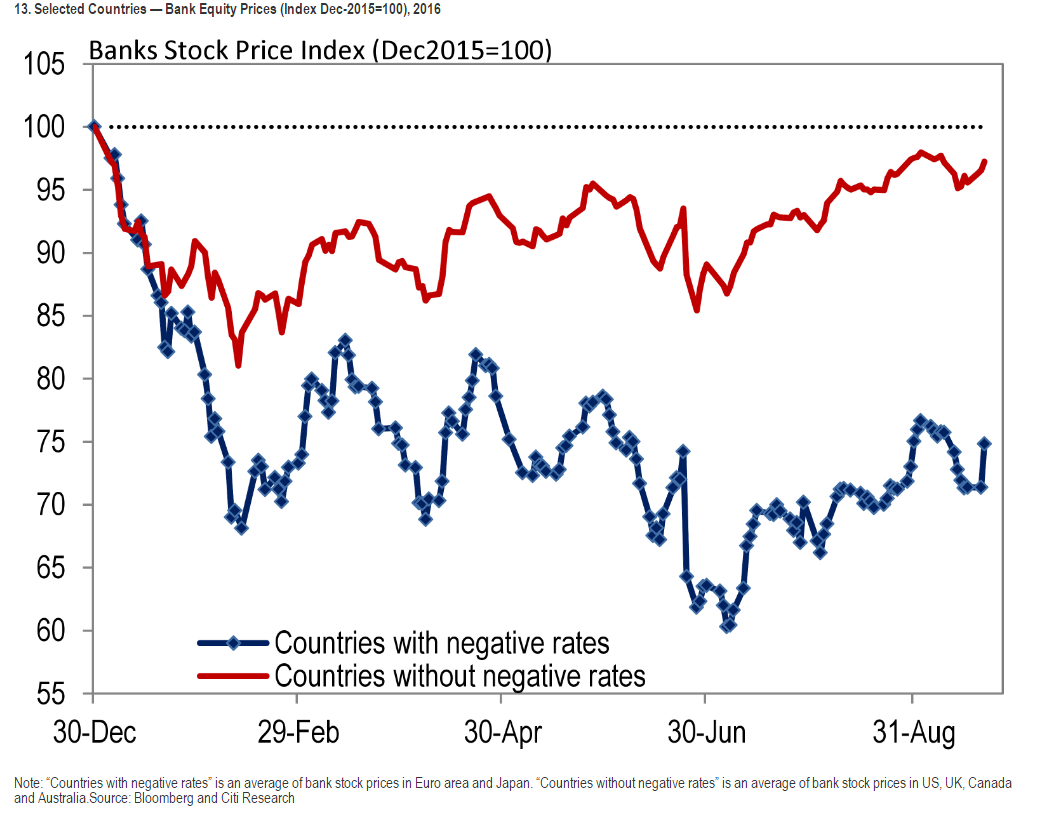 http://www.marketwatch.com/story/how-negative-rates-have-clobbered-bank-stocks-in-one-chart-2016-09-22
5. Watching IPO Market for Further Signs of "Risk On" for the Market…
The U.S. IPO market is also heating up…There are nine new listings on the calendar over the next three days, marking the busiest week of 2016, and if next week's proposed calendar comes through, September will be the busiest month of the year as well. Among them: The Trade Desk (Pending:TTD), Novan (Pending:NOVN), CapStar (NASDAQ:CSTR), e.l.f. Beauty (Pending:ELF), AC Immune (Pending:ACIU), Apptio (Pending:APTI), Full Spectrum (Pending:FMAX), Gridsum (Pending:GSUM) and Valvoline (Pending:VVV).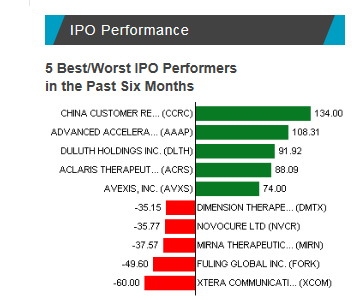 http://www.nasdaq.com/markets/ipos/
IPO ETF Still Well Below Highs.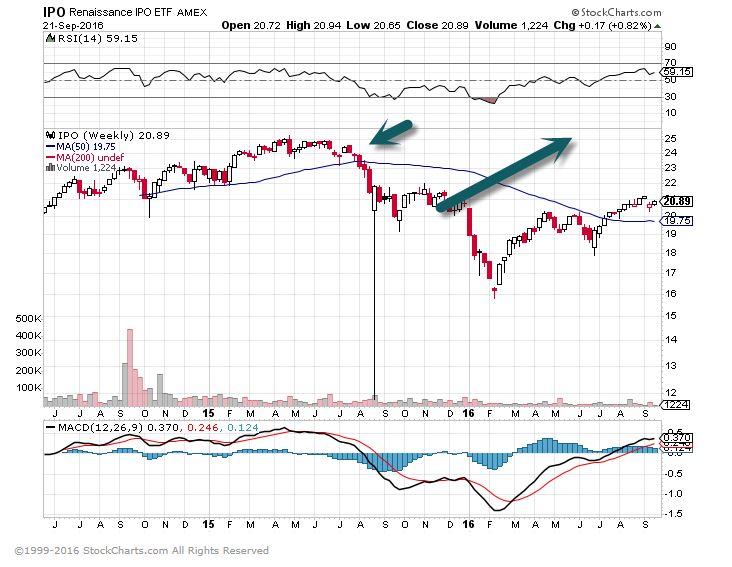 6. Natural Gas Closes Above $3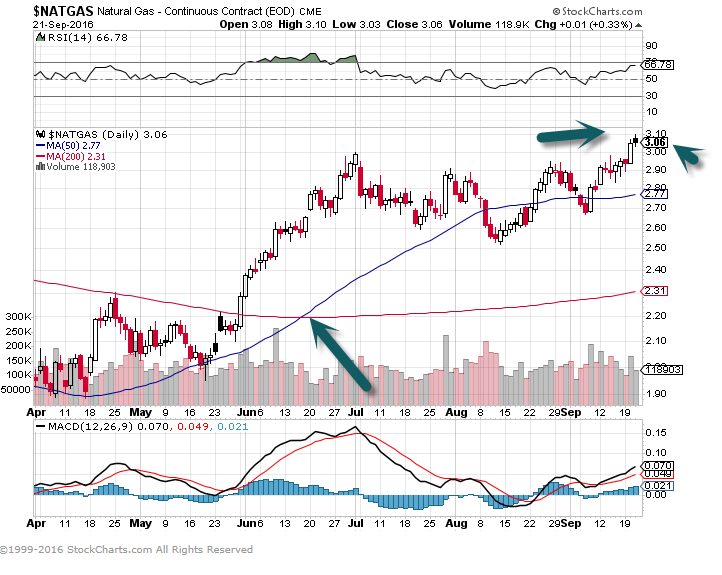 Inventories now just 9% over 5yr. average compared to 54% gat at the start of year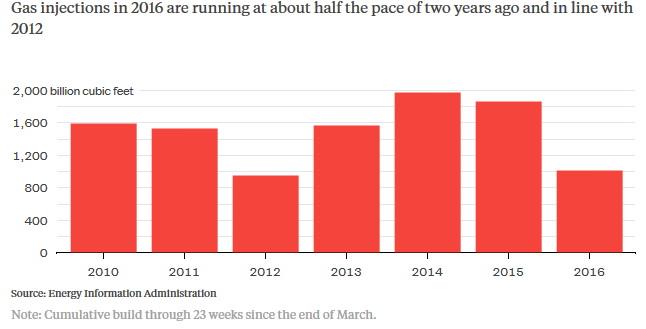 Thanks to Dave Lutz at Jones for chart
"Inventories are now just 9 percent above the five-year average, compared with a 54 percent gap at the start of April. Producers have good reason to think a few blizzards could squeeze out the excess altogether and get gas prices sustainably above $3 per million British thermal units by late 2016 or early 2017." Notes the GadFly
7. Gas Prices at Pump Still in 3 year Downtrend.
Chart of the Day
Today's chart provides some long-term perspective in regards to gasoline prices by presenting the inflation-adjusted US price of one gallon of gasoline since 1980. There are a few points of interest. For one, geopolitical crises are often associated with major swings in the price of gasoline. It is also worth noting that, over the past three months, the price of gasoline has been unable to break through resistance of its three-year downtrend channel (see red line).
8. Bank of Japan Balance Sheet is the Same Size as U.S…Japan Population 120m vs. U.S. Population 321m.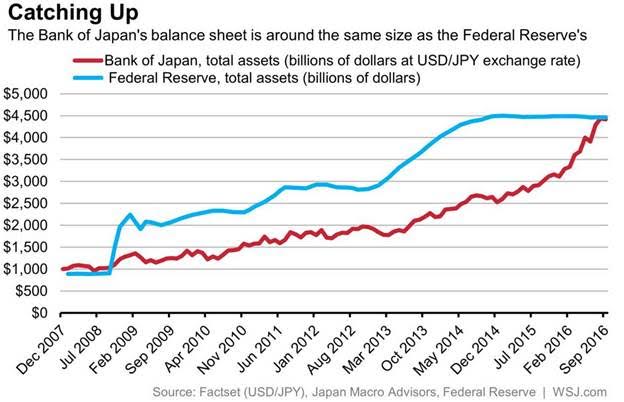 Japan Population 2016 129.96m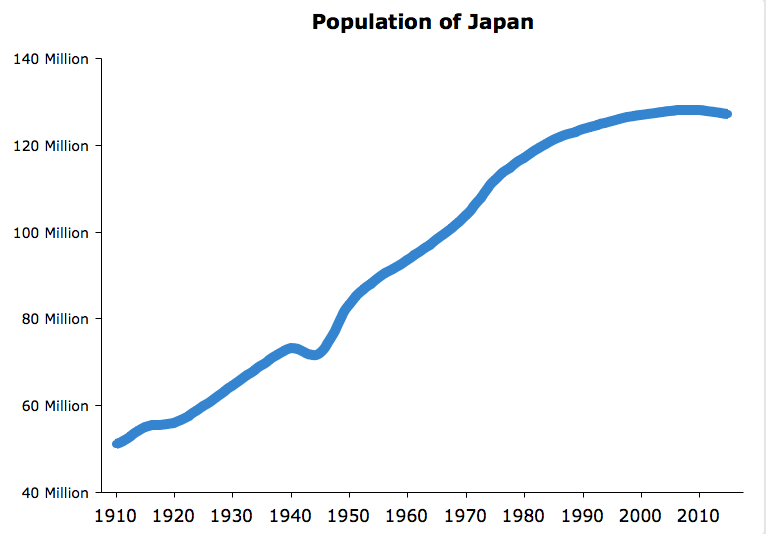 9. Monday's Presidential Debate Could Smash all T.V. History Records…Over 100m in Some Estimates…Super Bowl Size Numbers.
This Should Add to Drama…Trump now leading in Nevada, NC, and Ohio.
Donald Trump surges to leads over Hillary Clinton in 3 of his must-win battleground states
Donald Trump topped Hillary Clinton in a slew of Fox News battleground-state polls released Wednesday, carrying a lead over his Democratic opponent in Nevada, North Carolina, and Ohio.
The polls were conducted in the three states, which are widely considered to be crucial to a Trump victory, from Sunday until Tuesday evening.
In Nevada, Trump held a 3-point lead over Clinton among likely voters in a three-way race that included Gary Johnson, the Libertarian nominee.
The Republican presidential nominee captured 43% of support in the Silver State, compared with Clinton's 40% and Johnson's 8%. The remaining 4% of Nevada voters were undecided.
In North Carolina, Trump was up by 5 points, leading Clinton by 45% to 40%. Johnson carried 6% of support in the Tar Heel State.
And in Ohio, Trump also found favorable results. The real-estate tycoon had a 5-point lead over Clinton, earning 42% of support compared with her 37% in a four-way poll that included Johnson and Jill Stein, the Green Party nominee.
Each of the three Fox News polls had a margin of error of 3.5 percentage points.
Those surveys came the same day other polling firms released results from New Hampshire and Wisconsin that found less favorable results for the real-estate magnate.
In the Granite State, Clinton edged out Trump 47% to 38% among registered voters, according to a Monmouth University poll. It had a margin of error of 4.9 percentage points.
Clinton had less of a lead, however, in Wisconsin, a state that has voted Democratic in every presidential election since 1984. Marquette Law School's Wednesday poll found she was beating Trump by only 5 points, 43% to 38%, among surveyed registered voters. That poll had a margin of error of 4.8 percentage points.
Nationwide, Clinton held a significant lead over Trump in a Wednesday poll from NBC News and The Wall Street Journal, having a 6-point advantage over him in a four-way race.
The polls come with only days to go until the first presidential debate. Clinton and Trump are set to square off Monday at Hofstra University in New
http://www.businessinsider.com/polls-donald-trump-hillary-ohio-nevada-north-carolina-clinton-2016-9
10. A-Ha Moment About Your Success
Last week I had an "A-Ha" moment while reviewing my personal transformation progress for the year.
I realized that in order to be successful, we must have someone (a coach, mentor, friend, etc.) holding us accountable to a high standard.
And you must be terrified of letting that person down.
That's what most people leave out when they try to change.
There are no real consequences for failure.
I know this from experience. I wouldn't be where I am today without my business partners and best friends, Jeff Schneider, Matt Smith, Joel Marion, and Bedros Keuilian holding me to a high standard and not accepting any excuses from me.
This has led to many uncomfortable situations, a lot of stress (on me), and yes, even feelings of guilt, regret, and embarrassment. But that's natural because I knew I was underperforming and not doing the best I could.
And when I didn't have mentors holding me accountable, I found ways to weasel out of my personal commitment to change. I lived below my potential. And I struggled.
---
Here's the big lesson for you, me, and our clients…
In order to change a habit in your life, to become better at something, and to grow and evolve, you must be held to a higher standard by someone that you do not want to disappoint.
To disappoint your mentor and fall short of their expectations is no different than insulting them to their face.
With every decision we make, every challenge we face, and every temptation we fight, we must remind ourselves not to disappoint the people that have set high expectations for us.
It's not easy. It's uncomfortable. It's stressful.
But it's the right thing for our lives. We cannot – and must not – let them down. They know what we're capable of — even if we don't yet see it. And so we must believe in their expectations – and do our best to meet them.
That's why I view them as mentors, and in the case of Bedros, why I've hired him as a coach. I depend on him to show me what I'm capable of, to set new standards for me, and to get more out of me because it's in my best interest.
Likewise, I now realize that I need to be harder on the people I coach. I need to set a higher bar for them. I need to hold them accountable to higher standards. I must do a better job of helping everyone see that they are capable of so much more.
The bar needs to be set higher for all of us.
When it is, we'll find a way to meet it.
As Bedros told me when I hired him for coaching, "Craig, a lot of this is going to be uncomfortable for you, but if you do what I say, you'll get what you want."
He's been right.
I don't want to practice the sales scripts with him over and over again.
I get nervous and uncomfortable when I get on the phone with prospects and do the actual sales calls.
But each time I do, I get better, and I get closer to that high bar he has set for me… based on what he knows I can achieve.
And so as a coach, I realize it's no longer enough for me to give praise for simple participation. It doesn't do anyone any good to reward them for "kind of trying" when I know they can do more and succeed.
I need to set the bar higher for others. I need to set the bar higher for myself. We all do.
When we do this, we'll release the E-brake, as Bedros said in his recent ETR essay.
It's that simple. That's the secret to sticking to your plans and achieving your goals.
This is why we've released ETR University. It allows us to set a higher standard for all ETR readers and to help them live up to this new standard.
We are doing this because of ETR's 7th Core Value that states:
You're not just satisfied with what you know now. You're always improving.
And of course, it's also reflected in our 8th Core Value, too:
Never, ever, ever, EVER give up on what is important to you. Never give up on getting better, and never give up on helping our readers and clients. Everybody's going to have some struggles, but we're going to be there helping.
Set that bar. Keep on pushing till you reach it. Then set it another notch higher again. And keep seeking out mentors and positive people in your life that make you play up a level.
Set the bar high and achieve success with the new ETR University (and get $200 in free gifts as a Charter Member today).