1. Does the Fed Need to Raise Rates?
Rates already rising, even though U.S. economic data is tepid.
Indeed, LIBOR rates continue grinding higher and the TED Spread has widened sharply…3 month Libor up 145% off low base.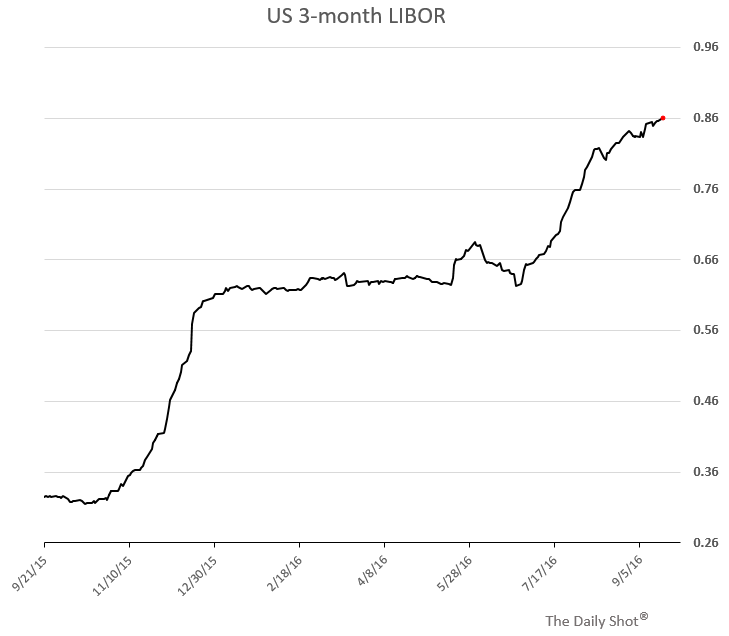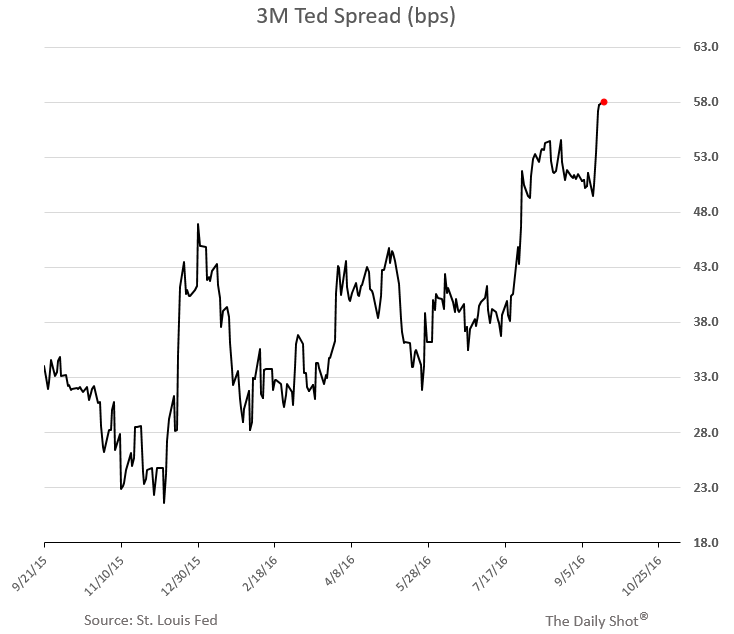 At the same time, (as discussed before) US economic data has been soft. Here is a chart from a Daily Shot reader showing durable goods shipments (year-over-year). It's hard to see how the FOMC would ignore this.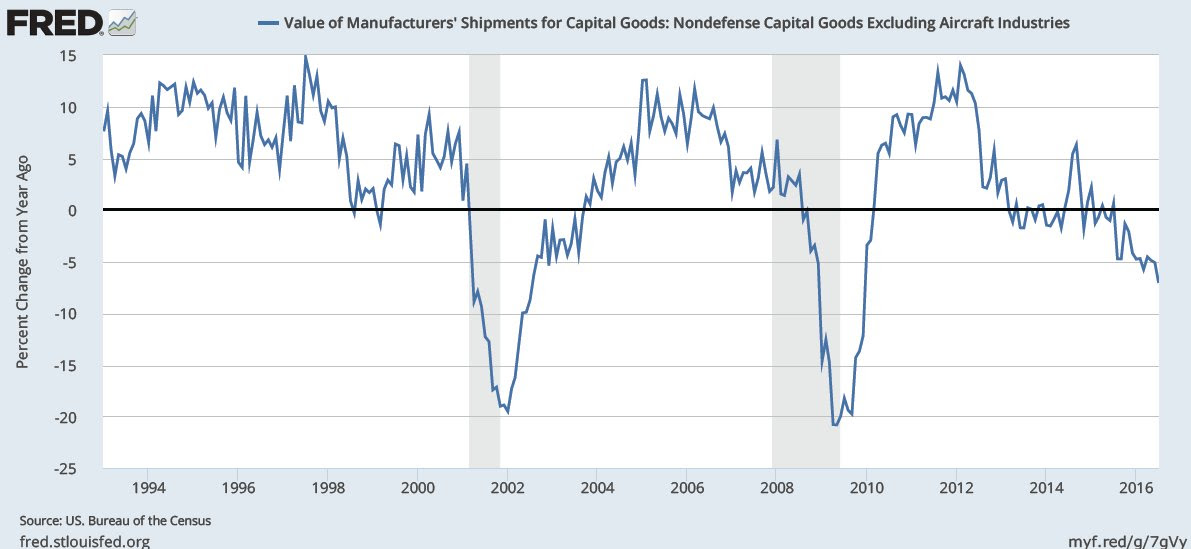 h/t James
2. Is Biotech Back? Sub-Sector Market Leader 2012-2015 Before Big Correction, now Showing Leadership Signs Again.
IBB Biotech ETF…50day thru 200day to Upside.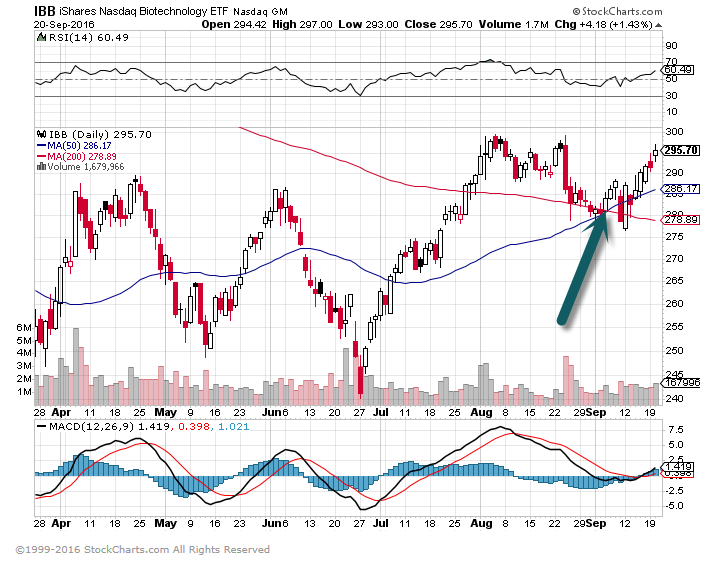 Biotech vs. S&P Since Summer.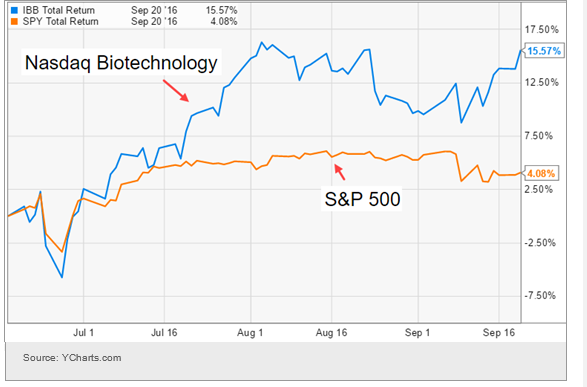 3. Gundlach Deutsche Bank $10 Watch…DB Made New All-Time Low this Week.  Also in Europe…Italy's Banks Non-Performing Loans Account for 17% of all Lending.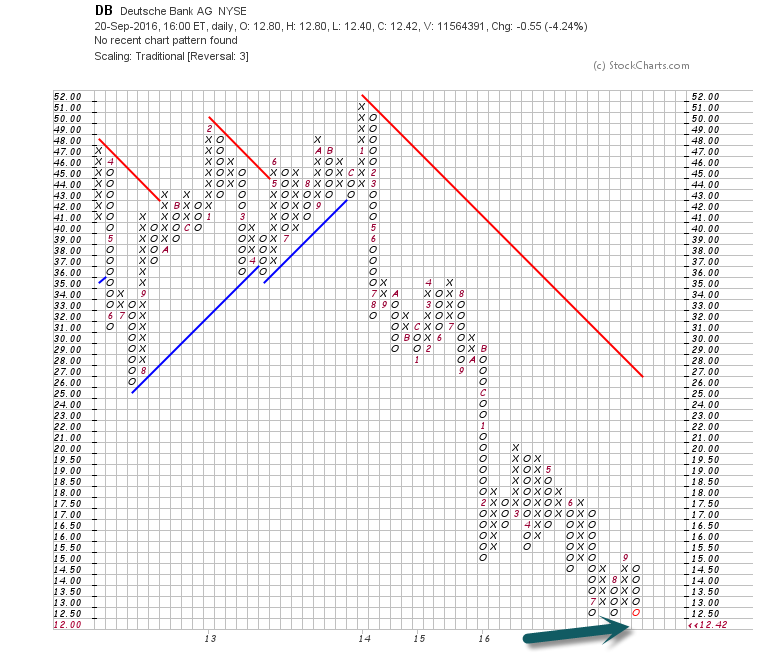 Italian Banks Hit Lowest Levels Since Crisis on Tuesday…
On Tuesday, trading in Monte dei Paschi di Siena, the world's oldest bank and the third-largest lender in Italy, with about 170 billion euros ($190 billion) in assets, was halted after the shares slid nearly 6% over concerns of weak investor interest in its emergency rescue plan.
About 50 billion euros, or about 30% of the bank's assets, are bad loans. And while Atlante, the privately funded bank bailout fund, will be buying assets, BMI Research says that alone may not be enough. Additionally, the country's two largest lenders, UniCredit and Intesa Sanpaolo, are among those backing the bailout fund, so their bottom lines will feel it if things go bad.
In response, shares of Italian banks have been hammered to their lowest levels of the crisis.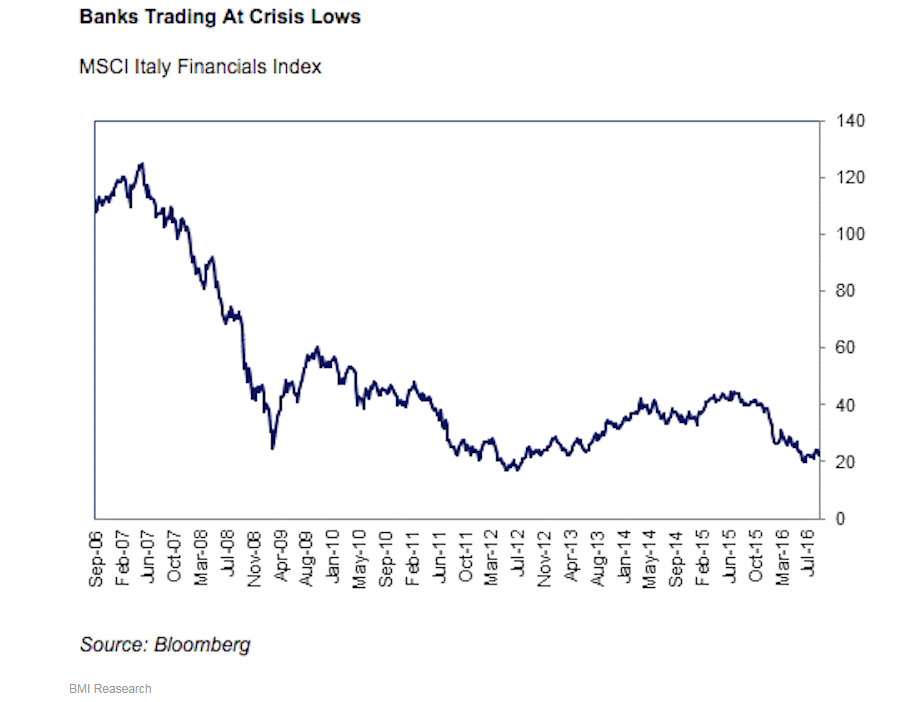 http://www.businessinsider.com/italy-banking-crisis-brewing-investors-balk-at-monte-dei-paschi-bailout-2016-9
4. Plus Euro Bank CDS Continues to Deteriorate.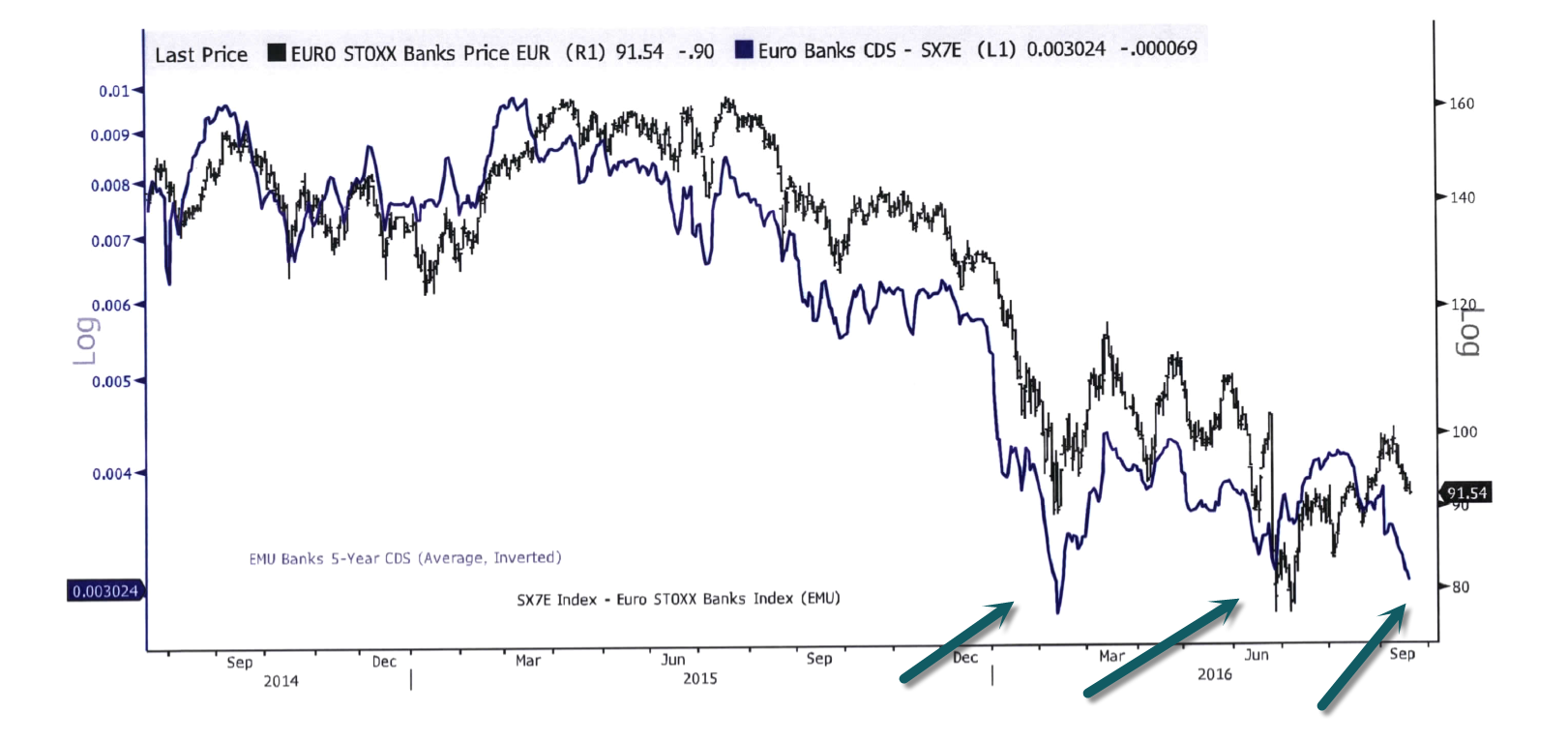 Jeff DeGraff at Renmac
http://www.renmac.com/
Reach out to Eric for Information… EBoucher@renmac.com
5. Since 1961 the week following the 3rd Friday in September has produced the most bearish results of any week
WORST WEEK
Since 1961 the week following the 3rd Friday in September has produced the most bearish results of any week. "This is the 38th week of the year. This week has been down the past 5 years and no week is weaker going back to 1950" (@RyanDetrick)

Thanks to Dave Lutz at Jones for Chart.
6. 4 Reasons Why NIRP May Lead to Structurally Higher Gold Demand…Interesting Read from SPDR's Research.
Negative interest rates reduce the opportunity cost of holding gold.

Source: Bloomberg, World Gold Council, as of 3/21/2016. Real yields computed as nominal yield minus the most recently available year-on-year CPI inflation rate.

NIRP limits the pool of assets that some investors or managers may hold. In the current negative nominal interest rate environment, about 30% of high-quality sovereign debt—more than $8 trillion—is trading with a negative yield, while almost an additional 40% is trading with yields below 1%.3

In the current negative nominal interest rate environment, about 30% of high-quality sovereign debt—more than $8 trillion—is trading with a negative yield, while almost an additional 40% is trading with yields below 1%.

Negative rates can erode confidence in fiat currencies, due to the threat of currency wars and monetary interventions.
NIRP increases uncertainty and market volatility, as central banks run out of effective policy options to combat inflation and deflation and to spur growth.

http://blog.spdrs.com/post/4-reasons-why-nirp-may-lead-to-structurally-higher-gold-demand
7-8. Investors Used to Watch the Baltic Dry Index as an Economic Indicator…Then it Diverged From Market in this Bull Run.
Baltic Dry Doubled Since April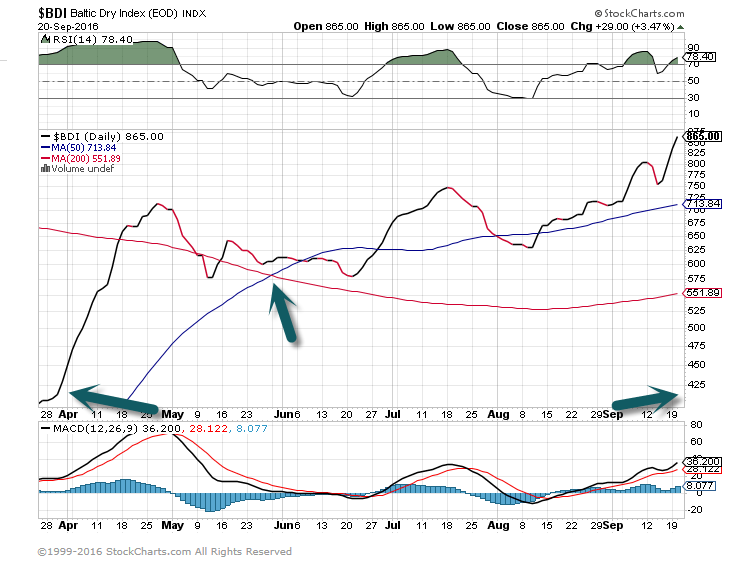 Good Read on Why Shipping did not Participate in Post 2008 Rally.
Why the Shipping Industry Is Still in the Great Recession
by Samuel Taube
To most observers, it's a paradox.
When the economy is doing well, people buy more things. And when people buy more things, shipping demand should increase.
Right?
Actually, wrong. Most industries have seen confident gains since the Great Recession…but dry goods shipping firms are feeling like it's still 2009.
Let's look at some of the reasons why the shipping industry is struggling more than ever.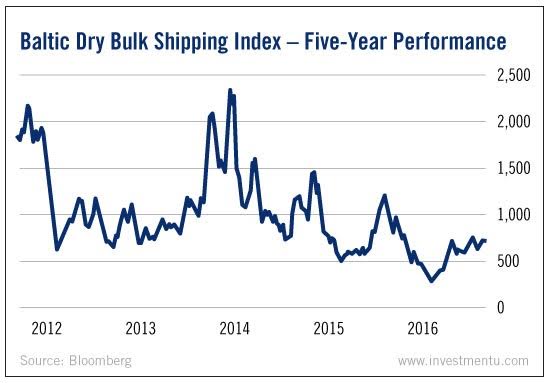 China's Industrial Slowdown Hits Commodity Shipping
China is an economy in transition. On one hand, the Chinese have a growing middle class and rising disposable incomes. On the other, their GDP growth is slowing amidst an industrial downturn.
It's a pattern familiar to Americans in the Rust Belt. As the standard of living rises, heavy industry becomes less competitive and eventually declines.
As of late, Chinese metal and fuel refineries have gotten a lot quieter.
That's dealt a serious blow to the dry-bulk shipping industry. A lot of its business consists (or rather, consisted) of raw commodities bound for Chinese processing firms.
According to shipping consulting firm Drewry, the industry should expect anemic growth to continue for the next two years, all thanks to China's industrial slowdown.
Too Many Ships, Too Little Cargo
Adding to the shipping industry's woes is a poorly-timed surplus of new vessels. Global markets wrestled with a shortage of container ships back in 2010.
Today, it is becoming clear that the industry overcompensated badly.
Container ships are idling outside ports around the world. There are just too many ships and not enough jobs. Some estimates say that as much as 7% of the global shipping fleet is currently idle.
That's part of the reason why a record number of vessels have been dynamited in the past year – a bad omen for the industry.
Large Bankruptcies Shake Confidence
As we recently noted, Hanjin Shipping went belly up at the end of August. The cargo magnate was one of the largest South Korean companies and one of the top 10 in the global shipping industry.
It's worth noting that Hanjin isn't just restructuring its debts. It tried that earlier in the year and completely failed to right the ship. The firm's operations appear to be at an end, with Hanjin assets getting seized at ports around the world.
Hanjin is one of the latest (and largest) shipping firms to fail in recent years, but it's not alone. Four other major carriers have filed for bankruptcy protection since the beginning of 2015.
These losses could clear up space for Hanjin's surviving competitors. But they're also likely to weaken investor confidence in the shipping industry as a whole. That's been the case so far this year…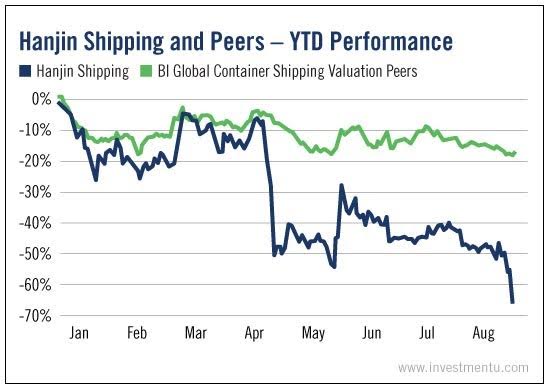 The prolonged struggles of the global dry goods shipping industry come at a strange time. The economy is doing pretty well otherwise. Even wet shipping (oil tankers and the like) are having a good year. Yet freighters can't seem to escape the rout that began almost 10 years ago.
http://www.investmentu.com/article/detail/51696/shipping-industry-still-in-great-recession#.V-JiOTz2aUk
9. You're Going to Need More Money for Retirement…Call Me. Read of Day…
Planning for retirement? Check out 'one of the scariest charts in human history'
Tom Dyson of the Palm Beach Research Group describes it as "one of the most exciting/most incredible charts in human history."
Unfortunately, he added, "it's also one of the scariest."
Here's the chart from the U.S. Census Bureau, which essentially shows how lifespans are increasing at an unprecedented rate. It uses the growth rate of the number of centenarians as the metric.
As you can see, a massive spike is expected.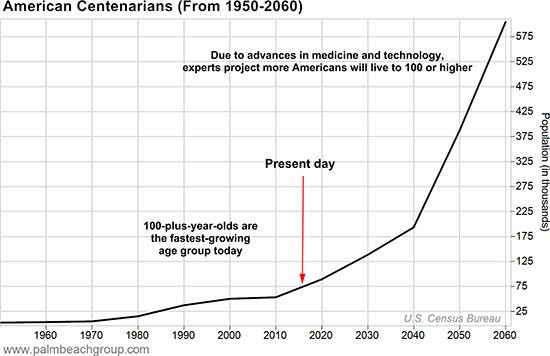 By the numbers, Dyson pointed out that the U.S. has an estimated 72,000 centenarians now, and come 2055, we could see close to 500,000 of them if current growth trends continue. And considering the advances we've seen in medicine, diet, lifestyle and hygiene, why not?
Then there's the scary part: planning for a retirement that might last a whole lot longer than anyone could have realistically predicted. Budgeting to 80 years old is scary enough. Try tacking on another 20 years or so to the forecast.
"These days, the solvency of Social Security and just about every government program is in question. Pensions from corporations have all but disappeared. And with interest rates near zero percent, government bonds yield less than 2%," Dyson said. "Add to this the coming volatility in the stock market as 'The Great Unwinding' unfolds."
Clearly, it might be time to re-evaluate your approach to your Golden Years.
http://www.marketwatch.com/story/planning-for-retirement-check-out-one-of-the-scariest-charts-in-human-history-2016-09-20
10. 8 Ways to Overcome a Blow to Your Ego
Social defeat doesn't have to defeat you with these 8 tips
Assuming, then, that we humans have control over our interpretation of defeat, let's look at these 8 winning strategies:
Take a page from the mouse playbook, and build your resistance: A mouse can't change its interpretation of experiences, but you can. Don't shy away from those who've defeated you but allow yourself to get back out into the field and continue to interact in your own environment.
Take a page from the politician's playbook, and admit that it hurts: You don't have to pretend that you don't mind losing (unless you truly don't). Perhaps one of the most truthful statements a politician can make is to admit that winning is better than losing.
Learn from the experience of losing so that you can lower your chances of defeat in the future: What was it that led to your loss? Was it simple lack of strength or was there something you could've done differently? If you take this pragmatic, problem-oriented approach, you may come out better prepared the next time.
Understand, and then manage, your emotions: It's interesting that the young mice didn't show the effects of social defeat until they reached adulthood. Again, with the proviso that they're mice, not humans, it's possible that by letting things fester, we humans may be more easily brought down by defeat.
Recognize that not everyone can always be the winner: When we hear about "unsportsmanlike conduct," this means that a player didn't adopt the mindset that in sports, someone always has to lose.
Don't torment yourself with the "what if's": Presidential candidates, as shown in the CNN special, may spend anywhere from days to decades mulling over how the outcome could've been different if they hadn't made a debate gaffe. Regret is great if it helps you become a better person, but regret that can't undone what's been done has no point.
Congratulate the winner: It's not only gracious, but self-preserving to put the defeat behind you by letting the other person know that he or she won fair and square. Like the defeated politico, you may end up getting an invitation to be on that person's team.
Find other ways to feel good about yourself: Those defeated little lab mice could only see themselves as losers because, in that context, there wasn't much else they could do. You, however, can move on and find ways to console yourself by focusing on activities at which you feel successful.
https://www.psychologytoday.com/blog/fulfillment-any-age/201609/8-ways-overcome-blow-your-ego