1. GoldenCross for the US Dollar after 143 days with 50day<200day. 11th longest streak ever w/out a Golden Cross – The US Dollar had a GoldenCross in July '14 and it gained 21.6% the next 12 months for one of the best yearly gains ever. (@RyanDetrick)
U.S. Dollar Chart…See Blue 50day Crossing Thru Red 200day.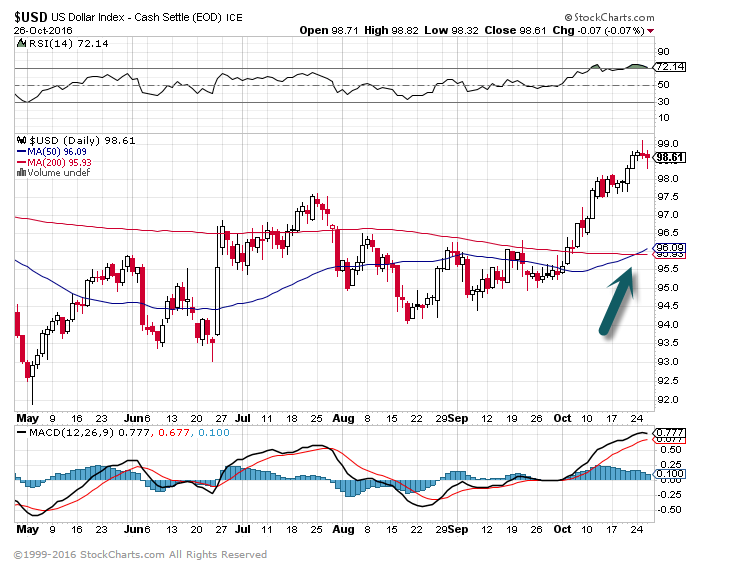 Longer-Term Dollar Chart…Watch for Break Out Above Band Going Back to Jan. 2015.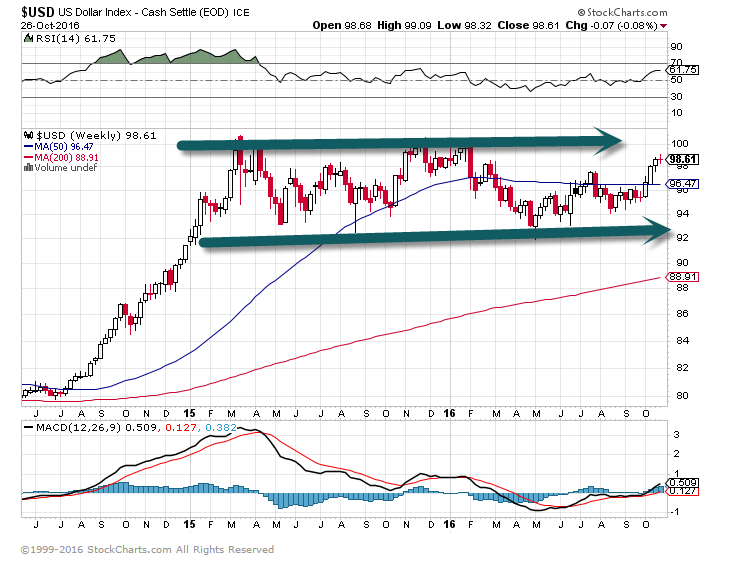 2. Duetsche Banks Reports Profit Last Night…Watching How Stock Trades Today…
Big Bounce already from $10.5 to $14.5…See how it closes…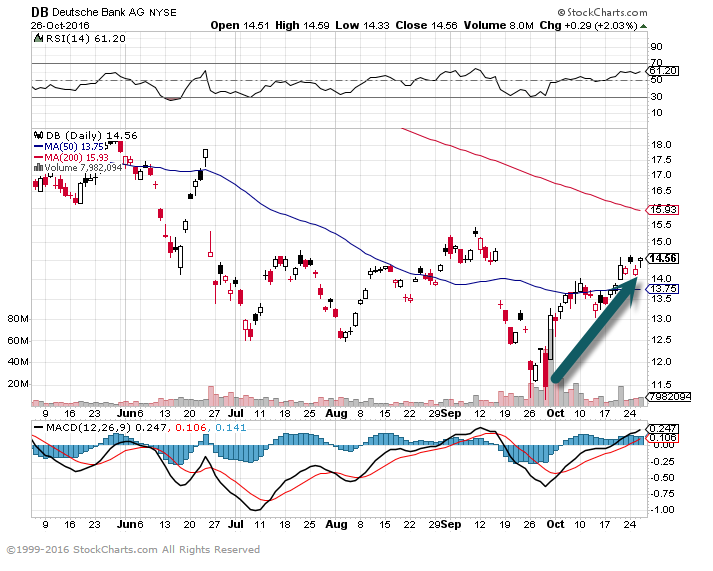 3. China Also has a Gen Y and they are Changing the Culture.
 
Share on FacebookShare on Twitter
"Experimenters, moon-shooters and diverse" are the words 17-year-old Shanghai high schooler Owen Xu uses to define his generation.
The senior at the Stanford Online High School in China's financial capital has co-founded a startup focused on treating and reusing wastewater that aims to one day "solve problems affecting billions of people."
Meet China's millennials — a generation that's more risk-taking and idiosyncratic than its predecessor. And they're dreaming big.
Having grown up in a booming economy that grew nine-fold since the turn of the century, China's 7.5 million school leavers this year are intent on forging paths very different from their parents, who defaulted to the factory floor, construction site or staid state-sector job.
About 48 percent of those born after 1995 don't want to enter the traditional job market upon graduation, according to recent research by QQ Browser, part of tech giant Tencent Holdings Ltd., which polled 13,000 college students and mined data from its 84-million daily internet search traffic.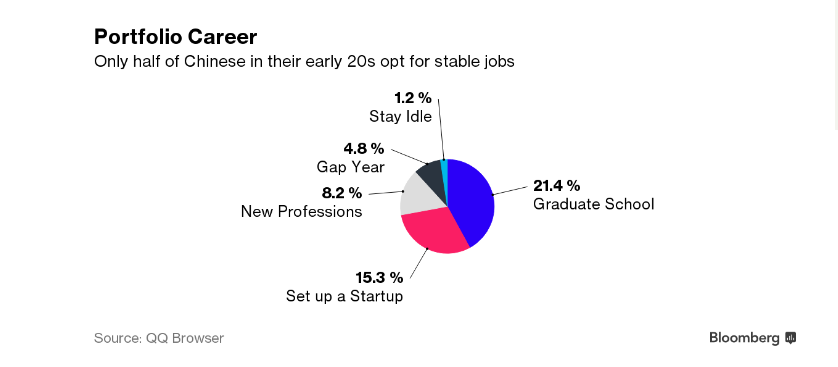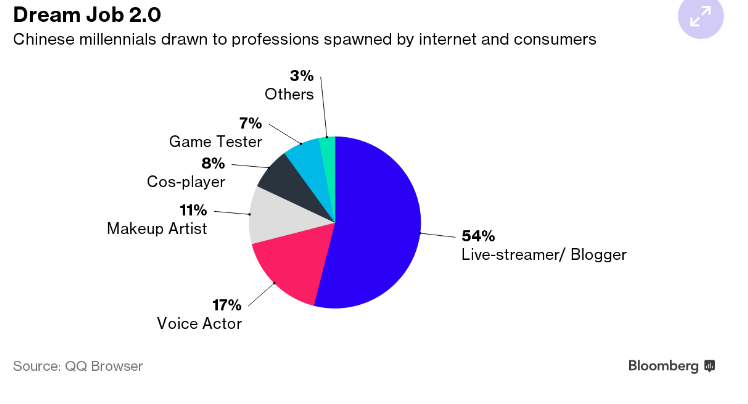 http://www.bloomberg.com/news/articles/2016-10-26/millennials-in-china-dream-of-elon-musk 
 
4. Private Debt in China…75% of GDP.  Interest Rates in U.S. and Yuan vs. Dollar will be Charts to Watch.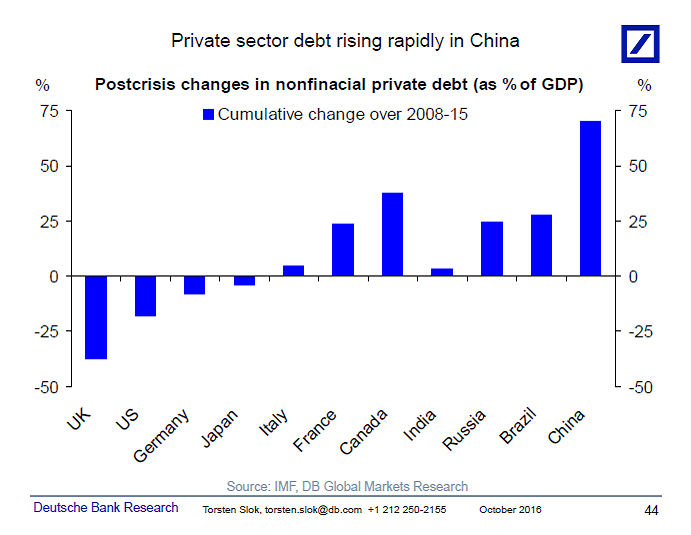 5. Shadow Bankers now Dominate Lending to Risky Borrowers with Government Backed Loans…VA and FHA.  Traditional Banks Share of Mortgage Lending has Dropped from 91% in 2009 to 51.7% in 2016.
I will do some more work on this topic going forward.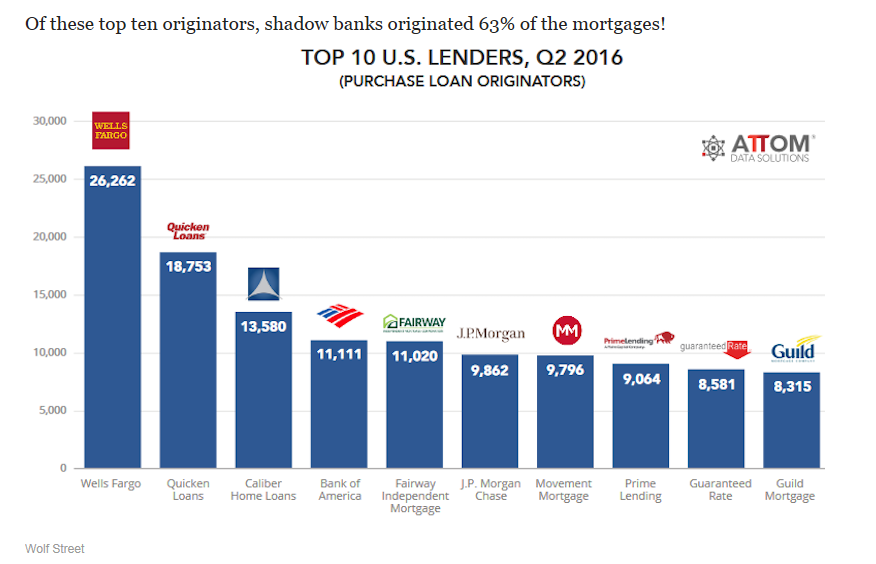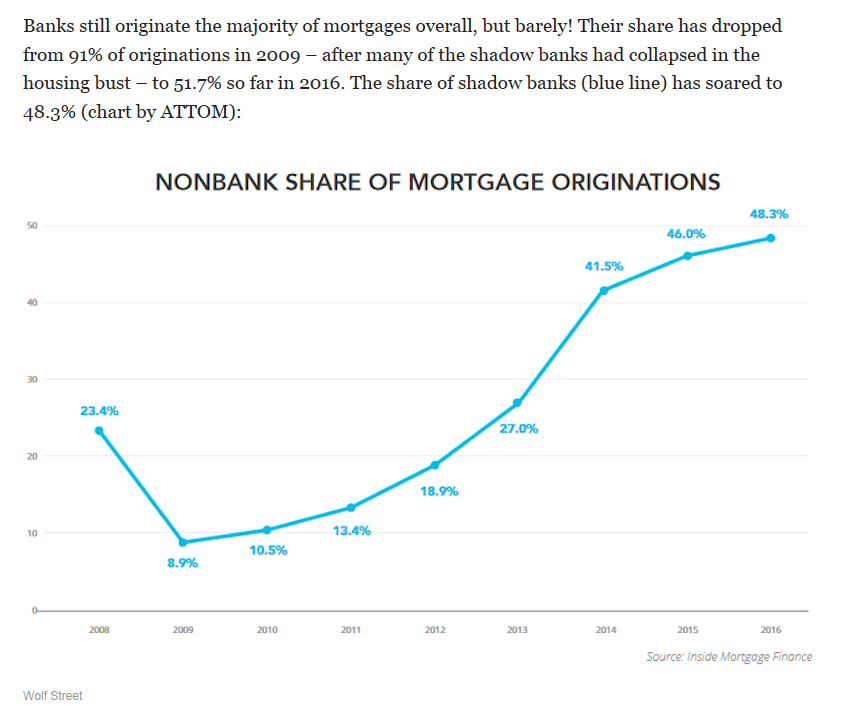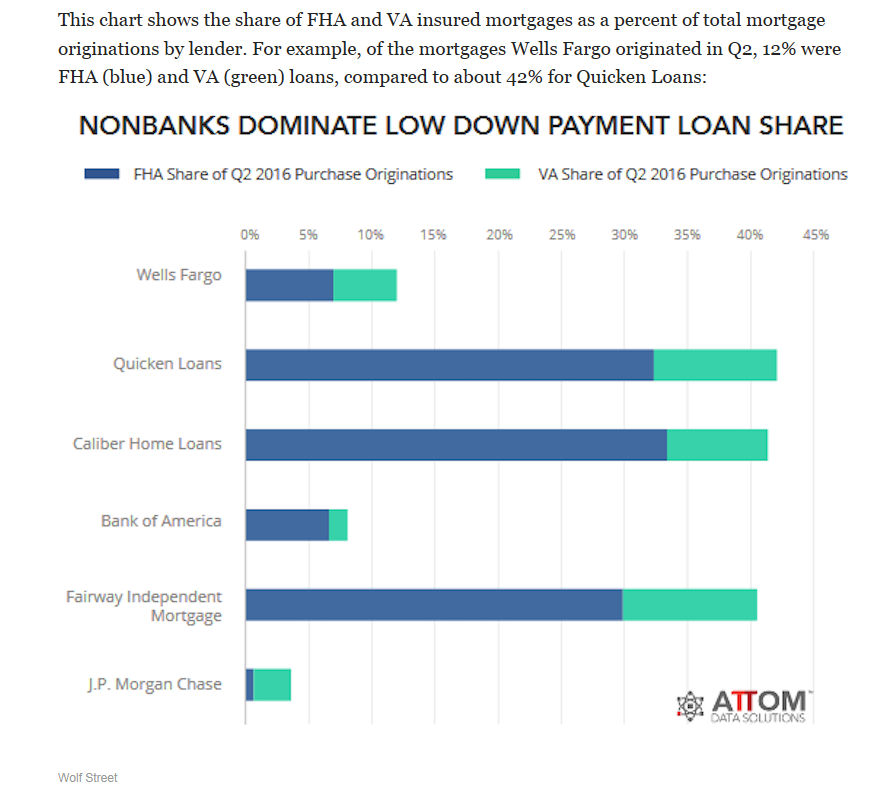 Read full story below
http://www.businessinsider.com/shadow-banks-are-laying-the-foundation-for-the-next-housing-crash-2016-10 
 
6. The Probability that the Fed will Move by Year End…74%.  Economic Numbers Keep Coming in Positive…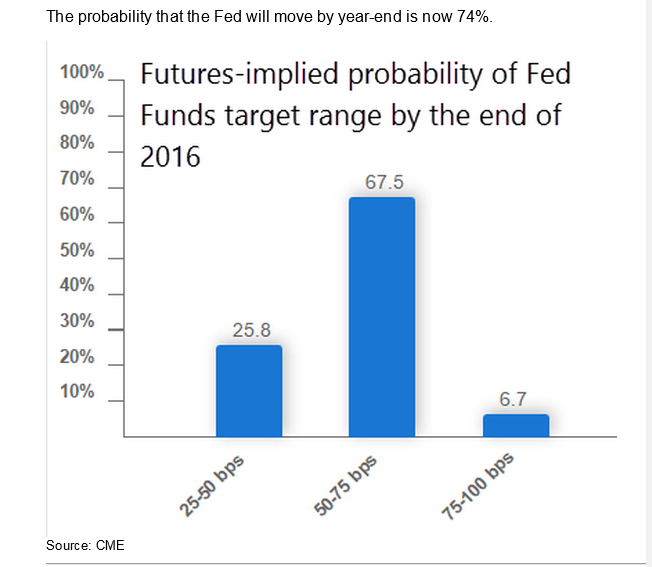 7. Which states have most undecided voters?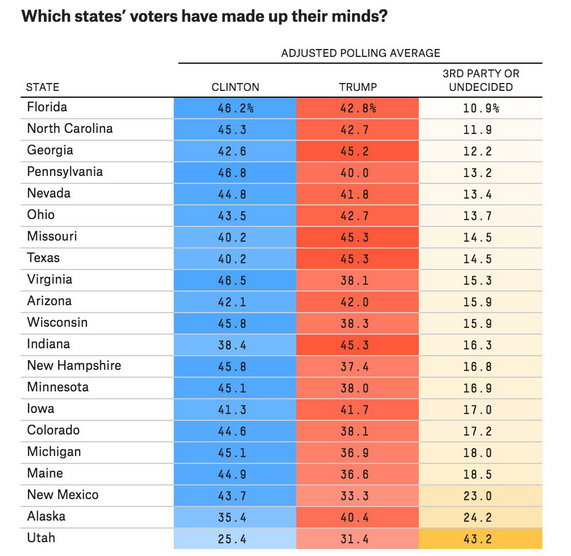 Source: @FiveThirtyEight, @Tmp_Research; Read full article
www.thedailyshot.com 
 
8. Career Mistakes You Must Avoid: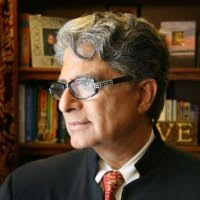 Founder, Chopra Foundation
In a tense and uncertain job market, the advice on how to succeed doesn't change. wise heads speak about hard work, seizing opportunities, taking calculated risks, following your passion, and so on. Let's set this advice aside for a moment. More attention needs to be paid to what not to do, especially now, when opportunities for many appear to be shrinking. There are three common mistakes that people make in their careers, not just at the entry level of when changing jobs but endemically.
 
In other words, their careers are blocked by their beliefs and the point of view they take. In my experience, the worst things you can do in the course of your career are the following:
 
1. Setting your expectations too low.
2. Feeling that you have to be certain.
3. Not seeing how much you will grow.
 
Let me explain each one, although in the end they are intimately connected.
 
Mistake #1: Low expectations
There are a few people gifted with roaring self-confidence who expect to conquer the world. But most people are insecure and uncertain. They want to feel safe, and they think that by lowering their expectations, a sense of security will come to them. It isn't true. Setting your expectations too low traps you into jobs that have a low possibility of expanding into anything worthwhile. For every copy boy who becomes editor of the newspaper, every tour guide in Hollywood who sells a blockbuster script, there are hundreds more who remain stuck in those
jobs. It's not really the job that keeps anyone stuck; it's the psychological limitation of setting your expectations too low.
 
Mistake #2: The Trap of Certainty
Life is uncertain, and the vast majority of people feel so uneasy about this that they seize on certainty when they shouldn't. They follow the opinions of the people around them, go to work where they are expected to, and only feel secure when they fit in. Yet real success is built upon making peace with uncertainty, turning the unknown into a field of creative possibilities. Personal uncertainty is hard, undoubtedly. It takes a conscious effort to place yourself in a position where things are open-ended. but if you don't, the other alternative is being in a position that's closed off.
 
Mistake #3: Neglecting Growth
Most job interviews follow the same pattern, where the applicant tries to prove, even before setting foot in the door, that he knows how to handle the job. This ritual is empty, a piece of drama that's supposed to show confidence. In reality, great careers are built on growth. Seeing your own potential to grow isn't easy, especially when you are young. But it's a mistake not to see that you will grow, meaning that your future self, although out of reach, has an enormous amount to offer. What you can do today, what you know and how far you can see–this is all provisional, awaiting the mysterious process of growth.
 
What ties these three mistakes together is everyone's inability to predict who they will be in the future. Insecurity, anxiety, and the pressure to hold a job are powerful forces. They tempt us into believing that we will always feel what we feel now, always think the way we do now, always see the world through the lens of the present anxiety. The need to feel secure is what gets most people into trouble, which is why the three big career mistakes are so prevalent.
 
The way to avoid these pitfalls is by working on your core beliefs, exchanging the ones that hold you back for ones that meet the future without anxiety. To raise your expectations means approaching your life, not just your job, with open-ended goals that can bear fruit over the long haul. Here's a set of mental guidelines that link many of the world's most successful people:
 
I need to find out who I really am.
I want to expand and grow.
I must have a vision that I can follow for years, an aspiration that fits my highest self.
I will keep evolving without limit.
I listen to my surroundings and act on the signals being sent to me.
I keep an open mind.
I have learned to live with uncertainty, turning fear into a belief in the wisdom of uncertainty.
I listen inside to make sure I'm being true to myself.
I admit when I'm wrong and turn this into a way forward.

 
This may seem like a long list, but if you want a single productive change that grows out of it, here's what works: Associate with people who hold these ideas and follow them. You don't have to enter a formal mentoring relationship; in fact, it would be better if the people you bond with are your own age. As a group you can form an echelon of shared beliefs to support and encourage one another. Then the job you are holding, good or bad, is secondary. Primary is your sense of promise, which grows and expands naturally. That's an ideal you can begin to attain today.

Deepak Chopra MD, FACP, founder of The Chopra Foundation and co-founder of The Chopra Center for Wellbeing, is a world-renowned pioneer in integrative medicine and personal transformation, and is Board Certified in Internal Medicine, Endocrinology and Metabolism. He is a Fellow of the American College of Physicians and a member of the American Association of Clinical Endocrinologists. The World Post and The Huffington Post global internet survey ranked Chopra #17 influential thinker in the world and #1 in Medicine. Chopra is the author of more than 80 books translated into over 43 languages, including numerous New York Times bestsellers. His latest books are Super Genes co-authored with Rudolph Tanzi, PhD and Quantum Healing (Revised and Updated): Exploring the Frontiers of Mind/Body Medicine. www.deepakchopra.com