1. Euro to U.S. Dollar Exchange Rate Rolls Over in October.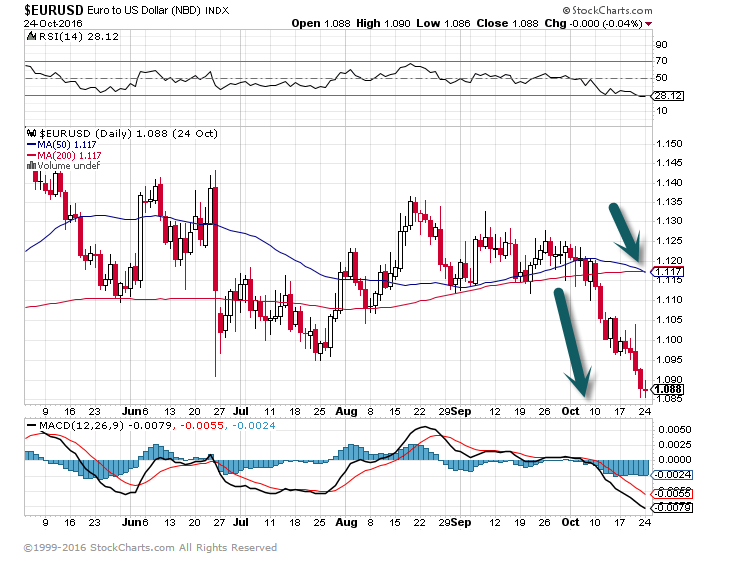 Euro to USD Chart….Breaks Summer Lows…50day thru 200day to downside. 
Currency exchange rates represent the value of one country's money in terms of another's. The value of different currencies is affected by the strength of the countries' economies as measured by various factors, including inflation, confidence in the government and interest rates in the country. For example, if one country is suffering from high inflation or has an unstable government, the value of its currency is likely to decrease. Understanding these factors can help you have a better idea of how exchanging your money works.
http://traveltips.usatoday.com/understand-currency-exchange-rates-1472.html
2. European Stocks Offer the Highest Average Dividend Yields in World—3.6%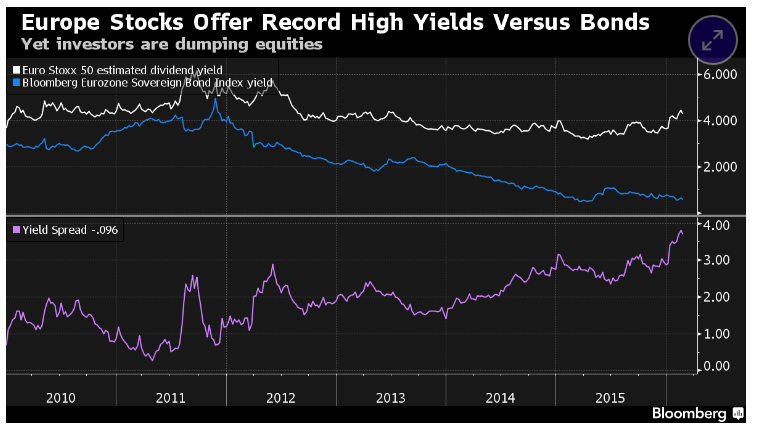 http://www.bloomberg.com/news/articles/2016-02-22/traders-would-rather-get-nothing-in-bonds-than-buy-europe-stocks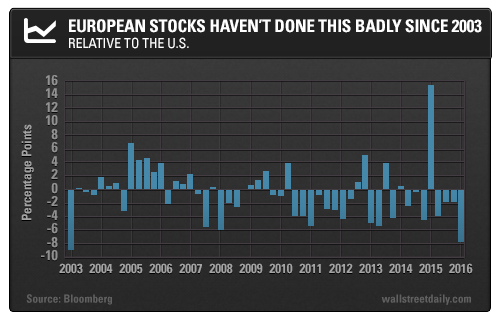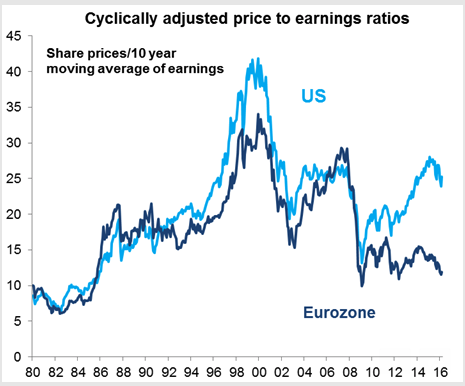 http://awealthofcommonsense.com/2016/03/are-european-stocks-cheap-or-is-the-u-s-expensive/
3. Meanwhile the Valuation Gap in Europe Between Low Beta vs. Riskier High Beta is at Record Levels.
 DANGEROUS DISTORTIONS
These performance trends are worrying, given the distortions that have been stoked by heightened demand for certain factors. Globally, low-beta stocks have become so popular that their price/book valuations trade at a 28% premium to the broader market (Display, left). Meanwhile, their riskier high-beta counterparts trade at a 37% discount. The valuation gap between safer and riskier stocks persists around the world and is particularly pronounced in Europe (Display, right).
Stocks that pay high dividends are also very expensive. In US markets, high-dividend stocks trade at lofty valuations. And sectors like consumer staples are trading at very high multiples, globally and especially in the US. We've seen in the past how crowded trades like these can unwind quickly, wreaking havoc on performance for investors who are overexposed.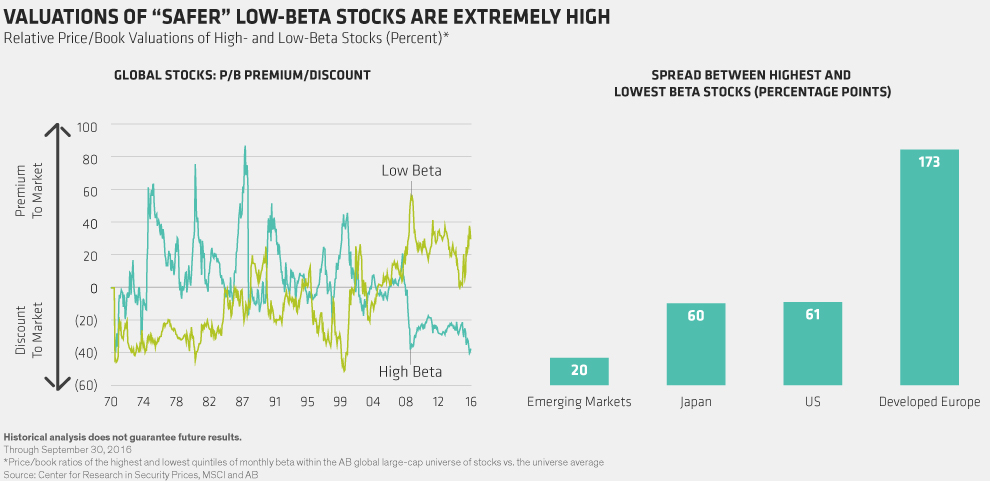 http://www.advisorperspectives.com/commentaries/2016/10/07/playing-it-safe-or-playing-with-fire 
4. European ETF Flows Negative….65 Day Average.

http://www.renmac.com/
Call Eric for Renmac Research EBoucher@renmac.com
5 .Japanese 18 Year Equity Box.
 Nikkei trading at 16.5x vs. long-term average of 20x
EWJ Japan ETF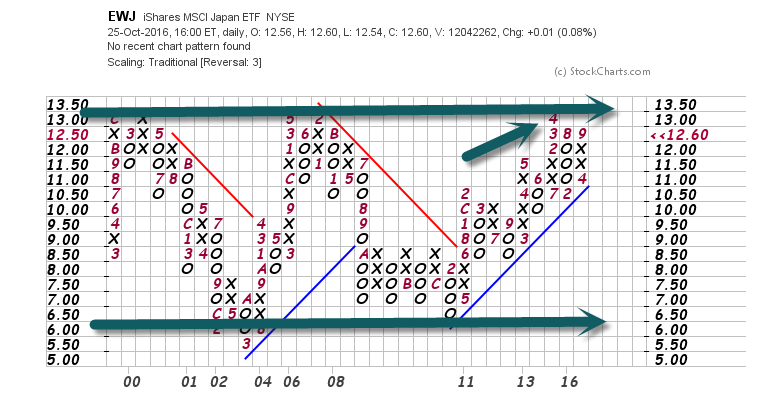 6. Gold ETF $700m in Outflows.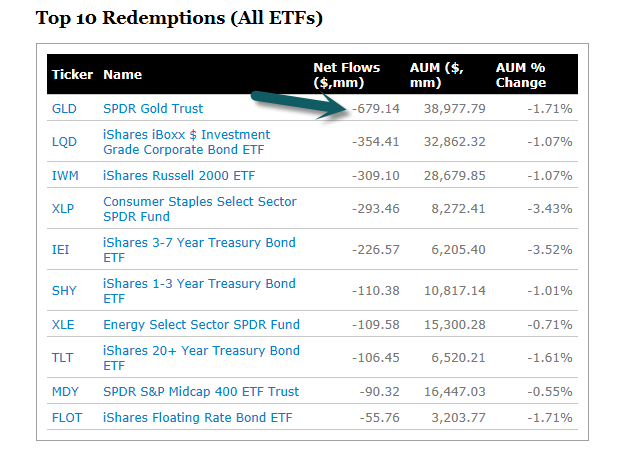 GLD Hugging 200day Moving Average….See arrow on volume bars..high volume on gap down at end of Sept.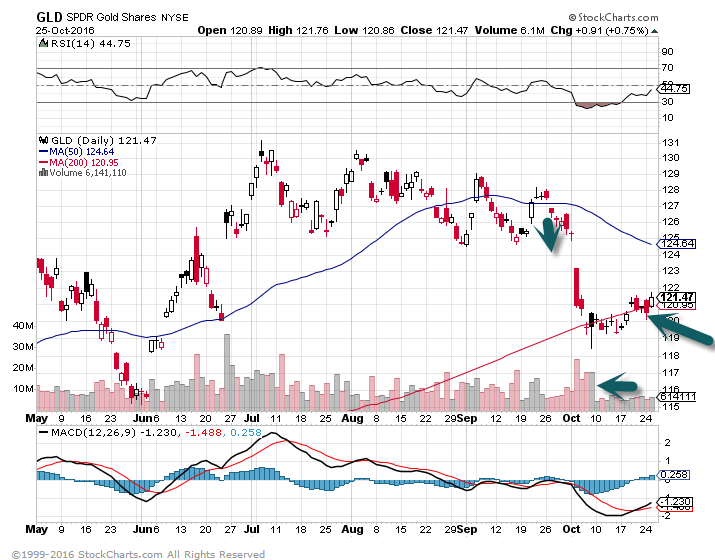 7. Why did Saudi's Make First Bond Offering Ever?  Next up Aramco IPO biggest IPO ever?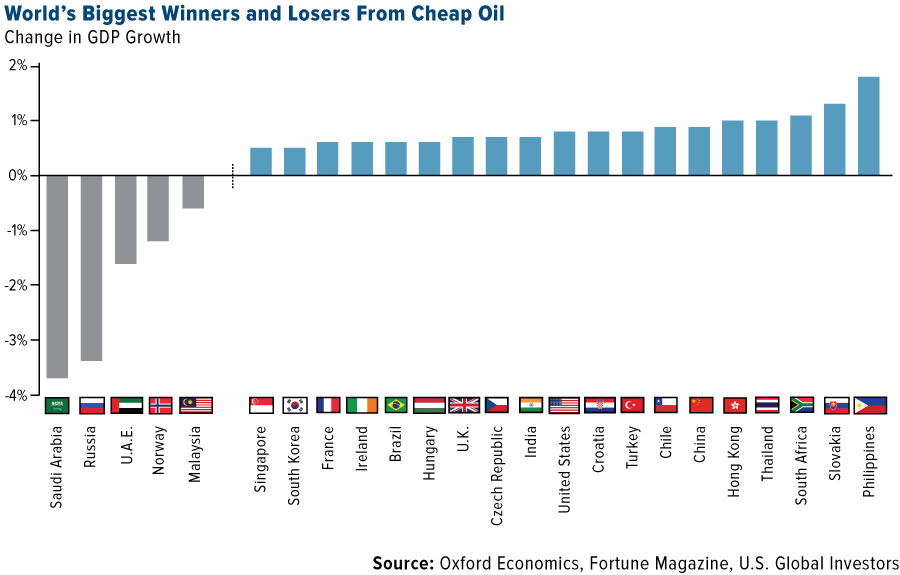 http://www.usfunds.com/investor-library/investor-alert/one-weird-trick-to-forecast-commodity-trends/#.WBCJVS0rJhE
How Big is Aramco? Biggest IPO Ever?  $1 Billion in Fees for Deal?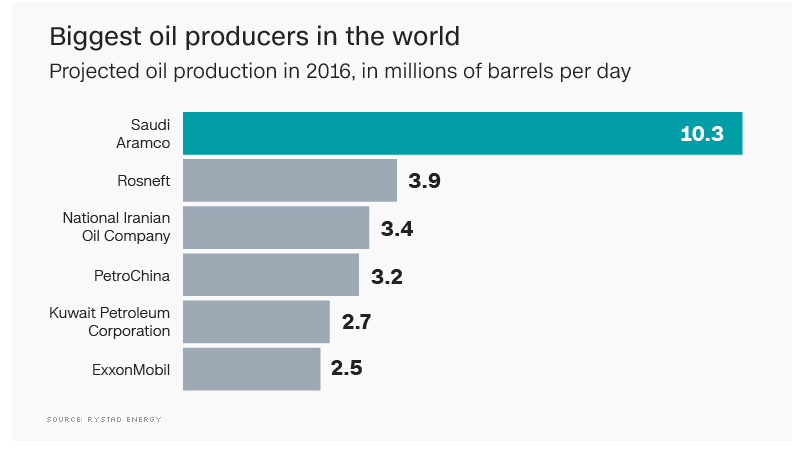 Double Fees for Visa IPO?  Wow.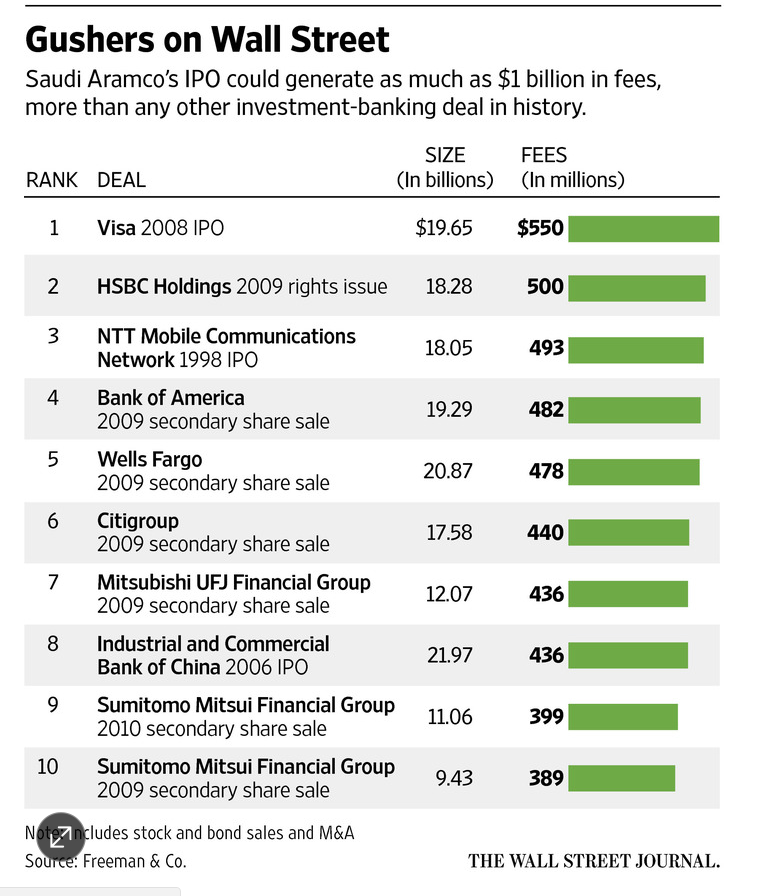 8. Infrastructure Election Trade…Will it Last?  Infrastructure ETFs up from 8.6% to 26% vs. S&P 6.8%.
 Strong Performance Thanks To Election & FAST Act
Performance wise, infrastructure ETFs are up strongly this year, with gains of 8.6% to 26.1% for the seven global-focused funds in the space. That's more than the 6.8% year-to-date gain for the SPDR S&P 500 ETF (SPY).
YTD Returns For IGF, NFRA, FII, TOLZ, GRID, GHII, DBIF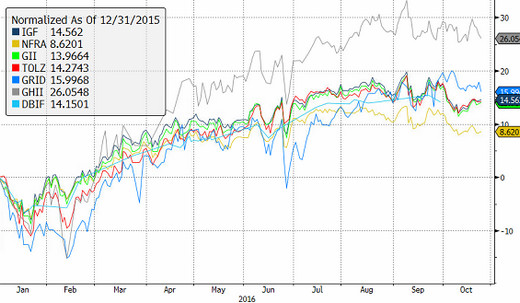 In addition to anticipation of increased spending in a President Clinton or a President Trump administration, these ETFs may have also gotten a lift from the FAST Act, signed by President Obama in December 2015.
That five-year bill, formally known as the Fixing America's Surface Transportation Act, provided $305 billion to improve the country's highways, transit systems and federal passenger rail network. According to the American Society of Civil Engineers, the FAST Act covered the longest period of time of any transportation authorization bill since 2005.
Contact Sumit Roy at sroy@etf.com.
http://www.etf.com/sections/features-and-news/clinton-trump-can-agree-infrastructure-etfs/page/0/1
9. Most Hated Bull Market Ever?
S&P 500 is on pace for its 8th consecutive positive yr while % of Bulls in the AAII Survey is in the 7th percentile – Most hated Rally towards All-Time highs Ever??
Thanks to Dave Lutz at Jones for Chart.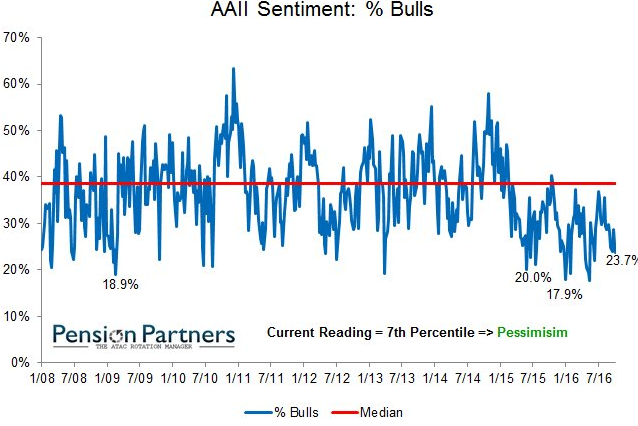 Fear and Greed Index Neutral.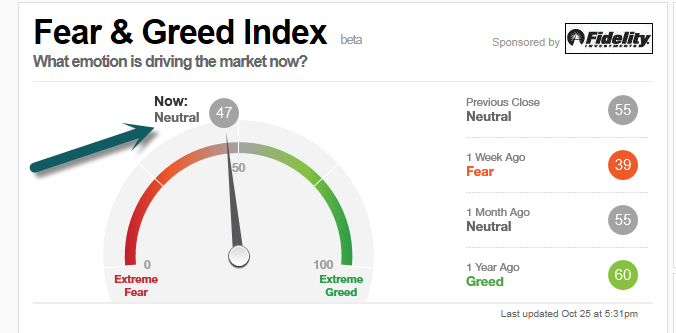 10. 15 habits that can make you happier
 Even mild dehydration can make people crabby, so drinking enough water can have mood-boosting effects.
Happier people tend to develop meaningful relationships with friends, and actually spend time with them in person.
Introducing more awe into people's lives has been shown to increase their well-being. Seek out experiences that take your breath away.
Working out regularly has been linked to fewer symptoms of anxiety and depression, and is also associated with long-term increases in happiness.
People tend to be happier when they are in nature.
Volunteering and helping others has been linked with happiness.
People who attend more cultural activities, like plays or art exhibitions, have reported a higher quality of life.
People who listen to and play music consistently report feeling happier.
Smiling has been shown to increase well-being, and is even more effective if it's genuine.
People who journal about their feelings, particularly what they are grateful for, tend to be happier.
Forgiveness has been linked to lower levels of anxiety, and greater psychological well-being.
Having more sex has been shown to make people happier, but it has a limit — more than once per week has no added benefits.
Spending more time with animals can make people happier.
People who do what they love and "lose themselves" in the task at hand report being happier.
Meditating just a few minutes every day has been shown to increase well-being. Stay mindful.
http://www.businessinsider.com/habits-that-can-make-you-happier-2015-11/#having-more-sex-has-been-shown-to-make-people-happier-but-it-has-a-limit–more-than-once-per-week-has-no-added-benefits-12