1. Euro Financials Showing Bullish Technical Action.
EUFN-Euro Financials ETF—50day thru 200day to upside.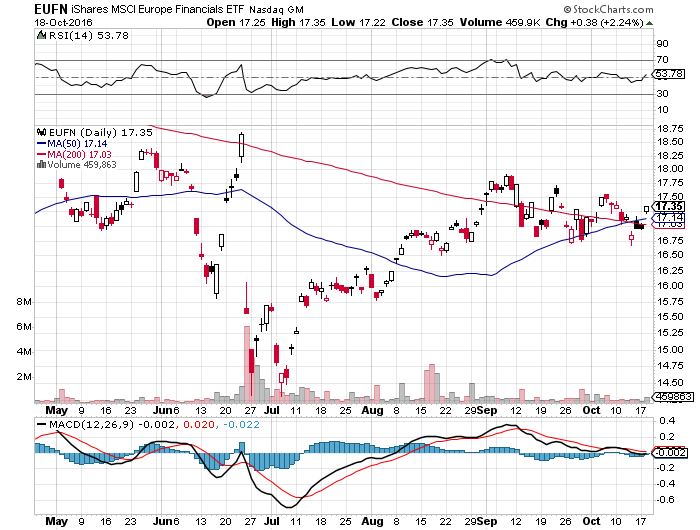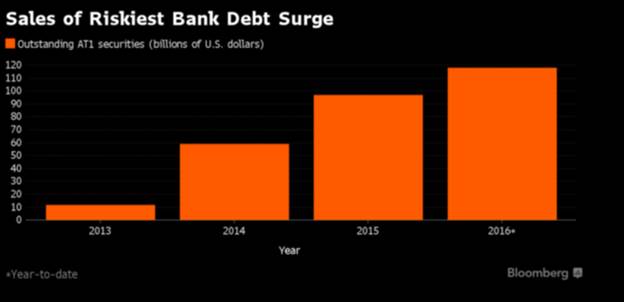 Bloomie reports "Pimco Bets Big on European Risky Bank Bonds Spooking Others" – The money manager, which bought a portion of the $4.5 billion of senior notes that troubled lender Deutsche Bank AG sold this month, has also amassed the biggest known pile of European bank debt called additional Tier 1, or AT1s. That kind of debt is the first to suffer losses in a crisis, and the $10 billion that Pimco owns is three times more than Invesco Ltd. and five times more than fellow fixed-income behemoth BlackRock Inc
Thanks to Dave Lutz at Jones for chart
2.Global Cash Balances Build
The second chart below gives the overall global investor positioning.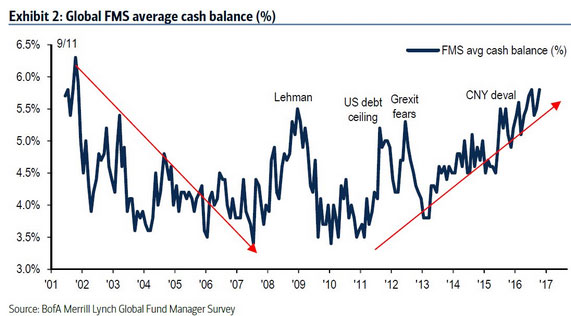 Source: BofAML, @GemmaActon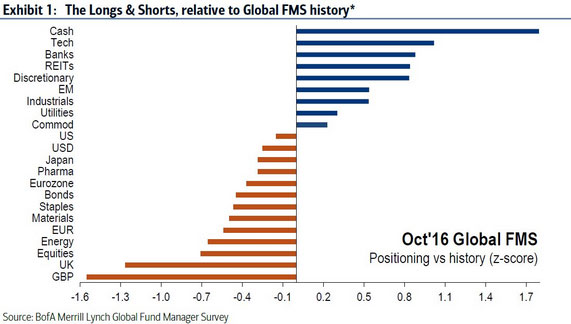 Source: BofAML, @GemmaActon
3.
Barclays

: Total payouts for S&P 500 are estimated to reach $1tn for first time ever in 2016, ~$400bn in dividends and ~$600bn in buybacks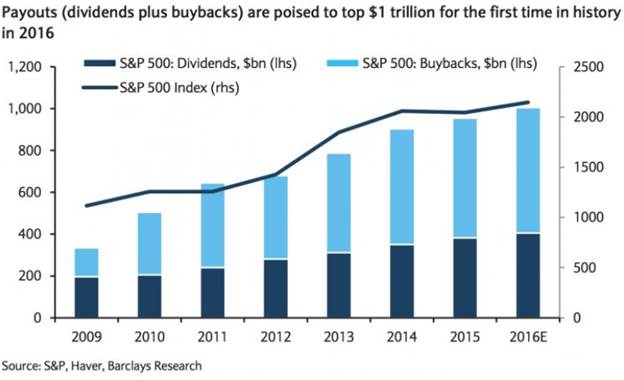 4. Post-Election is Usually a Rally.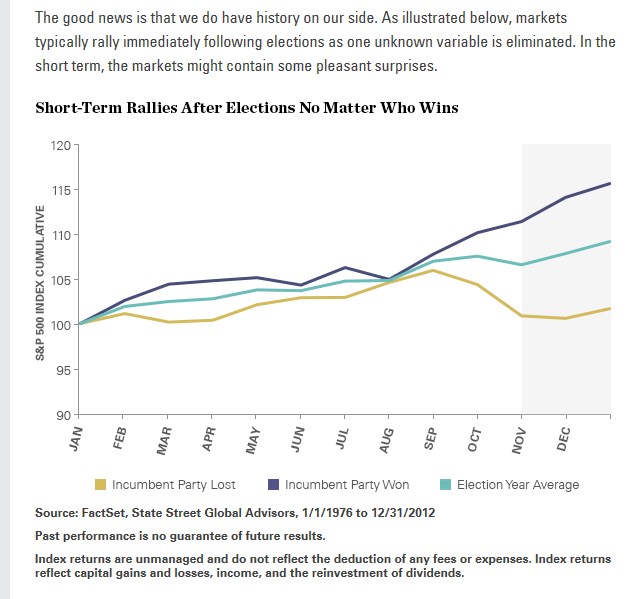 http://blog.spdrs.com/post/uncommon-sense-how-might-a-poll-defying-trump-win-affect-the-markets
Oct 18, 2016
Biotech continues to get hit hard, while a number of oil-related names have also gotten hit fairly hard over the last week or so. SEK has been the worst performing currency of those that trade as ETFs, while Banks have lagged thanks to a pause in yield curve steepening and bond selling. On the plus side, Brazil continues to surge while gold has had a nice recovery off recent lows, benefiting miners. Rate rallies (lower yields) have granted some reprieve for REITs and Utilities while EM has done fairly well on a country level.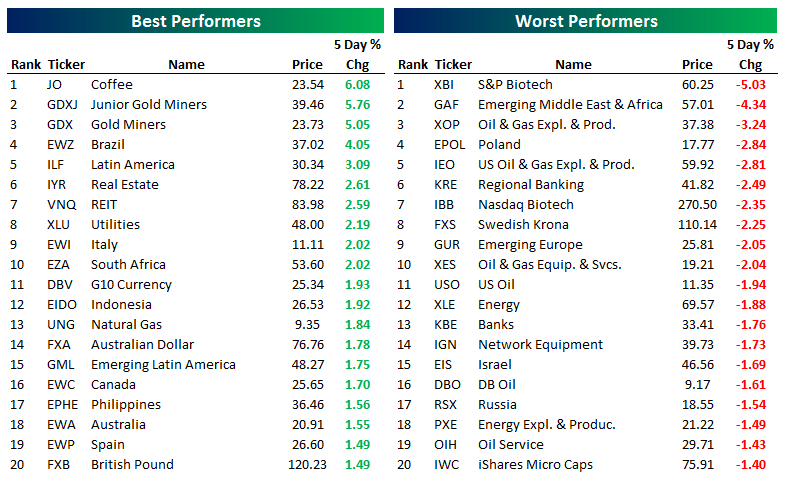 https://www.bespokepremium.com/think-big-blog/ 
6. Timing the Market—Ben Carlson.
If we deconstruct the historical performance of the S&P 500 you can get a sense of why a wrong move can really cost you. Here I show the annual returns since the late-1920s, but also break them out into up and down years:

Average gains in up years are large, as are average losses in down years. This seems obvious, but if you make a huge bet for or against the market — and you're wrong — the consequences can be huge because large gains and losses are the rule, not the exception.
There is a similar return profile with foreign stocks:

And things get even more hit-or-miss when you look at emerging market stocks:

Another way to look at this is by understanding how often stocks rise or fall in any given year. The S&P 500 has been positive 73% of all calendar years. The MSCI EAFE has been up 70% of the time. Emerging markets, on the other hand, have been positive just 54% of the time.
And in both positive and negative years, double digit gains or losses are far more likely than single digit gains or losses.
Bringing it all together, here is the amount of time historically we've seen a double digit gain or loss in annual returns in each of these markets:
S&P 500 – 68%

MSCI EAFE – 71%

MSCI EM – 75%
So right around three-quarters of the time historically stock markets have experienced a double digit gain or loss over a calendar year.
Some investors will look at these numbers and come to the conclusion that there is ample opportunity to be a hero when investing in stocks. I look at these numbers and come to the conclusion that there is ample opportunity to make mistakes when you try to guess one way or another.
If you're not careful, it can be easy for the market to get away from you.
Ben Carlson Full Read Below.
http://awealthofcommonsense.com/2016/10/the-consequences-of-risk-taking/ 
7. So Much for China "Ghost Cities" Imploding Economy….Home Sales Surge.
Medium and long term loans to households in China rise to new highs, suggesting that home sales were quite strong in September.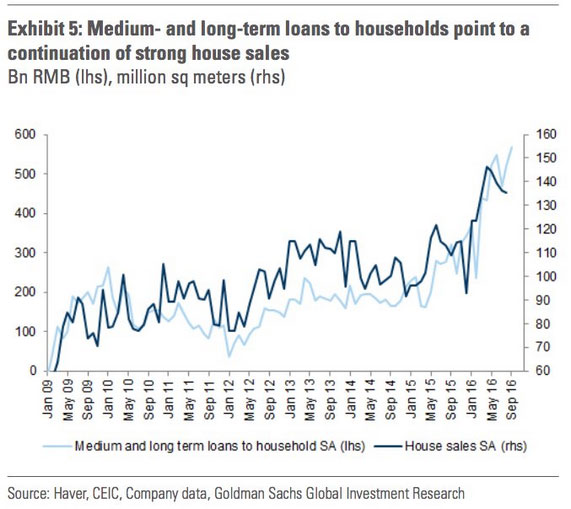 Source: Goldman Sachs, @joshdigga
www.thedailyshot.com 
8. Post-Brexit Anti-Globalization Parties Continue to Gain.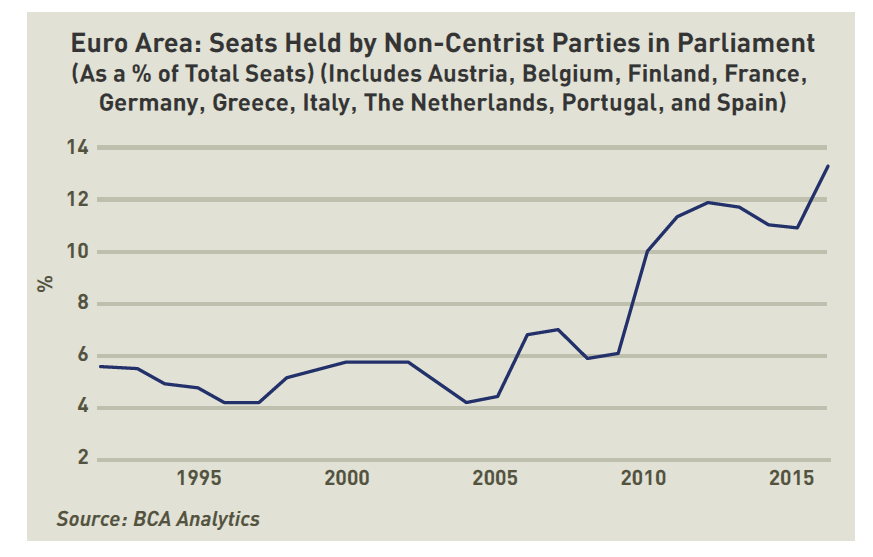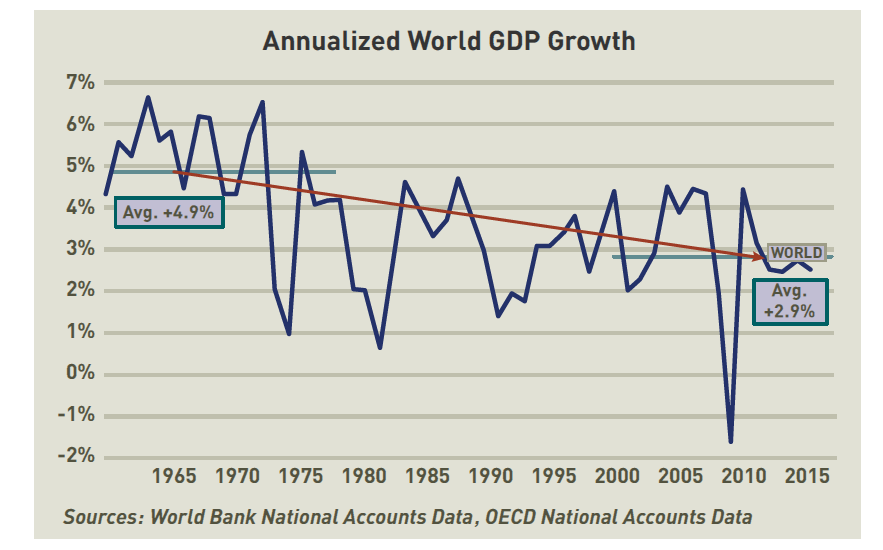 http://www.investmentnews.com/dcce/20161012/4/4/WP_SPONSORED/3426638
9. Read of the Day….Russia may be getting ready 'to level Aleppo to the ground'
Russia announced on Tuesday that it would halt airstrikes on Syria's largest city, Aleppo, in preparation for an eight-hour cease-fire to be implemented later this week.
Russian Defense Minister Sergei Shoigu made the announcement in a televised meeting with military officials, saying he expected Syrian rebels inside Aleppo to use the pause in the fighting to leave the city through two special corridors.
He said the rebels could bring their weapons with them, and he promised that the Syrian army would pull back and allow them to exit unharmed.
Watchdogs inside Syria reported that Russia had stopped its airstrikes by Tuesday morning. But many are skeptical of the intentions behind Moscow's surprise announcement, which was not coordinated with the UN. Some experts think Russia is not extending an olive branch to the rebels but imposing an ultimatum, as the proposal appears designed to force rebels to either surrender the city or be killed in airstrikes after the cease-fire ends.
"I wish this step could be seen as a humanitarian gesture, but that seems implausible," Mark Kramer, program director of the Project on Cold War Studies at Harvard's Davis Center for Russian and Eurasian Studies, told Business Insider on Tuesday.
Kramer said that the proposal is likely a "cynical step" designed to keep EU foreign ministers from agreeing on new sanctions against Russia in connection with its "merciless bombardment" of Aleppo.
"A more ominous possibility is that Russian forces are getting set to level Aleppo to the ground," he said. "
Russia's scorched-earth campaign in Aleppo over the past month to eliminate opposition to its ally, Syrian President Bashar Assad, has invoked memories of Grozny's decimation by Russia 16 years ago. That campaign came as part of an effort to wipe out Chechen separatists, and the evacuation offer turned out to be a deadly trap.
In February 2000, the Russian military offered the Chechen rebels safe passage out of Grozny. But that corridor, which led to the village of Alkhan-Kala three miles away, turned out to be a Russian minefield that killed hundreds of rebels as they tried to escape. Those who dodged the landmines were targeted by Russian artillery shells and rockets.
"The Russians claim they lured the rebels into a trap by pretending to sell them safe passage out of Grozny for $100,000, and finished most of them off with artillery barrages," The Guardian reported on February 4, 2000. At least 600 Chechens died in the Alkhan-Kala operation.
With that in mind, Kramer said, even if Russia sticks to the terms of its own cease-fire, no one in Aleppo should construe that as a sign of sustainable peace.
"Total destruction may well rain down immediately thereafter," he said.
Read Full Story
http://www.businessinsider.com/russia-ceasefire-aleppo-syria-2016-10 
10. 
Avoiding Stupidity is Easier than Seeking Brilliance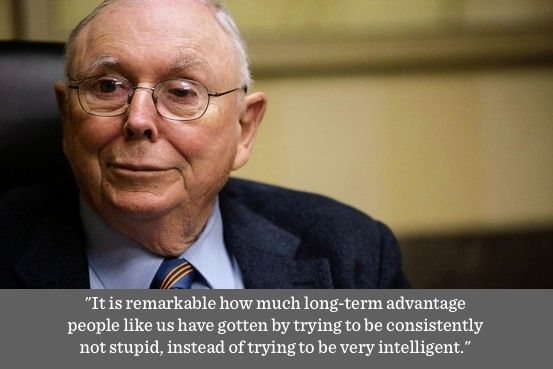 Simon Ramo, a scientist and statistician, wrote a fascinating little book that few people have bothered to read: Extraordinary Tennis Ordinary Players.
The book isn't fascinating because I love tennis. I don't. In the book Ramo identifies the crucial difference between a Winner's Game and a Loser's Game.
Ramo believed that tennis could be subdivided into two games: the professionals and the rest of us.
Players in both games play by the same rules and scoring. They play on the same court. Sometimes they share the same equipment. In short the basic elements of the game are the same. Sometimes amateurs believe they are professionals but professionals never believe they are amateurs. But the games are fundamentally different, which is Ramo's key insight.
Professionals win points whereas amateurs lose them. Think about professional games. Each player, nearly equal in skill, plays a nearly perfect game rallying back and forth until one player hits the ball just beyond the reach of his opponent. This is about positioning, control, spin. It's a game of inches and sometimes centimeters.
Avoiding Stupidity is Easier than Seeking Brilliance
In his 1975 essay, The Loser's Game, Charles Ellis calls professional tennis a "Winner's Game." While there is some degree of skill and luck involved, the game is generally determined by the actions of the winner.
Amateur tennis is an entirely different game. Not in how it is played but in how it's won. Long and powerful rallies are generally a thing of the past. Mistakes are frequent. Balls are constantly hit into nets or out of bounds. Double faults are nearly as common as faults.
The amateur duffer seldom beats his opponent, but he beats himself all the time. The victor in this game of tennis gets a higher score than the opponent, but he gets that higher score because his opponent is losing even more points.
Two Games
Ramo found this out because he gave up trying to keep track of conventional scores — "Love," "Fifteen All," etc. Instead he simply looked at points won versus points lost.
In expert tennis, about 80 per cent of the points are won; in amateur tennis, about 80 per cent of the points are lost. In other words, professional tennis is a Winner's Game – the final outcome is determined by the activities of the winner – and amateur tennis is a Loser's Game – the final outcome is determined by the activities of the loser. The two games are, in their fundamental characteristic, not at all the same. They are opposites.
After discovering that there are, in effect, two different games and realizing that a generic strategy will not work for both games he devised a clever strategy by which ordinary players can win by losing less and letting the opponent defeat themselves.
… if you choose to win at tennis – as opposed to having a good time – the strategy for winning is to avoid mistakes. The way to avoid mistakes is to be conservative and keep the ball in play, letting the other fellow have plenty of room in which to blunder his way to defeat, because he, being an amateur will play a losing game and not know it.
If you're an amateur your focus should be on avoiding stupidity.
An Investor Bets on Someone Else's Game
This brings to memory something about Warren Buffett and Ben Graham. Buffett used to convene a group of people called the "Buffett Group." At one such meeting Benjamin Graham, Warren Buffett's mentor and teacher, gave them all a quiz. I spent hours searching for this reference, which comes fromBenjamin Graham on Value Investing: Lessons from the Dean of Wall Street.
"He gave us a quiz," Buffett said, "A true-false quiz. And there were all these guys who were very smart. He told us ahead of time that half were true and half were false. There were 20 questions. Most of us got less than 10 right. If we'd marked every one true or every one false, we would have gotten 10 right."
Graham made up the deceptively simple historical puzzler himself, Buffett explained. "It was to illustrate a point, that the smart fellow kind of rigs the game. It was 1968, when all this phoney accounting was going on. You'd think you could profit from it by riding along on the coattails, but (the quiz) was to illustrate that if you tried to play the other guy's game, it was not easy to do.
"Roy Tolles got the highest score, I remember that," Buffett chuckled. "We had a great time. We decided to keep doing it."
Avoiding Stupidity
The point, if I have one, is that most of us are amateurs but we refuse to believe it.
This is a problem because we're often playing the game of the professionals. What we should do in this case, when we're the amateur, is play not to lose.
This was a point Charlie Munger, the billionaire business partner of Warren Buffett, made a long time ago.
In a letter to Wesco Shareholders, where he was at the time Chairman (and found in the excellent Damn Right!: Behind the Scenes with Berkshire Hathaway Billionaire Charlie Munger), Munger writes:
Wesco continues to try more to profit from always remembering the obvious than from grasping the esoteric. … It is remarkable how much long-term advantage people like us have gotten by trying to be consistently not stupid, instead of trying to be very intelligent. There must be some wisdom in the folk saying, `It's the strong swimmers who drown.'
And there is so much wisdom embedded in that quote that I've attached it to my wall.