1.Water ETF Breaking to New Highs….The World Needs More Fresh Water.
PHO Water ETF…New Highs 50day thru 200day to Upside.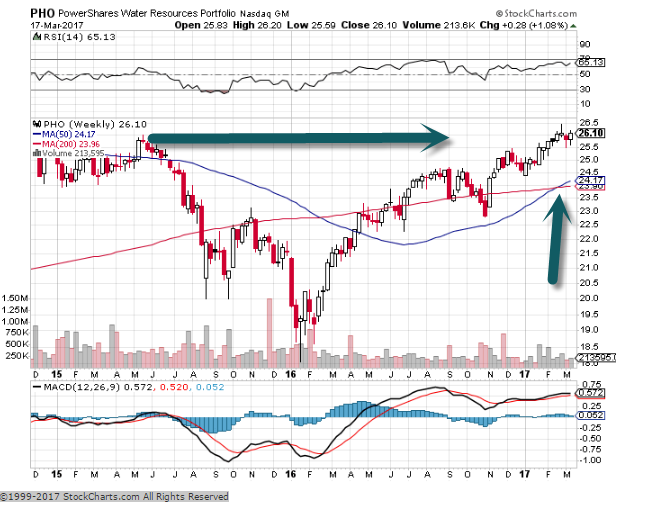 How to Invest in Water: 5 Picks
Analysts and money managers see a wave of water-related investments ahead. But there isn't a single dominant company to bet on.
Today, for instance, the PowerShares Water ETF trades at 23.1 times trailing 12 month earnings—a tad richer than its median over the past decade, but well shy of the peak of 28.1 times. Compare this with, say, the Industrial Select Sector SPDR ETF (XLI), which is already straining at itsdecade-peak of 20.7 times trailing earnings.
http://www.barrons.com/articles/how-to-invest-in-water-5-picks-1489814477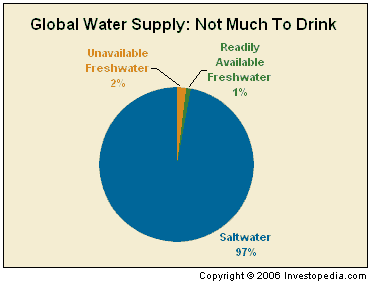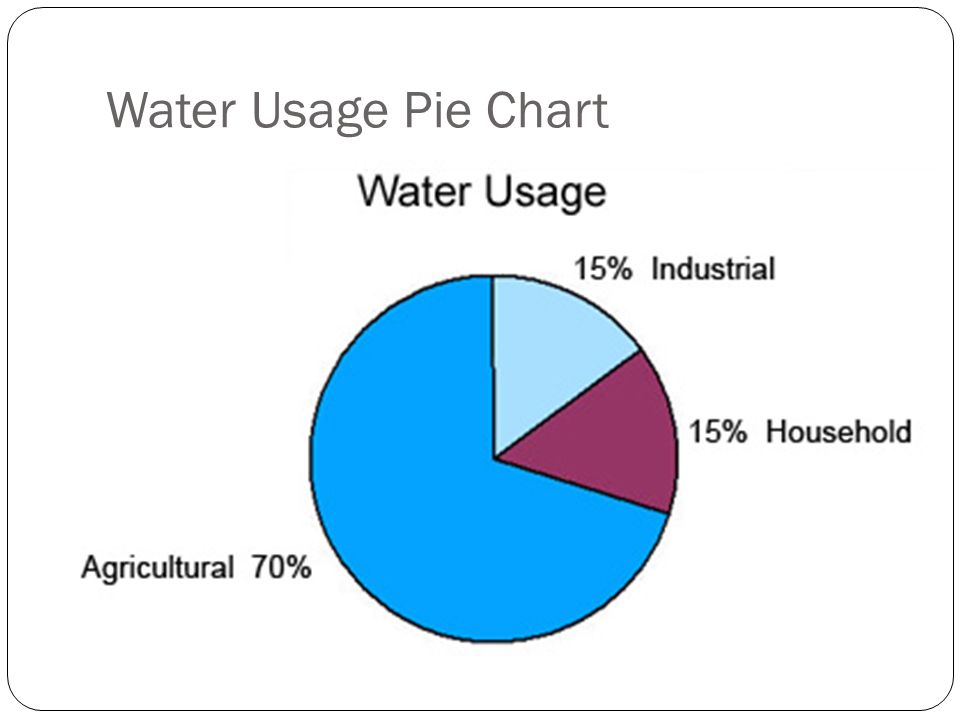 http://slideplayer.com/slide/6632427/
2.Tranports Lagging S&P for 3 Months….S&P +6.25% vs. Transports +1.8%.
This chart shows Dow Transports vs. S&P…See Downtrend Since December. Transports Lag is not a long enough time period yet.
Doug Ramsey, chief investment officer at the Leuthold Group in Barrons.
While this relationship might be a bit too simplistic these days—industrial stocks now make up just 20% of the Dow industrials—it does, in fact, seem to bear out historically: Of the 16 bear markets since 1929, 14 were preceded by periods of extended underperformance from the transports, according to Leuthold data.
But there's a caveat: Short periods of torpid transport performance don't signal much of anything. Transports typically trail for 11 months before a market top, Ramsey says, while the group has only been underperforming for a bit more than three months now. "Unless you squint, it's hard to find much wrong with market technically," he says.
http://www.barrons.com/articles/what-are-transports-telling-us-1489813610
3.VIX …Chart Lays Out Trend Since Crisis..Now All-Time Lows.
Equities: The 100-day rolling historical volatility in the S&P 500 hit the lowest level in over a decade. It's really quiet out there.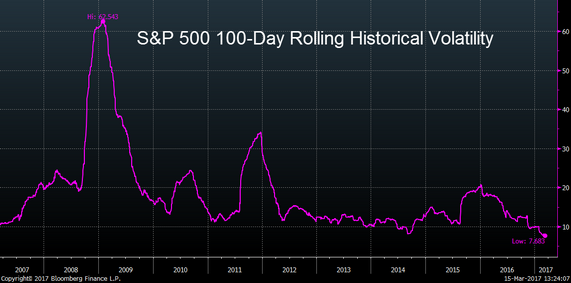 Source: Bloomberg
www.thedailyshot.com
4.Min-Vol Funds Reaction to Higher Rates??
Min-Vol Underperforms The Broader Market During Interest Rate Spikes
When looking at more recent periods of interest rate spikes such as the rebound in cyclical inflation during the second half of 2016 and the taper tantrum of 2013, min-vol (as represented by SPLV and USMV) significantly underperformed the S&P 500 (Exhibit 1), even when beta-adjusting the S&P's return (using 0.75 beta as an approximation).
Exhibit 1: Min-Vol Underperforms the Risk-Adjusted S&P 500 During 2 Recent Rising Rate Periods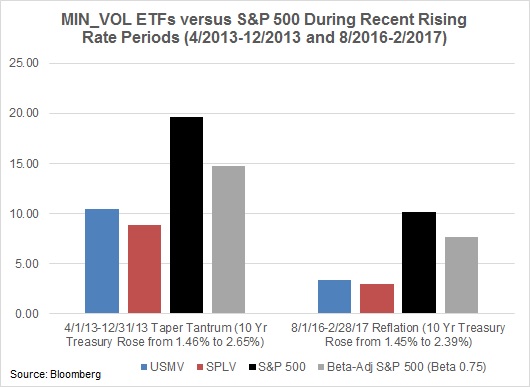 This underperformance could very well come from other active exposures. The most obvious one is holding less market risk versus the S&P 500, which can help explain its underperformance in the latter half of 2016. But based on these two rising rate episodes, min-vol clearly lagged the broader market even when adjusting for market risk.
Forward-looking risk models and scenario analyses can also confirm min-vol's higher interest rate sensitivity versus a cap-weighted benchmark. Based on these risk profiles, min-vol would be expected to underperform the broader market in rising interest rate periods, all else equal.
Read Full Story at ETF.COM
http://www.etf.com/sections/etf-strategist-corner/min-vol-etfs-underperform-when-rates-rise/page/0/1
5.India Stock Market Outperforming China and Emerging Markets in 2017….Indian Small Caps Break Out.
India Small Cap ETF

6.Flows from Dave Lutz at Jones….International First Outflows in 9 Weeks…Dividend Funds Took Home Another $3.24B
FLOW SHOW– Junk bond funds see biggest outflows since late 2014 – Investors withdrew $5.7bn from high-yield bond funds in the week up to Wednesday, according to EPFR Global (FOMC Hawkishness, Heavy Issuance, Falling Oil) – The withdrawals from high-yield bonds come after a streak of overwhelming popularity for bond funds despite a continuing rally in U.S. stocks. Stock funds posted $72 billion in withdrawals last year, while bonds attracted $190 billion, according to Lipper


· Taxable-bond mutual funds posted $3.9 billion in withdrawals, while investors pulled $1.1 billion from their ETF counterparts
· Stock funds attracted $890 million as inflows into products focused domestically were offset by net withdrawals from international equities funds. Before the latest week, non-domestic stock funds had seen nine straight weeks of inflows.
· U.S.-based funds invested in Japanese stocks posted $429 million in withdrawals, their largest outflows since July.
· Healthcare and biotech sector funds posted $214 million in outflows, their largest withdrawals since January.
· Real estate sector funds posted their largest withdrawals since December, $422 million.
· Funds that specialize in stocks that pay dividends took in $3.24bn, the most since the first quarter of 2015
Thanks to Dave Lutz at Jones for Stats
7.2017 will be a Year to Watch Hedge Funds…Fee Pressure and Institutional Withdrawals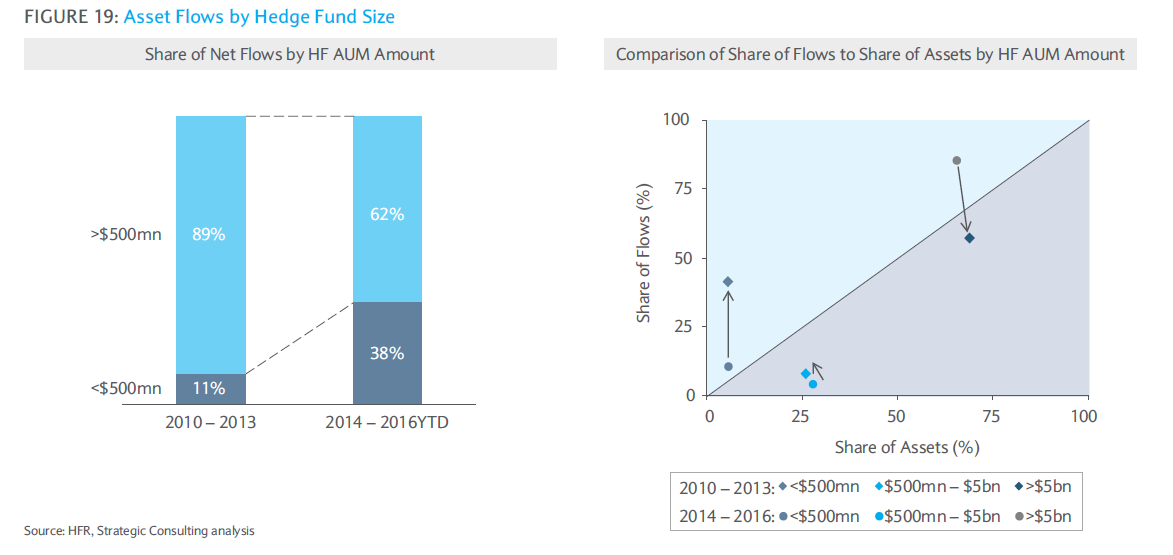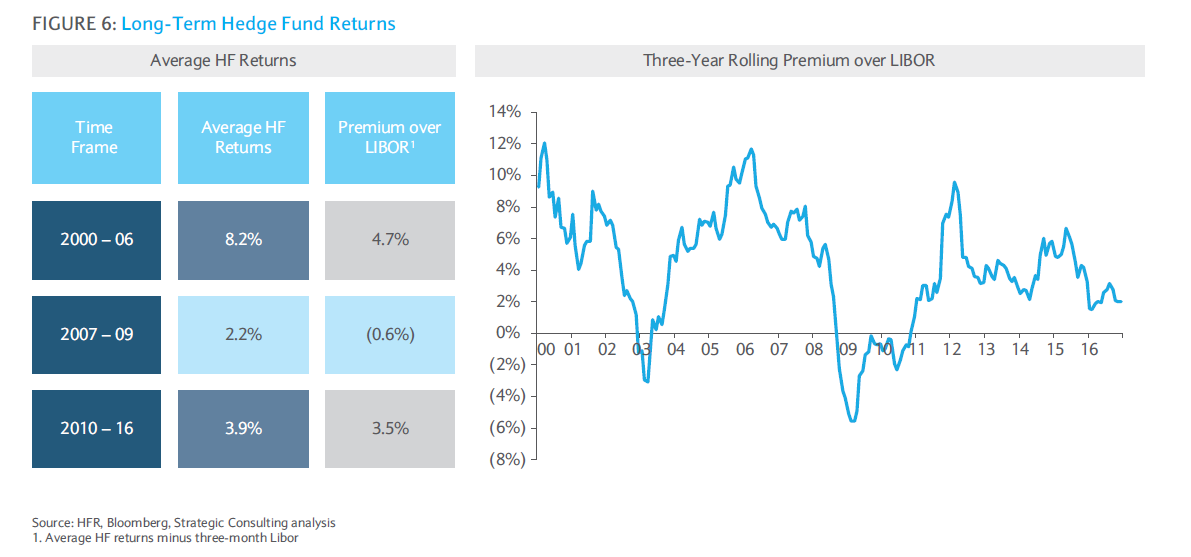 Investing in smaller hedge funds often requires an understanding of the business operations, not just based on their strategy. Hedge fund consultants often focus interviews on not just the chief investment officer, but also the chief financial officer or head of operations to ensure a sustainable business model.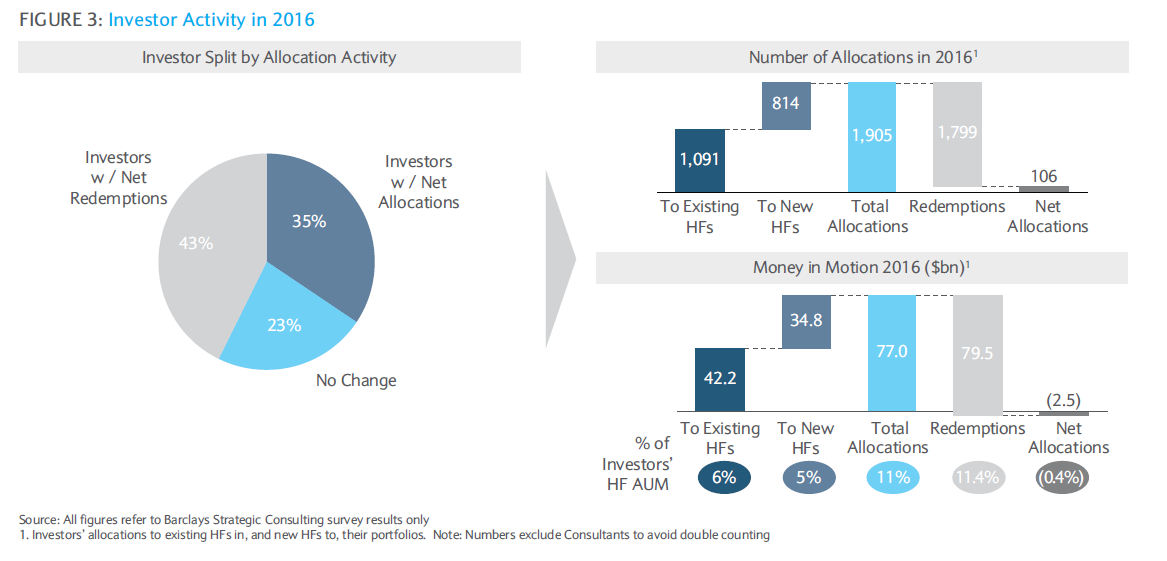 http://www.valuewalk.com/2017/03/hedge-fund-fee-alpha/
8.1057 Hedge Funds Close in 2016 ….729 New Hedge Funds Open.
Hedge funds close at faster pace in 2016 than 2009 recession
By Carleton English
Modal TriggerHedge funds lost their mojo in 2016.
There were more hedge-fund closures last year than during the 2009 recession, according to data provided by HFR.
In 2016 1,057 funds shut down — slightly higher than the 1,023 funds that closed in 2009, although still well below the 1,471 that shuttered in 2008 during the onset of the financial crisis.
The closures came as several large public pension funds pulled their investments in hedge funds, saying that the funds' subpar performance did not merit the high fees they charged.
"The hedge fund industry fee structure continues the process of evolving to meet increased investor demands," Kenneth Heinz, president of HFR said in a statement Friday.
And despite the hedge fund industry topping $3 trillion for the first time ever, the number of new hedge funds launched fell short of crisis-era figures.
There were 729 hedge fund launches in 2016, fewer than the 784 opened in 2009 and dramatically less than the 968 launches in 2015.
http://nypost.com/2017/03/17/hedge-funds-close-at-faster-pace-in-2016-than-2009-recession/
9.Higher Education=Higher Home Ownership….2016 Just took a Jump
Using the same model we used to analyze the impact of income and economic changes on homeownership, Figure 1 below shows the change in homeownership rates caused, all else held constant, by the change in the rate of bachelor's degree attainment. Between 1992 and 2005, the increasing share of individuals earning bachelor's degrees led to a 2.7 percent increase in homeownership. Between 2005 and 2015, partially in response to the Great Recession and slow economic recovery, Millennials have been staying in school. Consequently, the educational attainment rate, which measures the completion of degrees, declined. All else held constant, this caused modest year-over-year declines in the homeownership rate. In 2016 (the most recent year with available data), a jump in the educational attainment rate drove a 3 percent year-over-year gain in homeownership.
Figure 1.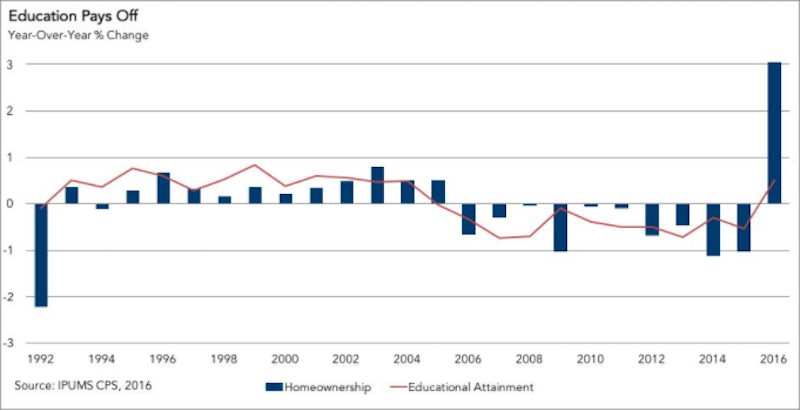 http://www.businessinsider.com/millennials-more-likely-to-own-a-house-2017-3
10.10 Things That Will NEVER Change In Sales
Daniel Disney ✔
FollowDaniel Disney ✔
Founder/CEO @TheDailySales | Top UK Sales Blog | Global Sales Guru | Keynote Speaker | Sales Trainer | LinkedIn Writer
The sales landscape is constantly changing. New technology, new platforms, new corporate structures and fluctuating economies make it a tough industry to keep up with. Sales strategies will evolve to reflect these changes but ultimately sales as a profession, sales as a key activity will rarely change.
Here are the 10 things that will NEVER change in sales:
1) Prospecting will always be king – Whilst the way we prospect may change, the fact that it will always be essential to sales success will never change. Whether it's cold calling, email, voicemail, message, letter, social media or combination approach, it will always be the key activity for sales professionals.
2) Those that fail to plan are planning to fail – The best sales people always recognise the need for planning. If you don't plan your days, weeks, months and years you're inadvertently planning to fail.
3) Pipeline cures everything – Every struggle in sales can be solved by investing in your pipeline and that will remain. More pipeline, more opportunities and so more potential sales.
4) Always Be Closing – Whilst some sales people have gone off the term closing and prefer to use consulting or connecting, the close will always be the single most important stage in the sales process. Without closing the sale there is no sale.
5) Sales people will always have 2 ears and 1 mouth – Unless we genetically mutate in the future it's always likely that listening more than talking will remain the winning strategy in sales.
6) Human relationships will never die – Whilst technology and AI continue to join into the buyer journey one thing can never be replaced and that's human interaction. Some sales may become automated and transactional but so many will remain based on human interaction.
7) YOU will always be the difference – No matter what you sell you'll always have competition. Chances are on face value your products will be very similar and so YOU will always be the key difference in the buyer making their choice.
8) We will always need to adapt – Whilst selling in itself may not change significantly the landscape in which we sell and the tools we use will change and so we will always need to adapt.
9) Rejection will never go – One of the most challenging parts of working in sales is the sheer volume of rejection we face. This will never go, if you're not getting a lot of No's then you're not asking enough people for the sale.
10) It's not for everyone – Not everyone can sell as a job. Sure everyone can and does sell in some way, but not everyone can do it professionally.