1.China's Reserves have Fallen by About $1Trillion
China is making it harder to short the Yuan and more difficult to take money out of the country, but time will tell if they can protect the currency forever. …If not, a free floating Yuan will be a new ball game for all currencies.http://www.barrons.com/articles/the-growing-threat-to-global-trade-a-currency-war-1483767171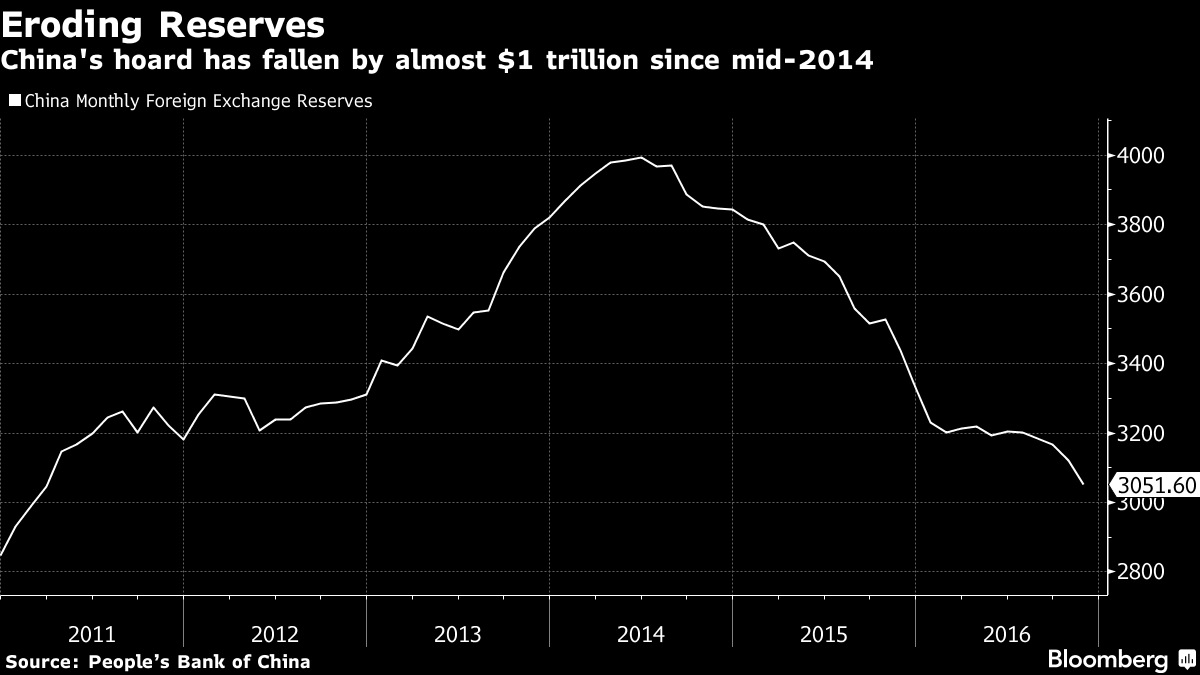 Longer-Term Look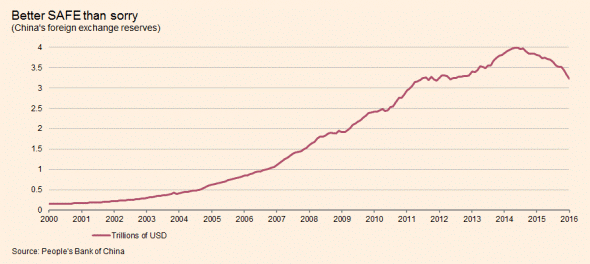 2.Earnings Season Kicking Off…No Sub-Sector will be More Scrutinized than Banks.
Huge rally off lows…Trading around average valuation compared to 10 year average with high expected growth rate.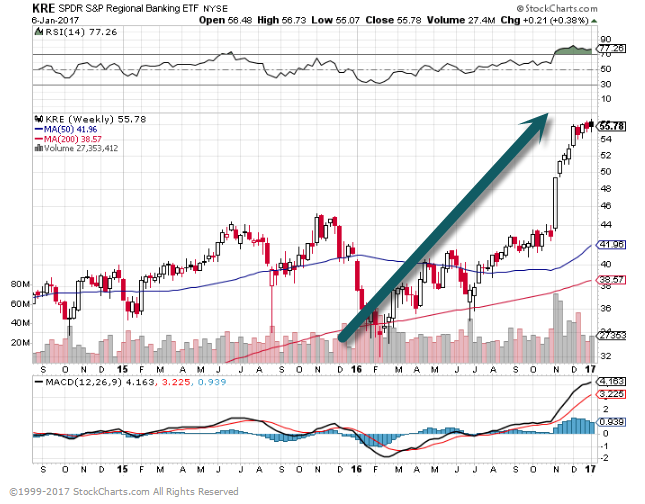 3.Global Valuation Comparison Based on Price/Book.
International Under Valued Versus 10 Year Average.
http://statestreetspdrs.com/1381/files/Final-Chart-Pack-Jan-2017.pdf
4. Is Emerging Market Recovery Starting?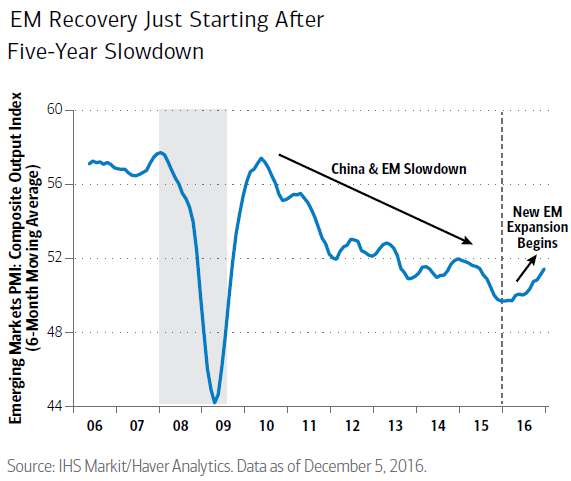 Lifted from Barry Ritholtz Blog.
http://ritholtz.com/2017/01/sunday-reads-77/
5.Inflation and Interest Rates?  Wage Expectations Highest Since 2007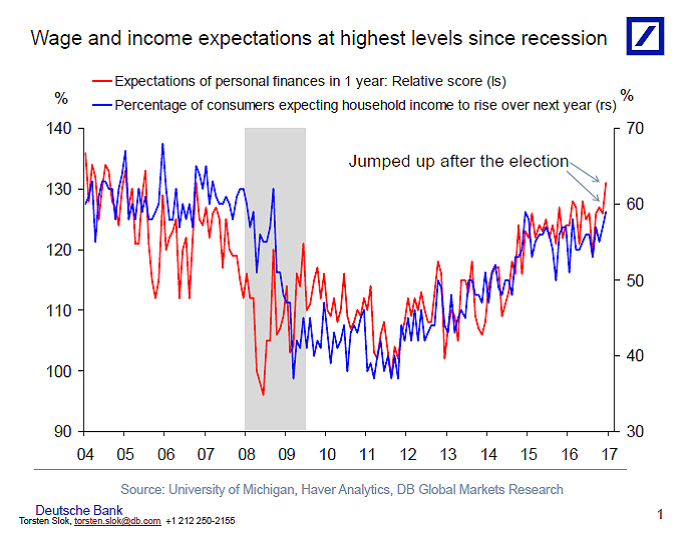 6.Interest Rates and Inflation?  Eurozone Pulling Out of Deflation.
Europe: The Eurozone finally pulls out of the producer price deflation that started in 2013.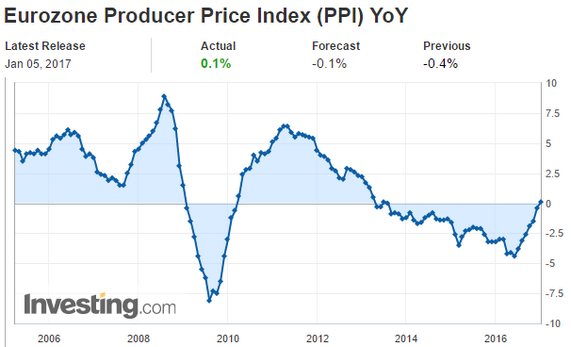 7.Interest Rates and Inflation? Citigroup Economic Surprise Index Positive Across Globe.

The Citi Economic Surprise Index is an interesting data series that measures how data releases have generally compared to economists' prior expectations. When data is coming in weaker than expected, it declines; when data is coming in stronger than expected, it rises.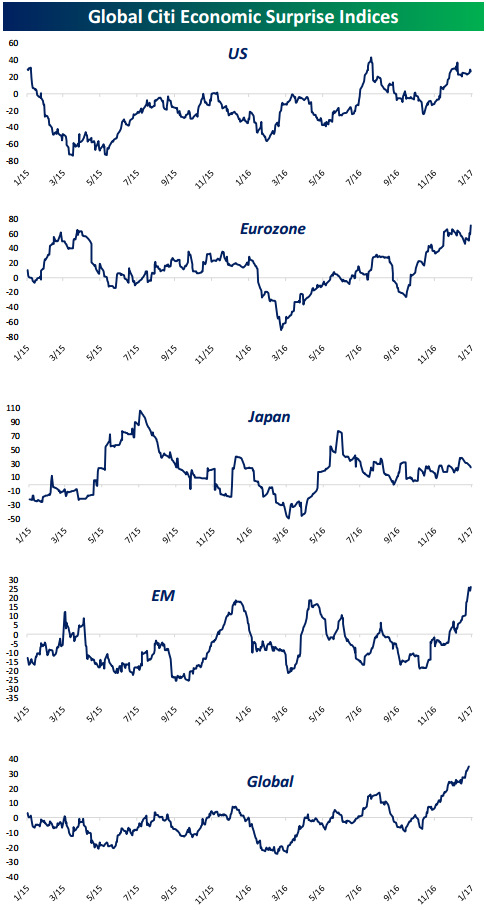 8.Natural Gas
In 3 weeks of mid-December, just shy of 600 billion cubic feet of gas were taken out of storage to meet demand.  That broker more than a 20 year old record. For a time of year when far less than 400 bcf of gas is typically withdrawn from storage.
http://www.barrons.com/articles/natural-gas-rally-isnt-over-1483767155
2016 See Decrease in Production for Chronically Over Supplied Natural Gas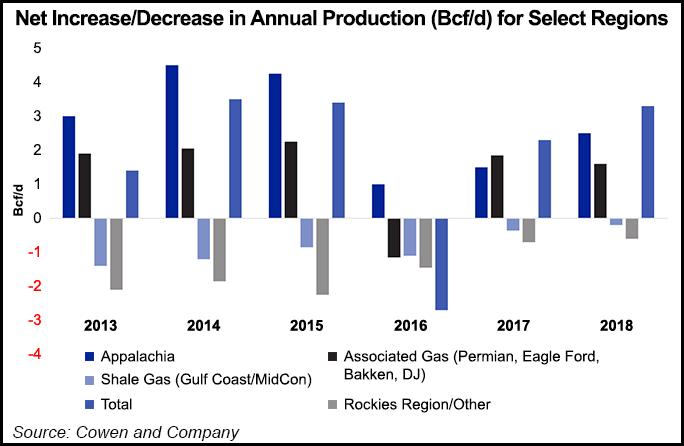 9.Read of the Day… Byron Wein's Annual Predictions.
Byron Wien Announces Ten Surprises for 2017
New York, NY, January 3, 2017. Byron R. Wien, Vice Chairman of Multi-Asset Investing at Blackstone, today issued his list of Ten Surprises for 2017. This is the 32nd year Byron has given his views on a number of economic, financial market and political surprises for the coming year. Byron defines a "surprise" as an event that the average investor would only assign a one out of three chance of taking place but which Byron believes is "probable," having a better than 50% likelihood of happening. Byron started the tradition in 1986 when he was the Chief U.S. Investment Strategist at Morgan Stanley. Byron joined Blackstone in September 2009 as a senior advisor to both the firm and its clients in analyzing economic, political, market and social trends. Byron's Ten Surprises for 2017 are as follows:
Still brooding about his loss of the popular vote, Donald Trump vows to win over those who oppose him by 2020.  He moves away from his more extreme positions on virtually all issues to the dismay of some right wing loyalists.  He insists, "The voters elected me, not some ideology."  His unilateral actions throw policy staffers throughout the government into turmoil.  Virtually all of the treaties and agreements he vowed to tear up on his first day in office are modified, not trashed.  His wastebasket remains empty.
The combination of tax cuts on corporations and individuals, more constructive trade agreements, dismantling regulation of financial and energy companies, and infrastructure tax incentives pushes the 2017 real growth rate above 3% for the U.S. economy.  Productivity improves for the first time since 2014.
The Standard & Poor's 500 operating earnings are $130 in 2017 and the index rises to 2500 as investors become convinced the U.S. economy is back on a long-term growth path.  Fears about a ballooning budget deficit are kept in the background.  Will dynamic scoring reducing the budget deficit actually kick in?
Macro investors make a killing on currency fluctuations.  The Japanese yen goes to 130 against the dollar, stimulating exports there.  As Brexit moves closer, the British pound declines to 1.10 against the dollar, causing a surge in tourism and speculation in real estate.  The euro drops below par against the dollar.
Increased economic growth, inflation moving toward 3%, and renewed demand for capital push interest rates higher across the board.  The 10-year U.S. Treasury yield approaches 4%.
Populism spreads over Europe affecting the elections in France and Germany.  Angela Merkel loses the vote in October.  Across Europe the electorate questions the usefulness of the European Union and, by the end of the year, plans are actively discussed to close it down, abandon the euro and return to their national currencies.
Reducing regulations in the energy industry leads to a surge in production in the United States. Iran and Iraq also step up their output.  The increased supply keeps the price of West Texas Intermediate below $60 for most of the year in spite of increased world demand.
Donald Trump realizes he has been all wrong about China.  Its currency is overvalued, not undervalued, and depreciates to eight to the dollar.  Its economy flourishes on consumer spending on goods produced at home and greater exports.  Trump avoids punitive tariffs to prevent a trade war and develops a more cooperative relationship with the world's second largest economy.
Benefiting from stronger growth in China and the United States, real growth in Japan exceeds 2% for the first time in decades and its stock market leads other developed countries in appreciation for the year.
The Middle East cools down.  Donald Trump and his Secretary of State Rex Tillerson, working with Vladimir Putin, finally negotiate a lasting ceasefire in Syria.  ISIS diminishes significantly as a Middle East threat.  Bashar al-Assad remains in power.Also rans: Every year there are always a few Surprises that do not make the Ten either because I do not think they are as relevant as those on the basic list or I am not comfortable with the idea that they are "probable."
Having grown weary of Washington after a year in the presidency, Donald Trump moves the White House to New York from April to December and to Palm Beach from January to March.  He makes day trips to the Capitol on Air Force One for legislative and diplomatic purposes.
The Democratic Party is sharply divided on strategy, with Bernie Sanders and Elizabeth Warren arguing for a shift to the left and others wanting to remain in the center.  A lack of leadership gives rise to widespread speculation about sharp losses in the 2018 congressional elections.
Donald Trump's intimidation tactics prove effective in discouraging companies from moving some U.S. manufacturing abroad, but he fails to bring jobs back.  The wage differential is just too great.  This becomes his biggest first-year disappointment.
Trump's first major international confrontation comes, not unexpectedly, from North Korea.  Kim Jong-un threatens to set off a nuclear bomb in the mid-Pacific, calling it "a test."  Trump's advisors try to restrain his desire to punish the country severely.
India comes back into the investment limelight.  Its economy grows at 7% and corporate profits for established companies are strong.  Its stock market leads other large emerging countries, along with China.
Trump's efforts to get out of the Iran deal fail.  The other countries signing the agreement believe Iran's weapons-grade nuclear production has been restrained and force the U.S. to remain a participant.
About Blackstone Blackstone is one of the world's leading investment firms. We seek to create positive economic impact and long-term value for our investors, the companies we invest in, and the communities in which we work. We do this by using extraordinary people and flexible capital to help companies solve problems. Our asset management businesses, with over $360 billion in assets under management, include investment vehicles focused on private equity, real estate, public debt and equity, non-investment grade credit, real assets and secondary funds, all on a global basis. Further information is available at www.blackstone.com. Follow Blackstone on Twitter @Blackstone.
The views expressed in this commentary are the personal views of Byron Wien, Vice Chairman of Multi-Asset Investing at Blackstone, and do not necessarily reflect the views of Blackstone itself. The views expressed reflect the current views of Mr. Wien as of the date hereof and neither Mr. Wien nor Blackstone undertakes to advise you of any changes in the views expressed herein.
Blackstone Contact
Christine Anderson
christine.anderson@blackstone.com
(212) 583-5182
10.15 skills that are hard to learn but will pay off forever
Time-management skills will make your life exponentially easier.
The best things in life may be free, but that doesn't mean they won't take time, sweat, and perseverance to acquire.
That's especially the case when it comes to learning important life skills.
To ascertain which talents are worth the investment, one Quora reader posed the question: "What are the hardest and most useful skills to learn?"
We've highlighted our favorite takeaways, as well as a few other skills we thought were important.
Empathy
"You can be the most disciplined, brilliant, and even wealthy individual in the world, but if you don't care for or empathize with other people, then you are basically nothing but a sociopath," writes Kamia Taylor.
Empathy, as business owner Jane Wurdwand explains, is a fundamental human ability that has too readily been forsworn by modern business.
"Empathy — the ability to feel what others feel — is what makes good sales and service people truly great. Empathy as in team spirit — esprit de corps — motivates people to try harder. Empathy drives employees to push beyond their own apathy, to go bigger, because they feel something bigger than just a paycheck," she writes.
Time management
Effective time management is one of the most highly valued skills by employers. While there is no one right way, it's important to find a system that works for you and stick to it, Alina Grzegorzewska explains.
"The hardest thing to learn for me was how to plan," she writes. "Not to execute what I have planned, but to make so epic a to-do list and to schedule it so thoroughly that I'm really capable of completing all the tasks on the scheduled date."
Mastering your sleep
There are so many prescribed sleep hacks out there it's often hard to keep track. But regardless of what you choose, establishing a ritual can help ensure you have restful nights.
Numerous studies show that being consistent with your sleep schedule makes it easier to fall asleep and wake up, and it helps promote better sleep in general.
Asking for help
"I once was told in a job interview, 'You can't have this job if you can't ask for help when you need it,'" Louise Christy writes. "Naturally, I said I could. Later, I found out that the previous person with that job had screwed up big-time because he was in over his head but couldn't admit it and didn't ask for help."
She explains that knowing when you need help and then asking for it is surprisingly difficult to learn and do because no one wants to be perceived as weak or incompetent.
But a recent study from the Harvard Business School suggests doing so makes you look more, not less, capable. According to the study authors, when you ask people for advice, you validate their intelligence or expertise, which makes you more likely to win them over.
Consistency
Whether you're trying a new exercise routine, studying for the LSATs, or working on an important project, Khaleel Syed writes, consistency is vital to maintaining any kind of success.
People often stop working hard when they reach the top, he says, but to maintain that top position, they have to work harder and be more consistent in their work.
Positive self-talk
"Ultimately it doesn't matter what others think of you," Shobhit Singhal writes, "but what you think of yourself certainly does, and it takes time to build that level of confidence and ability to believe in yourself when nobody else does."
On the other side of positive self-talk is negative self-talk, which Betsy Myers, founding director of The Center for Women and Business at Bentley University, believes can slowly chip away at your confidence.
Minding your business
"It takes ages to learn and master this," Aarushi Sharma writes.
Sticking your nose into other people's work isn't helpful and wastes time and resources, she says. "You have no right to put forth your two or four cents, even if you are the last righteous person standing."
Knowing when to shut up — and actually doing it
"You can't go around whining about every other thing that seems not-so-right to you in this world," writes Roshna Nazir. "Sometimes you just need to shut up."
There are many instances when keeping to yourself is the best course. "When we are angry, upset, agitated, or vexed," Anwesha Jana writes, "we blurt out anything and everything that comes to our mind." And later, you tend to regret it.
Keeping your mouth shut when you're agitated is one of the most valuable skills to learn, and of course, one of the most difficult.
Listening
Along with shutting up comes listening, Richard Careaga says.
"Most of us in the workplace are so overwhelmed with things to do — instant messaging, phones ringing. I mean, our brain can only tolerate so much information before it snaps," Nicole Lipkin, author of "What Keeps Leaders Up At Night," previously told Business Insider.
One tip for active listening is repeating back what you heard to the other person. "It makes things so much easier when everyone is on the same page," she said.
Resisting gossip
"The most important thing in life to me is relationships," Jason T Widjaja writes. "And the most important thing about building and keeping good relationships is trust."
One of the easiest ways to lose trust, he says, is to gossip about people behind their back.
Widjaja says learning not to gossip was hard to do because it meant missing out on possibly important conversations, distancing himself from influential people, and awkwardly having to tell people, "Hey, sorry to interrupt but I really don't need to know that, could we talk about something else?"
"But press on and you will get your priceless reward. Trust," he writes.
Honesty
Being completely honest with others can be awkward, but just because you don't have anything nice to say, that doesn't mean you shouldn't say it.
Facebook COO Sheryl Sandberg is a proponent for radical candor, which is feedback that lies at the intersection of caring about people personally and being willing to piss them off.
When practicing radical candor, use the acronym HHIPP to remember: Radical candor is humble, helpful, immediate, in person, and it doesn't personalize.
Staying present in the moment
According to happiness researcher Matt Killingsworth, we tend not to be very good at staying present in the moment. He says that 47% of the time, people are thinking about something other than what they're currently doing. And this is hurting our happiness, he says:
"People are less happy when they're mind-wandering no matter what they're doing. For example, people don't really like commuting to work very much. It's one of their least enjoyable activities, and yet they are substantially happier when they're focused only on their commute than when their mind is going off to something else. It's amazing."
Mastering your thoughts
To do what you want to do and accomplish what you want to accomplish, you need to consciously direct your thinking, Mark Givert writes.
"The challenge is that we are the product of our past experience and all of our thinking is the result of this," he says. "However, the past does not equal the future."
Learning a new language
This skill wont just open you up to new conversations and professional opportunities.
As native-Hungarian speaker and Metaphor English founder and CEO Balázs Csigi blogs, "Mastering English has been an incredible gift in my life. I received a new mindset, a new set of emotions, and a new way of thinking." The same could be said of learning any new language.
Csigi says the key to learning another language is to master every bit of the culture, no easy feat, but surely a worthwhile pursuit.
Speaking up
Speaking up in public can be so hard for many of us to do. Even the American business magnate Warren Buffett said that he was once so terrified of speaking in public that he would throw up. "In fact, I arranged my life so that I never had to get up in front of anybody," he told his biographer Alice Schroeder in "The Snowball: Warren Buffett and the Business of Life."
It took practicing giving speeches numerous times in front of his Dale Carnegie speaking course classmates to finally conquer his fear.
"Some of it is just practice — just doing it and practicing," Buffett said. "And it worked. That's the most important degree I have."
http://www.businessinsider.com/skills-that-will-pay-off-forever-2017-1/#-1