1.We Showed Huge Emerging Markets Flows Yesterday…..1st Qt.Emerging Markets +13% vs. 5.28% S&P

www.yahoofinance.com

2.Tech Leads First Quarter…..Tech +11.66% vs. Small Value -1.72%
3-4.We Have Discussed at Length "The Incredible Shrinking Stock Market"…Michael Batnick is Way Smarter than Me
This Time it Really is Different
Posted April 1, 2017 by Michael Batnick
Maybe.
Stock market capitalization to GDP was once Warren Buffett's favorite indicator. A quick glance of this ratio shows it recently blew past the two previous highs. Nobody reading this needs to be reminded of what followed those peaks.

Below is another metric that shows you have to be out of your mind to own U.S. stocks. The median price/revenue ratio for U.S. stocks makes the tech bubble look quaint.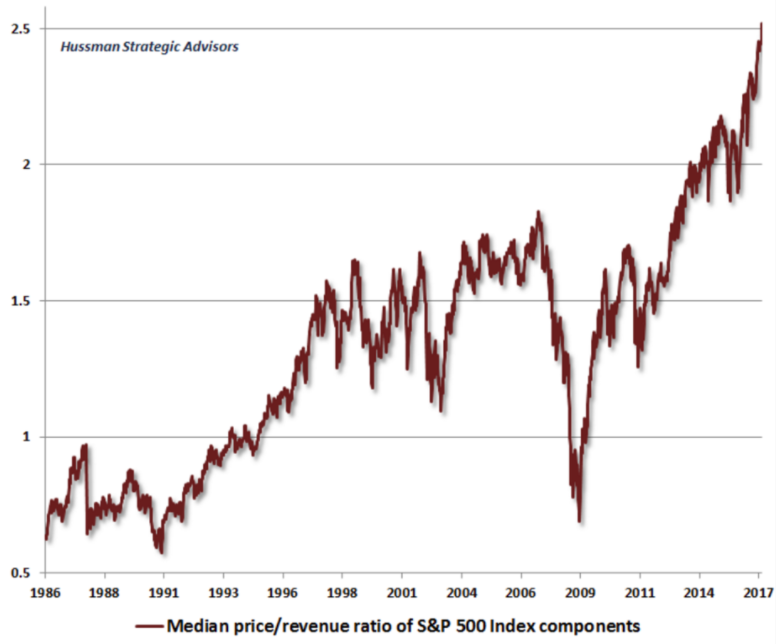 But before you go putting on some hedging trades, maybe investors aren't out of their minds, perhaps there is a reason why the two previous charts appear so jarring.
Credit Suisse recently published an incredible paper, which examines why companies are staying private for so long, and what effect this might have on the shrinking public markets. Below is a chart which shows, "the cash flow return on investment, a measure of corporate return on investment that is adjusted for inflation, for a large sample of U.S. companies. The average CFROI from 1976 to 1996 was 5.5 percent and rose to 9.1 percent from 1997-2016. Much of this improvement is the result of higher operating profit margins."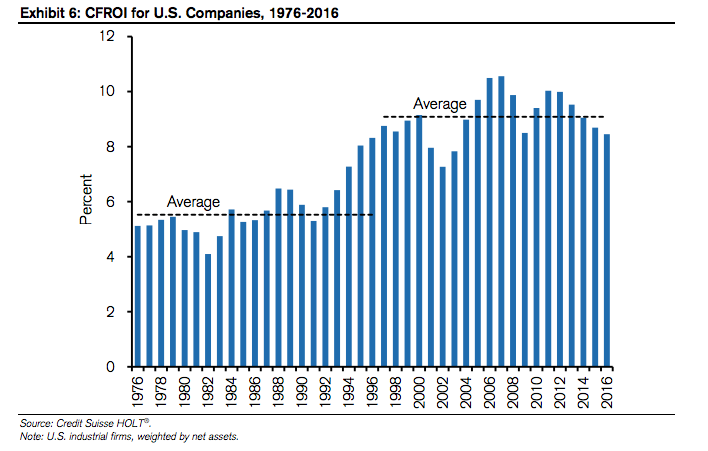 They go on:
"As the result of this profitability, and in spite of the smaller population of companies, the equity market capitalization in the U.S. has risen from 47 percent of GDP in 1976 to 136 percent in 2016. Over the same time, profits went from 6.9 percent to 8.9 percent of GDP."
"So what," you might say, do companies with greater margins deserve higher valuations? I don't know, but I think it's safe to assume that low margin companies deserve lower valuations. And because so many of these tiny, crappy companies no longer exists, then the median price/revenue ratio chart is a little less shocking.
Look, I'm not saying stocks are cheap. Based on every traditional valuation metric, stocks look really expensive. But I'm just saying, it's possible that they're only sort of expensive.
Source:
The Incredible Shrinking Universe of Stocks The Causes and Consequences of Fewer U.S. Equities
5.Where are Americans Migrating?
Not surprisingly, Chicago saw the 2nd highest outflow of people followed closely by Los Angeles.
Moreover, in another 'complete shock', the people ditching NYC, Chicago and LA in record numbers are flocking to Texas and Arizona where they can enjoy sunshine 350 days a year, cheap housing and substantially lower tax rates.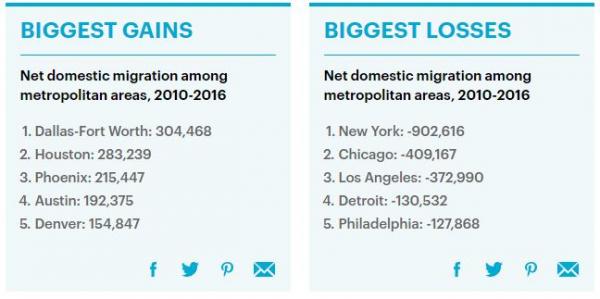 http://www.zerohedge.com/news/2017-04-03/mass-exodus-1-million-people-have-ditched-new-york-2010
6.Consumer Debt Approaching 2008 Levels…Mortgage Debt Down $1 Trillion Since Crisis but Auto and Student Loans Making up Difference
Here's how the numbers stack up for indebted Americans in 2017: Housing-related debt is down nearly $1 trillion since the 2008 peak, but auto loan balances are $367 billion higher, and student loans are a whopping $671 billion higher. (Credit card debt is still down from peak recession levels, and isn't expected to surpass them until the end of 2019.)
Although housing debt has decreased since 2008, mortgages still make up the bulk of the debt total, at 67%, as of 2016.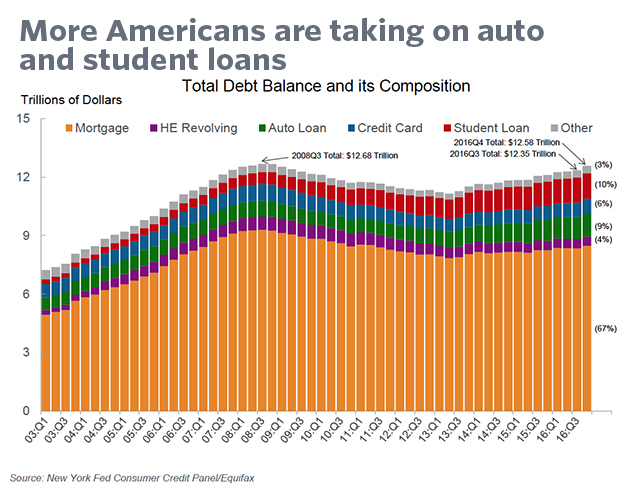 Read Full Story at Marketwatch
http://www.marketwatch.com/story/us-households-will-soon-have-as-much-debt-as-they-had-in-2008-2017-04-03
7.40% of the Population is on Medicare or Medicaid.
Medicare is a government program that gives you health coverage if you are 65 or older.
Medicaid is a government program that gives health coverage to individuals with very low income.
The chart below shows that 40% of the population is on Medicare or Medicaid and the two programs combined account for 27% of government spending, and healthcare spending is expected to accelerate over the coming decade, see also the CBO's recently released long-term budget outlook: https://www.cbo.gov/system/files/115th-congress-2017-2018/reports/52480-ltbo.pdf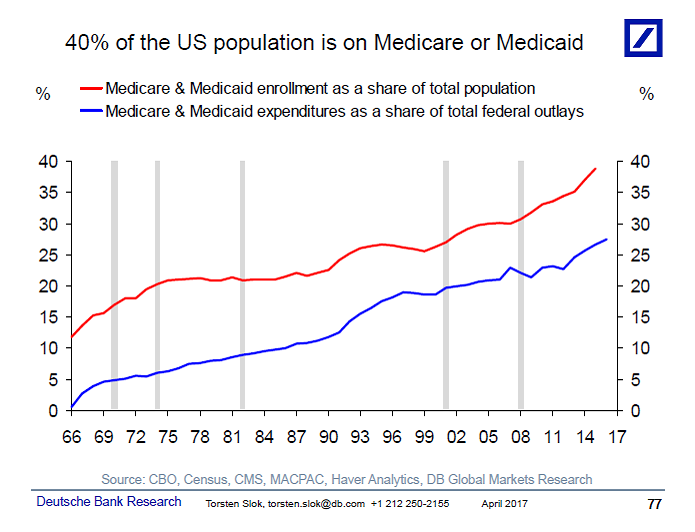 ---
8.Read of the Day…The number of robots sold in the U.S. will jump nearly 300 percent in nine years
Job-stealing robots are steadily taking over America.
BY APRIL GLASER AND RANI MOLLA APR 3, 2017, 6:30AM EDT
Christopher Furlong / Getty
The number of industrial robots sold in the U.S. will jump nearly 300 percent in less than a decade, according to a projection from ABI Research.
Already, 40 percent more robots were sold last year in the U.S., compared with four years prior, says data collected from the Robotic Industries Association.
More robots means fewer jobs. For every new industrial robot introduced into the workforce, six jobs were eliminated, a study published last week from the National Economic Research Bureau found.
The automotive industry, as usual, has brought in more robots in recent years than any other industry in the U.S., accounting for 70 percent of North American industrial robot shipments in 2016, with $1.2 billion dollars spent on the machines.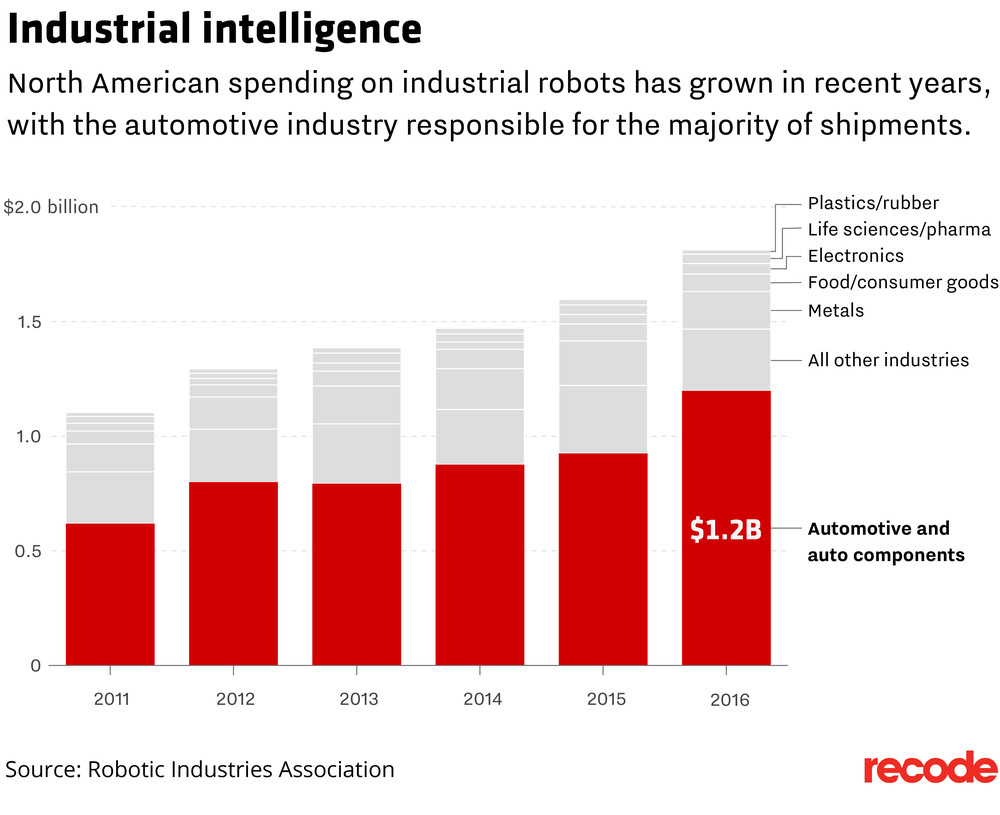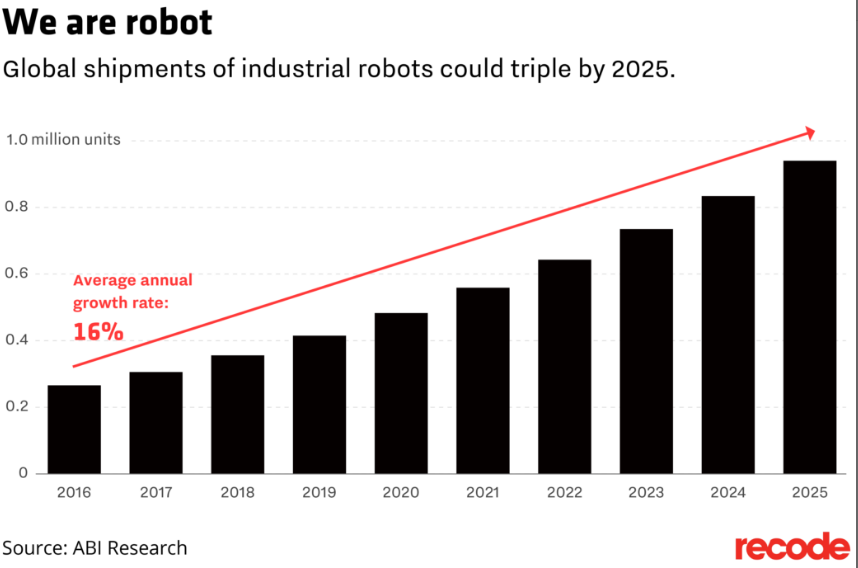 Read Full Story Found at Josh Brown's Blog The Reformed Broker
https://www.recode.net/2017/4/3/15123006/robots-sold-america-growth-300-percent-jobs-automation?curator=thereformedbroker
9. Letters on Leadership #6: Friends and Teammates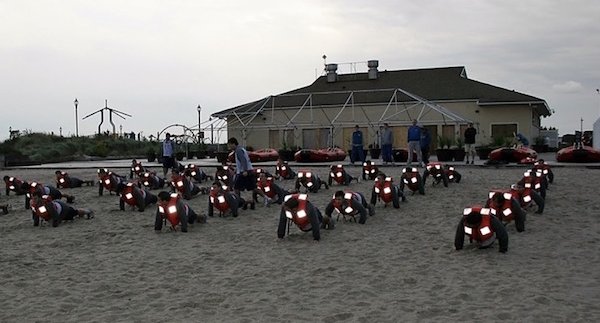 Letters on Leadership #6: Friends and Teammates
Eric Kapitulik
FollowEric Kapitulik
Founder and President of The Program LLC
There is a pervasive myth in today's teams and organizations. Many people think that in order to have a great organization everyone needs to be friends. This is not the case. If we are going to compete for championships on the athletic field, battle field, and corporate boardroom we need great teammates. Friends and teammates are not synonymous. I have friends with whom I share a great deal in common. We share the same interests, the same sense of humor. We will go to the movies together, go fishing together, and drink beer together. I wouldn't go to battle with them though. I wouldn't trust them to watch my back in Iraq, cover my blindside on the Football field, or bring our organization to the next level. I don't hold them accountable nor do they hold me accountable. Our friendship is based on "shared interests," not a commitment to a higher purpose. I wouldn't say anything if they missed a workout or showed up late for an appointment. My teammates hold me accountable, and I them. They do so because they truly care about me and the success of our organization.
I have had teammates in the military who were not my friends. We didn't have the same interests outside the military. We did not share the same sense of humor, or taste in movies and music. I didn't call them at night to tell them about my day. We didn't hang out on the weekends. We weren't friends. However, I was willing to shed my blood for them on the battlefield without a moment's hesitation. I knew they cared about me because they held me accountable, not in spite of it. Our relationship wasn't built on shared interests, but rather a commitment that we were going to make each other reach our full potential. In doing so, we allowed for unit and mission success.
Some of best my friends are also my teammates. Football teammates, men and women with whom I served, and my teammates at The Program. I count these among my most cherished friends. However, the distinction is clear. They are teammates first and foremost. Making the distinction between friends and teammates is never easy. In 2005 I was in An Najaf, Iraq. During the first day of a month long battle, I listened to the radio in horror as they called in an Urgent Surgical Casualty Evacuation (the most serious kind, meaning that without immediate surgery death is expected) on my best friend. We had been roommates and friends for years. We had the same interests, the same sense of humor. He was hit with a Rocket Propelled Grenade while taking cover behind a wall in the Najaf Cemetery. I listened as my best friend lay broken, bleeding, and possibly dying in the dirt. I did nothing. Yes, we were friends. But, more importantly we were teammates. We had made a commitment to our Country, our Corps, and our Marines. I knew that the best thing I could do for him at that moment was to continue to fight, to trust that his teammates would take care of him, and to accomplish our mission. During the preceding years we may have gone to movies and drank beer together. However, we also pushed each other to get better. We held each other accountable to the highest standards. We may have had conflict at times because of it, but I know that I came home alive from 3 combat tours because he and other teammates made me better every day. I'd like to think that he was able to persevere through over 30 surgeries because I and other teammates made him tougher.
If we are going to be a great (not good) organization, if we are going to compete for championships, we need great teammates. Great teammates hold each other accountable to the standards of their organization. I go to the movies with my friends. I go to battle with my teammates.
Attack!
Jake MacDonald, Lead Instructor
"Letters on Leadership" are published periodically by The Program, a leadership development and team building company that works with the nation's leading corporations as well as professional and collegiate athletic teams.
For information on developing better leaders and more cohesive teams at your organization, visit http://www.theprogram.org/corporate.
ShareShare Letters on Leadership #6: Friends and Teammates
· LikeLetters on Leadership #6: Friends and Teammates
https://www.linkedin.com/pulse/letters-leadership-6-friends-teammates-eric-kapitulik?trk=v-feed&lipi=urn%3Ali%3Apage%3Ad_flagship3_feed%3BPlq%2FVf%2B2QIcm2f7oZmzatA%3D%3D