1.IShares Home Construction ETF +16% in First Quarter.

Top Holdings
https://www.ishares.com/us/products/239512/ishares-us-home-construction-etf
2.Homebuilder Return vs. Home Builders Sentiment.
Equity Markets: Either homebuilders' shares are dramatically undervalued, or homebuilders are too optimistic.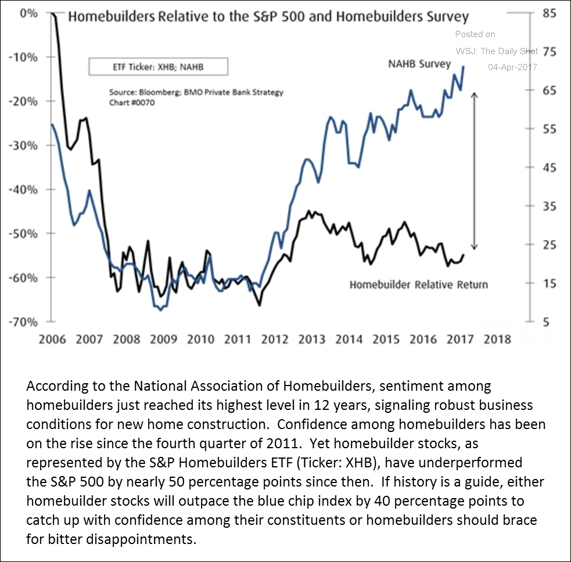 Source: BMO Wealth Management, Jack Ablin (CIO)
3.Housing…Where Are We Off Lows?
Below is a look at the percentage that each city tracked has bounced off of the lows put in during the housing bust back in 2009/2010. As shown, San Francisco is up 96% from its lows, while New York is up just 18%. Cleveland is up the second least off its lows at just 20%.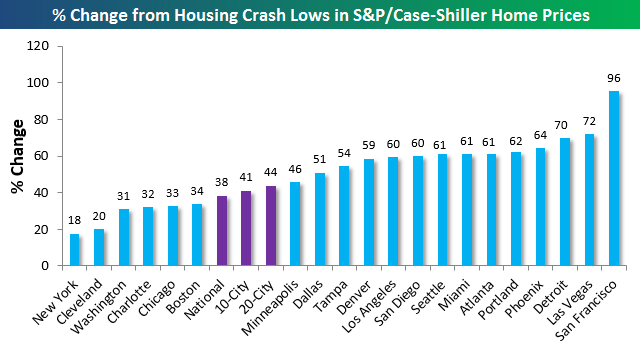 Below is a look at where home prices stand now in relation to the highs in price that were put in at the peak of the last housing bubble back in 2005. As shown, seven of twenty cities have eclipsed their prior bubble highs, with both Denver and Dallas up more than 30% from their highs back in 2005. The "National" index also has now eclipsed its prior highs, which is a pretty significant reading.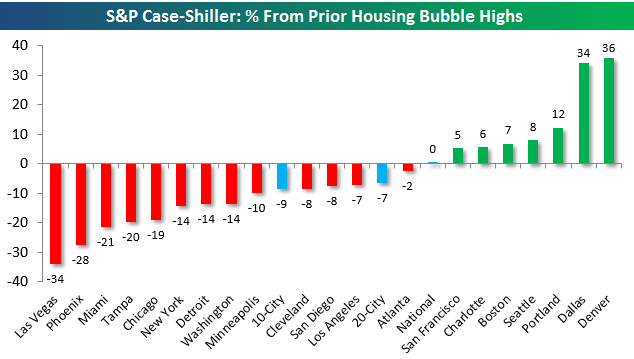 4.Interest in Buying Homes at 2006 Levels…Inventories at 1994 Levels.
Torsten Slok Deutsche Bank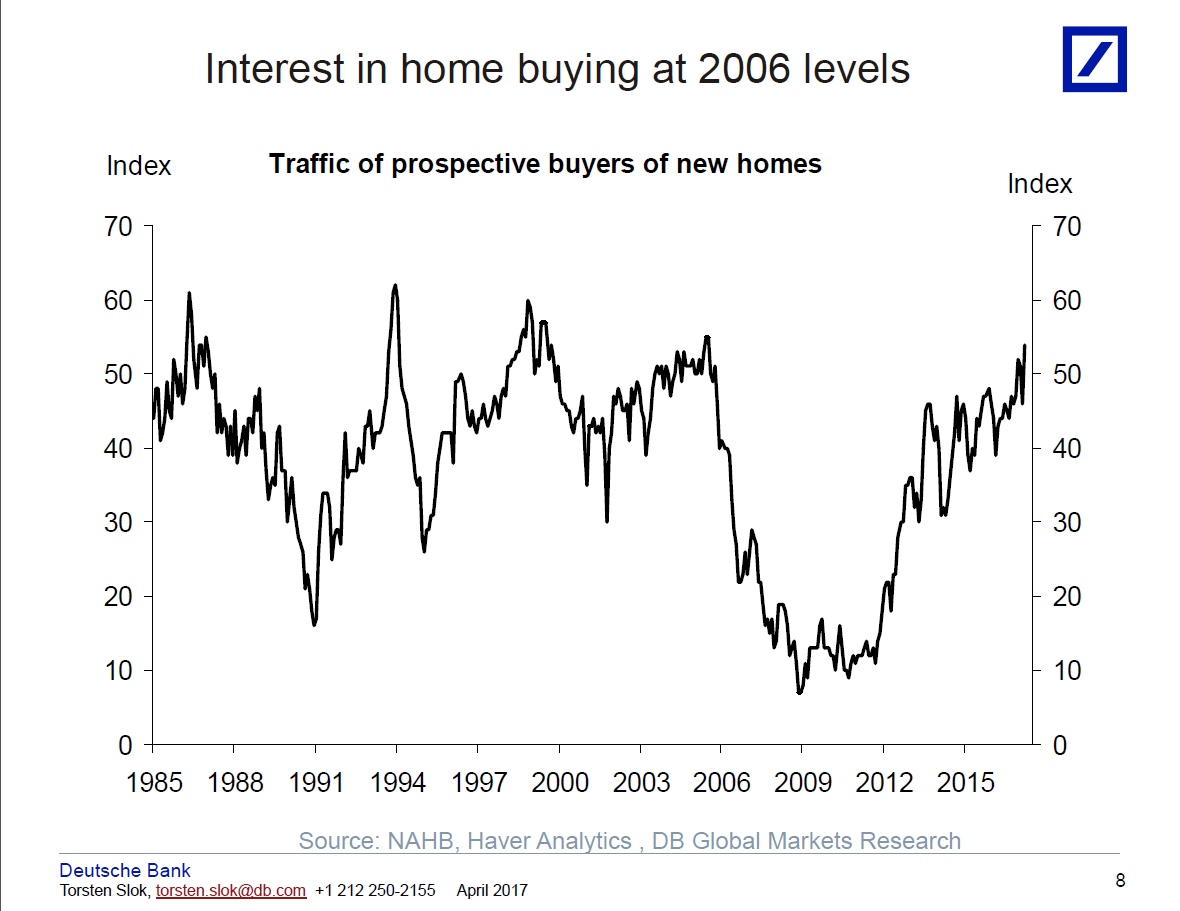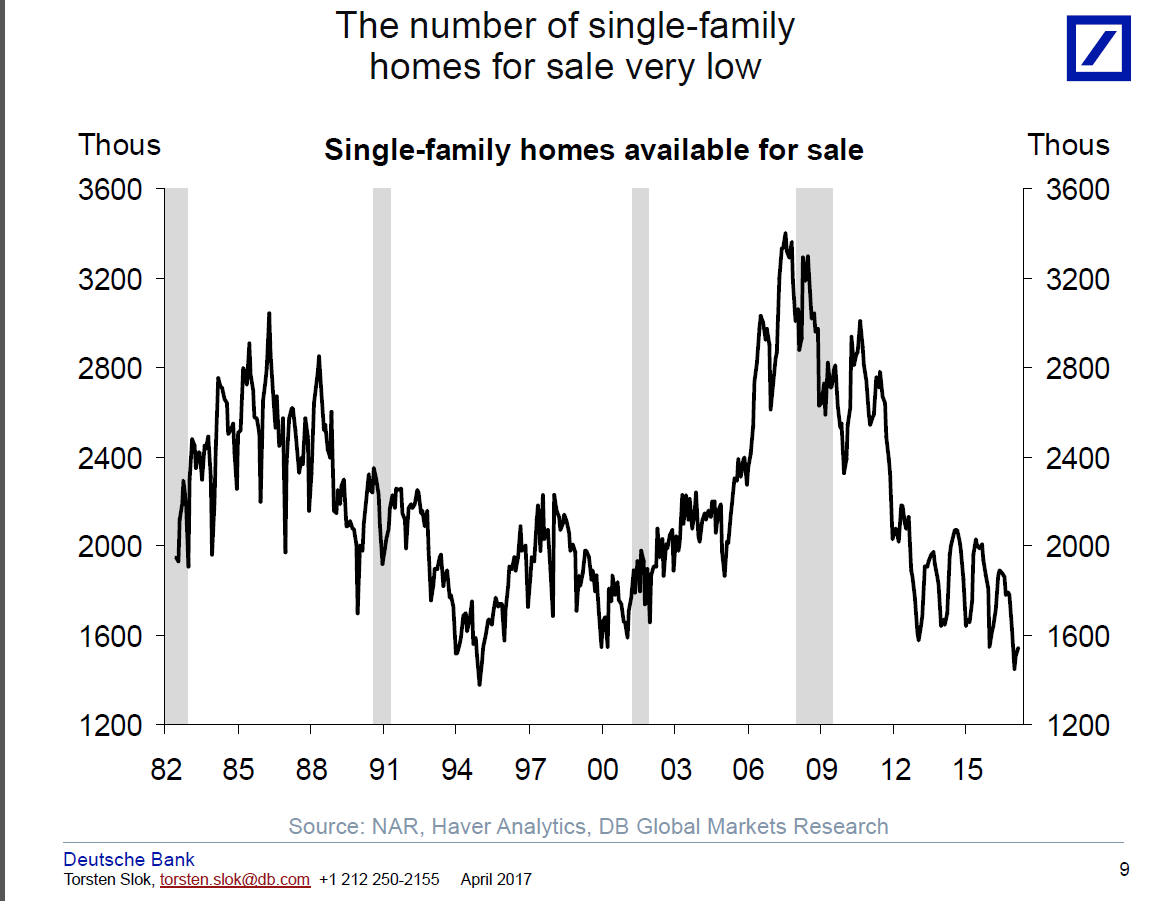 5.Will this be the Longest Expansion Ever?
The United States: Most economists think that the current economic expansion will run for another couple of years before we hit a recession. This would make it the longest running expansion on record. What will ultimately end the cycle? Rising debt levels? The Fed's tightening?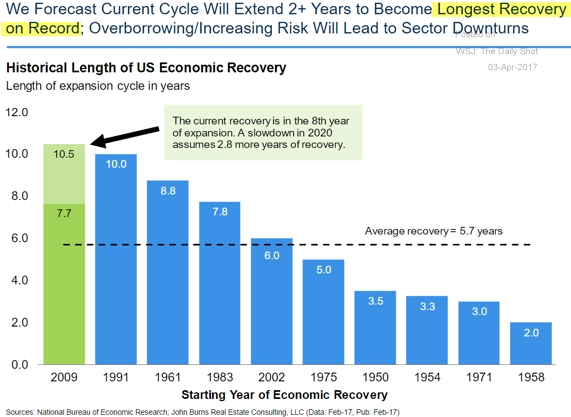 Source: John Burns Real Estate Consulting; Read full article
www.thedailyshot.com
6.Inflation Adjusted Gasoline Prices back to 10 Years Ago Levels.
Chart of the Day
Today's chart provides some long-term perspective in regards to gasoline prices by presenting the inflation-adjusted US price of one gallon of gasoline since 1980. There are a couple of points of interest. For one, geopolitical crises are often associated with major swings in the price of gasoline. It is also worth noting that, the price of gasoline has been trending up as of late resulting in the price of a gallon breaking through resistance of its three-year downtrend channel (see red line).
Notes:
Where should you invest? The answer may surprise you. Find out right now with the exclusive & Barron's recommended charts of Chart of the Day Plus.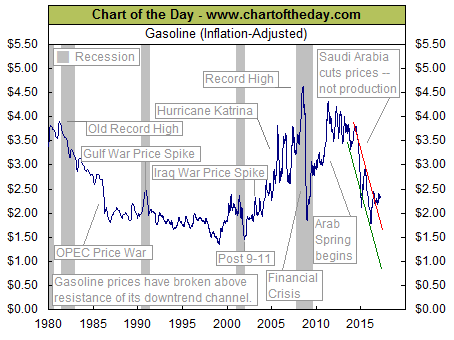 http://www.chartoftheday.com/20170405.htm?H
7.FUND FLOWS: Global Bond Funds Hit 9-Week High
Investors put new money into bonds as fresh doubts arise that the current U.S. administration's reflationary rhetoric will translate into action.
Cameron Brandt | Apr 03, 2017
Fresh doubts that the current U.S. administration's reflationary rhetoric will be translated into action saw flows into EPFR Global-tracked Bond Funds hit a nine-week high in late March. Emerging Markets and Global Bond Funds both attracted over $2 billion for the second week running and U.S. Bond Funds moved closer to posting their biggest quarterly inflow since 3Q12.
With investors reassessing their expectations for fiscal stimulus in the world's largest economy (at least for this year) and the number of interest rate hikes needed to prevent overheating, flows into Bank Loan Funds slipped another notch. Commitments to Inflation Protected Bond Funds were also well below the weekly averages seen in December, January and February.
Europe Bond Funds ended the quarter by posting their third straight outflow and ninth in the 13 weeks YTD. There are lingering fears that the European Central Bank will repeat past mistakes and tighten before the latest recovery in the Eurozone's
economic growth gains real momentum. But U.K. Bond Funds posted their biggest inflow of the year so far during a week when the formal process for leaving the European Union was invoked as investors looked for places to park cash while they see how the Brexit negotiations play out.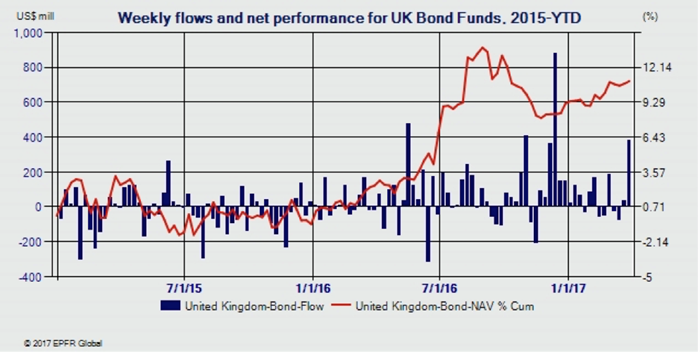 The latest flows into Emerging Markets Bond Funds took the YTD total north of the $20 billion mark, with over $11 billion committed to funds with hard currency mandates and $9 billion to EM Local Currency Funds. During the same period last year all EM Bond Funds posted a net outflow of $3.6 billion with roughly $1.1 billion redeemed from both hard and local currency funds. At the country level Russia Bond Funds extended an inflow streak stretching back to late October while redemptions from Hungary Bond Funds hit record highs.
http://www.wealthmanagement.com/fixed-income/fund-flows-global-bond-funds-hit-9-week-high?NL=WM-019&Issue=WM-019_20170404_WM-019_176&sfvc4enews=42&cl=article_1&utm_rid=CPG09000007333628&utm_campaign=8979&utm_medium=email&elq2=bf6a171064aa4d168d09545bbc60065b
8.1st QT. Commodities.
Chart from Dorsey Wright….Inflation? Will it show in commodities?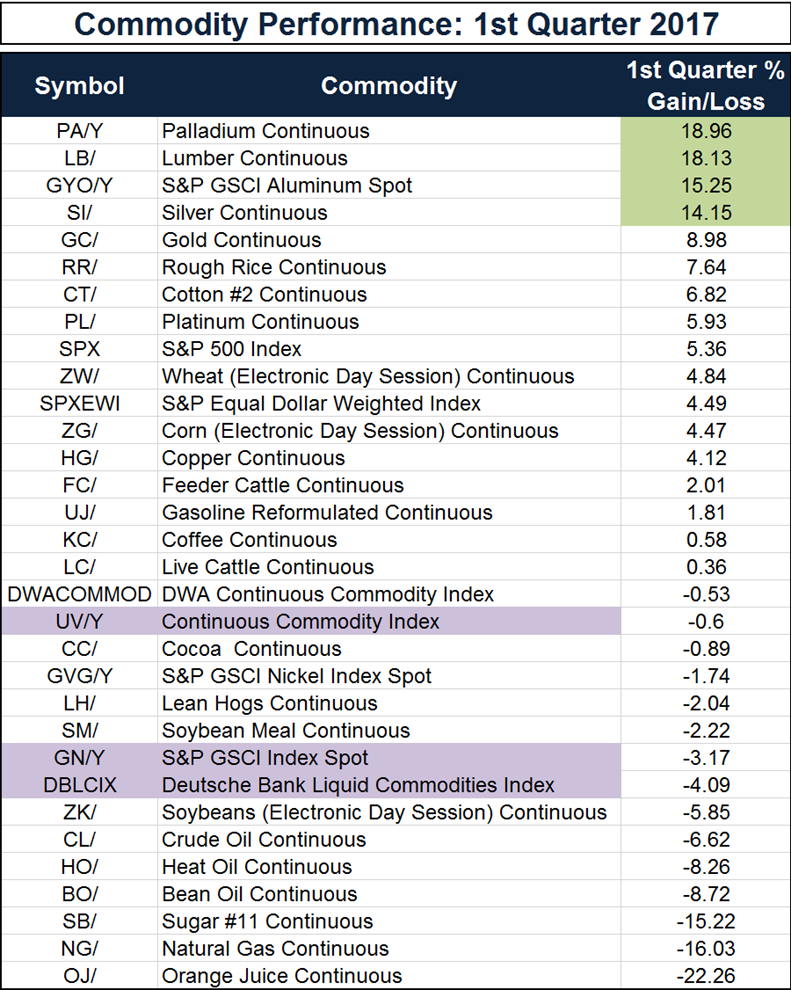 http://www.dorseywright.com/
9.Read of Day….In a Strange Twist to Trump's Populist Election….Technology/Robots/Algos are Eliminating More High Paying White Collar Jobs Than Blue Collar….Finance is Example #1.
Machine learning is now used in Wall Street dealmaking, and bankers should probably be worried


· Matt Turner
It has been said that Wall Street dealmaking is more art than science. That could be changing.
JPMorgan, which is spending big on technology as it looks to cut costs and increase efficiency, last year launched a predictive recommendation engine to identify those clients which should issue or sell equity. And now, given the initial success of the engine, it's being rolled out to other areas.
Matt Zames, chief operating officer at JPMorgan, ran through the bank's tech strategy in a letter titled "Redefining the Financial Services Industry" inJPMorgan's 328-page letter to shareholders.
Included in the letter alongside talk of robotics, new design standards and a private cloud platform was reference to the Emerging Opportunities Engine. The letter said:
"We also use machine learning to drive predictive recommendations for Investment Banking. Last year, we introduced the Emerging Opportunities Engine, which helps identify clients best positioned for follow-on equity offerings through automated analysis of current financial positions, market conditions and historical data. Given the initial success of the Emerging Opportunities Engine in Equity Capital Markets, we are expanding it to other areas, like Debt Capital Markets, similarly basing predictions on client financial data, issuance history and market activity."
JPMorgan isn't the only Wall Street bank applying technology to dealmaking.
At an event in January, Goldman Sachs' deputy chief financial officer Marty Chavez said the bank was focused on automating investment banking tasks. He said that the bank has mapped out 146 distinct steps in the initial public offering process, and that many of these are "begging to be automated," according to MIT Technology Review.
That represents a change. While trading has already seen heavy automation and the job cuts associated with it, Wall Street dealmaking had traditionally been seen as impervious to such a process. Not any more.
http://www.businessinsider.com/jpmorgan-using-machine-learning-in-investment-banking-2017-4
10.15 Habits of Mentally Strong People
by Taboola
Mentally strong people. Who are they? Are they successful? Are they happy? These are the perpetual questions, which have many different answers. First of all, they are people who can deal with problems and know their worth. Here are some features, which help them to keep the power.
Not giving up
Who knows, which impediments destiny prepares for us. We have to move on. For dear life, getting stronger, in every sense. Especially, in the sense of mental strength. This is the primary habit of such people.
No complaint
They won't waste a lot of time on whining and blaming the fate for being unkind to them. The mentally strong people know, there's no point. Stagnating isn't the right choice.
No fear
It doesn't mean they are fearless. They prefer not to show their fear and don't let that fear take over them. Fear is apprehension. In fact, the reason for the majority of fears is lack of self-confidence and negative thinking. This is not about mentally strong people.
Self-discipline
They are eager to continually develop themselves. That's why most mentally strong people are self-disciplined and hardworking. It is a key aspect of success.
Taking risks
They take risks.
No matter which ones – financial, professional, emotional. They want that risk to pay a reward. They define the boundaries by themselves and consider it in their power to push the limits of what's possible.
Control emotions
They feel the same as the others, but they try not to be the hostage to their emotions. They prefer to deal with what they're feeling, privately – not in the public eye. All human beings have human feelings, but in this case, these feeling will hardly dominate.
Life plan
They have one and try to hold onto it. Their life is not a succession of disorderly events. They also have defined goals and move towards them thoughtfully. Successful people are mentally strong people. They achieve what they want because they know what they want, exactly.
Self-dependent
They don't want to depend on others. This type of independence is based on self-confidence, responsibility for themselves and their fortune.
Against the grain
They aren't afraid of struggling against the stream. They don't need the approval of others. They do what they see and feel to be right. They have got their views on everything and aren't afraid to express their opinions, even if it differs from others.
Realizing values
They know exactly what is valuable for them and try to keep to these values. The formation of values creates a particular mode of life, which determines everything.
Leaving the past behind
They live in the present and try not to allow the past interfere with their today life. If they do focus on the past, it's only to remember the pleasant moments, which brought joy, strength and a smile.
Flexibility to change
They don't try to avoid change. They realize that change is the necessary part of life and success. They are not creatures of habit. They are ready to leave a habit behind if it doesn't work for them.
Getting around
Job, friendship, relations aren't the anchor to suppress the development of the mentally strong person.Such people want the best for themselves, and if something dissatisfies them – at work, friendship or relations – they will go away and find something new.
Diligence
It's comparable with self-discipline, but deserves some special words. No pain, no gain. They know that firsthand.
One lives and learns
This fact is quite obvious. Mentally strong people like to learn and not only in the sense of education, but in the sense of new things around and gaining experience. This creates for a richer life experience and overall fortitude.
All in all
Mental strength isn't something you are born with. It's a skill that you can learn and develop. Difficulties temper. Life teaches. Being weak or strong is a choice. In fact, it's a dangerous thing to be weak in our world. That's why we should be bright-eyed and bushy-tailed, and, don't let guard down.
Alina Kemakh is a marketing writer at Erminesoft, a mobile app development company. She likes writing on different topics because in writing she sees working of the mind and imagination.