1.Happy Holidays from the U.S. Consumer…The Surest way to go Broke is Betting Against the American Consumer.
2.Small Cap Rip….Historical Data.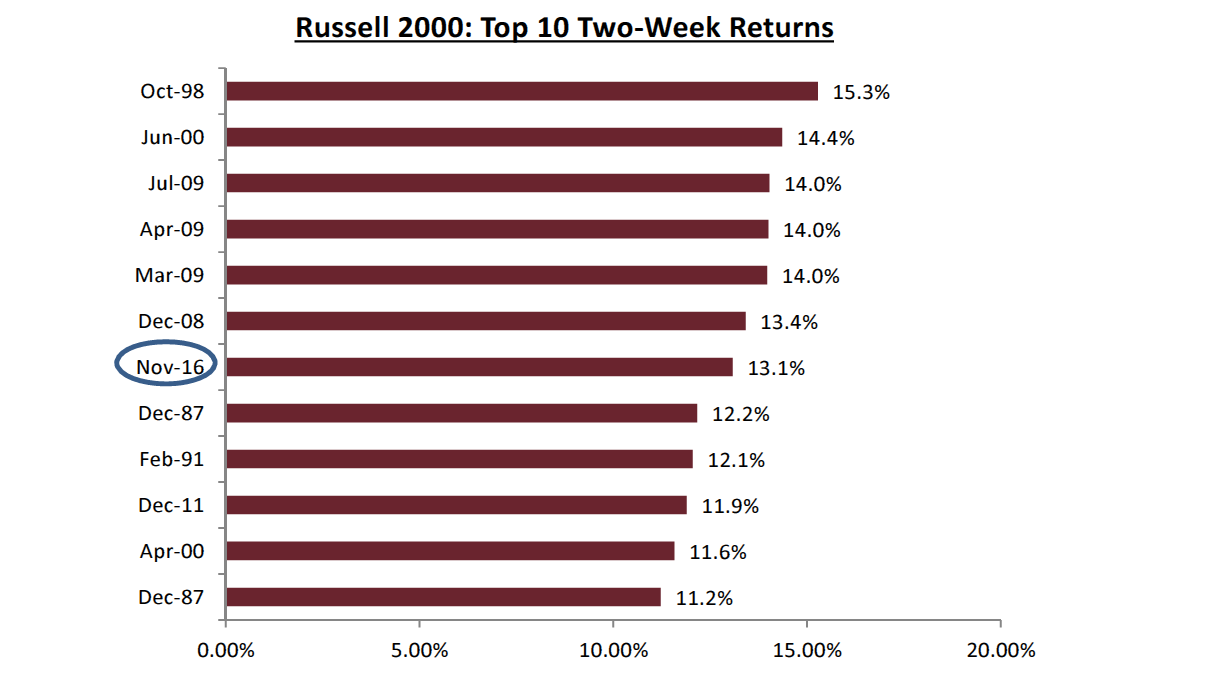 Reach out to Eric Boucher for more information on Renmac
EBoucher@renmac.com www.renmac.com
3.Ben Carlson on the Agony of Investing in Small Caps….No Pain No Gain.
The people that use all-time highs to scare you are the same people who told you that the 27% selloff in the Russell 2000 earlier this year was the canary in the coalmine. Small-cap stocks are now at all-time highs and 40% off their February lows.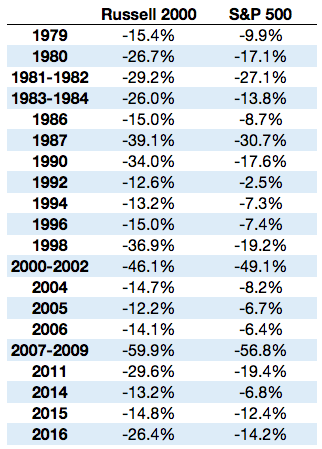 You can see that the Russell 2000 has shown a history of more frequent and deeper losses than the S&P 500. Here are the numbers behind this chart which shows the various Russell 2000 corrections and bear markets since 1979 along with the corresponding S&P 500 losses during those times:
There have been plenty of large losses in small caps that didn't really seem to affect what was going on with large caps. Going again by the trivial definition I used from above on bear markets (20% loss or worse) the Russell 2000 has experienced ten in this time while the S&P 500 has only seen four (with two or three close calls).
Some takeaways:
Volatility in small caps is a double-edged sword. It can be painful to stick with them, but they also provide more frequent and better entry points for investing. If you're dollar cost averaging into your retirement savings, small caps are great asset class because you have had more chances to buy in at lower prices. This is a good thing, but it requires discipline and the ability to buy when others are selling.
Investment nerds like myself love to debate concepts such as the small cap premium, which is said to show that small cap stocks have outperformed large cap stocks historically. My stance is that it really doesn't matter if they outperform going forward or not, as long as you have the correct portfolio perspective. These two market indexes have seen basically identical performance since 1979 (both with 11%+ annual returns). While the Russell 2000 can leave much to be desired as a small cap stock index, it's instructive to understand that small caps can add value to a portfolio even if you don't receive a premium over large caps in the future. This can be achieved simply through diversification benefits and rebalancing, whether small caps prove to outperform or not.
Some investors may not be able to handle the extra volatility seen in small caps, and that's okay too. Building a portfolio has as much to do with understanding yourself as it does with understanding your investments. But you still have to understand how your investments tend to perform over time to ensure that you don't panic when the inevitable losses occur. For investors in small cap stocks, that means understanding that frequent, large losses are a feature, not a bug.
Read Full Story http://awealthofcommonsense.com/2016/11/the-agony-of-investing-in-small-cap-stocks/
4.Guggenheim Pure Value Fund is Up 675% Since 2009 Bottom….Amazing Considering Value has Underperformed Growth During that Time Frame.
RPV Chart -Guggenheim Pure Value ETF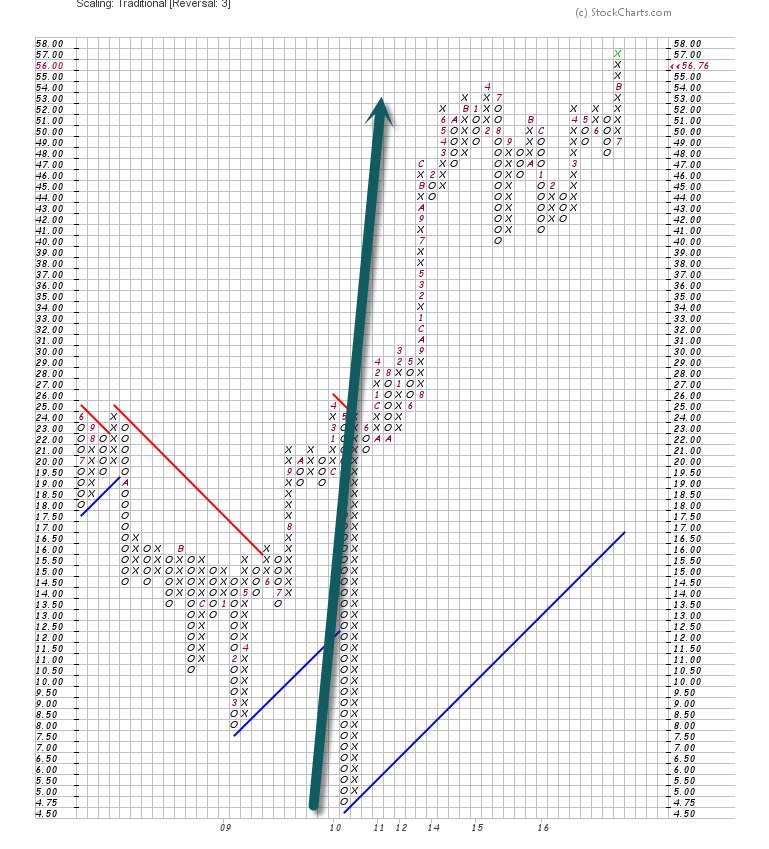 The relatively small fund—it only has $232.7 million in assets, according to FactSet, and it trades under 40,000 shares a day, on average—focuses on small and microcap stocks, while its value tilt gives it a lower price-to-book ratio than other ETFs tracking small-cap indexes. Another Guggenheim value fund, the Guggenheim S&P 500 Pure Value ETF RPV, -0.37% is the second-best performer, boasting a 634.88% since the 2009 bottom.
The gain of the S&P 500 ETF places it as the 180th best performer of the 563, putting it in the top third of funds. That a heavy majority underperformed the benchmark speaks to one of the biggest investing trends of the past seven years: the growing adoption of passive investing. Research has shown that very few active or "smart beta" funds can beat the broader market over the long term.
Don't miss: New rule may create a $10 trillion ETF juggernaut by 2020
Among other widely-followed funds, the iShares Core U.S. Aggregate Bond ETFAGG, +0.11% is up 35.31% since the stock market bottom (454th best), the iShares iBoxx $ Investment Grade Corporate Bond ETF LQD, +0.14%  has gained 74.4% (405th best), and the iShares iBoxx $ High Yield Corporate Bond ETF HYG, -0.13%  is up 128.19% (334th best). The SPDR Gold Trust GLD, -0.62%  is up 24.68% over the period (471st best) while the Vanguard FTSE Emerging Markets ETF VWO, +0.06% has gained 116.78% (354th best).
In a sign of how broadly the economy has recovered, 510 funds—or 90.5%—are at least somewhat positive since the market bottom, not including fees. The smallest gainer of the applicable universe, the SPDR Bloomberg Barclays Short Term International Treasury Bond ETF BWZ, +0.47% is up a mere 0.3% over the period. The narrowest loser, the SPDR Bloomberg Barclays 1-3 Month T-Bill ETF BIL, +0.00%is down 0.2%, for an annualized loss of 0.04%.
In addition to the Guggenheim funds, specific sectors also numbered among the top 10 ETFs. Two internet funds charted, underlining the explosion in technology usage and businesses over the past seven years. Since the market bottom, major companies like Facebook Inc. FB, +0.38%  and Twitter Inc. TWTR, -0.60%  have gone public, while names like Netflix Inc. NFLX, +0.50%  have become major businesses.
Here are the 10 best-performing funds since the market bottom:
| | | |
| --- | --- | --- |
| Rank | Security | Return |
| 1. | Guggenheim S&P Smallcap 600 Pure Value ETF RPV, -0.37% | 675.97% |
| 2. | Guggenheim S&P 500 Pure Value ETF RPV, -0.37% | 634.88% |
| 3. | PowerShares Nasdaq Internet Portfolio PNQI, +0.25% | 566.7% |
| 4. | Guggenheim S&P Midcap 400 Pure Value ETF RFV, -0.86% | 560.06% |
| 5. | SPDR S&P Insurance ETF KIE, +0.07% | 536.29% |
| 6. | First Trust Dow Jones Internet Index Fund FDN, +0.01% | 535.66% |
| 7. | Guggenheim S&P 500 Equal Weight Consumer Discretionary ETFRCD, -0.22% | 532.36% |
| 8. | Guggenheim S&P 500 Equal Weight Financials ETF RYF, +0.24% | 505.45% |
| 9. | First Trust NYSE Arca Biotechnology Index Fund FBT, +0.08% | 504.56% |
| 10. | Oppenheimer Small-Cap Revenue ETF RWJ, +0.03% | 504.22% |
Read Full Story
http://www.marketwatch.com/story/this-etf-has-jumped-sevenfold-since-the-start-of-the-bull-market-2016-11-29
5.OPEC Agrees to First Production Cut in 8 Years.
XOP-Exploration Companies…Double Off Bottom Above Red Downtrend Line Going Back 3 Years.
The oil club is dizzy with its own success after a harmonious meeting in Vienna, where it surprised the world by agreeing to its first production cut in eight years. Crude prices up 12%? Check. Saudi Arabia and Iran in agreement? Check. OPEC and Russia working together? Check. The big question now is whether all these cuts will be implemented. Meanwhile, crude is up over $50 a barrel, lifting energy shares in its slipstream.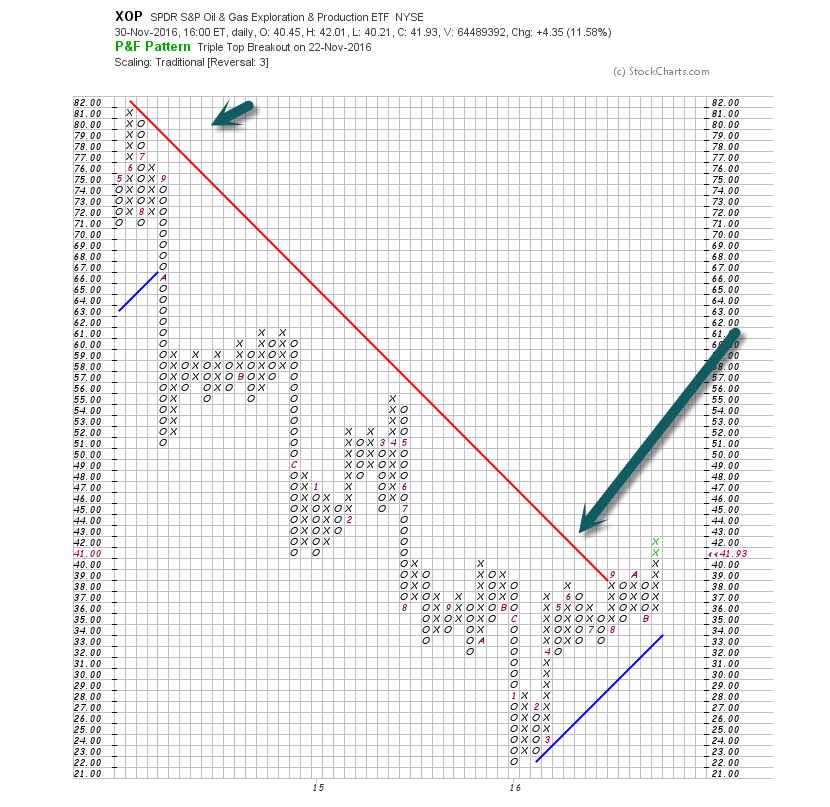 6.European Union Jobless Rate Fell to Lowest Level Since July 2009.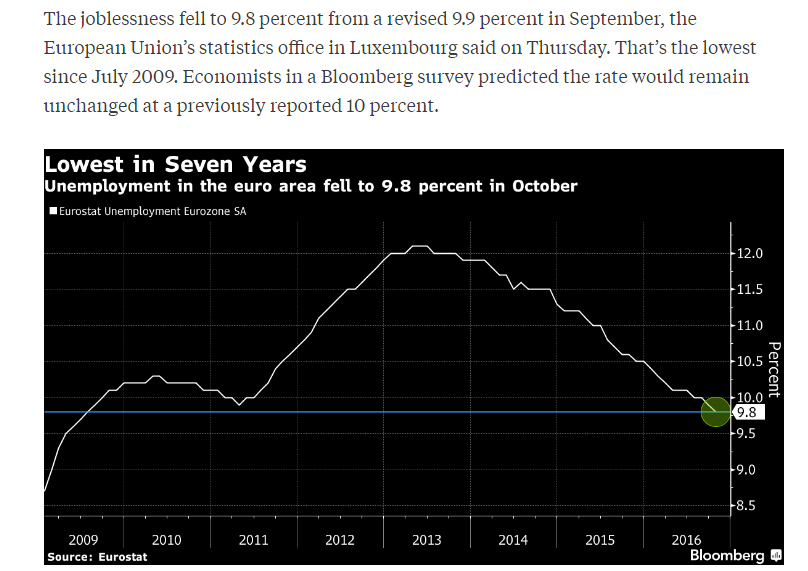 https://www.bloomberg.com/news/articles/2016-12-01/euro-area-unemployment-falls-to-7-year-low-as-recovery-proceeds
7.Long-Term Chart on Libor ….$28 Trillion Based on Libor.
LIBOR or ICE LIBOR (previously BBA LIBOR) is a benchmark rate that some of the world's leading banks charge each other for short-term loans. It stands for IntercontinentalExchange London Interbank Offered Rate and serves as the first step to calculating interest rates on various loans throughout the world.
LIBOR Definition | Investopedia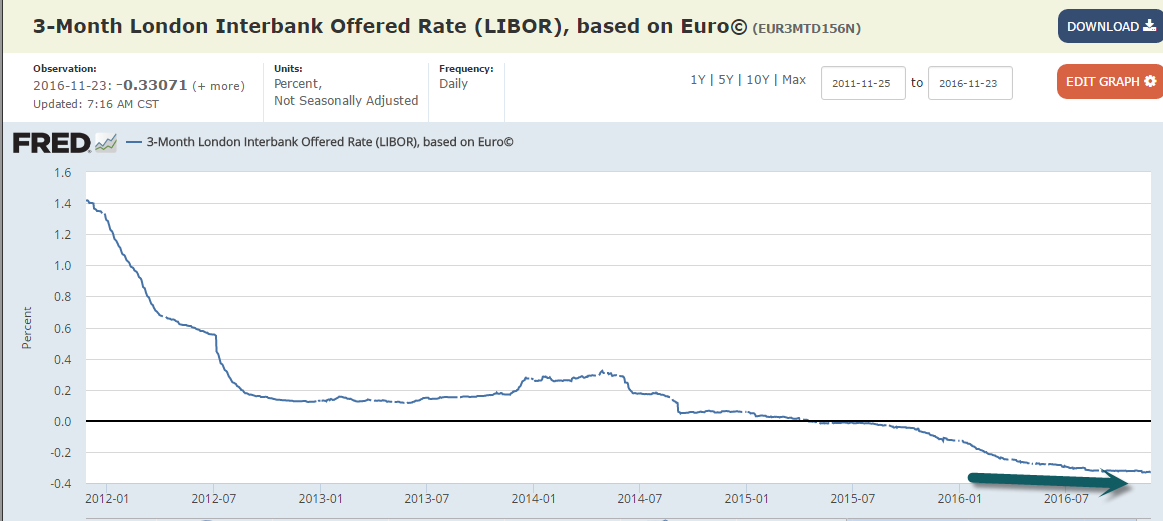 8.We have Discussed the Incredibly Shrinking Amount of Public Companies at Length ….Read Full Academic Paper Below….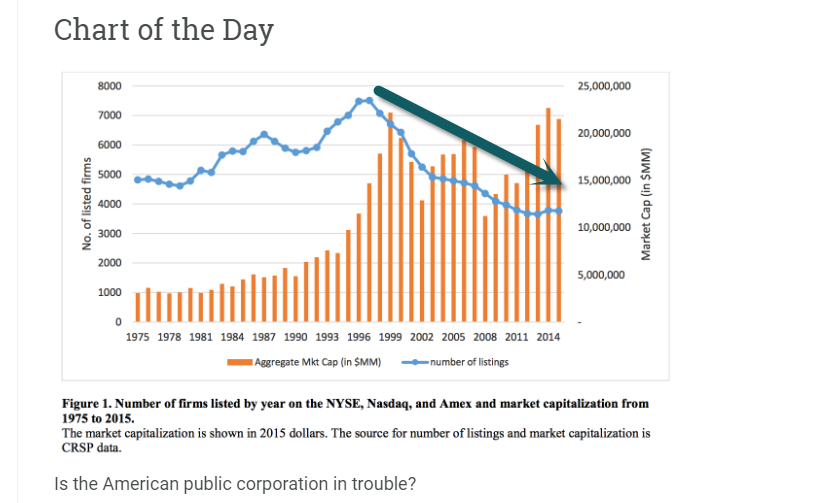 Read Full Academic Paper
https://papers.ssrn.com/sol3/papers.cfm?abstract_id=2869301
From Abnormal Returns Blog
http://abnormalreturns.com/2016/11/30/wednesday-links-emotional-strengths/
9.Populism is not Going Away….It's a Global Phenomenon.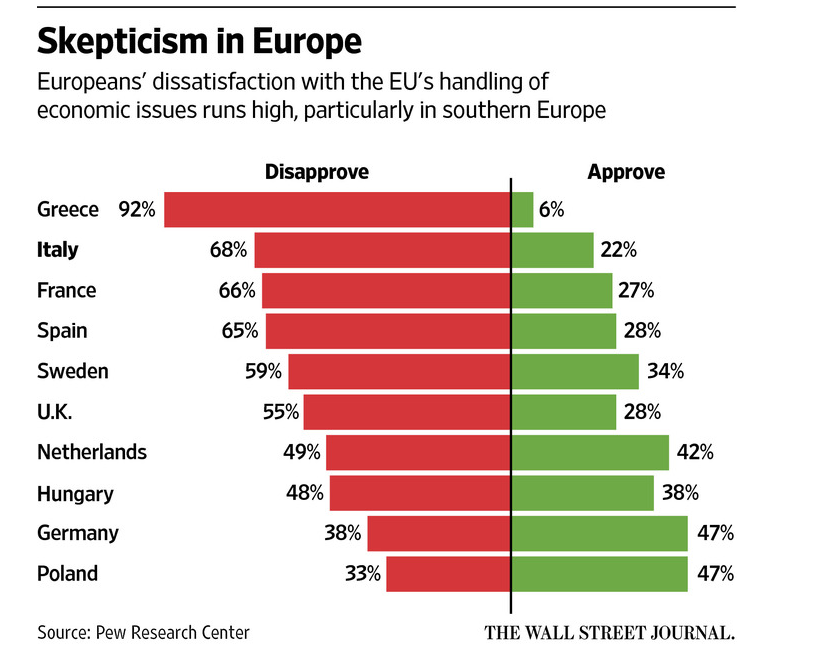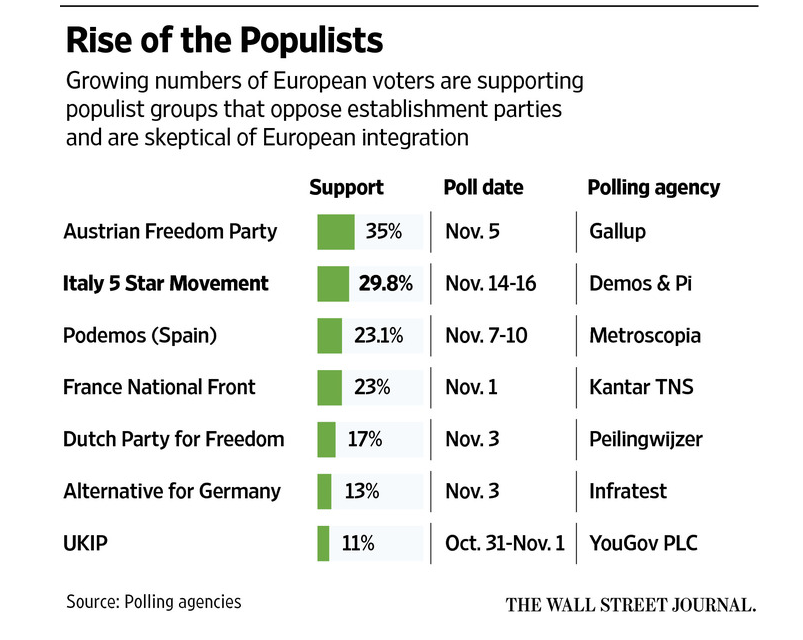 Read full story on Italians losing jobs in furniture manufacturing and car production.
http://www.wsj.com/articles/italy-the-next-stop-on-populisms-global-march-1480436049
10.Top 10 Qualities of Great Leader.
Having a great idea, and assembling a team to bring that concept to life is the first step in creating a successful business venture. While finding a new and unique idea is rare enough; the ability to successfully execute this idea is what separates the dreamers from the entrepreneurs. However you see yourself, whatever your age may be, as soon as you make that exciting first hire, you have taken the first steps in becoming a powerful leader. When money is tight and startup fundraisingis required, stress levels are high, and the visions of instant success don't happen like you thought, it's easy to let those emotions get to you, and thereby your team. Take a breath, calm yourself down, and remind yourself of the leader you are and would like to become. Here are some key qualities that every good leader should possess, and learn to emphasize.
Honesty
Whatever ethical plane you hold yourself to, when you are responsible for a team of people, its important to raise the bar even higher. Your business and its employees are a reflection of yourself, and if you make honest and ethical behavior a key value, your team will follow suit.
As we do at CoFoundersLab, one of the largest networks for entrepreneurs online, we try to make a list of values and core beliefs that both you and your brand represent, and post this in your office. Promote a healthy interoffice lifestyle, and encourage your team to live up to these standards. By emphasizing these standards, and displaying them yourself, you will hopefully influence the office environment into a friendly and helpful workspace.
Finessing your brand vision is essential to creating an organized and efficient business, but if you don't learn to trust your team with that vision, you might never progress to the next stage. Its important to remember that trusting your team with your idea is a sign of strength, not weakness. Delegating tasks to the appropriate departments is one of the most important skills you can develop as your business grows. The emails and tasks will begin to pile up, and the more you stretch yourself thin, the lower the quality of your work will become, and the less you will produce.
The key to delegation is identifying the strengths of your team, and capitalizing on them. Find out what each team member enjoys doing most. Chances are if they find that task more enjoyable, they will likely put more thought and effort behind it. This will not only prove to your team that you trust and believe in them, but will also free up your time to focus on the higher level tasks, that should not be delegated. It's a fine balance, but one that will have a huge impact on the productivity of your business.
Communication
Knowing what you want accomplished may seem clear in your head, but if you try to explain it to someone else and are met with a blank expression, you know there is a problem. If this has been your experience, then you may want to focus on honing your communication skills. Being able to clearly and succinctly describe what you want done is extremely important. If you can't relate your vision to your team, you won't all be working towards the same goal.
Training new members and creating a productive work environment all depend on healthy lines of communication. Whether that stems from an open door policy to your office, or making it a point to talk to your staff on a daily basis, making yourself available to discuss interoffice issues is vital. Your team will learn to trust and depend on you, and will be less hesitant to work harder.
If your website crashes, you lose that major client, or your funding dries up, guiding your team through the process without panicking is as challenging as it is important. Morale is linked to productivity, and it's your job as the team leader to instill a positive energy. That's where your sense of humor will finally pay off. Encourage your team to laugh at the mistakes instead of crying. If you are constantly learning to find the humor in the struggles, your work environment will become a happy and healthy space, where your employees look forward to working in, rather than dreading it. Make it a point to crack jokes with your team and encourage personal discussions of weekend plans and trips. It's these short breaks from the task at hand that help keep productivity levels high and morale even higher.
At Onevest, we place a huge emphasis on humor and a light atmosphere. Our office is dog friendly, and we really believe it is the small, light hearted moments in the day that help keep our work creative and fresh. One tradition that we like to do and brings the team closer is we plan a fun prank on all new employees, on their first day. It breaks the ice and immediately creates that sense of familiarity.
Confidence
There may be days where the future of your brand is worrisome and things aren't going according to plan. This is true with any business, large or small, and the most important thing is not to panic. Part of your job as a leader is to put out fires and maintain the team morale. Keep up your confidence level, and assure everyone that setbacks are natural and the important thing is to focus on the larger goal. As the leader, by staying calm and confident, you will help keep the team feeling the same. Remember, your team will take cues from you, so if you exude a level of calm damage control, your team will pick up on that feeling. The key objective is to keep everyone working and moving ahead.
Commitment
If you expect your team to work hard and produce quality content, you're going to need to lead by example. There is no greater motivation than seeing the boss down in the trenches working alongside everyone else, showing that hard work is being done on every level. By proving your commitment to the brand and your role, you will not only earn the respect of your team, but will also instill that same hardworking energy among your staff. It's important to show your commitment not only to the work at hand, but also to your promises. If you pledged to host a holiday party, or uphold summer Fridays, keep your word. You want to create a reputation for not just working hard, but also be known as a fair leader. Once you have gained the respect of your team, they are more likely to deliver the peak amount of quality work possible.
You want to keep your team motivated towards the continued success of the company, and keep the energy levels up. Whether that means providing snacks, coffee, relationship advice, or even just an occasional beer in the office, remember that everyone on your team is a person. Keep the office mood a fine balance between productivity and playfulness.
If your team is feeling happy and upbeat, chances are they won't mind staying that extra hour to finish a report, or devoting their best work to the brand.
Creativity
Some decisions will not always be so clear-cut. You may be forced at times to deviate from your set course and make an on the fly decision. This is where your creativity will prove to be vital. It is during these critical situations that your team will look to you for guidance and you may be forced to make a quick decision. As a leader, its important to learn to think outside the box and to choose which of two bad choices is the best option. Don't immediately choose the first or easiest possibility; sometimes its best to give these issues some thought, and even turn to your team for guidance. By utilizing all possible options before making a rash decision, you can typically reach the end conclusion you were aiming for.
Intuition
When leading a team through uncharted waters, there is no roadmap on what to do. Everything is uncertain, and the higher the risk, the higher the pressure. That is where your natural intuition has to kick in. Guiding your team through the process of your day-to-day tasks can be honed down to a science. But when something unexpected occurs, or you are thrown into a new scenario, your team will look to you for guidance. Drawing on past experience is a good reflex, as is reaching out to your mentors for support. Eventually though, the tough decisions will be up to you to decide and you will need to depend on your gut instinct for answers. Learning to trust yourself is as important as your team learning to trust you.
Inspire
Creating a business often involves a bit of forecasting. Especially in the beginning stages of a startup, inspiring your team to see the vision of the successes to come is vital. Make your team feel invested in the accomplishments of the company. Whether everyone owns a piece of equity, or you operate on a bonus system, generating enthusiasm for the hard work you are all putting in is so important. Being able to inspire your team is great for focusing on the future goals, but it is also important for the current issues. When you are all mired deep in work, morale is low, and energy levels are fading, recognize that everyone needs a break now and then. Acknowledge the work that everyone has dedicated and commend the team on each of their efforts. It is your job to keep spirits up, and that begins with an appreciation for the hard work.
Approach
Not all human beings are the same. A basic concept, but something that is often overlooked. You have cultural perspectives, language barriers, different educational backgrounds, personality traits and varying value systems with which individuals come pre-conditioned that greatly affects how information is processed and interpreted. Some people work well under pressure, others don't. Some respond best to tough love, others take it personally and shut down. In order to optimize your effectiveness as a leader, you must have the ability to customize your approach on a person by person basis, based on the situation at hand. Your capacity to execute this concept will play a huge role in your ability to get the best work out of your team and other partners along he journey.
http://www.forbes.com/sites/tanyaprive/2012/12/19/top-10-qualities-that-make-a-great-leader/#694eb8313564