1.Ten Years Into Expansion Discretionary Spending for Consumers and Corporates is Still Below Historical Average.
Check out Torsten Slok on CNBC Monday
I will be on CNBC tomorrow at 10 am to discuss the outlook for markets in 2020. This expansion has been characterized by an extreme degree of caution among consumers and corporates. Because of the experience in 2008-2009, households and companies have been hesitant to spend too much money and take too much risk. As a result, ten years into this expansion, discretionary spending for consumers and corporates is still below its historical average. As the chart below shows, this is highly unusual compared with previous cycles. The lack of willingness to spend on consumer durables and corporate capex is also the reason why this expansion has been so weak. And it is also the reason why this expansion could continue for many more years; we are simply less vulnerable to shocks in 2020 because there are few imbalances in the economy, see again chart below and here and here.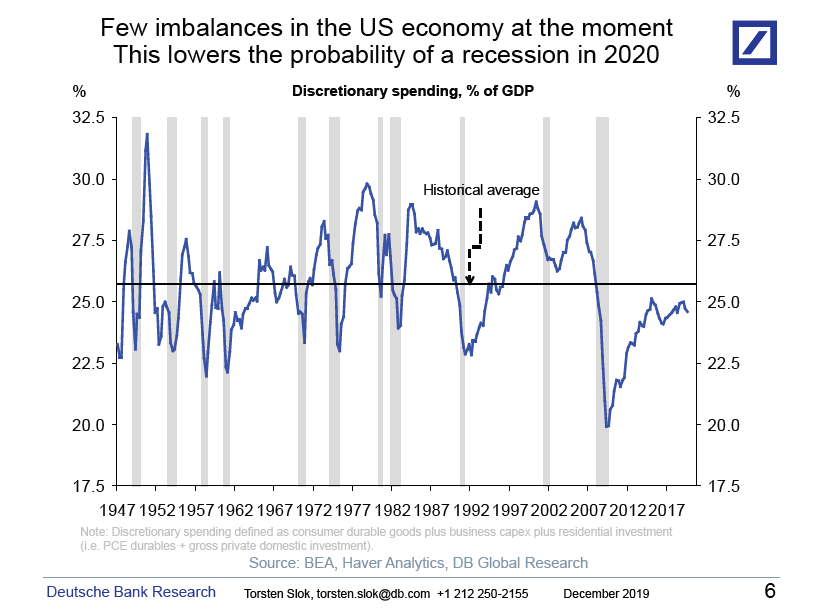 ———————————————–
Let us know if you would like to add a colleague to this distribution list.
Torsten Sløk, Ph.D.
Chief Economist
Managing Director
Continue reading