1.Long-Term Treasury ETF (TLT) Has 2nd Biggest Weekly Drop Ever
Outside of equities, we saw a massive move higher in Treasury yields this week and a massive drop in Treasury bond prices. For the 20+ year Treasury ETF (TLT), this week's 6.34% drop was its second worst week on record since it began trading back in 2002.

Below is a look at TLT's historical weekly percentage change, and we also show how TLT has performed in the weeks and months following one-week drops of more than 5% like we saw this week. As shown in the table, TLT has normally continued lower for a while following big down weeks. Start a two-week free trial to one of our three membership levels to receive Bespoke's most actionable ideas.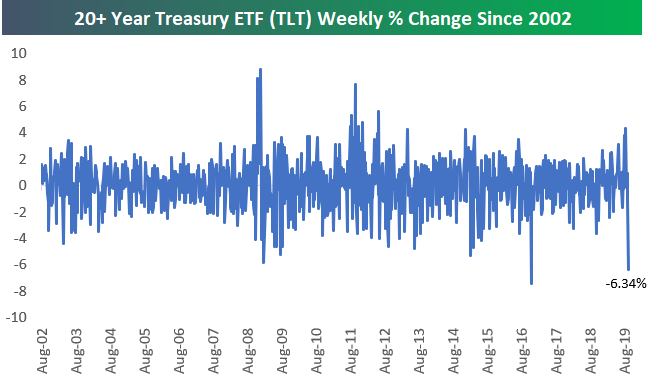 https://www.bespokepremium.com/interactive/posts/think-big-blog/long-term-treasury-etf-tlt-has-2nd-biggest-weekly-drop-ever
Continue reading