1.Current Weight of Top 5 Stocks in S&P Actually Lower Than Long-Term Average.
Counter Argument to 5 Stocks Providing Most of the Performance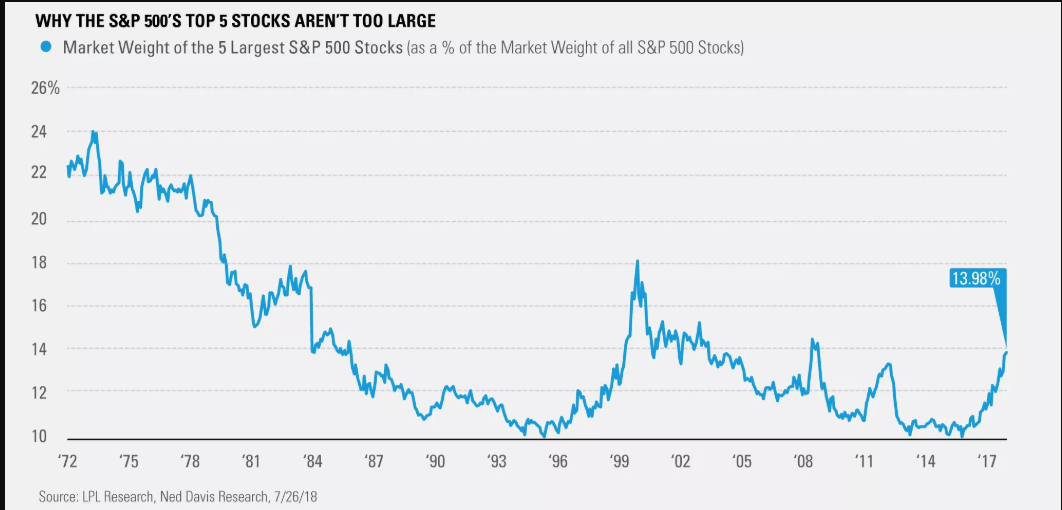 Are Only a Few Stocks Really Leading Us Higher?
Posted by lplresearch
One of the more popular narratives we've heard this year is that only a few large stocks are pulling the overall market higher. We don't agree with this assessment, and have cited several metrics over the last few months that showed market participation has been broad and eventual new highs in the S&P 500 Index were likely. Remember, when more stocks are moving higher, the bull market's momentum increases.
Below are a few reasons why we still see broad participation and a continuation of the bull market:
The Advance/Decline (A/D) lines for the NYSE and S&P 500 both closed at all-time highs last week.
The Dow A/D line made new highs earlier this week.
The Value Line Geometric Index is less than 2% from its all-time high. This index equally weights all stocks and is a good gauge for how the median stock is performing.
The Technology Equal Weight Index made a new high last week.
The Nasdaq 100 Equal Weight Index made a new all-time high last week.
"The one constant that has suggested higher equity prices this year has been market breadth. Tariffs, tweets, and rate worries might be in the headlines, but we've been comforted by the fact that many market measures of breadth have suggested eventual new highs and we are happy to report this is still the case today," explained LPL Research Senior Market Strategist Ryan Detrick.
There has been a lot of news coverage around the five largest companies now being worth more than the bottom 250 in the S&P 500. Thanks to data from our friends at Ned Davis Research (NDR), the top five stocks in the S&P 500 account now for 13.98% of the total index. As our LPL Chart of the Day shows, the current weight of the top five stocks is actually beneath the average of 14.33% using NDR's data going back to 1972.
This is another sign that investors should ignore the narrative that only a few stocks are leading us higher and that the market is doomed.