1.IPO's 2019-114 U.S. IPO Pricings-63 Positive Returns.
Follow up to my IPO comments from last week
Barrons
Amid the headlines about IPO disappointments, there is a broader takeaway: Investors have become more discriminating, and that's good for everyone. "Everything has changed, and nothing has changed," says Lise Buyer, founder of Class V Group, an IPO consulting firm. "Lately, there's been lots of noise and fireworks, and hullabaloo about direct listings. But the No. 1 thing is that fundamentals have not changed. Institutional investors are pretty darned smart when looking at IPOs, regardless of structure and buzz. Investors will analyze the company, the prospects for the future, and the price at which they're being offered the chance to invest. That has not changed as long as I've been in the business."
IPO tracker IPOScoop.com counts 114 U.S. IPO pricings in 2019—63 have had positive returns.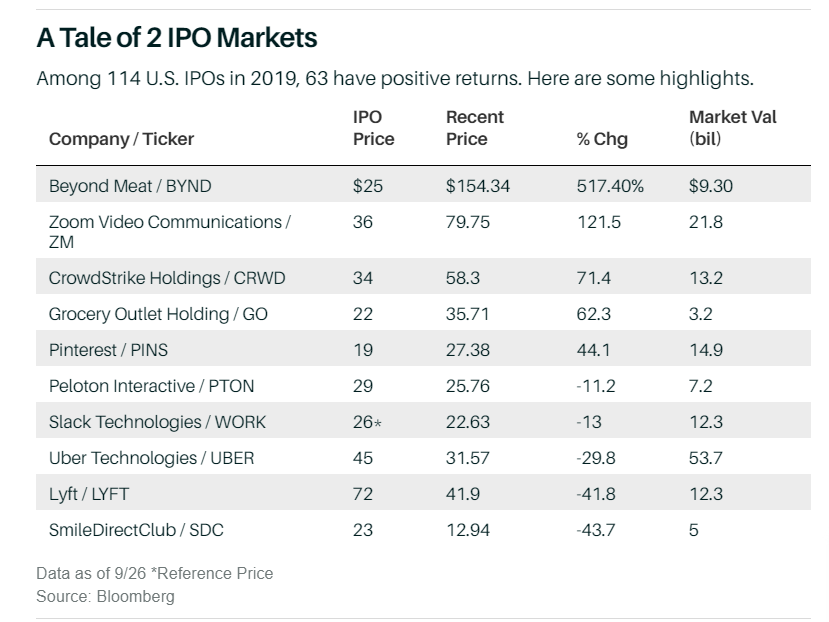 IPOs Have Been Crushed in 2019. Why That's Actually Good News for Stocks.
https://www.barrons.com/articles/ipo-market-wework-uber-peloton-51569631194?mod=past_editions?mod=article_signInButton
Continue reading