1.U.S. Dollar Breaks Out of 2 Year Band…..Surges to 14 Year High Versus the Euro.
U.S. Dollar Chart—See 2 year band.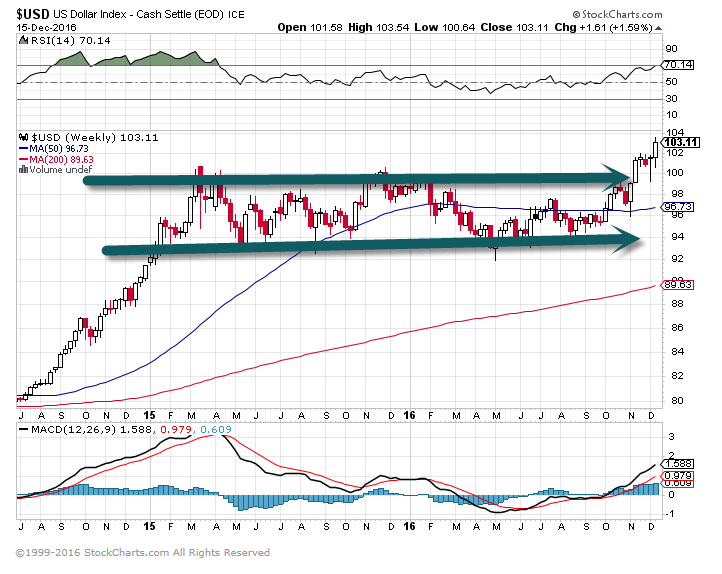 This chart shows U.S. dollar versus Euro…Same breakout…14 year high versus Euro.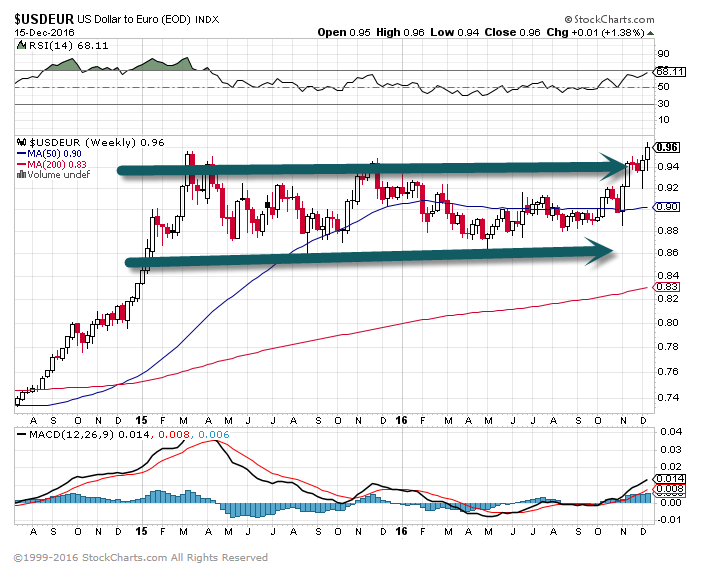 2.Dollar Strength has Serious Currency Implications….China's Holdings of U.S. Treasury's Sunk to the Lowest Level in 6 Years as its Central Bank Uses Reserves to Support Yuan.
Japan has overtaken China as the biggest holder of U.S. government bonds, as figures for foreign ownership of U.S. Treasury's in October show that China's holdings declined to the lowest in more than six years as its central bank used its foreign exchange reserves to support the yuan. Japan's Treasury holdings also decreased but at a slower pace; Japan trimmed $4.5B of U.S. paper to end the month with $1.131T, while China's holdings plunged by $41.3B to $1.115T, the lowest level since July 2010 and capping a decline of five straight months. China has been dipping into its reserves, selling Treasury's to support the yuan, which yesterday fell to its weakest level vs. the U.S. dollar in more than eight years.
Chinese Yuan continues to sink as government attempts to defend currency.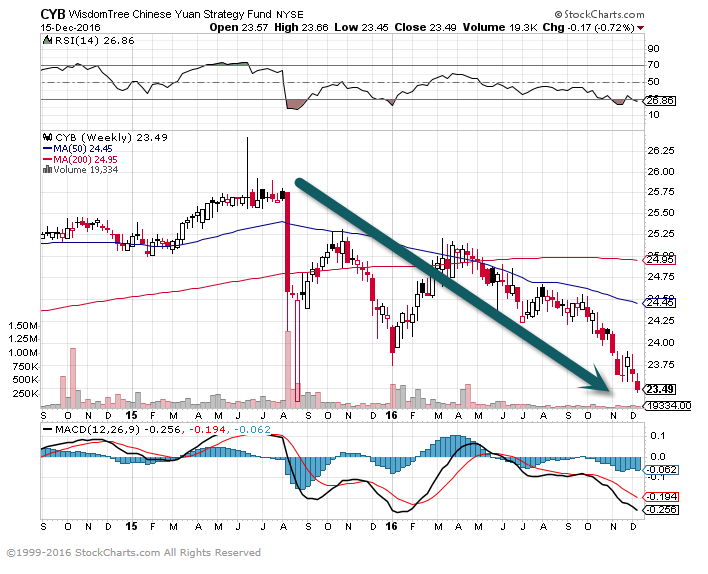 3.Emerging Market Currencies Trade at Discount Last Seen in "Asian Contagion" and "1998 Russian Debt Default"     
 Although EM currencies, represented by the JPMorgan Emerging Local Markets Index Plus, have rebounded since January 2016, they continue to trade near the discounts associated with the 1997 "Asian Contagion" and 1998 Russian debt default. EM currencies can certainly get cheaper before they revert toward historical norms, but they might just as easily snap back quickly to fair value. Our relative PPP reversion expectations with high EM cash rates, a faster growing working-age population, and continued productivity growth as EM economies "borrow" technological advances from developed economies, all support our projected real return for EM currencies of 3.9% a year over the next decade.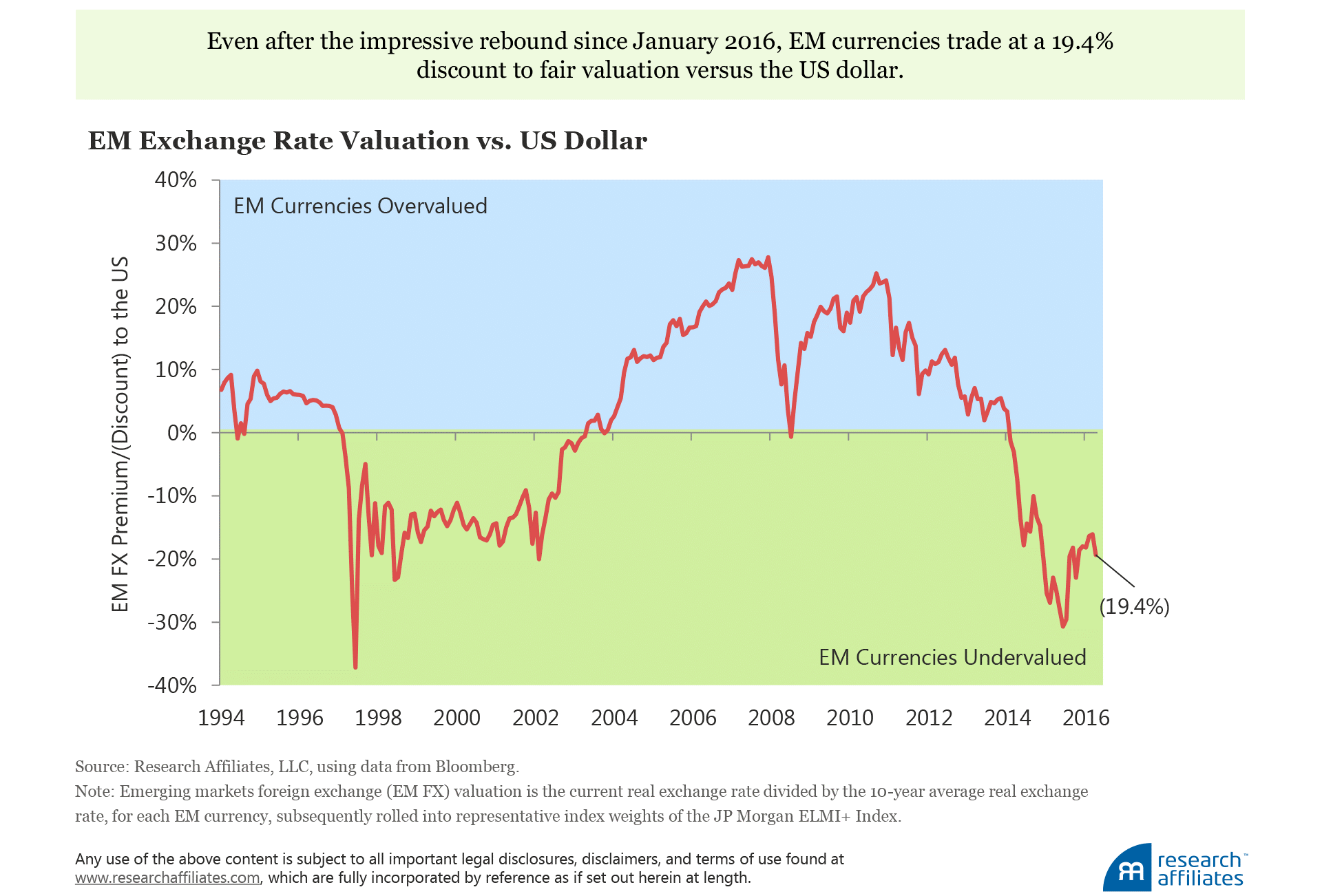 4.International Equity Investors have Experienced a "Lost Decade."
The comparative performance graph below shows that while investors who have simply bought and held broad-based international exposure through VWO, EFA, or CWI have experienced a "lost decade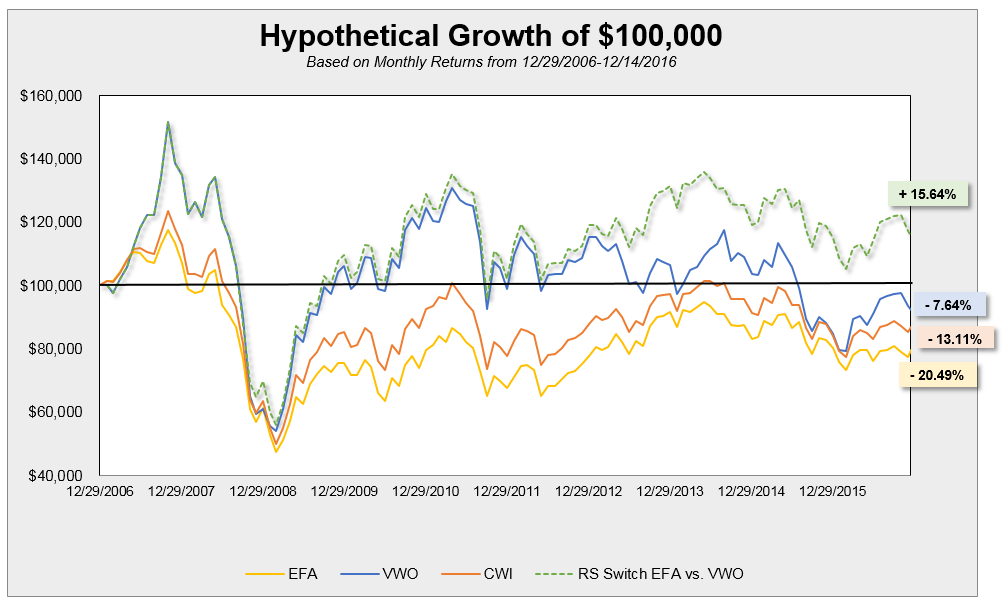 https://oxlive.dorseywright.com/research/bigwire/
5.7 out of the last 8 ex div dates…mkt had material pullback/increase volatility within days/week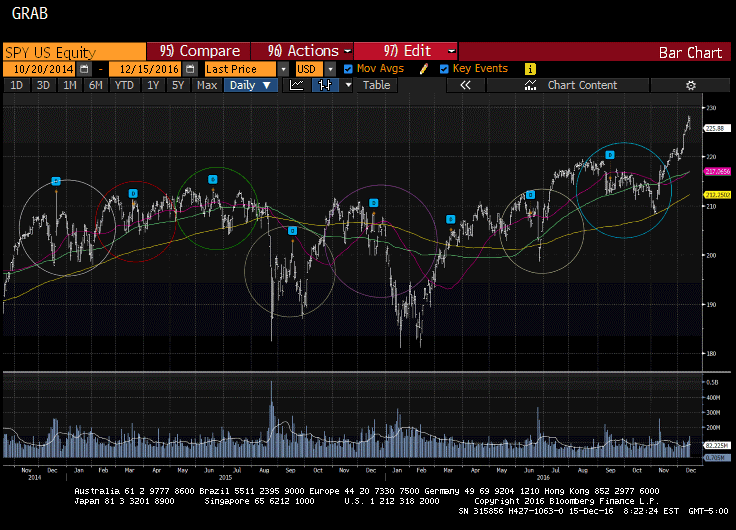 Chart From….Peter A. Keblish, III Senior Vice President, Equity Sales 77 Water Street, Suite 201 | New York, NY 10005 +1 435 604-0461 (Direct) pkeblish@drexelhamilton.com
6.The 35 Year Bond Bull in Long-Term Chart.
R.I.P. Bond Bull Market as Charts Say Last Gasps Have Been Taken – Louise Yamada says rise to 5 percent on 10 year to take years.  Yesterday the yield curve flattened materially, with the difference between five and 30-year paper declining 9 basis points to 113bp, the lowest since September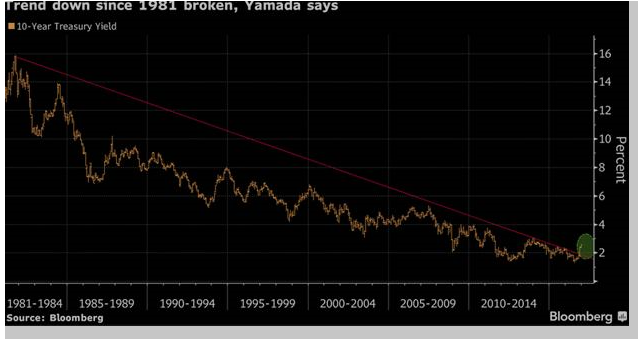 Thanks to Dave Lutz from Jones.
7.Sector Breakdown of % of Names Above 50day…Strong Breadth.
Below is one of the many charts included in this week's Sector Snapshot, which highlights the percentage of stocks in each sector trading above their 50-day moving averages.  This is a sector breadth measure we like to use to check up on the underlying health of the market.  While the Financial sector currently has the strongest breadth with 93.5% of its stocks trading above their 50-days, the Technology sector now ranks second at 86.6%.  Prior to this week, the Tech sector had been lagging since the election, but it has made a nice comeback recently.
To see our full Sector Snapshot with additional commentary plus six pages of charts that include analysis of valuations, breadth, technical, and relative strength, start a 14-day free trial to our Bespoke Premium package now.  Here's a breakdown of the products you'll receive.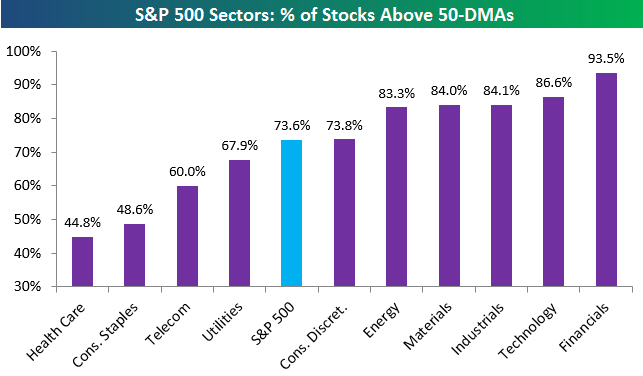 https://www.bespokepremium.com/think-big-blog/
8.Low Beta During Rate Rise?
THE SOLUTION: BE RATE AGNOSTIC
A better solution is to preserve the solid defenses of stable, high-quality companies while staying rate agnostic. How? By steering clear of the quintessential bond proxies in real estate, utilities, telecom and certain portions of the consumer-staples sector. They are the most expensive and the most rate sensitive (Display).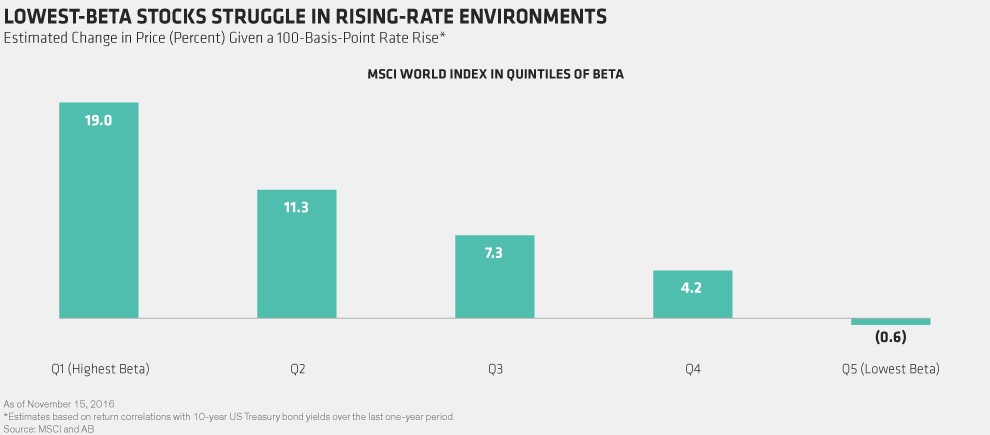 https://blog.abglobal.com/en/2016/12/finding-stability-when-stability-is-expensive.htm
www.abnormalreturns.com
9.ETF Flows Post Trump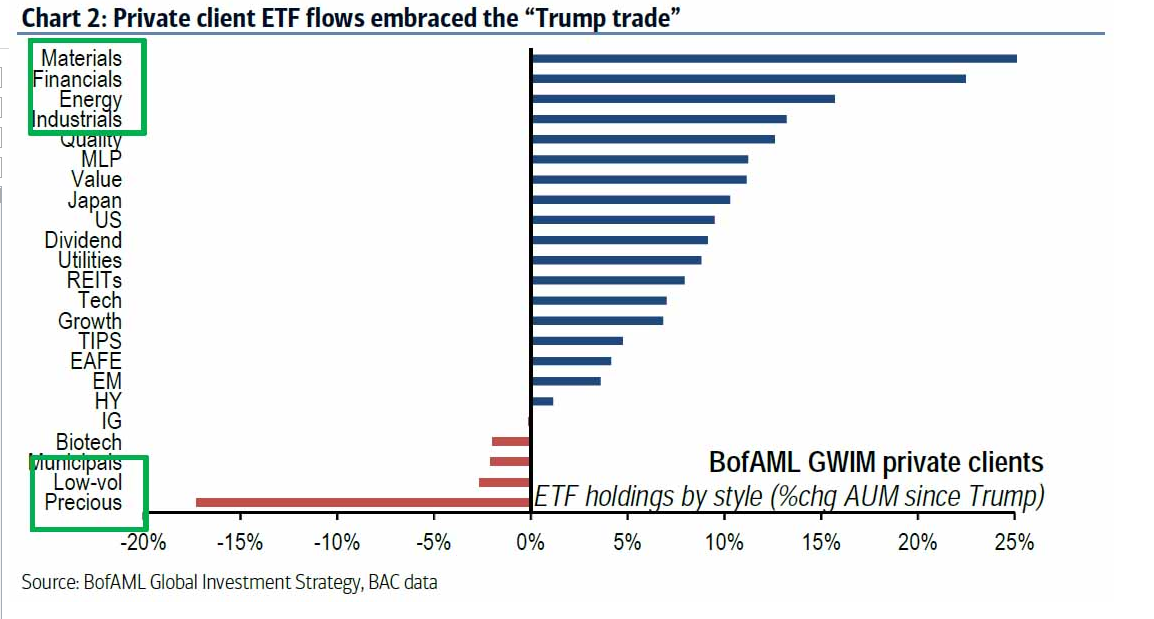 Fixed Income Flows
Inflows to TIPS 25 of past 27 weeks ($0.3bn)
6 straight weeks of outflows from EM debt funds ($1.2bn)
5 straight weeks of inflows to bank loan funds ($1.5bn)
Largest inflows to HY bond funds in 9 months ($4.7bn)
Largest outflows from IG bond funds in 21 weeks ($4.7bn)
7 straight weeks of outflows from muni bond funds ($2bn)
Moderate outflows from Govt/Tsy funds ($1.9bn)
Equity Flows
EM: $1bn inflows (largest in 7 weeks)
Europe: $0.7bn inflows (only 8th week of inflows YTD)
Japan: modest $0.7bn inflows
US: $18.5bn inflows
By sector: 12 straight weeks of financials inflows ($0.6bn), 6 straight weeks of REITs outflows ($1.2bn)
http://www.zerohedge.com/news/2016-12-16/trump-trade-leads-ninth-biggest-weekly-inflow-equities-more-bad-news-active-managers
10. 7 Ways to Get Yourself Unstuck
Posted Dec 01, 2016
It's easy to get in a rut. Maybe you have goals but for some reason you are not reaching for them. Maybe self-judgment is causing you to lower your expectations, or low self-worth is preventing you from making positive changes. You can also get stuck in worry, afraid to make a decision or change something in your life. Or maybe you're disappointed with how a particular situation turned out, and it just feels too hard to move on. Try these seven strategies when you feel stuck:
1. Let go of the past. 
Listen to the stories in your head. Are you thinking about events that happened in the past? Are you unable to forgive yourself for mistakes you made? Are you blaming yourself or others for things that did not turn out the way you hoped? Ask yourself why you are stuck on these memories, and what you can do to live with them, accept them, and move forward. You can't undo the past, but you can choose to find peace. Forgiving yourself or others is a way to let go and move on.
2. Change your perspective. 
Once you release the grip of the past, you will see your reality in new ways and feel freer to change your attitude. To gain a new perspective, meditate or spend time alone and listen to your inner voice. If you can, travel or take a break from your daily routine to clear your mind and get distance from your current situation. Open yourself up to new people and ideas, and introduce regular physical activity into your routine. All of these changes will help you gain a new perspective on the future and what is possible.
3. Start with small changes.
Change stimulates different parts of the brain that improve creativity and clarity of mind. You can start small by changing your daily routines, moving things in your house, or making new friends. Every choice matters. You might be tempted to skip the little things because they don't always seem important in the moment. But after a while, an accumulation of small changes will help you accomplish your goals, and you will start feeling unstuck.
4. Explore your purpose. 
Your life purpose is not just your job, your responsibilities, or your goals—it's what makes you feel alive. These are the things you are passionate about and will fight for. Examples of a life purpose could be:
Helping people overcome the sadness of being ill.
Helping others reach their full potential.
Growing as a human being.
Protecting animals who suffer.
You may need to change your life purpose if it no longer inspires you. Or, if you feel like you haven't had a purpose, this is a great time to define it. Ask yourself the following questions as you consider your life purpose:
What makes me happy?
What were my favorite things to do in the past?
What are my favorite things to do now?
When do I enjoy myself so much or become so committed to something that I lose track of time?
Who inspires me the most, and why?
What makes me feel good about myself?
What am I good at?
5. Believe in yourself. 
Trust that you can reach your expectations and get out of your comfort zone. Make a list of your strengths and positive traits, and remember that you are very capable. Many people sabotage their own progress—consciously or unconsciously—as a result of deep-seated fears and limiting beliefs.
The first step to believing in yourself is to recognize your self-doubt. Pay attention to the ways you react to situations. Then you can work to reframe your self-doubt. Limitations like, "I can't" or "I don't know" can be replaced with, "I can't do that yet, but I'm working on it," or "I don't know now, but I will." Another way to instill confidence in your abilities is to write down your past successes and keep the notes on hand when you need proof that you can do things that are challenging or new.
6. Practice being hopeful.
Maybe you have had a lot of disappointments that led to this moment in your life when you feel helpless. Maybe you are experiencing a naturally protective feeling of pessimism. This is something you will have to work to change. Find a practice, such as meditation, prayer, or reading inspirational books, and do it regularly. Hope is not a permanent state. You need to work at it every day.
7. Consider talking to a professional. 
If you find that you are unable to change unhealthy thought patterns, consider consulting a mental health provider to help you figure out why you are stuck, and to find ways to get unstuck. Feeling stuck can be part of a mental-health disorder that can be effectively treated with psychotherapy, medication, or a combination of the two; having professional support as you work to change long-established thinking patterns can be tremendously helpful. Sometimes asking for help can be the most hopeful and powerful step you can take.