1.S&P Financials Down 12 Straight Days…Longest on Record….Even 2008?
S&P Financials close below 200day ….-11% off highs.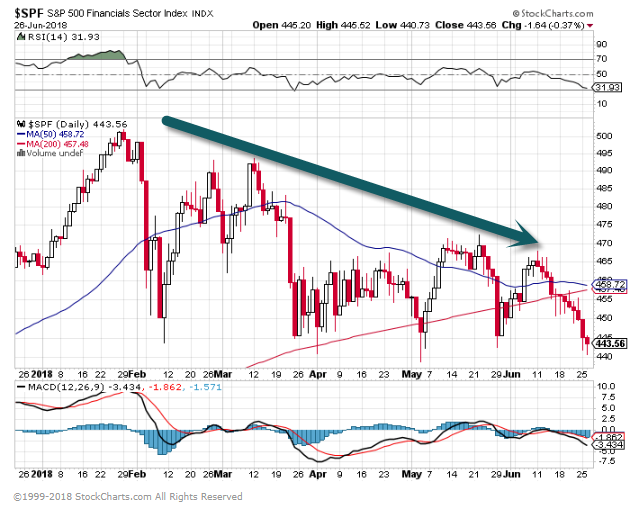 Bank Stocks Are On Their Longest Losing Streak Ever By Sarah Ponczek and Felice Maranz
S&P 500 Financials Index falls for 12th straight day
Financial Select Sector SPDR Fund ETF sees 8 days of outflows
https://www.bloomberg.com/news/articles/2018-06-26/banks-endure-record-streak-of-losses-as-yield-curve-flattens
2.The S&P Return Is About 2 Sectors…Tech and Consumer Discretionary.
We are close to wrapping up the second quarter of 2018 and the market leaders have made themselves known. While every year has its winners and losers, this year the out performance is being held by just a select few and they nearly all fall into two one of two sectors. Year-to-date just four sectors are positive. That leaves us with two leading sectors: Consumer Discretionary and Technology, both having produced double-digit returns so far this year. What has me concerned is the degree in which the share of the gains seen in the market has been so dependent on just two sectors. Paired with some excessive readings in sentiment and volatility (which I address in the last paragraph of this post), some short-term concern may be warranted. The U.S. large cap market is currently performing an amazing balancing act but could lead to a tumble if we aren't careful.
With that, let's take a look at the relative performance of each of the main S&P sectors….
First up we have technology ($XLK). There have been many strong stocks that have come from the tech sector. In fact, 96 technology stocks (that have a market cap over $2 billion) are up over 30% YTD and 47% have produced a gain north of 50% (numbers based on Finviz data). The S&P has been able to rely so heavily on tech because the sector holds a 26% weighting within the index with the second largest sector coming holding just 14.%. When such a large share of the SPX is based on a single sector, little else can matter if that one sector is acting incredibly strong.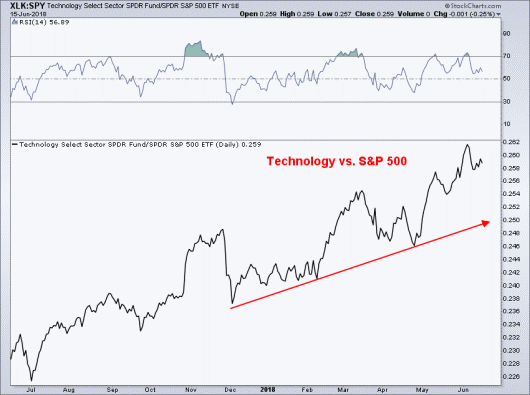 Consumer Discretionary, our other market leader, holds the fourth largest weighting at 12.9%. Here we have a strong up trend since November, which has shifted into fifth gear since late-May as relative performance has gone near-vertical. Strength has been confirmed by the Relative Strength Index (RSI), which has maintained a bullish range, however its now above 80 which is a sign of strong momentum but short-term could be difficult to maintain.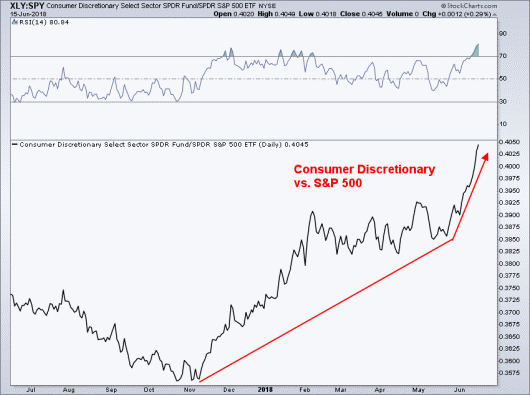 http://www.athrasher.com/the-markets-amazing-balancing-act/
Found at www.abnormalreturns.com
3.Active Managers In ETF Wrappers Winning Over AGG
Do Active Bond ETF Managers Add Value?
June 26, 2018
[This article appears in our July 2018 issue of ETF Report.]
There are only 225 actively managed funds in a universe of more than 2,100 U.S.-listed ETFs. Not only are more than 80 of those active ETFs classified as fixed-income products, all but two of the top 10 actively managed fixed-income ETFs in terms of assets cover the fixed-income space. Active management is a popular approach when it comes to fixed income, and much of that may have to do with a record of superior performance.
Although research, such as the S&P Indices Vs. Active (SPIVA) report, indicates that most of the time the indexes beat the active managers, that's not always true. A 2017 research paper from Fidelity Investments using Morningstar data showed that 86% of short-term, 90% of intermediate-term and 94% of multisector actively managed funds beat benchmarks after expenses on a one-year time frame. Over a three-year time frame, the percentages that outperformed benchmarks were 65%, 55% and 65%, respectively. Even on a five-year time frame, well over half of these funds outperformed.
If a fund uses the Bloomberg Barclays US Aggregate Bond Index, such as represented by the iShares Core U.S. Aggregate Bond ETF (AGG), "it's kind of a low hurdle" to cross, says Ben Johnson, director of global ETF research at Morningstar.
Some of the biggest actively managed ETFs by assets under management (AUM) generally match or beat AGG on a year-to-date basis, including the PIMCO Active Bond ETF (BOND), the SPDR DoubleLine Total Return Tactical ETF (TOTL), the PIMCO Enhanced Short Maturity Active ETF (MINT) and the First Trust Low Duration Opportunities ETF (LMBS).
And some of the harder-to-categorize funds—like senior loan funds such as the First Trust Senior Loan Fund (FTSL) and the SPDR Blackstone / GSO Senior Loan ETF (SRLN)—are also outperforming AGG.
Even in sectors like high yield or corporate bonds, many active funds beat other passive ETFs often used as benchmarks.
For instance, the Advisor-Shares Peritus High Yield ETF (HYLD) is handily beating the iShares iBoxx USD High Yield Corporate Bond ETF (HYG) year-to-date and on a 12-month basis after fees (although HYG outperforms on a three-year basis after fees). In the corporate bond space, the iShares Interest Rate Hedged Corporate Bond ETF (LQDH) significantly outperforms the iShares iBoxx $ Investment Grade Corporate Bond ETF (LQD) after fees on a year-to-date, one-year and three-year time frame. However, LQDH is basically an investment in LQD paired with an actively managed hedge, so its outperformance may be more a function of its hedging ability during a period of rising interest rates.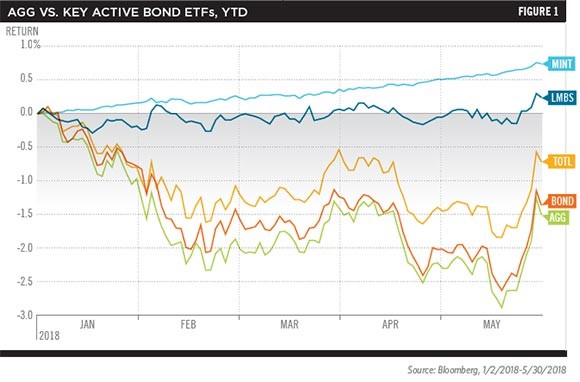 http://www.etf.com/publications/etfr/do-active-bond-etf-managers-add-value
4.Dollar Nice Rally But Still Well Below 2017 Highs and Under 200 Day
Leadership in markets will depend on what dollar does next.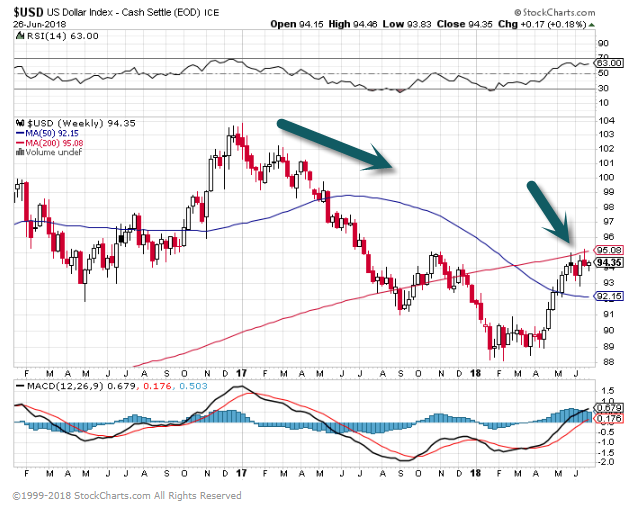 5.Trade War…Harley Davidson Back to 2016 Levels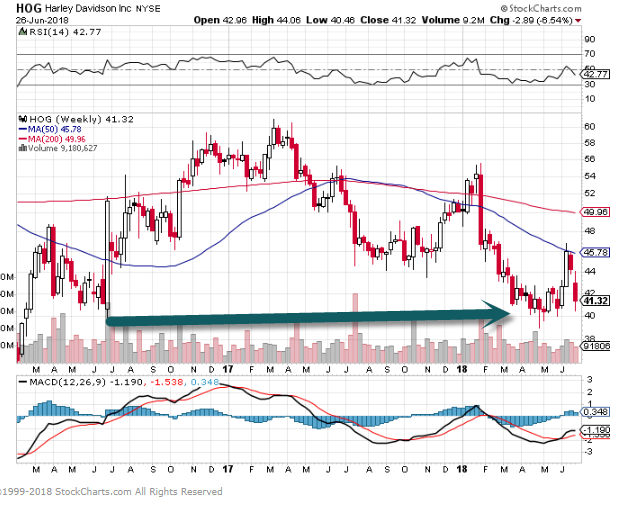 HOG 2017 Revenue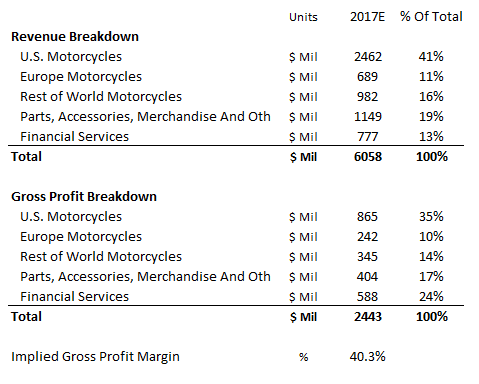 https://www.nasdaq.com/article/what-is-harley-davidsons-revenue-and-gross-profit-breakdown-cm764307
6.Trade War…Watching Germany As Indicator For Europe And As Big Exporter
DAX German ETF New 2018 Lows.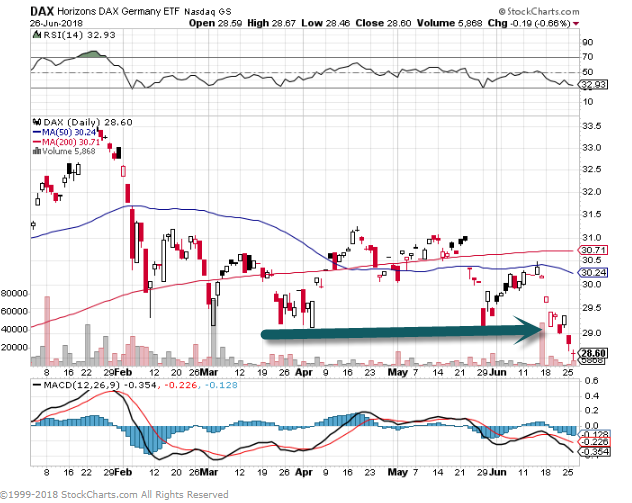 Below 50day for the first time since 2016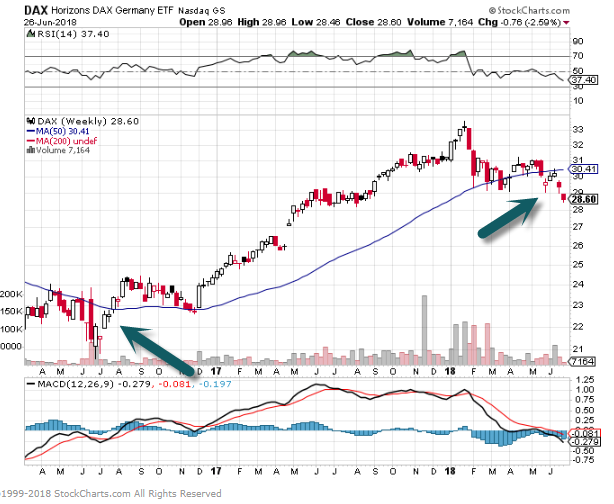 7.Restaurant Industry Sales Have Doubled Since 2000….The Robots are Coming…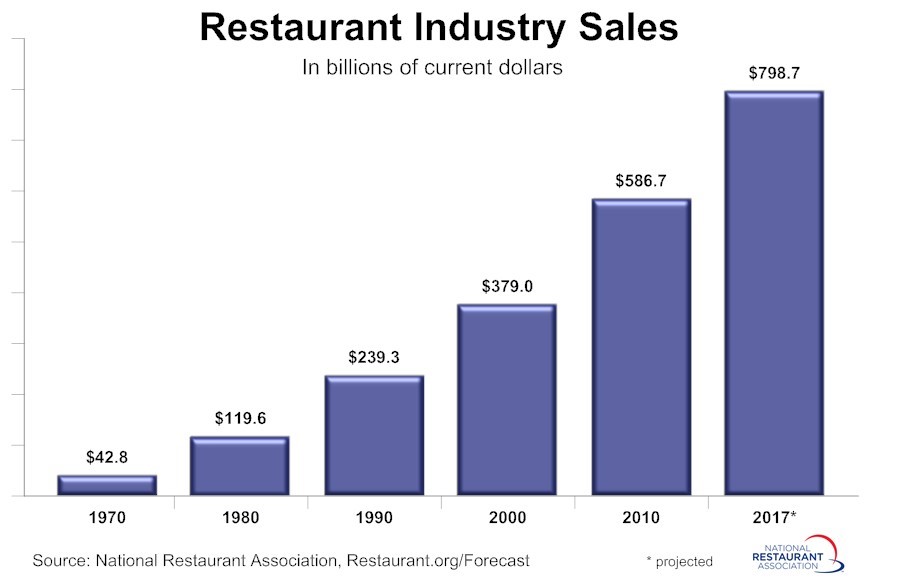 https://www.google.com/search?biw=911&bih=423&tbm=isch&sa=1&ei=TWwzW4HCM6js5gKM76_YAQ&q=+restaurant+industry+sales&oq=+restaurant+industry+sales&gs_l=img.3..0j0i24k1l6.107134.112344.0.112449.15.10.0.5.5.0.95.803.10.10.0….0…1c.1.64.img..0.15.868…0i67k1j0i7i30k1j0i30k1j0i5i30k1j0i8i30k1.0.qXrw0QvVnX8#imgrc=_CzTbXp_-Nes6M:
It could be the most important burger innovation since the introduction of the Krabby Patty: today, a startup called Creator is opening a restaurant in San Francisco that employs a robot chef to fully prepare your burger.
How does it work? A 14-ft "culinary instrument" sends a brioche bun on a journey of a lifetime: pushed down a chute and then sliced, toasted, drenched in sauce, layered with toppings, and finally saddled with a fresh patty (which it also cooked).
Then, things start to get really interesting: With the release of the app in a few months, you'll be able to customize your Creator burger into an almost infinite number of configurations…even down to the milliliter of BBQ sauce.
You're not the only one licking your lips. Big-time VCs like Google Ventures and Khosla Ventures invested in the company, which raised $18 million last year.
Sure, it's easy to dismiss Creator as a gimmick…
…but some form of automation is racing to a fast-food joint near you, if it hasn't already.
That ranges from self-ordering kiosks (shoutout to Wawa) all the way to Flippy, another burger-slinging robot that's handling grill duties at a CaliBurger location in California.
The elephant in the room: All this robot talk is sure to spark visions of restaurant employees being replaced by a kitchen staff of foul-mouthed Flippys. But for right now, at least, the problem is the exact opposite.
The industry is in desperate need of workers
Restaurant worker unemployment sits at a record-low 6%. And per the Labor Department, the hospitality sector had 844,000 job openings as of April (also a record).
So how can restaurant owners hire staff and keep them busy?
Automate dirty, tedious work like cleaning dishes and flipping burgers.
Recruit and retain human workers by freeing them up to do…human stuff—like interacting with patrons.
Or…how about just sitting down with a book? Creator's COO told TechCrunch that 5% of the time his employees are paid "just to read."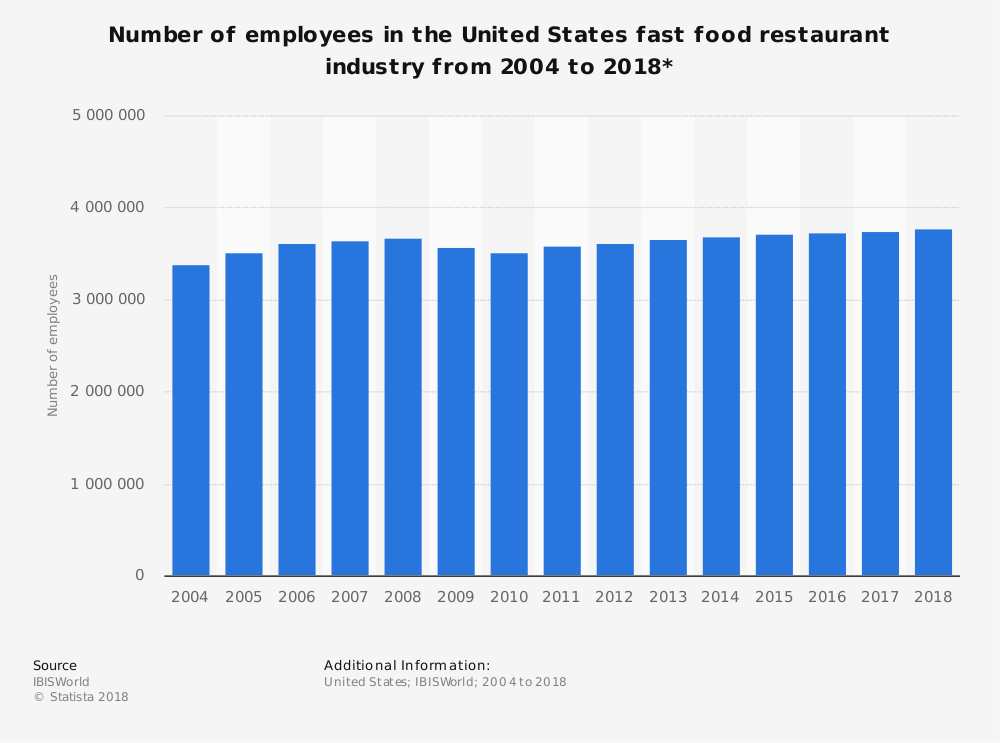 8.3 Destructive Habits That Are Holding You Back From Success
You want to wake up at 5 a.m., do the work that matters, and realize your vision. You want to be the heavyweight champion of your craft, dominate your industry, and achieve massive success.
You want to achieve all of that, but there's a problem. Anytime you come up with an idea, a nagging voice deep inside your psyche whispers through the corridors of your mind that you're not capable.
So you put off your idea, cower in fear, or maybe blame others for your plight. The thing is, you need to check in with yourself. Deep inside, you have some destructive habitsthat are holding you back from pursuing your goals and achieving success.
Let's explore them and give you some tips to counter them head-on.
1.Self-doubt
One of the worst things you can do is develop the habit of self-doubt, the tendency to distrust everything about yourself. It's not that you hate yourself or your capabilities, it's just that you question yourself, your judgments, and your actions. Whenever you plan to give that speech or launch that business or initiate that tough conversation, something deep inside you whispers, "You can't do it."
And you listen to that inner voice and bury your ideas in self-doubt. Your self-doubt is your biggest enemy. If you don't counter that habit with all your might, it will hold you back from reaching the mountaintop, achieving your potential, and succeeding in your life, in your business and in your career.
The way to break through this chain of self-doubt is simple. Anytime you hear that voice weighing you down, tell it, "No, I can do it. I can make it happen." Don't ignore the voice, because it will talk to you again. Just have a ready-made response, and take the necessary action to prove it wrong.
"I didn't get there by wishing for it or hoping for it, but by working for it." – Estée Lauder
2.Blaming others for your failures
Another ugly habit many of us have is we often blame others for our own failures. In my first startup, I was determined to succeed. I woke up every morning and worked for about fifteen hours a day, writing, emailing prospects, promoting my services on social media, optimizing my products. But after about a year, I still didn't have enough customers and I quit.
However, I put all the blame on my competitors. "There are simply too many people doing the same thing I do," I concluded. "That's why I failed." Is that the true reason for my failure? No. I failed because I was not targeting the right customers, my product was inferior, or my marketing did not appeal to my prospective clients.
The best way to change this habit is to be very critical of ourselves. I know, it is not that simple. We can easily be critical of others, but not of ourselves. Still, we have to try to build the habit if we want to succeed.
You have to question your decisions, scrutinize your actions, and change course. If what you're doing is not working, then you're not doing the right thing. You have to try something else and stop blaming others for your failure.
3.Multi-tasking
What's wrong with multi-tasking? Think about this, you're eating lunch while checking your social media feed, and your laptop is on your lap open to a client's project. Suddenly, a prospect emails you. You read the message, reply to them, and then get back to your other tasks.
You're multitasking, doing many things at a time. However, you're not investing your undivided attention in any particular area. That's what's wrong with multi-tasking. Your productivity level decreases by 40 percent when you focus on more than one thing at the same time. Your IQ also decreases by ten points when you multi-task, according to Peter Bregman of Harvard Business Review. The multitasking process actually consumes much of your time, and it's stressful.
You need to cut that unproductive, destructive habit out. How? By working in the wee hours of the morning before your social media feeds begin to buzz, your friends start calling you, and your kids wake up. Next, silence your notifications as you work. That way, you can focus on your work without the distractions.
"Challenges are what make life interesting and overcoming them is what makes life meaningful." – Joshua J. Marine
Finally, set a deadline for yourself and stick to it—so you'll have the discipline to concentrate on the project and the resistance to divert your attention away from other things. It worked for me, and it will work for you, too. The idea is to do whatever it takes to stop or minimize multitasking so you can pour your heart and soul into one project, and execute it flawlessly.
To become the heavyweight champion of your industry, start replacing your bad habits with good ones. Beat your self-doubt with self-confidence. Stop blaming others and start taking responsibilities. Stop multitasking and start focusing on one task. Then, watch as your success blossoms.
 https://addicted2success.com/success-advice/3-destructive-habits-that-are-holding-you-back-from-success/