1.Longest Equity Bull Ever Without 20% Correction.
A 20% decline for the market, representing the typical definition of a bear market for an asset, hasn't occurred in years (see chart below), according to Goldman, and may be halting for investors that have grown accustomed to this current phase of mostly levitating markets.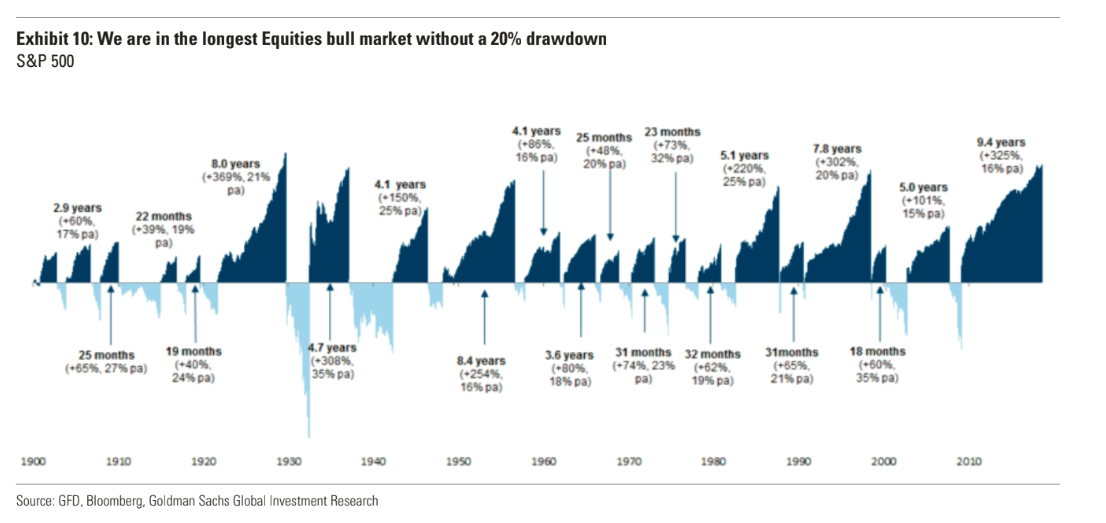 A stock-market bear signal is at a more-than-4-decade high, says Goldman
Mark DeCambre
https://www.marketwatch.com/story/a-stock-market-bear-signal-is-at-a-more-than-4-decade-high-says-goldman-2018-09-06
2.Large Cap Value Lags Big….U.S. YTD Return Rankings.
Wallowing in last place: large-cap value stocks: iShares S&P 500 Value (IVE) is posting a relatively weak 3.2% total return in 2018 through yesterday's close.
For context, note that the broad US equity market – SPDR S&P 500 (SPY) – is up 9.2% this year.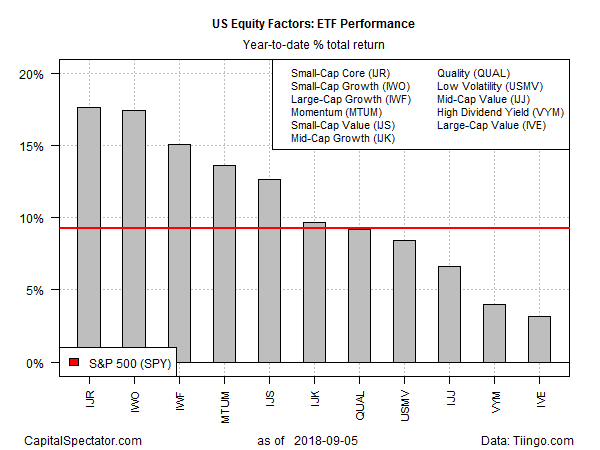 The Capital Spectator
Small Cap And Growth Factors Continue To Lead US Stocks In 2018
https://www.capitalspectator.com/small-cap-and-growth-factors-continue-to-lead-us-stocks-in-2018/
Found at Abnormal Returns Blog  www.abnormalreturns.com
3.We have Pointed Out the Volatility of Emerging Markets in Multiple Past Top 10's….Investors Bailing Out Over Volatility Again…$4B in Redemptions.
But here's the thing: Investors turn to emerging markets for high growth, not stability. That growth is possible because emerging markets are building from a smaller base, which is just another way of saying that developing countries are, well, still developing and stumble often. This is a good time to remember that the premium investors expect from emerging markets over time is compensation for their willingness to remain invested when those growing pains show up.
The problem, of course, is that investors struggle to stay in their seats. Morningstar calculates investor returns for 68 mutual funds that have invested in emerging-market stocks over the last 15 years through August, including the various share classes. The average fund returned 9.1 percent annually over that period, including dividends, while the average investor in those funds captured just 6.5 percent.
Who's Afraid of Emerging Markets?
Investors' enthusiasm for emerging-market stocks has disappeared since their fortunes turned in February.
Source: Bloomberg Intelligence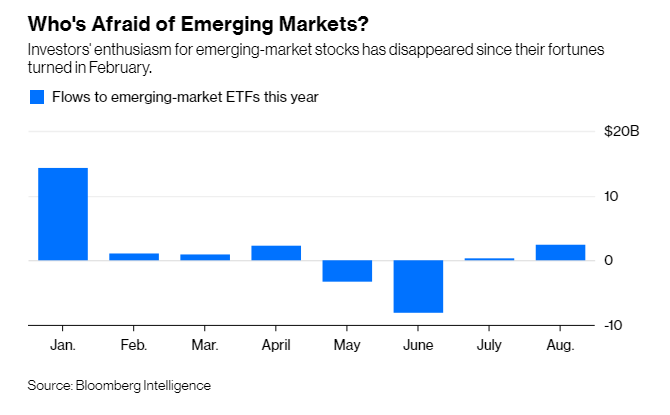 And th ey're at it again. Investors pulled a net $4 billion from emerging-market exchange-traded funds from February to August, according to Bloomberg Intelligence. That follows inflows of $25 billion in 2016 and $54 billion in 2017, both years in which emerging-market stocks posted strong returns.
It's not just ordinary investors who run for the exits when emerging markets become wobbly. As my colleague Shuli Ren pointed out on Wednesday, in the last month hedge funds "sold down their positions in emerging markets to levels last seen in August 2015."
Bailing out of a roller coaster midway through the ride is never a good idea. The same could be said about emerging markets right about now.
It's Not Time to Hit the Ejector Seat on Emerging Markets
Volatility is nothing new and not out of the ordinary now.
By
Nir Kaissar
https://www.bloomberg.com/view/articles/2018-09-06/emerging-markets-it-s-not-time-to-hit-the-ejector-seat?srnd=opinion
4.Buffet Indicator Update…Twist Using Wilshire 5000.
The Latest Data
The denominator in the charts below now includes the Second Estimate of Q2 GDP, the latest Z.1 data, and the August close data. The latest numerator value, when the latest data is not yet available, is extrapolated based on the quarterly change in the Wilshire 5000. The current reading is 129.6%, down from 132.7% the previous quarter.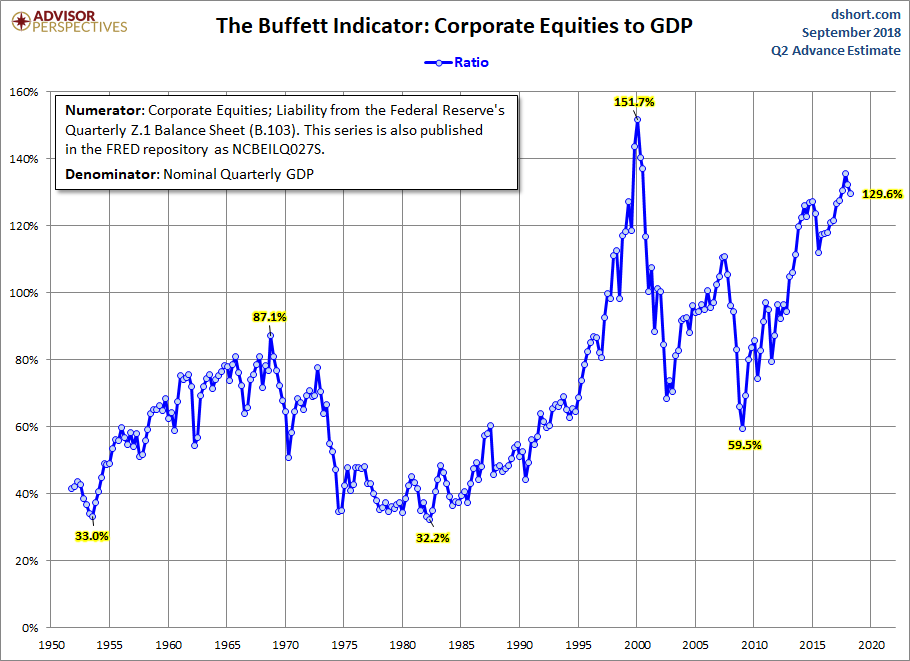 Here is a more transparent alternate snapshot over a shorter timeframe using the Wilshire 5000 Full Cap Price Index divided by GDP. We've used the St. Louis Federal Reserve's FRED repository as the source for the stock index numerator (WILL5000PRFC). The Wilshire Index is a more intuitive broad metric of the market than the Fed's rather esoteric "Nonfinancial corporate business; corporate equities; liability, Level".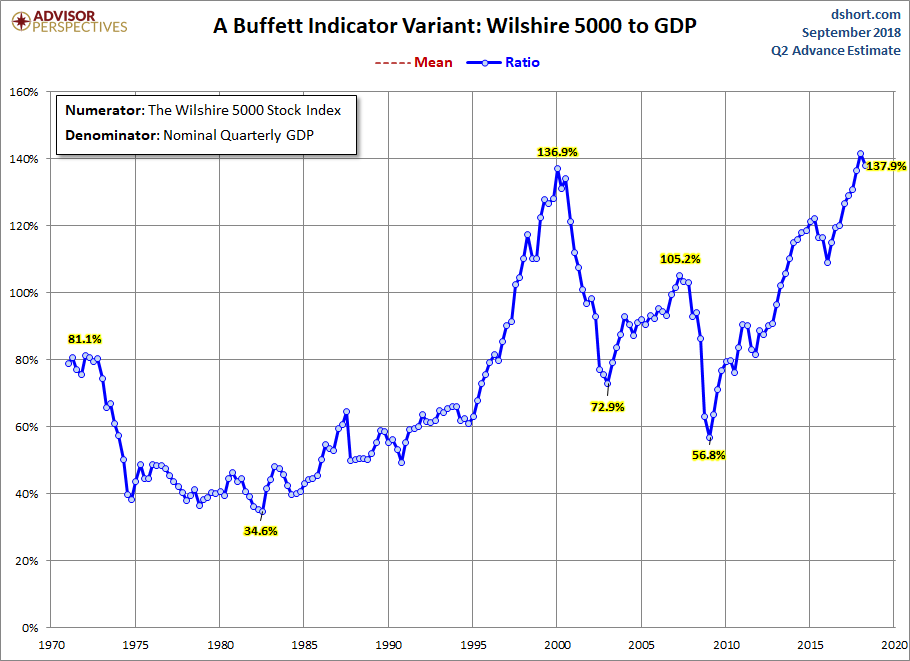 A quick technical note: To match the quarterly intervals of GDP, for the Wilshire data we've used the quarterly average of daily closes rather than quarterly closes (slightly smoothing the volatility) when the latest data is not yet available.
Market Cap to GDP: An Updated Look at the Buffett Valuation Indicator
by Jill Mislinski, 9/5/18
https://www.advisorperspectives.com/dshort/updates/2018/09/05/market-cap-to-gdp-an-updated-look-at-the-buffett-valuation-indicator
5.Unleaded Gas Down 13% From Highs.
Saudi Arabia aims to keep crude in $70 to $80 band: Sources
Saudi Arabia wants oil to stay between $70 and $80 a barrel for now.
The world's biggest crude exporter is striking a balance between maximizing revenue and keeping a lid on prices until U.S. congressional elections, OPEC and industry sources said.
Ahmed Jadallah | Reuters
An Aramco employee walks near an oil tank at Saudi Aramco's Ras Tanura oil refinery and oil terminal in Saudi Arabia.
Saudi Arabiawants oil to stay between $70 and $80 a barrel for now as the world's biggest crude exporter strikes a balance between maximizing revenue and keeping a lid on prices until S.congressional elections, OPEC and industry sources said.
After announcing the flotation of Saudi Aramco in 2016, the kingdom began pushing for higher crude prices partly to help maximize the valuation of the state oil company ahead of an initial public offering (IPO), originally scheduled for 2018.
That changed in April when U.S. President Donald Trumpput public pressure on Riyadh to keep crude prices in check, wanting to stop U.S. fuel costs rising ahead of the U.S. midterm elections in November.
Now, even though the IPO has been shelved, Saudi Arabia still wants to keep oil prices as high as possible without offending Washington, the sources said. Saudi needs cash to finance a series of economic development projects.
https://www.cnbc.com/2018/09/05/saudi-arabia-aims-to-keep-crude-in-70-to-80-band-sources.html?dlbk
6.Picking Successful Active Managers
We also cut categories along the lines of cost. Cost matters. Fees are the one of the best predictors of future fund performance. We have sliced our universe into fee quartiles to highlight this relationship.
Higher cost funds were more likely to underperform or be shuttered or merged away, and lower-cost funds were likelier to survive and enjoyed greater odds of success. This is marked by the shading in the far right-hand columns of the accompanying exhibits. The second column from the far right contains the 10-year success rates for the lowest-cost quartile of active funds across the categories we examined. The green shading represents instances where funds in a given cohort had above-average (though maybe not great) odds of succeeding. The red shading represents cases where funds' success rates were worse than average. The picture these figures paint is clear: Fees matter. They are one of the only reliable predictors of success.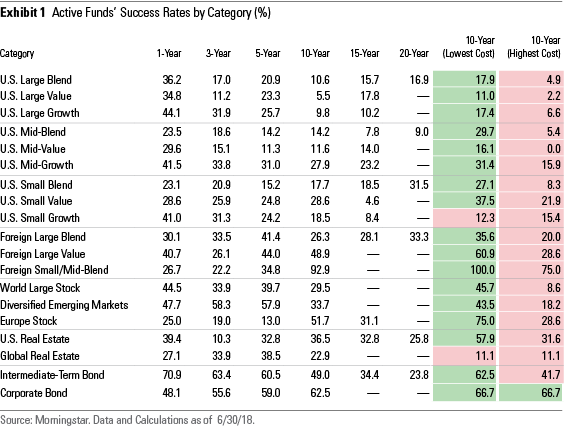 How Can Investors Improve Their Chances of Picking Winning Fund Managers?
Ben Johnson, CFA
29 Aug 2018
https://www.morningstar.com/articles/881028/how-can-investors-improve-their-chances-of-picking.html
7.Trade War Affecting China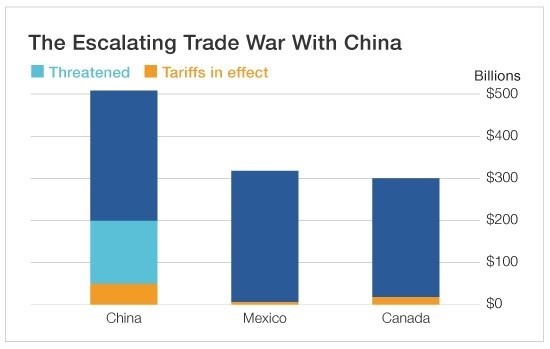 The Bureau of Economic Analysis found that the trade deficit grew from $504.8 billion in 2016 to $568.4 billion in 2017. This is a direct result of the U.S. importing more than it exports. In order to reverse that growth, the President's plan includes another $200 billion in tariffs on Chinese imports in the near future.
On the other side, China has placed tariffs on $16 billion of American goods. Many American exports going into China, including cars, motorcycles, coal, grease and plastic products are now assessed a 25% charge right off the bat.
Though we aren't hearing about it much in the States, the Chinese are feeling the heat from the new tariffs already. After the latest round of U.S. tariffs were levied, Chinese Finance Minister Liu Kun acknowledged they're already affecting Chinese jobs and causing noticeable problems for the economy as a whole.
It seems fitting that this Labor Day weekend we are talking about American businesses and the American worker, both pillars of our society. The scales of world trade have been out of balance for a while, and our government is within its rights to pull what levers it can to protect U.S. workers and businesses – and coerce the red dragon to comply.
Trump's Trade War With China Is Heating Up
by Benjamin DressingSaturday, September 1, 2018
https://www.investmentu.com/article/detail/59620/trumps-tariffs-taking-toll-on-chinese-trade#.W5Jd-c5KhhE
8.Watching YUAN Closely.
A further escalation of the U.S. and China trade spat that could affect $400 billion in goods could tip China's current account into deficitand push the yuan weaker by about 15%, Brainard says. That could ripple through other emerging markets as other countries are forced to lower their currencies to compete and eventually hit the global economy in a way emerging market troubles have not yet managed to do.
https://www.barrons.com/articles/emerging-markets-contagion-risks-on-the-rise-1536173998?mod=hpb_DAY_9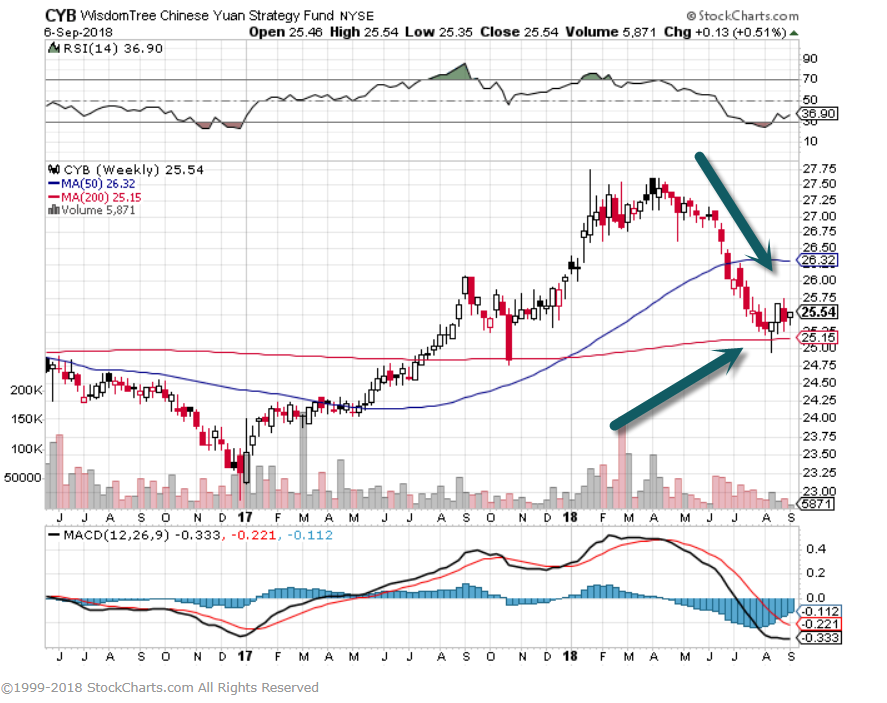 How the Next Global Economic Crisis Could Start
By
Reshma Kapadia
Sept. 5, 2018 2:59 p.m. ET
https://www.barrons.com/articles/emerging-markets-contagion-risks-on-the-rise-1536173998?mod=hpb_DAY_9
9. Cryptocurrency markets suffer a sudden and severe face plant
By Matthew De SilvaSeptember 5, 2018
It has been one of those days in the global cryptocurrency market, with prices tumbling across the board.
More than $20 billion in market capitalization of crypto assets was erased in a matter of hours: bitcoin dropped by 6%, dipping below $7,000, and ether fell by 14%, approaching a one-year low. That's at the time of writing—things move fast in the crypto world.
Some commentators blamed the downturn on reports that Goldman Sachs punted on plans to create a cryptocurrency trading desk, instead choosing to focus its crypto efforts on custody services, a considerably less sexy proposition. However, it seems unlikely that a single announcement—and one so mild in tone—could stoke such a wild sell-off. The crypto markets frequently suffer flash crashes, down to everything from low volumes to willful market manipulation. Assigning responsibility to any single event is a stretch.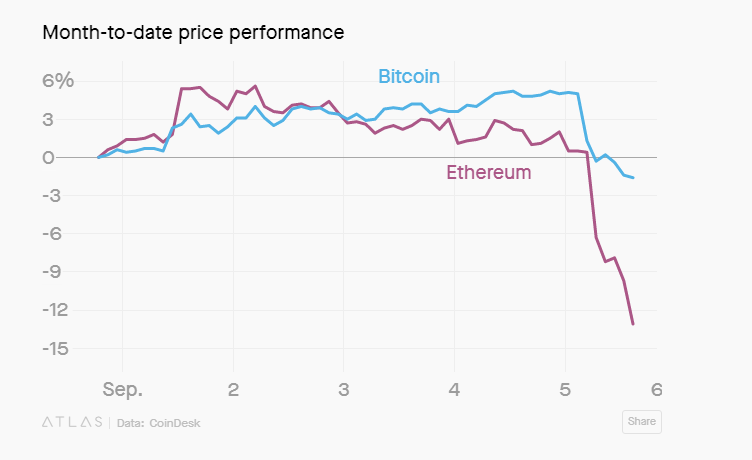 Sign up for Quartz Private Key, the smart, busy person's guide to world of crypto.
https://qz.com/1380054/bitcoin-and-ether-prices-plunged-suddenly-erasing-20-billion-in-market-cap/
10.3 Years Waking Up Early Like Benjamin Franklin!
by J. MONEY – Published AUGUST 13, 2018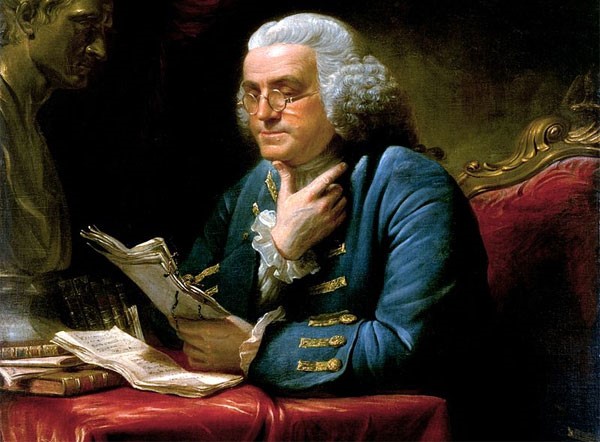 Any of you around when I tried living like Benjamin Franklin for an entire week? Failing miserably at half his routine, but rocking the 5 am wake-ups?
I don't know how the man did it (oh wait, yes I did – he never took care of his kids or house!!), but I give him credit for being completely obsessed with his trade. And hey, the world got some decent benefits out of it, eh? 😉
But seriously, he was no joke – check out his "Scheme":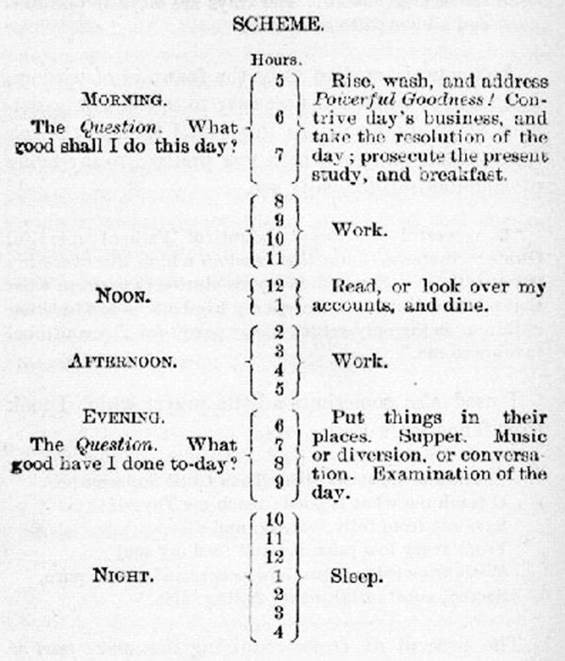 [I failed a the 2 hour reading/dining mid-day slots (who can take 2 hours for this?), and then the "examination of the day" in the evenings because I pretty much wanted to pass out from exhaustion by 10pm. I also found it hard to focus on goals and life all morning long and eventually opened up my laptop to start working before anxiety took over!]
A helluva exercise to take on though, and one which I highly recommend if you're having trouble getting a good rhythm down yourself.
Here are our original two postings on this if interested:
It's been three years now almost exactly since I gave this experiment a shot, so I thought I'd share how I currently feel about it all, since I'm proudly still going strong in the *waking up early* department 🙂
I don't wake up at exactly 5 am on the dot anymore (which I blame on my kids), but I routinely get up 1-2 hours earlier than the rest of my family every day*, usually around 5:30/6:00 am.
Here are all the reasons I still do it:
#1. The stillness of the mornings is so peaceful! When was the last time you could just sit there by yourself in absolute quiet? Without interruptions? It's hard as hell to wake up some mornings, but the second I sit down in my cozy corner of the house with my cozy warm coffee in my hands, I'm reminded right away of why I still do this 🙂
#2. It's nice to set your *own tone* for the day, instead of outside influences. I used to wake up to the sound of crying babies or cell phones going off, but when you wake up around 5 am ain't no one is ready to pester you yet! It's as nice as it is empowering to wake up on your own accord.
#3. Early wake ups slowwwwwws down time and helps you appreciate life more. It's so easy to get caught up in the quickness and routines of the day, that if you don't take the time to breathe and hit "pause" at any point you'll speed through the days much faster than you want. Waking up early helps slow you down a bit and gives you some good time to reflect and remember why you're on this green Earth of ours! And it's not to be busy 24/7!
#4. It's nice having 100% YOU time. One-two hours to do whatever the hell you want: hustle/pray/build/write/create/read/anything except for sleep 🙂
#5. It feels damn good knocking out solid work first thing! I still do a version of the "Powerful Goodness!" recommended by B. Frank every morning (i.e. praying/reflecting), but with multiple kids in tow I tend now to jump right into my work and get a good start for the day before the madness ensues. Makes for a great time to knock out any of the stuff that tends to get pushed to the side, as well as any lingering passion projects too.
#6. I work/think much more efficiently in the mornings. This was another nice surprise because I always thought of myself as a "night person." Turns out I work and think much more clearer (and faster) though in the wee mornings than I do evenings?! And since you're not really *gaining* any free hours by waking up earlier because it means having to go to bed earlier, it's like swapping out crappier hours with more focused and energetic ones! Kinda cool.
#7. Early wake-ups helped me to shut down the laptop in the evenings. First, because I'm usually way to exhausted to even do it, haha, but secondly because I'm now able to get most of what I want done every day jumping right into it vs having to wait on other peoples' schedules. To hustlers this might sound like the opposite of a good thing as we're so conditioned to work 24/7, but for all those who are self-employed you'll know just how hard it is to delineate the lines between professional and personal time. Especially if you work online where people never sleep!
#8. I'm much less anxious these days! I didn't realize how much I actually carried until starting this experiment, but looking back I was always a bit anxious going to bed knowing that I never got everything done I had wanted that day. Now though, no matter what's going on, I always know I at least have an hour or two FIRST THING in the morning to deal with whatever's on my brain! And even though it's not any *extra* hours as mentioned above, just knowing I can get to it right away helps sooth me over as I lay down to sleep.
#9. I go to bed at a reasonable time now. This was probably harder at first than the actual wake-ups themselves, but after I got going I was so drained from the long days that I started actually *looking forward* to going to bed early, haha… No more 12am-2am bed times for this guy! I'm in bed like an old man by 10pm'ish every night! Party time!
#10. Lastly (and most surprisingly?), waking up early has stopped me from snacking and drinking beers throughout the night! This was by far the most unexpected result of this newly formed long-term habit. Since I knew I had to take showers and brush my teeth earlier with the earlier bed time, I got in the habit of doing both of them the second we put our kids down to sleep at 8. And then since I'm all cleaned up and in my jammies by then, the temptation to grab a quick snack or drink quickly diminished! Because who wants to have to brush their teeth all over again?? Not me!
My wife constantly makes fun of me for this, but my improving health (and physique) should hopefully woo her back eventually 😉 And this is a trick you can use whether you want to wake up early or not! Just grab your toothbrush the second you start having cravings, haha…
The downsides of waking up early?
There are some downsides, of course, depending on your lifestyle:
You have to go to bed earlier than you're used to, because if you don't it's like walking around with a hangover all day!
You might miss out on late night activities, whether with friends or your wife (hubba hubba)
You might not catch all your favorite late-night sports games
You might find youdon't work as well in the mornings than evenings!
You might find you have to wake up at 4 am instead, if everyone else wakes up at 5 am in your household (ouch)
You might already have a perfect schedule and don't need to go around messing with it!
Or you might just find that you are decidedly not a morning person and will never wake up early if your life depended on it 🙂
Different strokes for different folks, but it might just be the lifestyle change you need to improve your life.
Try it out for a week and see how it goes! If it sucks, just stop, but if not – keep going! I surely never expected to still be at it three years later…
Next on the list: tackling Benny's 2 hour lunch/reading scheme! Maybe I'll even do it with bifocles on and in a library he helped bring to America too 😉
Happy experimenting!
http://www.budgetsaresexy.com/anniversary-waking-up-early-like-benjamin-franklin/