1.Nasdaq Up 9 Quarters in a Row…Again
Sep 26, 2018
The Nasdaq Composite is set to finish higher for the 9th consecutive quarter when exchanges close this Friday, September 28th.  (With a QTD gain of more than 6%, it would take a dramatic plunge over the next two trading days for the quarter to end in the red.)
Below is a chart showing streaks of quarterly gains for the Nasdaq Composite since its inception in 1971.
Nine quarters of gains is not quite the longest streak on record, and it's not even the longest streak of the last six years!  The longest stretch of quarterly gains made it to ten from Q1 2013 through Q2 2015.  Prior to that, the record was 8 quarters back in the mid-1990s (Q1 1995 through Q4 1996).  Not even during the Dot Com boom of the late 1990s did we see such consistency of gains for the Nasdaq.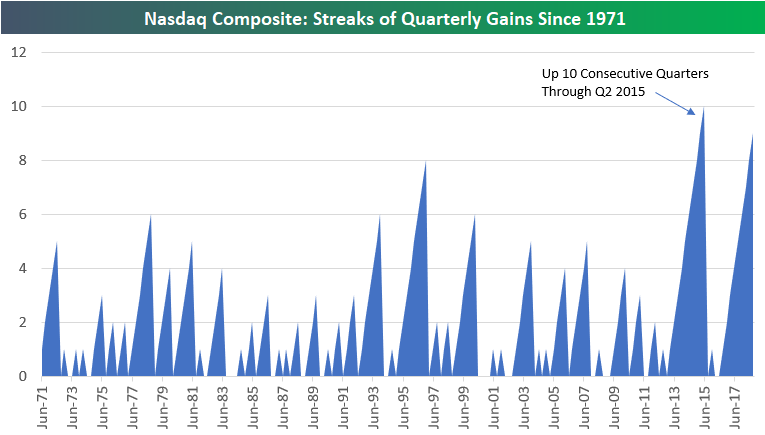 While the Nasdaq has been more consistent to the upside during this bull market than it was during its epic late-1990s rally, the size of the quarterly gains seen this time around don't come close to matching the rallies seen back then.  In the chart below, we show the quarterly price change for the Nasdaq going back to 1971.  Yes, we've seen very nice quarterly gains of 5-10% many times during the current bull, but from 1997 through Q1 2000, the Nasdaq posted seven double-digit quarterly percentage gains, including a gain of 29.5% in Q4 1998 and a ridiculous 48.2% gain in Q4 1999.  This period is nothing like the 1990s.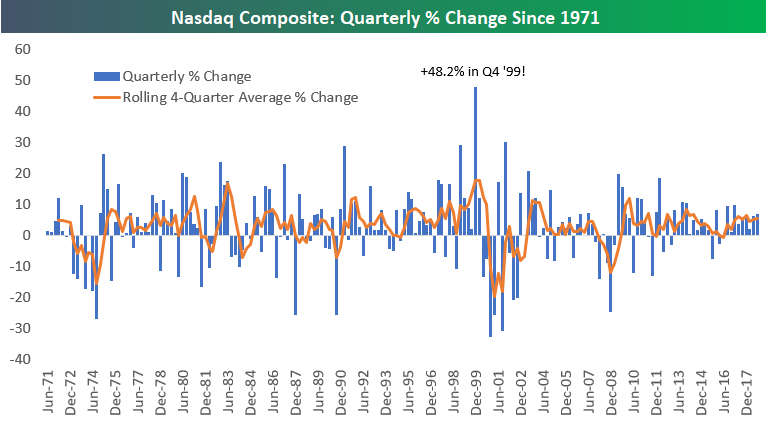 https://www.bespokepremium.com/think-big-blog/nasdaq-up-9-quarters-in-a-row-again/?utm_source=sumome&utm_medium=linkedin&utm_campaign=sumome_share
2.Household Debt Service Payments at Lows…>Below 80's.

https://twitter.com/morganhousel
3.U.S. Tariffs vs. World.
My colleague Justin Weidner did the calculation in the chart below which shows that the US now has higher tariffs than all other G7 countries. For more, see also here.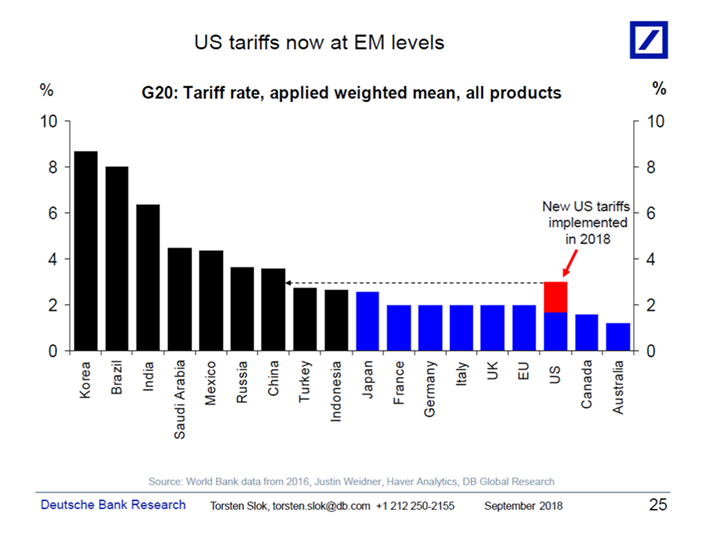 ———————————————–
Let us know if you would like to add a colleague to this distribution list.
Torsten Sløk, Ph.D.
Chief International Economist
Managing Director
Deutsche Bank Securities
60 Wall Street
New York, New York 10005
Tel: 212 250 2155
4.New Chart to Watch as the World Exits Quanitative Easing.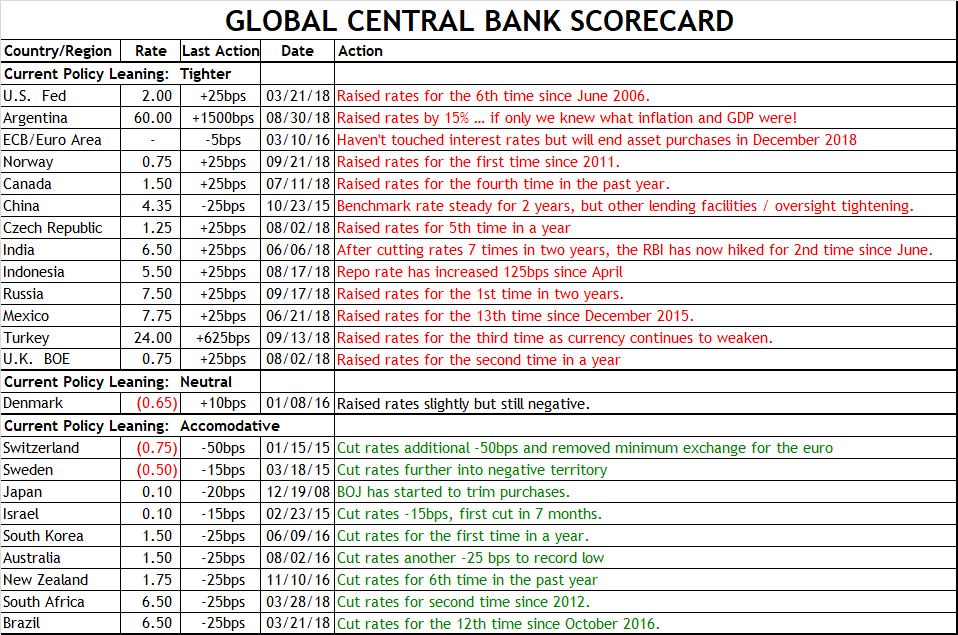 Rich Farr, Chief Market Strategist
Jim McGovern, Market Strategist
info@bluestonecm.com
5. Interesting…Not Familiar with Chart.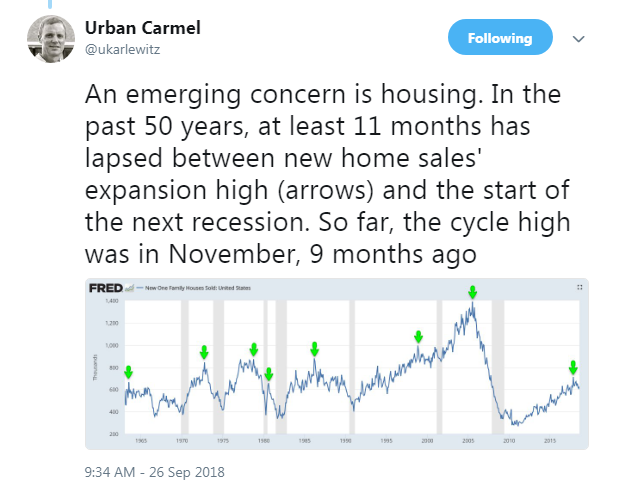 6.Number of IPOs +44% from Last Year.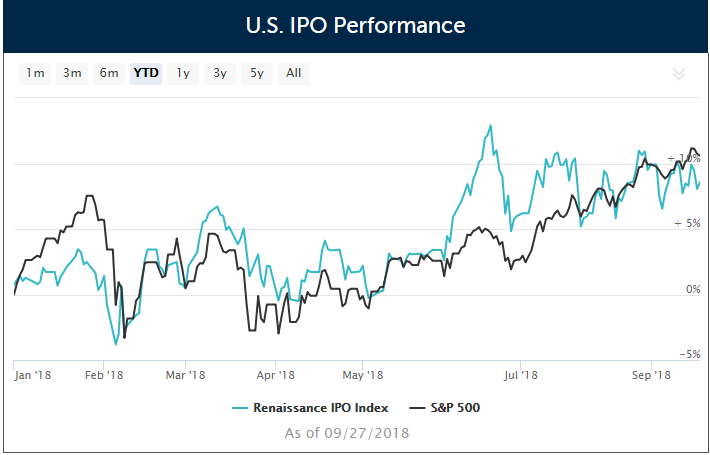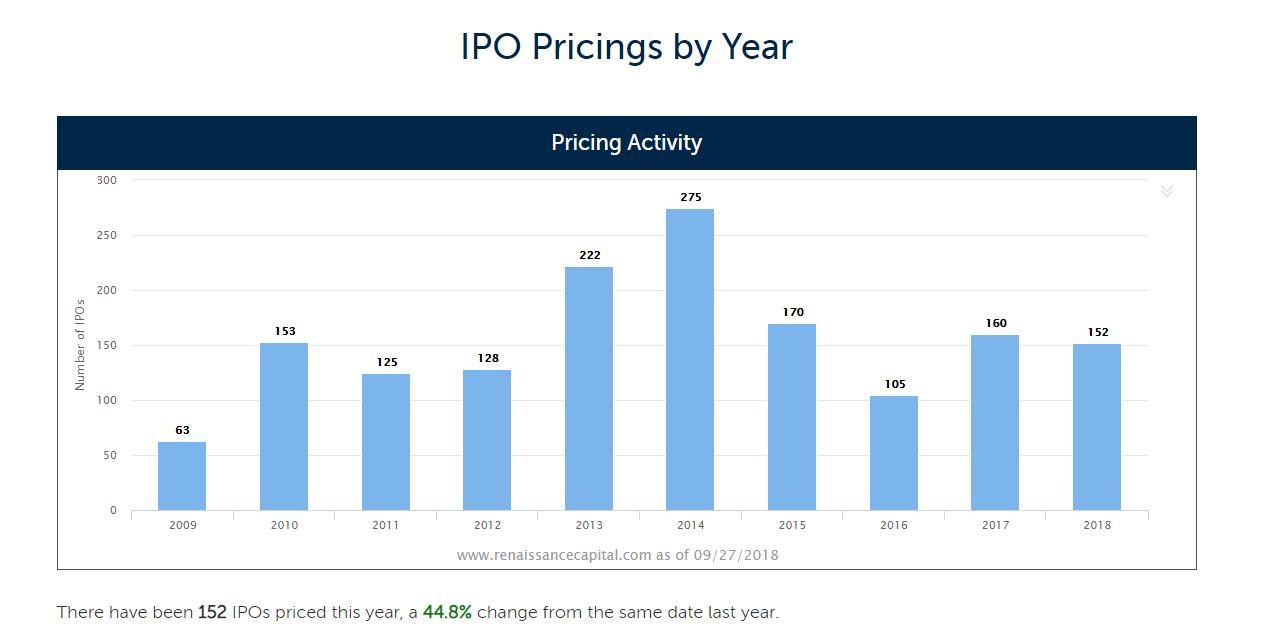 https://www.renaissancecapital.com/IPO-Center/Stats
7.Now 120 Listed Weed Stocks in Canada….Beer, Weed and Hockey.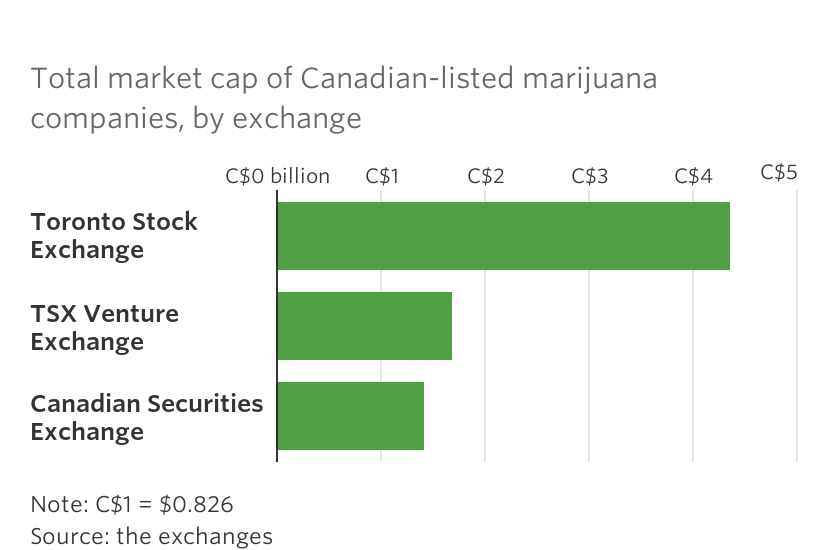 https://www.wsj.com/articles/canadian-exchange-weighs-risks-in-trading-u-s-marijuana-stocks-1505316645
8.Full Index Inclusion in Next 5 Years Will Bring $350B More into China.
More Chinese Stocks Are Coming to Global Indexes
FTSE Russell and MSCI actions show how much easier it has become to buy and sell mainland stocks through a link with Hong Kong
Two major index providers took steps to increase the influence of mainland Chinese stocksin their widely tracked global benchmarks beginning next year—a vote of confidence in a market that has been battered by trade and economic concerns.
The actions by FTSE Russell and MSCI Inc. MSCI -0.07% partly reflect how much easier it has become to buy and sell mainland stocks through a trading link with Hong Kong. The changes could also bring hundreds of smaller Chinese companies to the attention of international money managers for the first time.
On Wednesday evening, FTSE Russell said it would include domestic Chinese shares in its flagship emerging market index in stages beginning in June. Based on current prices, the move means mainland-listed companies will make up more than 5.5% of the benchmark in March 2020. It estimates this will bring in about $10 billion from passive investors, whose investments closely follow benchmarks.
Shen Hong in Shanghai and Saumya Vaishampayan in Hong Kong
https://www.wsj.com/articles/index-provider-msci-proposes-bigger-role-for-chinese-stocks-1537945178?tesla=y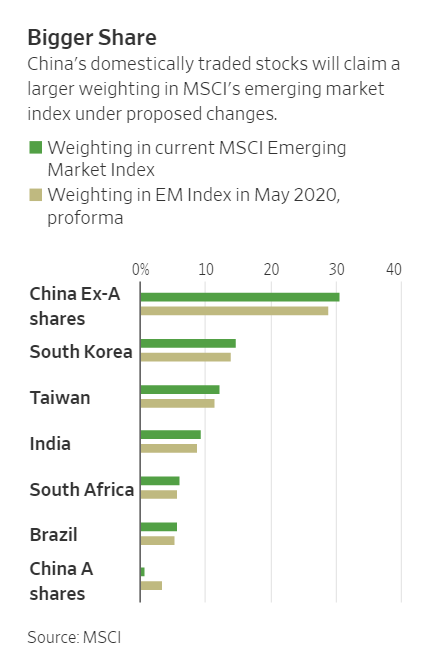 9.The best time to book your Thanksgiving and Christmas plane tickets is right now, says a popular flight-booking site
The Insider Picks team writes about stuff we think you'll like. Business Insider and The Points Guy may receive a commission if you make a purchase through these links, or apply for a card through these links and are approved.
Right now is the best time to book travel for the holidays, according to data from flight-booking website CheapAir.com.
While prices for the holiday period have dropped since the summer, fares are expected to start creeping steadily up from October onward.
You can also save by declining to purchase travel insurance — if you book with certain credit cards, including the Chase Sapphire Preferred Card and Chase Sapphire Reserve, you'll automatically be covered by those cards' included policies. You'll also get bonus rewards.
Have you started preparing for the holidays? If not, it might be time to figure out your plans.
That's because right now is the best time to book holiday travel, according to a price tracking tool unveiled recently by flight booking website CheapAir.com.
The site analyzed data from past years, including pricing trends and historical prices, and fares published for upcoming dates to determine the best days to fly for Thanksgiving, Christmas, and New Years, as well as the best time to book.
While booking your holiday travel on April 8 would have landed you the cheapest fares, prices spiked in late August before trending downward throughout September.
Based on previous years, fares are expected to begin creeping up in early October, spiking in November for both the Thanksgiving and Christmas/New Years travel periods, before rising even higher in December for last-minute bookers.
Especially as other people start booking and flights begin to fill up, prices are expected to rise significantly. While prices around the holidays are higher than normal regardless of when you book — simply due to the nature of demand — it's still possible to find attractive prices.
There are two keys to getting the best price:
First, be as flexible with your travel dates as you can. Maybe fly out for Thanksgiving on Tuesday instead of Wednesday, and take an extra day off from work, or work remotely. Avoid the weekend before Christmas, which is on a Tuesday this year, and fly out on Monday or in the middle of the previous week. Or take an early-morning flight on Christmas Day.
Second, be ready to book as soon as you find flights for a price that you're willing to pay. While they may fluctuate up and down by a few dollars over the next few weeks, they're expected to trend up overall — if you wait and miss out on a decent fare, chances are you won't see that price again.
When booking holiday travel for you and family members, always remember to use the right travel rewards credit card. Cards like the Chase Sapphire Preferred offer 2x points on travel (and dining) and features trip delay and baggage delay insurance, should you hit any major snags during your trip — the beefier Chase Sapphire Reserve offers 3x points on travel and dining, and features delay coverage that kicks in on shorter delays.
You may also want to open a new credit card to book your trip, since you can use the expense of tickets to meet the minimum spending requirement to earn a sign-up bonus. Take a look at the best sign-up bonuses available right now if you're interested.
CheapAir.com offers competitive flight prices, but be sure to price compare with another site like Orbitz to make sure you're getting the best possible fare.
Subscribe to our weekly newsletter. You'll be the first to hear about the stuff we review. Sign up.
Follow us on Pinterest.
Disclosure: This post is brought to you by the Insider Picks team. We aim to highlight products and services you might find interesting, and if you buy them, we get a small share of the revenue from the sale from our commerce partners. We frequently receive products free of charge from manufacturers to test. This does not drive our decision as to whether or not a product is featured or recommended. We operate independently from our advertising sales team. We welcome your feedback. Want to get in touch? Email us at insiderpicks@businessinsider.com.
To find all the best offers on the web, visit our Coupons page.
https://www.businessinsider.com/best-time-to-book-thanksgiving-christmas-flights-cheap-2018-9
10.13 Things Confident People Don't Do
Avoid these traps to enjoy more self-confidence.
Self-confident people know what they value and what they want. They share common habits and thought patterns that help them achieve their goals. Here are 13 things self-confident people don't do, so you can be one of them.
They don't believe they are worth less than others. One of the fundamental beliefs underlying confidenceis, "My worth as a person is equal to everyone else's." That doesn't mean you don't have to work for what you want, and it certainly doesn't mean life divides up its rewards evenly. But it does mean you have the same right as anyone else to stand up for yourself, pursue your dreams, enjoy your life, and make a difference in the way that's most meaningful to you.
They don't fearself-doubt. Confident people realize that not all self-doubt is a bad thing. Sometimes fear is a signal that you haven't prepared enough for the big presentation, the recital or the interview. Practicing what you plan to say and do will give your mind something to fall back on when the pressure is high. The voice of self-doubt may also be saying you need to get more information, move in a different direction, or take a break.
They don't hesitate too much. The flip side of #2 is that once you've put in the hours of practice, you should be able to take action without obsessing over what might go wrong.
They don't wait for the "big" move. When you envision a confident person, you might think of someone who takes big, bold actions, like running for office or making a marriageproposal on the Jumbotron. But there can be boldness and bravery in small steps. Those incremental changes build on themselves, both through your own feelings of accomplishment and reinforcement from others.
They don't confuse confidence with arrogance. Some people fear confidence because they don't want to start stepping on other people's toes, taking up too much space or just plain being a jerk. But confidence isn't the same as arrogance or narcissism. In fact, when you feel confident in yourself, you often become less self-absorbed. When you stop worrying so much about how you're coming across, you can pay more attention to those around you.
They don't fear feedback or conflict. A confident person can accept helpful feedback and act on it without getting defensive. When your sense of self-worthis no longer on the table, you can handle criticism or even outright rejection without allowing it to break you. By the same token, confidence doesn't mean you mow other people down when a conflict arises. It's possible to speak your mind with conviction and still make room to listen to someone else's point of view and even reach a compromise.
They don't fear failure. Confidence doesn't mean you won't fail. It doesn't mean you're always smiling or that you never experience anxiety or self-doubt (see #2). Instead, it means you know you can handle those feelings and push through them to conquer the next challenge.
They don't have to make things perfect.  Perfectionismis a form of faulty thinking that contributes to low self-confidence. If you believe you have to have something all figured out before you take action, those thoughts can keep you from doing the things you value.
They don't believe everything they see in ads. Many advertisements are designed to make you feel lacking. Companies that want to sell you products usually start by making you feel bad about yourself, often by introducing a "problem" with your body that you would never have noticed otherwise.
They don't believe everything they see on social media. This point is closely tied to #9. It's easy to believe that everyone around you has the perfect marriage, a dream career, and supermodel looks to boot. But remember that what people post online is heavily curated and edited. Everyone has bad days, self-doubt and physical imperfections. They just don't trot them out on Facebook!
They don't avoid trying new things. As you keep pushing yourself to try new things, you'll start to truly understand how failure and mistakes lead to growth. An acceptance that failure is part of life will start to take root. Paradoxically, by being more willing to fail, you'll actually succeed more—because you're not waiting for everything to be 100 percent perfect before you act. Taking more shots will mean making more of them.
They don't focus on themselves. It might seem counterintuitive, but when you have more self-confidence, you're less focused on yourself. We've all been guiltyof walking into a room and thinking, "They're all looking at me. They all think I look dumpy and that every word I say is incredibly stupid!" The truth is, people are wrapped up in their own thoughts and worries. When you get out of your own head, you'll be able to genuinely engage with others.
They don't let others determine their goals.  No one can tell you what is most important to you. Sure, our culture will say that having a better job, a bigger house, and a fancier car is what we need to make us happy. It takes a lot of strength and conviction to not just go along with societal expectations. Self-confidence doesn't always look like the "big" move. It can be the confidence to say, "No, this opportunity is not right for me at this time."
Adapted from The Self-Confidence Workbook: A Guide to Overcoming Self-Doubt and Improving Self-Esteem, published by Althea Press. Copyright © 2018 by Barbara Markway and Celia Ampel.
https://www.psychologytoday.com/us/blog/shyness-is-nice/201809/13-things-confident-people-dont-do