1.Presidential Cycle Seasonality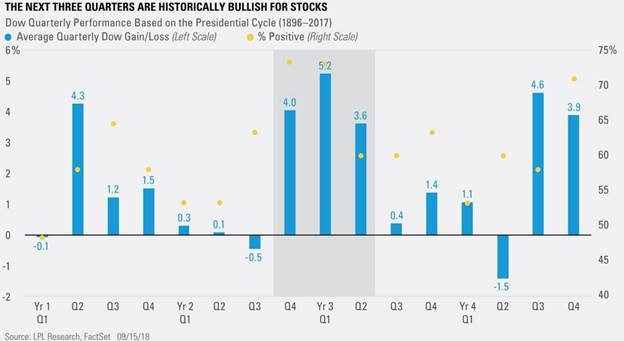 LPL notes the next three quarters are historically some of the strongest out of the entire four-year presidential cycle – "going all the way back to when the Dow started trading in 1896, each of the next two quarters have closed higher 73.3% of the time—no other quarter is up more often. In addition, the average returns over the next three quarters have been 4.0%, 5.2%, and 3.6%—again some of the strongest in the four-year cycle"
From Dave Lutz at Jones.
2.Gold -35% Off Highs.
One way to measure it against stocks is a comparison with the Dow Jones Industrial Average. It effectively takes 22 ounces of gold to buy one unit of the Dow, which finished on Friday at a record 26,743. The most recent low in that relationship occurred in 2011, when the Dow/gold ratio dropped to 7.8. Then, gold was near its all-time high of $1,900 an ounce.
The century-old peak of 40 occurred in 1999, when gold traded at about $290 an ounce and the Dow stood around 11,500. The low came at the top of the commodity boom in 1980, when the metal and the Dow were at parity around 800 after a decade-long stretch when the Dow moved little. Commodities overall are historically cheap versus stocks.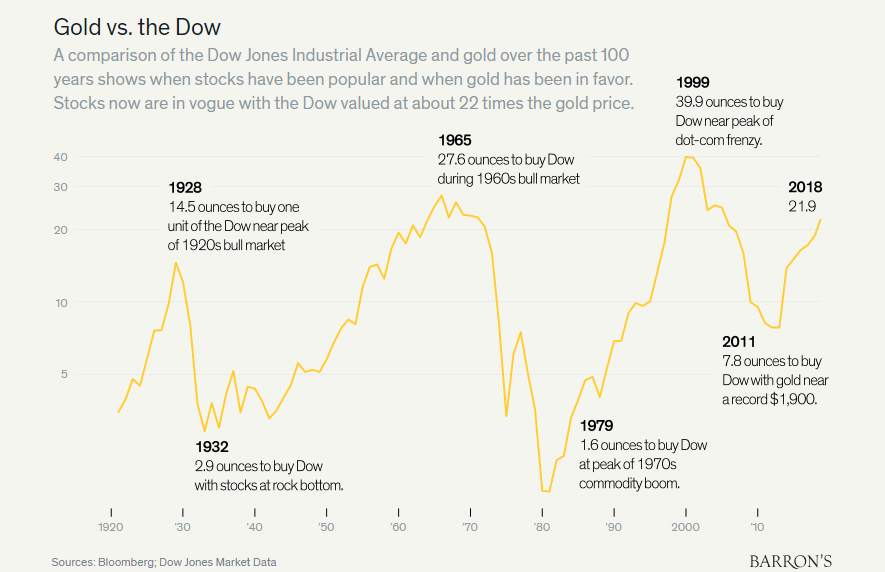 Gold Is Cheap. Inflation Is Coming. You Do the Math
By
Andrew Bary
https://www.barrons.com/articles/gold-is-cheap-inflation-is-coming-you-do-the-math-1537582480
This chart shows GLD (gold ETF) vs. U.S. Dollar Bull ETF….We have not gone below 2017 lows.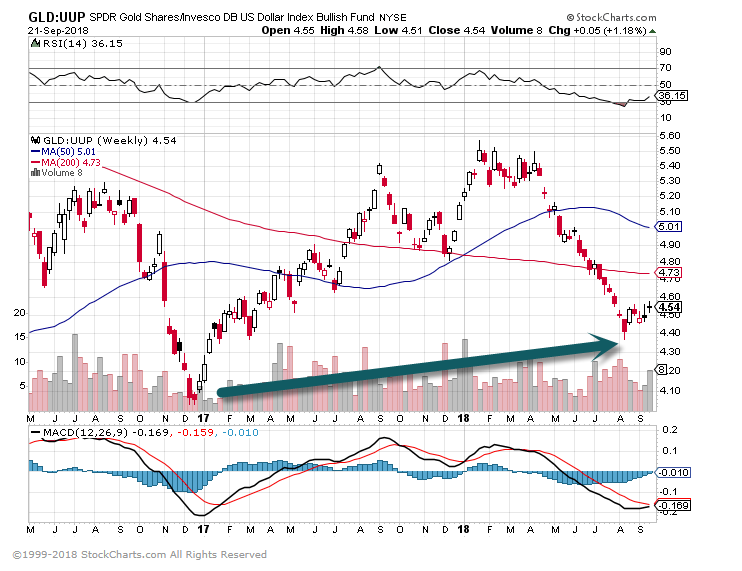 3.U.S. Corporations are Repatriating Record Amounts of Cash.
The latest data shows that repatriation of corporate earnings continued in Q2, see chart below. For more discussion of what this means for capex and where we are in the cycle see here.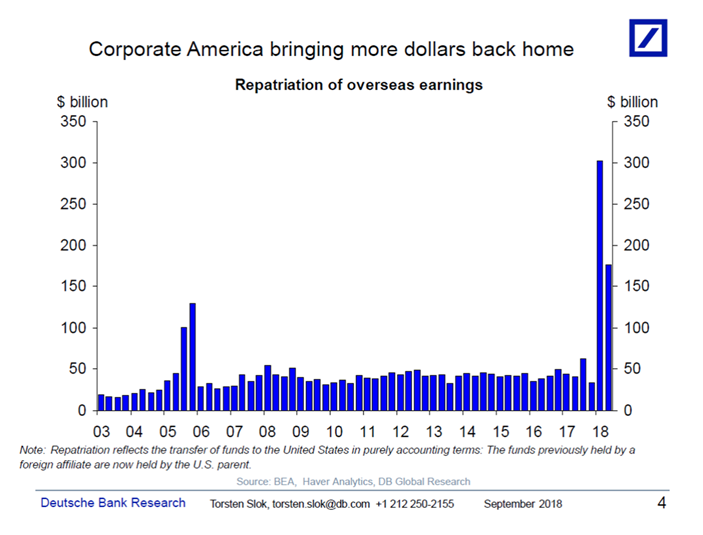 ———————————————–
Let us know if you would like to add a colleague to this distribution list.
Torsten Sløk, Ph.D.
Chief International Economist
Managing Director
Deutsche Bank Securities
60 Wall Street
New York, New York 10005
Tel: 212 250 2155
4.Now That Global Rates Going Higher…Correlation Between Global Central Bank Balance Sheets and U.S. Stocks Will Come into Focus.
Correlation between U.S. stocks and Central Bank balance sheets.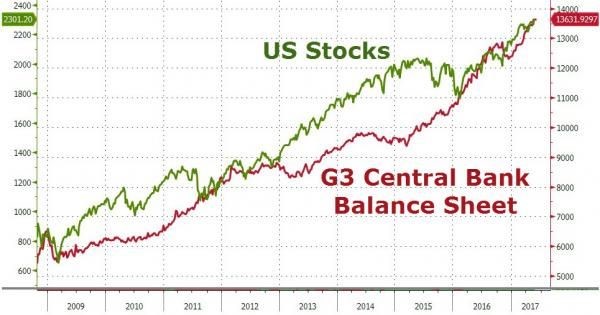 https://www.pinterest.com/pin/55943220354523690/
5.Markets Make New High Without Tech.
XLK Below Highs.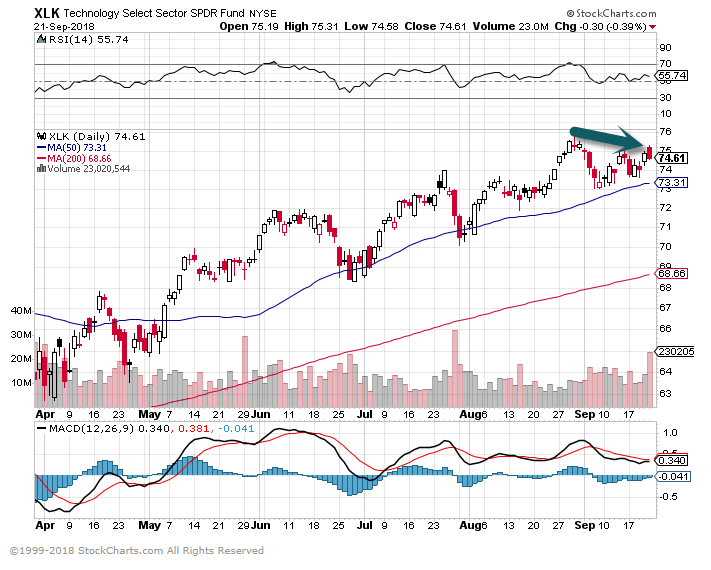 SMH Semiconductor ETF below highs.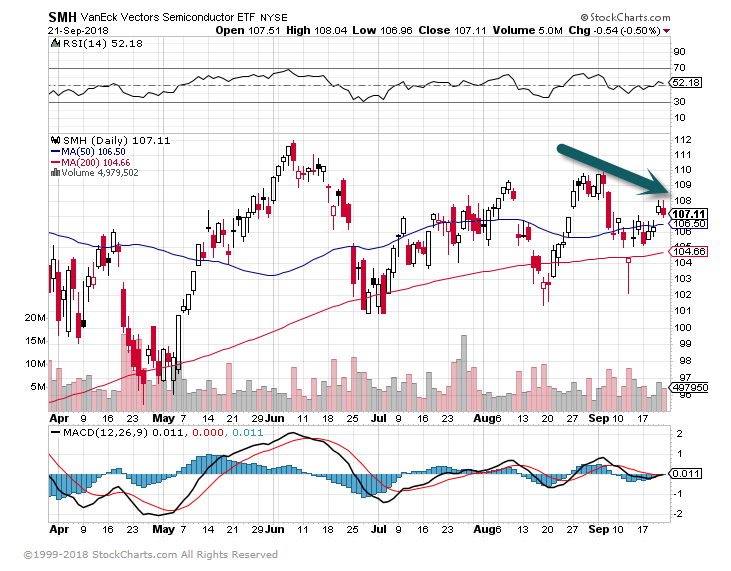 6.Sector Leaders YTD
Bespoke's Sector Snapshot — 9/20/18
Below is one of the many charts included in this week's Sector Snapshot, which simply shows the year-to-date performance of the S&P 500 and its eleven sectors.  After a rally to new all-time highs today, nine of eleven sectors are in the green for the year, with just Telecom and Consumer Staples in the red.  Health Care, Technology, and Consumer Discretionary are the three top performing sectors with double-digit percentage gains so far in 2018.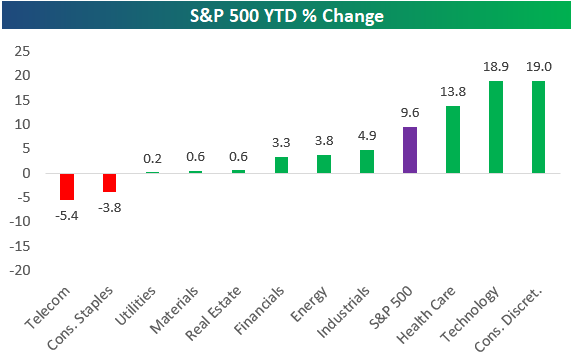 To find out what this means and to see our full Sector Snapshot with additional commentary plus six pages of charts that include analysis of valuations, breadth, technicals, and relative strength, start a two-week free trial to our Bespoke Premium package now.  Here's a breakdown of the products you'll receive.
https://www.bespokepremium.com/sector-snapshot/bespokes-sector-snapshot-92018/
7.Portfolio Managers Record Allocation to U.S. …Interesting Cash is Over Allocation vs. History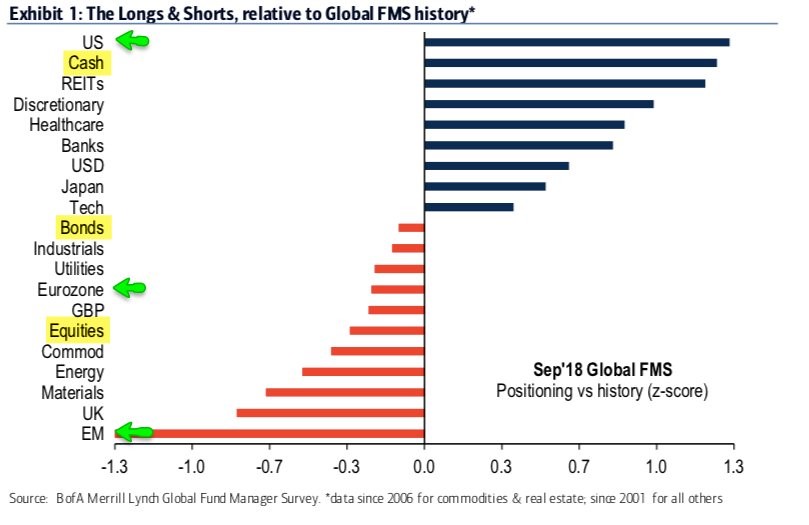 https://twitter.com/ukarlewitz
8. Latin America accounts for 43 of the 50 most murderous cities, including the entire top 10
WSJ
By
David Luhnow | Photographs by 
Brian L. Frank for The Wall Street Journal
With just 8% of the world's population, Latin America accounts for roughly a third of global murders. It is also the only region where lethal violence has grown steadily since 2000, according to United Nations figures.
Nearly one in every four murders around the world takes place in just four countries: Brazil, Venezuela, Mexico and Colombia. Last year, a record 63,808 people were murdered in Brazil. Mexico also set a record at 31,174, with murders so far this year up another 20%.
The 2016 tally in China, according to the U.N.: 8,634. For the entire European Union: 5,351. The United States: 17,250.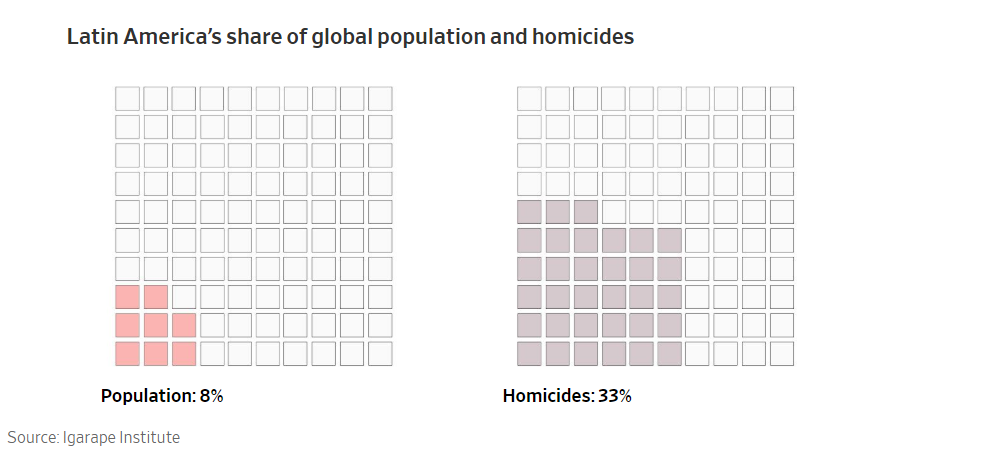 https://www.wsj.com/articles/400-murders-a-day-the-crisis-of-latin-america-1537455390
Every few years, an obsession comes along in the gaming world that sweeps everything else off the board. Coverage of games like World Of Warcraft and Minecraft frequently takes on the tone of some kind of epidemic thriller, as reports spread of hooked kids, infuriated parents, and shattered relationships. Now, Fortnite—the massively popular, free-to-play online shooter that boils the current battle royale game craze down into its most efficient and addictive form—is the latest vector of infection, and it's reached a new milestone in its "video games as pox upon society" career.
Because while the game itself has graduated in the last year from "plucky, extremely ubiquitous knock-off" to "goddamn omnipresent elder statesman of the genre," Epic Games' massively popular title has just achieved the real brass ring in the supposedly life-destroying video game addiction stakes. Specifically, said honor comes in the form of a report stating that more than 200 divorce proceedings have cited the game in their complaints. (And that's just in the U.K., and only in 2018!)
Admittedly, this is per a press release from online divorce service Divorce Online, who presumably have a vested interest in making divorce seem sexy and cool in a way that only "You walked in front of the screen and a 10-year-old in Wyoming shot me dead so now I'm taking the house" truly can. Still, even with a healthy dose of salt being taken, it's an impressive number, supposedly representing something like 5 percent of all British divorces in the last year. Congratulations are in order to Epic Games, and to every couple who worked hard to make this achievement possible.
https://news.avclub.com/fortnite-has-now-been-cited-in-more-than-200-divorce-pr-1829084255
10.12 Questions That Will Change Your Financial Life
How well do you really know yourself and your relationship with money?
BY MATT TOPLEY
Key Takeaways
When it comes to your money outlook, you tend to be influenced by the five people you spend the most time with.
Commit to being a lifelong learner about personal finance and personal fulfillment. There's a strong correlation between the two.
Don't let your emotions get in the way of a sound financial plan—or life plan.
Be brutally honest with yourself about what's most important in life. Eliminate distractions that prevent you from putting your energies where they truly belong.
Going through my summer reading pile the other day, I came across a great article by Ryan Holiday, called "12 Questions That Will Change Your Life." Holiday, author of the best-selling book Ego is the Enemy, wrote 12 Questions for a general audience, but I've found they can be applied to investing, wealth accumulation and wealth preservation, too. You don't have to read these provocative questions in order, but do yourself a favor and give each one some thought:
Q1. Who do you spend your time with? According to motivational speaker and business guru, Jim Rohn, we are the average of the five people we spend the most time with.
It's been proven time and time again that people are the product of their environment. If you spend your time around people who constantly complain about money, who degrade rich people, who see money as the root of all evil or who will do anything to avoid a conversation about finances, then you'll have a lower probability of growing your wealth than if you spend your time surrounded by people who have a healthy relationship with money.
That doesn't mean you have to champion the "Greed is Good" philosophy made famous by Michael Douglas in the 1987 classic "Wall Street." But, think about your closest friends and colleagues. Do they seem to have a positive relationship with money?  Do they inspire you to grow your net worth and pursue financial freedom by way of example? On the other hand, if your closest friends and colleagues are willing to accept an unhappy financial lifestyle, they will most likely endure an unfulfilling family and work life.
Q2. What does your ideal day look like?  One of the biggest benefits of financial freedom is that you can live your life on your terms—not on someone else's terms. But if you don't know what your ideal day looks like (both a workday and a weekend day), then how do you expect to experience it on a regular basis?  It's important to take inventory of your financial life.  One of the best ways to do that is to spend a few hours a week increasing your financial literacy. It's not about learning how to be a better stock picker. It's about learning how to boost your career skills or starting a side business that can substantially boost your income.
Before diving in, it's important to know how you learn best. Do you learn best by reading, by listening or by watching?  Whichever channels works best for you, spend an hour a day on it building your career skills and financial literacy.  Surely it's worth devoting 60 minutes a day to something that will lower your stress and increase your pursuit of self-actualization.
READ: Barron's, Wall Street Journal and Topley's Top 10 blog.
LISTEN TO: Behind the Markets (Wharton Business Radio) and Barry Ritholtz's Masters in Business podcast (Bloomberg)
Read Full Story
https://matttopley.com/12-questions-that-will-change-your-financial-life/