1.Oil's Economic Impact Waning.
Barrons
Is the market too complacent about the risk of higher oil prices?
After all, rising prices can limit consumers' ability to spend on everything other than gasoline, natural gas, and heating fuel. All those products become more expensive as oil prices rise. That can be bad for the economy.
Rising oil prices can also increase headline inflation numbers. And higher inflation makes it harder for the Federal Reserve to cut interest rates to keep the economy chugging ahead. That also sounds bad.
Still, crude's impact on the economy is far less than it used to be.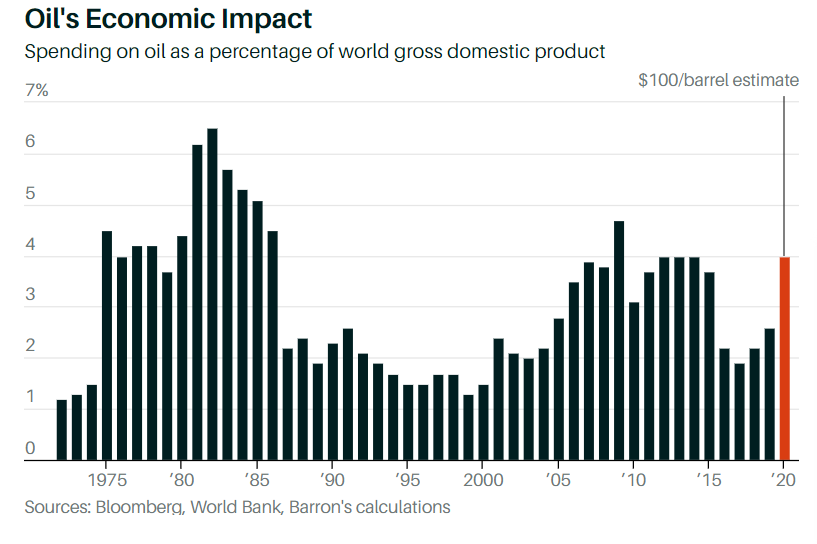 Why Oil Prices Don't Matter for Stocks Anymore-By Al Root
https://www.barrons.com/articles/oil-prices-economic-impact-stocks-dow-jones-industrial-average-saudi-attack-51568744953?mod=hp_BRIEFLIST_1&mod=article_inline
2.SPY and QQQ Right at Previous Highs.
Markets looking for new highs.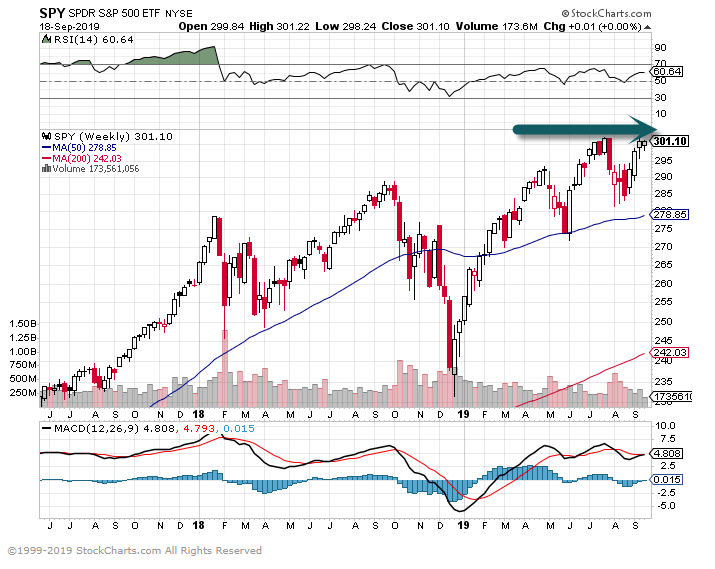 QQQ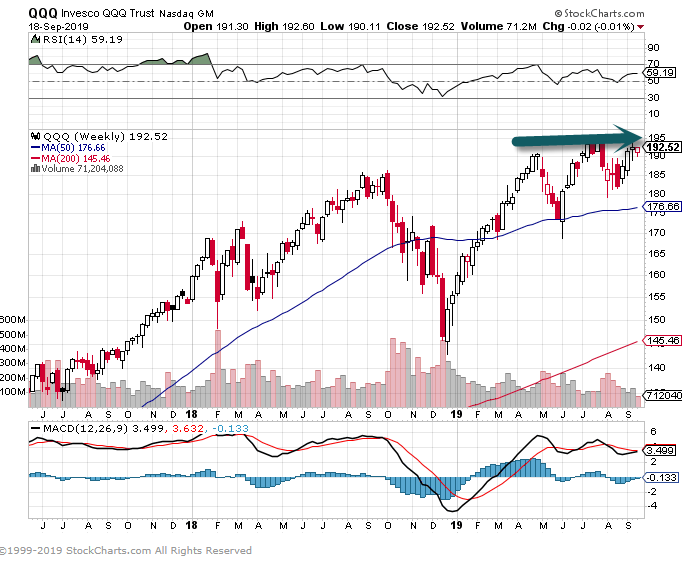 3.History of S&P After Two 25bps. Rate Cuts.
LPL BLOG
As shown in the LPL Chart of the Day, Stocks Have Historically Done Well If The First Two Fed Rate Cuts Are 25 Basis Points, the S&P 500 was up an average of 9.7% six months after the second of two 25 basis point cuts to kick off a new cycle of rate cuts. Going out a year, the S&P 500 had gained a very impressive average of 16.7%.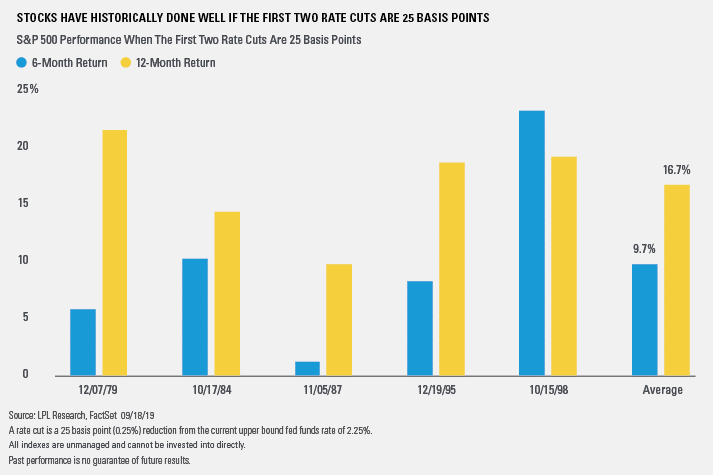 4.Fedex Miss and the New Supply Chain Around E-Commerce.
FedEx's results are also being hampered by the growth of e-commerce. That trend provides ample volume to fill planes and trucks but comes with additional costs, like those associated with a looming rollout of Sunday delivery year round. Online packages also are generally lighter weight and move shorter distances, so the revenue per shipment is lower than other shipments that move through the company's network.
"This is a structural issue, not a cyclical issue," said Satish Jindel, president of SJ Consulting Inc., a parcel-industry research firm. "The supply chain is changing."
FedEx Shares Plummet Following Dismal Results–Delivery giant's stock on track for largest decline since 2008
https://www.wsj.com/articles/fedex-shares-plummet-following-dismal-results-11568825843?mod=itp_wsj&ru=yahoo
1 year returns….UPS +2% vs. Fedex -38%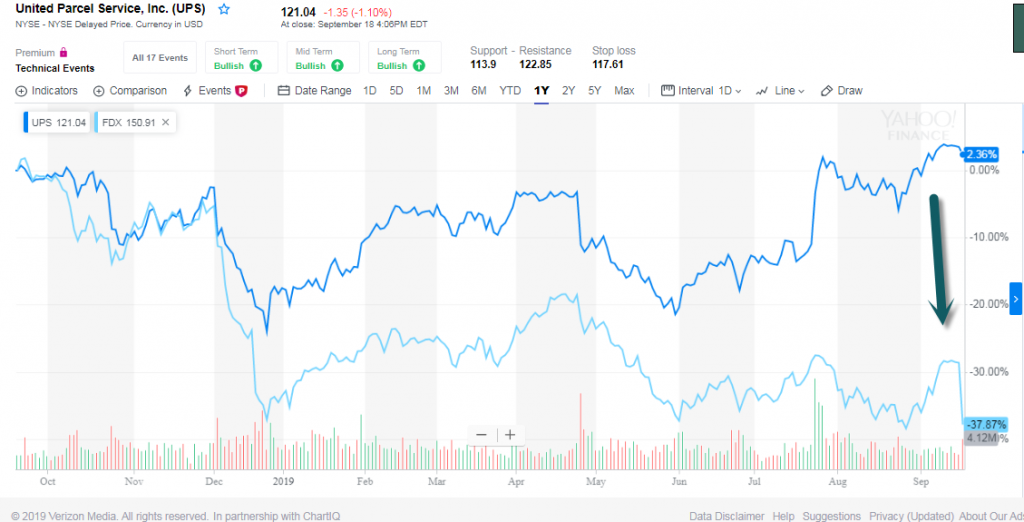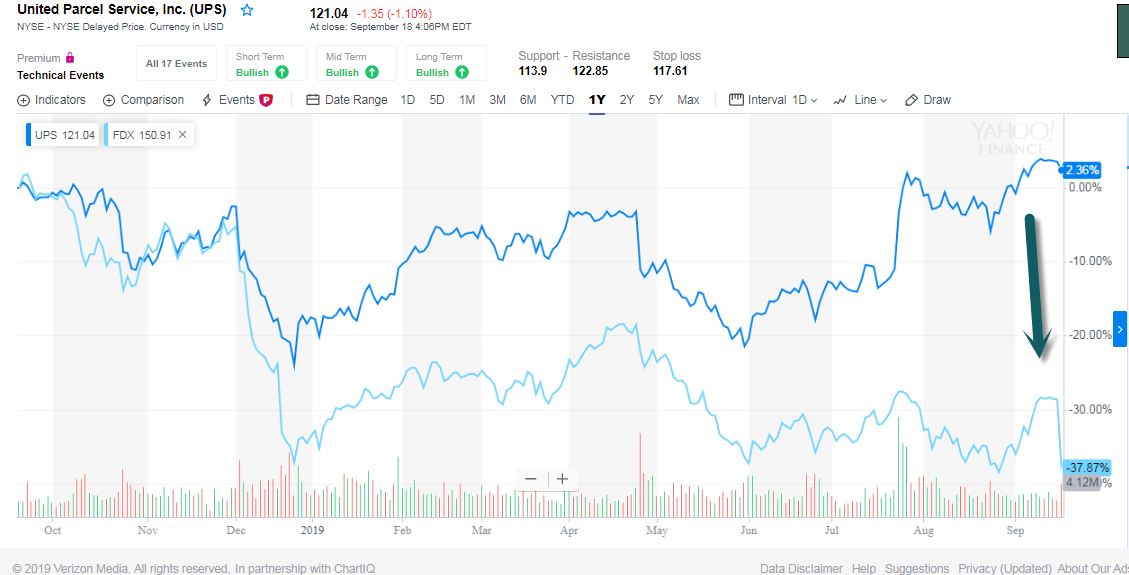 5.Summary of Gundlach's Presentation This Week.
Zero Hedge
And since his view on the economy is that it is anything buy the "Greatest ever", pointing out the sharp slump in 2019 global GDP projections…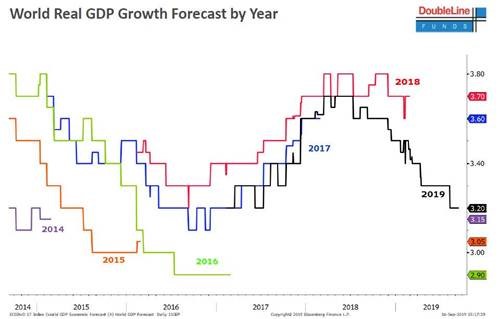 … Gundlach put the odds of a recession before the 2020 election at 75%, predicting that once the recession hits, there will be an explosion in the national debt.
Additionally, as noted above, the fund manager has turned far less positive on gold in the short-term, although he did say that for a permanent portfolio position, gold should be held, even if "now is the time to be looking for a better buying opportunity in gold."
Gundlach was far more pessimistic of corporate debt, which he once again said was the most vulnerable asset class, highlighting BBB-rated corporate bonds, i.e. soon to be fallen angels, as the most at risk (see Ford's recent downgrade to junk), while adding that short-term sovereign debt is likely the least vulnerable
"The Greatest Economy (N)Ever": Gundlach's Full Webcast Slides by Tyler Durden
https://www.zerohedge.com/health/greatest-economy-never-gundlachs-full-webcast-slides
6.BlackRock head says $70 trillion in cash sitting idle as opportunities dry up
Normal text sizeLarger text sizeVery large text size
Rob Kapito, the head of the world's largest money manager BlackRock, says there is more than $US50 trillion ($73 trillion) in cash sitting idle in portfolios around the world due to a lack of investment opportunities and weak returns.
He also believes sharemarkets will keep moving higher as the number of shares shrinks due to buy-backs and fewer floats, and that low interest rates are limiting consumption because savers do not want to eat into their capital. Traditionally, low interest rates have spurred consumption through cheaper credit.
In an interview with The Age and The Sydney Morning Herald, Mr Kapito, whose New York firm manages about $US6.8 trillion on behalf of individuals and institutional investors around the globe, said the world "is flush with cash and there is under-investment".
Rob Kapito says a global shortage of assets will help keep sharemarkets moving higher.
"So what's happening is a situation where the equity markets continue to rise over time [while] interest rates stay lower for longer. Over $US50 trillion of cash is sitting in client's accounts, the largest percentage of cash that they have ever had," he said.
Advertisement
"We are now in a very difficult situation of a shortage of assets with lots of cash looking for opportunities.
https://www.smh.com.au/business/markets/blackrock-head-says-70-trillion-in-cash-sitting-idle-as-opportunities-dry-up-20190908-p52p4u.html
7.Nearly half of the U.S.'s homeless people live in one state: California
By Jacob PassyF
Published: Sept 19, 2019 6:15 a.m. ET
Four of the five American cities with the greatest incidences of unsheltered homelessness are in the Golden State
Getty Images
The homeless population has grown in Los Angeles and other cities, according to a new White House report.
More than half a million people are homeless each night in the United States, a new White House report has found. And nearly half of them are concentrated in one state: California.
All told, 47% of all unsheltered homeless people nationwide — meaning those who sleep in areas not meant for habitation, such as sidewalks, parks, cars and abandoned buildings, rather than in shelters — live in the Golden State, according to a new report on homelessness from the White House Council of Economic Advisers. Unsheltered homeless people represent just over a third (35%) of the overall homeless population nationwide.
At the city level, four of the five cities with the highest rate of unsheltered homelessness are in California: San Francisco, Los Angeles, Santa Rosa and San Jose. Seattle joins the California municipalities in the top five.
In recent weeks, reports have suggested that the Trump administration may stage a federal intervention in California to address homelessness in the state.
As for state homelessness rates, the District of Columbia has the highest in the country, at 5.8 times the U.S. rate. New York is next, followed by Hawaii, Oregon and California. These five states together comprise 20% of the overall U.S. population but 45% of the country's homeless population.
https://www.marketwatch.com/story/this-state-is-home-to-nearly-half-of-all-people-living-on-the-streets-in-the-us-2019-09-18?mod=MW_home_top_stories
8.How To Recruit Your Dream Team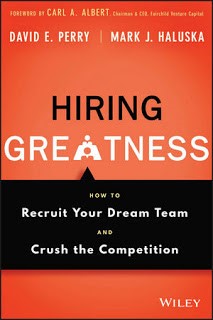 Hiring Greatness is the book by David E. Perry and Mark J. Haluska, who combined have closed more than 1,800 hiring search projects.
In their book, the authors share their guide for how to attract, recruit and retain star executives.
They advise that it is far more important that a leadership candidate possess specific intangible core attributes, than just decades of industry experience. And, these core attributes go far beyond mere technical skills. For Perry and Haluska, there are 28 core attributes they always look for in a candidate.
Those 28 fit within five pillars of success:
Character
Intellect
Business Intelligence
Leadership
Emotional Intelligence
They also recommend that when interviewing a candidate you particularly like that you take a healthy step back to figure out why you feel so strongly about that person. So, that you ensure you are not being biased by the following prejudices:
Charm – Outward personality is never an accurate predictor of success in any role.
Industry Experience – Make your decision on the basis of a broad range of factors, not only on industry experience.
Pedigree – Keep the candidate's credentials in proper context.
"Golden Boy" – Discount references from people who have worked indirectly or consulted for a candidate but didn't directly work for or with them.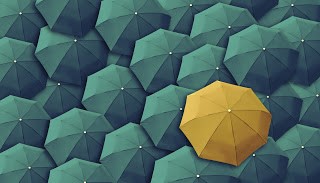 Additionally, when seeking a leader, look for these key leadership attributes say Perry and Haluska:
Leaders who are adept at creating a deep level of trust with employees and stakeholders at all levels.
Leaders who can use their intellectual capacity to make quick, solid business decisions in tough competitive environments often without having all the details, so intuition is important.
Leaders whose perception of the opportunity evolves over the course of the interviews, because you'll pick up clues about what's important to them.
Leaders who have the ability to create excitement as well as enthusiasm and engage employees and stakeholders.
Finally, after talking to a candidate's references you should have information on:
The candidate's significant accomplishments.
The depth of others' feelings, positive or negative, about the candidate.
What management guidance or further professional development is required.
Leadership and personal style.
Relationships – internal and external.
Depth of technical and professional skills.
Career progression and career interests.
Reasons for changing jobs.
Predominant leadership style.
Strengths and weaknesses.
Tips, techniques for leaders and managers.
https://ericjacobsononmanagement.blogspot.com/2019/09/how-to-recruit-your-dream-team.html