1.More Information on Low Volatility Funds.
The table below details SPLV's portfolio characteristics on a year-by-year basis versus SPY. Values in red denote underperformance by the low-vol portfolio. The fund's lifetime numbers, shown in the gray row at the bottom of the table, are indeed impressive: a higher average annual return, lower volatility and a resultant higher Sharpe ratio, along with a positive alpha coefficient and information ratio.
Within that time span, however, there's a lot of, um, volatility in the numbers. In those years when SPLV's standard deviation was higher than SPY's, there was a cascading and deleterious effect on returns and other portfolio metrics.
So, what's the point of all this? Simply put, capture of the low-volatility anomaly is path dependent. Just because there's a low-vol product available doesn't mean you'll always derive immediate benefit from its use. Look at the back-to-back underperformance in the 2012-2013 and 2013-2014 spans. Would you have been disappointed by SPLV back then? Would you have bailed from the low-vol strategy?
Many investors, in fact, did just that. Net outflows mounted in the 2013-2014 period and even spilled over into the subsequent period, just ahead of a couple of banner years. And in the 2016-2017 span, SPLV's net outflows totaled $1.4 billion as the low-vol ETF significantly lagged SPY.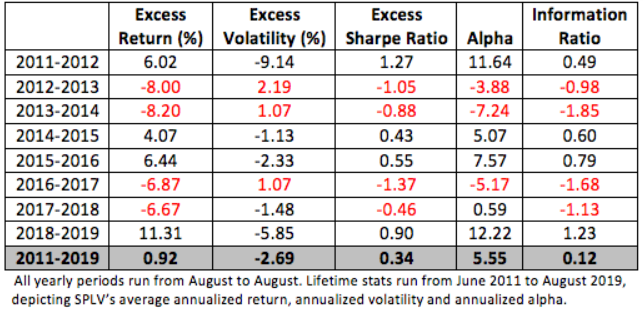 Good Full Read
When Low-Vol Is Not-Strategy may require some time to pay off. Brad Zigler | Sep 09, 2019
https://www.wealthmanagement.com/etfs/when-low-vol-not?NL=WM-27&Issue=WM-27_20190910_WM-27_38&sfvc4enews=42&cl=article_2_b&utm_rid=CPG09000007333628&utm_campaign=22762&utm_medium=email&elq2=ac7e5eb620b842029b42cb8c15561b82
2.Gold Pullback Recently But See Below Breaking Above Sideways Move Since 2012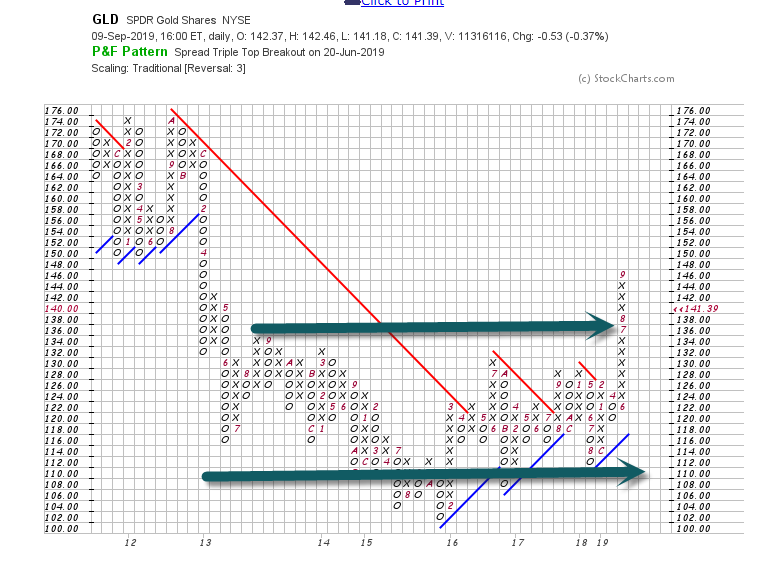 3.Russia and China Gold Buying.
GOT GOLD?– Russia quadrupled gold reserves in the past decade as it diversified away from U.S. assets, a move that has paid off recently as haven demand sent prices to a six-year high. In the past year, the value of the nation's gold jumped 42% to $109.5 billion and the metal now makes up the biggest share of Russia's total reserves since 2000.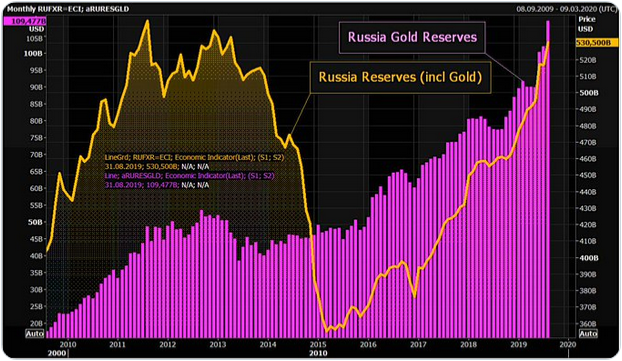 Russia's Gold reserves hit 5y high at $530bn. On way to an all-time high as massive gold stash is now worth more than $100bn. Value of Russia's gold reserves climbed 42% in the past year.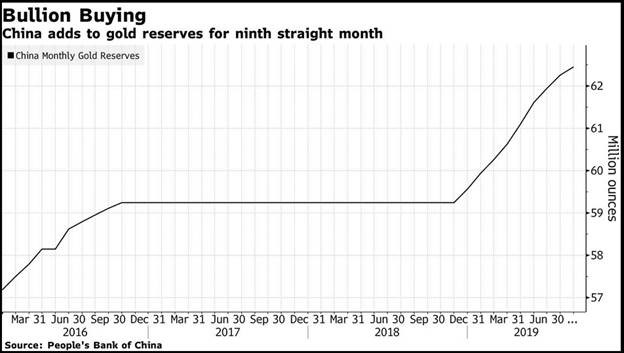 China has added almost 100 tons of gold to its reserves since it resumed buying in December, with the consistent run of accumulation coming amid a rally in prices and the drag of the trade war with Washington. China has previously gone long periods without revealing increases in gold holdings. When the central bank announced a 57% jump in reserves to 53.3 million ounces in mid-2015, it was the first update in six years.
From Dave Lutz at Jones
4.Options Market Seeing Big Bets on Gold and Silver
WSJ Investors Bet on Big Gains by Gold, Silver
Uncertainty from the U.S.-China trade war, political unrest in Hong Kong and Brexit push investors into havens
By 
Inyoung Hwang
Updated Sept. 9, 2019 5:05 pm ET
Options bets are signaling the precious-metals resurgence has much further to go, with traders making wagers that gold may rally an additional 40% and silver almost another 80%.
The most popular option on the SPDR Gold Trust exchange-traded fund, known as GLD, is tied to prices jumping 27% to $180 a share, according to options data provider TradeAlert.
Another popular option pays out if GLD reaches $200, or more than 40% higher than the current level. GLD is a widely used gold ETF that tracks the metal's prices. Shares closed Monday at $141.39 each.
Options are financial products that give a buyer the right but not the obligation to buy or sell. Investors tend to use them to make a speculative bet on an asset, or to hedge another position.
https://www.wsj.com/articles/investors-bet-on-further-rallies-by-gold-silver-11568048637?mod=itp_wsj&ru=yahoo
5.British Pound Breaks to New Lows.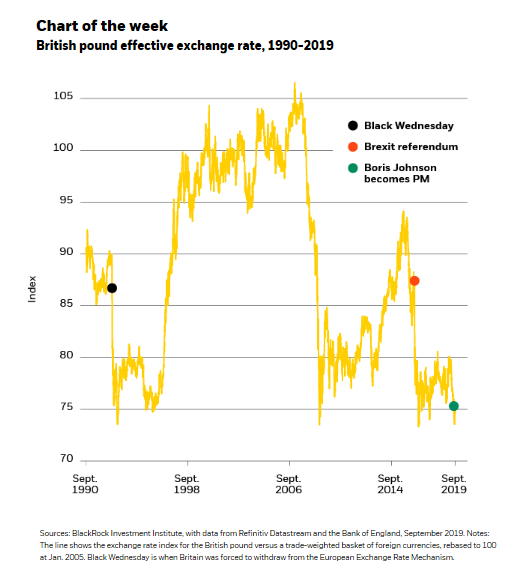 Blackrock
UK political upheaval: market implications
https://www.blackrock.com/us/financial-professionals/insights/weekly-commentary?cid=emc:MIATSept09:FA:ENL:US:NA&elq_mid=36057&elq_cid=176605&elq_cmp=11225
6.Buffett $4B in Yen Denominated Bonds Biggest Ever by Foreign National
Berkshire taps Japan's hunger for yields with $4bn bond debut
Tokyo investors flock to overseas blue-chip issues amid negative rates
HIROKO MATSUMOTO and TAKENORI MIYAMOTO, Nikkei staff writersSEPTEMBER 07, 2019 07:17 JST
Berkshire Hathaway chairman and CEO Warren Buffett enjoys an ice cream treat from Dairy Queen before a Berkshire Hathaway annual meeting in Omaha, Nebraska. © Reuters
TOKYO/NEW YORK — Warren Buffett's Berkshire Hathaway headlined a record day in Japan's bond market Friday by setting the terms on a 430 billion yen ($4 billion) offering, the biggest yen-denominated issue ever by a foreign multinational.
The U.S. investment group is selling five-, seven-, 10-, 15-, 20- and 30-year bonds.
The biggest chunk, 146.5 billion yen in 10-year debt, carries a 0.44% coupon — an attractive yield at a time when Japan's benchmark long-term interest rate languishes below zero.
Banks, insurers, asset managers and other investors flocked to Berkshire's offering, which falls under a global yen bond heading that allows foreign buyers to participate. Debt offerings under this framework have been growing gradually, with such big names as Apple, Starbucks, and Procter & Gamble joining in, and both Wall Street and Japanese financial institutions are pitching bond floats.
https://asia.nikkei.com/Business/Markets/Berkshire-taps-Japan-s-hunger-for-yields-with-4bn-bond-debut
YEN Near 2018 Highs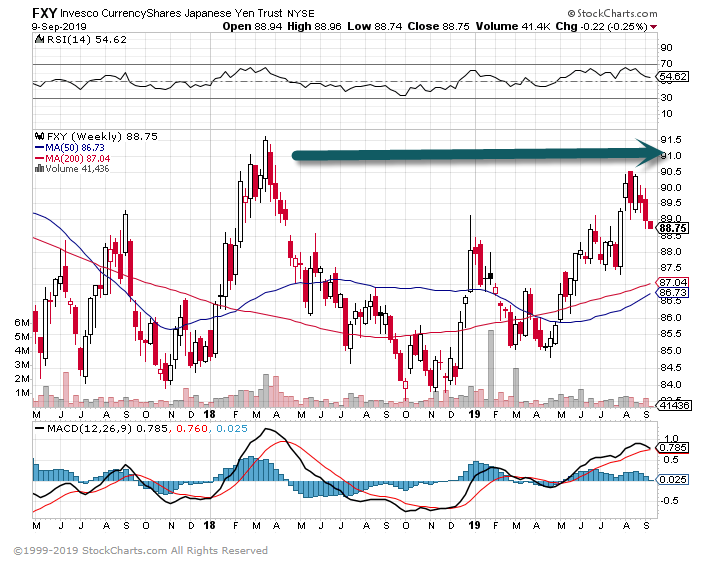 7.Natural Gas Made All-Time Low on Aug. 5th
Nat. Gas (UNG) Heating Up-Bespoke Investment Group
As we noted in Friday's Bespoke Report, the US Natural Gas Fund (UNG) was the top-performing ETF in our asset class performance matrix last week with a 9.16% gain. That move higher is continuing today as UNG has rallied another 3.5% to its highest level since May after breaking above resistance (which also was previous support) around $21. All of this comes after the ETF made an all-time low on August 5th when it opened at $17.75. Since that open, UNG has surged 25.86%.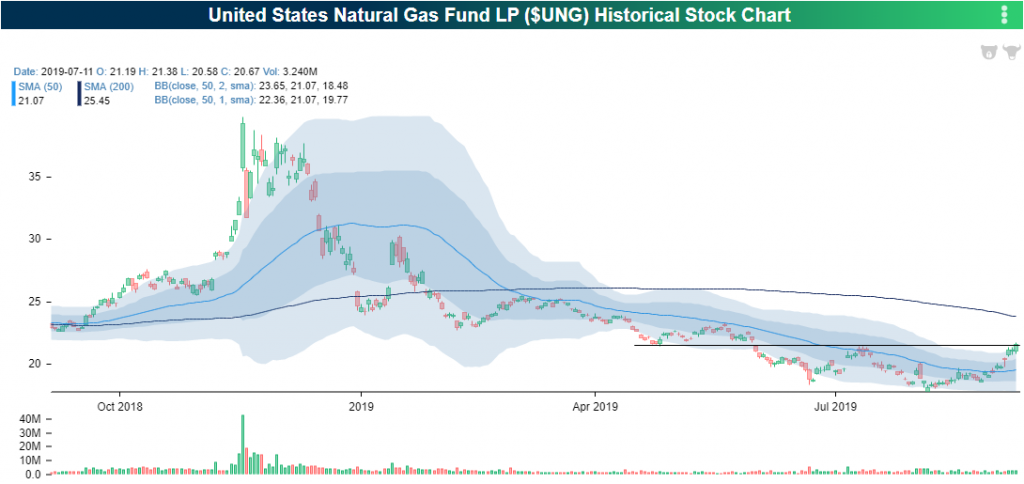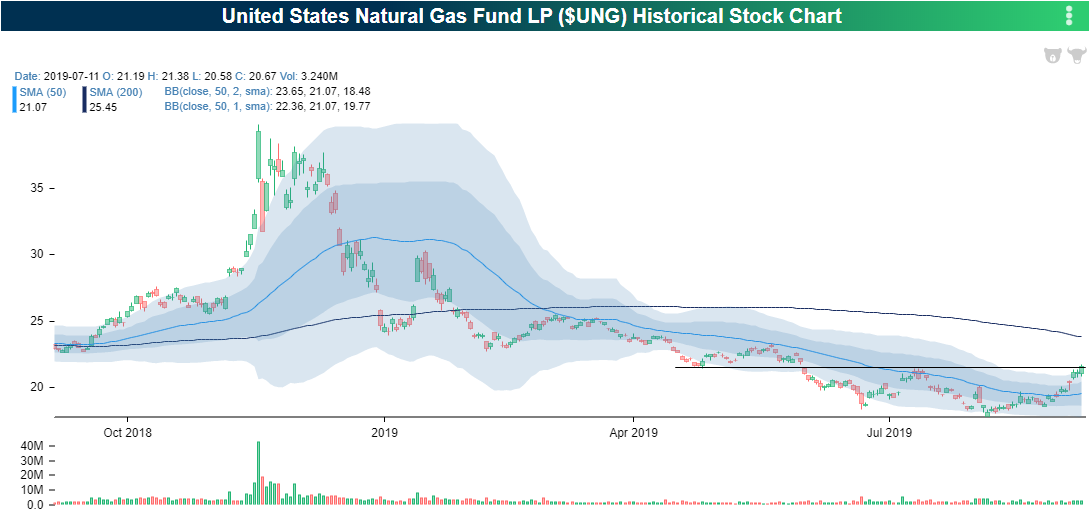 8.The Biggest Increase in Renters is Baby Boomers
Our demographics-based tenant profiles show a steady rise in older homeowners selling their homes to rent. Reasons include rising divorce, need the cash, tax deduction gone, leaving the burbs for urban life, following the kids to a new metro area, etc. hashtag#JBRECDailyInsight John Burns Real Estate Consulting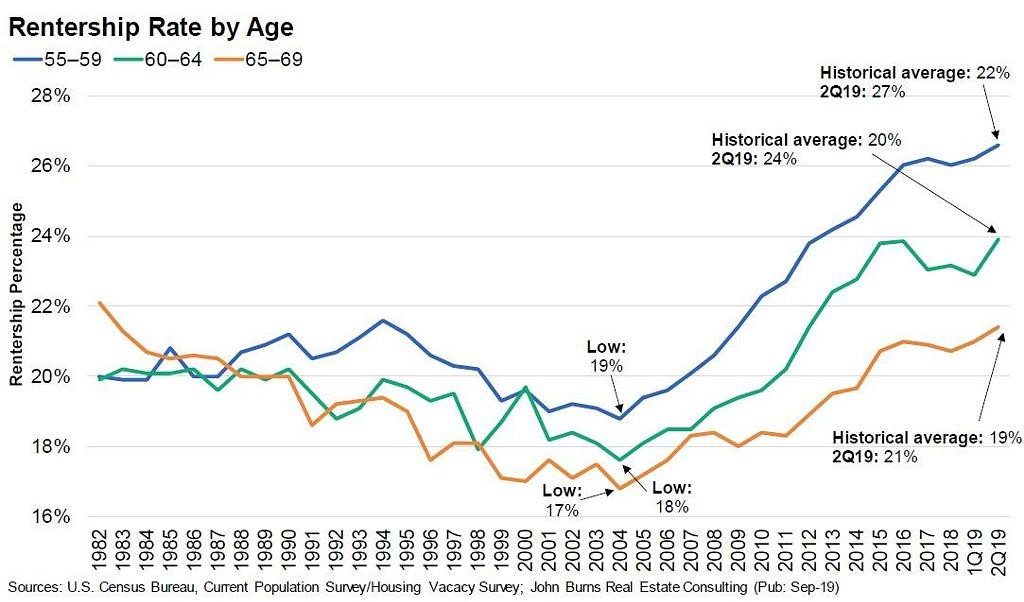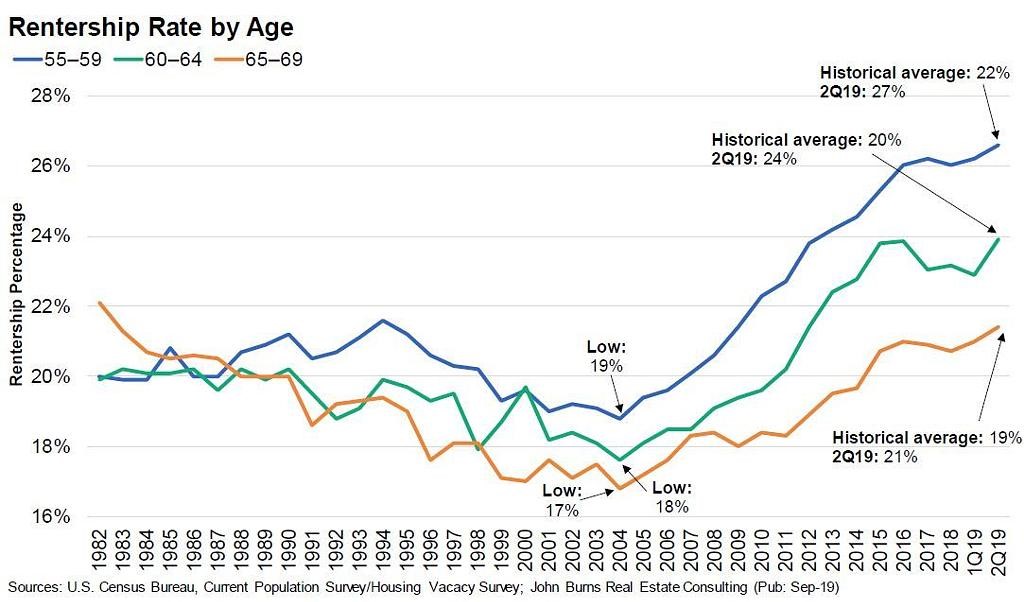 John Burns
CEO, John Burns Real Estate Consulting
https://www.linkedin.com/in/johnburns7/
9.MIT and Epstein.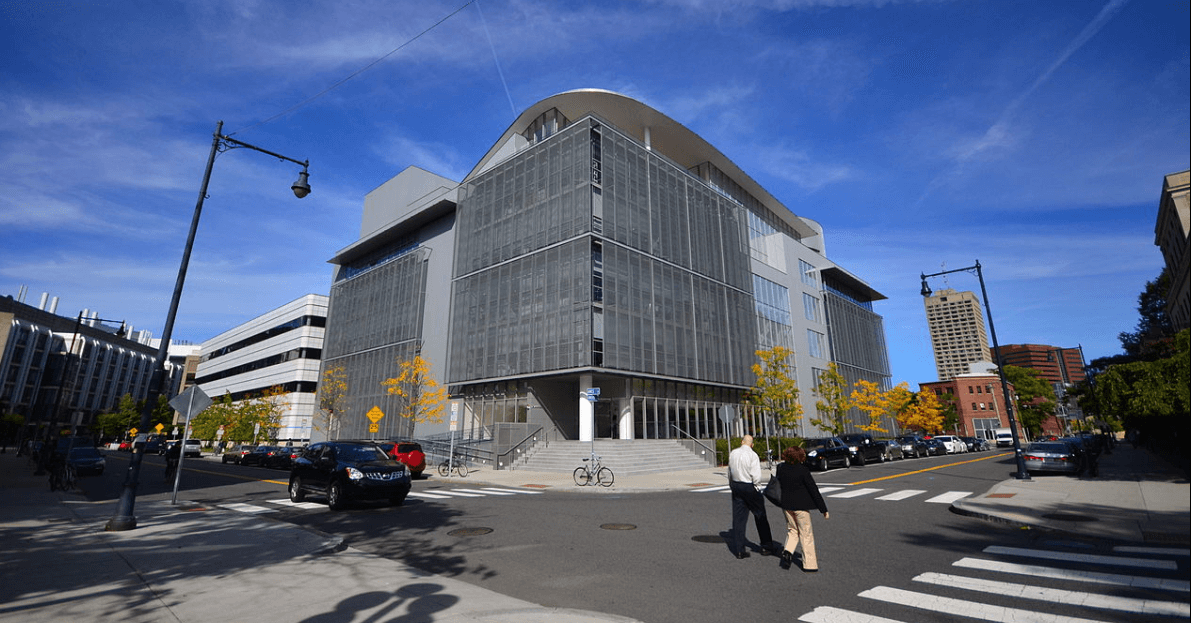 Sayamindu Dasgupta, MIT Media Lab (E14), CC BY-SA 2.0
On Friday, The New Yorker published an explosive piece about the MIT Media Lab's ties to Jeffrey Epstein, the former financier and convicted sex offender who was charged with sex trafficking. Epstein died by suicide in a Manhattan jail last month.  According to the report, the Media Lab… 

– Kept donations from Epstein anonymous
– Accepted more money from him than it acknowledged in public 
– Accepted Epstein's money even though he was labeled "disqualified" in the school's official donor database
– Covered up Epstein's role as a liaison with other wealthy donors 

The Media Lab's director, Joi Ito, resigned less than 24 hours after the New Yorker story was published. The president of the university said MIT's general counsel is hiring a law firm to launch an independent investigation. 

Let's talk about the lab The story alleges that Epstein served as a go-between connecting the Media Lab with prominent businessmen like Bill Gates and investor Leon Black of Apollo Global Management. Gates denied that Epstein directed his grantmaking, and Black hasn't commented. 

What the MIT Media Lab actually is: The NYT describes the research center as "a sort of academic skunkworks" that "prides itself on contrarian thinking." It facilitates research across academic disciplines, with a particular focus on tech, media, science, art, and design. It's contributed to the development of groundbreaking tech like GPS and the touchscreen.  Some current projects:  "Lifelong Kindergarten," which uses tech to introduce new ways of creative learning "Mediated Matter," a group that "focuses on Nature-inspired design and design-inspired Nature"  "Responsive Environments," which explores how sensors influence human relationships

Zoom out: Some researchers say the Media Lab's ties to Epstein were especially troubling coming from a scientific research institution. Kim Holleman, an artist and former visiting scholar at the lab, pointed out that she and others at MIT had been working to "try to make STEM fields safe and welcoming, attractive fields for women and girls in the face of crushing sexism and gender bias."         
10.Expand Your Leadership Limits by Applying the Law of the Lid-Success.com
By John C. Maxwell | September 9, 2019 | 0
Look on almost any street corner in America and you see a fast food franchise. Did you ever wonder why these places are so successful everywhere they go?
It certainly isn't that the food is top of the line, although most of us will indulge in a guilty pleasure now and again. The key is consistency.
If you stop for lunch at an airport McDonald's half the continent away, the meal and the experience will be almost identical to the lunch you could order at the McDonald's closest to your home. What's more, anytime you eat at a McDonald's you may feel nostalgia because the tastes are so similar to your first Happy Meal when you were a child.
The success of McDonald's, which truly set the stage for countless other franchise businesses all over the world, is owed to a man named Ray Kroc, who in 1954 partnered with the founding brothers behind the first McDonald's restaurants to make these outposts a nationwide sensation, and later bought the exclusive rights to the entire business.
---
The higher the person's ability to lead, the higher the lid on his or her potential.
---
Kroc was able to push the restaurants farther than the founders ever could because the difference between he and the McDonald brothers exemplifies one of the most important concepts in leadership: the Law of the Lid.
Dick and Maurice McDonald had built a small but successful enterprise in Southern California. They lived comfortably. Their hamburgers were popular. But their lid for success was low: They didn't have the vision to lead their company to what it would ultimately become. They were efficient managers, but their thinking patterns clamped down a lid on what they could do and become.
In contrast, the leadership lid in Kroc's life was sky high. Between 1955 and 1959, he succeeded in opening 100 McDonald's restaurants. Four years after that, there were 500 McDonald's. Today the company has more than 35,000 locations in over 120 countries around the world!
The Law of the Lid is the best explanation of the value of leadership; if you can get a handle on this law, you will see the incredible impact of leadership on every aspect of your life.
It's simple: Leadership ability determines a person's level of effectiveness. The higher the person's ability to lead, the higher the lid on his or her potential.
---
Your leadership ability, for better or worse, will always determine the impact of your organization, your team or yourself personally.
---
If your leadership rates an 8 on a scale of 1-10, then your effectiveness will never be higher than a 7. If your leadership rates a 4, then your effectiveness is going to always be stuck at 3. Your leadership ability, for better or worse, will always determine the impact of your organization, your team or yourself personally.
Wherever you look, you can find talented, smart people who are only able to go so far because of the limitations of their leadership. That's why in times of trouble, organizations naturally look for new leadership. When the country is experiencing hard times, it elects a new president. When a sports team keeps losing, it looks for a new head coach.
The good news is that getting rid of the leader isn't the only way to lift the lid. Continuing in your study of leadership is another sure way.
Related: How Moral Authority Makes Leaders Better
---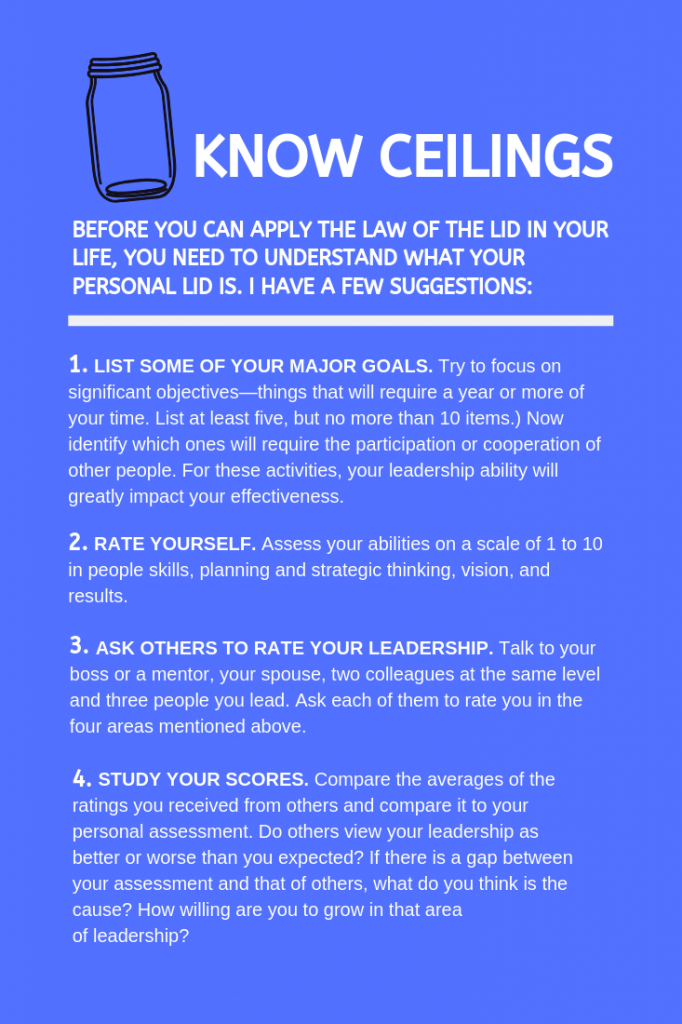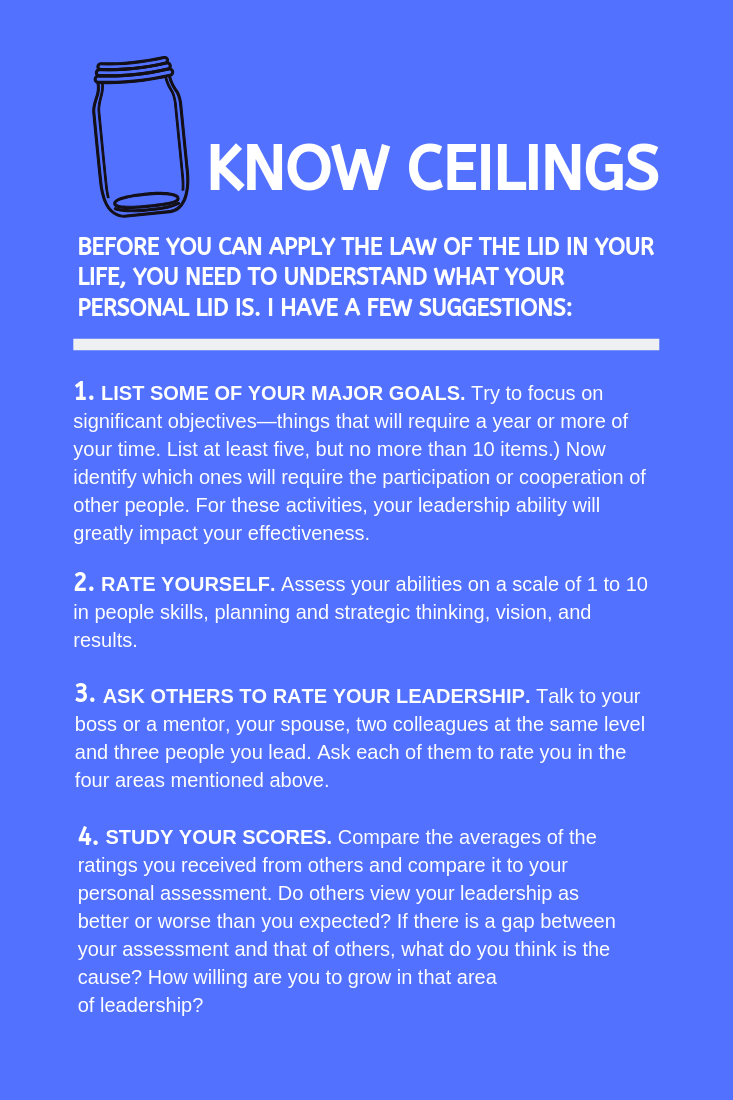 How can you apply the Law of the Lid in your life?
---
This article originally appeared in the September/October 2019 issue of SUCCESS magazine.
Photo by Yuliya Derbisheva VLG / Shutterstock.com