1.More Money Losing IPOs than 2000. 
Stock investors are welcoming money-losing companies into the public markets this year with open arms.
About 83% of U.S.-listed initial public offerings in 2018's first three quarters involve companies that lost money in the 12 months leading up to their debut, according to data compiled by University of Florida finance professor Jay Ritter. That is the highest proportion on record, according to Mr. Ritter, an IPO expert whose data goes back to 1980.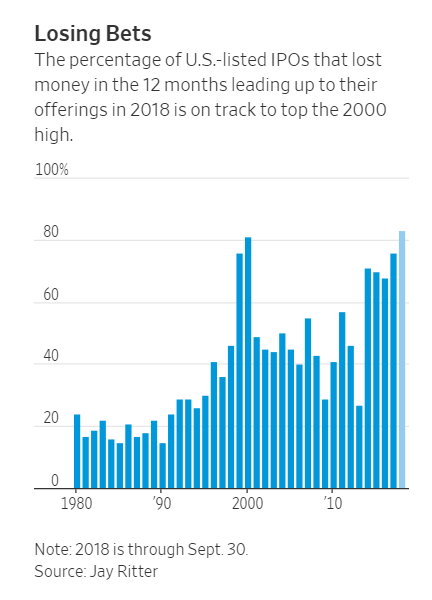 IPO Market Has Never Been This Forgiving to Money-Losing Firms
Money-losing companies are going public at a record rate as investors hunger for new issues
https://www.wsj.com/articles/red-ink-floods-ipo-market-1538388000?tesla=y
2.The Russell Top 200 Growth has Beaten the Russell Top 200 Value for Seven Consecutive Quarters, the Longest Streak Since Data Began in 1985
Statistic from Ned Davis Research www.ndr.com
IWY Russell Top 200 Growth +15.8% YTD vs. Russell Top 200 Value +2.9%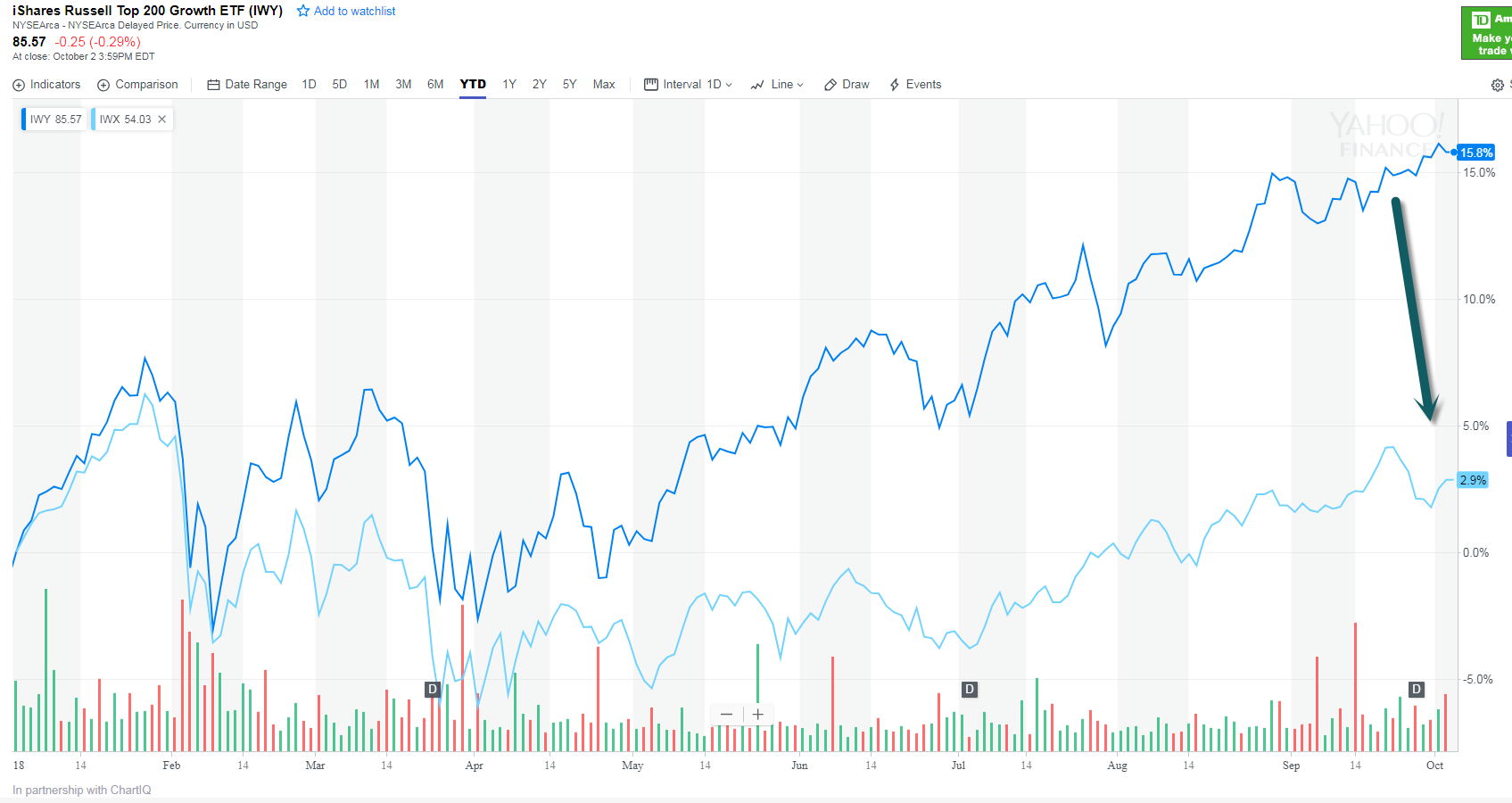 3. The U.S. Currently Trades in 93rd Percentile Relative to Global Ex-U.S. on P/B Basis.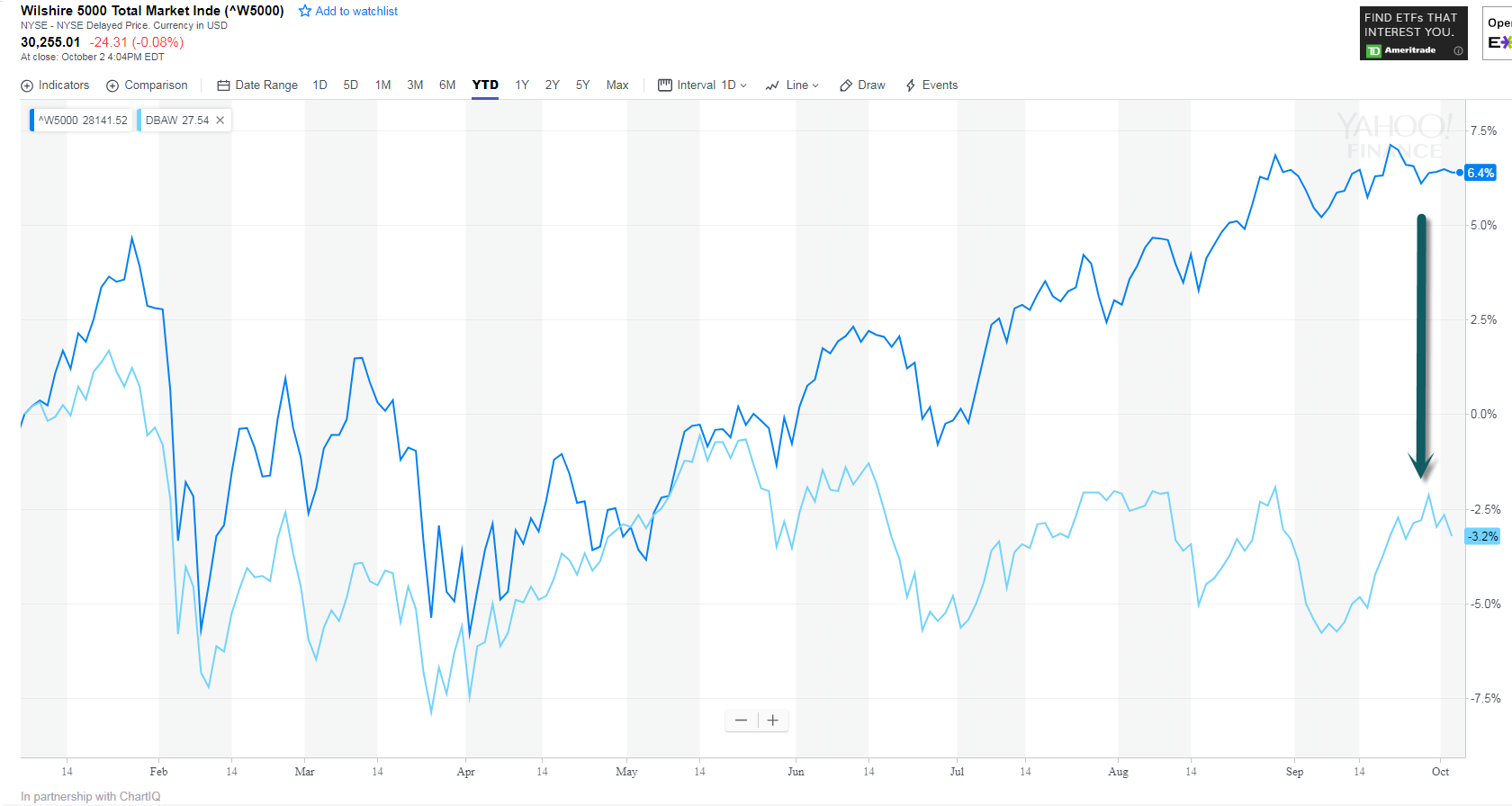 4.Emerging Market Currency Volatility Calming Down.
Emerging Markets: Investors are becoming less jittery about EM currencies. Here is JP Morgan's EM currency volatility index.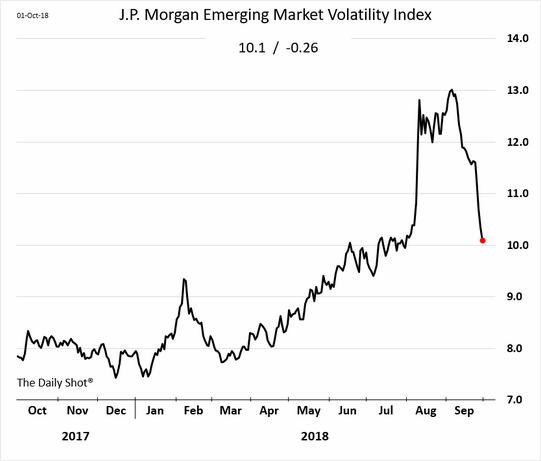 Source: The Daily Shot
https://blogs.wsj.com/dailyshot/
5.Some Energy ETFs Hitting New Highs.
USO-50 day thru 200 day to upside.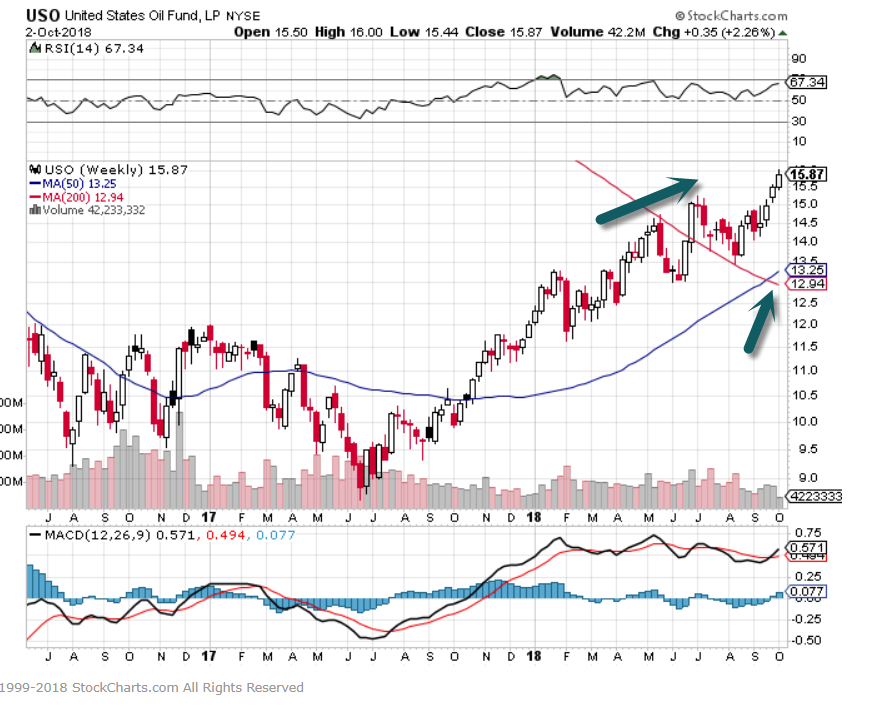 XOP 50day thru 200day to upside.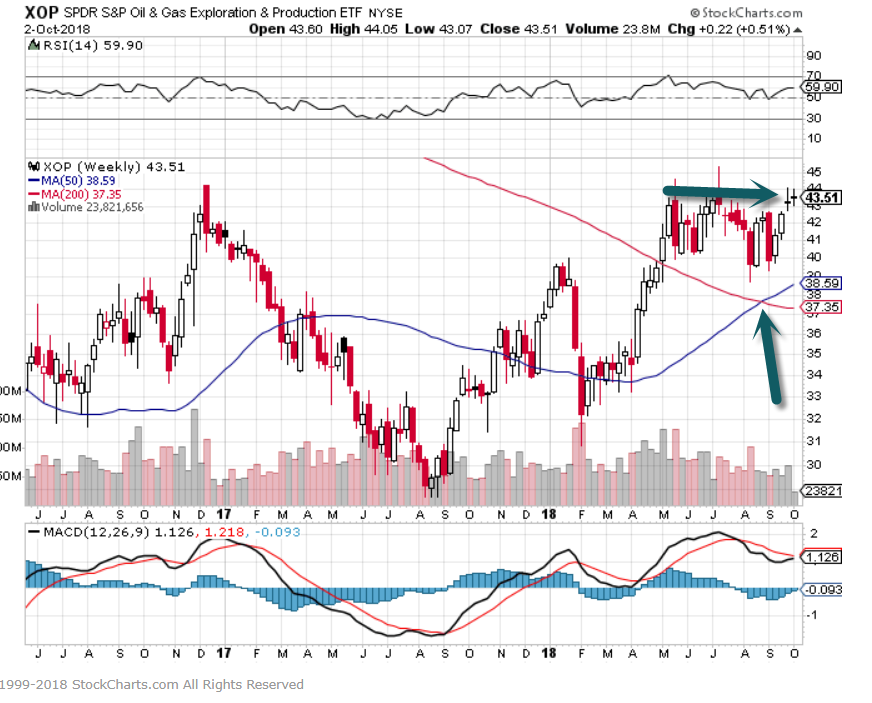 6.Energy Sector Breadth Better than Market.
While not at a new high, the S&P 500 Energy sector looks to be on the right path after convincingly breaking its downtrend from the highs in the Spring.  Also working in the sector's favor is that along with the rally in crude oil, natural gas prices also rallied yesterday to their highest prices since January.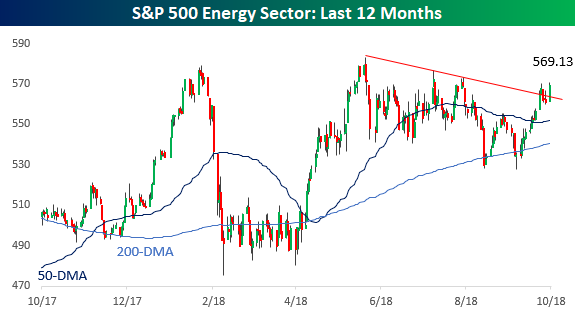 Internals for the Energy sector also look positive.  The chart below compares the sector's price and cumulative A/D line.  While prices aren't yet at new highs, breadth has been strong and consistently trending higher for the last several weeks.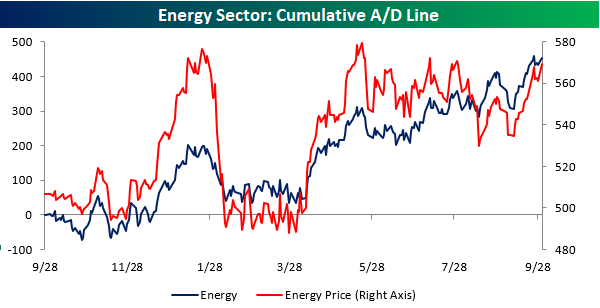 Bespoke Investment Group
https://www.bespokepremium.com/think-big-blog/
7.Top Performing Non-Leveraged ETFs YTD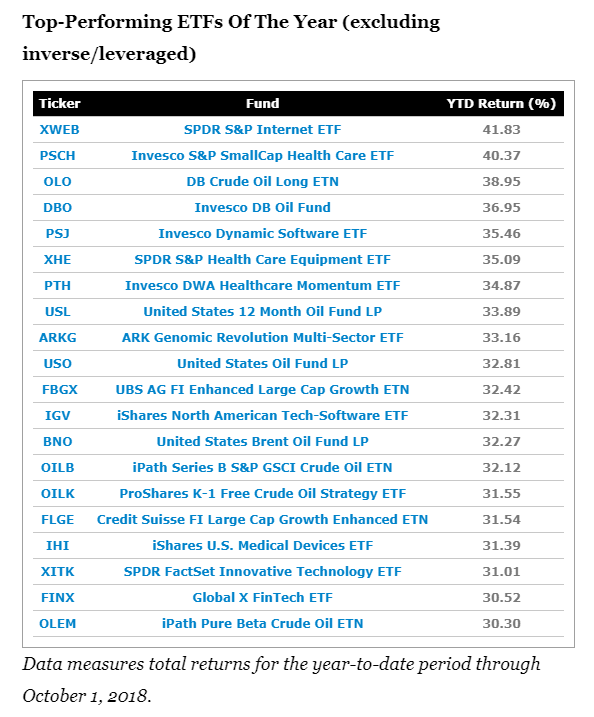 https://www.etf.com/sections/features-and-news/top-performing-etfs-year-0
8.Amazon Lifts Minimum Pay to $15 per Hour.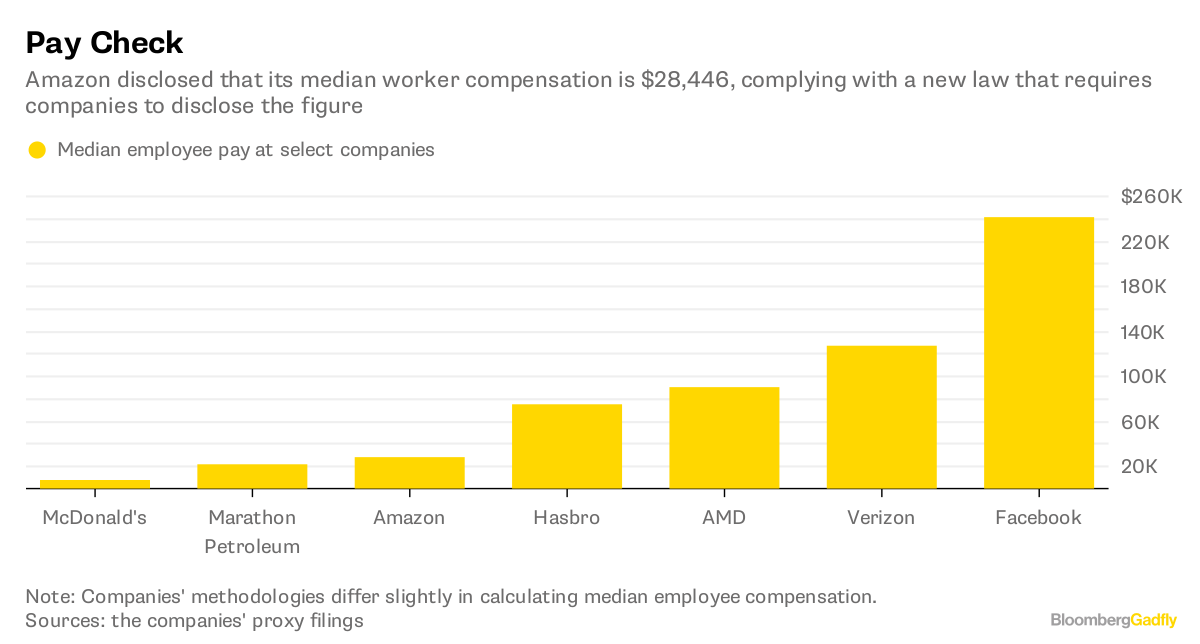 https://www.bloomberg.com/gadfly/articles/2018-04-19/amazon-is-defined-by-billions-median-salary-is-28-446
9.Read of the Day…Millennials are more likely to buy marijuana products if they're marketed as a 'lifestyle brand,' one trend forecaster found.
By KARIPAUL
Jena, a 27-year-old business operations employee based in Chicago, has consumed alcohol socially for nearly a decade. In recent months, however, she decided it was not worth the calories or hangovers. She switched to cannabis products, and now she smokes marijuana once or twice a week and eats gummy candies with cannabidiol, also known as CBD, a chemical component of marijuana that's legal and doesn't intoxicate users.
"I realized that I get zero enjoyment out of drinking and it costs me more money than weed does," said Jena, who asked to omit her last name because marijuana is not legal where she lives.
The street price for marijuana in Chicago is $18 per gram and the average beer at a bar is $6. Jena said she used to spend $30 to $50 on alcohol in one night, several nights a week, and now spends less than $30 on marijuana a month.
"I definitely enjoy weed better. It's more relaxing, I don't have to worry about how I acted the night before, and don't have to deal with hangovers or throwing up the morning after," she said.
Nine states and Washington, D.C. have legalized recreational marijuana. Even more states allow products containing CBD, the non-psychoactive component of cannabis that some clinical trials have shown may help with anxiety and muscle pain without making users high.
'I definitely enjoy weed better. It's more relaxing, don't have to worry about how I acted the night before, and don't have to deal with hangovers or throwing up the morning after.'—Jena, a marijuana user in Chicago.
Although Illinois, where Jena lives, is not one of those states, she said the decriminalization of cannabis in other places in the U.S. has relaxed attitudes around its use in social settings. The majority of the 55 million recreational marijuana users in the U.S. are millennials, according to a 2017 Yahoo News poll. Most millennials use marijuana socially: Only 25% of them smoke alone.
Daily marijuana use among 12th graders increased from 1.9% in 1992 to 5.9% in 2017, the study showed. "For the first time, trends in alcohol and marijuana use are substantially diverging, suggesting that the historical relationship between these two drugs may be changing," it concluded.
Meanwhile, millennials drink far less alcohol than past generations, an annual national survey of 50,000 adolescents and young adults in America from the Monitoring the Future Study found. The share of college students who drink alcohol daily fell from 4.3% in 2016 to 2.2% in 2017, a more than 4 percentage-point drop from the 6.5% of college students who used alcohol daily in 1980.
A new market is opening up
Recreational cannabis was a $6 billion industry in 2016 and, as more states move to legalize marijuana, it's projected to increase more than 700% to $50 billion in annual legal sales by 2026, according to financial firm Cowen and Co. The average marijuana user spends $647 on legal purchases of the drug annually. (That's still tiny compared to the U.S. alcohol market, which is worth around $58 billion a year, according to industry analysis firm IBISworld.)
To woo millennials, cannabis companies will have to morph into "lifestyle companies," according to a report, "Cannabis: How marijuana is joining spin class, pressed juice and craft beer as a lifestyle brand," released by trend forecaster High Pressure Zone. "Lifestyle brands succeed because they seamlessly fit a product to a person's lifestyle, rather than forcing a lifestyle change to fit a product," the report said.
Read full story
https://www.marketwatch.com/story/millennials-appear-to-like-cannabis-more-than-booze-2018-09-26
10.Okinawa Marines Honor Gold Star Father Who Enlisted To Finish What Son Started
By
Matthew M. Burke, Stars and Stripes
Looking for a great career? Or know another veteran, service member, or military spouse who is? Get started at Hirepurpose.
Bill Krissoff is a serious man who quickly becomes warm and friendly in conversation. Refined, with a full head of gray hair, he looks as much like a grandfather as he does an accomplished orthopedic surgeon.
Yet beneath the unassuming facade, Krissoff and his family are perhaps one of the most heroic and selfless examples of service in the post-Sept. 11, 2001, war on terror.
After losing his son, Marine 1st Lt. Nathan Krissoff, in 2006 to a roadside bomb in Fallujah, Iraq, he joined the Navy medical corps after leveraging a meeting with President George W. Bush to obtain the needed age waiver. He later deployed to both Iraq and Afghanistan where he is credited with saving countless lives.
Krissoff is on Okinawa this week as an honored guest of Lt. Gen. Lawrence Nicholson, III Marine Expeditionary Force commander, who led the 5th Marine Regiment in Fallujah when Nathan Krissoff was killed.
Krissoff, who received an award dedicated to his son from the 3rd Reconnaissance Battalion, was also to attend Marine Corps birthday balls and speak to Marines and members of Okinawa's military medical community about his experiences.
"Bill Krissoff is one of my heroes," Nicholson said in a video tribute made by Steven Spielberg that aired at the 2014 Concert for Valor on the National Mall in Washington, D.C. "There's no doubt in my mind that because of his presence [downrange], there are Marines alive today."
'He wanted to serve'
Krissoff's story starts with Nathan, who was deeply impacted by the terrorist attacks of Sept. 11, 2001.
"Like many men and women of his generation, he wanted to serve," he said. "He chose the challenge of the Marine Corps to fulfill that."
Nathan entered officer candidate school in June 2003. Upon graduation, he was assigned to 3rd Intelligence Battalion in Okinawa, Japan as a counterintelligence specialist. After exercises on mainland Japan and the Philippines, he wanted to deploy and was able to get attached to 3rd Reconnaissance Battalion when it was sent to Fallujah.
Krissoff said things were starting to get "rough" in Anbar Province before Nathan arrived in September 2006. As Nathan deployed, his brother Austin was preparing to enter officer candidate school, having recently graduated from college.
"Almost five years to the day after September 11, 2001, I have the chance to put my money where my mouth is in terms of service," Nate wrote in an email to his family, according to the book, "For Love of Country" by Howard Schultz and Rajiv Chandrasekaran. "I'm constantly reminded of that famous quote from Tom Hanks' character at the end of Saving Private Ryan: 'Earn this.' Earning it will mean sacrifice, determination, doing my job to the best of my ability. I chose this, and I wouldn't have it any other way."
Nathan, then 25, was killed Dec. 9, 2006, when his Humvee drove over explosives that had been buried in a dry riverbed. Nathan, who was sitting in the right rear seat, took the brunt of the blast.
He was remembered as a natural leader who was dedicated to his Marines and had a talent for collecting information that could potentially save lives.
After his son was laid to rest, Krissoff got back to work. However, there was a void, something left unfulfilled. He got the idea to join the service after a visit and a conversation about theater medicine with Nathan's battalion commander.
"At that point, I contacted a Navy medical recruiter and expressed my interest [in becoming a battalion surgeon taking care of wounded and injured Marines]," Krissoff said. "He politely thanked me for my interest but doubted I could get an age waiver since I was 60 at the time."
In August 2007, President Bush went to Reno to give a speech. Afterwards, he met with families who had lost loved ones in Iraq and Afghanistan. At the conclusion of an emotional meeting, Bush asked if there was anything that the families needed.
"I asked him directly, 'I'm an orthopedic surgeon and wanted to serve in the Navy medical corps but was told I was too old, and no disrespect sir, I'm younger than you are,'" Krissoff recalled. Bush looked to Krissoff's wife, who was supportive.
"He said, 'No promises, but we'll see what we can do,'" Krissoff said. "Two days later, I got a call from the recruiter. Kind of chuckling, he said, 'Bill, it looks like you got your age waiver.'"
Raising his hand
Krissoff entered the service as a lieutenant commander in the Navy and joined a reserve unit, 4th Medical Battalion, based out of San Diego. Intent on deploying, he took every combat medical course available. Then he raised his hand and volunteered.
In February 2009, he arrived in Iraq for a seven-month deployment. The country was mostly pacified by that time so the care was predominantly routine, he said. He was able to visit Austin who was deployed to Iraq with the Marines. Then he returned home.
Back in the states, Krissoff took active-duty orders to Camp Pendleton, Calif. After only a few weeks, he heard that the next rotation of doctors was heading to Afghanistan — and they had an opening. Once again, he volunteered. He hadn't even unpacked his bags from Iraq.
Krissoff arrived at Camp Bastion in southern Afghanistan as the battle for Marjah was kicking off in February 2010. He was resolved to finish what Nathan started and get Marines back home safely.
"We saw lots of combat injuries," he said. "Probably two-thirds were extremity injuries."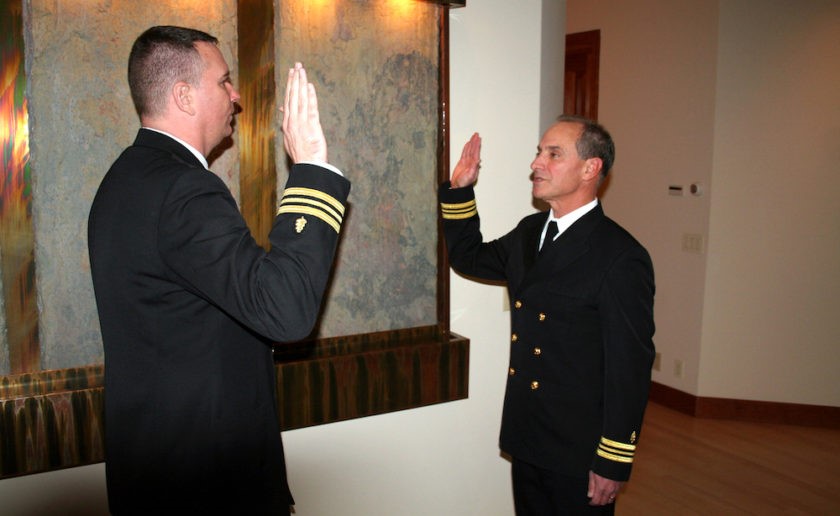 Photo via DoD
Lt. Cmdr. William B. Krissoff, a Board Certified Orthopedic Surgeon specializing in trauma and sports medicine, is officially commissioned as a lieutenant commander in the U.S. Navy Medical Corps at his home in 2007. Krissoff's oldest son 1st Lt. Nathan M. Krissoff was killed in lraq in December 2006.
With so many injuries to arms and legs, Krissoff said the goal was to clean the wounds, stabilize the patients and move them to more capable medical facilities out of theater.
In his time in Afghanistan, Krissoff served as the primary or assistant surgeon on 225 serious casualties, including countless amputations, according to "For Love of Country." Marines coming into Bastion with a heartbeat had a 97 percent chance of making it to the next facility alive.
"The results were good, and the care, in my opinion, was second to none," Krissoff said.
He served for six years. He also deployed to Morocco and Guantanamo Bay, Cuba.
While Krissoff admits you never find closure after the loss of a loved one, he feels that he did finish what Nathan started.
"In most families, dad inspires sons. In our family, sons inspire dad," Krissoff said.
"I was pretty much inspired by both sons who joined the Marines to put the uniform on and to serve … [Nate] was a natural leader with a keen wit, wry grin, and he was a joy to us, for sure."
———
©2017 the Stars and Stripes. Distributed by Tribune Content Agency, LLC