1.S&P Earnings So Far…-3% Year Over Year.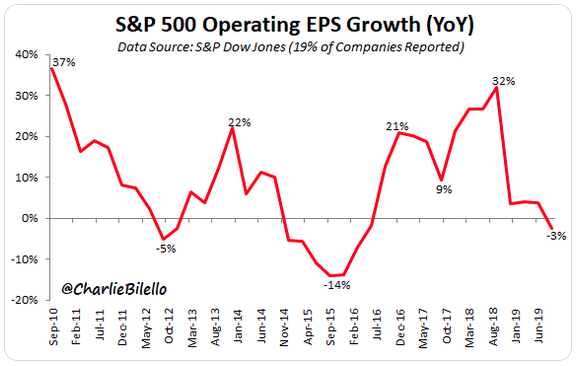 With 19% of companies reported, S&P 500 earnings down 3% year-over-year, slowest growth since Q1 2016.
DAVE LUTZ AT JONES TRADING
2.Softbank and We Work.
SoftBank is in late-stage talks to take control of WeWork through a deal that would give the Japanese conglomerate as much as a 70% stake, CNBC reported yesterday. The deal pegs WeWork's value between $7.5 billion and $8 billion…juuuust a bit shy of the $47 billion valuation it got from SoftBank in January.
The takeover could include up to $3 billion in purchases of existing stock and $5 billion in debt financing, Bloomberg reports.
It would also further reduce WeWork co-founder Adam Neumann's stake and install SoftBank's Marcelo Claure in the c-suite.
WeWork's board is expected to meet today to discuss the takeover as well as a loan package presented by JPMorgan.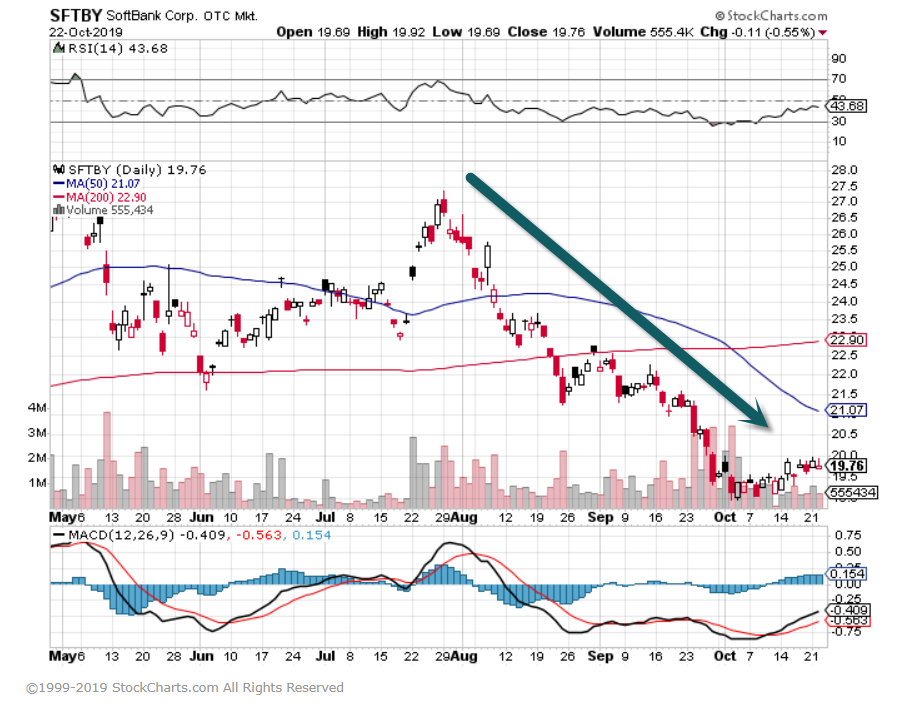 3.S&P 500 Average Performance by Weekday: 2019
Mon, Oct 21, 2019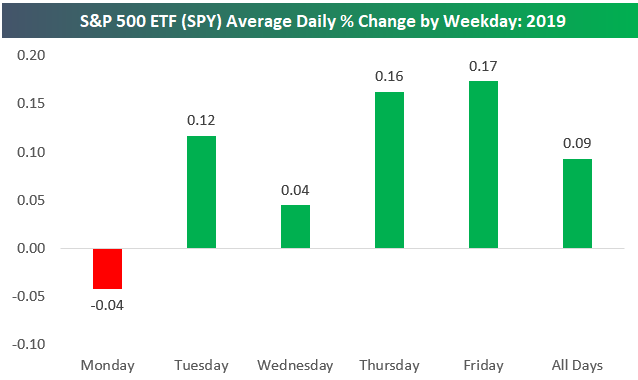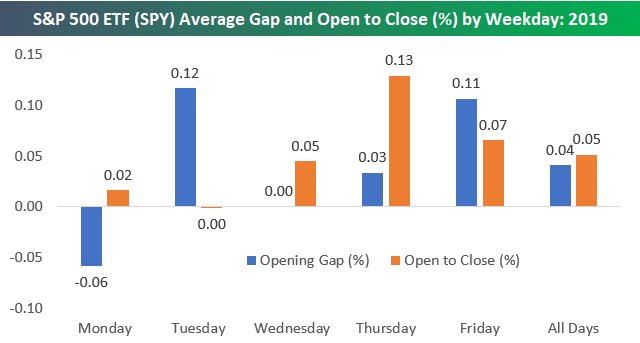 Below is an updated look at the average performance of the S&P 500 (SPY) by weekday so far in 2019.  As shown, Monday has been the only day of the trading week that has averaged a decline so far this year, but Tuesday has bounced back with an average gain of 0.12%.  Wednesday has seen a small gain of 0.04%, but Thursday and Friday have both been very solid days this year.  Thursday has seen the S&P average a gain of 0.16%, while Friday has closed out the week with an average gain of 0.17%.  For all days this year, SPY has averaged a gain of 0.09%.  That's all you need per day to get to a 20% YTD gain through 10.5 months.

We can break the day out by opening gap versus open to close change as well.  By opening gap, we mean SPY's change from its prior day's close to its next open.  The open to close is the change from SPY's opening price at 9:30 AM ET to its closing price at 4 PM ET.  The opening gap and the open to close change combine for SPY's full one-day change.

As noted above, Monday has been the only trading day of the week this year to average a decline.  As shown below, all of that decline has come at the open of trading on Monday.  SPY has averaged a gap down of 0.06% at the open on Mondays, but it has averaged an open to close gain of 0.02%.  On Tuesdays, we've seen a reversal of Monday's trend.  SPY has averaged an opening gap of 0.12% on Tuesdays in 2019 and then a flat open to close.

Wednesday has averaged a flat open and a gain of 0.05% from the open to the close, while Thursday has averaged a gap up of 0.03% and a further gain of 0.13% from the open to the close.

Friday has seen strength at the open with an average gap higher of 0.11%.  Intraday action on Fridays has been strong as well with an average open to close gain of 0.07%.  With all the strength on Friday, investors haven't been worried about holding equities over the weekend this year even with all the concerns over trade and geopolitical issues.  They do come into the new trading week with some worries, though, given the Monday gaps down
BESPOKE INVESTMENT GROUP
https://www.bespokepremium.com/interactive/posts/think-big-blog/sp-500-average-performance-by-weekday-2019
4.Headlines Today on Caterpillar Earnings Miss.
CAT viewed as measure of global growth but it topped out in 2017.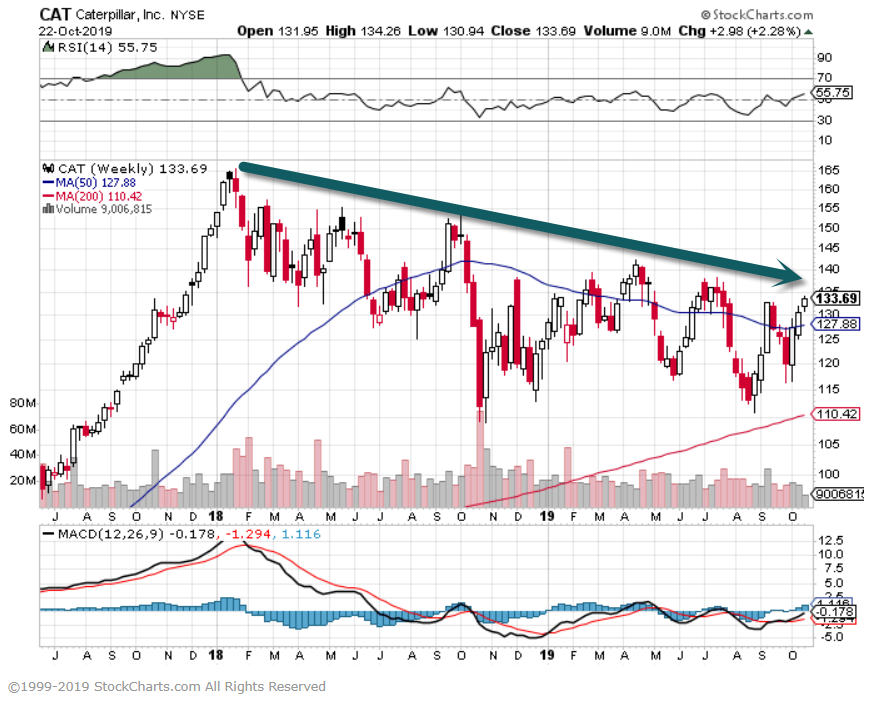 5.First Half of Decade Saw Most of S&P Returns.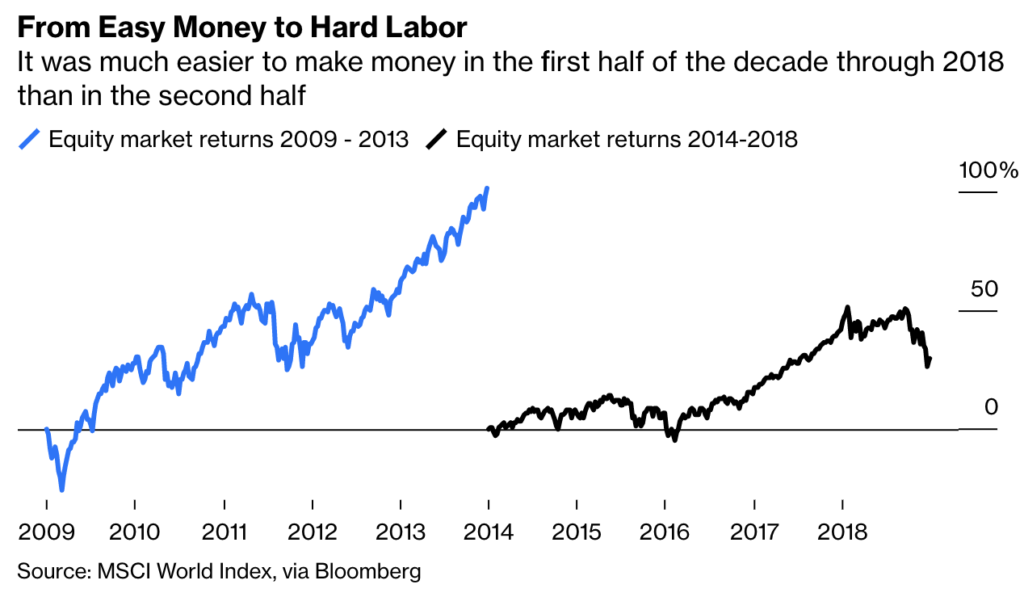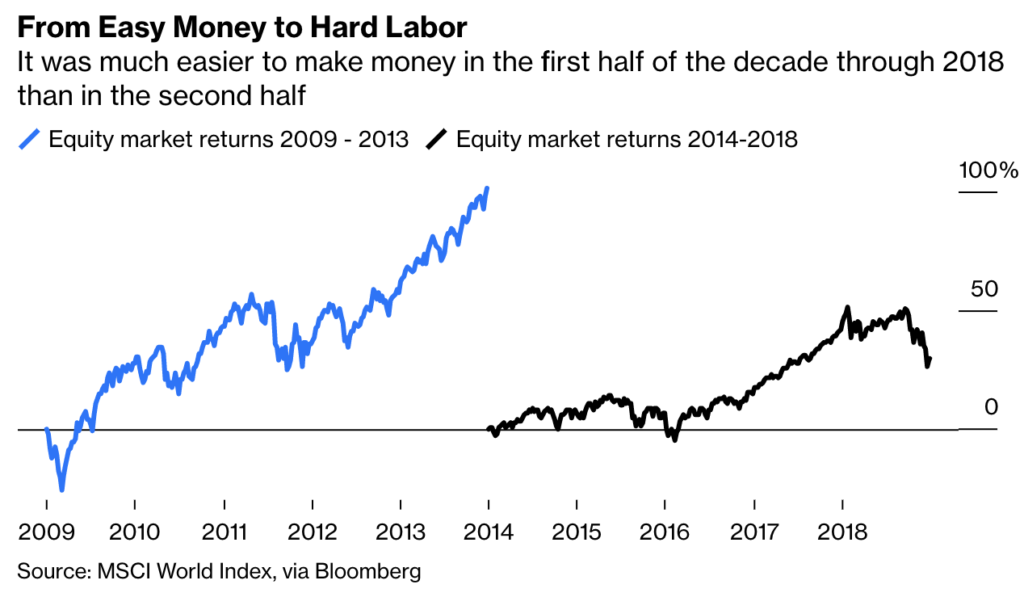 From Barry Ritholtz Blog
My Two-for-Tuesday morning train reads: • China doubles value of infrastructure project approvals to stave off economic slowdown amid…
FROM BARRY RITHOLTZ BLOG
6.Why the IPO Market is Different This Time
Posted October 22, 2019 by Ben Carlson
Certain prognosticators have been calling this cycle tech bubble for some time now. There have been more than a handful of 1999 comparisons. This analogy falls flat for a number of reasons. The dot-com bubble was otherworldly in terms of investor euphoria but this time around most of the insanity has been happening behind the scenes in the private markets.
The public markets have been far more skeptical this time around (and for good reason). This is a piece I wrote for Fortune about where the IPO market is different this time in terms of performance but also similar in terms of historical first-day returns.
*******
The IPO market is having a rough go at it in 2019. WeWork just shelved plans to go public after public markets basically revolted following the release of their S-1. Shares of Peloton fell double-digits when it IPO'd last week. Other former private-turned-public tech darlings such as Uber, Lyft, and Slack have had less than stellar performance after going public this year.
If we break down the returns for some of the most high profile tech IPOs of this decade, it shows the performance is all over the map:
Surprisingly, only a handful of these companies had poor first-day showings when they went public. Facebook (+1%), Uber (-8%), Peloton (-11%), Lyft (+9%) and Spotify (+13%) all had relatively pedestrian first days of trading when they went public in comparison to most tech IPOs. The rest of these companies experienced huge pops in their share price on IPO day:
READ FULL STORY AT BEN CARLSON BLOG —https://awealthofcommonsense.com/2019/10/why-the-ipo-market-is-different-this-time/
7.ECB Due to Start Buying Corporate Bonds…Will They End Up Japanese? Eventually Buying Equity ETFs.
The ECB is running out of options to stimulate the region's economy. Negative interest rates and now there may be no more government bonds to purchase in the next phase of QE. They will have to start focusing on ABS and Corporate bonds. This is not going to end well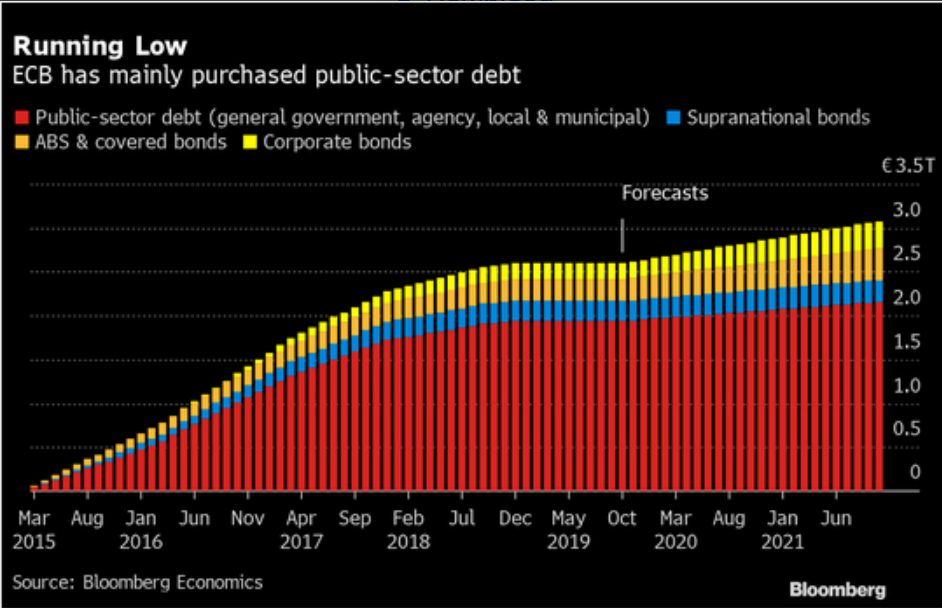 Don A. Steinbrugge, CFAFounder and CEO at Agecroft Partners
8.Netflix Co-Founder Says Entrepreneurs Should Constantly Remind Themselves That 'Nobody Knows Anything'
Here's how to overcome the skepticism that greets new ideas.
By Carmine GalloKeynote speaker and author, 'Five Stars: The Communication Secrets to Get From Good to Great'@carminegallo
Marc Randolph.
When Marc Randolph came up with the idea for Netflix, the first reaction he received from dozens of people–including his wife–was, "That will never work."
In Randolph's new book, That Will Never Work: The Birth of Netflix and the Amazing Life of an Idea, he says that every entrepreneur has had the same experience he did. They land on an idea, run downstairs to tell their spouse or kids, or run it by their boss or professors. And they nearly all get the same response: "That will never work."
After founding more than half a dozen successful startups (Netflix was his seventh), Randolph has three words of advice for any entrepreneur whose idea is met with skepticism: "Nobody knows anything."
The Key to Understanding Hollywood and Startups
Randolph says the key to understanding Hollywood and startups is a phrase he picked up after reading a book by Hollywood screenwriter, William Goldman. He wrote movies such as Butch Cassidy and the Sundance Kid andThe Princess Bride. Goldman was famous for writing three words: Nobody. Knows. Anything.
Goldman explained this by pointing out that a script with award-winning directors and actors and a $50 million budget such as Heaven's Gate could flop while scripts with no-name actors and a $50,000 budget like Blair Witch Project sometimes go on to gross $250 million. As I was working on this article, a news report popped up on my desktop. The Will Smith movie, Gemini Man, is on track to lose $75 million dollars "despite an Oscar-winning director and one of the world's most popular stars."
Nothing's changed. We can make educated guesses about the potential success of a movie, product, or startup, but the reality is that nobody knows anything.
Trust Your Idea and Test It
Here's the key. According to Randolph, knowing that nobody knows anything can be a source of encouragement. "Because if nobody knows anything–if it's truly impossible to know in advance which ideas are the good ones and which aren't … then any idea could be the one to succeed." You need to trust that your idea has merit and be willing to step out, try it, and risk having it fail. "There are bad ideas. But you don't know an idea is bad until you've tried it," says Randolph.
For example, the original idea for Netflix was a bad one. Randolph and his co-founder (current CEO, Reed Hastings) conceived the startup as an online video store. Selling VHS tapes over the internet didn't make economic sense and, later, selling and renting DVD's was also a money-losing experiment. The subscription model saved Netflix, but it wasn't something anyone would have predicted when they started the company. They arrived at the subscription model only after years of trying other things and thousands of hours of brainstorms.
In 2000, Randolph and Hastings were facing a cash crunch and offered to partner with Blockbuster. At the time, Blockbuster was making $6 billion a year while Netflix made $5 million. The Blockbuster executives laughed during the pitch. Today Blockbuster is out of business and Netflix is worth $150 billion. The Blockbuster team didn't know as much as they thought.
If nobody really knows anything and it's impossible to predict which one of your ideas will ultimately succeed, what's an entrepreneur to do? "The most powerful step that anyone can take to turn their dreams into reality is a simple one," says Randolph. "You just need to start. So take that step. Build something, make something, test something, sell something. Learn for yourself if your idea is a good one."
Randolph closes his book with a quote by Nolan Bushnell, the co-founder of Atari. Bushnell once said, "Everyone who has taken a shower has had an idea. But it's the people who get out of the shower, towel off, and do something about it that make the difference." Testing an idea will teach you more in one day than spending a year thinking about it.
Stop talking and start testing.