1.Emerging Markets Earnings Estimates Increasing.
The earnings outlook in the U.S. is darkening, but the view from developing markets is perking up. The ratio of earnings estimates between the S&P 500 and the MSCI Emerging Markets is at the lowest since early August. Optimism of an end to the trade war is sending EM stocks and currencies toward their second monthly advance.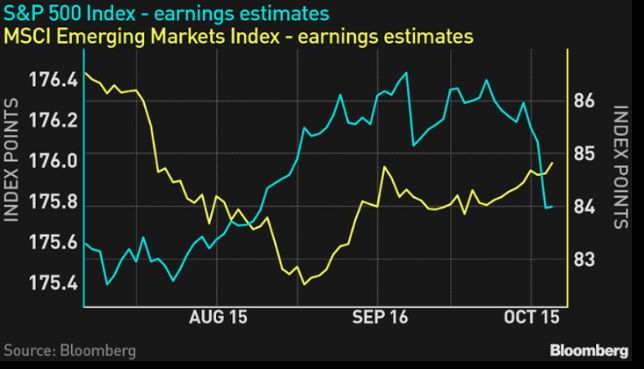 2.PIMCO Growth Outlook.
Emerging Markets Growth 5x Developed.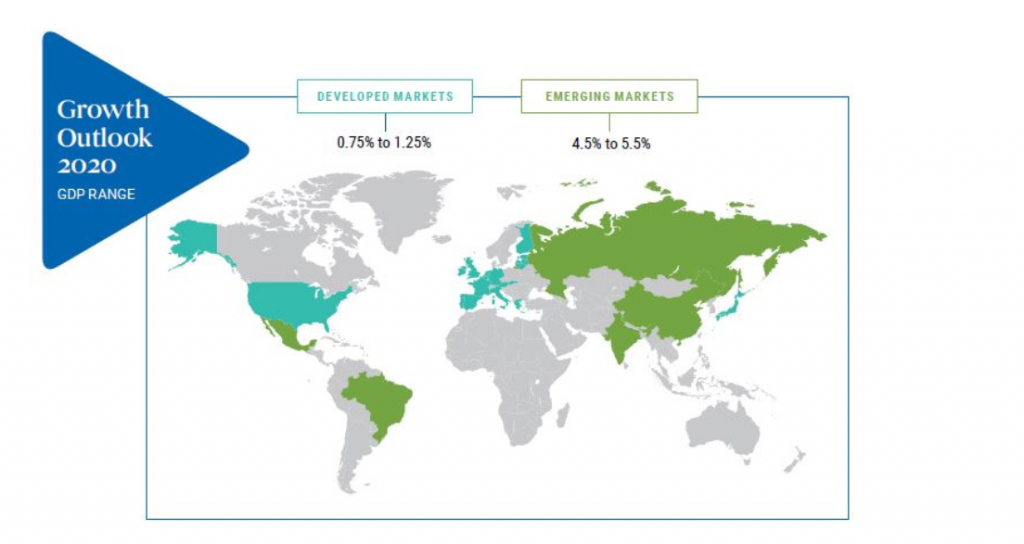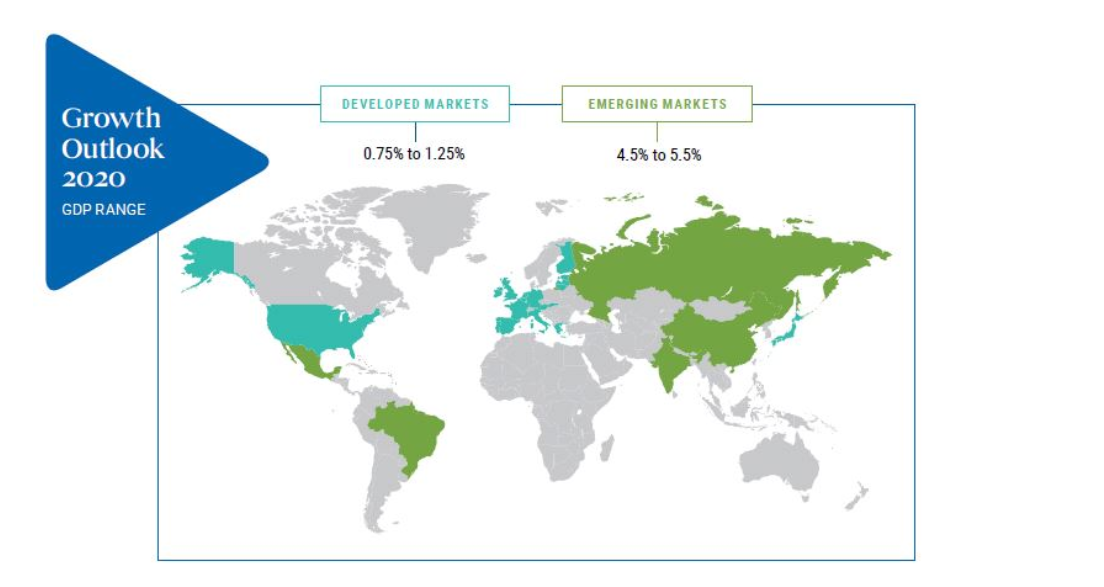 https://www.pimco.com/en-us/insights/economic-and-market-commentary/cyclical-outlook/2019/09/window-of-weakness/?utm_campaign=pimco%5Finsights&utm_medium=spredfast&utm_content=sf220170665&utm_source=linkedin&sc_camp=7FED56B02D114D5790748C145A782889&sf220170665=1&r=Individual&l=United%20States&s=true&lang=en-us
3.Watching South Korea Market as Indicator for Exports/End of Trade War
EWJ-S Korea ETF.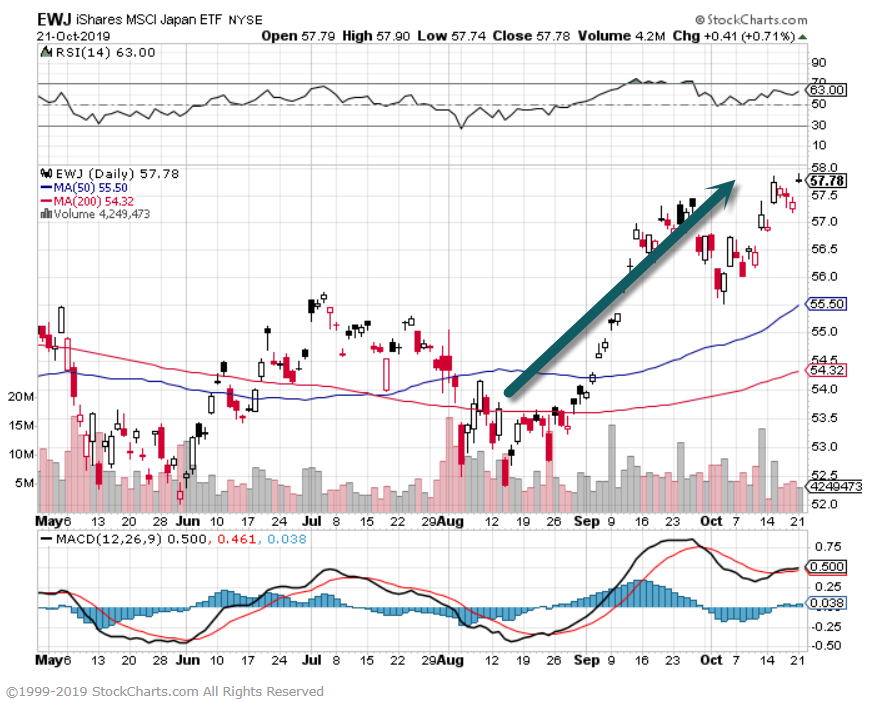 Market rallying but still below highs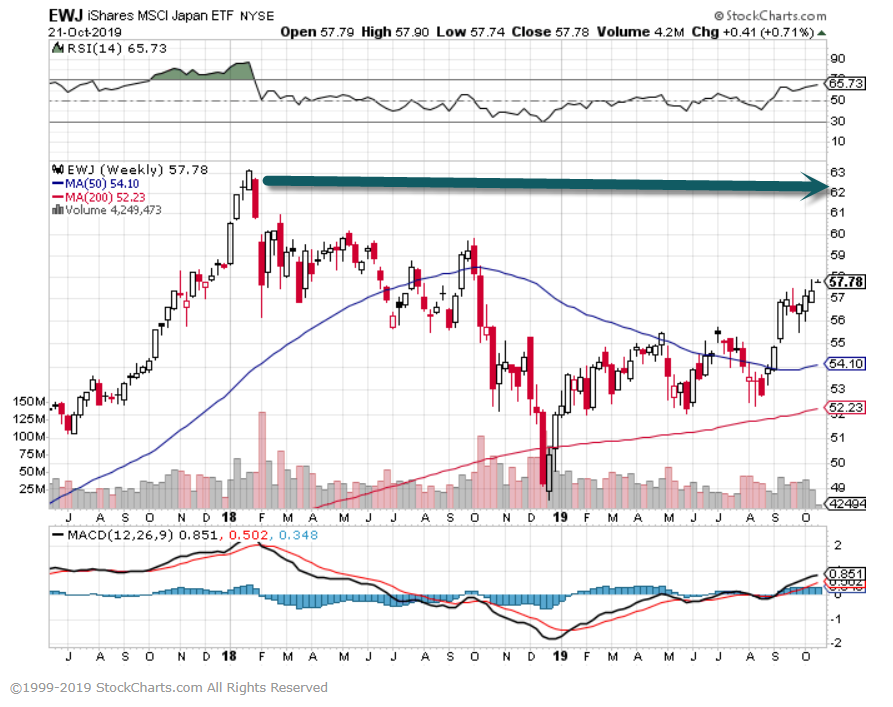 4.2019 Returns All Due to P/E Expansion as the FED Lowered Interest Rates.
Mirror image
It's not just the difference in earnings growth rates between this year and last year that's distinctive. It's also what happened to P/E multiples each year. In essence this year has been the mirror image of last year; as you can see in the chart below.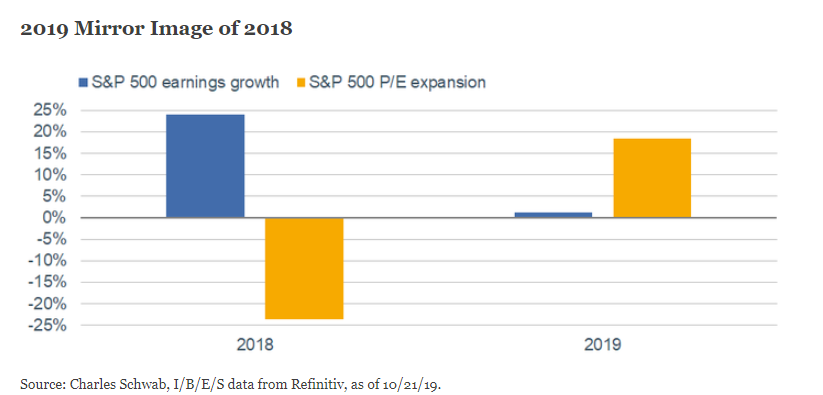 2019 Mirror Image of 2018
Source: Charles Schwab, I/B/E/S data from Refinitiv, as of 10/21/19.
Whereas 2018 was a gangbusters year for earnings, P/E multiples contracted. On the other hand, 2019 has so far brought only marginal earnings growth, yet P/E multiples have expanded. Why you ask? It largely has to do with the macro/monetary environment. Last year, the Federal Reserve was raising interest rates, and financial conditions were tightening (especially in the fourth quarter). That is typically a recipe for lower multiples for the simple reason that earnings are less valuable when interest rates are rising and financial conditions are tightening. In addition, the stock market tends to discount forward earnings; and it was glaringly clear that 2019 was going to be a weak year relative to 2018.
Fast-forward to this year: the Fed went into pause mode in January and began cutting rates in July; alongside generally-looser financial conditions (especially in the first half). Additionally, the stock market is discounting an expected rebound in earnings in 2020. That has been a recipe for upward pressure on multiples. The rub is that unless there is a trade truce or some sort of deal; and if capital spending continues to weaken, 2020's earnings estimates are likely too high.
It's Late: So Says the Profits Spread and Leading IndicatorsBy Liz Ann Sonders
https://www.schwab.com/resource-center/insights/content/its-late-so-says-profits-spread-and-leading-indicators
5.Corporate Debt Surpasses Government Debt Growth Rate.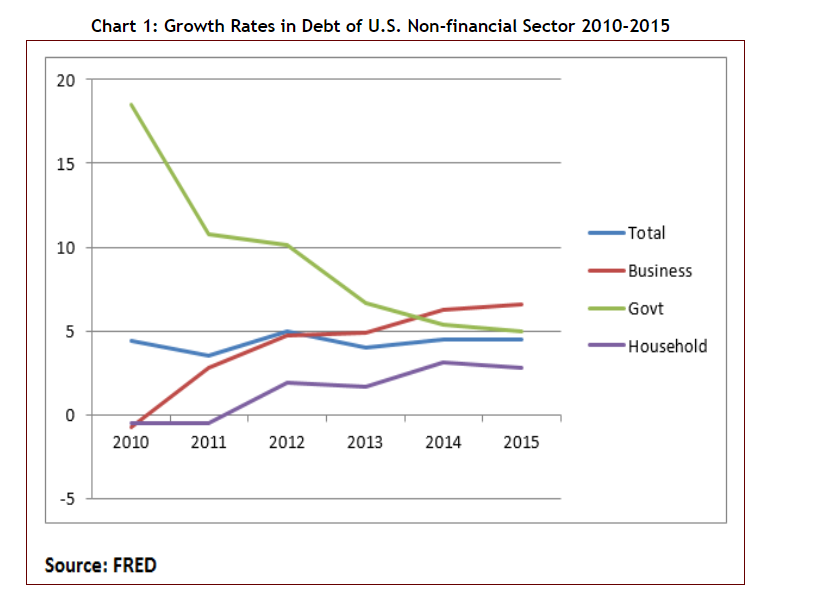 As investors search for yield, corporate bonds are viewed as the darlings of the debt market, principally due to higher yields offered. As the demand for corporates grows, the spread in yields between corporates and U.S. Treasuries has narrowed, a further sign of the strength of the corporate bond market, thus encouraging more companies to issue debt. The rise in corporate debt is supplied mainly by investment-grade corporations i.e. from corporations with excellent credit ratings. High yielding debt (so-called junk bonds) is not as responsible for the burst in corporate debt as is often portrayed in the media . Well-heeled corporations have turned to corporate debt, rather than issuing additional equity, to meet their business needs.What lies behind the surge in new corporate debt?
Chart 2: U.S. Corporate Bonds–Annual Issuance and O/S Amounts ($mill)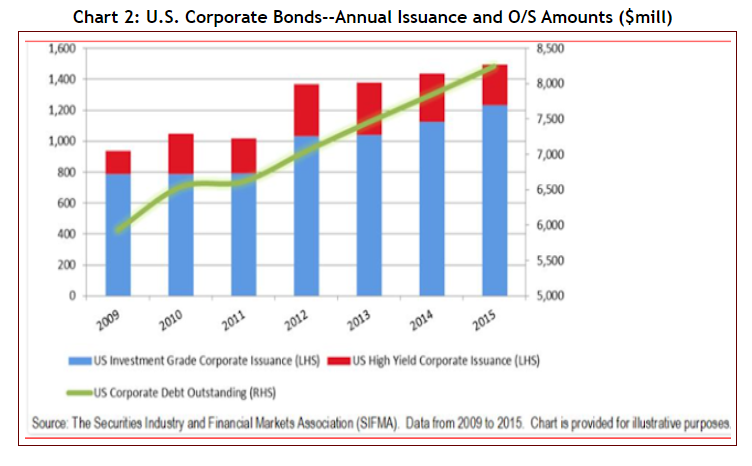 What is Behind the Surge in the Corporate Debt
Guest post by Norman Mogil
6.Money Pours into Low Vol/Min Vol ETFs
Not sure that investors knew what min vol was 5 years ago
ETF.COM
However, the current ETF industry flows leader has been iShares Edge MSCI Minimum Volatility (USMV), which pulled in $13 billion. USMV has just $36 billion in assets, but demand has accelerated in the past five years. At the end of 2014, USMV had $3.6 billion in assets and was smaller than low-risk peer Invesco S&P 500 Low Volatility (SPLV). However, SPLV's asset base has risen only to a current $8.5 billion, despite $3 billion of inflows in 2019.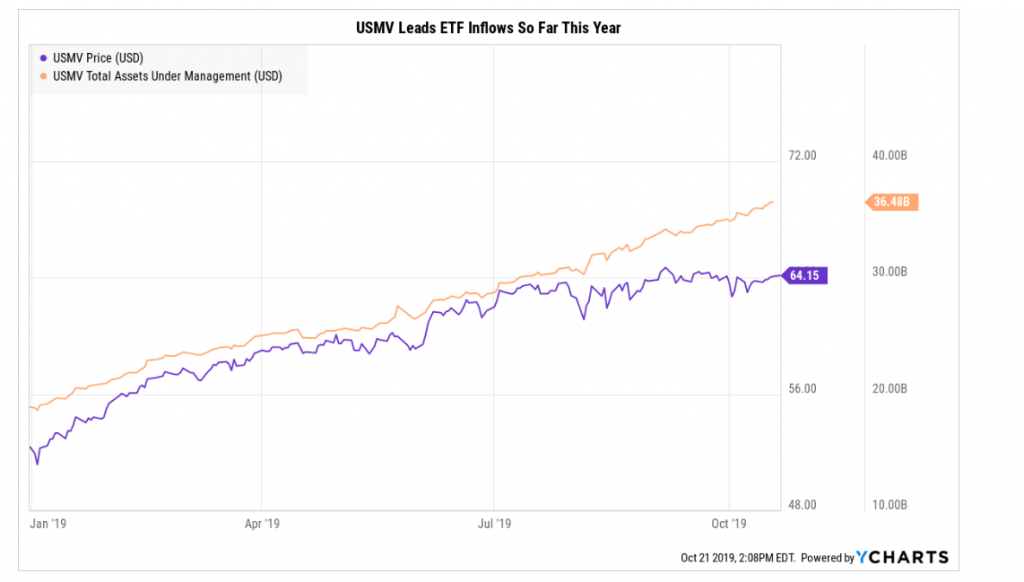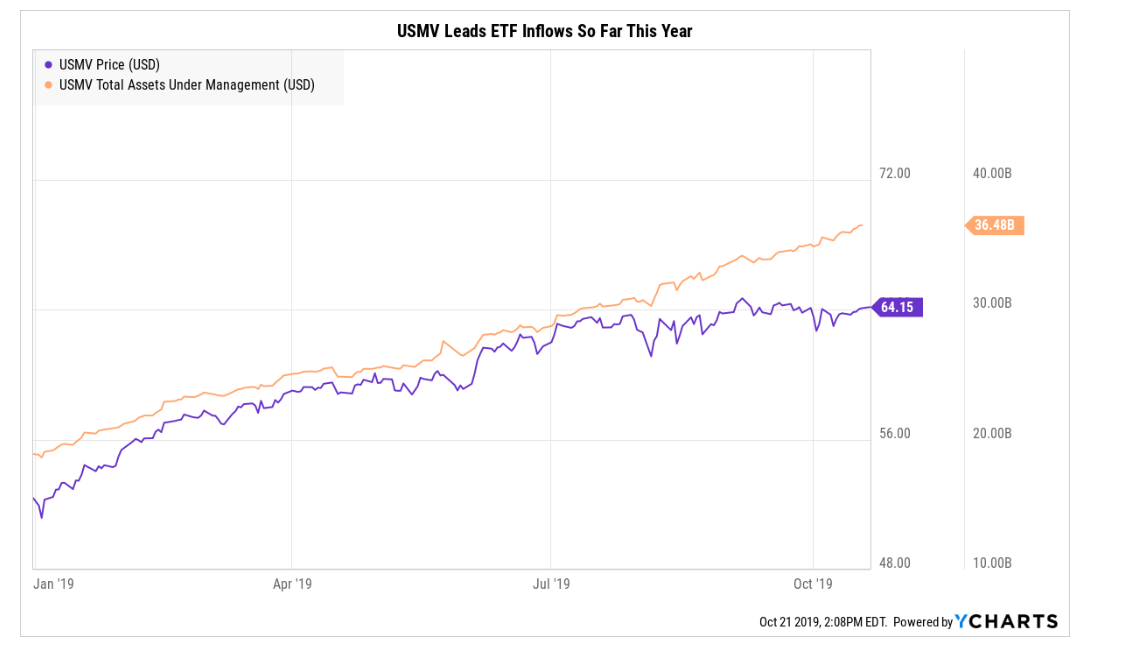 Where the ETF Money Flowed in 2019
Fixed income and lower-risk equities have been the darlings of ETF inflows so far this year.–Todd Rosenbluth | Oct 21, 2019
https://www.wealthmanagement.com/etfs/where-etf-money-flowed-2019?NL=WM-27&Issue=WM-27_20191022_WM-27_627&sfvc4enews=42&cl=article_4_b&utm_rid=CPG09000007333628&utm_campaign=23542&utm_medium=email&elq2=d85457d932c94f28b25ee5b9a1c63cf2
7.Wage Growth For Prime Age Workers Hits Multi-Year High.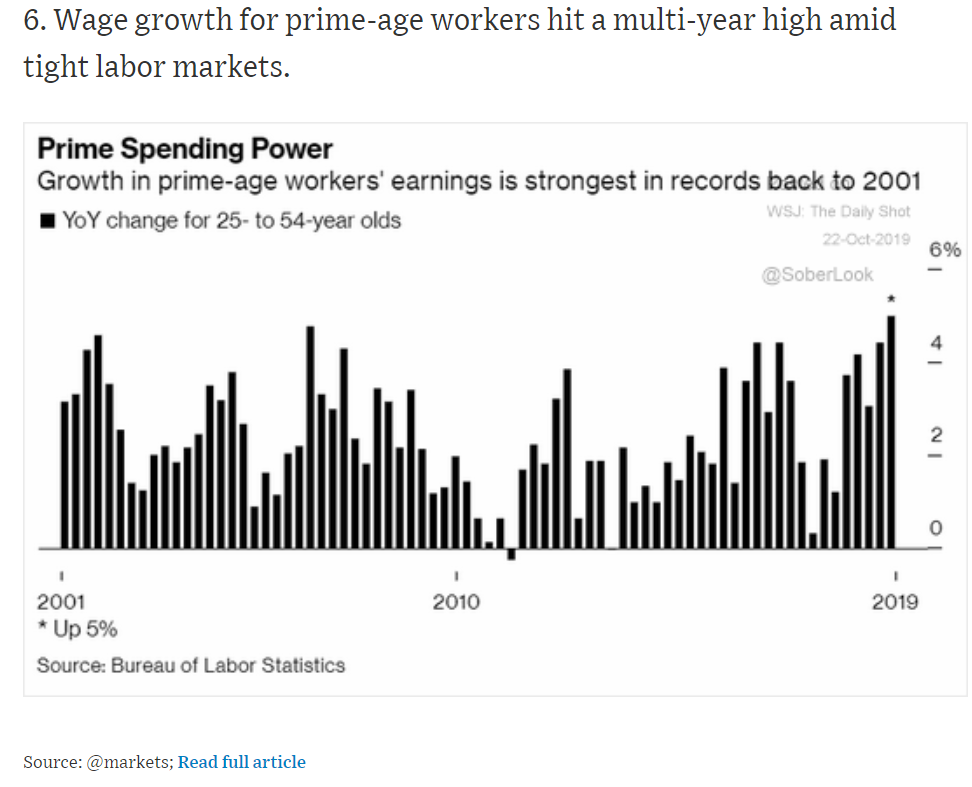 Source: @markets; Read full article
https://blogs.wsj.com/dailyshot/2019/10/22/the-daily-shot-chinas-central-bank-liquidity-injection-boosts-u-s-stocks/
8.All ten countries with the youngest population are in Africa
Here we take a look at the top 10 countries with the youngest population in the world. They all happen to be African nations, where the total fertility rate is much higher than in developed nations. For instance, the TFR in Niger is 7.2 compared to just 1.1 in South Korea and 1.2 in Singapore. According to the United Nations' 2019 Revision of World Population Prospects, close to half of the world's young population is in Sub-Saharan Africa.
A young demographic represents both challenges and opportunities for African nations. If the youth get proper healthcare, education and an environment that promotes growth, they could take their countries to new heights. But lack of education and healthcare could turn them into a burden, increasing the risk of poverty, high unemployment, and low productivity, says the World Economic Forum.
These are the countries with the youngest population, according to the United Nations' 2019 Revision of World Population Prospects.
10- Zambia, 17.6 years
Zambia is estimated to have a population of 17.86 million. The median age of the country's total population is 17.6 years, making it one of the youngest countries. About 60.5% of Zambia's total population lives below the poverty line. Poverty and the lack of healthcare and education make it difficult for Zambia to reap the benefits of its young demographics.
9- Mozambique, 17.6 years
Mozambique is one of the world's poorest countries with a per-capita income of just $486 in 2018. The country's growth has been hurt by corruption scandals, poor infrastructure, and lack of basic services such as healthcare. The total fertility rate in the country is 5.5 births per woman. Though Mozambique has mandated all children to attend elementary school, poverty forces most children to work with their parents for a living.
8- Burundi, 17.3 years
The median age of Burundi's 11.5 million population is 17.3 years. Burundi is one of the world's poorest countries. The East African nation has witnessed civil wars, genocides, and ethnic cleansing since its independence in 1962. The country remains heavily dependent on foreign aid. Its population is growing at an annual rate of 2.5%, more than twice the average global population growth rate.
7- Democratic Republic of Congo, 17 years
The Democratic Republic of Congo, which has a population of 86.7 million, has the median age of just 17 years. At 6.3 births per woman, it has the third-highest fertility rate in the world. Civil wars, militias, and political unrests have hindered the younger generation from learning and growing. But things are only expected to improve in the future.
6- Angola, 16.7 years
Angola is doing its best to reap its demographic dividend. It is one of the world's fastest growing economies, though life expectancy and living standards remain low. Angola's 31.8 million population has a median age of just 16.7 years. Its total fertility rate is 6.2 births per woman.
5- Uganda, 16.7 years
The median age of Uganda's total population is 16.7 years. The country witnessed rapid economic growth between 1990 and 2010. Foreign investment has started picking up, which could help create jobs and alleviate poverty in the near future. Uganda has a population of 44.2 million. The country also hosts more than one million refugees from its neighboring nations.
4- Somalia, 16.7 years
The median age of Somalia's population is the same as that of Angola and Uganda. The East African nation has a population of 15.4 million and the total fertility rate of 6.3 births per woman. Most of the children in Somalia live in conflict zones, which means schools, hospitals, and even children have become targets of armed conflicts. Somalia still has a healthy informal economy despite civil wars and conflicts.
3- Chad, 16.6 years
Chad has the third youngest population in the world with a median age of just 16.6 years. It has the second-highest fertility rate in the world: 6.4 births per woman. Education remains one of the biggest challenges in this country of 15.9 million people. More than half the population is illiterate and most parents don't send their children to school. It could be due to poverty because more than 50% children aged 5 to 14 are engaged in child labor to make ends meet.
2- Mali, 16.3 years
Mali is another African country being held back by civil wars and armed conflicts. The median age of its 19.6 million population is just 16.3 years. Mali has made public education free of charge and compulsory for children between ages 7 and 16. But school enrollment is pretty low due to extreme poverty. A large number of parents are unable to afford the cost of books, uniforms, and supplies.
1- Niger, 15.2 years
This landlocked country in West Africa has the youngest population in the world. It also has the highest birthrate in the world at 7.3 children per woman. The Population Reference Bureau expects Niger's population to nearly triple by 2050 due to the explosive growth rate. Its population has grown from just 3.6 million in 1960 to an estimated 23.3 million in 2019. The growth is a major concern for the government.
Top 10 Countries With The Youngest Population In The World
POSTED BY: VIKAS SHUKLA SEPTEMBER 3, 2019
9.Hilton promotes wellness with fitness-focused guestroom
by Newsroom |
May 31, 2017 10:15am
Hilton has created a new guestroom design with a fully integrated fitness experience.
Wellness is moving beyond the fitness center. Hilton's new Five Feet to Fitness guestroom concept will let guests use more than eleven different fitness equipment and accessory options in their hotel rooms.
The new room category makes it easy for guests to maintain their routines while staying in Hilton hotels.
"A guestroom that combines a sleep and fully integrated fitness experience delivers an impressive new dimension of convenience and personalization–an industry first," Ryan Crabbe, senior director, global wellness at Hilton, said in a statement. "Five Feet to Fitness has been thoughtfully engineered to serve as a guest's personal wellness stage, complete with sports performance materials and best-in-class gym accessories. Guests will quickly realize we have gone much further than simply placing a piece of equipment in a room."
FREE HOTEL MANAGEMENT NEWSLETTER
Like this story? Subscribe to Hotel Design!
Hospitality professionals turn to Hotel Design as their go-to news source for the latest products, projects, and trends for hotel interior designers and architects. Sign up today to get news and updates delivered to your inbox and read on the go.
The new room type includes an indoor bike from British cycling company Wattbike that can be used for either longer "indoor-cycling" type exercise sessions or focused interval-training workouts. A Gym Rax functional training station provides equipment for strength, core, suspension and High Intensity Interval Training (HIIT)-style workouts to guests.
At the heart of the concept is the Fitness Kiosk, a touch screen display in the Gym Rax system where guests can view equipment tutorials and follow guided workout routines. As part of a partnership with Aktiv Solutions, Hilton has created more than 200 customized fitness videos in categories ranging from Cardio, Cycling, Endurance, Strength, HIIT, Yoga, Stretch and Recovery.
Five Feet to Fitness also offers a meditation chair, blackout shades, Biofreeze to ease muscle tension, and a range of protein and hydration beverage options.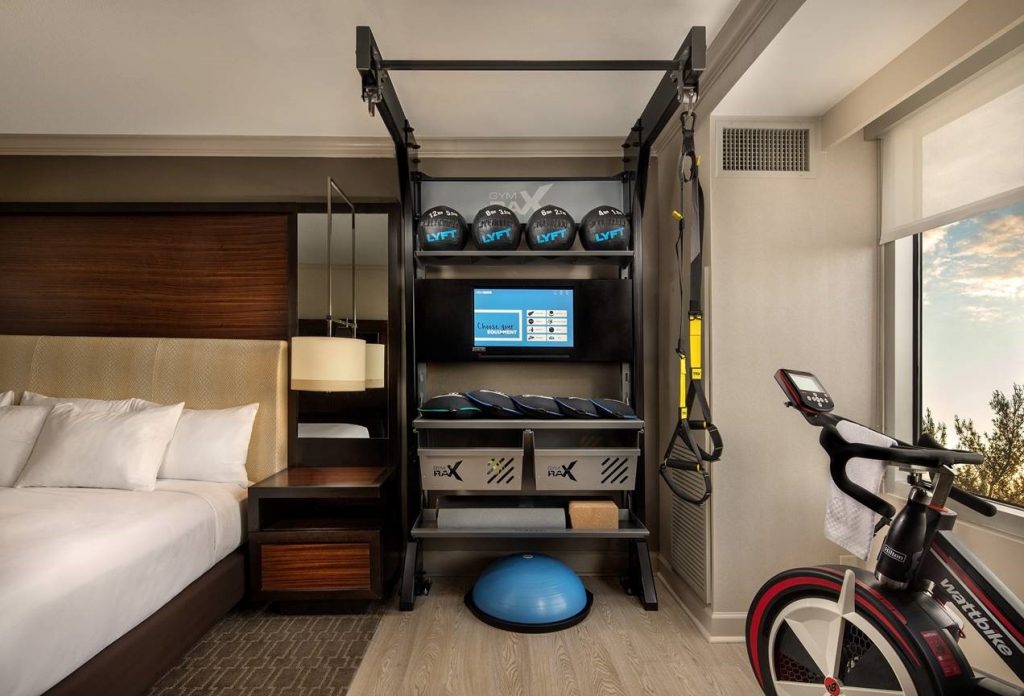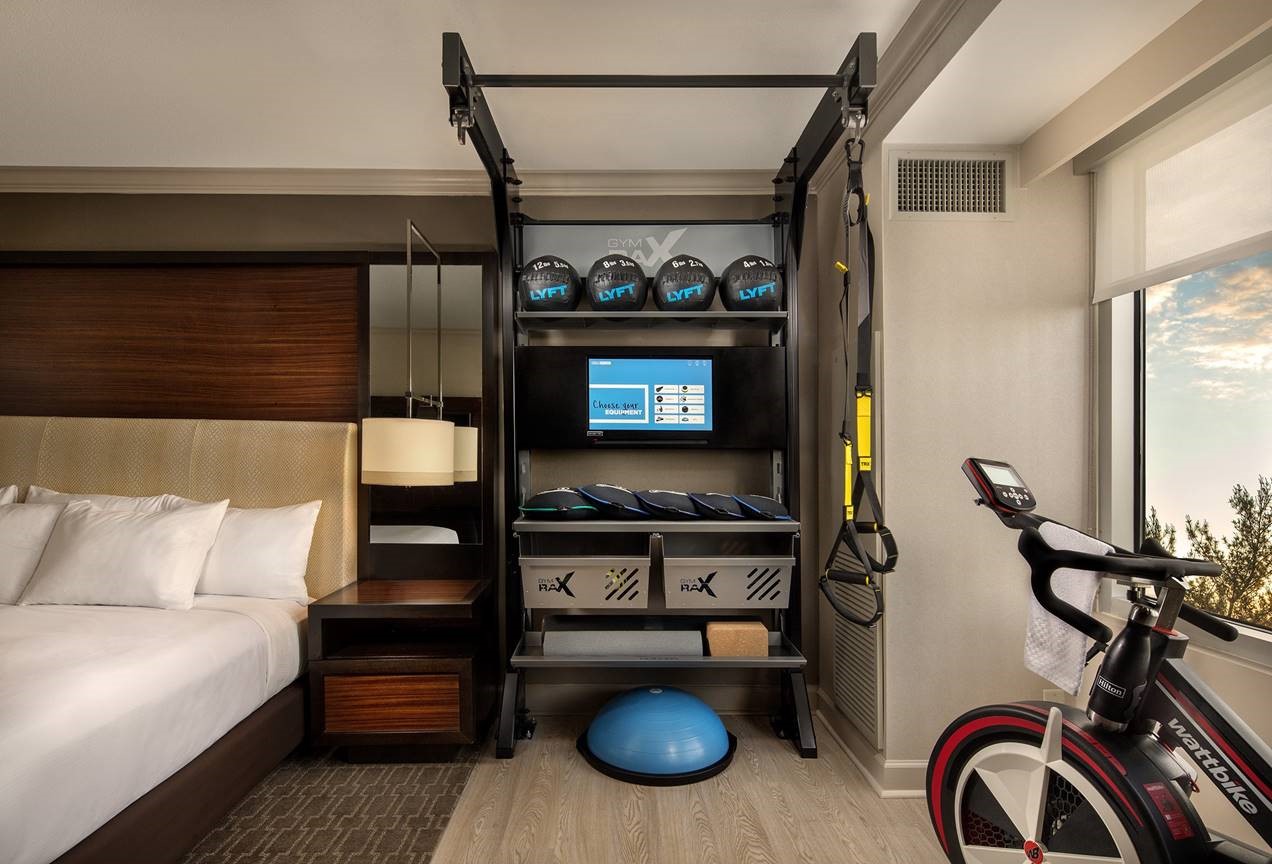 Hilton Five Feet to Fitness Fitness Kiosk
"The variety of activity the room enables is motivating," Crabbe said. "One morning, a guest can decide to roll out of bed for quick guided stretch and yoga poses. Then, later that evening, he or she may return from a stressful day and take a brisk bike ride while catching up on a favorite show or the day's business news. The room is made to suit the varied and evolving wellness habits of our guests.
"We know that no matter how determined people are about making healthy decisions while at home, the ability to replicate those choices are often not as accessible as they should be while traveling," Crabbe continued. "We're creating choice and control for guests to drive their own fitness experience."
Hilton's Five Feet to Fitness is currently available at Parc 55 San Francisco – a Hilton Hotel and Hilton McLean Tysons Corner and is coming soon to markets including Atlanta, Austin, Chicago, Las Vegas, New York and San Diego.
Read More On
https://www.hotelmanagement.net/design/hilton-promotes-wellness-fitness-focused-guestroom
10.Are Monkeys More Cognitively Flexible Than Humans?
Why Do Humans Resist Change?
A new study finds that monkeys are more cognitively flexible than we are.
Do you sometimes insist on doing things "your way," or the "old way" even when presented with a shortcut that would help you more quickly achieve your goal? That's a common form of cognitive bias, a likely unconscious process that involves clinging to a belief system even when we are presented with a more efficient solution. You may ask: "So, what?" What difference does it make if you take an old approach to solve a problem, as long as it works? The problem, researchers say, is that old ways don't always work best, because sticking with what we already know to be true, with what is familiar and embedded in our memories, can sometimes result in biased, distorted, or irrational decision-making.
Monkeys, on the other hand, are much more open to switching to more efficient strategies to achieve their goals, outperforming humans when it comes to tests of cognitive flexibility, according to a behavioral study from Georgia State University, published in a September 2019 issues of Nature's Scientific Reports. The study, which included 60 humans, 7 rhesus macaques, and 22 capuchin monkeys, tested the theory that our working memory and rote learning influences whether we stick to previously learned behaviors rather than develop or learn new and more efficient strategies to resolve a problem or reach a goal.
Both the human and primate participants were taught strategies to achieve simple goals and receive a reward, which took the form of recognition of achievement for the humans and banana pellets for the primates. They were then shown a shortcut that would help them reach their goal and receive their rewards sooner. The macaques and capuchins were significantly more likely to adopt new and more efficient shortcuts to attaining their goals than humans. When the benefits of using a simpler, more direct approach became apparent, however, humans were more likely to get on board.
Even when humans decided to use a shortcut, however, it took them much longer to accept and use the new strategy than the monkeys, and a significant number—almost one-third of participants—still resisted and used the old approach. Previous studies have shown that, given a choice, other primates, such as chimpanzees and baboons, are also more willing than humans to use shortcuts than humans.
Often, there is a good reason to stick to the tried and true. And while a newer or alternative approach to a problem may be more efficient, to the individual, learning and using that approach may not appear to be. We may not accept that the familiar rules no longer provide the best solution or that a new strategy could work better. We know there's more than one way to achieve a goal, and we choose to use that which is most familiar and most comfortable, regardless of its efficiency.
Then why does it matter if we stay set in our ways? According to these researchers, depending on rote learning, and failing to think "outside the box" to seek out and use new approaches can, in some situations, mean using outdated, biased, and inefficient strategies that prevent us from making the best or even the most adequate decisions in many areas of our lives, such as health care and finances.
https://www.psychologytoday.com/us/blog/cravings/201910/why-do-humans-resist-change