1.Tech Companies Now Biggest Market Cap Stocks with Half the Employees of Former Leaders.
Josh Brown
Chart o' the Day: How quickly things have changed
Posted November 6, 2017 by Joshua M Brown
Your favorite stock; see if it's a buy, sell or hold opportunity
I came across this infographic from Wharton via 13D Research and I think it makes a powerful point about how quickly things have changed.
One of the biggest posts of the year here on TRB was "Just own the damn robots.", where I talked about the mood right now surrounding the automation meteor headed right for us. This is another way of understanding the reality:
Getting bigger by market cap – and by revenues – with less people is the new normal. It's not going back the other way. The only escape for our children is to join the education arms race and hope they choose the right major – or to embrace entrepreneurialism and create their own jobs.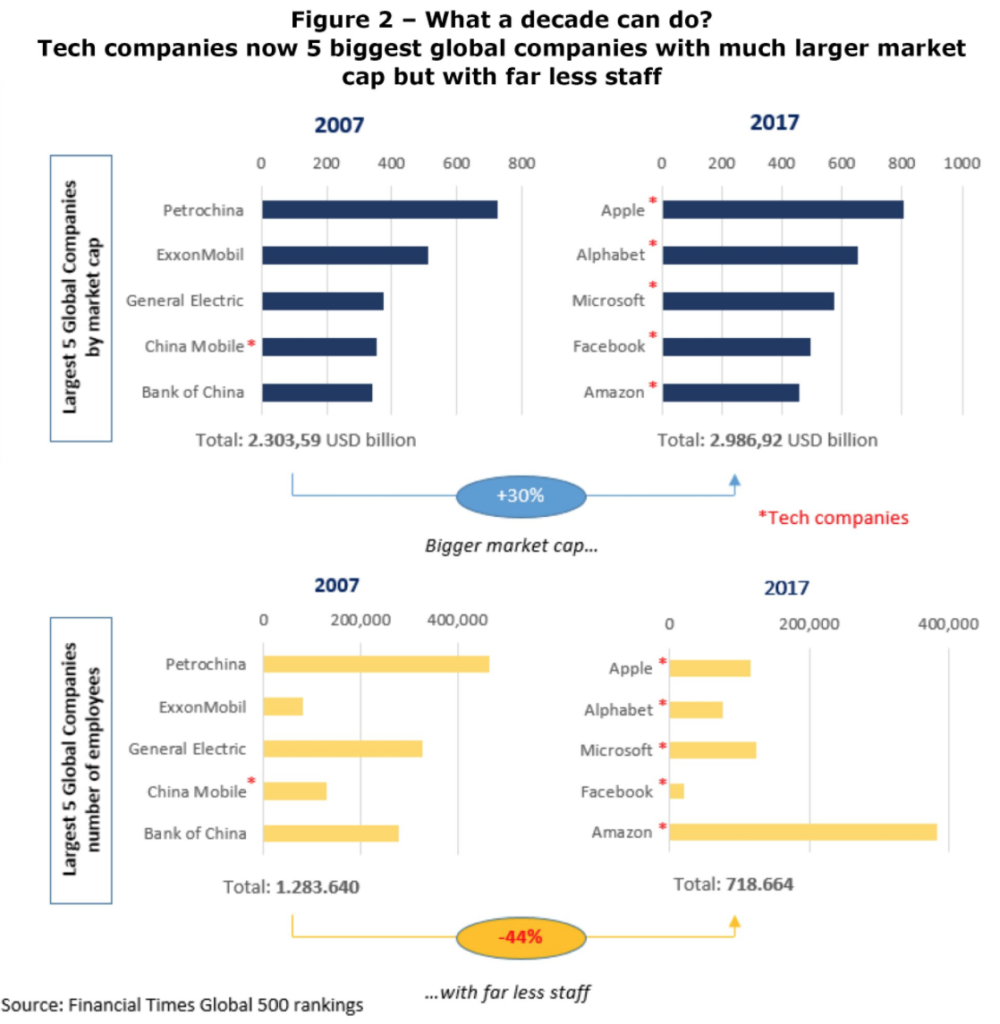 http://thereformedbroker.com/2017/11/06/chart-o-the-day-how-quickly-things-have-changed/

2.Sustained Expansion?? All Major Regions Posting Earnings Per Share Growth Higher than 10%
A sustained expansion supports company earnings growth, we believe. All major regions are posting earnings-per-share growth higher than 10% for the first time since 2005, excluding the post-crisis bounce, our research shows. Analyst forecasts are holding steady in the U.S. and Europe, Japan is up and emerging market (EM) earnings expectations have almost doubled this year. See the chart below.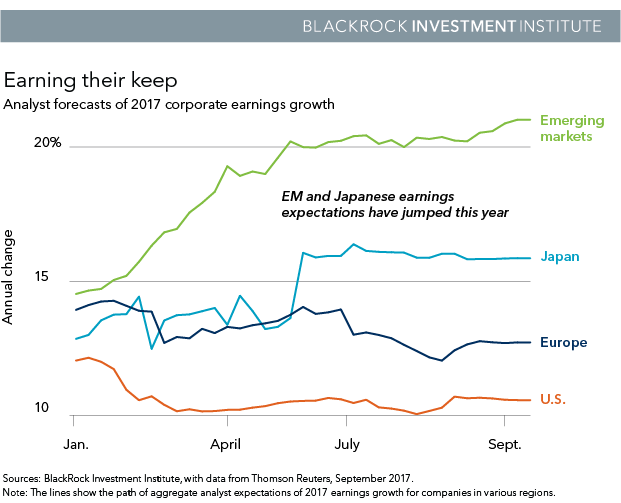 https://www.blackrockblog.com/2017/10/06/3-investing-themes-q4/
3.Global Breakouts Everywhere.
The case for going on 'global breakout watch' — and still betting on U.S. stocks
Published: Nov 6, 2017 9:30 a.m. ET
History suggests the S&P 500 SPX, +0.13%   — the main U.S. stock gauge — won't stumble while Europe soars, Wald said.
"The S&P has gained in 88% of all rolling 52-week periods since 1987 when Europe outperforms vs. the S&P," he wrote.
The picture overseas is indeed encouraging, the analyst added. The number of global markets rallying to new all-time highs is growing, Wald said as he offered the graphic below.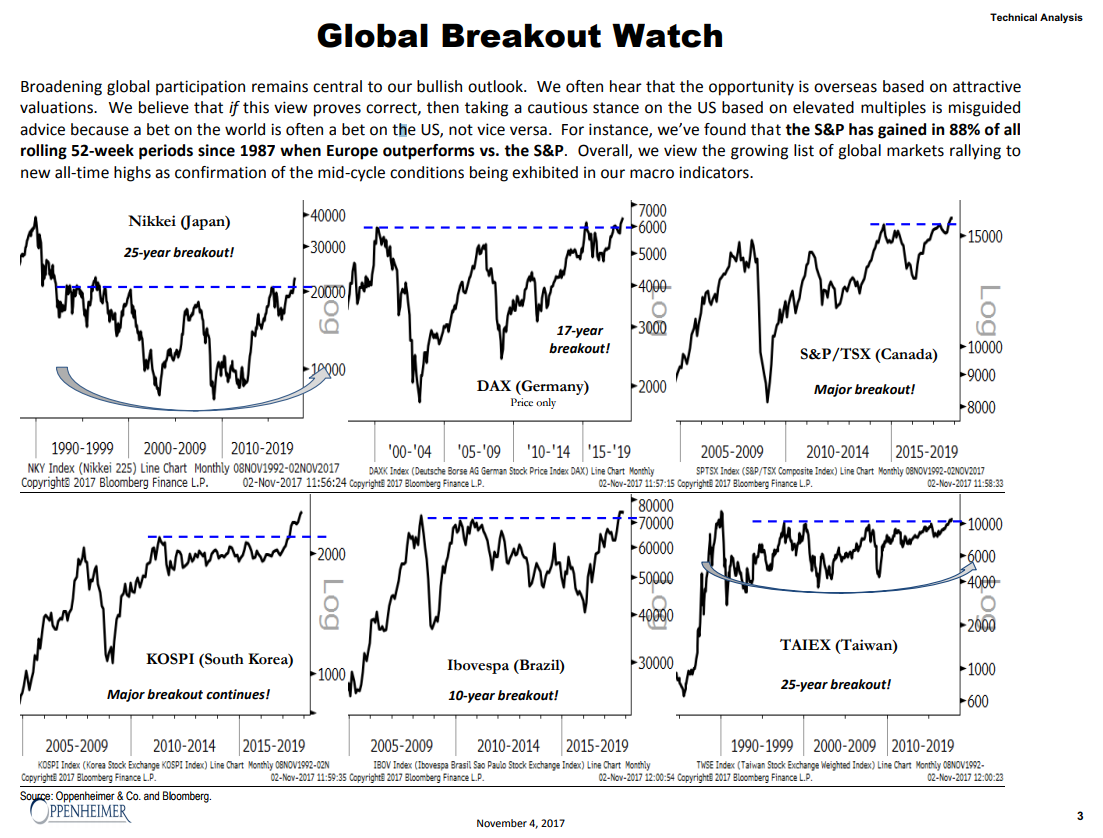 Japan, Germany, Canada, South Korea…
Wald also provided a second graphic, with both titled "Global Breakout Watch." The foreign stock benchmarks he highlighted include Germany's DAX DAX, -0.01% , Japan's NIK, +1.73%  and Canada's S&P/TSX GSPTSE, +0.45%  .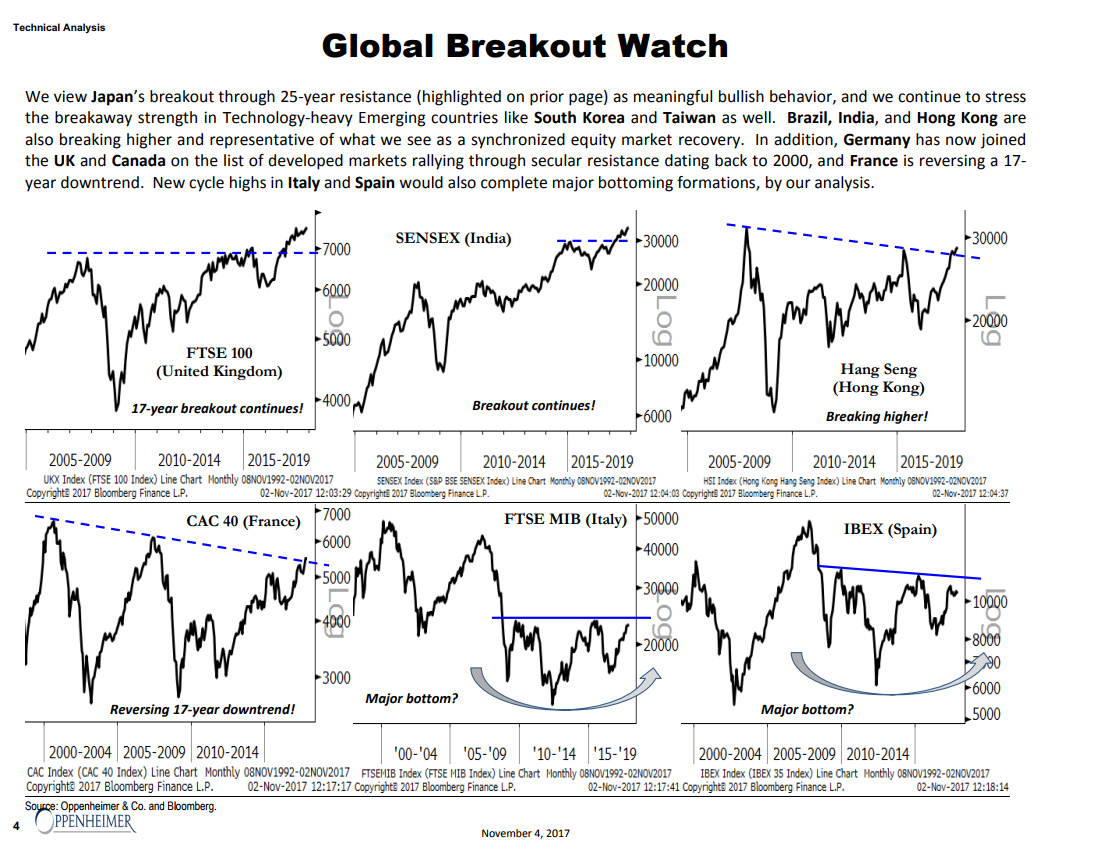 https://www.marketwatch.com/story/the-case-for-going-on-global-breakout-watch-and-still-betting-on-us-stocks-2017-11-0
 4.As Aramco IPO Valuation Sinks…Saudi Arabia Gets Interesting
Crude Oil Breaks Out After Saudis Arrest Prince Alwaleed
Crude oil breaks out of 2 year band.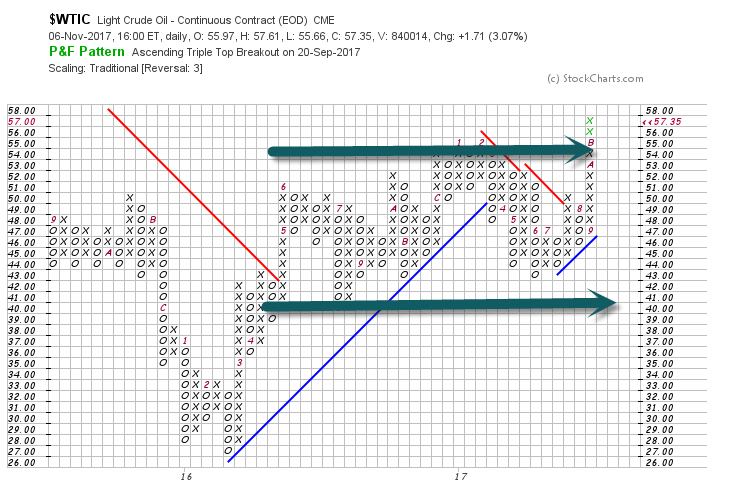 Prince Alwaleed Bin Talal Alsaud
$15.9 B 
High-profile Saudi Arabian investor Prince Alwaleed bin Talal owns chunks of private and public companies in the U.S., Europe and the Middle East through Kingdom Holding Co., 5% of which is listed on the Saudi Stock Exchange (he is listed as owning the other 95%). Holdings include stakes in ride-sharing firm Lyft, social media firm Twitter, Citigroup, hotel management company Four Seasons Hotels & Resorts, the swanky Hotel George V in Paris and the Savoy Hotel in London.Outside of Kingdom Holding, the Prince owns real estate in Saudi Arabia, the majority of Arabic-language entertainment firm Rotana, and other assets. Prince Alwaleed, who bought Donald Trump's yacht in 1991, called out Trump on Twitter in June 2016, saying he should drop out of the presidential race "as you will never win." After Trump won the U.S. election in November, Alwaleed congratulated him on Twitter. In December 2016, Alwaleed joined Bill Gates' Breakthrough Energy Coalition with the promise of a $50 million investment.
https://www.forbes.com/profile/prince-alwaleed-bin-talal-alsaud/
5.Good Summary of Events. Sweeping Arrests, Helicopter Crashes and War Threats in One Weekend.
Saudi Arabia had a crazy weekend that upended the Middle Eastern kingdom
Crown Prince Mohammed bin Salman. REUTERS/Faisal Al Nasser
Saudi Arabia over the weekend experienced upheaval in both internal affairs and external relations.
At the center of the changes is Crown Prince Mohammed bin Salman.
At least 11 princes and dozens of government ministers were arrested in a surprise anti-corruption purge launched Saturday by Salman.
Separately, a prominent member of the royal family died in a helicopter crash.
Saudi Arabia over the weekend saw the arrests of leading government officials and business figures, as well as increased tension with the kingdom's rival Iran.
At the center of the changes is Crown Prince Mohammed bin Salman, the next in line to the Saudi throne. Crown Prince Mohammed — the son of King Salman, who appointed him crown prince in June — has been publicly pushing for economic modernization for the kingdom and recently said he would lead the country back to "moderate Islam."
Arguably the most noteworthy of the weekend's actions was the surprise anti-corruption purge launched Saturday by Mohammed. At least 11 princes were arrested, along with dozens of government ministers.
"With the weekend detentions, Crown Prince Mohammad bin Salman has succeeded in controlling all three Saudi security services, while cowing both conservative and reform-minded clerics — an unprecedented consolidation of power in the country's history," The Soufan Center, a strategic consultancy firm, wrote in a Monday note.
The Financial Times also described the events of the weekend as a purge done as part of Crown Prince Mohammed's consolidation of power, noting that it took place days after he hosted a global development conference dubbed "Davos in the Desert" that seems to be part of the crown prince's global investment push.
Here's what you need to know about Saudi Arabia's ground-shaking weekend:
A purge of princes and ministers
Saturday's arrests hit at the heart of Saudi Arabia's government and business communities.
Among the royals arrested were Prince Alwaleed bin Talal, a billionaire investor, and Prince Miteb bin Abdullah, who was the head of the National Guard.
Talal, who has invested in US companies such as Twitter and Citigroup, owns the investment firm Kingdom Holding and is one of the world's wealthiest men.
As the head of the National Guard, Abdullah oversaw the protection of the royal Saud family, as well as important religious, oil, and gas sites.
By replacing Abdullah, Crown Prince Mohammed sidelined a powerful rival. It appears that in addition to his role as defense minister, he will now have indirect control over the head of National Guard and the interior minister, who oversees internal security.
Crown Prince Mohammed also replaced the minister of economy and planning and the commander of Saudi Naval Forces.
The ousted princes and ministers are being held at the Ritz-Carlton hotel in the capital city of Riyadh. The government said over the weekend that the anti-corruption committee headed by Crown Prince Mohammed had the right to issue arrest warrants, impose travel restrictions, and freeze bank accounts.
Saudi Arabian media has billed the arrests as part of a widespread anti-corruption clean-up, according to The New York Times. Members of the royal family have long been accused at enriching themselves at the expense of the wider kingdom.
But there's been little transparency about the specific reasons behind the arrests.
From left: the new National Guard chief, Khalid bin Ayyaf al-Muqrin; Saudi Arabia's King Salman; and the new economy and planning minister, Mohammed al-Tuwaijri. Saudi Press Agency, via AP
A deadly helicopter crash
Hundreds of miles southwest of Riyadh on Sunday, a prominent member of the Saudi royal family died when his helicopter crashed during a tour of coastal projects.
Prince Mansour bin Muqrin, the recently named deputy governor of Saudi Arabia's Asir province, was the son of Prince Muqrin bin Abdulaziz, who was at one point the crown prince.
Seven other government officials were reportedly killed in the crash.
The Saudi government has not given a reason for the crash but said a search of the wreckage was underway, according to The Associated Press. Reports have noted that the crash site is about 100 miles from Yemen, where Saudi Arabia has been fighting Houthi rebels since March 2015.
Tensions rise with Iran
Aside from the internal upheaval in the kingdom, this weekend also highlighted rising tensions with Saudi Arabia's regional rival Iran.
Lebanese Prime Minister Saad Hariri — a dual Lebanese-Saudi citizen — resigned on Saturdayduring a trip to Saudi Arabia. Hariri is part of a joint government that includes Hezbollah, the Iran-backed militant group, and he used his resignation speech to criticize that group and Iran.
After Hariri's resignation, one member of Lebanon's Parliament told CNN, "We are back to an escalation between Iran and Saudi Arabia on the Lebanese front."
The same day, Saudi Arabia said it intercepted a ballistic missile targeting King Khalid International Airport in Riyadh that was launched by Iran-backed Houthi rebels in Yemen.
Saudi Arabia's foreign minister tweeted on Monday that the kingdom reserved the right to respond to Iran's "hostile actions."
A Saudi-led military coalition announced Monday it would close all air, land, and sea ports to Yemen, a move it said would lessen the flow of arms from Iran to the Houthi rebels — though it may also worsen a humanitarian crisis in Yemen.
http://www.businessinsider.com/what-happened-in-saudi-arabia-2017-11
6.Bond ETF Flows Over $100b YTD…Dwarfing Equity Flows.
Fixed income ETF flows: On a roll
Bond funds have been on a heater all year, racking up an average of nearly $11 billion of inflows each month, sending the yearly tally to well over $100 billion for the first time ever. In October—even with interest rates rising—fixed income ETF flows continued to be strong, posting $10 billion of inflows, as shown below.
Investors broke the downward trend for equity ETF flows in October, pouring in more than $40 billion, nearly twice the amount of inflows seen in September and the largest monthly inflow since December 2016, when the "Trump Bump" was in full effect.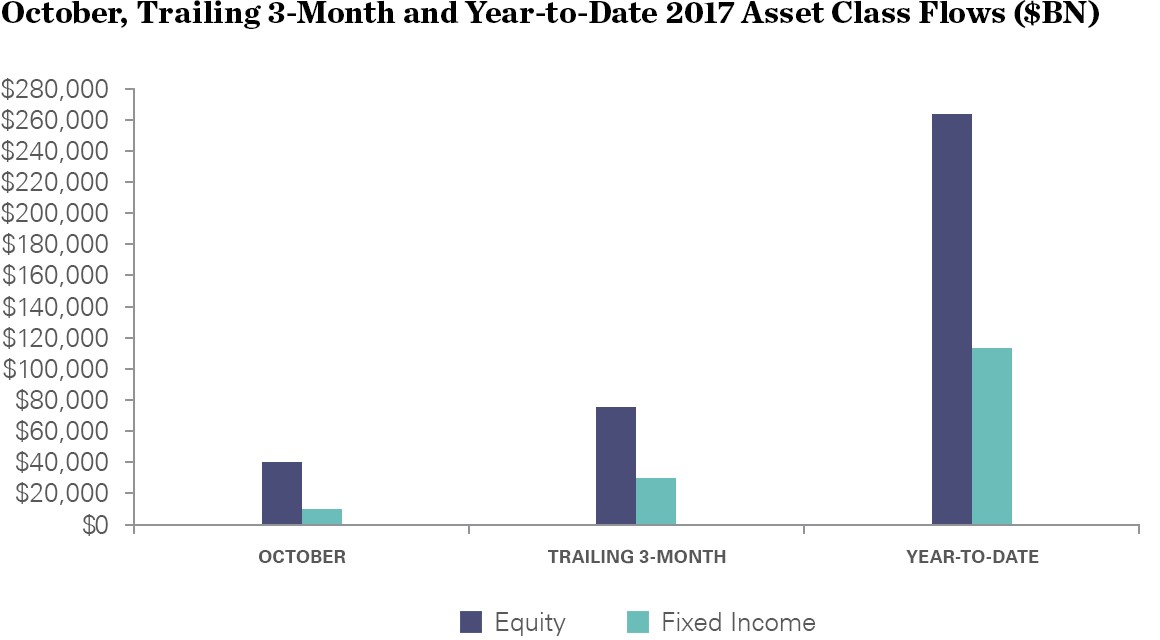 Source: Bloomberg Finance L.P., as of 10/31/2017
http://blog.spdrs.com/post/october-etf-flows-the-markets-are-humming-along-can-it-last
6-7. I Have Written at Length About CAPE ratio, P/Es, GDP/Market Cap etc. Not Being Timing Mechanisms…Good Read Ben Carlson
What If You Only Bought at Below Average P/E Ratios?
Posted November 5, 2017 by Ben Carlson
A few years ago I wrote a post that is still far and away my most popular called What if You Only Invested at Market Peaks? I still regularly receive comments, caveats, and questions about this one.
A recent follow-up question from a reader asks:
What if you only put your money to work at below average P/E ratios?
In theory, it would make sense that investing at lower valuations would give you better results considering that lower valuations tend to lead to higher long-term returns. But this exercise is not as easy as it would appear at first glance.
I looked at data from 1928-2016 and found the average Shiller cyclically-adjusted price-to-earnings (CAPE) ratio was 17.9. To keep things simple I then looked at the actual CAPE ratio at the start of each year going forward. If the CAPE was above average, I assumed you invested in cash (t-bills) that year and if it was below average I assumed you invested in stocks (S&P 500). Here are the results:

The problem here is that we now know what the average CAPE ratio is going back 90 years or so. But investors at the time didn't know this (and technically the CAPE wasn't rolled out until the late-1980s but I digress). Here's what the rolling average CAPE looks like:
To account for the changing nature of the data, I used this rolling average of the CAPE ratio and assumed a 1970 start date to give the data series enough time to marinate, updating the average each year using the same above and below average rules as before:

You can see the performance numbers drop off substantially when using the rolling average data that would have been available at that time.
The CAPE ratio has been above the 17.9 average 49 years and below average 40 years since 1928. But since 1990 there's only been one year (2009) when it began the year below the rolling average historical CAPE. Here's how this has impacted these results since then:

Valuations have been trending higher throughout this period which isn't something that has to last forever. Every year from 1973-1988 saw the CAPE start the year out below the long-term average valuation levels. It really depends on the market and economic environment but it could be a long wait for investors looking to take advantage.
There are obviously other ways of looking at this data. You could rotate into other equity markets or even bonds but the deeper you look into historical market valuations the more you realize how difficult it is to your them as a timing tool.
I've looked at a number of studies that are more in-depth than the simple exercise I've shown here but the main takeaway is that it's really difficult to time the market using historical valuations (although data-mining is always an option).
Nothing is impossible but the longer I'm in this game the easier it is to see that there's no perfect strategy to game the system.
Further Reading:
What If You Only Bought Near Market Bottoms?
http://awealthofcommonsense.com/2017/11/what-if-you-only-bought-at-below-average-pe-ratios/?curator=thereformedbroker&utm_source=thereformedbroker
8. The No. 1 reason for prescription use of medical marijuana is pain… U.S. represents 99.7% of the world's hydrocodone consumption.
by Matthew Carr, Emerging Trends Strategist, The Oxford Club
The numbers are staggering.
There are more than 100 million Americans who suffer from chronic pain.
Since the 1990s, opioid painkillers have been the go-to treatment.
People believed these drugs were not only effective, but also "magical."
But good intentions gave way to an epidemic… one that's just been declared a public health crisis by the president.
In 2014 alone, 7.8 billion pills of hydrocodone (also known as Vicodin) were distributed across the U.S.
That's roughly a Vicodin per day for every man, woman and child in the U.S. for a month.
But that's not all…
That same year, 4.9 billion tablets of oxycodone (or Percocet) were handed out.
It's an unsettling fact, but the U.S. represents 99.7% of the world's hydrocodone consumption.
Unfortunately, Americans got addicted. Many eventually moved to more dangerous opioids.
From 2002 to 2016, the number of deaths from heroin overdoses in the U.S. increased 533%. On average, 91 people die every day from an opioid overdose.
In recent years, the U.S. government has finally taken action by introducing measures to roll back access to these powerful drugs.
In 2014, the Drug Enforcement Agency reclassified hydrocodone as a Schedule 2 drug. In 2016, the Centers for Disease Control released new opioid guidelines.
Thanks to these measures and others, the number of hydrocodone prescriptions is falling…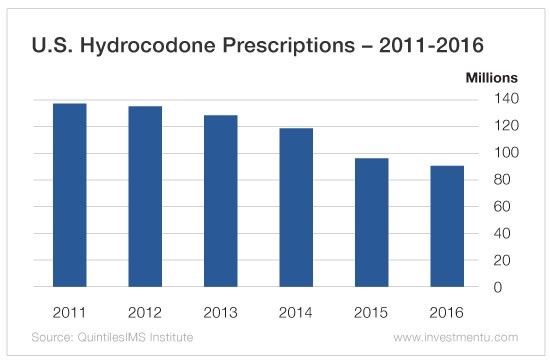 For Endo, shares are down more than 60% this year…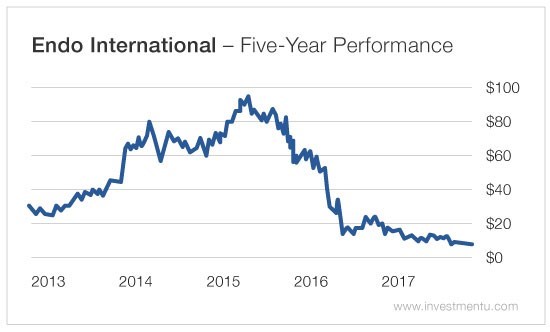 Read full story at InvestmentU
https://www.investmentu.com/article/detail/56800/natural-resource-end-opioid-epidemic#.WgGe1VWnHIW
9.Read of the Day…Weed Legal in Canada by Summer…Constellation Brands Pays $245m for 10% Stake in Canopy Growth
Ready or Not, Recreational Marijuana Use Is Coming to Canada
By IAN AUSTENNOV. 4, 2017
Continue reading the main storyShare This Page
John Fowler, the chief executive of Supreme Pharmaceuticals, inside the greenhouse complex where the company grows legal marijuana. CreditCole Burston for The New York Times
TIVERTON, Ontario — Behind a forbidding high-security fence topped with razor wire, Supreme Pharmaceuticals is busy preparing for the legal marijuana trade, with workers expanding a greenhouse complex where the lucrative crop grows.
But while Supreme looks like it will be ready for the day when prohibition ends, Canada's governments still have a lot of work to do.
Proposing legislation to legalize the recreational use of marijuana was the easy part for Prime Minister Justin Trudeau. With about eight months to go before Canada becomes the second nation after Uruguay to take this step, the federal government and the provinces are staring at a formidable to-do list.
Ottawa still has to set the limit at which drivers will be declared impaired under criminal law, and must determine the rules for advertising and the standards for growers.
Working out most of the details affecting consumers is largely up to the 10 provinces. But only three — Alberta, Ontario and New Brunswick — have offered any idea of how they will operate and regulate their marijuana markets, and then only in the most general terms. The other seven are still in the midst of public consultations.
Two of the most important questions for consumers — how much the legal product will cost and how much it will it be taxed — are still being debated by the two levels of government.
In most of the country, it is still unclear whether marijuana will be sold only in government-run stores. And most provinces have yet to decide the amount of marijuana that individuals will be able to possess or grow.
Nor have most provincial governments decided on the minimum age for buyers, or where smoking marijuana will be legal. The federal government must also explain how it will deal with international drug treaties that prohibit marijuana sales.
Even the precise starting date for legal pot is a mystery.
On top of that, and perhaps counterintuitively, police forces are warning that successful inauguration of a legal system for selling marijuana will require an accompanying crackdown on the black market.
Despite all these challenges, suppliers are optimistic that legal recreational sales will be a reality by summer.
Even with the uncertainty, many investors are betting there is money to be made on legal marijuana. Last month, Constellation Brands, a major wine and beer distributor in the United States, invested $245 million in Canopy Growth, the owner of several licensed medical marijuana growers in Canada.
https://www.nytimes.com/2017/11/04/world/canada/canada-marijuana-legal-justin-trudeau.html
10.Can You Create A Magical Workplace Culture?
Can You Create A Magical Workplace Culture? Interview with Richard Ryan
Posted Nov 07, 2017
Do you wish that you could change the culture of your organization?  Wave a magic wand to transform the bored looks, cynicism and paper shuffling with contagious enthusiasm, creativity and commitment?  Over eighty percent of leaders report that having a culture of motivated employees is the top factor for a successful company.  But what does it really take to create a culture of motivated, high-performing employees?
"Over the last decade most organizations have discovered the limitations of trying to motivate people from the outside," said Professor Richard Ryan, one of the world's leading researchers and authors on motivation, when I interviewed him recently.  "Today the question I see most organizations grappling with is how to provide workplace conditions that amplify the inherent excitement and interest people have in wanting to do a job well."
Of course people want to be fairly paid for the work they're doing, but Rich and his colleagues have found that money can backfire when it comes to motivating people's behavior if they feel that it's the only way you're recognizing their skills and energies, or you're offering these as a way to control their work effort. Rich cautioned that if your workplace is only focusing on external motivating factors, the chances are that over time your people are becoming less and less inspired to put in.
Instead, Rich suggests that if you want your people to really get on board with what you're trying to achieve, they need to feel like they're a part of what's going on in the organization and are contributing towards these goals. In fact, research has found successful organizations around the globe with 'magical' cultures where employees are highly engaged and see their workplace as an outstanding place to work and understand that the best motivators come from within. You see, any career can provide much more satisfaction than what a paycheck gives.  It also delivers opportunities to use and develop competencies and talents, gain a sense of personal satisfaction and fulfilment, connect and belong with others, and the means to make a contribution to a greater good.
How do you increase people's intrinsic levels of motivation?
Rich and his colleagues have found that we all have three inherent psychological needs: to feel authentic by choosing to do things that align with values and interests; to be competent through learning and mastering new skills; and to belong.  When you feel you belong you feel that you're valued and matter to your organization, and you're connecting with others in your team or across the organization.
article continues after advertisement
"Most modern workers want to feel effective in their jobs, to feel a sense of mastery and investment in the company," explained Richard.  "Management's about uncapping that tremendous energy that employees have and helping them put it to good use."
For example, studies have found that when our needs for autonomy, competence and relatedness are met at work it can enhance people's engagement with work, improve job performance, and promote greater psychological wellness and lesser ill-being at work.
So how can you uncap your people's motivation?
Rich and his colleagues suggest three ways you can increase the levels of motivation and engagement of your team to foster a magic culture:
Encourage authenticity – consider how you can support your team members to design their tasks so they can really put their energies into their assignments.  Discuss the goals and mission of your team, in a way that gives a sense of ownership and provides rationale for what you're doing.  Ask open questions that encourage discussion of the purpose of the activity, perceived problems, and possible solutions.  Then use active listening to understand it from their perspective.  What does the task or your demands mean to them?  How can you work together to find ways to remove obstacles? Think of this as an exercise in really trying to listen to the needs and hopes of your employees.
Foster competence – assist your people to gain mastery and confidencein their jobs by providing sincere and positive feedback that acknowledges their contributions.  Give specific examples and whenever possible recognize initiatives or the unique impact they have in the organization. And by working with them to design solutions for set-backs or challenges, you can assist them accomplish tasks, feel confident, and further develop their competence.
Build belonging –don't assume that when you throw people together that they'll automatically connect.  Real connection comes when you provide opportunities for your team members to help each other out, so they feel an interconnection and interdependence between each other.  Find ways to foster the sharing of skills, knowledge and practical support between team members.
What can you do to increase the authenticity, competence and sense of belonging in your workplace?
https://www.psychologytoday.com/blog/functioning-flourishing/201711/can-you-create-magical-workplace-culture