1.Venture Capital Raised for Firms That Are Not Profitable Second Highest Ever.
• Venture capital and private equity funds have been selling. Of the $42 billion raised via offerings, $29 billion of it was for firms that were not profitable. This is the second-highest in at least 25 years. The only year that showed a greater percentage was 86% in 2000. If they are unloading losing companies, that tells us that they do not want to hold such companies during tough times. Cycles Research Early Warning Serviceby Cycles Research
cyclesresearch.com https://www.barrons.com/articles/8-signs-of-excess-sector-rotation-green-bonds-51572665120?mod=past_editions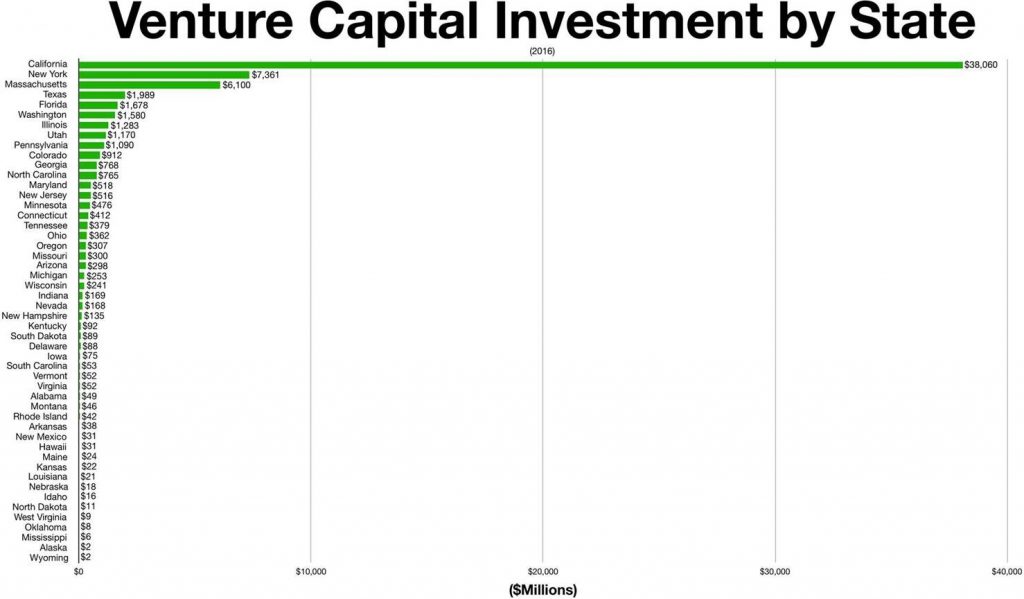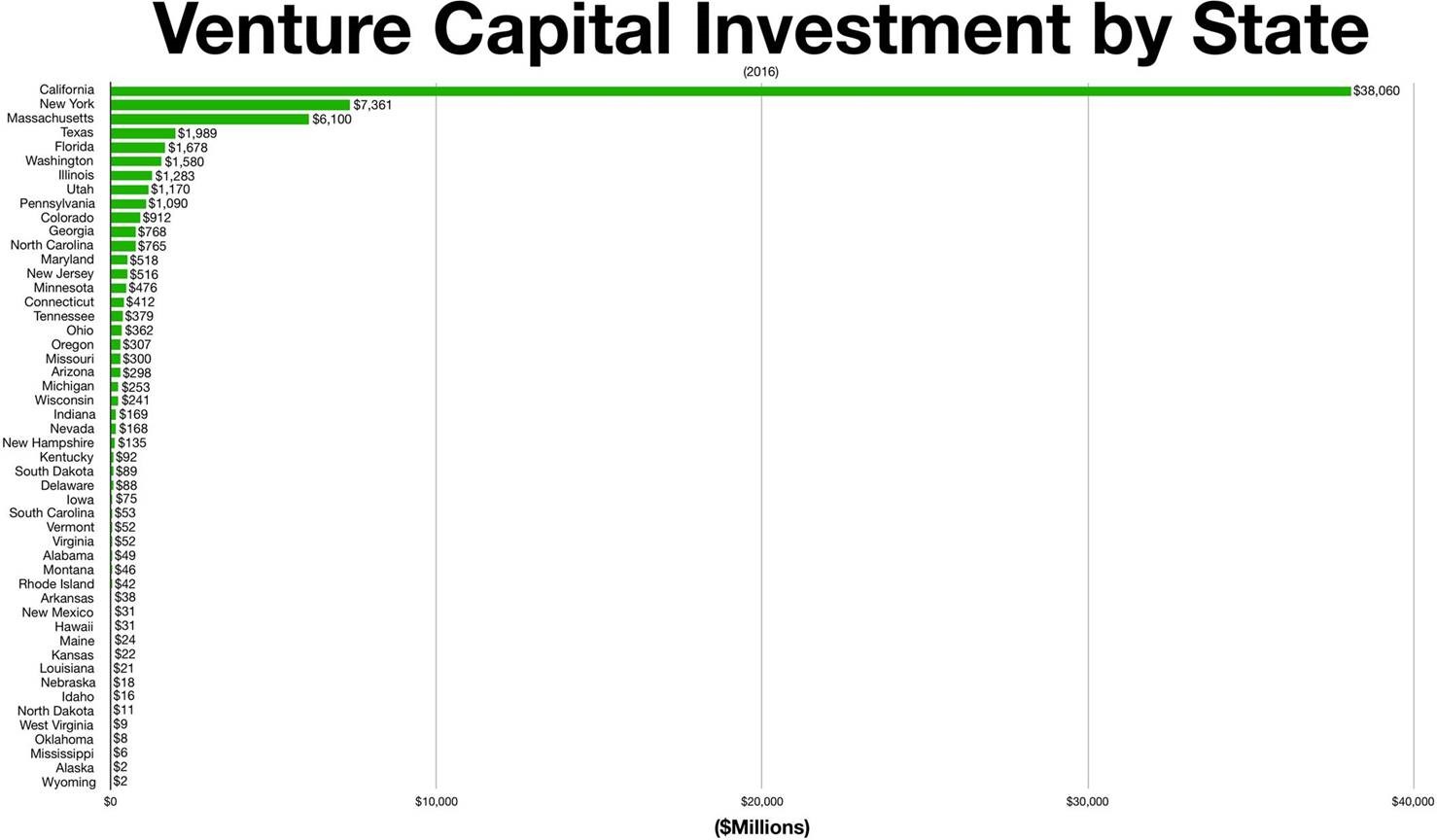 https://en.wikipedia.org/wiki/Venture_capital
2.Stock Market Volatility Hits 52 Week Lows.
No October Volatility Spikes.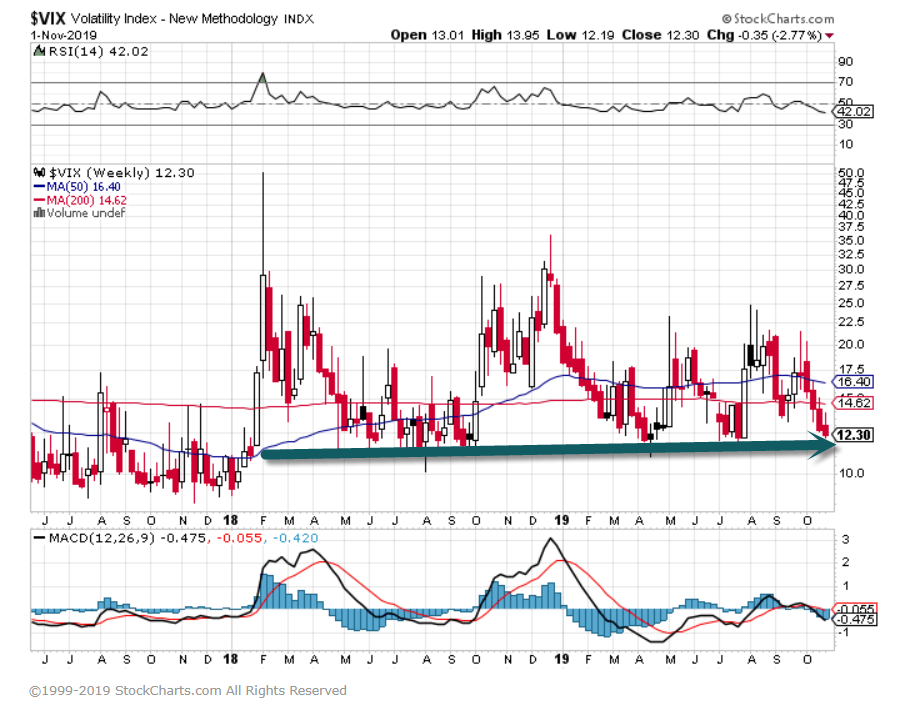 3.Green Bond Issuance Could Hit $Trillion in Coming Years.
Green Bond Issuance and Use of Proceeds
Green bond issuance has steadily increased since 2007, when the European Investment Bank issued the first "Climate Awareness Bond." Total issuance surpassed expectations in 2017 and is expected to exceed $250 billion in 2018 (Exhibit 4). Citigroup estimates that green bonds could grow into a trillion dollar conduit for climate-related investments by 2020 and SEB, a Swedish bank, predicts that 20% of all bond issuance may be "green" within a few years.




https://www.lazardassetmanagement.com/research-insights/lazard-insights/green-bonds-growing-role-in-esg-investing
4.Flipping "Burgers", Flopping IPOs
Fri, Nov 1, 2019
It has been roughly six months since Beyond Meat (BYND) made its initial public offering. Although the stock was sitting on nearly an 840% gain from its IPO price at its highs back in July, BYND has come back down to Earth especially after Tuesday's 22% decline on earnings. Currently, the stock is "only" up 257% since its IPO having pared a large portion of its gains from the first few months after the IPO.

BYND has joined a number of stocks, such as Twilio (TWLO), GoPro (GPRO), Shake Shack (SHAK), and Acacia (ACIA), that have IPO'ed in the past few years, doubling or more in the first few months only to fall considerably in the times ahead. Of these, TWLO was the only one to have considerably recovered within the first 500 trading days while GoPro (GPRO) is the only one to fall below its IPO price.

Turning to some of the largest of this year's class of IPOs, while not to the same extent as BYND, Zoom Video (ZM) and Crowdstrike (CRWD) saw a similar dynamic as both more than doubled in the first 50 days but fell in the following months. On the other hand, the ride sharing giants, Lyft (LYFT) and Uber (UBER), have yet to move back above the IPO price. Although BYND has not had immunity from the classic spike and tank pattern, the stock still has dramatically outperformed other IPOs. Start a two-week free trial to Bespoke Institutional to unlock access to our actionable research and interactive tools.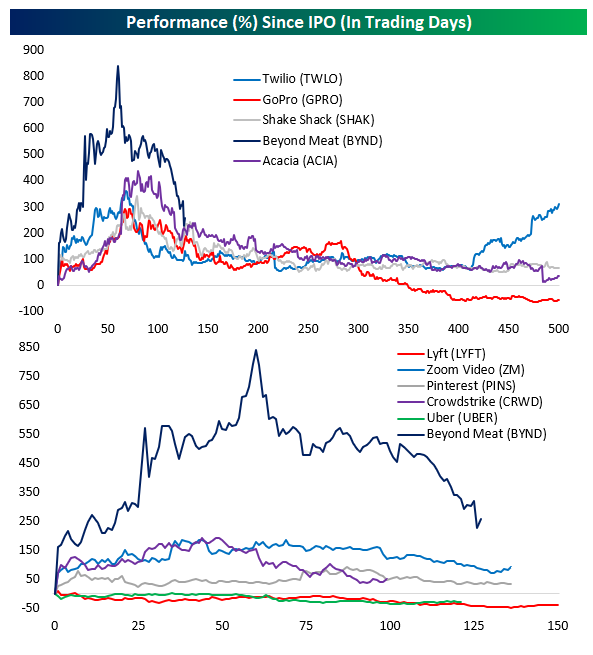 ©2019 Bespoke Investment Group
https://www.bespokepremium.com/interactive/posts/think-big-blog/flipping-burgers-flopping-ipos
5.Aramco IPO Finally a GO.
From Morning Brew https://www.morningbrew.com/
Getty Images
On Sunday, Saudi Arabia finally went public about Aramco's plans to go public. The state-owned oil company will list an undisclosed amount of shares on the country's domestic stock exchange, the Tadawul, in December.   Aramco is a hugely profitable enterprise. Its net income of $111 billion last year topped those of Apple, Exxon Mobil, and Alphabet combined. Saudi Crown Prince Mohammed bin Salman (MBS) had initially targeted a $2 trillion valuation, but that's reportedly looking more like about $1.5 trillion.  With so much money on the table, Wall St. has descended on Aramco like it released a new fried chicken sandwich. More than 20 global banks including Citigroup and JPMorgan have been tapped to work on the deal, reports Bloomberg.  It's on track to be the largest IPO in history.  This has not been a smooth ride It turns out accomplishing the world's biggest IPO isn't easy. The Saudi government has attempted to take Aramco public for years, beset by delays involving disputes over the company's valuation and the location of the listing. Plus, in September an Aramco processing facility was hit by a drone attack. But it looks like with a little scaling back, the IPO is finally a go. Saudi Arabia certainly feels like it's necessary.  The country will funnel the proceeds from the IPO into its sovereign wealth fund, the Public Investment Fund (PIF). We last met PIF as a major shareholder in Uber and as the (possible) source of Elon Musk's crazy buyout plans for Tesla, which were ultimately scrapped. As the NYT notes, PIF is doing most of the heavy lifting in diversifying the country's economy away from natural resources and toward high-tech industries. Those plans include Neom, a futuristic city that'll cost $500 billion to build from scratch. 

Looking ahead…stay tuned for Aramco's IPO prospectus on Nov. 9.           

Reminders on the Size of Aramco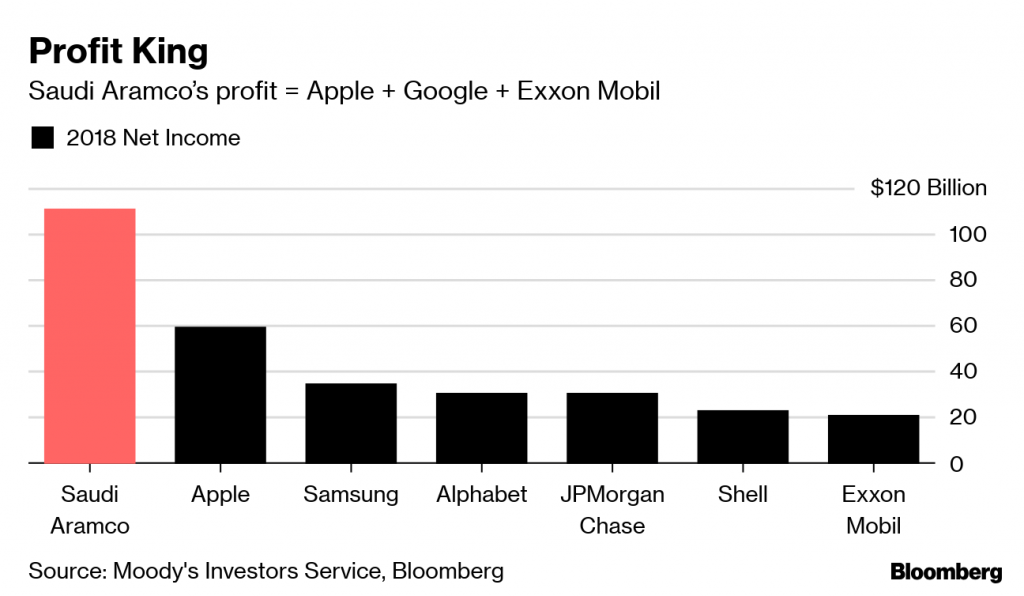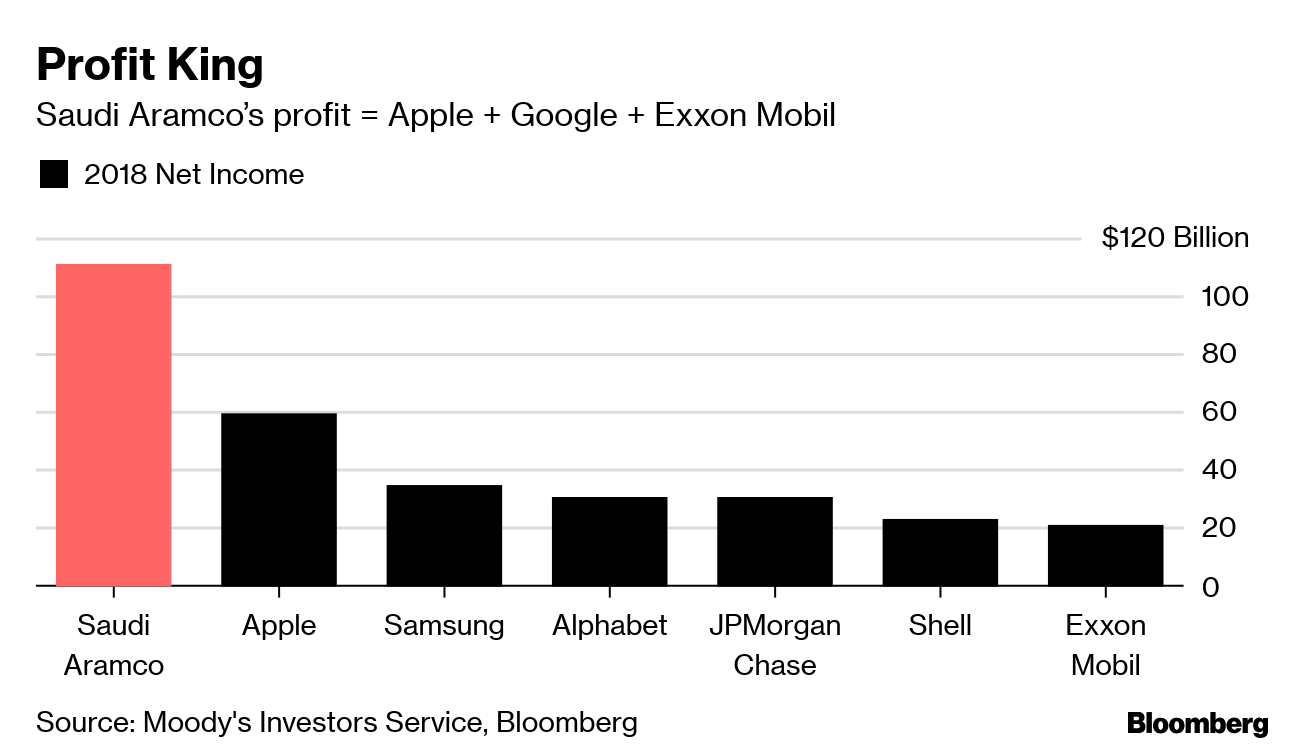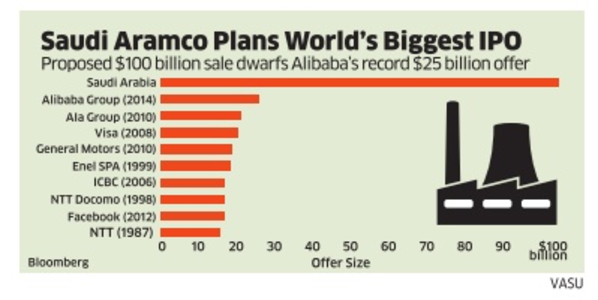 6.Housing Numbers.
• According to the Case-Shiller index, home prices declined in August.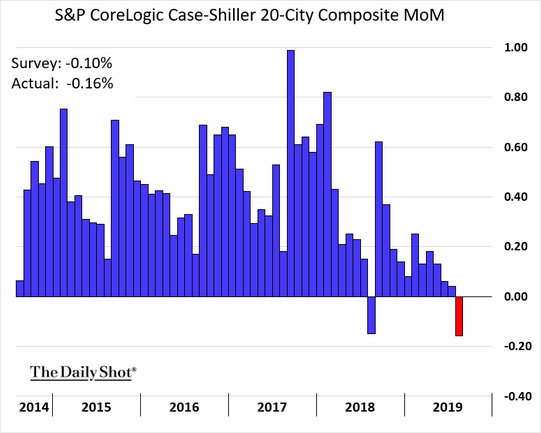 Mortgage originations have been running at multi-year highs.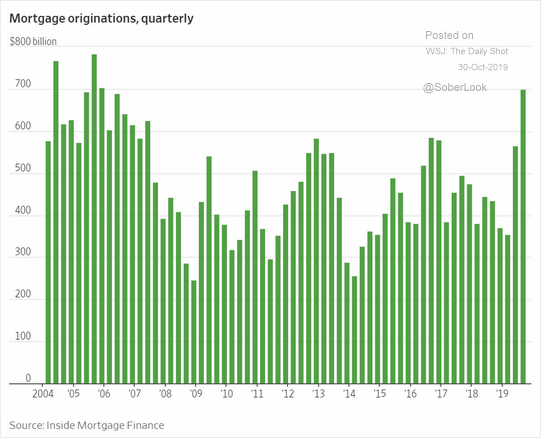 The Daily Shot
https://blogs.wsj.com/dailyshot/2019/10/30/the-daily-shot-latest-curve-inversion-has-been-shorter-and-shallower-than-previous-ones/
7.Elite Business Schools See Drop in Apps.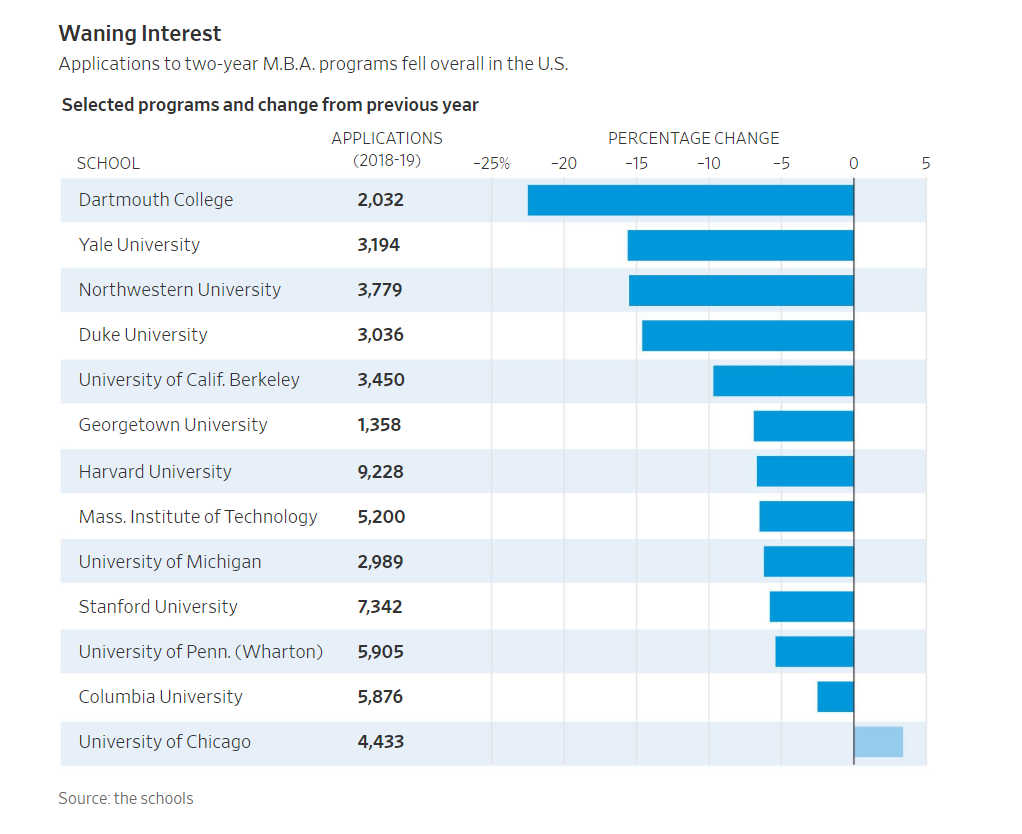 Elite M.B.A. Programs Report Steep Drop in Applications
Harvard, Stanford, MIT see declines; international students find more options in Europe, Canada and Asia
https://www.wsj.com/articles/elite-m-b-a-programs-report-steep-drop-in-applications-11571130001?shareToken=st2e0efb4dc07a45328e9834937ec15f9e&mod=e2tw
8.The Countries with the Most STEM Graduates.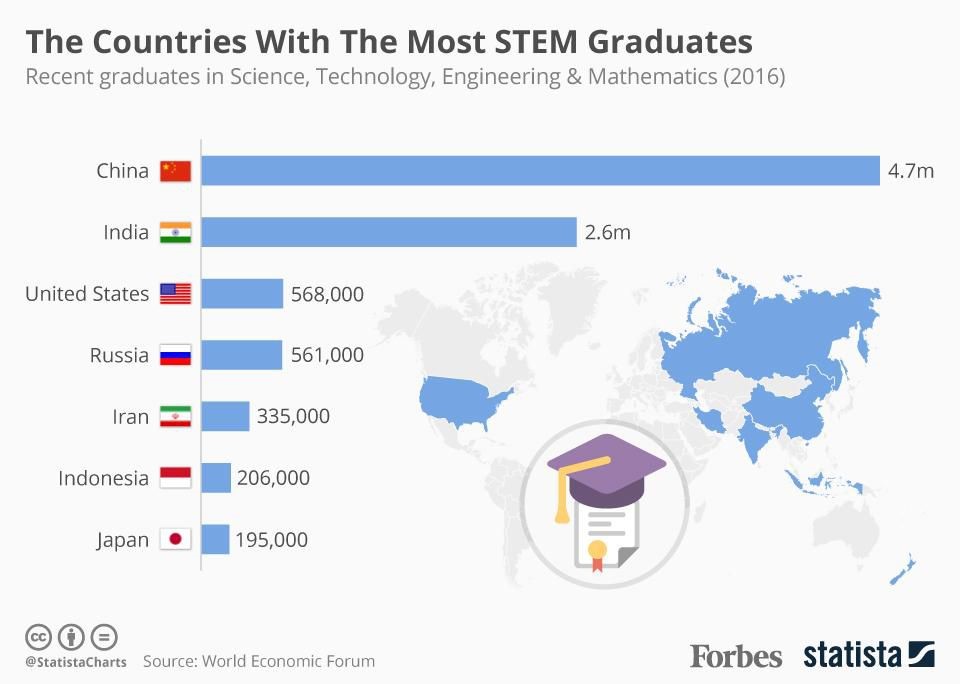 https://www.forbes.com/sites/niallmccarthy/2017/02/02/the-countries-with-the-most-stem-graduates-infographic/#7fa9e9cc268a
9.Travel Tips for Health.
Why You Should Always Refuse The In-Flight Meal
OCTOBER 3, 2019 • MARK ELLWOOD
Taryn Toomey is the founder of Class, a workout program that combines various techniques (yoga, high-intensity interval training, cardio) with cathartic mantras and encouragement to discharge toxic energy. Think of it as fitness for both the brain and the body in a single, 60-minute session.
She logs around 50,000 miles per year and flies regularly on JetBlue to the West Coast. But Toomey doesn't have any loyalty to a particular airline. "I move with the tide, depending on if I just had a nightmare situation with customer service," she laughs.
Starting in mid-October, she will take her unique approach to fitness around America via a seven-city tour featuring live drumming from Caleb Spaulding. Ahead of the tour, we asked her to give us her tips for fighting jet lag, how to stay refreshed on the road, and how the lymphatic system is integral to the body's overall wellness.
Wake up the old-fashioned way—with a real alarm clock
I have a no-phone policy in the bedroom. So I always bring a portable, battery-operated alarm clock so I can turn my phone off and put it away at night to prevent any interference with my sleep. I've created a ritual each night of turning my phone off 30 minutes before getting into bed. This allows my body to fully shut down and prepare for sleep.
I find it especially important to do this when traveling and adjusting to a new time zone and environment. At times, I'll schedule a backup wakeup call from the hotel, but I find them to be so jarring, especially in a pitch-black room. I think a little wooden alarm clock is a gentler way. There's actually a lot less space for error—I mean, I've had my phone not reset to the right time zone when I'm traveling before.
When you travel, pray for rain
When you're somewhere traveling for 10 days and it rains for a couple of days, that feels like a gift, because you get to settle in more. On a trip, at times, you have that feeling that you should be in action every day—sightseeing, or going to a restaurant, or fill in the blank. A rainy day is permission from the universe to stay in and have an introspective, quiet, beautiful day to relax. Stay in your bathrobe, shut down, and let your nervous system decompress. We were just down doing a retreat in the Dominican Republic, and in the middle of the morning class, it rained; the skies just opened up and poured all day. And it felt like such a cleansing. Everyone went back to their rooms, and when we finally reunited for dinner, everyone said they spent that day reflecting, resting, journaling, taking a bath. That's serious restoration there.
Embrace your inner eccentric
I have a wacky in-flight routine: I rub rollers on my face to massage it—the Jillian Dempsey gold vibrating wand. You start on your neck and push it up. It just feels so good; I have a facial device obsession. Then I put on a hyaluronic serum from Barbara Sturm. I have tried all these different ones, and this is the one that works. My skin looks plump and glow-y after I use it. I'm a weirdo with those face tools, and I think people wonder: "What is wrong with this woman?"
She has a unique, multistage practice to beat jet lag …
I'm a big fan of understanding the lymphatic system. It doesn't run on a track like your circulatory system, but instead it lives in the tissues, and the only way to get it moving is through movement. A run, of course, will activate that system, but you should do something else before you go running. Go into your bedroom and do a series of dry-skin brushings; you can also use a hard wash cloth. From your feet, do a series of circular motions toward the belly, up the legs. Spend a lot of time on the stomach, then move up to your arms, hands, and shoulders.
I'll end with a lymphatic drainage on my face. Take the flat hand from your chest and swoop up under your chin toward the lymph node by the ears. Then make a small, very light fist with your hand and perform tapping actions in the exact same places. The dry brush is for your skin, which is the largest organ, then the tapping action gets down to the muscle. It's a double whammy and takes all of three to seven minutes. When you've done that, go on a run to get your heart rate [moving], so the circulatory system can bring fresh oxygen to the blood.
… and it isn't just a pre-run ritual, either.
Once you're back from your run, get in the shower and do the same thing to get the circulation going. And perform some hydrotherapy. Stand in the shower for a minute with the water as cold as you can, hitting the brain and the heart. Then turn it to warm, and stand for another minute. Repeat this three times. Because when you're in the cold, all of the blood moves toward your organs, and when you do the hot water, it expands the blood and pushes it toward the surface. You're doing contraction-expansion to get the body flushed out. It should really help wake you up.
The best wellness destination in the world is in South America
When I think about the ultimate mind-body-spirit experience, I would say the Sacred Valley in Peru. You go out at night, and there's more stars and sky; I've always found it very grounding. I used to stay at this place called Hanaq Pacha, which means "Where Heaven Meets Earth." It was a woman, Mama Kia, who passed away; she had adopted 25 children, and it was created to fund it. Now the Niños Del Sol children's home works with a local hotel nearby to host their guests instead.
Check in with your psoas muscle next time you're on a flight
I will do some seated pigeon-pose stretches while I'm in the seat—I do try to always fly business class if I'm doing a big trip—where you just kind of cradle your leg and rock it back and forth, feeling the ball socket of your femur joint rolling around in your hip joints. It's helpful to release your psoas muscle, which wraps from your inner thigh all the way through the outer hip into the lumbar spine. It's the width of a filet mignon. When people's backs feel really achy, they have a tendency to assume it's their back, and oftentimes it's that muscle, super tight.
Refuse that in-flight meal
My friend [nutritionist] Dana James told me to always fast on flights to help with jet lag. I'll eat right before I take off, or right when I land. But I notice the amount of air in your digestive system—just from the altitude and the way that the system processes anything you put into it—is expanded. When we're up in the air, we get bored, and there's this constant bombardment of food and snacks. The first time I tried fasting on a flight was from New York to Los Angeles, and when I landed, I found that I didn't feel like my stomach was sticking out five feet wider than it usually is. And I wasn't as swollen in my fingers and my toes.
This article was provided by Bloomberg News.
https://www.fa-mag.com/news/why-you-should-always-refuse-the-in-flight-meal-51981.html?section=75&page=3
10.6 Money Tips From Self-Made Billionaires

Deep Patel
Oct. 28, 2019
Becoming a self-made billionaire puts you in a league of your own. Of the approximately 585 billionaires in the US, about 360 have made their own fortunes. These are people who have made it big through hard work, sheer will, tenacity and being in the right place at the right time with the right idea.
We all want to know the secret to success. So, if you could sit down with a self-made billionaire, what kind of money advice would you seek from them? What were the key lessons they learned about managing their finances on the way to boundless fortune?
Here are some of the best pieces of advice offered up by self-made billionaires. Use these tips wisely, and you can put yourself on a path to financial solidarity and success.
1. Chris Sacca — Be cheap.
Chris Sacca is known for his Midas touch as a tech venture capitalist. He was an early backer of Twitter, Uber, Instagram and Kickstarter. Those bets paid off, propelling him to billionaire status.
Sacca's best advice to young adults hoping to build their portfolio is: Don't spend your money! Instead, he advises you to pinch your pennies and have your priorities in order for the long haul. "Being a cheap bastard now means so much more freedom and choices later," Sacca said in an interview with USA Today.
He has observed that, too often, people allow debt to pile up while spending too much on buying things to fulfill their desires. If you can learn to live simply, you'll have money to spare and that will give you more options to start new projects or launch new ventures.
For young entrepreneurs hoping to follow in his path, Sacca cautions that it's not an easy road. Each entrepreneur must carve his or her own way to success. "There is no well-trodden route to where I am, no formula to replicate," he said. "But without exception, everyone I've ever met who is authentic, daring, empathic, tireless and willing to ask for help has gone on to be happy and fulfilled."
2. Reid Hoffman — Have a lifeboat.
He's often called the Oracle of Silicon Valley for his remarkable track record on building companies and his success as a capital investor. Reid Hoffman is a co-founder of LinkedIn and the dating website SocialNet, and was Chief Operating Officer for PayPal. He even worked on Apple Computer's eWorld, an early attempt at creating a social network.
Hoffman now works to educate entrepreneurs on career planning and risk-taking. He calls this ABZ planning. You have Plan A, which is your current plan, the business you're trying to launch or the job you're working at. It's your plan to move up in the world.
Then you have a Plan B, your backup plan; it's what you'll switch to if you get out of Plan A. Maybe your Plan B is a side project you've been working on, or other jobs you're thinking of applying for. But your Plan B should be flexible. You should be open to pursuing multiple opportunities or having a variety of backup plans should your Plan A fall through.
But having a Plan B isn't enough. You also need a "Plan Z." This is your safety net, so if everything goes wrong, you won't be left completely destroyed. It's what Hoffman calls your lifeboat. Having a lifeboat option is important, because if potential failure could leave you bankrupt and homelessness, you won't want to take any risks — and therefore you'll never grow.
For instance, when Hoffman was getting ready to launch SocialNet, he asked his father if he could live with him if the company didn't pan out. If that happened, Hoffman planned to find another job and work his way out of debt, but he knew he'd have someplace to go.
3. Warren Buffet — Live simply and invest in yourself.
Known as the Oracle of Omaha, Warren Buffett is famous for shunning a lavish lifestyle (despite his $86.5 billion net worth). The CEO of Berkshire Hathaway has simple tastes, lives frugally and enjoys being a generous philanthropist.
Buffet still lives in the house he bought in 1957 for $31,500. He seldom buys new cars. He often grabs a cheap breakfast from McDonald's on the way to work. But there are some things that are worth investing in, according to Buffet. And at the top of that list should be yourself, he said in an interview with Forbes.
Whatever your weaknesses are, take steps to address them and overcome what might be holding you back. For Buffett, that weakness was public speaking. As a young man, he took a Dale Carnegie course and gained so much confidence that he proposed to his wife, Susan.
"Nobody can take away what you've got in yourself, and everybody has potential they haven't used yet. If you can increase your potential 10 percent, 20 percent or 30 percent by enhancing your talents, they can't tax it away. Inflation can't take it from you. You have it the rest of your life."
He also goes out of his way to show his love for friends and family, but he doesn't rely on extravagances to show others he cares. Instead, he might send news clippings by mail or personally drive to the airport to pick up a friend.
4. John Paul DeJoria — Have an emergency fund set aside.
Life hasn't always been easy for self-made billionaire John Paul DeJoria, but his experiences have taught him valuable lessons.
Born into a poor immigrant household, he began working when he was 9, selling greeting cards and delivering newspapers to help earn money for his family. As an adult, he found himself homeless several times, including shortly after launching a line of hair-care products with his friend Paul Mitchell.
DeJoria would eventually see sales of John Paul Mitchell Systems hair products skyrocket. And he would go on to build other ventures, including founding Patrón Spirits Co. But the first several years of getting his business off the ground were grueling. DeJoria said their fledgling hair-care business constantly ran behind on paying bills. They finally felt they had turned a corner with the business when they could start paying bills on time after two years.
DeJoria's advice to young entrepreneurs is to make sure you have a cash cushion before you launch your business. "Before investing or starting a company, make sure you have enough money saved for at least six months to pay bills or anything else that might come up financially," DeJoria said in an interview with Business Insider.
5. Sara Blakely — Don't quit your day job.
Sara Blakely, founder of Spanx, is the youngest female self-made billionaire ever to be included in the Forbes World's Billionaires list. She came up with the idea for Spanx when she was 27 and used $5,000 — her entire savings — to get her business off the ground.
But it was slow going at first, and she ran into many dead ends trying to get hosiery mills to manufacture a prototype. She persisted, until finally a mill owner (who ran the idea by his daughters) gave her a shot. Meanwhile, she continued to go to her day job, working her Spanx business as a side hustle until she was sure it was financially viable.
Through it all, Blakely pinched her pennies and avoided incurring any debt as she went through the process of launching her business. She wrote her own patent using a textbook and designed her product packaging with the help of friends. She never accepted any money from outside investors. She continues to own 100 percent of the company, debt free.
6. Dustin Moskovitz — Understand that entrepreneurship is a high-risk path.
Dustin Moskovitz became one of the world's youngest billionaires as a Facebook co-founder, helping then-roommate Mark Zuckerberg launch the social media site from their college dorm room. He is also the founder of Asana, an enterprise project management tool. Although he was able to find success at a young age, Moskovitz cautions others that becoming an entrepreneur is rarely a path to fame and fortune.
Entrepreneurship is a high-risk path, and the odds of achieving billionaire, or even millionaire, status are extremely low. Only a handful of companies end up growing to that kind of scale, Moskovitz said during a presentation to Stanford business students.
Entrepreneurs often work long, grueling hours and there's very little glamour to it, he said. According to Moskovitz, a surer path to wealth is joining a later-stage company and helping them grow it. You'll have a better chance of getting a high salary and achieving financial stability.
Moskovitz is also known for his simple lifestyle and his charity work through his foundation, Good Ventures. In answering a question on Quora, he wrote: "I never viewed money as being 'my money.' I always saw it as 'the money.' It's a resource. If it pools up around me then it needs to be flushed back out into the system."

Enjoy Entrepreneur Magazine on your terms. For just $10.99, get 1-year of the print edition delivered straight to your mailbox and 1-year instant access to the digital edition on your mobile device. Subscribe Now!
http://persimmoncapital.com.advisor.news/6-money-tips-self-made-billionaires/?c=eyJ0eXAiOiJKV1QiLCJhbGciOiJIUzI1NiJ9.eyJub2RlX2lkIjozMTU0OSwicHJldmlldyI6ZmFsc2UsImNvbW1faWQiOjE2MDQzNTUsImRlc3RfaWQiOjIyMTIzMDV9.owfWgStYRX1WMFhkUBfUisL12tsZm6Adk7pYcG32MFQ