1.2018 –Another Look at Tough Year for Diversified Portfolios
If the year ended today, it would be the worst year for global diversified portfolios since 2008.


https://twitter.com/charliebilello/status/1067456096464449542
Found at Abnormal Returns Blog… www.abnormalreturns.com
2.58% of Fixed Income Inflows 2018 Went to Short-Term Bond ETFs.
Spiking Short Term Bond ETF Assets May Stick
November 27, 2018
Driven by rising interest rates, 2018 flows into short-term ETFs have been prolific.
Year-to-date, these ETFs have gathered more than $43 billion in assets. This number represents close to 58.4% of the total inflows into fixed-income ETFs for the year.
| | | |
| --- | --- | --- |
| Niche | 1-Month Flows ($M) | YTD Flows ($M) |
| Broad Maturities | -343 | 12,278 |
| Floating Rate | 426 | 10,910 |
| Intermediate | 581 | 6,647 |
| Long-Term | -840 | 1,380 |
| Short-Term | 4,979 | 24,690 |
| Ultra-Short Term | 5,214 | 19,123 |
Flows into fixed-income ETFs at 11/21/2018; data from FactSet
The yield-curve dynamics have made short-term debt attractive on a relative basis to longer-dated debts. The question now is whether the short-term ETF popularity will stick into 2019.
https://www.etf.com/sections/features-and-news/spiking-short-term-bond-etf-assets-may-stick
3.Another Look at Corporate Debt.
Corporate Debt vs. Consumer Debt.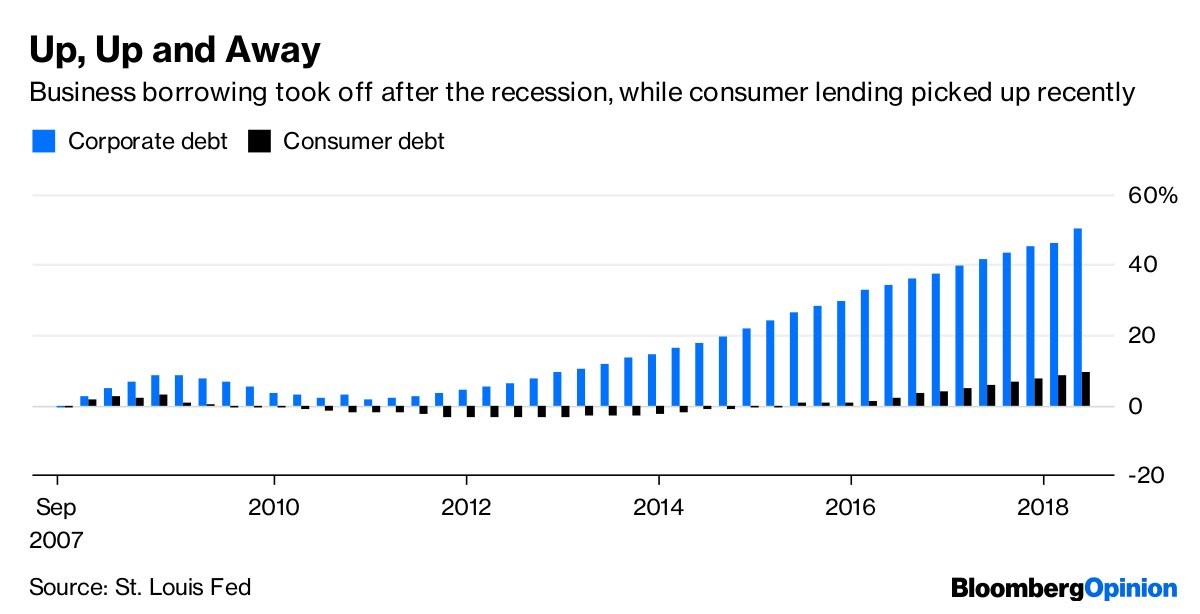 4.Oil Price Drop, International Demand Slowing, and Inflation Rolling Over….Commodities.
Commodity Index Holding Above 2017 Lows…Remember Close to Record Low Valuation vs. S&P.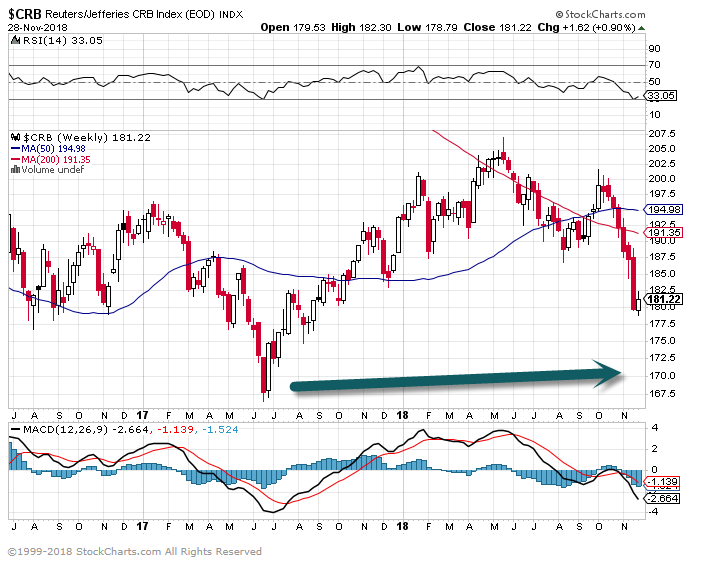 5.Earnings Deliver Again…Less Mention of Tariffs on Quarterly Calls.
Posted by lplresearch
We expected another strong earnings season, and corporate America delivered with S&P 500 Index year-over-year earnings increasing 28% in the third quarter. A pickup in economic growth, strong manufacturing activity, and tax cuts were key drivers, but even without the tax reform boost, earnings growth exceeded 20%.
"Both revenue and earnings soundly beat expectations this earnings season, making prior assertions of an earnings growth peak premature," said John Lynch, chief investment strategist for LPL Financial. "Companies' outlooks were generally upbeat even in the face of tariffs and building wage pressures." Not surprisingly, tariffs have been a popular topic on earnings conference calls, as shown in today's LPL Chart of the Day. The good news is that most companies have indicated that the impact has been limited. Many companies are taking a wait-and-see approach before relocating supply chains, which we think is prudent.
Generally upbeat company guidance suggests that the impact of tariffs on corporate profits may be manageable. Since third-quarter earnings season began, S&P 500 earnings-per-share estimates for the next four quarters have fallen by 1.1%, better than the historical average decline of roughly 2%. We have also been encouraged by firms' ability to continue expanding profit margins amid rising wages, though opportunities for further margin gains in 2019 may be limited.
For a more complete review of third-quarter earnings season, please see our latest Weekly Market Commentary.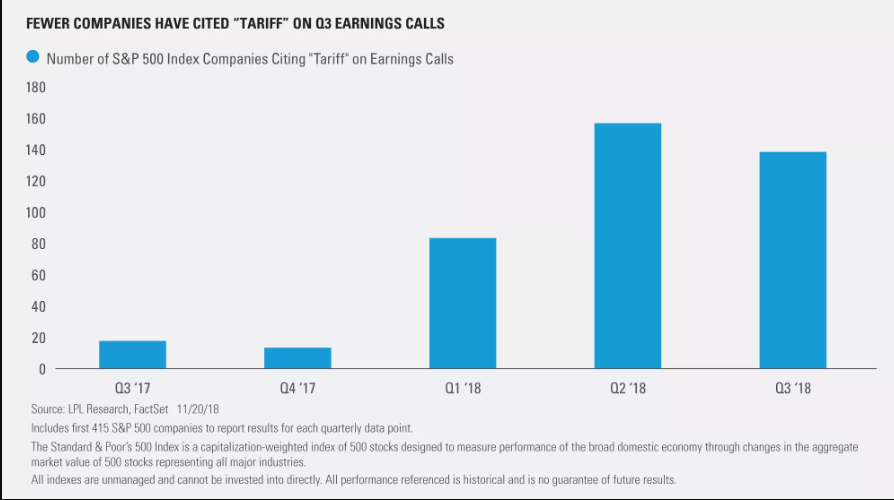 https://lplresearch.com/2018/11/28/earnings-deliver-again/#more-11402
6.Last 6 Months U.S. Outperformance Over Emerging Markets in 92nd Percentile vs. History.
Over the last six months, the S&P has beaten the MSCI ACWI ex USA Index by more than 14.5%—a performance gap that falls into the top decile of history.
Looking at EM, the difference has been even more stark, with a nearly 20% gap between the two regions in just six months—in the 92nd percentile of history!1  Outside of the Asian debt crisis in the late 1990s, outperformance of this magnitude has not tended to last long; given the stark differences in fundamentals in the asset class between now and then, it seems reasonable to believe an eventual reversion to the mean will arrive.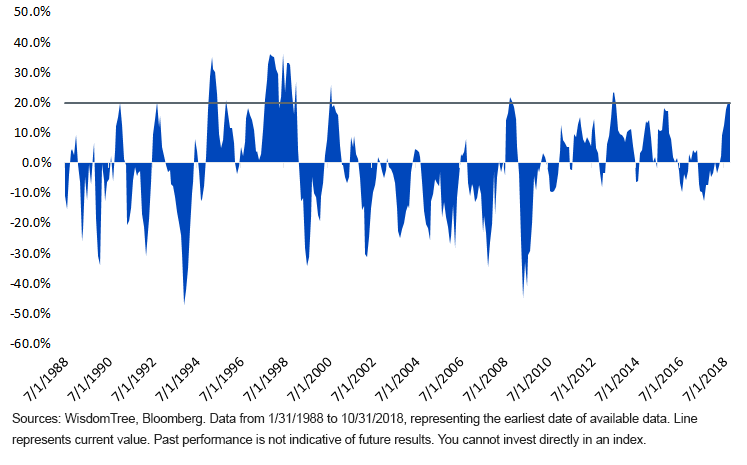 Have We Reached the EM Inflection Point?
11/15/2018
Joseph Tenaglia, CFA, Asset Allocation Strategist
7.Big Data and AI Coming to Sports Betting
Projected Growth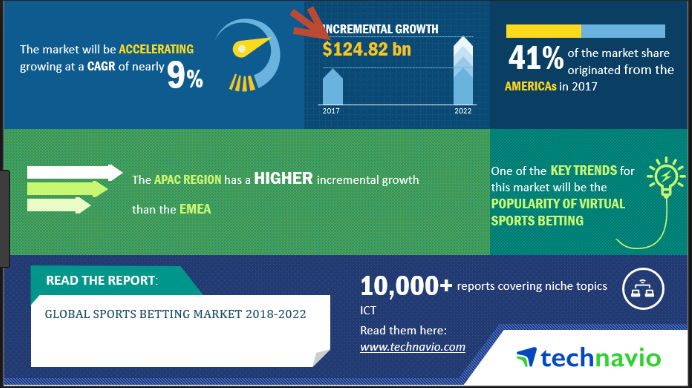 NBA Breaks Fresh Ground for Sports With First Gambling Data Deal
November 28, 2018, 8:00 AM EST
League has signed agreements with Genius Sports and Sportradar
Firms to serve as middlemen between NBA and betting operators
DeMar DeRozan of the San Antonio Spurs has his shot contested by Josh Hart and LeBron James of the Los Angeles Lakers on Oct. 22, 2018.
Photographer: Harry How/Getty Images
Photographer: Harry How/Getty Images
The National Basketball Association has signed the first gambling data partnerships in the U.S., giving two firms the right to sell the fastest and most accurate NBA information to bookmakers across the country.
Under identical multiyear deals, Genius Sports Group and Sportradar AG will be the official gatekeepers of the NBA and WNBA's betting data, serving as middlemen of sorts between the leagues and gambling houses across the country.
Though financial terms weren't disclosed, these sorts of deals tend to be among the most expensive in the sports-gambling industry. That's because of the exploding popularity of live betting, also called in-play betting, where gamblers wager on small possibilities within a game. As bookmakers pursue more micro-betting markets — say, offering odds on the next free throw or who will commit the next foul — they need access to the most instantaneous and reliable data.
"We've been consistent that we want all legal operators to be using official data, and this framework ensures that there's a competitive marketplace for it," said Scott Kaufman-Ross, the NBA's vice president of fantasy and gaming. "That's the unique part of this deal, that it's not exclusive — and that's different from what's done with many other leagues around the world."
Data Revenue
The growth of legal sports betting in the U.S. will benefit sports leagues and teams in different ways, from sponsorship opportunities to increased fan interest and TV ratings. But if leagues like the NBA are unsuccessful in persuading state legislators to give them a direct cut of every dollar wagered on their games, the sale of their official data could be the most significant way they profit directly off the new industry.
For London-based Genius Sports, the deal provides validation in the U.S. market, said Chief Commercial Officer Jack Davison. The company will now work to take the NBA's raw data and turn it into products that sportsbooks can then offer to bettors.
"If you gave many sportsbook operators some raw data from an NBA game, they wouldn't really know what to do with it because they don't have the technology, or the resources or the expertise," Davison said. "That's what they get in working with us. We're adding a whole product layer that turns real-time data into an in-game product."
Ownership Changes
Sportradar and Genius Sports already do extensive work across the major U.S. sports leagues, deals that include non-gambling data in the U.S., gambling data overseas and monitoring services that detect suspicious betting patterns. Both also recently underwent major ownership changes: A minority stake sale valued Sportradar at $2.4 billion, while Genius Sports sold to private equity firm Apax Partners for an undisclosed number.
Sportradar has already started signing partnerships to distribute this data. Earlier this month, the company signed a partnership with bookmaker MGM Resorts International, making it the official data provider for the company's various sportsbooks around the country. The National Football League owns a minority stake as well, and its investors include a trio of NBA owners — Hall of Famer Michael Jordan, Ted Leonsis and Mark Cuban.
The company also has a number of existing deals with the NBA. In 2016, it signed a six-year $250 million deal to distribute the league's overseas gambling data. And it does integrity monitoring for the league, and has some live audio and video rights that it distributes to betting houses outside the U.S.
'New Territory'
"Now that we're coming here to the U.S., a lot of this will hopefully be seamless for us, working with existing clients just in a new territory," said Jake Williams, a Sportradar executive overseeing legal and regulatory affairs. "Of course, there will be new customers — and new customer segments — from Tribal to other local casinos. But the NBA does a great job with their live data, and this is a true collaboration effort."
The NBA continues to be a leader in the nascent U.S. sports-gambling industry. Adam Silver was the first major league commissioner to argue against the federal sports-betting ban, and the league was also the first to partner with a sportsbook.
https://www.bloomberg.com/news/articles/2018-11-28/nba-breaks-fresh-ground-for-sports-with-first-gambling-data-deal
8. LeBron James confirm his goal is to play in the NBA with his son
LeBron James has already been in the NBA for 15 years, but says he plans to play for five or six more seasons so he can take the court with his son. Jayne Kamin-Oncea/Getty Images
LeBron James recently expressed his desire to remain in the NBA long enough to play with his son, Bronny.
Bronny James is 14, but could potentially enter the league in five or six years depending on how the NBA's eligibility rules change before then.
The declaration means James hopes to play over 20 seasons in the NBA, and he's already taken numerous steps to ensure his longevity.
LeBron James has already put together one of the greatest careers in NBA history, but even in his 15th season, don't plan on him leaving the league any time soon.
James and his trainer Mike Mancias recently joined Tim Ferriss on his podcast to talk about James' lifestyle, habits, and what he's learned as both a father and NBA superstar.
Read more:Here is what LeBron James eats to stay at the top of his game at an age when many other NBA players decline
Near the end of the interview, Ferris asked how long James planned to continue playing in the league, and James was quick to answer — as long as it took to take the court with his son, Bronny James.
"I would love to see the floor with my son," James told Ferris. "My son is in the eighth grade now, if he continues on the path that he's on right now, he could possibly be in the NBA in five or six years. That would be an unbelievable moment not only for myself but for my family, for everybody. So we'll see. Obviously taking care of the body is number one, and we'll continue to do that."
Completing his thought, James added, "That would be pretty dang cool if I were able to be on the NBA floor with my oldest son."
James had previously hinted at his desire to play with his son, but this was a much more full-throated declaration of his wishes.
Playing five or six more seasons would put James with over 20 years of NBA service — a long career, but one becoming more and more common amongst great players that have learned to adjust their roles as they age.
For Bronny's part, he just turned 14 but has already received offered from some of the top schools in the country, and on his current trajectory, would almost certainly be a one-and-done player.
Further, there's a chance that by the time Bronny is a senior in high school, the NBA will have changed the rule to allow players like James to enter the league straight out of high school as his father did before him.
While it's far more likely the father-son duo end up on opposite teams thanks to the NBA Draft, it's almost too enticing not to imagine the two teaming up together — depending on the elder James' contract status, nothing is impossible.
https://www.businessinsider.com/lebron-james-son-bronny-nba-2018-11