1.S&P Earnings Largest Positive Surprises Since 2011
Yardeni Research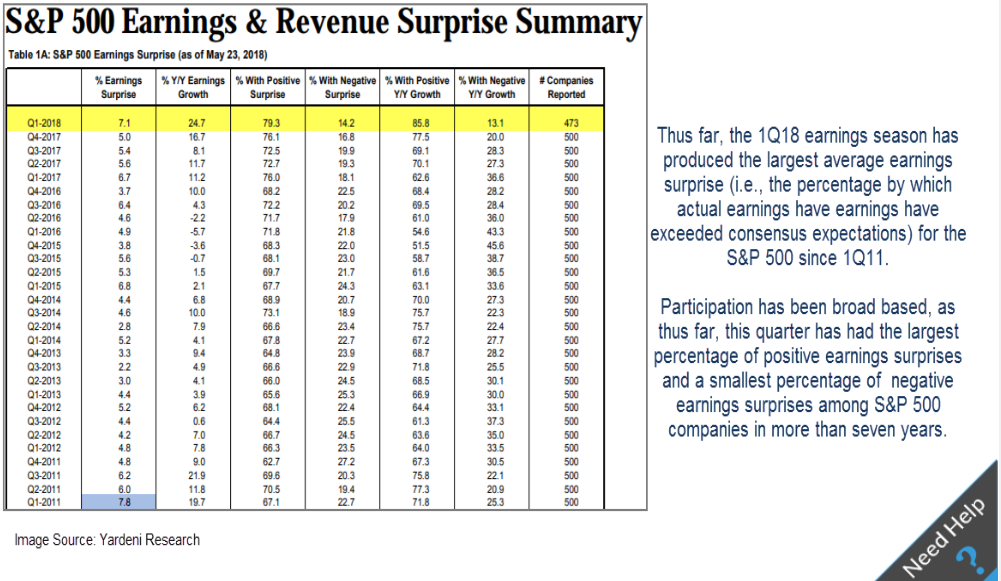 https://oxlive.dorseywright.com/research/bigwire

2.Technology Sees Highest Volume of Convertible Debt Since 2000
So far this year, 24 U.S. technology companies have issued $11 billion of convertible bonds, the highest volume in a comparable period since 2000 and 29% above the already-elevated level of 2017, according to Dealogic.
It isn't hard to see why: The cost of the debt is at a record low even as interest rates more broadly rise. The average coupon for convertible debt issued this year is 2.5%, the lowest on record, according to Dealogic. Tech companies are paying just 1.0% on average.
Bull Market in Tech-Company Convertible Debt Rages On
Some firms are able to issue convertible bonds that pay no interest—a rarity since the dot-com bubble
https://www.wsj.com/articles/bull-market-in-tech-company-convertible-debt-rages-on-1527240600?mod=ITP_businessandfinance_0&tesla=y
Tech Dominated 2017 Issuance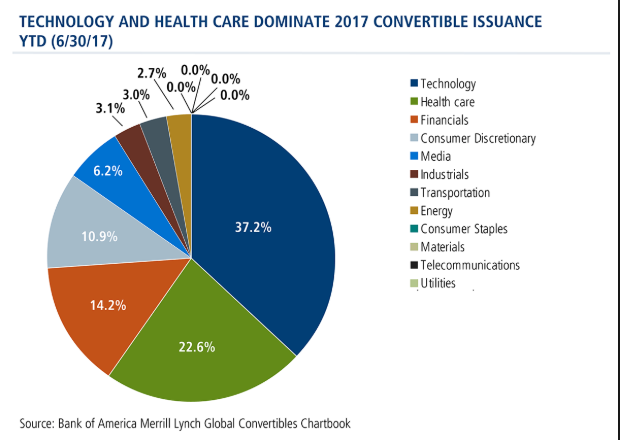 3.History of Convertibles During Rising Rate Environments.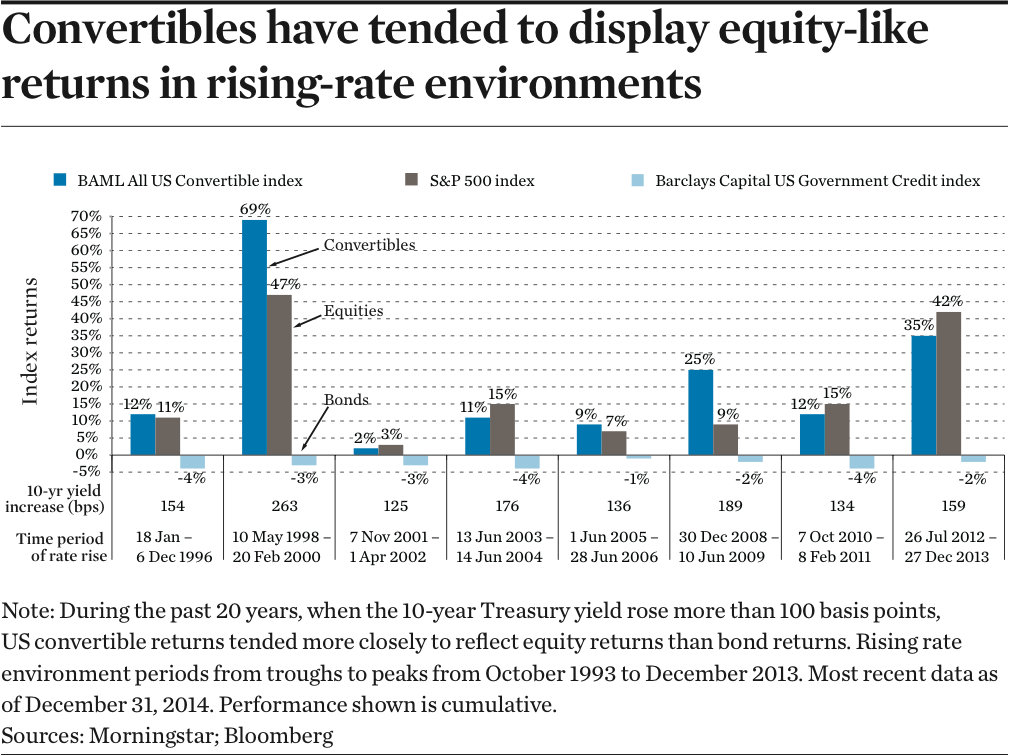 https://www.ipe.com/reports/special-reports/hybrid-securities/convertible-bond-performance-best-of-both-worlds/10007303.article
4.Netflix Passes Disney in Market Cap.
Netflix +986 % vs. Disney +62% 5 Year Performance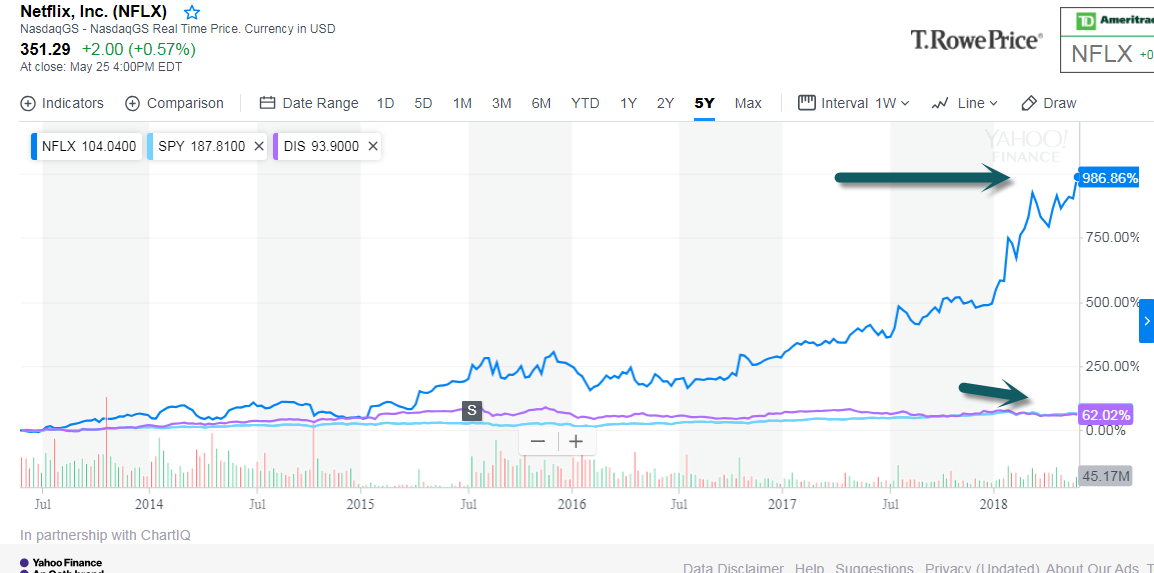 5.Showed Emerging Market Stocks 10% Correction Last Week….Emerging Bonds -6.3% from Highs…Currency Effect.
JP Morgan Emerging Markets Bond ETF—50day thru 200day to downside.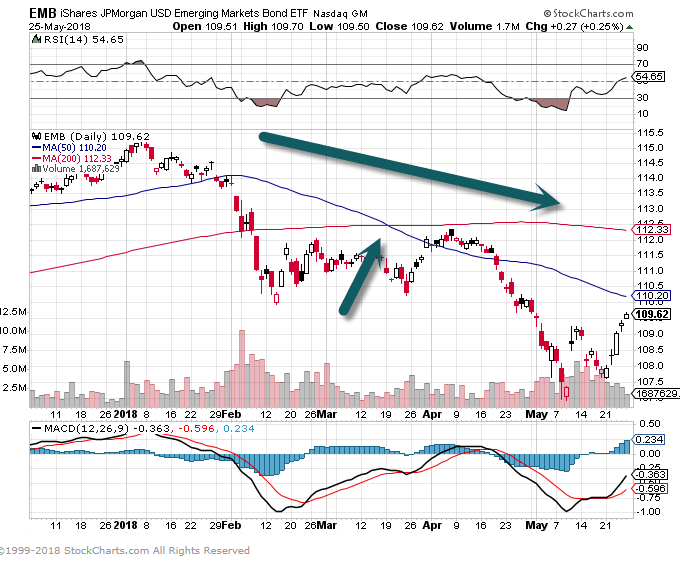 6.Emerging Market Debt $5 Trillion 2010 to $11 Trillion 2017….2/3 Dollar Denominated.
 7.Dividend Play Runs Out of Steam Past 12 Months as Rates Rise.
DVY Dividend ETF Returns Half of S&P Past 12 Months…Utilities -6%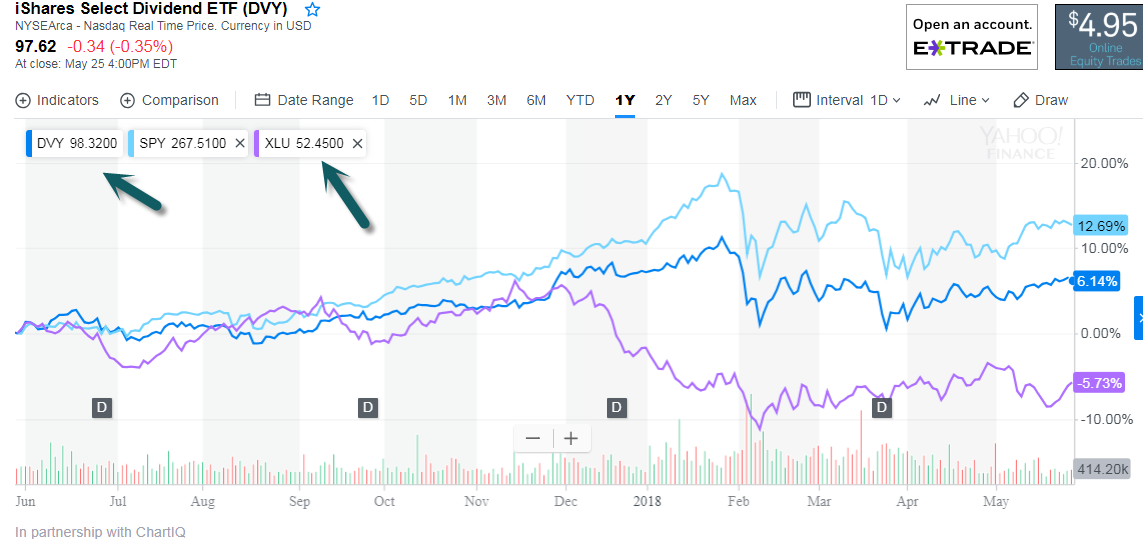 8.Monthly Check in with Fear and Greed Index…..Still Fear.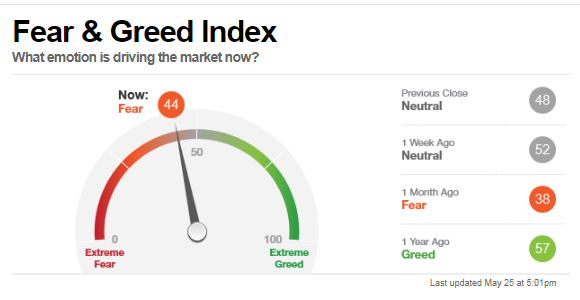 http://money.cnn.com/data/fear-and-greed/
 9.Oil Slumps 4% Monday.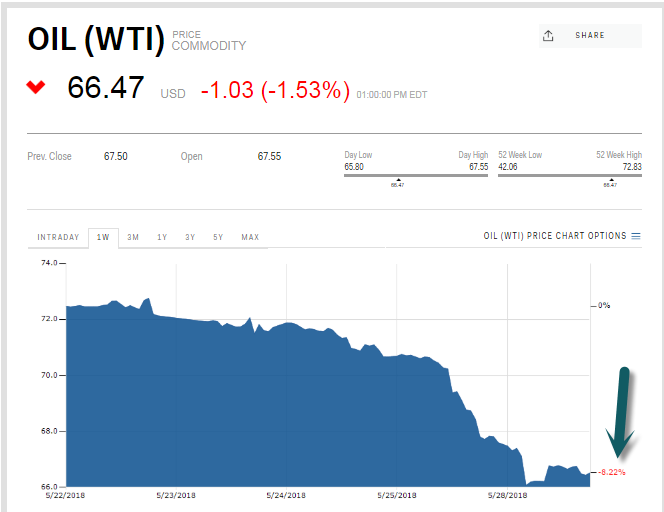 http://markets.businessinsider.com/commodities/oil-price?type=wti
Oil battered anew on concerns about Russia, OPEC supply rise
By Barbara Kollmeyer and Biman Mukherji
Published: May 28, 2018 6:14 a.m. ET
Oil prices slumped anew on Monday, with investors nervous about the prospect of major oil producers such as Russia and Saudi Arabia boosting production, and as U.S. output also showed signs of picking up.
July West Texas Intermediate crude oil CLN8, -2.08%  fell $1.18, or 1.8%, to $66.69 a barrel in electronic trading. On Friday, oil slumped 4% to settle at $67.88 a barrel on the New York Mercantile Exchange. That was the lowest finish for a most-active contract since May 1, according to FactSet data.
Oil will not trade in the U.S. on Monday in observance of Memorial Day.
Prices marked a weekly loss of roughly 4.9%, which was the first weekly slide in about a month.
July Brent oil, the international benchmark LCON8, -1.47% dropped $1.10, or 1.4%, to $75.35 a barrel in electronic trading. On Friday, prices fell $2.35, or 3%, to $76.44 a barrel on ICE Futures Europe, for the lowest settlement since May 8 and slid 2.6% for the week.
Beyond the prospect of those part of the production-cap deal led by the Organization of the Petroleum Exporting Countries agreeing to higher output, was Friday afternoon's disclosure that active U.S. oil-drilling rigs rose by the most since February the past week, said Phillip Futures' Benjamin Lu.
Baker Hughes BHGE, -2.72%  on Friday reported that the number of active U.S. rigs drilling for oil was up 15 at 859 this week. That was the largest weekly rise since the week ended Feb. 9. That news, though, didn't add to Friday's price slump as U.S. output has already been at record highs.
Friday's slump followed media reports that the Organization of the Petroleum Exporting Countries and Russia are discussing plans to lift their production for the first time since 2016. Bloomberg said the major producers are considering pumping between 300,000 and 800,000 more barrels of oil a day, while Reuters said the number could be as high as 1 million barrels.
OPEC and a group of non-OPEC countries led by Russia have since January 2017 cut production in an effort to tackle the global supply glut that had pulled prices to multiyear lows. The global inventories are now close to OPEC's target, helping lift prices to three-year highs in recent weeks. Plans
The plans to now lift production again come amid worries that Iran's exports will decline after the U.S.'s decision to pull out of the nuclear deal with Tehran and as output has collapsed in Venezuela.
— Myra P. Saefong contributed to this article
https://www.marketwatch.com/story/oil-battered-anew-on-concerns-about-russia-opec-supply-rise-2018-05-28
10.The 2 Questions Steve Jobs Used to Get Brutally Honest Feedback
You can't get better if you don't know where you're going wrong.
By Jessica StillmanContributor, Inc.com@EntryLevelRebel
Steve Jobs was legendary for a lot of things — one was the value he placed on brutal honesty. That translated not only into him being sometimes painfully honest with those who worked for him. It also meant he demanded others tell him the unvarnished truthabout what was going wrong at the companies where he worked.
But how exactly did he get employees to open up to the boss? People are naturally reluctant to bring leaders bad news, after all, which means simply asking for feedback in an open-ended way rarely works well. Jobs knew all about how uncomfortable people can be bearing bad news, sp he came up with a clever way to extract honest appraisals from his teams, Silicon Valley storytelling guru Andy Raskin explained in a recent Medium post (hat tip to Business Insider for the pointer).
He heard about the technique in an unusual way, he reports: he overheard one older famous CEO relate a story about Jobs to younger, also famous CEO he was mentoring in a San Francisco cafe (specifically Just for You Café in the Dogpatch neighborhood if you're hoping to run into a couple of CEOs yourself). The idea boils down to just two questions
Can getting brutally honest feedback really be this simple?  
The technique was born of Jobs' need to get quick, honest feedback during the period he was splitting his time between Apple and Pixar in the 80s. As he was leading two companies, he didn't have time to waste sorting through rambling or sugar coated feedback. So here's what he did, as Raskin heard it (emphasis mine):
He would arrange sessions with all the different teams–the Cars team, the technology team, whatever–so there were a dozen or so people in each one. Then he would point to one person in each session and say: Tell me what's not working at Pixar…
That person might offer something like, 'The design team isn't open to new technology we're building.' Jobs would ask others if they agreed. He would then choose someone else and say: Tell me what's working at Pixar.
According to Famous CEO, Jobs would alternate between the two questions until he felt like he had a handle on what was going on.
Apparently, the famous CEO in question claimed to have adopted the technique with much success. Rankin followed suit, adapting it to use with a workshop he was giving a few days later, also with great success.
"If you work with teams in any way, I recommend trying Jobs's technique," Raskin concludes.
https://www.inc.com/jessica-stillman/the-2-questions-steve-jobs-used-to-get-brutally-honest-feedback.html?cid=hmside2