1.Western Europe, U.S. and China Car Sales Drop…
For the first time since January 2009, sales of cars declined year-over-year in all three of the world's largest auto markets of Western Europe (-6.8%), China (-1.8%) and the United States (-3.7%). Combined, these three markets account for roughly 70% of the world's auto sales
Lots of cars coming off lease.

www.zerohedge.com
2.Uber + Falling Used Car Prices…Crushed Rental Car Industry.
Late to ball game here but caught this chart at Blackrock conference.
Late last year, Uber and Lyft surpassed car rental companies' market share of ground transportation for business travelers, according to a study by Certify, a business expense management company.
HTZ Implosion.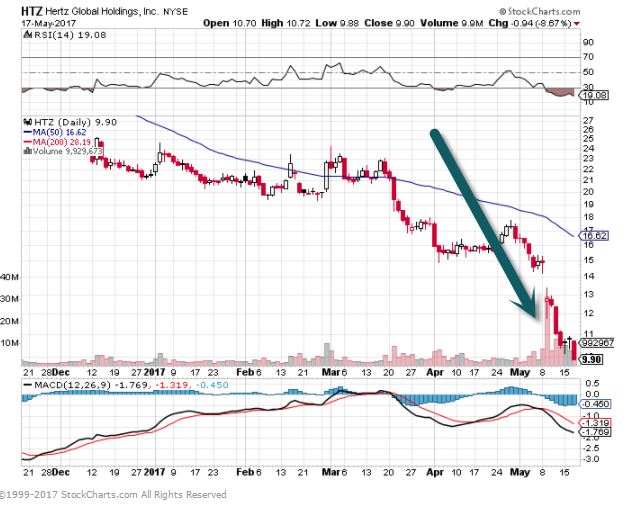 Hertz is back near 2008 crisis levels.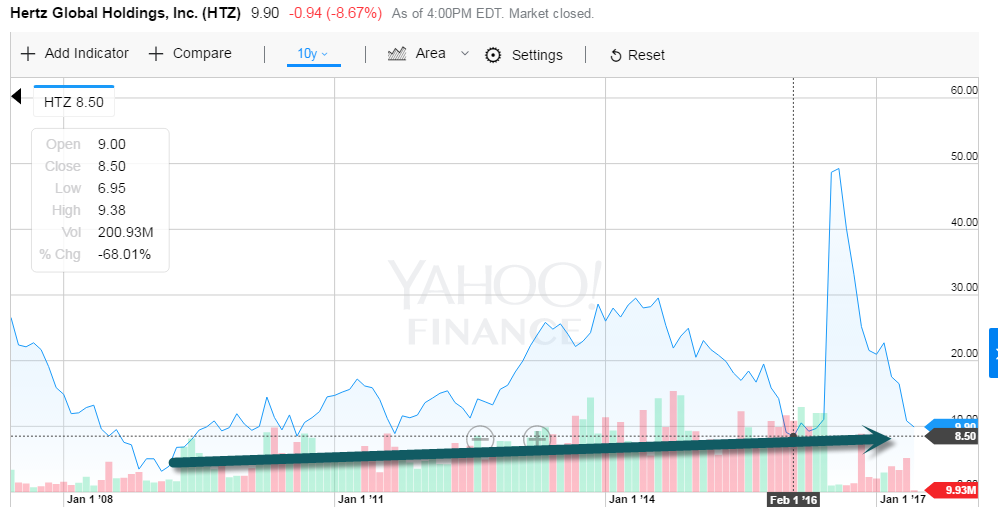 3.American Resilience….From Depression Era Earnings to New All Time Highs.
Chart of the Day
With Q1 earnings largely in the books (84% of S&P 500 firms have reported), today's chart provides some long-term perspective on the current earnings environment by focusing on 12-month, as reported S&P 500 earnings. Today's chart illustrates the dramatic nature of the earnings plunge during the financial crisis as well as the recovery that followed — a recovery that took earnings from levels not seen since the Great Depression to a new record high. More recently, however, S&P 500 inflation-adjusted earnings declined significantly. On a positive note, S&P 500 inflation-adjusted earnings have been trending higher over the past several months and have just surpassed their credit bubble peak.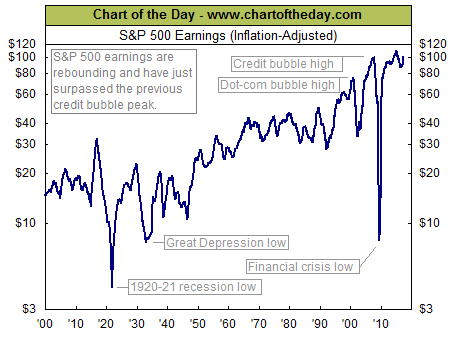 www.stockcharts.com
4.China is Front Burner for World Economy and Emerging Markets Rally
China worries are back on the front burner again, as China economic data has slowed. However, the levers that China has in its arsenal to defend against economic weakness remain in place. China's FX reserves are at their highest level since November, the currency has risen 5% Y/Y, fiscal spending has fallen 11% Y/Y (leaving them plenty of room to ramp), three-month SHIBOR is 150 bps higher than it was last year, and wealth has risen due to higher home and equity market values.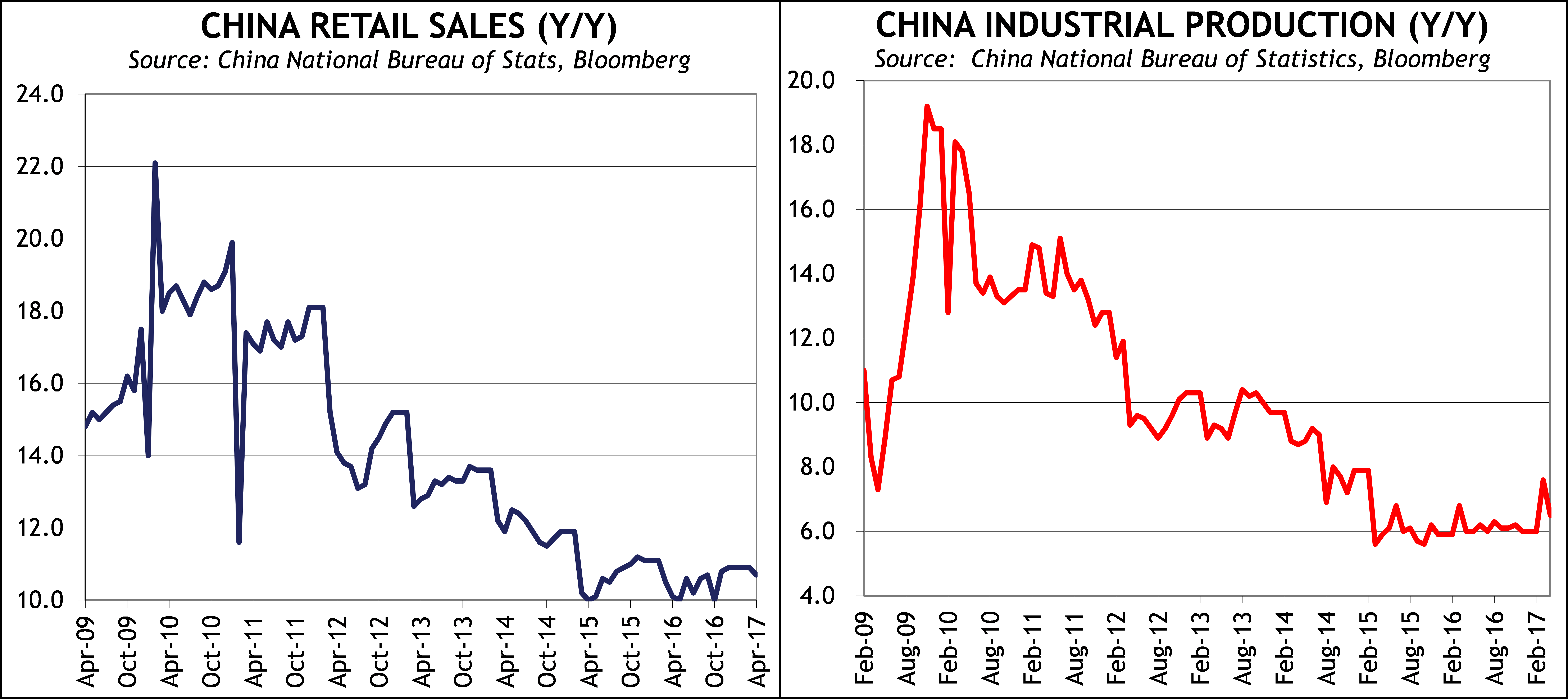 From my friends at Bluestone
http://www.bluestonecm.com/
5.$7.2B Flows Into Int'l Equity ETFs During Week
Top 6 in ETF Flows for Week International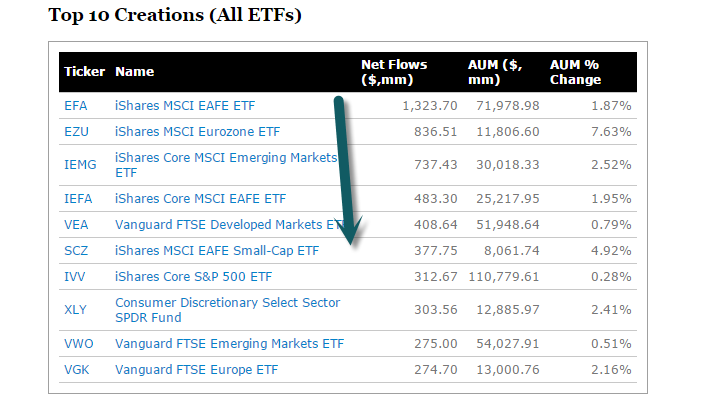 International ETFs Dominate
Out of the ETFs with the top 10 creations this week, eight of them were international equity funds. The only U.S.-focused names on the list were the iShares Core S&P 500 ETF (IVV), with inflows of $313 million; and the Consumer Discretionary Select Sector SPDR Fund (XLY), with inflows of $304 million.
Outside of that, investors were focused on broad international developed-market ETFs, Europe ETFs and emerging market ETFs.
The broad international funds on the list included the iShares MSCI EAFE ETF (EFA), with inflows of $1.3 billion; the iShares Core MSCI EAFE ETF (IEFA), with inflows of $483 million; and the Vanguard FTSE Developed Markets ETF (VEA), with inflows of $409 million.
The Europe funds that were in favor were the iShares MSCI Eurozone ETF (EZU), with creations of $837 million; and the Vanguard FTSE Europe ETF (VGK), with creations of $275 million.
Rounding out the top 10 was a pair of emerging market funds―the iShares Core MSCI Emerging Markets ETF (IEMG) and the Vanguard FTSE Emerging Markets ETF (VWO)―with inflows of $737 and $275 million, respectively.
http://www.etf.com/sections/weekly-etf-flows/weekly-etf-flows-2017-05-11-2017-05-05
6.Theme Continues…Death by AMZN is not just your Crappy Retailers.
YTD AMZN +25% vs. TGT -24%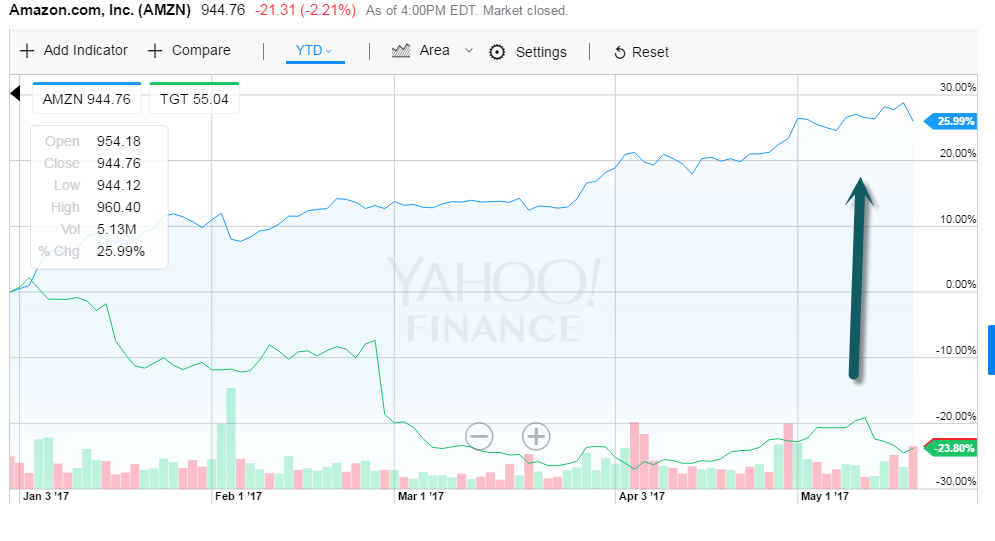 www.yahoofinance.com
7.For US consumers 17.5% of consumer spending goes to paying for health care, see chart below.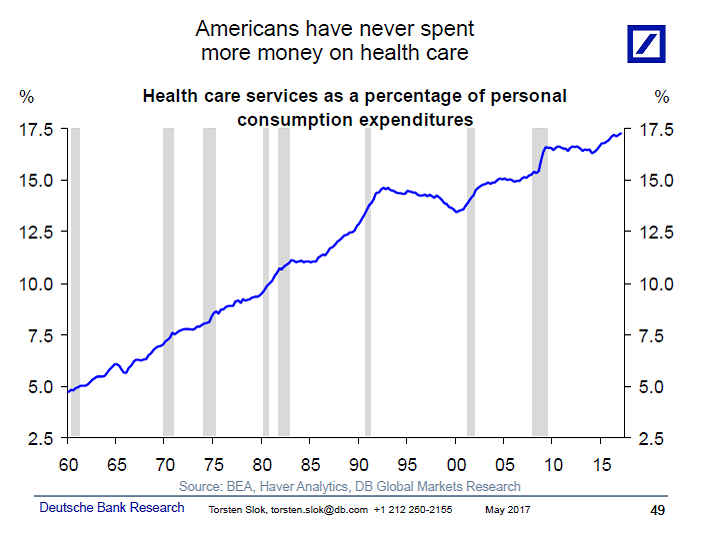 ———————————————–
Let us know if you would like to add a colleague to this distribution list.
Torsten Sløk, Ph.D.
Chief International Economist
Managing Director
Deutsche Bank Securities
60 Wall Street
New York, New York 10005
Tel: 212 250 215
8.My Trillion X 3 Comments Continue….$1T each credit card, student loans and car loans.

A New Milestone in Household Debt
In the first quarter of 2017, consumer debt rose to $12.73 trillion, exceeding its peak in the third quarter of 2008. Student loans account for 10.6 percent of that total, up from 3.3 percent in 2003, while housing's share, though still great, has fallen back to 2003 levels.
Source: Federal Reserve Bank of New York
By The New York Times
It took nearly a decade, but debt has made a comeback.
Americans have now borrowed more money than they had at the height of the credit bubble in 2008, just as the global financial system began to collapse.
The Federal Reserve Bank of New York said Wednesday that total household debt in the United States had reached a new peak — $12.7 trillion — in the first three months of the year, another milestone in the long, slow recovery of the nation's economy.
The growing debt level shows that many of the millions of Americans who struggled during the recession have sufficiently repaired their credit to qualify for loans. It also suggests a rising optimism about economic growth among banks and other lenders.
Debt can fuel consumer spending, which accounts for nearly 70 percent of all economic activity in the United States. It also allows Americans to make large investments in education and housing, which can help build personal wealth and financial stability.
9.Read of Day….To age better, eat better
We become what we eat
To some extent, when it comes to healthy aging, we become what we eat. According to the Centers for Disease Control and Prevention (CDC), one in four deaths results from heart disease, the leading cause of death in the United States. Among the top risk factors are obesity, high cholesterol, high blood pressure, and poor diet — with the first three often tied to the last. The rise in obesity has hit the United States hard. More than a third of adults and one-fifth of children and adolescents age 2 to 19 are obese.
Research shows that sustained, thoughtful changes in diet can make the difference between health and illness, and sometimes between life and death. For more than 50 years, researchers who have studied the link between diet and health have extolled the virtues of the Mediterranean diet, with its emphasis on vegetables, fruits, legumes, nuts, whole grains, olive oil, and fish, and its de-emphasis on red meat and dairy.
"The elements of a healthy diet were readily available in the Mediterranean, where people had to eat local fruits, vegetables, and fish."
— Walter Willett
Pioneering studies, such as one led by nutrition expert Ancel Keys in the late 1950s, helped establish the Mediterranean diet as the benchmark. Keys' landmark Seven Countries Study, which promoted diets low in saturated fats (beef, pork, butter, cream) and high in mono-unsaturated fats (avocados, olive oil), showed decidedly lower risks of cardiovascular disease.
Research by renowned Harvard nutritionist Walter Willett, who chaired the Nutrition Department for 25 years until this past January, has confirmed the pronounced benefits of the Mediterranean diet. In his 2000 book "Eat, Drink and Be Healthy," Willett wrote that the "main elements of the Mediterranean lifestyle are connected with lower risks of many diseases."
Using data from Harvard's Nurses' Health Study (NHS), a long-term epidemiological probe into women's health, Willett also concluded that "heart diseases could be reduced by at least 80 percent by diet and lifestyle changes."
Funded by the National Institutes of Health, the Nurses' Health Study was established by Frank Speizer in 1976 to examine the long-term consequences of oral contraceptives. In 1989, Willett established NHS II to study diet and lifestyle risk factors. The results of that study have heavily influenced national dietary guidelines and the way Americans think about how they should eat.
Recent studies have found that a healthy diet can also boost the brain and slow cellular aging. Chef Dino Licudine greets seniors at the Center Communities at Hebrew SeniorLife, which is affiliated with Harvard Medical School. Kris Snibbe/Harvard Staff Photographer
"The picture that has emerged is that the traditional Mediterranean diet promotes health and well-being," said Willett, the Fredrick John Stare Professor of Nutrition and Epidemiology. "The elements of a healthy diet were readily available in the Mediterranean, where people had to eat local fruits, vegetables, and fish. Back then, most people didn't have much choice in what to eat."
Researchers also generally approve of both the vegetarian diet and the Asian diet because they also help increase longevity and decrease the risk of chronic disease. But the Mediterranean reigns supreme, because the Asian diet has salt and starch, and the vegetarian lacks important nutrients.
A design for healthy eating
To publicize everyday ways to eat better, researchers at the Harvard Chan School came up with the Healthy Eating Plate. It suggests eating more fruits and vegetables, whole grains, fish, lean poultry, and olive oil, and asks people to limit refined grains, trans fats, red meat, sugary drinks, and processed foods. In addition, it touts staying active.
Harvard's plate was a response to the U.S. Department of Agriculture's (USDA) MyPlate, which, a comparison by Harvard nutrition experts suggested, could have gone further in detailing information about which foods to favor or limit.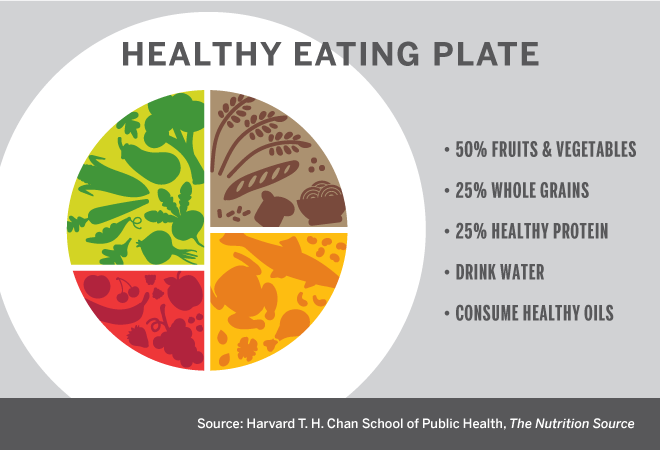 Graphic by Judy Blomquist/Harvard Staff. View more information.
A 2012 Harvard study found that eating red meat led to increased cardiovascular disease and cancer mortality, and that substituting healthier proteins lowered mortality. As for milk, a source of calcium, Willett said there is no evidence that drinking more of it prevents bone fractures as much as physical activity does. Yogurt, because of its positive effects on the intestinal system, proves even more beneficial than milk.
"Most populations along the world don't drink any milk as adults," said Willett. "Interestingly enough, they have the lowest fractures. And the highest bone-fracture rates are in milk-drinking countries such as northern Europe and the United States. Calcium is important all through life, but the amount of calcium that we need is probably overstated."
What is hard to overstate is the importance of eating healthily and mindfully through life, but the good news is that benefits begin as soon as the improved diet does. "If you're still alive, it's never too late to make a change in our diet," said Willett.
Recent studies have found that a healthy diet can also boost the brain and slow cellular aging. Researchers are examining the role of coffee and berries in improving cognitive function and reducing the risks of neurodegenerative diseases. At the same time, researchers keep circling back to the Mediterranean diet as a model of healthy eating.
"The evidence is very encouraging because, even among old people, when they improve their diet quality, the risks of getting chronic diseases and mortality can be reduced, and longevity can be improved."
— Frank Hu
In a 2015 study in Spain, seniors who ate a Mediterranean diet, supplemented with olive oil and nuts, showed improved cognitive function compared with a control group. Rich in antioxidants and polyphenols, chemicals that help avert the harm of "free radicals" in the body, the Mediterranean diet may even help prevent some degenerative diseases that, to some degree, are caused by vascular aging and chronic inflammation, Hu said.
"Healthy, plant-based foods can improve vascular health, not just in the heart but in the brain," he said. "And that can slow down the aging of the brain and cellular aging, and reduce the risk of Alzheimer's disease and dementia."
Much of life is beyond our control, but dining smartly can help us live healthier, longer
Found at Barry Ritholtz The Big Picture Blog
10.Know Yourself? 6 Specific Ways to Know Who You Are
6 "VITAL Signs" are keys to self-understanding, career success, and happiness.
Posted Mar 09, 2016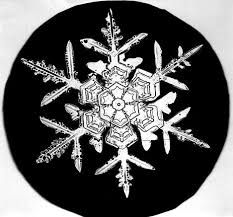 Source: Wilson Bentley, "Snowflake"/En.wikipedia
"To know thyself is the beginning of wisdom." This famous quote is often attributed to Socrates. But what exactly do you know when you "know yourself?"
This blog will reveal 6 elements of self-knowledge that can help you understand your own identity. As you live your daily life, you can look for clues to these important building blocks of Self.
But first, why is it important to know yourself?
The Benefits of Self-Knowledge
Maybe it's obvious, but here in a nutshell are a few reasons why you might want to know your own nature:
· Happiness. You will be happier when you can express who you are. Expressing your desires, moreover, will make it more likely that you get what you want.
· Less inner conflict. When your outside actions are in accordance with your inside feelings and values, you will experience less inner conflict.
· Better decision-making. When you know yourself, you are able to make better choices about everything, from small decisions like which sweater you'll buy to big decisions like which partner you'll spend your life with. You'll have guidelines you can apply to solve life's varied problems.
· Self-control. When you know yourself, you understand what motivates you to resist bad habits and develop good ones. You'll have the insight to know which values and goals activate your willpower.
· Resistance to social pressure. When you are grounded in your values and preferences, you are less likely to say "yes" when you want to say "no."
· Tolerance and understanding of others. Your awareness of your own foibles and struggles can help you empathize with others.
· Vitality and pleasure: Being who you truly are helps you feel more alive and makes your experience of life richer, larger, and more exciting.
Now that you are convinced that self-knowledge is worth having (not that you needed convincing!), we'll move on to those "VITAL Signs" of self-knowledge.
The Building Blocks of Self: Your VITALS
The capital letters in "VITAL Signs" form an acronym for the 6 building blocks of Self, or VITALS, for short. The letters stand for: Values; Interests; Temperament; Around-the-Clock; Life Mission and Goals; and Strengths/Skills. The details:
V = Values
"Values"—such as "helping others," "being creative," "health," "financial security," and so on—are guides to decision-making and motivators for goals. Research shows that just thinking or writing about your values can make it more likely that you take healthy actions, for example. The motivation provided by worthwhile values can also keep you going even when you are tired, as shown in many psychology experiments. If you want to self-motivate, know your values! (For the research, click here.)
article continues after advertisement
I = Interests
"Interests" include your passions, hobbies, and anything that draws your attention over a sustained period of time. To figure out your interests, ask yourself these questions: What do you pay attention to? What are you curious about? What concerns you? The focused mental state of being interested in something makes life vivid and may give you clues to your deepest passions.
Many people have built a career around a deep interest in something. For example, a friend of mine broke his leg when he was 11 and was so fascinated by the ER and the ER doctors that he decided to become an emergency physician.
T = Temperament
"Temperament" describes your inborn preferences. Do you restore your energy from being alone (introvert) or from being with people (extrovert)? Are you a planner or go-with-the-flow type of person? Do you make decisions more on the basis of feelings or thoughts and facts? Do you prefer details or Big Ideas? Knowing the answers to temperament questions like these could help you gravitate toward situations in which you could flourish and avoid situations in which you could wilt.
In the 60's, "spontaneity" was valued over planning. I tried hard to "go with the flow," but it seemed to me that I wasted a lot of time that way. Going against the grain of my own personality turned out to be a daunting task that wasn't really worth it.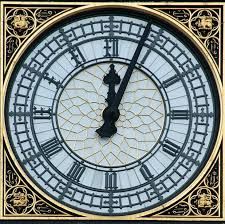 Source: "Big Ben," by Aldaron/Commons.wikimedia
A = Around-the-Clock Activities
The "around-the-clock" category refers to when you like to do things—your biorhythms. Are you a morning person or a night person, for example? At what time of day does your energy peak? If you schedule activities when you are at your best, you are respecting your innate biology. As I look back on my life, I realize I've been a morning person since birth. Those fun sleepovers with girlfriends? I loved being included, but I didn't like staying up late.
article continues after advertisement
One joy of my adult life has been finding a partner with biorhythms like mine. We wake up early and go to bed early; we both get snappy unless we eat three square meals a day. We hate brunch. While the idea of biorhythm preferences may sound trivial compared to lofty qualities of self like "values," your daily life is more pleasant when you are in sync with your biology. In every area, it's easier to enjoy life when you don't waste energy pretending to be someone you aren't.
L = Life Mission and Meaningful Goals
"What have been the most meaningful events of your life?" This was a question I liked to ask when students would see me for career counseling at the community college where I worked. One woman of about 40 got teary-eyed as she tried to answer. "Recently," she told me, "I've found it incredibly meaningful to care for my aging father as he declined and went into hospice. I was able to be there and hold his hand when he died." As we talked about the difficulties and rewards of her father's last days, she had an "aha" moment and realized she wanted to become a hospice nurse. (She accomplished her goal and was one of the leaders of her class.)
Ask yourself the same question: "What have been the most meaningful events of your life?" You may discover clues to your hidden identity, to your career, and to life satisfaction.
S = Strengths
"Strengths" can include not only abilities, skills, and talents, but also character strengths such as loyalty, respect for others, love of learning, emotional intelligence, fairness, and more. (See here for a list of "Character Strengths"). Knowing your strengths is one of the foundations of self-confidence; not being able to acknowledge your own superpowers could put you on the path to low self-esteem. Become a person who "takes in the good," listening for compliments and noticing skills that could be clues to your strengths. Example: An acquaintance tells you she loves the soothing sound of your voice. What could you do with that knowledge? Likewise, knowing your weaknesses can help you be honest with yourself (or others) about what you are NOT so good at. You might decide either to work on those weaknesses or try to make them a smaller part of your personal or career life.
article continues after advertisement
Being True to You
Even if you know your "VITAL Signs," it's hard to remain true to yourself because you are constantly changing and because society's values often conflict with your own. I love this quote from fellow habits author Gretchen Rubin:
"My first commandment is to "Be Gretchen"—yet it's very hard to know myself. I get so distracted by the way I wish I were, or the way I assume I am, that I lose sight of what's actually true."
For all of us, being yourself sounds easier than it actually is!
But there are a few signposts. When you've made a discovery about one of your "VITAL Signs," you'll feel a sense of excitement. Acting on self-knowledge will give you energy and save you energy. You'll feel freer and stronger because you no longer conform to how you "should" feel, think, or act. For example, I can remember my relief when I realized I was an introvert. How comforting it was to give myself the gift of time alone without wondering if I were a freak of nature!
Next Steps
This week, pay attention to these 6 aspects of your personality. What do you notice?
Today's blog gave you the "what" of self-knowledge—6 key things to know about yourself. Next week's blog will give you the "how-to"—strategies of self-discovery.
© Meg Selig, 2016. All rights reserved.
Sources:
To clarify your values, take a look at my chapter on "The 8 Great Motivators:" Selig, M. Changepower! 37 Secrets to Habit Change Success (Routledge, 2009).
Rubin, G. Better Than Before (Crown, 2015)
More?
For more on habits, health, and happiness, follow me on Facebook, Twitter, or LinkedIn. Just scroll down to my photo and click on the icon(s).
https://www.psychologytoday.com/blog/changepower/201603/know-yourself-6-specific-ways-know-who-you-are