Next FBI Director Pop.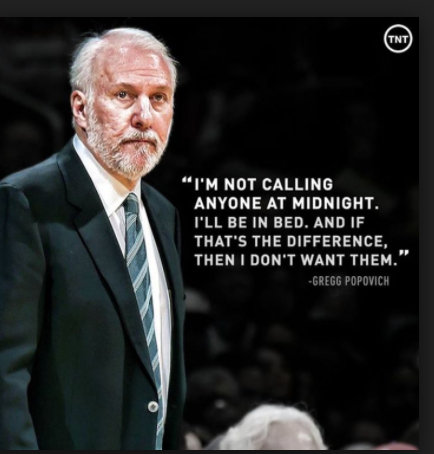 He attended Merrillville High School and graduated in 1970 from the United States Air Force Academy. He played basketball for four seasons at the Academy and in his senior year was the team captain and the leading scorer.[5] He graduated with a bachelor's degree in Soviet Studies, and he underwent Air Force intelligence gathering and processing training.[6] At one point, Popovich considered a career with the Central Intelligence Agency.[7]
Popovich served five years of required active duty in the United States Air Force, during which he toured Eastern Europe and the Soviet Union with the U.S. Armed Forces Basketball Team. In 1972, he was selected as captain of the Armed Forces Team, which won the Amateur Athletic Union (AAU) championship. This earned him an invitation to the 1972 U.S. Olympic Basketball Team trials.
https://en.wikipedia.org/wiki/Gregg_Popovich
1.EAFE profits remain 45% below their prior peak, notes Doug Ramsey, chief investment officer of the Leuthold Group.
 Investors poured roughly $6 billion into European equities last week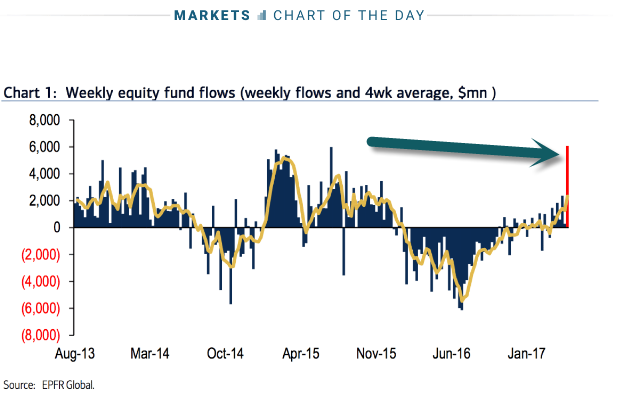 http://www.businessinsider.com/money-pouring-into-european-stocks-at-record-pace-2017-5
From Barrons
Industry analysts look for EAFE earnings to increase by 18% to 19% this year, compared with an estimated gain of 10% in U.S. profits. While this rise comes off a low base for overseas stocks, it's the direction and momentum that count most for investors. "We are in a normalization period" in which EAFE earnings will catch up with the U.S., says Savita Subramanian, head of U.S. equity and quantitative strategy at Bank of America Merrill Lynch. Subramanian recommends underweighting the S&P 500 relative to other markets, and notes that positive earnings revisions have been more numerous lately in Europe and Japan than the U.S.
http://www.barrons.com/articles/europe-on-sale-time-to-buy-foreign-stocks-1494648930?mod=BOL_twm_ls&tesla=y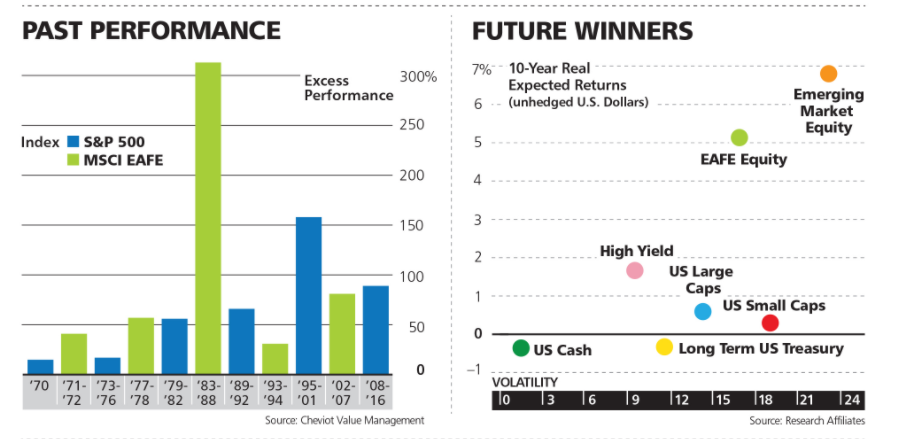 2.New President New Highs…S Korea trading at 9x forward earnings
EWY-50day thru 200day to upside.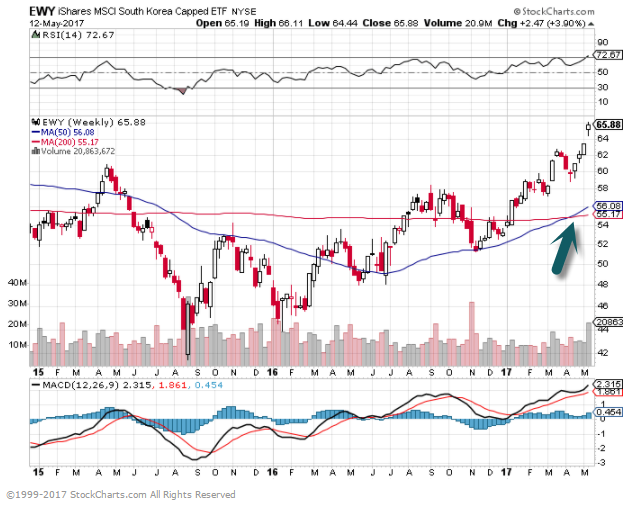 3.Measuring Global Wealth…Sotheby's is a Measure of the World's Super Wealthy.
BID 50 day thru 200day to upside…..See 2016 Cut in half during Chinese driven correction.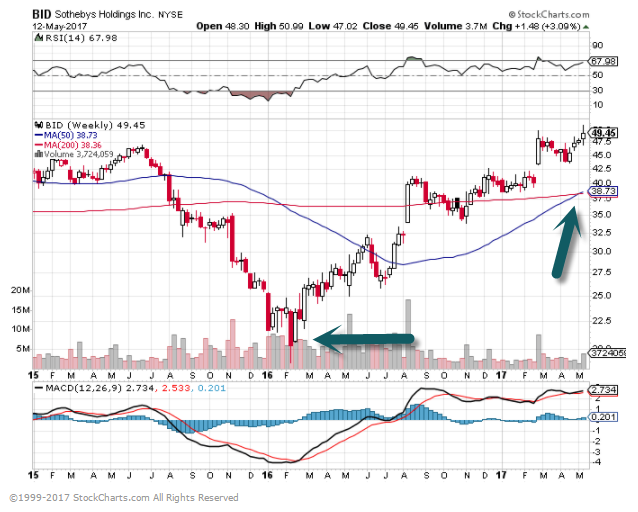 BID—As international markets approach new highs, Sotheby's about to break out.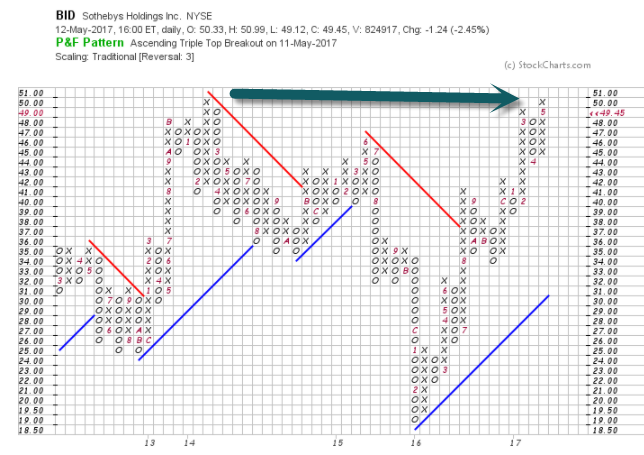 4.I Have Covered at Length the Incredibly Shrinking Stock Market…It's a Major Concern.  See Below, You Can't Make It Up.
There Are Now More Indexes Than Stocks
This chart shows how on Earth that happened.
The number of market indexes now exceeds the number of U.S. stocks. Traditional ones such as the S&P 500 are collections of securities weighted by market value, and index funds mimic them as a low-cost way to deliver the market's performance. Many new indexes are different: They include stocks based on custom criteria, such as having low volatility or high dividends.*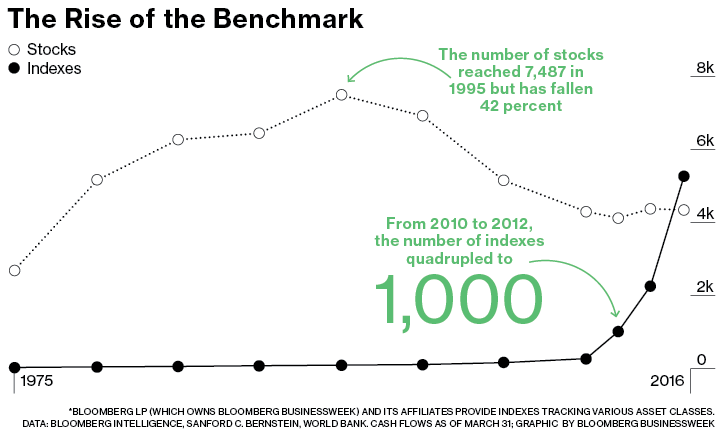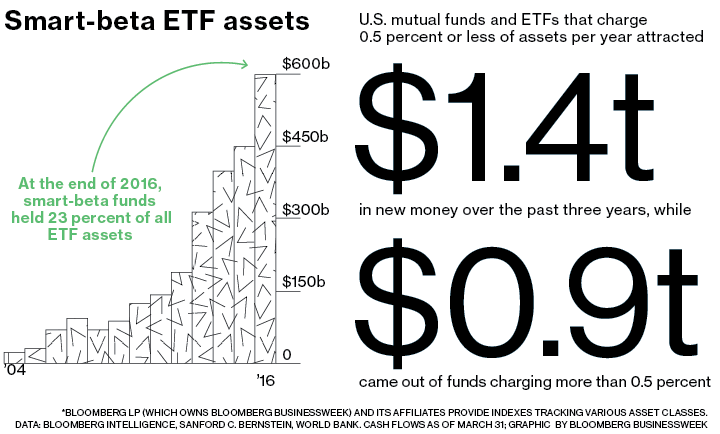 https://www.bloomberg.com/news/articles/2017-05-12/there-are-now-more-indexes-than-stocks?cmpid=socialflow-twitter-businessweek&utm_content=businessweek&utm_campaign=socialflow-organic&utm_source=twitter&utm_medium=social
5.Inflation Finally Here? Jobless Rate Falls Below "natural state."
The United States: Economics textbooks tell us that when the jobless rate falls below the "natural rate" of unemployment, we should see inflation picking up. Well, here we are.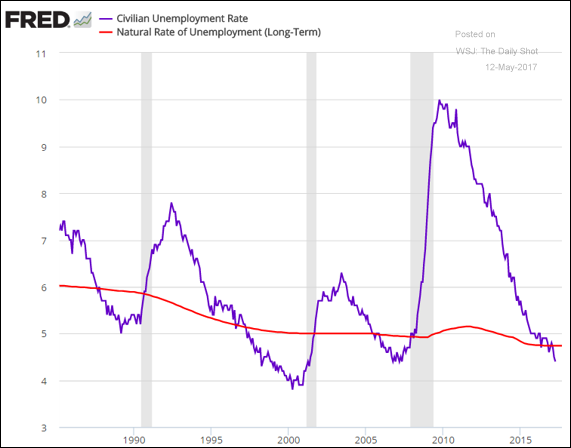 6.Below Normal Employment=Wage Growth.
Could rising wages scuttle the small-cap stock surge?
Snider and team estimate that for each 100-basis-point acceleration in wage growth, S&P 500 SPX, -0.15%  average earnings per share is trimmed by 1%. And small-cap earnings are twice as sensitive, they said. The small cap-focused Russell 2000RUT, -0.53%  loses an average of 2% in average earnings with the same acceleration in wage growth.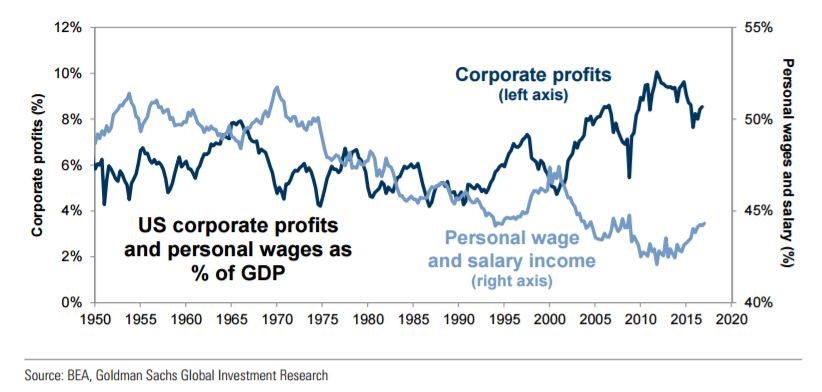 Why the difference? S&P 500 companies have EBIT [earnings before interest and taxes] margins that are nearly twice the size of Russell 2000 margins, and net profit margins three times the size (9% versus 3%).
In addition to profitability, small-caps generate less revenue per employee and conduct a larger share of their business in the U.S., although this varies among small-caps by industry. The median S&P 500 company allocates 11% of revenues to U.S. labor costs compared with 17% for the median Russell 2000 firm.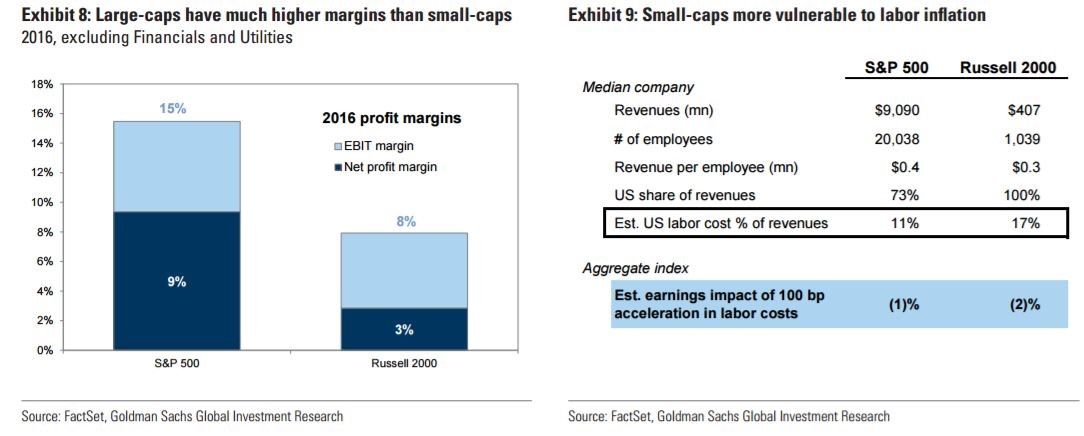 Consumer discretionary and industrial companies are the most vulnerable to rising wages because they are higher-cost labor businesses to begin with and their profit margins are more vulnerable to cyclical economic swings. What's more, although high-income jobs experienced the fastest wage growth of this upcycle, recent minimum wage hikes have increased pressure in low-income industries, too, such as leisure and hospitality.
Yet from the start of 2016 until now, there has been reversal of trend that leaves manufacturing wage growth roughly in line with the aggregate. And there has been a substantial deceleration in financial-services wages. Leisure and hospitality represents the largest change; the industry has experienced annualized average hourly earnings growth of 4.7% since 2015, roughly 35 basis points faster than any other industry and more than double its pace of wage growth during the previous five years, the Goldman analysts noted.
In fact, as far as related stocks are concerned, lower-labor-cost companies have outperformed higher-labor-cost companies since June 2016 in a trade that's showing its age, the Goldman Sachs analysts said.
Read Full Story at Marketwatch.
http://www.marketwatch.com/story/could-rising-wages-scuttle-the-small-cap-stock-surge-2017-05-12
7.Retailers to Close 8600 Locations in 2017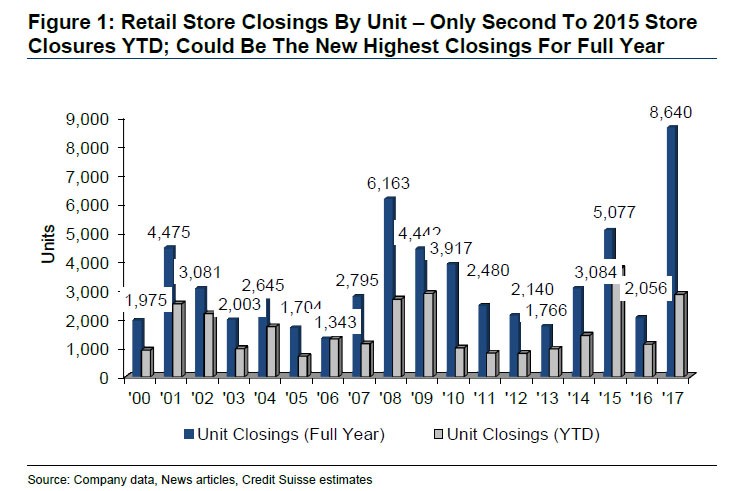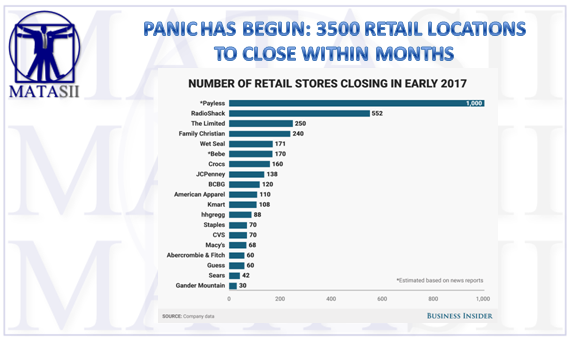 8. A 2016 Deloitte study showed that only 6% of the planet's seven billion people flew on an airplane in 2015
The throngs of international tourists have grown from 25 million in the 1950s to 1.2 billion last year, says the World Economic Forum, and their ranks—and airports and airplanes—will only get more crowded as the global middle class expands by three billion people by 2031. In China alone, a small projected uptick in the percentage of passport holders, from 4% of the population to 12% by 2025, will disgorge millions into tourist meccas from Tuscany to Tokyo.
A 2016 Deloitte study showed that only 6% of the planet's seven billion people flew on an airplane in 2015, which shows how vast and untapped the market remains
http://www.barrons.com/articles/why-air-lease-should-soon-be-flying-high-1494649416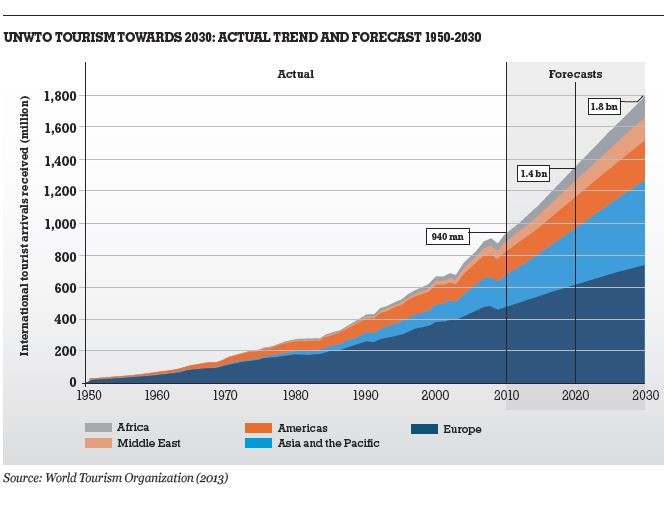 9.Read of the Day….Behind China's $1 Trillion Plan to Shake Up the Economic Order
VANG VIENG, Laos — Along the jungle-covered mountains of Laos, squads of Chinese engineers are drilling hundreds of tunnels and bridges to support a 260-mile railway, a $6 billion project that will eventually connect eight Asian countries.
Chinese money is building power plants in Pakistan to address chronic electricity shortages, part of an expected $46 billion worth of investment.
Chinese planners are mapping out train lines from Budapest to Belgrade, Serbia, providing another artery for Chinese goods flowing into Europe through a Chinese-owned port in Greece.
The massive infrastructure projects, along with hundreds of others across Asia, Africa and Europe, form the backbone of China's ambitious economic and geopolitical agenda. President Xi Jinping of China is literally and figuratively forging ties, creating new markets for the country's construction companies and exporting its model of state-led development in a quest to create deep economic connections and strong diplomatic relationships.
The initiative, called "One Belt, One Road," looms on a scope and scale with little precedent in modern history, promising more than $1 trillion in infrastructure and spanning more than 60 countries. To celebrate China's new global influence, Mr. Xi is gathering dozens of state leaders, including President Vladimir V. Putin of Russia, in Beijing on Sunday.
It is global commerce on China's terms.
Mr. Xi is aiming to use China's wealth and industrial know-how to create a new kind of globalization that will dispense with the rules of the aging Western-dominated institutions. The goal is to refashion the global economic order, drawing countries and companies more tightly into China's orbit.
https://www.nytimes.com/2017/05/13/business/china-railway-one-belt-one-road-1-trillion-plan.html?ref=todayspaper&_r=0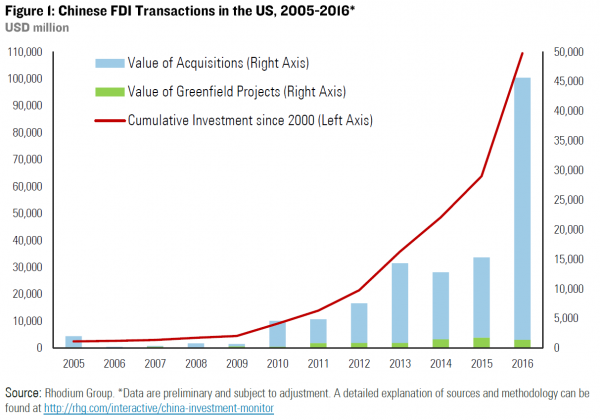 10. Happiness research shows the biggest obstacle to creativity is being too busy
From Vincent Van Gogh on through Kanye West, the figure of the broody, tortured artist looms large in the popular imagination. But research suggests that the key to creativity has little to do with angst. In researching my book The Happiness Track, I found that the biggest breakthrough ideas often come from relaxation.
History shows that many famous inventors have come up with novel ideas while letting their minds wander. In 1881, for example, famed inventor Nikola Tesla had fallen seriously ill on a trip to Budapest. There, a college friend, Anthony Szigeti, took him on walks to help him recover. As they were watching the sunset on one of these walks, Tesla suddenly had an insight about rotating magnetic fields—which would in turn lead to the development of modern day's alternating current electrical mechanism.
Similarly, Friedrich August Kekulé, one of the most renowned organic chemists in 19th-century Europe, discovered the ring-shaped structure of the organic chemical compound benzene while daydreaming about the famous circular symbol of a snake eating its own tail. And Albert Einstein famously turned to music—Mozart in particular—when he was grappling with complex problems and needed inspiration.
Simply put, creativity happens when your mind is unfocused, daydreaming or idle. (This is why we have so many "aha" moments in the shower.) Research by University of California, Santa Barbara psychology professor Jonathan Schooler and his colleagues, for example, finds that people are more creative after they have been daydreaming or letting their minds wander. And in an article in the Annual Review of Psychology, Schooler and psychology professor Jonathan Smallwood found that when people learn a challenging task, they do better if they work first on an easy task that promotes mind-wandering, and then go back to the more difficult one. The idea is to balance linear thinking—which requires intense focus—with creative thinking, which is borne out of idleness. Switching between the two modes seems to be the optimal way to do good, inventive work.
How modern life impedes creativity
The problem is that many of us can go entire days without putting our brains on idle. At work, we're intensely analyzing problems, organizing data, writing—all activities that require focus. During downtime, we immerse ourselves in our phones while standing in line at the store or lose ourselves in Netflix after hours.
We need to find ways to give our brains a break. If our minds are constantly processing information, we never get a chance to let our thoughts roam and our imagination drift. Luckily, there are several research-backed changes you can make to boost your creativity.
First, emulate creative geniuses like Charles Dickens and J. R .R.Tolkien and make a long walk—without your phone—a part of your daily routine. A 2014 study (pdf), published in the Journal of Experimental Psychology, found that people who went on daily walks scored higher on a test that measures creative thinking than people who did not, and that people who went on outdoor walks came up with more novel, imaginative analogies than people who walked on treadmills.
Second, get out of your comfort zone. Instead of intensely focusing exclusively on your field, take up a new skill or class. Travel to new places, and socialize with people outside your industry. Research shows that diversifying your experiences will broaden your thinking and help you come up with innovative solutions.
Third, make more time for fun and games. Stuart Brown points out in his book Play that humans are the only mammals who no longer play in adulthood. That's a shame, because research by psychologist Barbara Fredrickson, author of Positivity, shows that play, by boosting positive mood, makes us feel both happier and more inventive. So spend some time playing fetch with your dog, join the kids for a game of Twister, or join an improv group or soccer club.
Lastly, alternate between doing focused work and activities that are less intellectually demanding. Adam Grant, Wharton School management professor and author of Give & Take, suggests that organizing your day this way can help give your brain some much-needed downtime—the better to make room for your next big idea.
Learn how to write for Quartz Ideas. We welcome your comments at ideas@qz.com.
https://qz.com/981725/this-6-foot-tall-renaissance-book-perfectly-captures-the-timeless-art-of-managing-up/