1.Breadth Statistics.
More than 90% of NYSE issues went up yesterday – When so many issues rallied while the S&P was in a bear market in the past, SPX had a VERY STRONG tendency to rally over the next few weeks and months. "Up 100% of the time over the next year by a median of +29%"

Dave Lutz at Jones Trading
2.Growth Vs. Defense Assets.
Defense Expensive…Bonds, REITS, GOLD…Doesn't mean they can't stay expensive.
Callum Thomas-TopDown Charts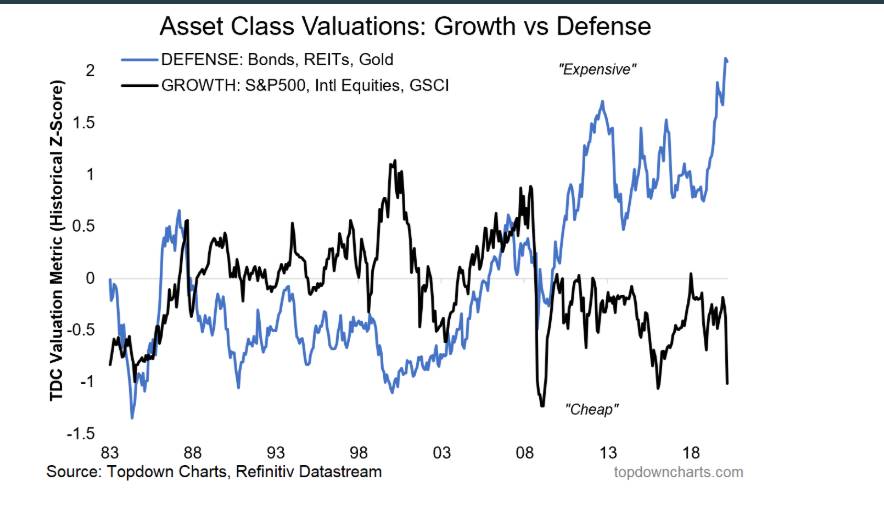 https://www.linkedin.com/pulse/10-charts-watch-2020-q1-update-callum-thomas/?trackingId=z%2FTK2KEPHaOKKWXdlu7sBQ%3D%3D
3.Popular SPLV Low Volatility ETF Down More Than S&P on Pullback.
Bottom of Current Correction…Still trailing YTD and 1 yr. P/E was in mid-20's at one point. Did not act defensive in pullback…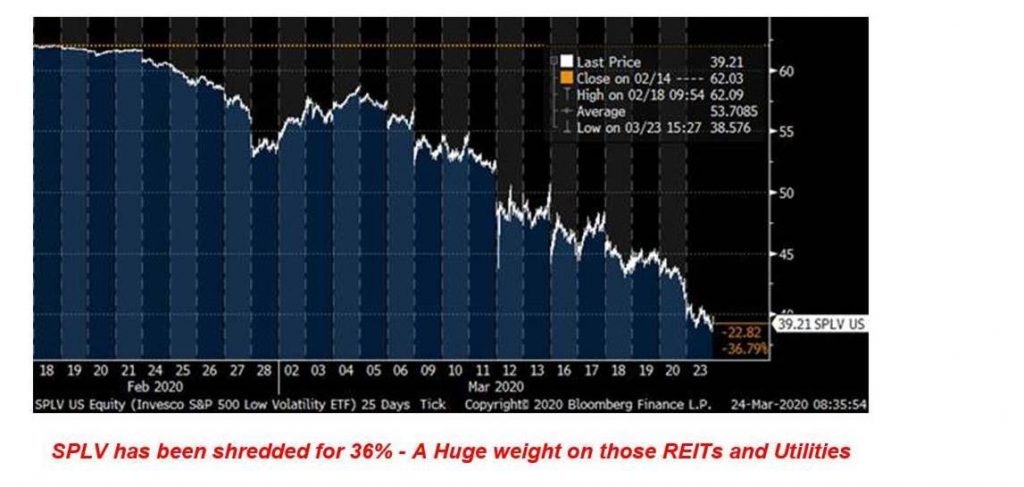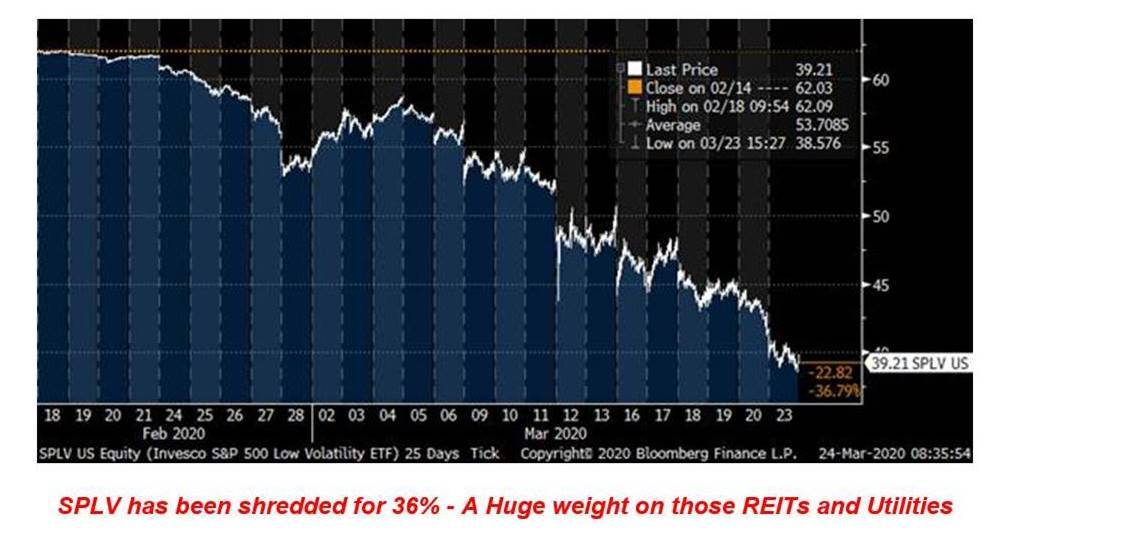 https://etfdb.com/etf/SPLV/#holdings
4.Popular S&P Pure Value ETF Fell Back to 2013 Levels.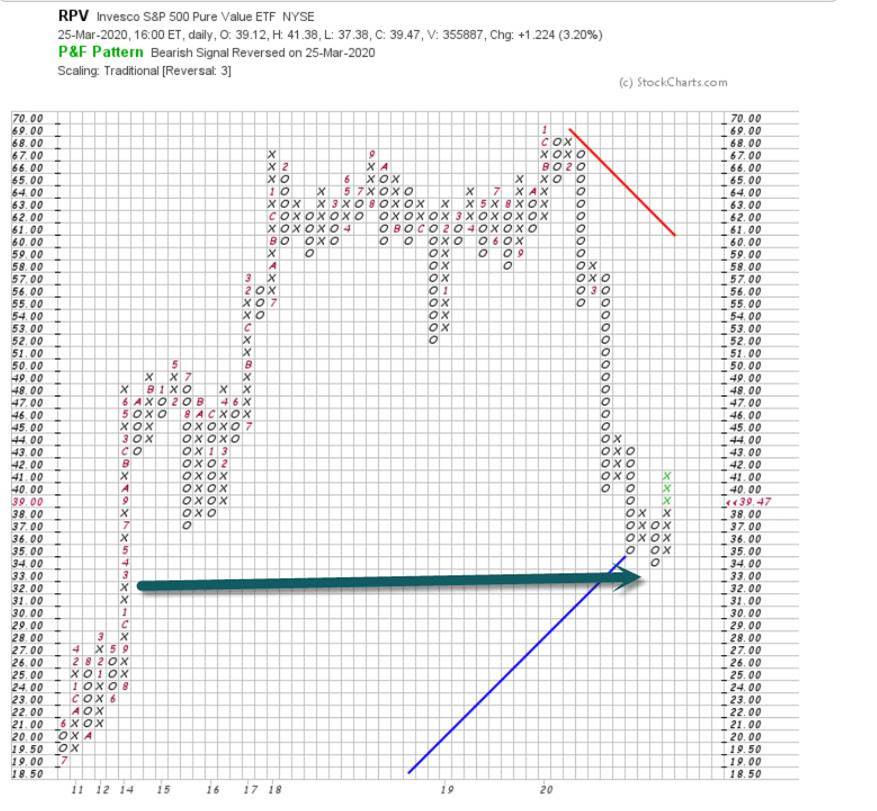 www.stockcharts.com
5.Private Equity $1.5 Trillion in Cash Reserves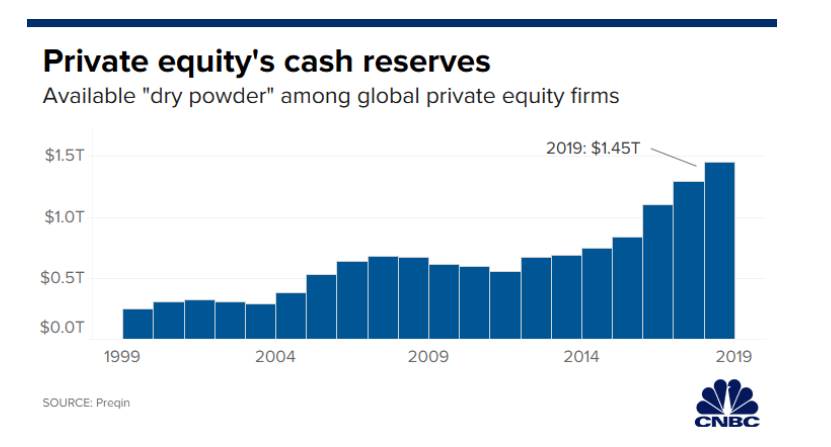 Private equity eyes industries crippled by coronavirus: 'They have been waiting for this'
• -Private equity firms have a record $1.5 trillion in cash ready to deploy and have been actively seeking deals across the struggling travel, entertainment and energy industries, according to a half-dozen investment bankers.
• -"They have been waiting for this type of market dislocation," the head of mergers at a major Wall Street firm said.
• -The first deals are likely to be investments rather than full-on takeovers, the bankers said.
While the market for leveraged loans has fallen off in recent weeks, leverage of roughly six times a target's earnings is still available for private equity deals, according to the head of mergers quoted at the beginning of this article. Parties are having conversations about investments in hotels, restaurants, movie theaters and casinos, among other companies.
"These are fundamentally good businesses that are going to have a terrible year," the banker said. "There's an opportunity for private equity to go in there and take a meaningful stake or buy the company at a valuation they could not have gotten before."
Hugh Son@HUGH_SONAlex Sherman@SHERMAN4949Lauren Hirsch@LAURENSHIRSCH
https://www.cnbc.com/2020/03/25/private-equity-eyes-coronavirus-hit-industries-theyve-been-waiting.html
6.Leverd ETFS-30 Close Since Crisis Began…
Leveraged ETF Closures Piling Up–Lara Crigger
Over the past two weeks, we've seen a bloodbath in leveraged and inverse exchange-traded products, with almost 30 ETFs and ETNs seeing the cessation of trading—sometimes overnight.
We've covered some of the closures as they've happened (read: "Why These Leveraged Energy ETPs Tanked" and "ETF & ETN Closures Spike In This Turmoil"). However, many more have shuttered as well.
All told, as of the time of this writing on March 23, 29 leveraged and inverse exchange-traded products had been delisted, closed or automatically accelerated; or their issuers had announced that they would be doing so soon.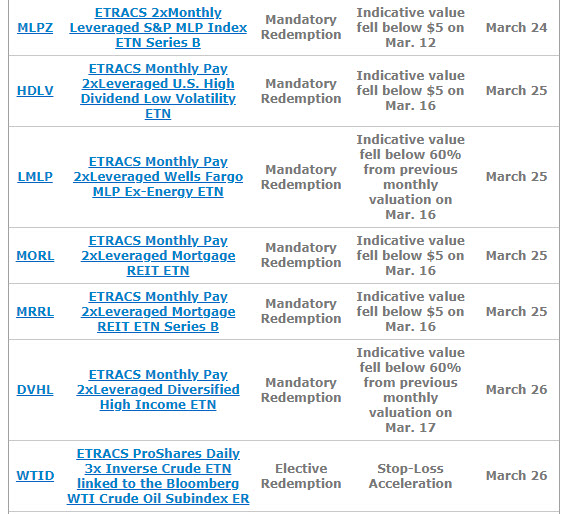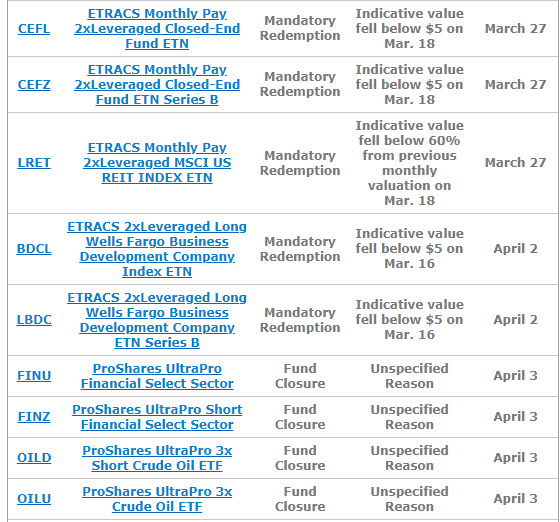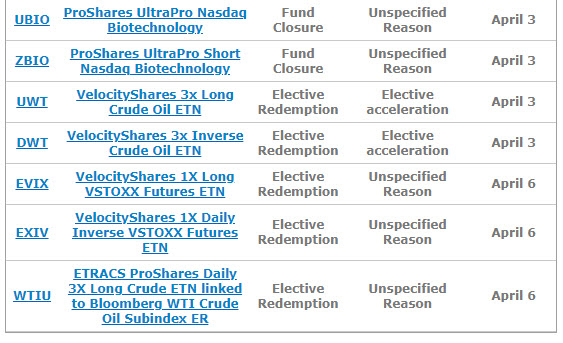 Leveraged Products Uniquely At Risk
During periods of high market volatility, leveraged and inverse products are uniquely at risk of massive price swings that don't always match up to investor expectations.
That's because these funds don't offer exposure to some multiplier of the total return of their underlying indexes, but rather offer exposure to some multiplier of the daily return of those indexes.
As a result, disparities between underlying index and ETP price quickly compound, even in highly trending markets, such as what we've seen lately.
This phenomenon is often mistaken for volatility, but it's really path dependence that makes leveraged and inverse funds diverge persistently from their underlying benchmarks. Note that leveraged and inverse ETFs can go haywire even in sideways, low-volatility markets.
For more on how the math of how leveraged/inverse ETFs work, read "Don't Buy & Hold Leveraged ETFs" and "The Truth About Leveraged ETF Returns."
What Is A Mandatory Redemption?
Over the past two weeks, the vast majority of ETNs that had closed had experienced a "mandatory redemption." That means the issuer was being forced—via the clauses set forth in the prospectus—to redeem the note early, before its intended closure date.
Most of these ETNs weren't intended to be closed for another two decades or more.
A mandatory redemption triggers when, during open market hours, an ETN's price falls below some minimum indicative value. Generally, this minimum indicative value is expressed as some percentage drop (e.g., 60%) below the previous closing price or, in the case of many of UBS' ETNs, the previous monthly valuation.
Sometimes, however, the minimum indicative value is expressed in dollar per share terms. For example, some of UBS' ETNs experienced mandatory redemptions because their intraday indicative values had fallen below $5.00/share.
If the minimum indicative value is struck, the issuer must automatically accelerate the ETN (meaning, move up the closure date from when it was previously scheduled) and pay investors some amount of cash called the "acceleration amount."
If this occurs, investors shouldn't expect to get their entire investment back, or even most of it. The acceleration amount—which is based on the much-reduced NAV the note struck that triggered the redemption in the first place and other inputs—is also net of fees.
Contact Lara Crigger at lcrigger@etf.com
https://www.etf.com/sections/features-and-news/leveraged-etf-closures-piling
7.Highlights of the $2 Trillion Bill….Half Going to Small Business.
Business Insider.
Nearly half of the bill's total aid is set aside for business loans.
Struggling companies can draw from a $500 billion pool, though companies receiving emergency funds face several restrictions. Participating companies are banned from issuing stock buybacks or paying dividends until one year after they pay back their loans. Recipient firms will also be forced to limit executive compensation.
Trump has repeatedly hinted that much of the aid will flow to Boeing, which has seen its stock price tumble as much as 72% from mid-February highs.
The legislation further includes $50 billion specifically set aside for passenger air carriers. The industry is among the hardest hit by the virus, as containment measures cut into domestic travel and limited international flights.
Small businesses, or companies with 500 employees or less, will get $367 billion. The firms will be encouraged to maintain payroll, and costs including mortgage interest, rent, and utilities may be forgiven if certain requirements are met.
The Treasury Department will disclose terms for loans made to all firms, while a new inspector general will oversee the offerings.
State and local governments will receive up to $150 billion worth of loans.
Direct payments to lower- and middle-income Americans will reach $1,200 for each adult and $500 for each child younger than 17.
Sums will be delivered through direct deposit if such information was included in individuals' tax returns, and otherwise reach Americans in the form of a mailed check.
Payments will be available for single filers who made less than $75,000 per year and married households taking in less than $150,000. The total amounts paid decline by $5 for every $100 in annual income above the set levels. The Treasury will refer to either 2018 or 2019 tax returns for income information.
The payments won't be available for those without social security numbers or for nonresidents. Those without income or whose only income comes from benefit programs are still eligible for payments.
Hospitals and healthcare providers will receive a $100 billion injection.
Billions more will be set aside for testing supplies, equipment, and additional payroll aid.
The legislation vastly expands jobless benefits, offering an additional $600 a week to benefits for four months — on top of what state programs pay out.
Weekly jobless claims spiked to a two-year high in the week ended March 14 as businesses hit by the virus's fallout began laying off workers. Economists project the week ended March 21 to show an even more alarming increase. Citigroup expects the metric to surge from 281,000 to 4 million as the virus drags economic activity to a snail's pace.
States will receive $400 million to bolster election programs ahead of 2020 voting.
Voter cast ballots at a polling station in El Gallo Restaurant on November 8, 2016 in the Boyle Heights section of Los Angeles, California. David McNew/Getty
Several states postponed primary elections to avoid large gatherings and potential virus spread. The funds are set to expand online voter registration, early voting, and vote-by-mail programs.
https://www.businessinsider.com/coronavirus-economic-stimulus-senate-bill-allocations-direct-payments-business-loans-2020-3#nearly-half-of-the-bills-total-aid-is-set-aside-for-business-loans-1
8.Best Place for Corona Updates and Information…Johns Hopkins.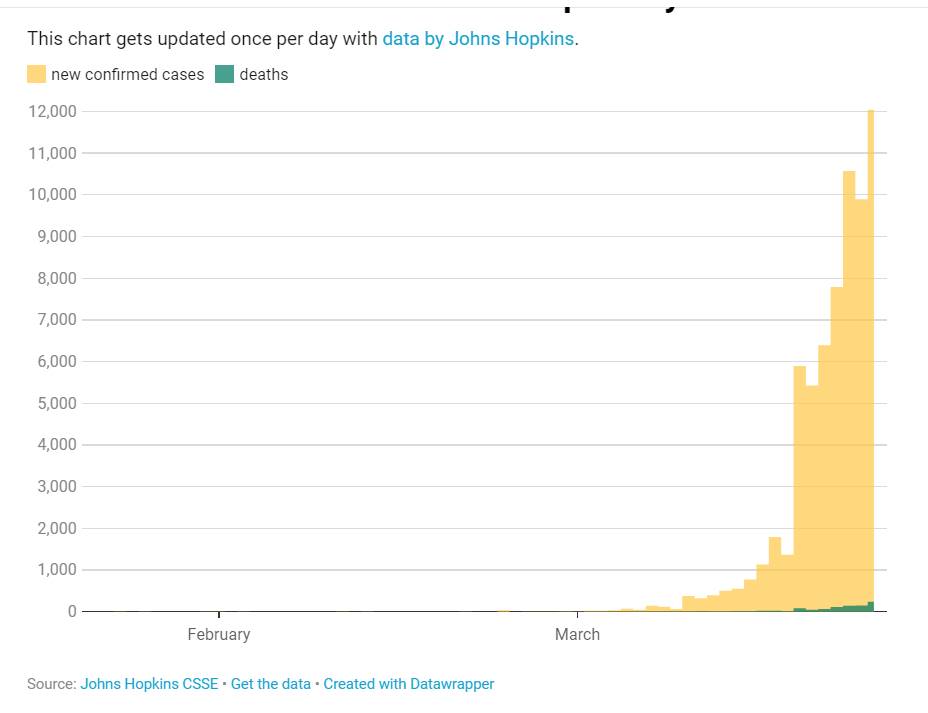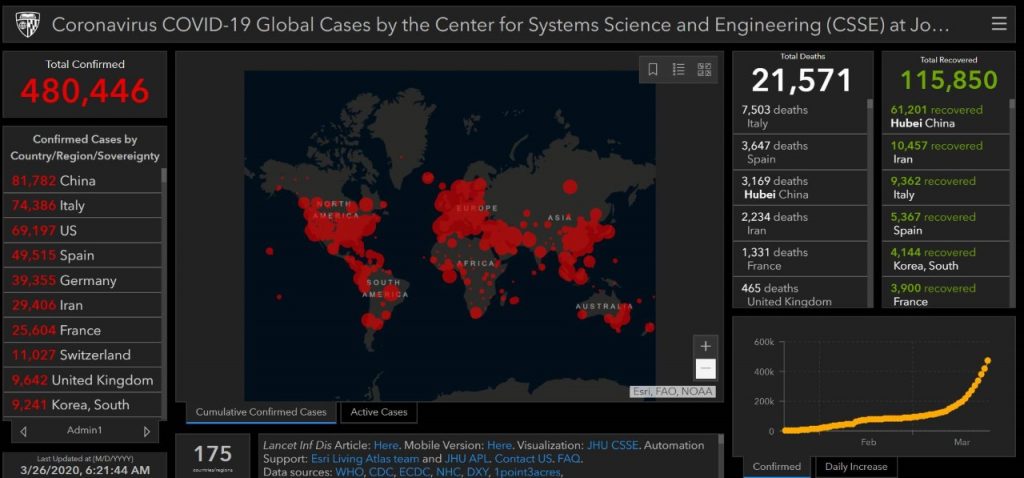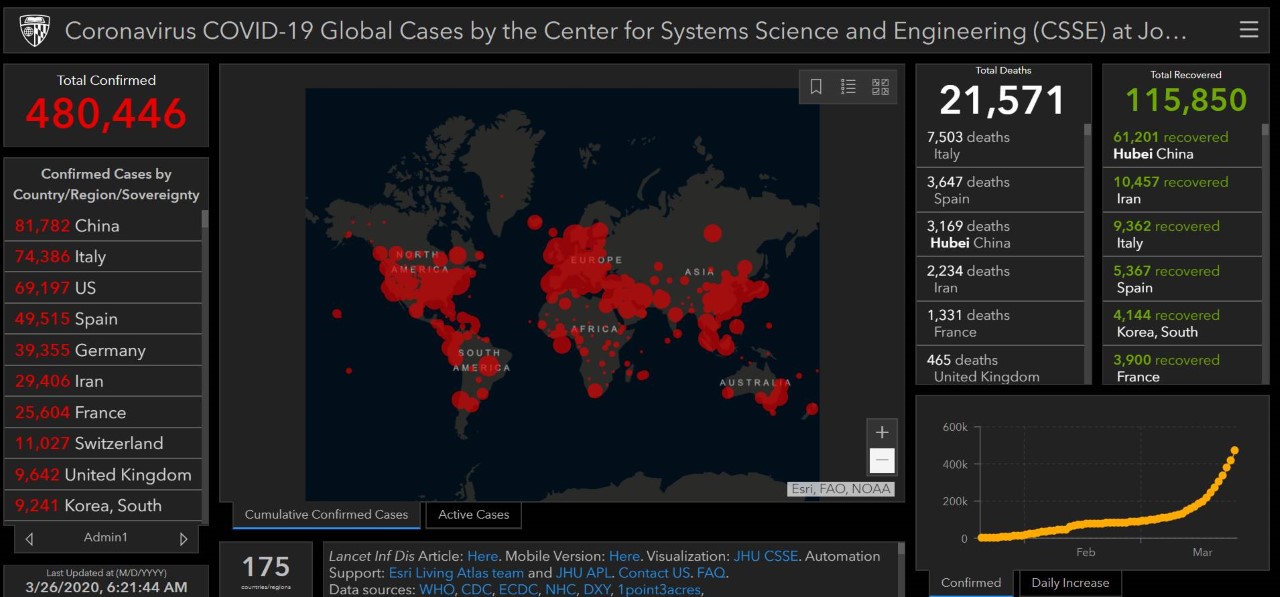 https://www.businessinsider.com/new-york-city-coronavirus-cases-over-time-chart-2020-3
https://www.arcgis.com/apps/opsdashboard/index.html#/bda7594740fd40299423467b48e9ecf6
9.US Airline Traffic 10% of Normal
The TSA every day counts the number of passengers originating trips from US airports, i.e. the number of people who show their boarding pass to a TSA agent at TSA checkpoints. On a normal day in March, over 2 million people travel by air in the United States. Yesterday that number was 279,018, see chart below from our transportation debt expert Doug Runte, and see also his write-up here. For our broader macro outlook see here.
---
Let us know if you would like to add a colleague to this distribution list.
Torsten Sløk, Ph.D.
Chief Economist
Managing Director
Deutsche Bank Securities
10.Infinite Life
Simon Sinek
Our lives are finite, but life is infinite. We are the finite players in the infinite game of life. We come and go, we're born and we die, and life still continues with us or without us. There are other players, some of them are our rivals, we enjoy wins and we suffer losses, but we can always keep playing tomorrow (until we run out of the ability to stay in the game). And no matter how much money we make, no matter how much power we accumulate, no matter how many promotions we're given, none of us will ever be declared the winner of life.
In any other game, we get two choices. Though we do not get to choose the rules of the game, we do get to choose if we want to play and we get to choose how we want to play. The game of life is a little different. In this game, we only get one choice. Once we are born, we are players. The only choice we get is if we want to play with a finite mindset or an infinite mindset.
If we choose to live our lives with a finite mindset, it means we make our primary purpose to get richer or promoted faster than others. To live our lives with an infinite mindset means that we are driven to advance a Cause bigger than ourselves. We see those who share our vision as partners in the Cause and we work to build trusting relationships with them so that we may advance the common good together. We are grateful for the success we enjoy. And as we advance we work to help those around us rise.
To live our lives with an infinite mindset is to live a life of service.
Remember, in life, we are players in multiple infinite games. Our careers are just one. No one of us will ever be declared the winner of parenting, friendship, learning or creativity either. However, we can choose the mindset with which we approach all these things. To take a finite approach to parenting means to do everything we can to ensure our kids not just get the best of everything but are the best at everything. A seemingly fair standard for these things "will help our kid excel in life." Except when a finite mindset is the primary means of play, it can give way to ethical fading or becoming more obsessed with our child's standing in the hierarchy over if they are actually learning or growing as a person.
An extreme example is shared by clinical psychologies and New York Times bestselling author, Dr. Wendy Mogel. She tells the story of a father who raised his hand during a conference at which she was speaking to tell her that "he had a fight with the pediatrician about his son's apgar score … and I won." The apgar score is a test performed within the first minute to five minutes of a child's birth to determine their strength. Basically, as Dr. Mogel explains, "if they are blue and floppy, you get a one, if they are pink and plump they get a five." Think about that for a second. This parent seemed more concerned with "winning" and getting his newborn child a higher score rather than concerning himself with his child's health. Flash forward 18 years and think about the lengths that parent might go to ensure his child gets the best scores to get into the best school. Not to mention the impact it will have on the child's personal growth.
To parent with an infinite mindset, in contrast, means helping our kids discover their talents, pointing them to find their own passions and encouraging they take that path. It means teaching our children the value of service, teaching them how to make friends and play well with others. It means teaching our kids that their education will continue for long after they graduate school. It will last their entire lives … and there may not be any curriculum or grades to guide them. It means teach out kids how to live a life with an infinite mindset themselves.
To live a life with an infinite mindset means thinking about second and third order effects of our decisions. It means thinking about who we vote for with a different lens. It means taking responsibility for later impact of the decisions we make today.
And like all infinite games, in the game of life, the goal is not to win, it is to perpetuate the game.
We only get one choice in the infinite game of life. What will you choose?
https://simonsinek.com/discover/infinite-life/