1. Sector Exposures Russell 1000 Value vs. Russell 1000 Growth
Russell 1000 Value IWD 28% financials vs. Russell 1000 Growth 3%
IWD SECTOR BREAKDOWN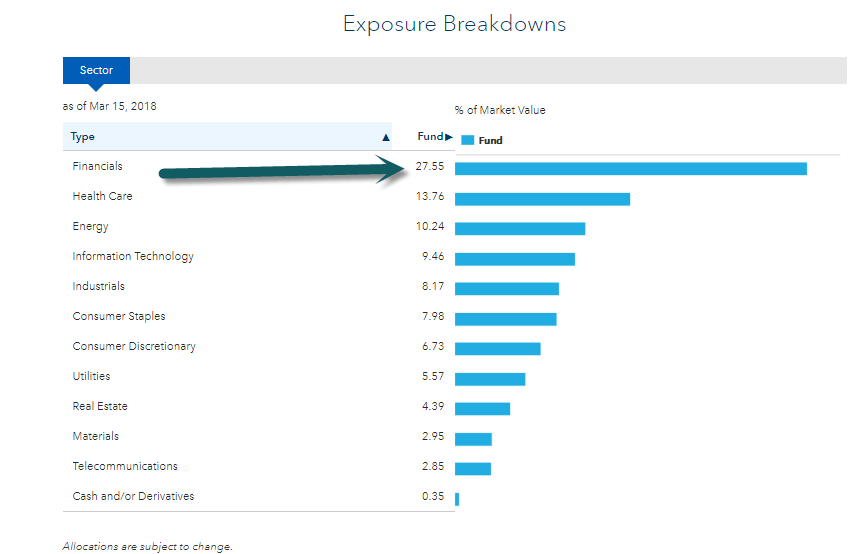 https://www.ishares.com/us/products/239708/ishares-russell-1000-value-etf
Russell 1000 Growth IWF Almost 40% Tech….
IWF Sector Breakdown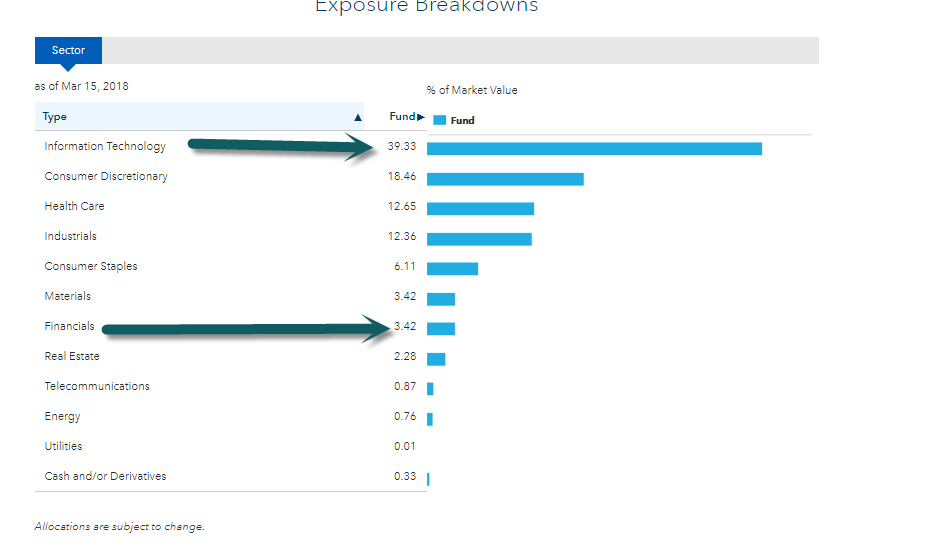 2.January 2018 Record Month for Tech Sector Flows….Not Seen Since 2000.
FLOW SHOW– Investors are increasing their bets on shares of technology companies, renewing concerns that the market is becoming too dependent on a few big stocks to power its gains – Nearly $5 billion has poured into tech-focused stock funds so far this year, the most of any major sector, according to Thomson Reuters Lipper data.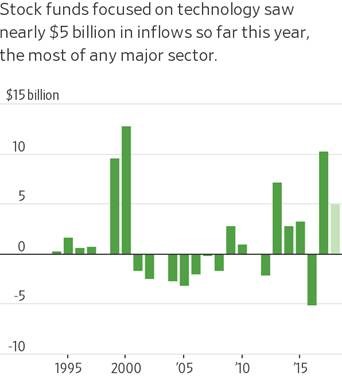 That figure represents nearly half of what the group pulled in for all of 2017. In January alone, tech funds received $3.9 billion in inflows, the most in a single month for such funds since March 2000—the peak of the dot-com bubble, WSJ says
From Dave Lutz at Jones Trading
 3.FANG+Apple 25% of the Nasdaq
While many parts of the market have experienced a rise in price volatility in recent months, it has largely been a one-way street for the tech darlings of Wall Street: Apple, Facebook, Amazon, Netflix and Google, also known as FANG + Apple, have grown their collective market value by more than 40% in the past year to $3 trillion, and now accounts for a staggering 25% of the Nasdaq Composite…
https://www.zerohedge.com/news/2018-03-18/fang-apple-now-account-quarter-nasdaq-and-some-are-getting-worried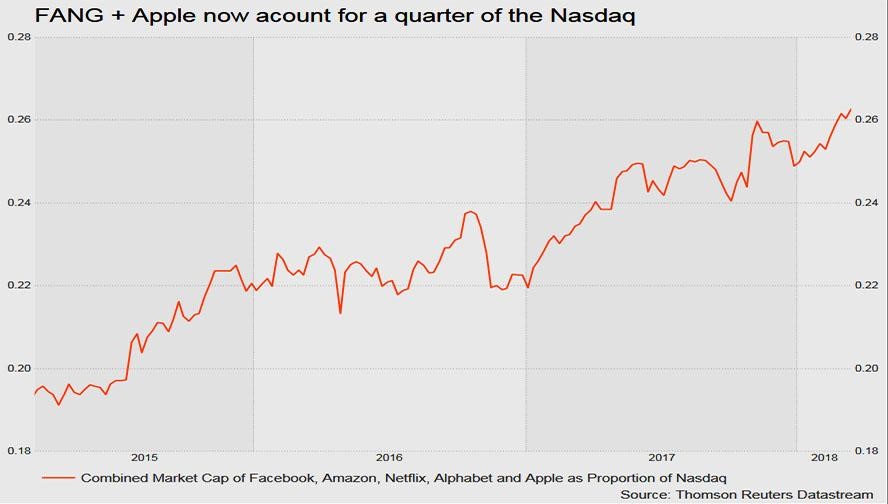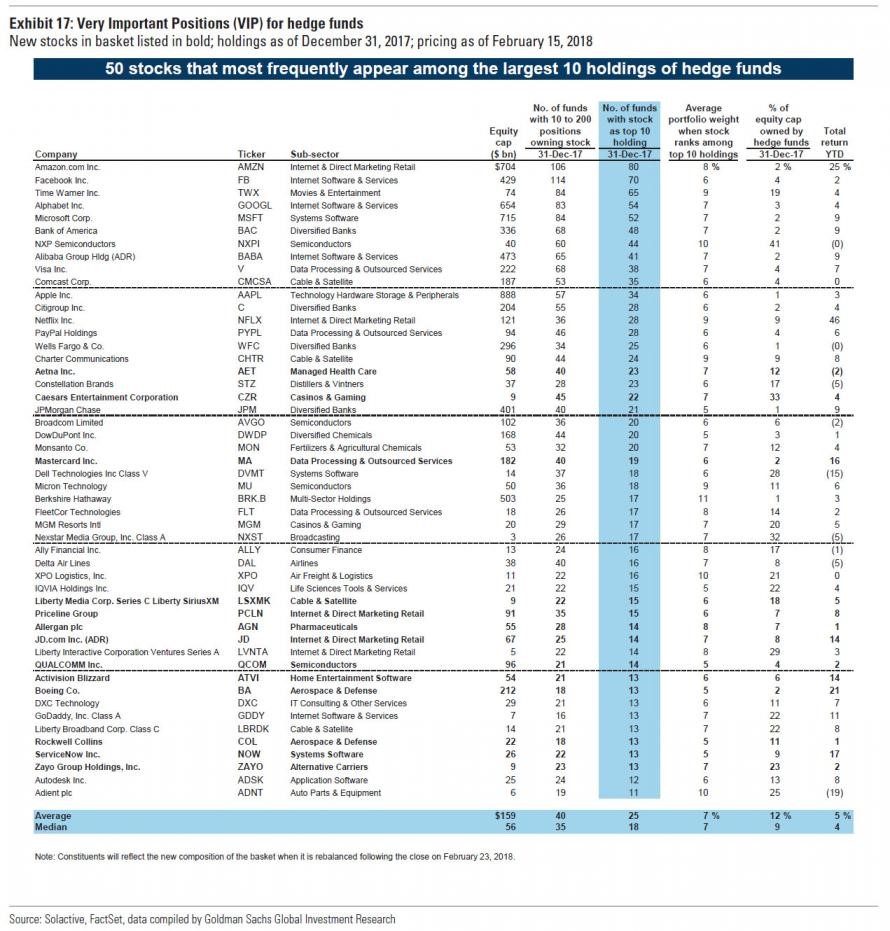 4.Last Week Showed Slowing Retail Sales….Americans Have Propensity to Spend.
Retail Sales in America—Barely a Blip in 2002 Recession….2008 2 years to make new high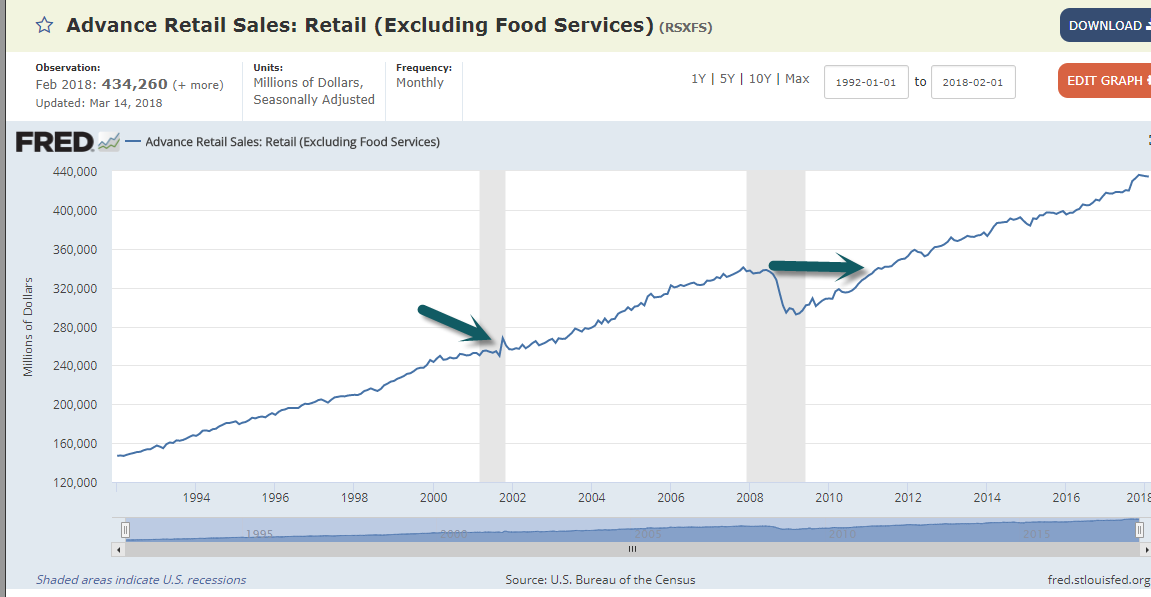 E-Commerce for all the hype is still just 10% of retail sales…Most retailers going bankrupt are overloaded with debt.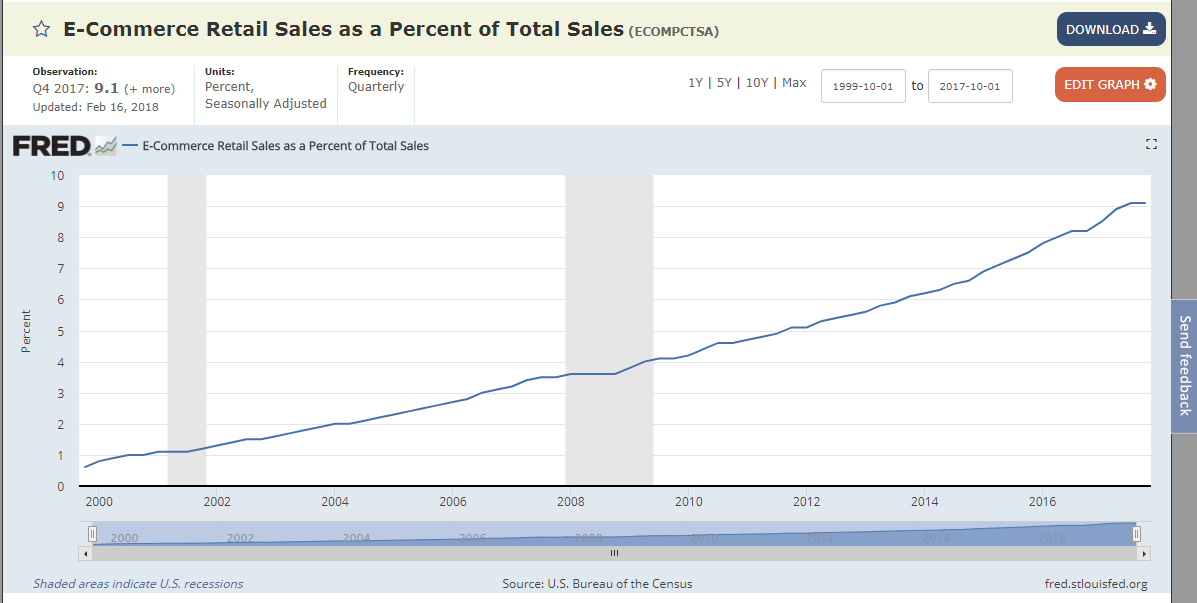 https://fred.stlouisfed.org/series/RSXFS
5.Strong Seasonality in Coming Months.
Top Down Charts
Monthly Seasonality Statistics: Next stop is the same topic, but by month (previous was by business day), and a little more detail on the statistical side. Again it shows how March/April – but particularly April have historically been strong performing months – and the red/orange months ahead give caution for what's to come.  But also worth noting aside from the average return is the proportion of time returns were positive: April is first equal on this stat. But even then, if you notice the worst drawdown for April, it was still -9%, which goes to show you can't rely on seasonality as a signal, but rather you bring it in as another factor to round out a broader thesis.
Bottom line: The monthly seasonal stats show April is historically the best performing month.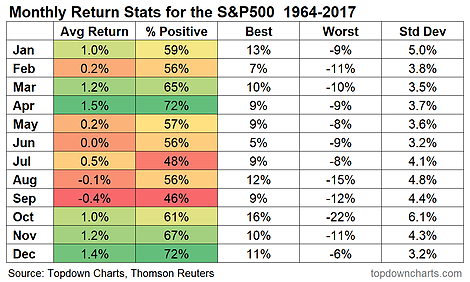 Weekly S&P500 #ChartStorm – 18 Mar 2018
March 17, 2018
Callum Thomas
https://www.topdowncharts.com/single-post/2018/03/18/Weekly-SP500-ChartStorm—18-Mar-2018
6.This Hockey Stick Coinbase Growth is Now at 20Million..Hyper Growth Wakes Up IRS…First a futures market for shorting, then government regulation, now the IRS.
Do You Own Bitcoin? The IRS Is Coming for You
Agency collects data on Coinbase account holders who bought, sold, sent or received digital currency
Late last year, the Internal Revenue Service persuaded a federal judge to require Coinbase, a San Francisco-based digital-currency wallet and platform with about 20 million customers, to turn over customer information. Driving the IRS's decision was its belief that few bitcoin investors appear to be paying taxes due on sales. The court order is one of the agency's first moves as it clamps down on cryptocurrency scofflaws.
https://www.wsj.com/articles/do-you-own-bitcoin-the-irs-is-coming-for-you-1521192601?mod=ITP_businessandfinance_3&tesla=y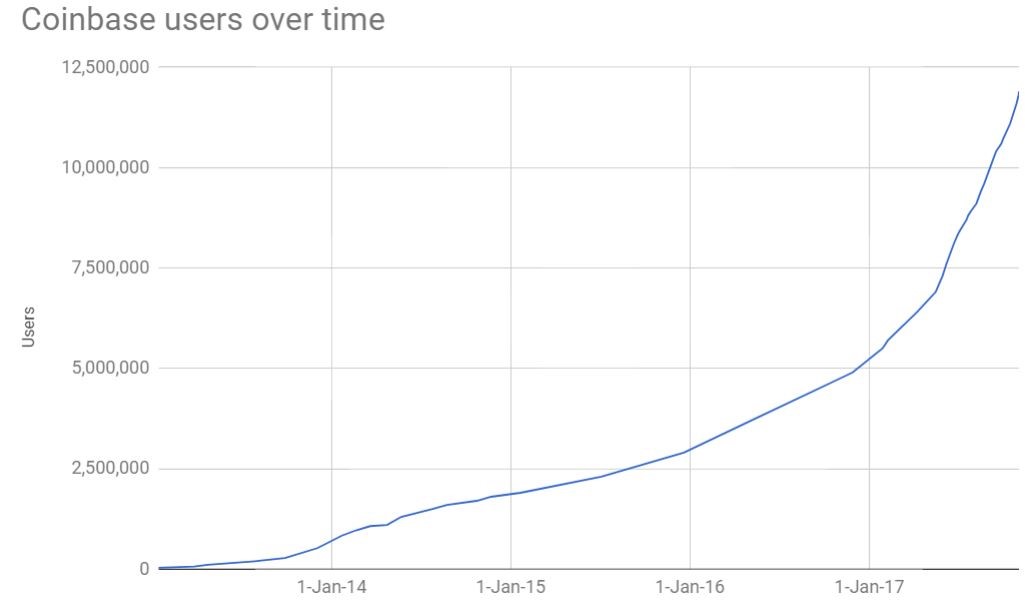 https://www.cnbc.com/2017/11/03/coinbase-adds-100000-users-after-cme-announces-bitcoin-futures-plans.html
7.Geopolitical Risk Measure Hits Highest Levels Since Iraq Invasion.
Hansen highlighted the Geopolitical Risk Index in a tweet (pointed out in MarketWatch's Need to Know column), noting that the previous high for the GRI was back in August during intensifying fears that North Korea could spark a military, or even nuclear, conflict:
View image on Twitter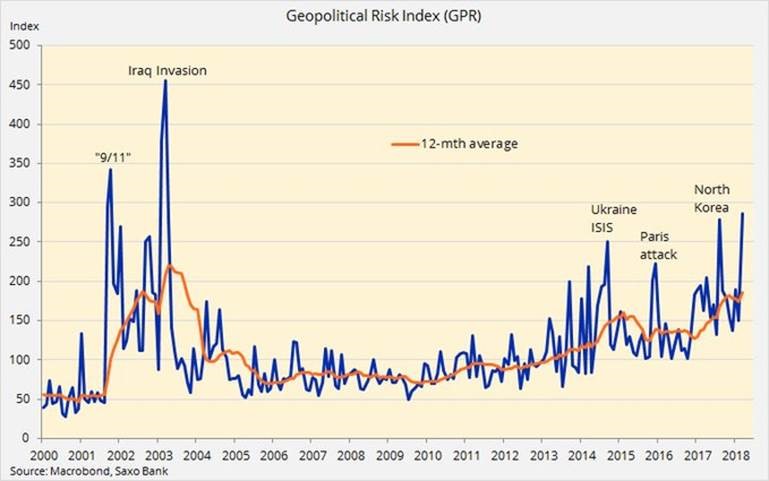 The Geopolitical Risk Index (GPR) has reached its highest level since the 2003 invasion of Iraq. The previous high was last August due to North Korean tensions. h/t @Dembik_Chris
7:38 AM – Mar 15, 2018
This political-risk gauge just hit a 15-year high — and here's what it means for the stock market
By Mark DeCambre
https://www.marketwatch.com/story/this-political-risk-gauge-just-hit-a-15-year-high-heres-what-it-means-for-the-stock-market-2018-03-16
8.The Cost of Long-Term Care.
Barrons
Too often, however, there is no plan. Two-thirds of people in a recent survey by Genworth Financial expected the government to cover all or part of their long-term care. But Medicare covers only some skilled nursing services—such as short-term speech or occupational therapy, intermittent skilled nursing care at home, and hospice services—leaving many long-term care costs uncovered.
What's more, the statistics around long-term care costs can foster a sense of complacency among diligent savers. For example: The national median cost for a private room in a nursing home was $97,500 last year, according to Genworth's latest survey. The average stay in a nursing home is two years, amounting to just under $200,000.
borne by caregivers who give up their jobs or reduce their hours.
The biggest risk comes from chronic conditions like dementia, which people can live with 10 or more years after diagnosis, pushing the total long-term care tab to $500,000 or more. The need for home health aides or nursing care is a big part of this, and it's only getting costlier. "We have a long-term care crisis on the horizon. Over the next 15 to 20 years, the number of potential caregivers to people needing care will be cut in half—a scary proposition for the cost of care," says Jamie Hopkins, a professor at the American College of Financial Services' retirement income program.
How to Curb the High Cost of Caregiving
By
Reshma Kapadia
 https://www.barrons.com/articles/how-to-curb-the-high-cost-of-caregiving-1521253021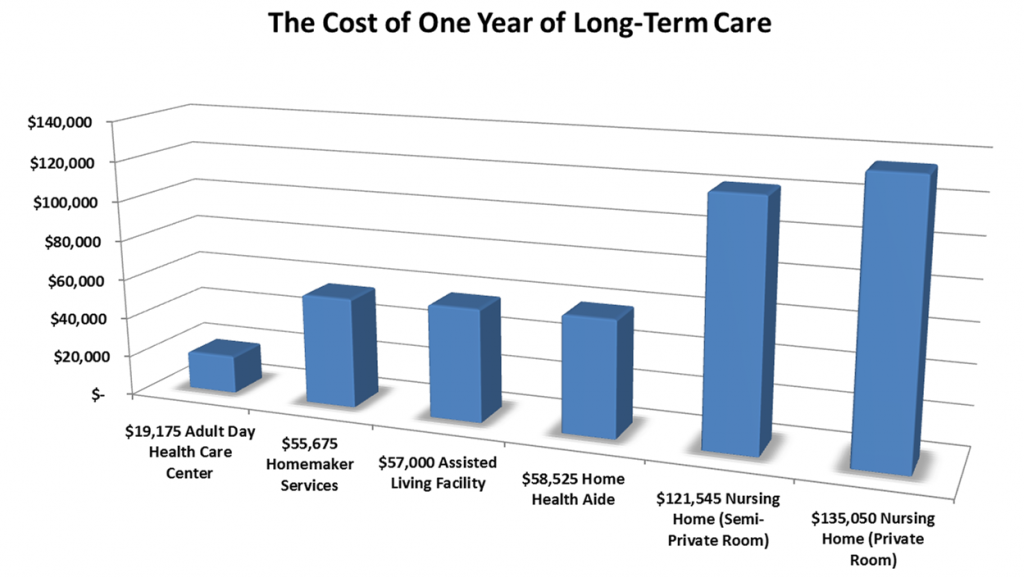 http://artofthinkingsmart.com/care/
Another interesting way to look at the data is to see how much home prices are up from their post-housing bubble lows (most lows weren't made until early 2012).  The National index is now up 46% from its lows, but most cities are up well over 50% from their lows at this point.  San Francisco is up by far the most at +115%, followed by Las Vegas (+90%), Detroit (+82%), and Seattle (+80%).
On the weaker side of things, New York and Cleveland have gained the least off their lows at roughly +25%. With the recent tax law changes, it's going to be hard for New York to bring itself up from the rear.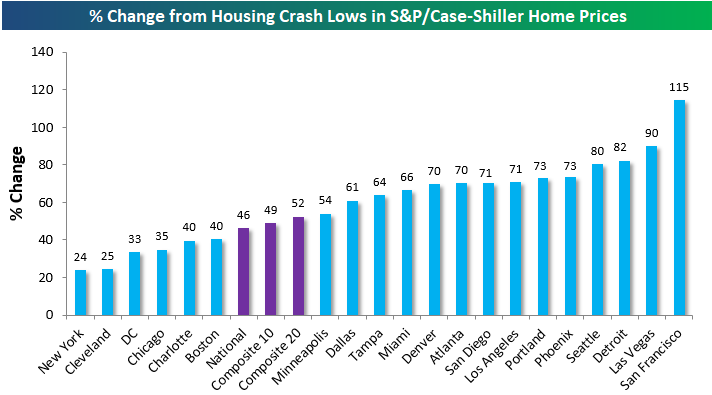 Finally, let's take a look at how prices now compare to their prior housing bubble highs (mostly made back in 2005 and 2006).  Quite a few cities now have home prices that are well above their prior highs from the mid-2000s bubble.  Denver and Dallas are up the most at more than 40%+ from their prior bubble highs, while Seattle and Portland are both roughly 20% above mid-2000s peak levels.
At the national level, home prices have now eclipsed their housing bubble highs by 6%, but both the composite 10-city and composite 20-city indices are still just a hair below their highs.
Los Angeles and San Diego are the two closest cities to making new all-time highs, while Las Vegas, Phoenix, Miami, and Chicago have the furthest to go.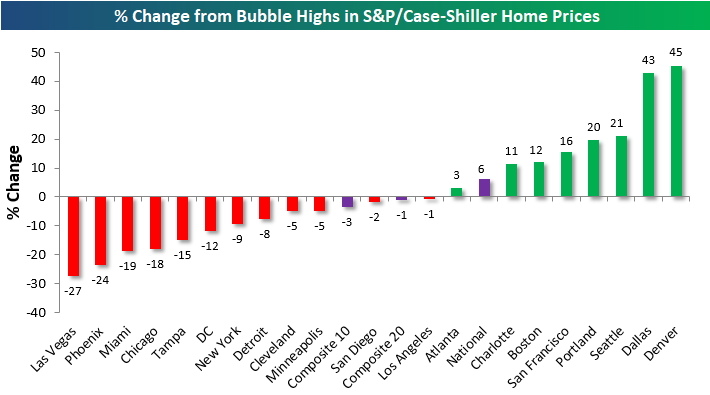 https://www.bespokepremium.com/think-big-blog/
10. These 5 Barriers Prevent You From Being a Better Leader. Here's What to Do Differently
What your team members would tell you if you just stopped talking.
I spend a lot of time asking employees about how leaders can be more effective communicators. Just yesterday, in fact, I moderated a focus group with employees at a fast-growing consumer products company.
The people in the group provided the same feedback I hear time and time again: Leaders are pretty good at sharing information, but they're lousy listeners.
As a leader myself, I know how hard it is to slow down and actually pay attention to what your team member is saying, especially when you're thinking about the 87 other issues you have to address and you're pretty sure you already know how to solve the team member's problem.
But you can't be a great leader if you're a terrible listener. As Matthew McKay, Martha Davis, and Patrick Fanning write in How to Communicate, "Listening is a commitment and a compliment."
"It's a commitment to understanding how other people feel, how they see their world. It means putting aside your own prejudices and beliefs, your anxieties and self-interest, so that you can step behind the other person's eyes."
And listening is a compliment because it says to the other person, "I care about what's happening to you; your life and experience are important."
What's the most effective way to become a better listener? Identify the barriers that prevent you from listening effectively–and then use one important strategy for overcoming those barriers. The 5 most common listening barriers for leaders are:
Mind-reading.
As McKay, Davis, and Fanning write, "The mind-reader is trying to figuring out what the other person is really thinking and feeling… (paying) less attention to words than to intonations and subtle cues in an effort to see through to the truth."
Filtering.
You listen to some things and not to others. A common way that leaders filter is to avoid hearing "certain things–particularly anything threatening, negative, critical, or unpleasant. It's as if the words were never said: You simply have no memory of them."
Judging.
This is a major challenge for leaders–especially when dealing with people you perceive to be "problem" employees. "If you prejudge someone as stupid or nuts or unqualified, you don't pay much attention to what that person says." You know you're judging if you've made up your mind before you hear the content of the message.
Advising.
This one has me written all over it. McKay, Davis, and Fanning describe the barrier this way: "You are the great problem solver, ready with help and suggestions. You don't have to hear more than a few sentences before you begin searching for the right advice. However, while you are cooking up suggestions… you may miss what's most important." Ouch.
Being right.
Another weakness for leaders: You go to any lengths to avoid being wrong. "You can't listen to criticism, you can't be corrected, and you can't take suggestions to change. Your convictions are unshakable." Of course, it's entirely possible that you're completely wrong, but you don't want to listen to that possibility.
Now that you've admitted you have a problem, here's the simple thing you need to do differently: actively listen using the familiar technique of "paraphrasing." You probably learned this method in school or in a leadership course; paraphrasing simply means "to state in your own words what you think someone just said."
The authors of How to Communicate believe that paraphrasing is "absolutely necessary to good listening. It keeps you busy trying to understand and know what the other person says, rather than blocking."
Paraphrase by using such lead-ins as:
"What I hear you saying is…"
"In other words…"
"So basically, how you felt is . . ."
"Let me understand; what was going on for you was…"
"What happened was . . ."
"Do you mean…"
McKay, Davis, and Fanning recommend you paraphrase "every time someone says something of any importance to you. When you do, you'll find it much harder to mind read, filter, judge, advise, or even cling to being right."
As a result, the people talking to you will actually feel like you're listening–and they'll appreciate your careful attention.
The opinions expressed here by Inc.com columnists are their own, not those of Inc.com.
https://www.inc.com/alison-davis/these-5-barriers-prevent-you-from-being-a-better-leader-heres-what-to-do-differently.html
https://www.inc.com/alison-davis/these-5-barriers-prevent-you-from-being-a-better-leader-heres-what-to-do-differently.html