1.Interest Rates Settling Back and Trump Trade Reversing Leaves 2017 a Large Cap Year So Far.
VOO (large cap) +8.8% vs. IWM (small cap) +3.26%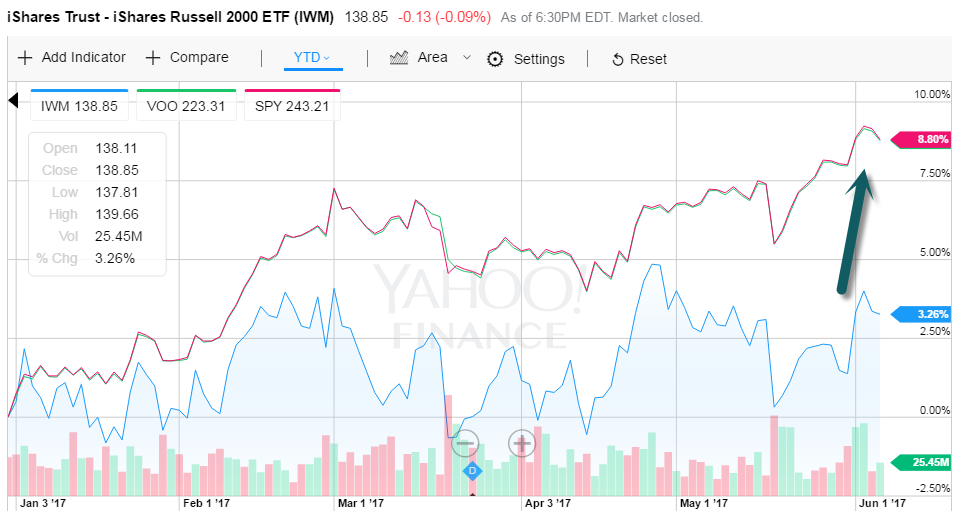 2.Russell 2000 Underperformance….27% Weighting to Financials, Rates Settle Back to Low Levels.  Hedge Funds Big Short on Small Caps.
From Dave Lutz at Jones
Weakness in shares of US domestic banks has helped to drive the divergence between the large-cap S&P 500 index and the Russell 2000 – Gridlock in Washington, however, has held back policy initiatives and dashed investors' hopes that looser financial regulation and an economic stimulus plan could send longer-dated interest rates higher and improve the profitability of banks. The Russell 2000 has a 27 per cent weighting to financials.  IWM (Orange) has given back the bulk of the post-election surge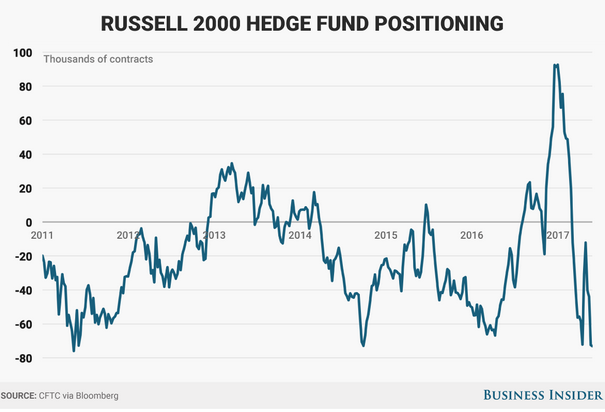 Large speculative hold the biggest net short position in six years on the Russell 2000, according toCFTC – That hedge funds were the most bullish in history on the small-cap gauge as recently as January highlights the degree to which investors have thrown in the towel on the so-called Trump trade.
3.Follow up to my Japan/China Debt Comments Yesterday…Both Asian Countries bonds are in domestic hands.
In the case of China, foreigners own only 5% of Chinese government bonds, see chart below. In that sense the situation in China is very similar to Japan; the likelihood of a financial crisis is very low and the outlook will remain stable as long as there is domestic appetite and ability and willingness to finance deficits.
For more on our latest views on Asia see also my colleague Michael Spencer's latest piece:
http://pull.db-gmresearch.com/cgi-bin/pull/DocPull/28-5298/87456260/DB_GEP_2017-06-02_GDPBD00000310309.pdf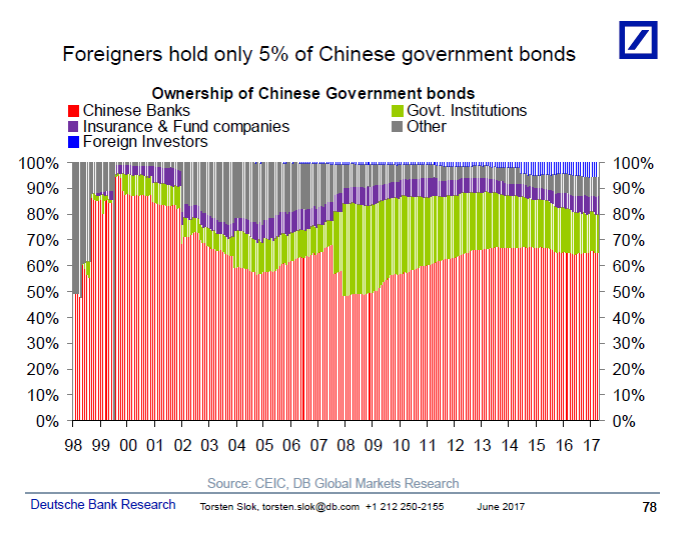 ———————————————-
Let us know if you would like to add a colleague to this distribution list.
Torsten Sløk, Ph.D.
Chief International Economist
Managing Director
Deutsche Bank Securities
60 Wall Street
New York, New York 10005
Tel: 212 250 2155
4.Citigroup Economic Surprise Index for Europe Rising as U.S. Tails Off.
 In this index, a reading of zero means that all economic data points are roughly in line with expectations while a reading of 100 or more indicates nearly all economic data points are roughly beating expectations. The CESI Europe index has held between 40-70 for the last six months or so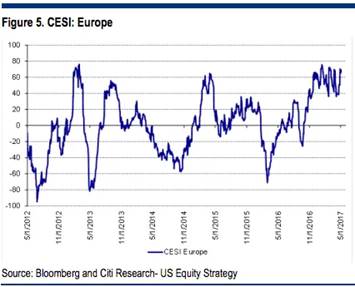 By comparison, U.S. economic data has started to tail off relative to the consensus forecasts and the CESI U.S. index has fallen into negative territory, indicating more data than not is underperforming consensus expectations.
From Tim Hussar at Sage
5.Oil and Gas Producers -21% YTD….The Boom Bust Energy Cycle in New Territory.
XOP ETF-This time really is different for energy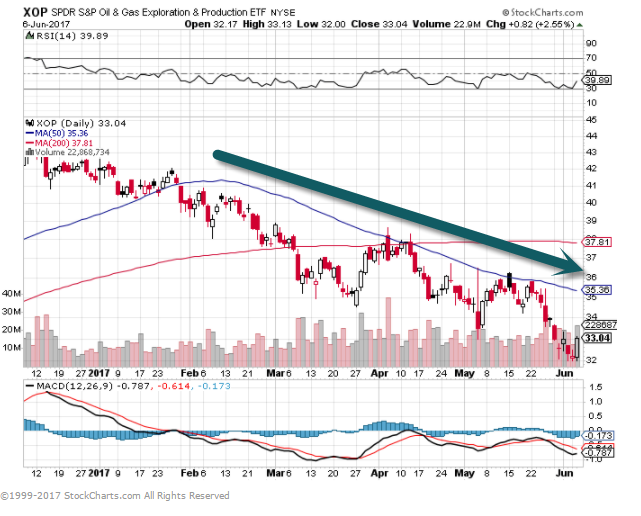 5 Years S&P +81% vs. XOP -27%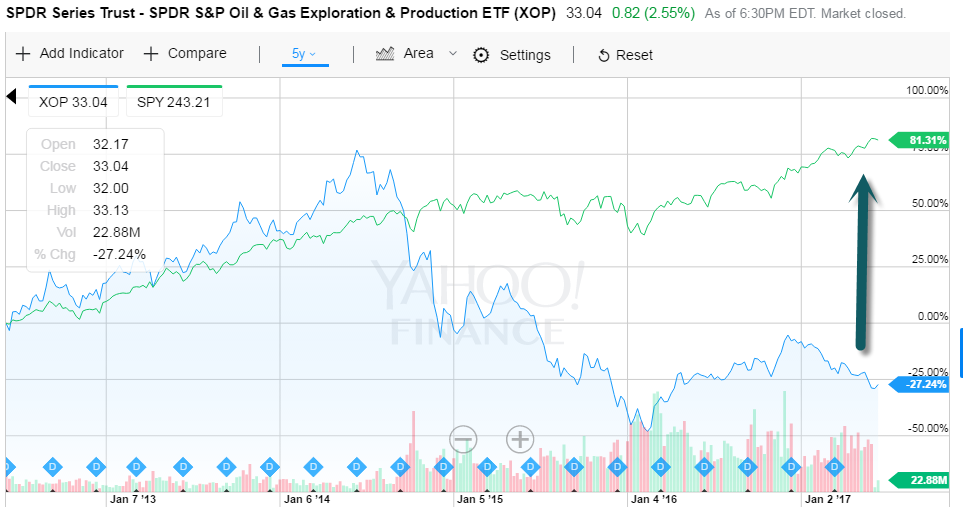 6.Natural Gas Back to Lows….
Natural Gas Faces Renewed Threats
Fracking is poised to strike again and kill gas rallies, as it has so many times before.
By
TIMOTHY PUKO
There's a serial killer on the loose in the natural-gas market: shale.
It isn't even a secret killer, but it's deadly all the same. Gas rallies have become rare and weak for years as unconventional drilling methods, including fracking into shale and other tight layers of rock, have unleashed a record amount of gas onto the market. The cycle is poised to strike again and kill rallies late this year or in 2018, as it has so many times before.
Some had thought the gas market was turning a corner, that new demand was finally outpacing supply because rampant growth had slowed. But a rebound in prices—especially oil prices—is causing a rethink about how long that slowdown will last. It may be over already.
Oil wells also produce gas, and the new ones are pumping up massive amounts, especially in West Texas. Oil drillers care so little about the gas that they're likely to keep working even if gas prices hit historic lows. That could cause gas production to soar so high that what's coming from new oil wells alone will cover nearly all new gas demand for years, according to estimates from investment banks Tudor Pickering Holt and Macquarie Group.
Read full story at Barrons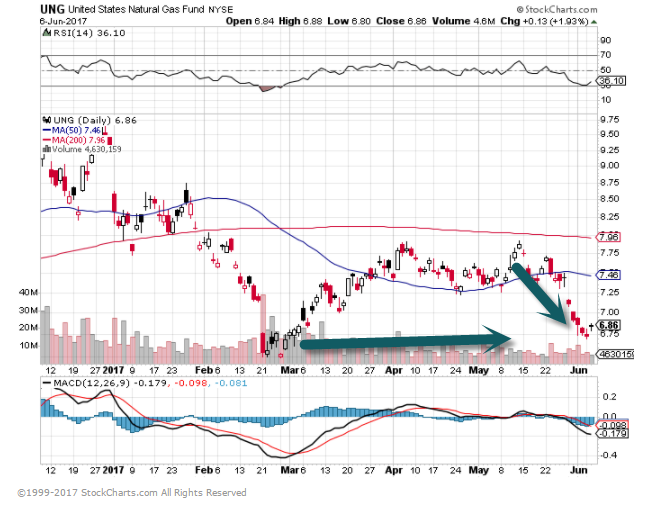 http://www.barrons.com/articles/natural-gas-faces-renewed-threats-1496457499
7.My Favorite Recession Watch Indicator….Yield Curve Continues to Flatten in 2017…Not Close to Inverting Yet.
Treasury Yield Curve Continues To Flatten
Bloomberg reports that a rate hike at the Federal Reserve's June 13-14 policy meeting is a "virtual certainty", based on Fed funds futures. That's a clue for thinking that the recent flattening of the Treasury yield curve is on track to become even flatter.
Consider the 10-year/3-month spread, a widely followed benchmark for monitoring the Treasury curve. On Wednesday (May 30), this spread dipped to 1.28 percentage points, an eight-month low, based on daily data via Treasury.gov. The 10-year/2-year spread has also decreased in recent months, sliding to 0.93 percentage points – the lowest since last October.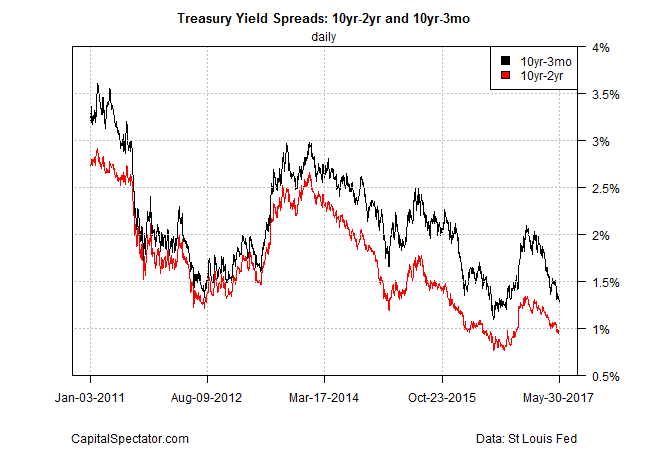 For another perspective, note the change in the full yield curve this year. The red line shows the current yields as of yesterday (May 30) vs. the yields at last year's close (blue line). The main takeaway: a clear flattening trend has been unfolding so far in 2017.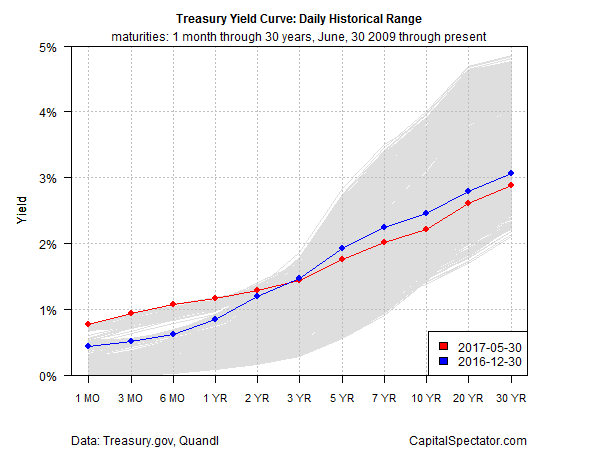 http://www.capitalspectator.com/treasury-yield-curve-continues-to-flatten/
Found at www.abnormalreturns.com
8."The New Trump Trade"….Long the SPY's with a Gold Kicker for Protection??
 GLD +12% vs. S&P +8.8%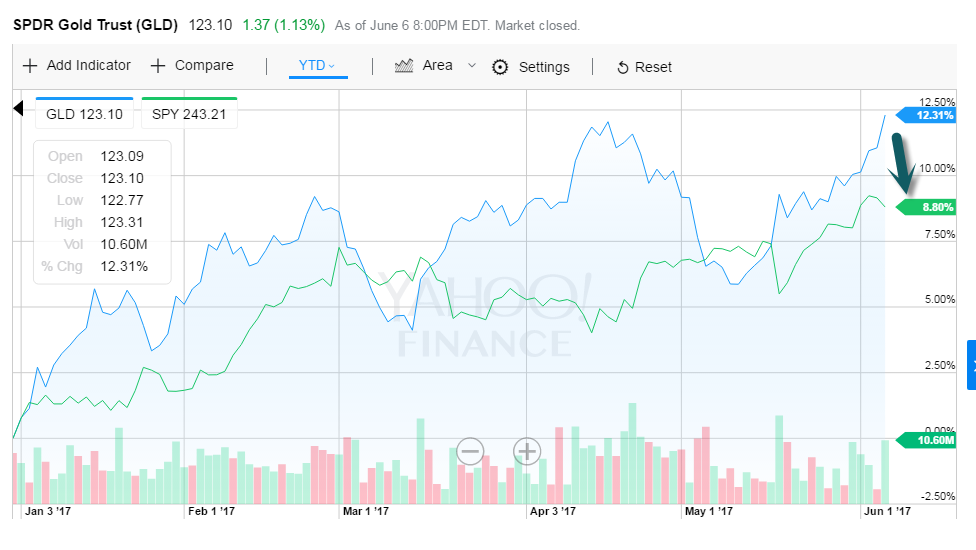 9.U.S. Dollar is Reserve Currency of World, U.S. Bond Market is Deepest in World, Now Commercial Real Estate a Parking Place for International Capital.
The Trend of Foreigners Buying Commercial Real Estate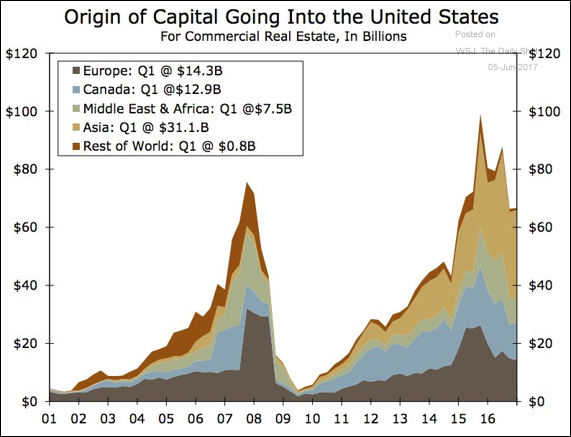 10.6 Things You'll Find the Smartest People Doing Every Day
You can be brainy and an intellectual, but that doesn't mean you're smart, like these people are.
By Marcel Schwantes
You can be popular, talented, and brainy, but that doesn't mean you're smart (in an emotionally-intelligent sense). Ultimately, you'll find that smart people have keen insight into situations and practice good judgment.
But this is a type of smartness that one acquires from a way of being, not doing. It's wisdom that starts and ends with character, intuition, and integrity–not IQ or through the acquisition of more knowledge or expertise.
What choices do you see smart people make? Well, if you are one of them, you'd agree with me that these are normal-day occurrences for you. Do you agree?
You seek out reverse mentors.
Sure, books, webinars, classes, and the like help, but smart people stretch their knowledge beyond intellectual pursuits. A smart person is also wise enough to soak up the wisdom of others, acknowledging that they don't know it all. Here's a quote I saw the other day:
If you're the smartest person in the room, you're in the wrong room.
Metaphorically, you view yourself as a small fish in the great big pond of life. You'll seek out connections and appointments to learn to do great new things.
This includes finding a "reverse mentor." For years, we have thought of mentors as older and more experienced sages. And that's entirely appropriate, and there will always be a role for that type of mentorship.
But in this social era, smart people are catching on to the advantage of learning from reverse mentors. They can be younger and less experienced, but they're technologically-savvy and hold other expertise in unfamiliar terrain.
Smart people are open to new ideas, and they leverage reverse-mentor relationships as a work strategy. And if you're a boss, when bosses seek out and listen to their Millennial mentors to get fresh perspective, they will love and respect you.
You watch your words when you speak.
There's an old saying from a wise leader that goes like this:
Words satisfy the mind as much as fruit does the stomach; good talk is as gratifying as a good harvest.
So much conflict, confusion, and misunderstanding comes from our words and what we communicate.
Smart people are careful about what they speak, give good and sound advice, don't talk out of both sides of their mouth, and have the other person's best interest in mind. When they do these things, they get a lot more in return.
You're self-aware.
Self-awareness can alert you to what relationships to invest in and what advisers to seek counsel from. If they're having lunch with someone who is spreading malicious things about others, smart people are intuitive enough to know they may be next on his list. They walk away.
They're also aware of groupthink mentality at work, which can quickly lead to a toxic bandwagon that may send your reputation down the toilet. Smart people use self-awareness to recognize those red flags.
You're probably an introvert.
Chances are, if you grew up as that awkward, quiet, geeky kid with social anxiety, you were probably special and didn't know it. The Gifted Development Center says that 60 percent of gifted children are introverted.
It gets better. As an adult, you now leverage your strength for processing, contemplating, and thinking things over, which is a trait of really smart people. In fact, more than 75 percent of people with an IQ above 160 are introverted.
You're curious.
Albert Einstein famously said, "I have no special talents. I am only passionately curious."
Harvard Business Review reports that people with a higher "curiosity quotient" (CQ) are more inquisitive and generate more original ideas, and this "thinking style" leads to higher levels of knowledge acquisition over time.
CQ, the author states, "is the ultimate tool to produce simple solutions for complex problems."
You are a prolific listener.
Active listening is one of the least-taught skills in leadership, yet it's the most utilized. As studies point out, we spend 70 to 80 percent of our waking hours in some form of communication, and of that time, 45 percent is spent listening.
And while many people assume they're good listeners, studies confirm that most of us are poor and inefficient listeners. When you talk to your boss, co-workers, or customers for 10 minutes, studies say we pay attention to less than half of the conversation. Within 48 hours, whatever information we've retained decreases to 25 percent. In other words, we often comprehend and retain only one-fourth of what we hear.
Smart people know better. They leverage their active listening skills for solving problems, building trust, and winning the hearts and minds of people.
Like this column? Sign up to subscribe to email alerts and you'll never miss a post.
The opinions expressed here by Inc.com columnists are their own, not those of Inc.com.
https://www.inc.com/marcel-schwantes/6-things-youll-find-the-smartest-people-doing-every-day.html