1.One Year Returns…Robotics ETF Up Double the S&P.
ROBO fund's assets under management have more than doubled since March Barrons cover on robotics, to $670 million from $286 million, according to FactSet
http://www.barrons.com/articles/rise-of-the-robot-stocks-1497675257
ROBO +36% vs. S&P +16.75% 1 year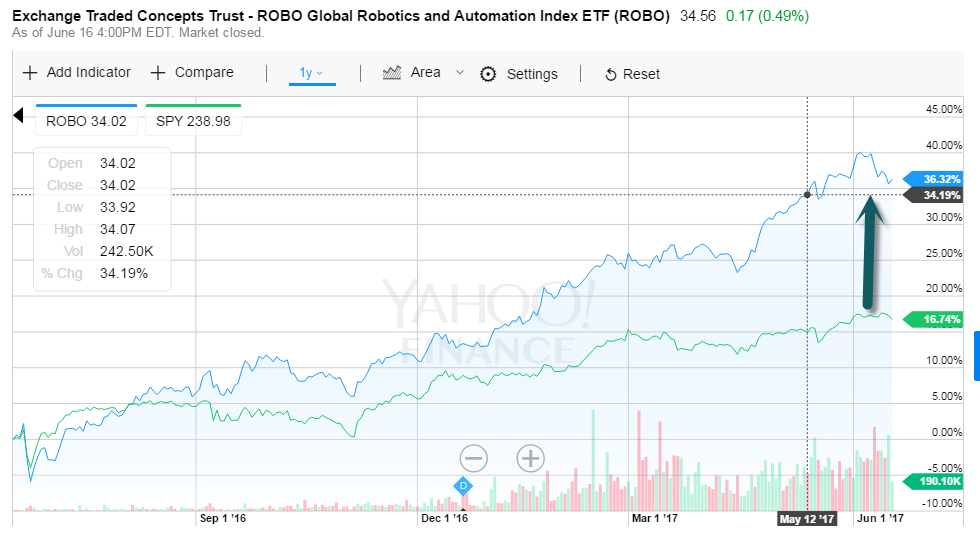 2.Is Tech as Expensive as 1999??
Tech-sector earnings are expected to rise by 12.4% this year and 11.3% in 2018, according to Thomson Reuters.
But those multiples hardly seem generous when slow-growing consumer-staples stocks such as Procter & Gamble (PG) andPepsiCo (PEP) sport P/Es of 22 to 23. Consider that Apple and Alphabet are each set to grow sales by at least 12% in fiscal 2018. Pepsi's revenue growth will be closer to 4%, and Procter's, a paltry 2.3%. "Until you get Apple [at 15 times expected earnings], Facebook, and Google trading at large premiums to Procter or Pepsi, we aren't in bubble territory," says Chung.
Then there's valuation. The tech sector traded for 70.1 times trailing fourth-quarter earnings at its 2000 peak. Last week, the S&P 500 Information Technology index fetched 23.9 times trailing earnings, only moderately above the 21.6 times multiple on the S&P 500.
http://www.barrons.com/articles/the-tech-stock-rally-will-be-right-back-1497675129?mod=BOL_twm_ls&tesla=y
On a 5 Year Basis….Tech just overcame consumer staples performance this year.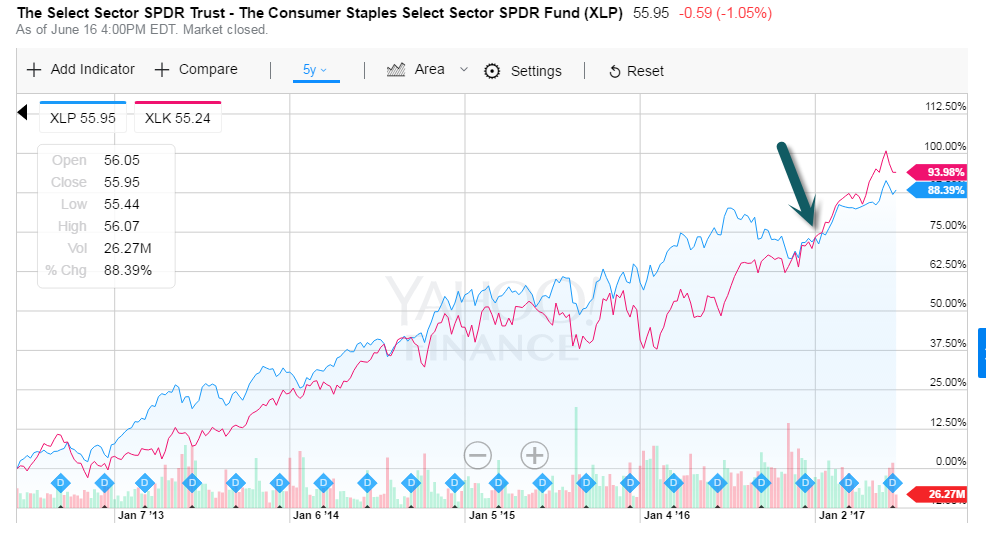 www.yahoofinance.com
Tech vs. Consumer Staples 1999

4. Vanguard took in $34b in May, a 5th straight record month, brings flows to $181b for 2017, 42% higher than any other start to year…Passive and Quant are now 60% of Trading Volume so Logically Big Impact on Tech
The trend has accelerated greatly in recent months.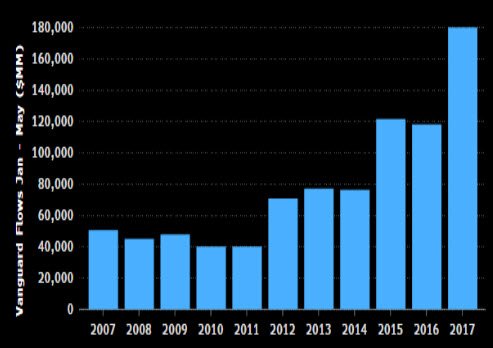 View image on Twitter
Follow
Eric Balchunas @EricBalchunas
Just in: Vanguard took in $34b in May, a 5th straight record month, brings flows to $181b for 2017, 42% higher than any other start to year.
10:28 AM – 5 Jun 2017
http://www.businessinsider.com/heres-what-the-blowoff-stage-of-a-stock-market-bubble-looks-like-2017-6
Just 10% of trading is regular stock picking, JPMorgan estimates
· "Fundamental discretionary traders" account for only about 10 percent of trading volume in stocks today, JPMorgan estimates.
· "The majority of equity investors today don't buy or sell stocks based on stock specific fundamentals," said JPMorgan's Marko Kolanovic.
· JPMorgan believes the recent sell-off in technology stocks may have been related to quantitative and computer trading and not traditional fundamental investors.
Evelyn Cheng | @chengevelyn
http://www.cnbc.com/2017/06/13/death-of-the-human-investor-just-10-percent-of-trading-is-regular-stock-picking-jpmorgan-estimates.html
5.Highest Level of Insider Selling in Six Years.
David Santschi | May 30, 2017
The best-informed market participants are taking advantage of record high U.S. stock prices to sell hard. Insider selling has exploded as earnings season blackouts have lifted.
The officers, directors and major holders required to file Form 4 with the Securities and Exchange Commission have sold $9.6 billion in May through Thursday, May 25. This month's volume is set to surpass the six-year highs of $9.9 billion in February and $10.0 billion in March.

David Santschi is the CEO of TrimTabs, a division if Informa Business Intelligence.
6.Big Difference Between Flattening Curve and Inverted Curve.
Flatter Curve Not a Threat to the Cycle
The combination of tighter monetary policy by the Fed, which should lift the short-end of the US yield curve, and accommodative policy overseas, which should anchor the long-end, argues for additional curve flattening, by our analysis. However, we see below-average recession risk until the curve inverts. As it stands, the direction and the level of the yield curve is on par with the mid-1990s and the mid-2000s—prior bull market periods.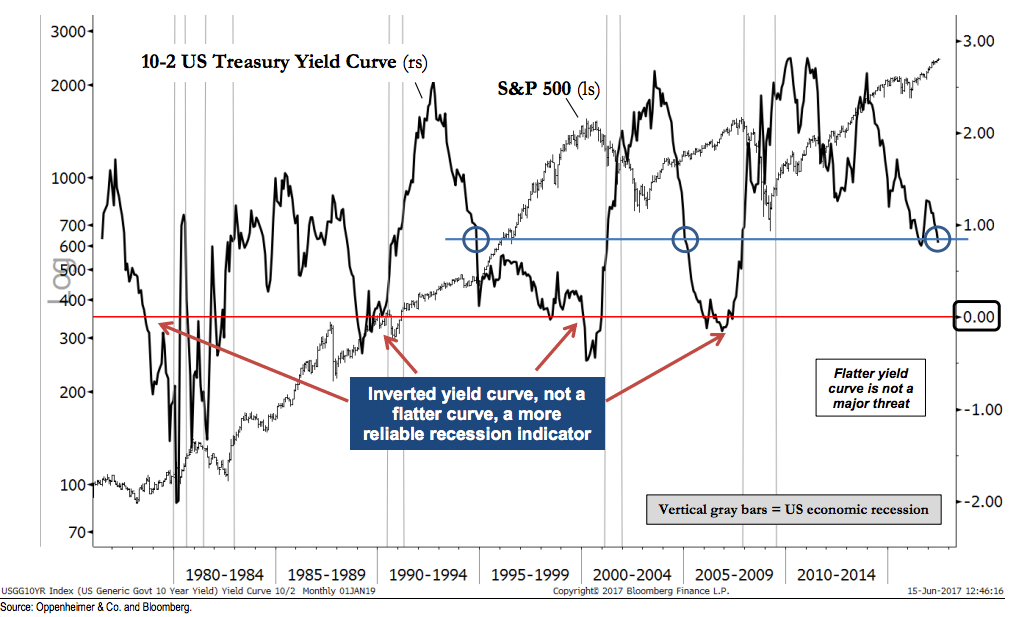 Josh here – now of course, a falling yield curve, meaning the spread between 2-year and 10-year treasury yields are narrowing – would be a precursor to an inversion, should it come, just as a ship must turn on its side on the way to capsizing.
But this ignores a few realities:
· -The world is more global than it's ever been before. Europe and Japan are absolutely exporting lower yields to the United States market given the relative ease of global asset allocation among large institutions. It would be a stranger thing if the US bond market were wholly out of sync with the supply / demand picture for bunds, gilts and JGBs, quite frankly.
· -Years and years can go by on the journey from a flattening yield curve to an inverted one. The entirety of the 1995-1999 bull run for US stocks – perhaps the greatest bull run the world has ever seen – occurred during a falling spread between short- and long-term rates. During the 1980's, the signals were all over the place, and yet stocks advanced almost as if possessed by an ancient sex demon.
· -Yield curves flatten, widen or contract for a reason – these are man-made trends, not randomly occurring phenomena found in nature. If leading indicators in the economy are not recessionary, perhaps it's best not to extrapolate moves in the bond market too much.
· -Central bank buying of bonds is a major factor influencing the curve, around the world. So are the currency-management techniques of the Bank of -China among others. These are technical issues, not necessarily indicative of what's going on in our domestic economy.
· We also have to admit that there are some unprecedented things happen with demography, which has a substantial impact on the demand for sovereign bonds in portfolios around the world. The populations of America, China, Europe and Japan are extremely old relative to cycles of the past. What's more, these aging people aren't dying as quickly upon retirement, which means portfolios are being asked to do more heavy lifting to fund longer lifespans. The implication here is that perhaps the 10-year is the new 2-year in the eyes of the asset allocator. Worth considering.
A flatter yield curve is nobody's idea of a good time. Banks make less money and are arguably more risk-averse about funding longer-term projects when there is less spread (profit) to be earned because of this "term structure" of money. However, flattening is not threatening. It's not inverting. It's just flattening.
There is no one who can definitively tell you for how much longer the curve can remain flattened, or what might suddenly cause a change in this trend. Further, there is not sufficient evidence from which to draw any ironclad conclusions about stock prices as a result of this activity.
Source:
Technical Analysis: Inflection Points
Oppenheimer & Co – June 17th 2017
From Josh Brown Blog
7.Hedge Funds Just Put on a Size Small Cap Bet.
Over 57,000 Russell 2000 e-mini contract longs were added in the last two weeks – the most since July 2008 – leaving hedge funds at their most bullishly positioned in US small caps ever..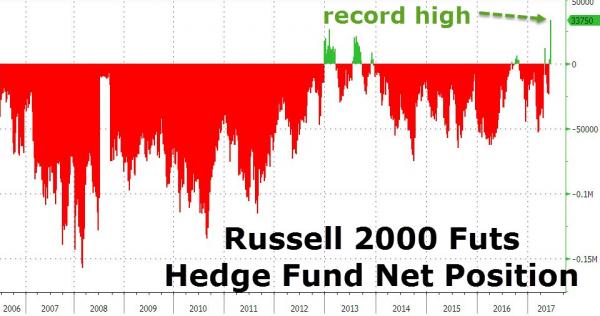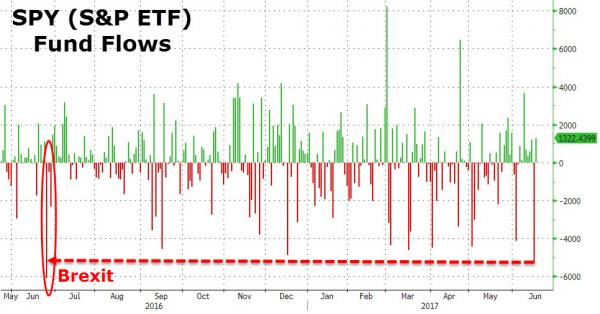 http://www.zerohedge.com/news/2017-06-18/hedge-funds-have-never-been-bullish-about-small-cap-stocks
8.Multifamily Permits Fall for the 5th Straight Quarter.
Permits fell 10.4 percent to 389,000.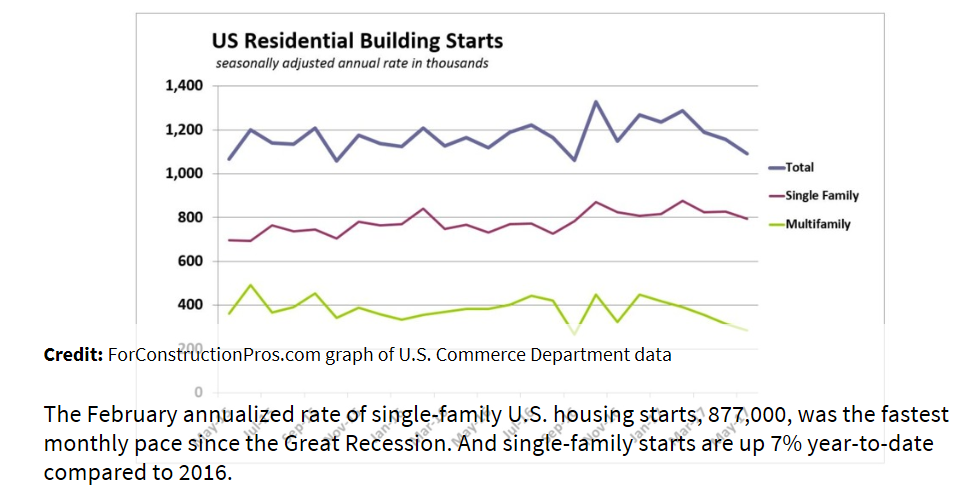 https://www.bespokepremium.com/think-big-blog/
9.Read of the Day….Goldman Set Out to Automate IPOs and It Has Come Far,
Really Fast
by
Dakin Campbell
June 13, 2017, 5:00 AM EDT
· Investment bank is eliminating thousands of hours of tasks
· Managers say it's freeing junior staff for more-valuable work
A few years ago, Goldman Sachs Group Inc.'s leaders took a hard look at how the bank carries out initial public offerings. They mapped 127 steps in every deal, then set out to see how many could be done by computers instead of people.
The answer so far: about half.
Just 21 months after the firm disclosed its plan to re-engineer one of Wall Street's most lucrative businesses, the project has found ways to eliminate thousands of hours of work long performed by humans. A computer-based interface called Deal Link has replaced informal checklists that were once tended and passed down between generations of rainmakers. It now arranges and tracks legal and compliance reviews, fills in forms and generates reports.
The initiative's progress — described by senior Goldman Sachs executives in recent interviews — shows how quickly big investment banks may be able to automate tasks once beyond the reach of computers. The industry is under intense pressure to improve profitability, while contending with young workers less willing to put in 18-hour days. At Goldman Sachs, managers say they're looking to new technology to free up junior bankers in particular, letting them focus on more satisfying work. That could help slow an exodus of talent to private equity firms, tech titans like Google and hot startups.
Mouse Click
The review is the brainchild of Goldman Sachs banker George Lee. Long an adviser and confidant to the Silicon Valley elite, Lee became chief information officer for the investment-banking division three years ago. Since then, he's focused on two key goals: digitizing bankers' workflow and using technology to enhance their advice to clients.
The firm has expressed interest in automating parts of the IPO process for years — Martin Chavez mentioned it publicly as early as September 2015, when speaking as chief information officer — but it has never before detailed the efforts publicly in such depth.
In the beginning, Lee and his team took aim at the most obvious steps for disruption: the routine phone calls, emails and tasks that young bankers plow through at the beginning of every IPO. That included phoning the compliance department to look for potential conflicts, contacting legal to assign lawyers and compiling an organizational book for meetings.
Now that's all done with the click of a mouse in the new application, which features a step-by-step guide replacing ad hoc training materials and word-of-mouth advice. Hot links trigger processes or fill in forms. Information used across multiple forms is populated automatically.
The firm also streamlined the way that it delivers updates to clients about IPO orders, sending instantaneous details about pricing, size and timing to a phone or tablet application, Lee said in an interview. In the past, that would have been a static report that Goldman Sachs emailed or faxed to the client's hotel at the end of the day.\
Read full story https://www.bloomberg.com/news/articles/2017-06-13/goldman-set-out-to-automate-ipos-and-it-s-come-far-really-fast
10.4 things I learned at the brink of quitting
Chris Reel, Thrive Global
Most of you do not know, but I have a slight obsession with obstacle course racing (you know, the Tough Mudder thing your buddy is doing? Yeah, that.)
I have been racing in OCR events for the better part of 3 years now, and I can tell you that there are a few things I have learned from cold mornings filled with rain, hail and some seemingly never ending muddy trails.
The purpose of obstacle course racing is to awaken the innate ability inside of you that has been lying dormant for too long.
Thus, it makes logical sense that training for races like these requires at least a degree of discomfort, right? With that in mind I created a program for myself that intentionally places me before the fight-or-flight fork in the road by making it so obnoxiously hard that it is inevitable I will break down mentally, physically and spiritually.
What's more is that I have made the goal of these programs is to try and reach that breaking point before you even reach the midway point of the workout.
You must be thinking I am insane right about now.
Who would ever intentionally put themselves through this level of pain? Well, I'll tell you. When you are capable of making yourself uncomfortable, you learn to control life from a perspective of clarity, confidence and passion. You increase your level of being.
I put myself through this sort of training at least 5 times per week, each day harder than the last. The point of it all is to remove excuses and implement accountability. Sure, we can all hire a personal trainer to do this for us, but when you are capable of switching it on all by yourself, something changes.
Every time I put myself through this training I seem to re-learn these 4 things, each time quicker than the last.
The mind always wins
Your mind will tell you absolutely everything you want it to in order for you to justify a decision. The unfortunate undertone of that last sentence is that we have reverted into auto-pilot and comfort mode and so our minds take us there with ease. Anything that can potentially bring discomfort our minds will tell us that it's just not worth it! We'd rather be in our warm beds, watching Netflix or eating that greasy bag of potato chips, because it is comfortable, it is easy and it is justified.
What I've learned from putting myself through the proverbial ringer is that there is no changing the fact that your mind will win. What you can change, though, is what that win consists of.
Unless you are highly trained in the art of meditation you will never be able to switch your brain completely off, especially in times of trial and tribulation. But you will be able to switch its gears. I intentionally place myself in a position where I am begging myself to quit — but I don't.
I change the dynamic of the win in my head and visualize the reward of pushing through. To give you an indicator of what my training consists of, these thoughts happen at the conclusion of round 2. There are 5 rounds plus another 3 round circuit afterwards and either a long distance ruck, swim or run to finish it off. Sure, it is extremely uncomfortable and some have even said it is downright insane, but it works.
To sum it up, I have found that it is possible to convince the brain that the real win is the struggle and not the comfort. I have achieved this through the struggle and it has given me the ability to break down mental barriers that used to stand mountain-high in front of me.
The body is capable of so much more than you think
Going with point one is this. Your mind will tell you when you are uncomfortable and that stopping or quitting is the best thing to do. When you shift gears in your mind you will notice that what your mind is telling you is nothing but a myth.
You can get to 500 push-ups. You can run a marathon with blisters on your feet. You can do so many things your mind initially says you can't or aren't worth doing because of the discomfort the endeavor will bring. Knowing how capable the physical body is helps reaffirm that "you ain't finished yet".
I have felt like packing it in plenty of times during my training (in reality it's more like every time), but I quite simply don't. I put my head down and I get after it. It is truly incredible what happens within the body and mind when you finally get to this point in your progression as a human being.
We really are powerful creatures.
The value of a mantra (both good and bad)
This point ties the previous two together with a nice and sweaty bow. You see, at round 3 of my 5 round workouts, you better believe I am hurting.
My breathing is weezy, my shirt is literally dripping with sweat and my mind is telling me that I am an idiot. Well, as a friend and member of my Awakening program (more on this at the end), has learned, it is here when you don't need external motivation, but internal.
A mantra serves you well here.
You have a choice at every moment of discomfort — to either tell yourself you can or tell yourself you cannot do it. A mantra will help you along whatever path you want to go. I can sit in front of you while you complete 200 push ups and tell you "you can do it!" but that doesn't shut your mind up. What does is replacing that negative crap seeping into your head with a mantra.
The first time I put my friend through one of my workouts he nearly quit about half a dozen times. He is in good shape, but he simply could not get through the mental barrier that was slapping him in the face each medicine ball burpee he had to do. So, what did he do? He dug deep. Real deep. He replaced the "I am gassed" with a simple mantra "I have the strength of 10,000 men."
He crushed the final three rounds of the workout and the sprint training we did afterward. Yes, all with a blister on the ball of his right foot. The mind is the most powerful tool a human being has — use it to your advantage like he did.
The importance of an internal fire
I have two kids at home, and sometimes this means limited sleep. They are not on my schedule- so if I put myself through a strenuous workout and one gets up for a bottle at 2am, I've got to be on point. You bet your bottom dollar I'm tired the next day, but should I treat this as an excuse or an opportunity? I think you know my answer at this point, but at times it is much harder than just going and doing it, as I emphasized before. Sometimes it is the fire inside that kicks you into overdrive and pushes you through.
Sure, I could take an extra hour of sleep when they go down for a nap, or give the workout a skip for the day, but what does that teach me, my kids, my wife? It teaches us complacency in a tough and unforgiving world. I need to get up, show up and get things done — no excuses. On that 4th and 5th round, or on the final mile of a long run, I call on my Why and push harder than ever. Without my Why (I'm sure you can figure out what that is now) to call on, though, this becomes much easier said than done.
When you are down, out and do not think you could go even a step further, call on your Why.Your spirit is rooted to this Why and when you are able to determine what that is, you will find it much easier to wake up at 2am after a 15 mile run, 100 burpees, 200 push ups, 150 pull ups and 200 crunches to look after your crying child. Excuses will become minimal and accountability will become everything. It is here you become who you were always destined to be.
In short, putting myself far beyond my comfort zone has taught me the power of the mind, body and spirit. It has also taught me that they interact very closely and deep inside your soul your purpose is longing to drive them forward. Get out of your own way and see what starts to happen in your life.
Should you follow a regiment like this? That's up to you. I can show you inside mine, if you'd like. We are in the process of on-boarding members to The Emergence — a program and summit that removes the sugar-coated "I can do this attitude" and replaces it with real action, real growth and an emergence of your most authentic self. Pre-register for the program here.
Read the original article on Thrive Global. Follow Thrive Global on Facebook. Copyright 2017. Follow Thrive Global on Twitter.
http://www.businessinsider.com/4-things-i-learned-at-the-brink-of-quitting-2017-6