1.More Central Banks Shift to Easing
Central Banks and the Search for Yield
Posted by lplresearch
Central banks are back in easing mode, to the dismay of coupon-clipping fixed income investors.
As shown in the LPL Chart of the Day, Global Central Banks Back in Easing Mode, central banks around the world are embarking on a marked policy shift as trade tensions pressure the global economy and government becomes more intertwined with policy decisions.
Two of the world's most influential central banks, the Federal Reserve (Fed) and the European Central Bank (ECB), are eyeing looser policy in the months ahead. We expect the Fed to implement a 25 basis point (0.25%) "insurance" rate cut at its July meeting, and policymakers have already announced plans to end balance sheet runoff in September. The ECB has all but promised a new wave of accommodation, likely through asset purchases.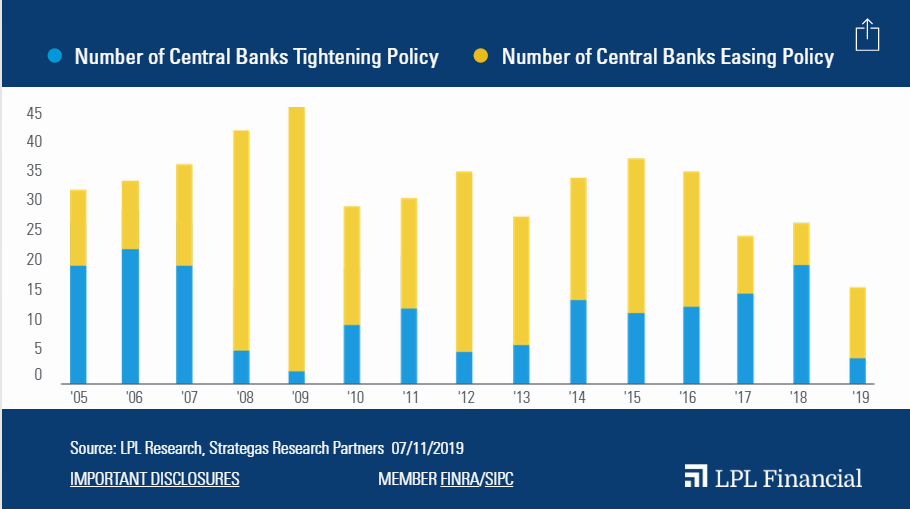 https://lplresearch.com/2019/07/16/central-banks-and-the-search-for-yield/
2.Why Cuts? Inflation Rolled Back Over, Wages Rolled Back Over and Global Trade Tensions.
Joe DavisJune 14, 2019 16 Comments
Playing poker well is about understanding 2 key things: 1) the hand that you've been dealt, and 2) what that means for the probability of future outcomes. In our view, the hand the Federal Reserve has been dealt (the current economic environment as defined by inflation, labor markets, growth, financial markets, and international conditions) and the probable outcomes it implies for the economy suggest that rate cuts in 2019 will be the most prudent response.
Inflation, as measured by core PCE (the Fed's preferred metric) reached 2% last year for the first time since 2012 before falling back below that threshold in recent months. That backsliding caused markets to begin pricing in the possibility of an inflation-stoking rate cut this year. While we continue to believe that inflation will pick up over the rest of the year and fall just a bit short of 2%, other factors have contributed to the evolution of our policy rate expectations.¹
The other half of the Fed's dual mandate is the labor market, which has evolved much as we expected in our 2019 Economic and Market Outlook. The average monthly change in payrolls has fallen close to 150,000 jobs per month. We—and the Fed—would expect this number to continue falling closer to the level of job growth that would account for new entrants into the labor force (80,000–100,000).
On the growth front, the potential for recent trade tensions to hurt the U.S. economy has only strengthened the market's conviction that rate cuts are appropriate. In response, bond traders, for the second time this year, have pushed long-term yields below short-term yields. This phenomenon, known as an inverted yield curve, is a traditional bellwether for recession.
The figure below shows short-term interest rate expectations from the market, the Fed, and Vanguard. We expect an update to the Fed's outlook at the close of its June 18–19 meeting.
The market is anticipating one or more "insurance cuts" this year

Sources: Bloomberg, Federal Reserve Bank of New York, and Vanguard.
Note: The Fed expectation is based on the March Summary of Economic Projections; the market assumption is based on the forward rate curve as of June 10, 2019.
3.Software Stocks +41% from Dec. Lows.
The investor Marc Andreessen once famously declared that software will eat the world; now software seems to be absorbing vast swaths of investor portfolios.
As a group, software companies enter the second-quarter earnings period trading at record valuations. Macquarie Capital analyst Sarah Hindlian finds that the average software stock is trading for a record 7.1 times next fiscal year's projected revenues. The one-year average valuation on that basis is 5.6 times, she reports. The five-year average is 4.4 times and the 10-year average is 3.9.
Software Stocks Hit Record Valuations Just in Time for Earnings Season—Eric Savitzhttps://www.barrons.com/articles/software-stocks-earnings-51563311263?mod=hp_LEAD_1
IGV Software ETF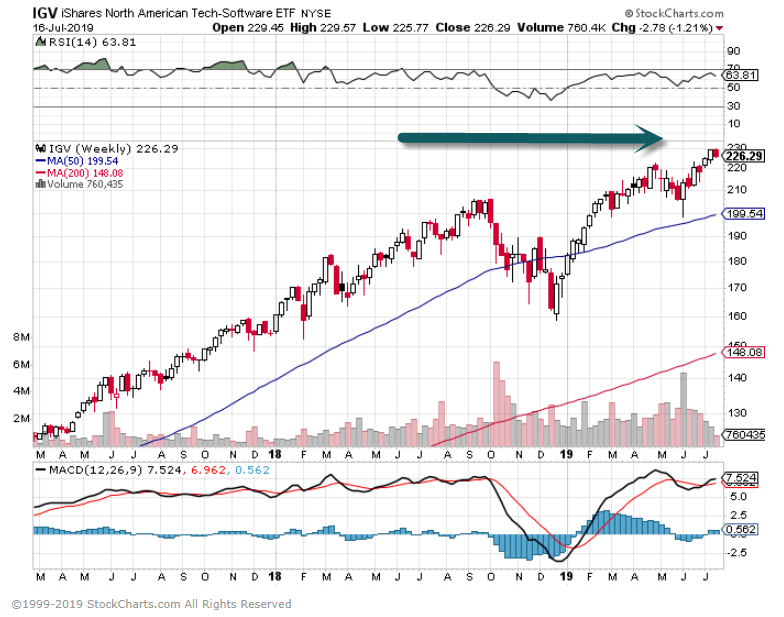 4.Bad Loans in Europe Tumble.
WSJ-Excellent Full Read on Euro Bad Debt.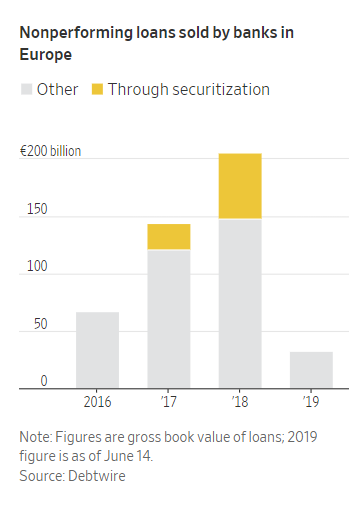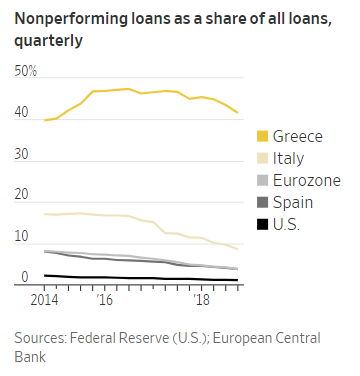 Bad Loans in Europe Tumble, but They Are Never Fully Gone
A parade of big U.S. investors such as Cerberus and Apollo snap up billions in European toxic loans
By Patricia Kowsmann and Margot Patrick
https://www.wsj.com/articles/bad-loans-in-europe-tumble-but-they-are-never-fully-gone-11563269402?mod=itp_wsj&ru=yahoo
5.I Have Mentioned Transport Stocks Not Making New Highs and Dow Theory Multiple Times in Letter….Below is Good Summary.
One of the oldest investing theories on Wall Street has yet to confirm this year's rally is for real
The Dow Theory argues a true bullish breakout only occurs when the Dow Jones Industrial Average and the Dow Jones Transportation Average reach new highs simultaneously.
While the Dow Jones Industrial Average keeps refreshing its record after hitting a milestone of 27,000 last week, the transport gauge is still almost 7% below its all-time high hit in September.
For investors cheering stocks at record highs, a century-old classic theory is saying the market is still not out of the woods yet.
The so-called Dow Theory, developed in the 1900s by Charles Dow and still religiously used by many Wall Street players, argues a true bullish breakout is confirmed when the Dow Jones Industrial Average and the Dow Jones Transportation Averagereach new highs simultaneously.
Right now, the Dow Jones Industrial Average keeps inching to new highs (including Tuesday) after hitting a milestone of 27,000 last week. But the transport gauge is still almost 7% below its all-time high hit in September. In other words, the Dow Theory has not confirmed the current rally.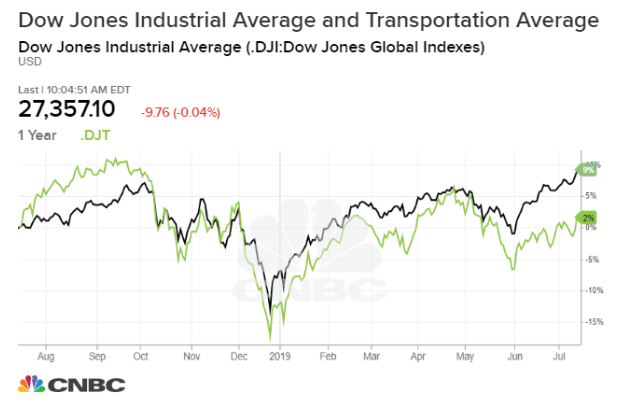 https://www.cnbc.com/2019/07/16/one-of-the-oldest-investing-theories-on-wall-street-has-yet-to-confirm-this-years-rally-is-for-real.html
6.Uranium $150 to $10.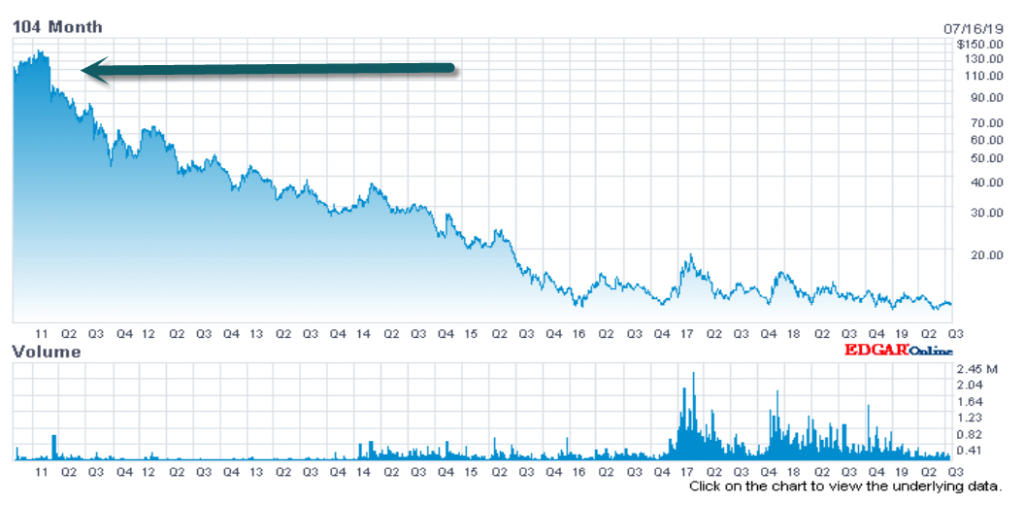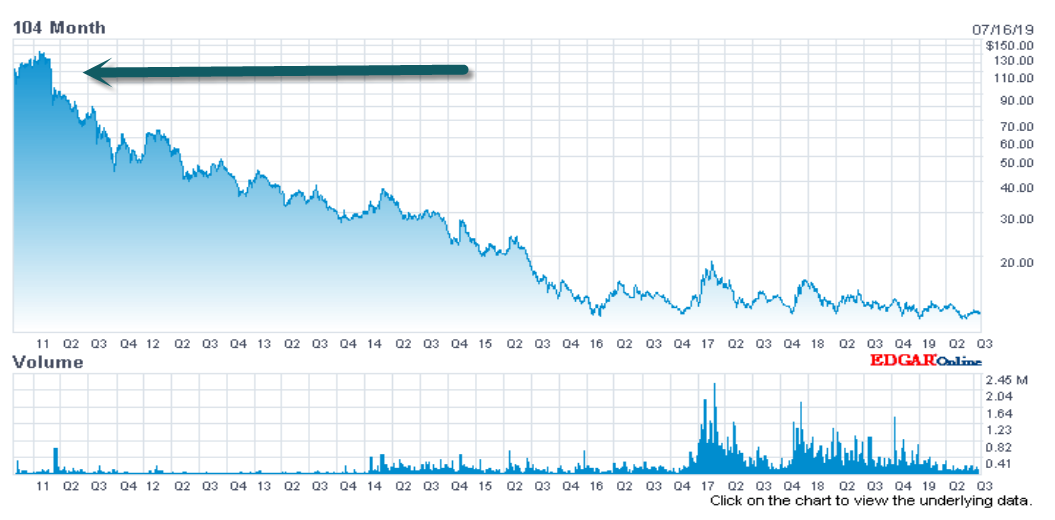 https://www.nasdaq.com/symbol/ura/stock-chart?intraday=off&timeframe=10y&splits=off&earnings=off&movingaverage=None&lowerstudy=volume&comparison=off&index=&drilldown=off
7.Demographics and Home Healthcare.
Here are some of the key takeaways from the report:
Home-based care is a large and growing market for US health systems and hospitals, while growth in the services that providers have historically relied on for profitability is tapering off.
The home healthcare market opportunity is driven by the need to manage the healthcare costs and readmission rates of a swelling senior population, as well as the risk of facing financial penalties.
Telehealth is a powerful enabling technology that offers traditional health systems the ability to deliver care in patients' homes.
Early trials of telehealth-enabled home-based care programs have reaped lower costs, lower readmission rates, and higher patient satisfaction scores.
Providers need to make telehealth and staffing investments now to corner off a chunk of the home healthcare market and fend off growing competition.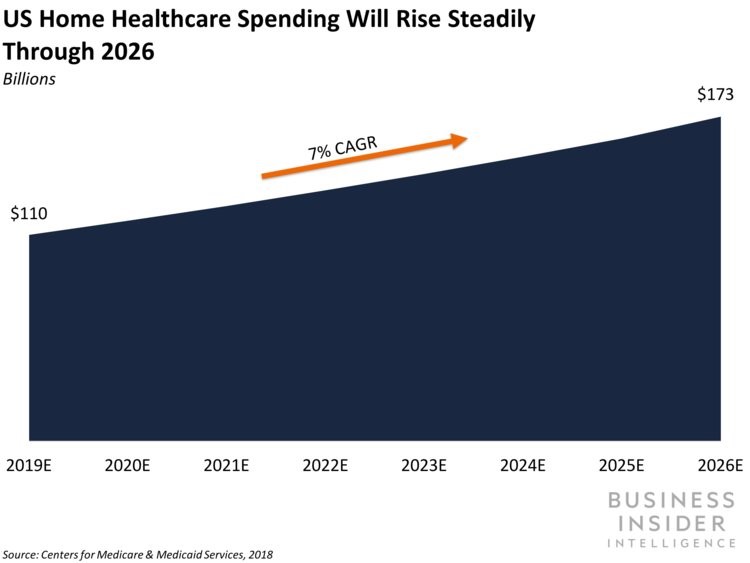 https://www.businessinsider.com/the-us-home-healthcare-report-2019
8.6 Steps to Finding Your True North
By Sponsored Content | July 15, 2019 | 0
As entrepreneurs, our coaches tell us to work on our business, but work on ourselves more. That's easier said than done when our days are spent juggling customer acquisition and retention, personnel, finance and the myriad other balls we struggle to keep aloft.
I believe there is a common energy that connects us all and that we attract people and things to us with similar intention, heart and focus. Therefore, in order to evolve and attract good people and opportunities into our life, we have to rise to their level. Our unlimited potential as human beings makes this possible. The more we concentrate our energy in this way, the closer we come to realizing our life's purpose, or true north. We are all works in progress, and the more we work to improve ourselves, the more our entire life evolves.
Here are six steps to set you on your path:
1. Decide.
The first step is to decide what it is you truly want, both personally and professionally. Do you want to attract good relationships into your life? Do you want to do philanthropy? Do you want to invent a product or provide a service that will impact people's lives for the better? Do you want to help people who haven't have the same exposure to opportunities as you? Dream big because that is the only way you will grow, and then decide.
2. Be deliberate.
Establish daily routines and rituals to help systemize your evolution. For instance, every morning, I work out, shower, meditate and read. Then I close my eyes and take 120 seconds to visualize how I want my day to turn out. This moment of mindfulness keeps me present and focused on positive outcomes. Then, at the end of each day, I close my eyes and spend another 120 seconds reflecting on what worked throughout the day. Before I go to bed, I write down effective questions (more on that below) and five things for which I am grateful. The act of writing them down releases them from my thoughts so I can go to sleep with a clear and positive frame of mind.
3. Affirm.
Individual success and achievement are primarily based on one's sense of self-worth. The picture that you have of yourself on the inside determines how you act and react on the outside. If you see yourself as a 4 out of 10, you will act like a 4 out of 10. When your self-image is positively reinforced with deliberate intention by writing affirmations, the benefits are ingrained in your subconscious mind.
Affirmations are short, positive statements written in first person in the present tense. They describe qualities you aspire to, the abundance you wish to attract into your life and so on. An app like Prompter!™ can help to habitualize the writing of your daily affirmations. The app provides a list of 12 affirmations for you to write out every day. After 21 days, the app provides a new list. Prompter!™ users span all ages and walks of life. I have been affirming for more than 30 years and firmly believe that doing so has played a key role in my personal and professional success.
4. Ask effective questions.
Whatever you are worried about likely can't be resolved between midnight and 5 a.m., but it keeps you awake just the same. One way to put your subconscious mind to work and help you get a restful night's sleep is to write down effective questions before you go to bed. Effective questions are open-ended and solicit a positive, constructive response. For example:
How can I help to resolve this situation so everybody wins?
With whom should I be speaking?
How can I make a positive difference?
How can put my skills to good use?
What is the root cause of our gridlock?
What other ways can I try?
What would I do if I knew I couldn't fail?
Are my motivations based in love or fear?
Often when I practice this, my subconscious mind works on the solution overnight, and when I awake, I recall the name of someone I should call or an action I could take that will help me grow.
5. Establish a group of advisers.
The origin of the quote, "If you're the smartest person in the room, you're in the wrong room" is murky, but it's one of my favorites. A core group of individuals who you respect, admire and trust can be an invaluable source of feedback as you set off on your journey to evolve. Personal and/or professional mentors know you in ways you may not know yourself. Bring them into your confidence and share how you want to improve and ask for their advice.
In business, we need a 30,000-foot view of our industry so we can spot trends and seize opportunities. A way to draw on the expertise of others to help you get the perspective of that high-level view is to listen to podcasts. According to Edison Research, monthly podcast listening is increasing in every age demographic, and the typical podcast consumer is likely to earn more than $100,000 per year. There are thousands of podcasts available on virtually any topic. My favorites include those discussing meditation, self-improvement and mentorship.
6. Write a personal mission statement.
As I travel across the U.S. and Canada, more than ever people are telling me they are searching for meaning in their lives. It isn't about the money; they want to be a difference-maker. They're searching for a cause or a path that truly resonates with them. They want to add value and leave their mark.
What is the legacy that you want to leave? Your written, personal mission statement will become the touchstone for every decision you make. It takes into account your priorities, life goals and code of conduct. It can take weeks or months to write. The homework you do on yourself and the effective questions you ask can help to define your mission statement.
Now is the only time we have, yet in the bedlam of business, it can be a challenge to be mindful and stay present in the moment. Dreams are in the present tense. Affirmations are in the present tense. Meditation is in the present tense. Your personal mission statement should be written in the present tense. The more often you can stay present in the moment, the higher your personal energy level, the more goodness you will attract into your life and the more you will evolve as a person.
I am a big fan of the North Star. When I was a child, Jiminy Cricket promised that when I wished upon a star, my dreams would come true. I later learned about slaves who found their way to safety and freedom at night through the Underground Railroad, and their only guide—their GPS—was the North Star.
We all have a personal North Star—that feeling in our gut that tells us when we're on the right track and when we're not. Trust your internal GPS as you embark on your journey of personal evolution towards your true north.
By Tami Bonnell
---
EXIT Realty Corp. International's CEO, Tami Bonnell, is an internationally renowned leader in the real estate industry and was instrumental in building three major brands. Among her many achievements, she was recognized by real estate trend-watcher, Stefan Swanepoel, as one of the 200 most powerful and influential people in residential real estate and among the top 10 women leaders.