1.Buffett Performance History.
As Buffett Got Bigger Tougher to Outperform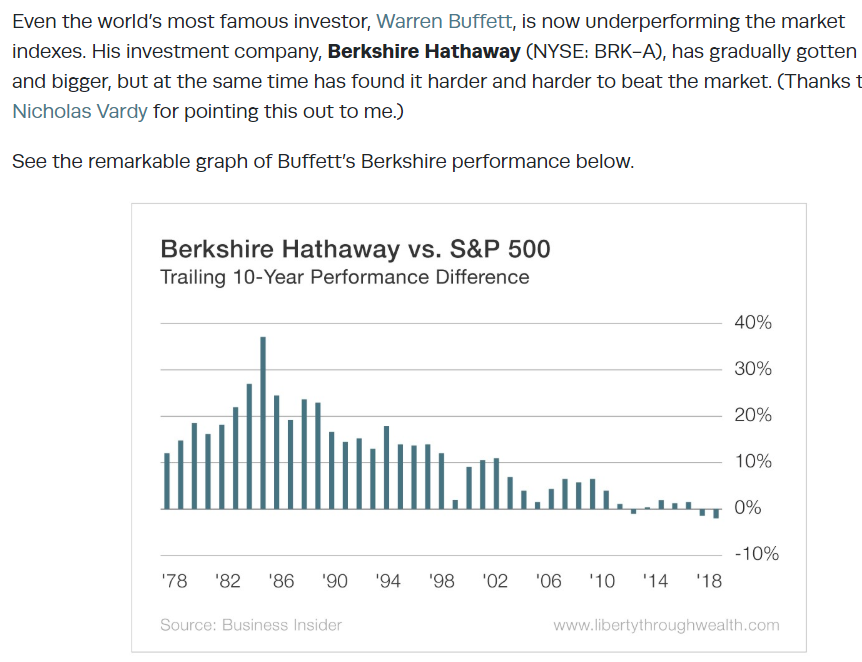 Why the Hot Hand of Investing Never Lasts–By Mark Skousen https://investmentu.com/wealth-creation-hot-hand-investing/
2.Brexit….United Kingdom in 14% of EU GDP
14% of the EU's GDP
40% of its military power
U.K. ETF Rallied to 2017 Highs But No Breakout.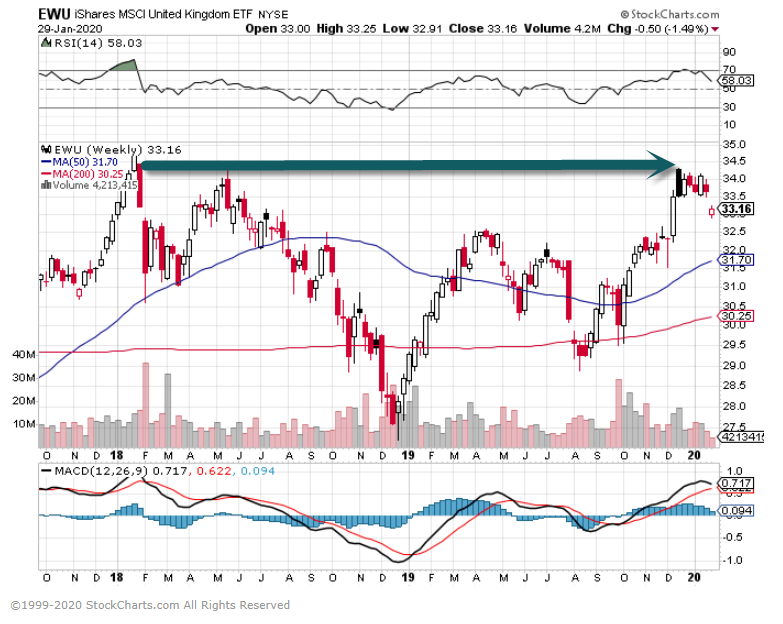 3.Japan's Kawamoto Manufacturers Face Masks.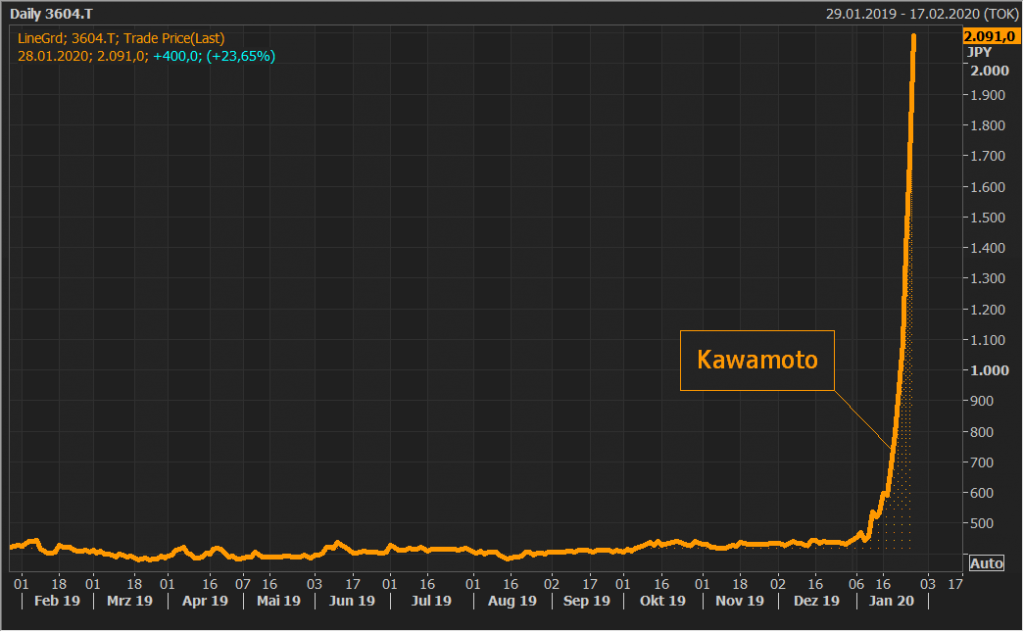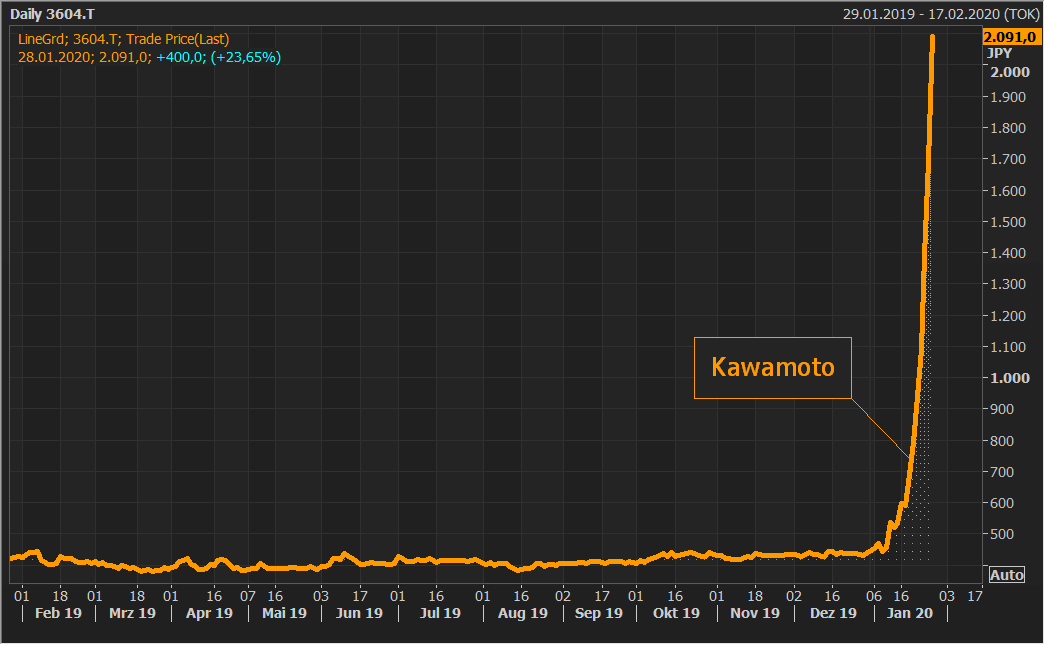 https://twitter.com/Schuldensuehner
4.China's Expansion was Already Slowing Before Virus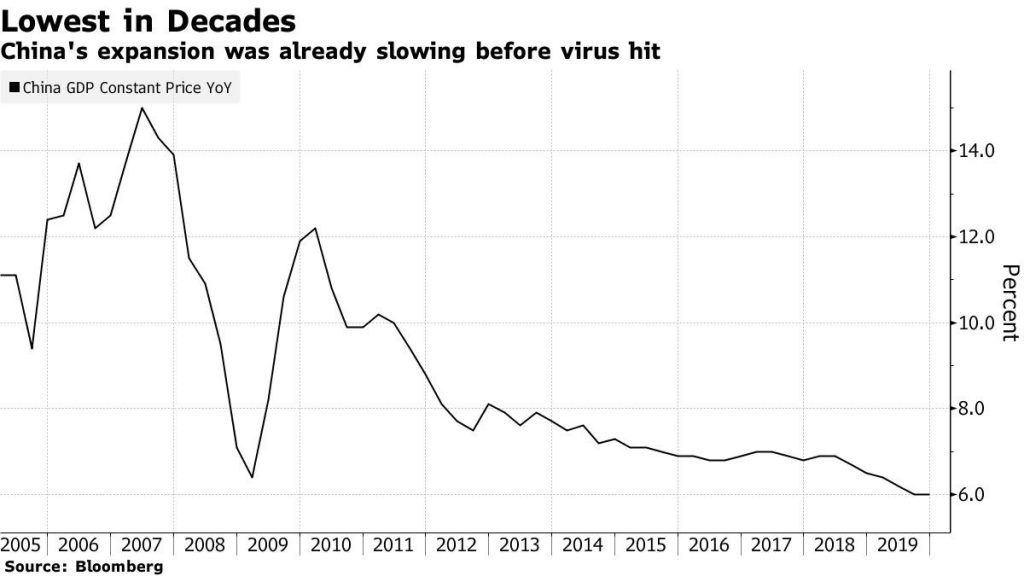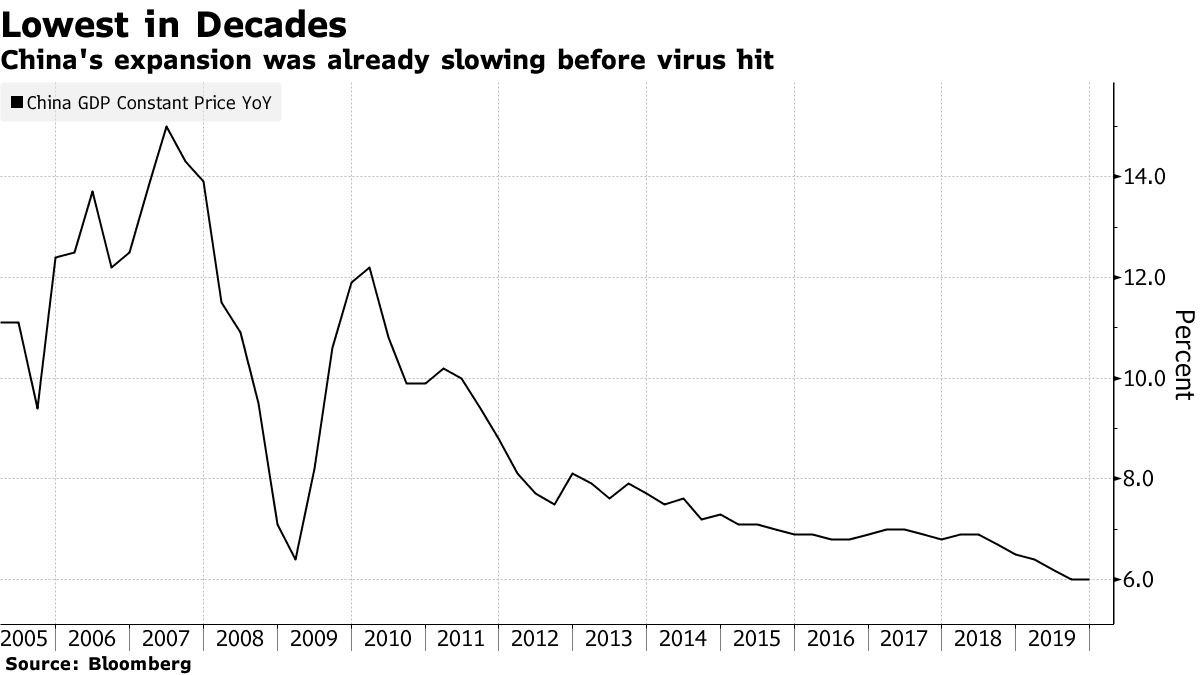 https://www.bloomberg.com/news/articles/2020-01-30/china-seen-boosting-stimulus-measures-as-virus-hammers-economy?utm_medium=social&utm_content=business&cmpid=socialflow-twitter-business&utm_campaign=socialflow-organic&utm_source=twitter
YUAN's down but not as volatile as expected on virus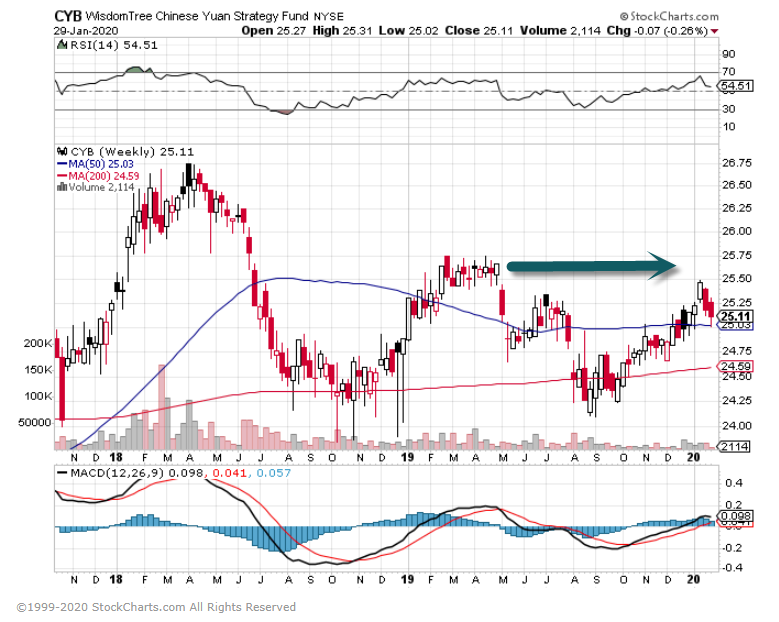 5.Apple Back On Top Over Samsung
While 2019 started off with expectations of Huawei Technologies Co. challenging Samsung Electronics Co. for the title of world's most prolific smartphone vendor, it's the more familiar foe of Apple Inc. that's now threatening the South Korean titan's throne. Industry trackers on Thursday released estimates that show the iPhone maker close to matching or surpassing its Korean rival in shipments during the pivotal holiday quarter. Strategy Analytics put Apple's iPhone shipments for the fourth quarter at 70.7 million, slightly ahead of Samsung's 68.8 million. Canalys gauged the U.S. company had moved 78 million, surpassing the Asian brand's 71 million. And researchers at IHS Markit have the positions flipped — with Samsung at 70.7 million and Apple at 67.7 million.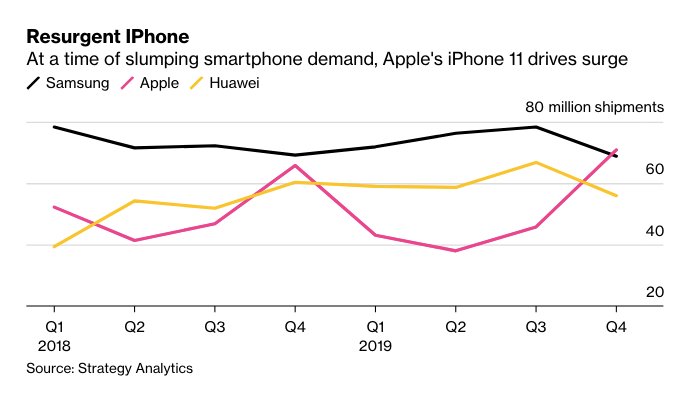 Apple and Samsung Are Tied for World's No.1 Smartphone Seller– By Vlad Savov
https://www.bloomberg.com/news/articles/2020-01-30/iphone-surge-pushes-apple-into-tie-with-samsung-for-mobile-crown?utm_medium=social&cmpid=socialflow-twitter-business&utm_content=business&utm_source=twitter&utm_campaign=socialflow-organic
6.Fastest Growing ETFs of 2019 (Starting AUM >$0)
Sumit Roy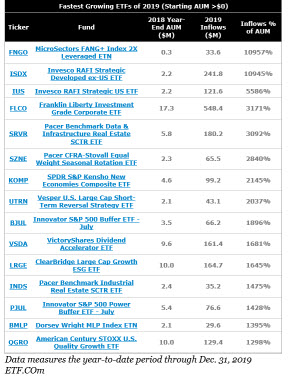 Data measures the year-to-date period through Dec. 31, 2019
ETF.COm
https://www.etf.com/sections/features-and-news/fastest-growing-etfs-year
7.Holding Period For Stocks Hits All-Time Lows
MFS
Shrinking time horizon Stocks are being held for shorter periods than at any time since the 1920s. The New York Stock Exchange (NYSE) average holding period for a stock is approximately nine months (Exhibit 1). This reflects investment transactions driven by both individuals and institutional investors. Until the 1970s, the investment landscape was largely dominated by wealthy individuals and families; this has since changed markedly, with professional investors now accounting for the largest share of investment activity. It should be noted that these professionals manage significant mutual fund asset pools that are driven by retail investors.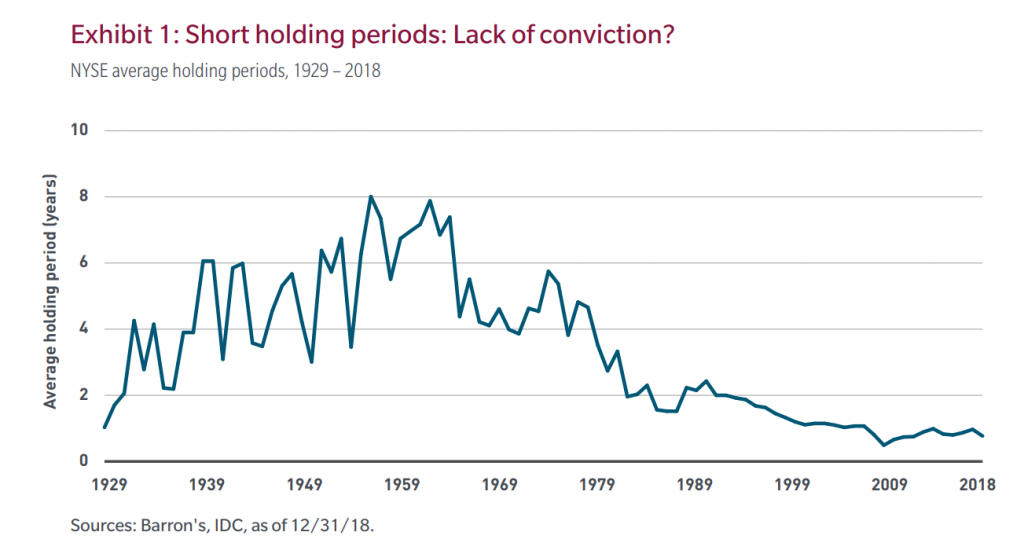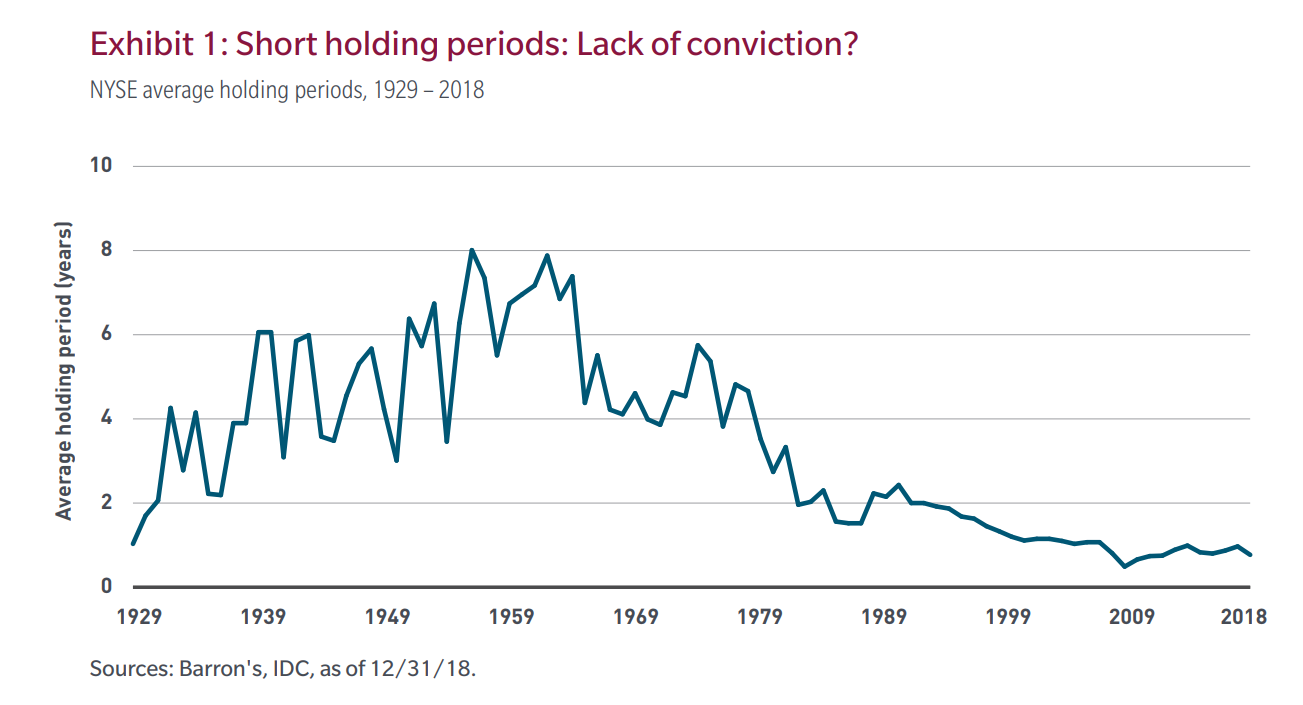 https://www.mfs.com/content/dam/mfs-enterprise/mfscom/insights/2019/November/mfse_time_wp/mfse_time_wp.pdf?mod=article_inline
Found at Irrelevant Investor https://theirrelevantinvestor.com/
8.Warren Buffett Throws In The Towel On His Newspaper Empire
JANUARY 29, 2020 • KATHERINE CHIGLINSKY, JOHN J. EDWARDS III
Warren Buffett is getting out of the newspaper business.
Berkshire Hathaway Inc. agreed to sell its BH Media unit and its 30 daily newspapers to Lee Enterprises Inc., which owns papers including the St. Louis Post-Dispatch, for $140 million in cash. Lee has been managing the papers for Buffett's company since 2018, and Berkshire is loaning Lee the money for the purchase.
Buffett, who got a job delivering papers as a teenager and invested in the industry to capitalize on its one-time local advertising stronghold, lamented last year that most newspapers are "toast." BH Media, which owns papers across the country, has been cutting jobs for years to cope with declining ad revenue.
"We had zero interest in selling the group to anyone else for one simple reason: We believe that Lee is best positioned to manage through the industry's challenges," Buffett said in a statement Wednesday.
In 2018, Buffett acknowledged that he was surprised that the decline in demand for newspapers hadn't let up and that his company hadn't found a successful strategy to combat falling advertising and circulation. That same year, U.S. newspaper circulation dropped to its lowest levels since 1940, according to the Pew Research Center.
The Lee sale will include Buffett's hometown Omaha World-Herald and Buffalo News, a paper he's owned for more than four decades, along with 49 weekly publications and a number of other print products, the companies said in the statement. Lee's shares jumped on the news, more than doubling to $2.78 at 9:51 a.m. in New York.
Lee Loan
Berkshire is lending Lee $576 million at a 9% annual rate for the purchase and to refinance other debt. Excluded from the sale is BH Media's real estate, which Lee is leasing under a 10-year agreement.
It's a rare move for the conglomerate as Buffett has long said that he prefers to hold onto businesses. The newspaper deal, however, is Berkshire's second divestiture in less than a year, including the sale of an insurance business in late 2019. Berkshire has held onto other old-fashioned businesses, including door-to-door vacuum-cleaner business Kirby Co. and encyclopedia publisher World Book.
What Bloomberg Intelligence Says
"Berkshire Hathaway's agreement to sell its newspapers is a message that it will eschew companies in fading business models." said Matthew Palazola, Bloomberg senior P&C insurance analyst.
Buffett has longstanding ties to the newspaper industry. He previously owned the Omaha Sun, which won a Pulitzer Prize for its investigation of Boys Town, and struck a deal to buy the World-Herald in 2011. The billionaire investor also had a long friendship with and was a business coach to Katharine Graham, and was a director at her Washington Post Co.
Aside from a few bright spots, such as the largely thriving New York Times Co., the newspaper business is in crisis across the U.S. McClatchy Co. — which owns about 30 newspapers, including the Miami Herald and Charlotte Observer — is fighting to avoid bankruptcy as it contends with pension obligations and debt. The Salt Lake Tribune became a nonprofit last year, after failing to find a profitable business model.
As print advertising has cratered in recent years amid the rise of social media, Craigslist and search ads, private equity firms and hedge funds have swooped in to take advantage of newspapers' steady though dwindling revenue streams.
New Media Investment Group Inc., controlled by private equity firm Fortress Investment Group LLC, bought USA Today owner Gannett Co. last year to form the largest U.S. newspaper chain. The deal spurred apprehension in journalism circles given New Media's reputation for newsroom layoffs, though the new Gannett leadership pledged to avoid widespread job cuts.
This article was provided by Bloomberg News.
To read more stories , click here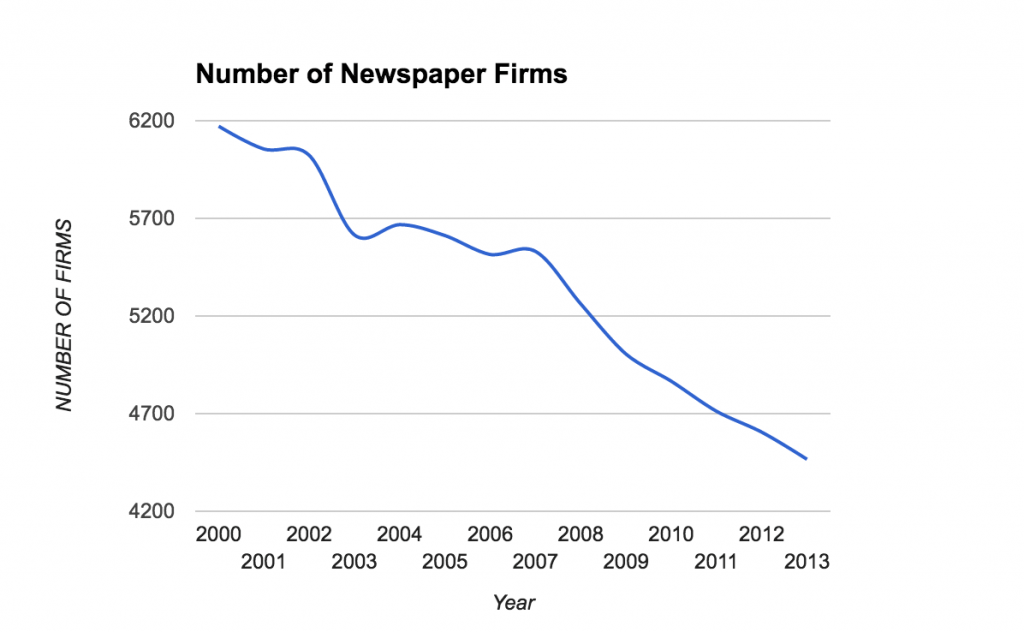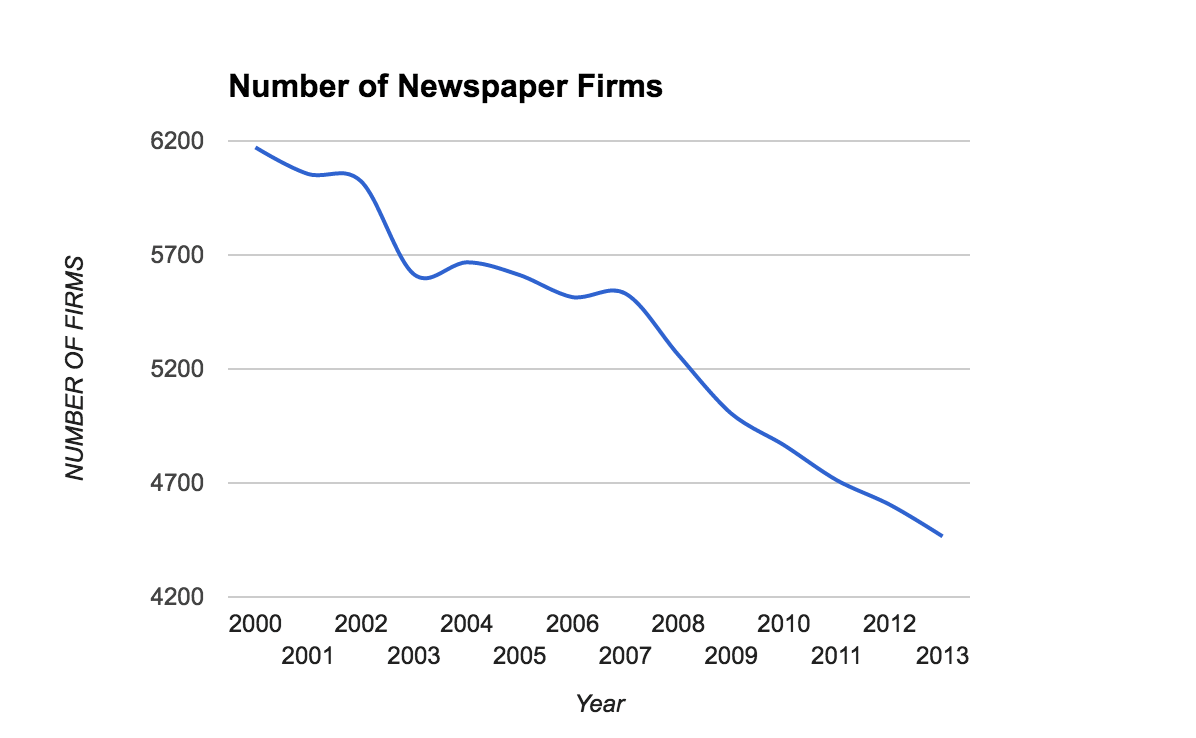 https://en.wikipedia.org/wiki/Decline_of_newspapers
9.How Much Do Americans Have Saved for Retirement?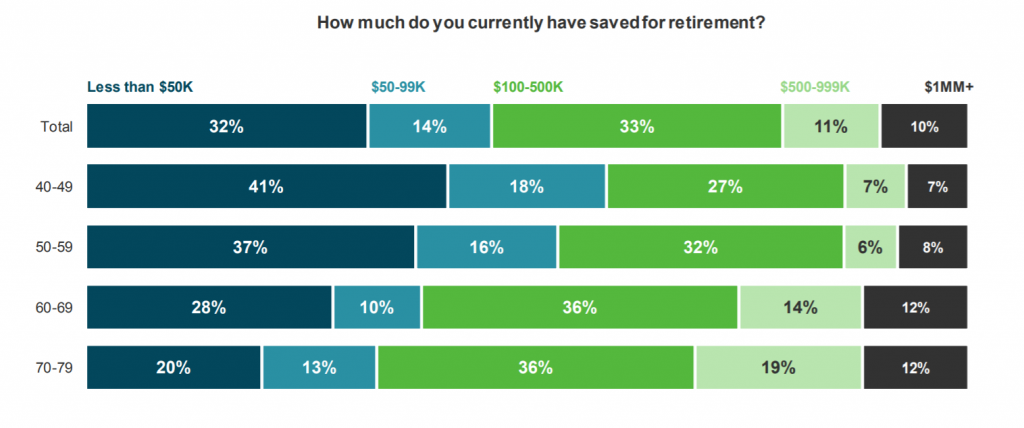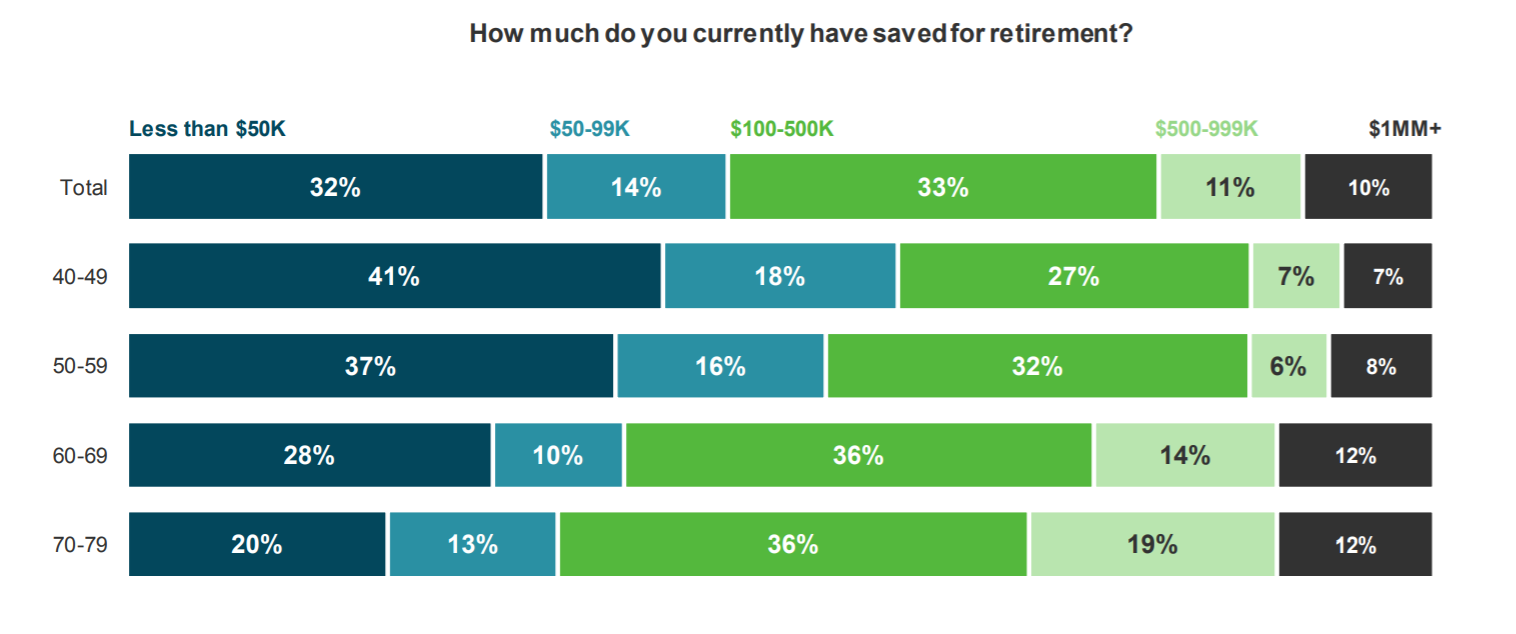 Age 40-49
41% have less than $50,000 saved
18% have $50,000 to $99,000 saved
27% have $100,000 to $500,000 saved
7% have $500,000 to $999,000 saved
7% have $1 million or more saved
Age 50-59
37% have less than $50,000 saved
16% have $50,000 to $99,000 saved
32% have $100,000 to $500,000 saved
6% have $500,000 to $999,000 saved
8% have $1 million or more saved
Age 60-69
28% have less than $50,000 saved
10% have $50,000 to $99,000 saved
36% have $100,000 to $500,000 saved
14% have $500,000 to $999,000 saved
12% have $1 million or more saved
Age 70-79
20% have less than $50,000 saved
13% have $50,000 to $99,000 saved
36% have $100,000 to $500,000 saved
19% have $500,000 to $999,000 saved
12% have $1 million or more saved
If you're feeling behind when it comes to saving for retirement, here are three effective strategies to help increase your savings.
Here's how much Americans have saved for retirement at different agesKathleen Elkins
https://www.cnbc.com/2020/01/23/heres-how-much-americans-have-saved-for-retirement-at-different-ages.html?__source=twitter%7Cmain
10. If Your Life Isn't How You Want It, Here Are 4 Start Anytime Resolutions to Experience a Better Life
Life has never felt different for anyone just because they want life to feel different. There's usually this feeling that we're not experiencing our best life or we're not where we want to be that causes us to feel like life isn't fair to us, because it seems like everyone is doing less than we're doing but enjoying more than we do.
If you've ever wanted to experience things differently from how you've been experiencing them, then you just need to do things differently from how you've been doing them. Because what you currently have is as a result of the amount of knowledge that you have.
So here are the 4 things which you're currently doing that when you do differently, will bring about that amazing life:
1. Replace Chasing People With Finding Yourself
"I want to be in a relationship with A, I want to be like B, I want to have fun and travel like C." Although it isn't a bad thing to want better, you need to be reminded that all these things you're trying to do are putting you on someone's path, which isn't making you the engineer of your own trail.
So instead of trying so hard to fit into people's criteria, or chase people whom you want, it'd be best to start finding yourself. Most times, the people who end up saying money doesn't bring happiness are those people who chase making money because others were chasing money.
If there isn't a strong why, or a deep reason why you want to become that person or get that thing, quit it because it could not bring you the best experience or the happiness which you want.
In order to find yourself, take time to completely analyze yourself. Define your own tune, dance according to your rhythm, and sing with that voice which you have. There's beauty in the struggle. When you focus on creating your own path, you'll surely become better, and then people will be more attracted to you because originality is what attracts people.
2. Replace Not Being Real With Yourself, With Facing The Truth
There are thousands of things which we've said we'd do better, that if we think about now, would have made us somebody better than we are. Procrastinating is too easy. It's easy to give in, but giving in isn't what brings results. Taking the extra step or doing that which you don't want to do is what always brings about success.
When the situation presents itself that you have to procrastinate, tell yourself "I'm going to procrastinate doing this because it's not important". If your conscience lets you go scot-free, then you have the right to ignore that thing. But if it doesn't, it only means that thing is very important and it will help you live a better life, so by not doing it, we're hurting ourselves.
Most of the time, we procrastinate just because we have to watch that new episode and then leave more important things which might bring us a reward. By procrastinating because we have to watch that new episode, we're unconsciously telling ourselves that the new episode is more important than our goals or that thing which we have to do.
3. Replace Yes With No When It Doesn't Suit
This is usually a tough one. Especially when you have to say NO to your loved ones. It generally makes us feel like we're not empathic or we're boring people. But on the contrary, most times when we agree to do what the other person is requesting, we often don't enjoy the process because we know we've left something more important to do.
So here's a way out, when it begins to feel awkward to say no, remind yourself that you're not saying no because you're a bitter person, rather, you're saying no because you have something of greater value to do.
And here's a less offensive reason to give when you say no. Instead of saying "No, I have something more important to do," say, "I already have something that's running out of time that I have to do" even if it's you just working on your goals.
4. Replace Sleeping With Worry For Sleeping With The Future Vision
This might prove difficult when, let's say you didn't get the money you needed to do something the next morning. But as you already know, it's bedtime meaning worrying at that time won't bring a solution because it's too late.
So when you replace worrying with the vision of the future, where you're already enjoying that thing, an idea of what to do next might come to you. Even if an idea doesn't come, just sleeping with happiness will allow you to have a good night's rest and also keep your body in a more relaxed state compared to when you're constantly fussing about the problem at hand.
Remember, you're not starting anything new that will require you to do much, rather, you're replacing what you don't like for something that will make you feel happier and joyful.
https://addicted2success.com/life/if-your-life-isnt-how-you-want-it-here-are-4-start-anytime-resolutions-to-experience-a-better-life/