1.Who was Qassem Soleimani, and why is his death a major development in U.S.-Middle East relations?
An Iranian carries the portraits of Iran's Supreme Leader Ayatollah Ali Khamenei and Gen. Qassem Soleimani, left.
Qassem Soleimani, leader of the foreign wing of Iran's Islamic Revolutionary Guard Corps, was killed in a U.S. airstrike at Baghdad's international airport Friday, local time, escalating long-brewing animosities between Tehran and Washington.
President Donald Trump authorized the airstrike that killed Soleimani, a top Iranian general who is considered one of the most revered military leaders in the Islamic Republic: "At the direction of the president, the U.S. military has taken decisive defensive action to protect U.S. personnel abroad by killing," the U.S. Department of Defense said in a statement.
In a tweet, Iran's Foreign Minister Mohammad Javad Zarif described the strike that killed the general as an act of international terrorism: "The US' act of international terrorism, targeting & assassinating General Soleimani—THE most effective force fighting Daesh (ISIS), Al Nusrah, Al Qaeda et al—is extremely dangerous & a foolish escalation," he wrote on Twitter. "The US bears responsibility for all consequences of its rogue adventurism," he said.
The US' act of international terrorism, targeting & assassinating General Soleimani—THE most effective force fighting Daesh (ISIS), Al Nusrah, Al Qaeda et al—is extremely dangerous & a foolish escalation.

The US bears responsibility for all consequences of its rogue adventurism.
The U.S. has said that the assassination of Soleimani was an attempt to deter attacks against U.S. embassies, service members or diplomats.
Here's why the death of the general is particularly significant in the intensifying tensions between the U.S. and Iran.
Who was Soleimani?
"He's probably the most powerful figure that is generally unknown outside Iran and the Middle East. He's essentially Iran's viceroy for Iraq," Jim Phillips, Middle East analyst for conservative think tank the Heritage Foundation, was quoted as saying in a 2015 interview with NBC News.
Soleimani rose to prominence during the 1980–'88 Iran-Iraq War, and by 2013 had become one of Iran's most important figures.
Soleimani was named major general of the Quds Force in 1998 and ran it until his death. The Quds Force has no equivalent in the U.S. but has been described as "analogous to a combined CIA and Special Forces," according to an article in the New Yorker back in 2013. The Quds Force, which is estimated to consist of about 20,000 personnel, has been designated a terrorist group by the U.S. since 2007, according to reports.
The New Yorker article also described Soleimani as " the single most powerful operative in the Middle East today," citing former CIA officer John Maguire.
Reports have had also described Soleiman as second to only the Supreme Leader Ayatollah Ali Khamenei in power in Iran.
In fact, Khamenei has referred to Suleimani as "a living martyr of the revolution," and last March expressed hope that he would die as one.
"I hope that Allah the Exalted will reward and bless him, that he will help him live a blissful life and that he will make his end marked by martyrdom," Khamenei said as he awarded Soleimani the Order of Zulfaqar — the highest miliary honor in Iran that was established in 1856 and had not been awarded since 1979 until it was revived to honor the Quds Force commander.
To some U.S. leaders, Soleimani has been viewed as a shadowy figure. Secretary of State Mike Pompeo referred to him as "dangerous as Islamic State leader Abu al-Baghdadi," who was killed in a U.S.-led raid in northwestern Syria in late October.
"Qassem Soleimani has the blood of Americans on his hands, Bret, as does the force that he leads, and America is determined each time we find an organization, institution or an individual that has taken the lives of Americans, it is our responsibility," Pompeo told Fox News's Bret Baier in an interview back in April 2018, after the U.S. designated Iran's Revolutionary Guards Corps a foreign terrorist organization, marking the first time that the U.S. has labeled an entity of another government as a terrorist organization.
It isn't clear how Iran will respond to the death of the revered leader, but analysts and observers on Friday were speculating that Tehran would consider Soleimani's death an act of war.
https://www.marketwatch.com/story/who-was-qassem-soleimani-and-why-is-his-death-a-major-development-in-us-middle-east-relations-2020-01-03?mod=home-page
2. US Embassy urges Americans to flee Iraq 'immediately' following Soleimani killing
PUBLISHED FRI, JAN 3 20204:09 AM ESTUPDATED 2 HOURS AGO
KEY POINTS
The targeted killing of Major-General Qasem Soleimani, leader of the elite Quds Force of the Islamic Revolutionary Guard Corps, has drawn promises of retaliation from Tehran.
In a security alert issued Friday morning, the U.S. Embassy in Iraq has told American citizens to "depart via airline while possible, and failing that, to other countries via land."
The U.S. Embassy in Baghdad has urged American citizens to "depart Iraq immediately" after a U.S. airstrike killed Iran's top military commander, spiking tension in Iraq and the Middle East.
In a security alert issued Friday morning, the U.S. Embassy told citizens to "depart via airline while possible, and failing that, to other countries via land."
The targeted killing of Major-General Qasem Soleimani, leader of the elite Quds Force of the Islamic Revolutionary Guard Corps, has drawn promises of retaliation from Tehran.
Iranian Foreign Minister Mohammad Javad Zarif said on Friday that the move was a "foolish escalation," while Iranian Defense Minister Amir Hatami was quoted by state news agency IRNA as threatening a "crushing revenge."
Following attacks by Iranian-backed militias on the U.S. Embassy in Baghdad, all public consular operations have been suspended until further notice, while U.S. citizens have been advised not to approach the Embassy.
Soleimani was killed by a U.S. military airstrike at Baghdad's international airport on Thursday, a move the Pentagon confirmed was directed by U.S. President Donald Trump.
https://www.cnbc.com/2020/01/03/us-embassy-urges-americans-to-flee-iraq-immediately.html
3.Short-Term Complacency Set in with Investors.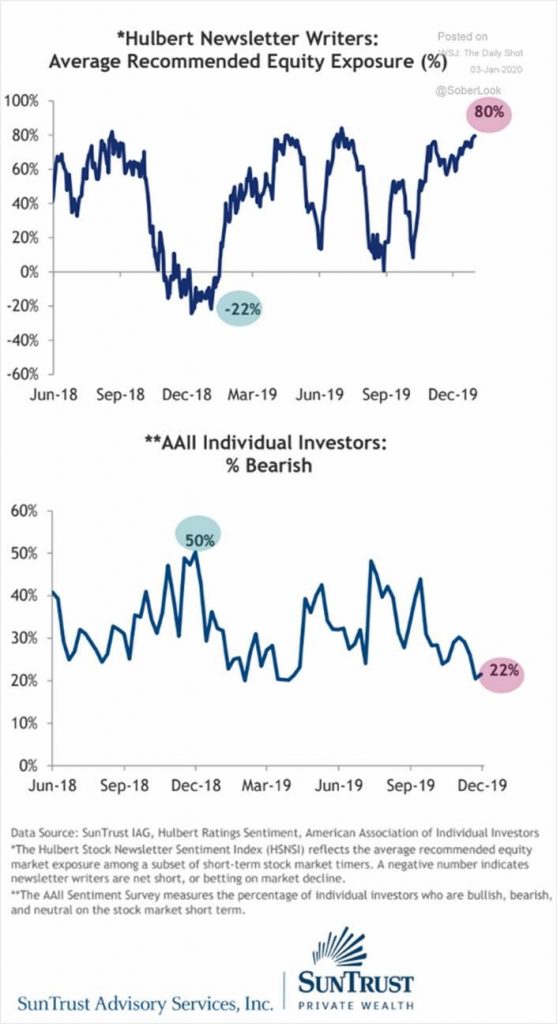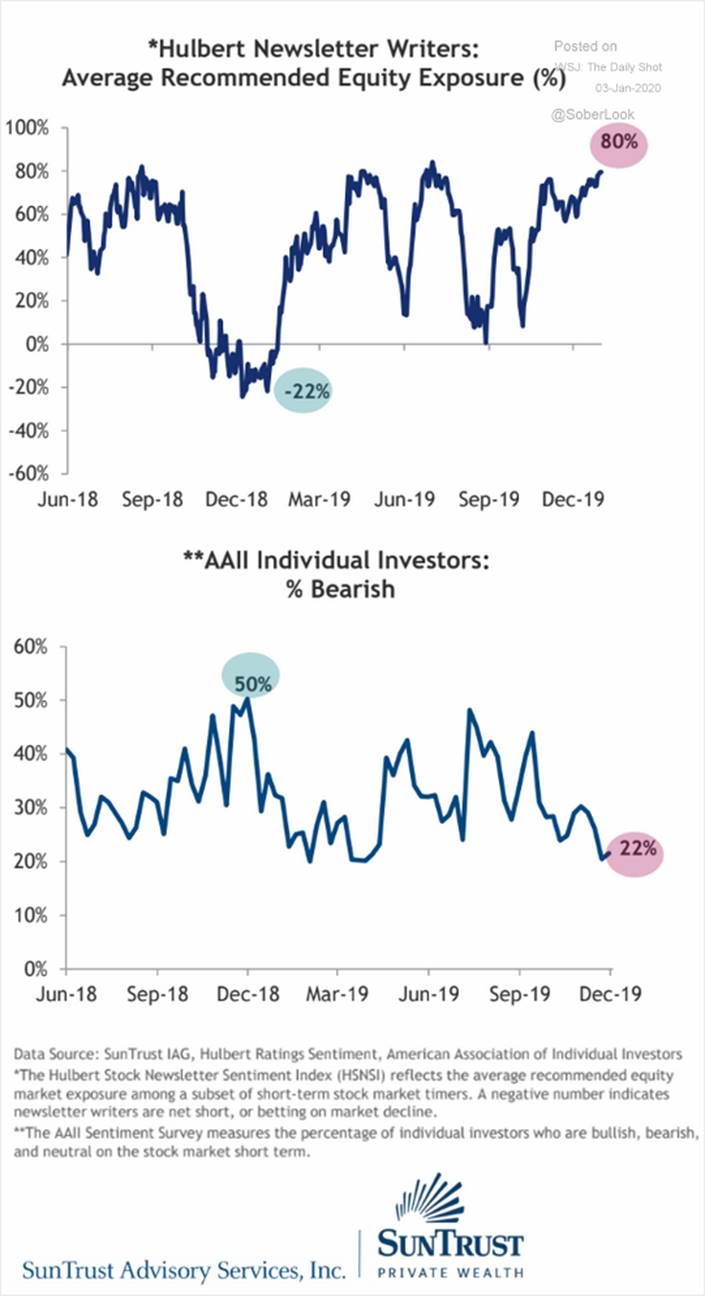 The Daily Shot-WSJ
https://blogs.wsj.com/dailyshot/2020/01/03/the-daily-shot-markets-switch-into-risk-off-mode/
4.2019's $326B ETF Inflows 2nd Largest Ever
Fixed Income Outpaces Equities
Perhaps the most surprising aspect of 2019's ETF flows was the fact that U.S. fixed income ETFs managed to attract more new money than U.S. equity ETFs. On net, $135.4 billion flowed into U.S. fixed income ETFs, while $130.2 billion went into U.S. equity ETFs.
The gap was even wider earlier in the year—more than $30 billion—when bonds surged, the yield curve inverted and concerns about a potential recession were greatest. Those concerns have since melted away, but the flows into fixed income ETFs remained strong throughout the year.
Four U.S. fixed income ETFs and one international fixed income ETF claimed spots on the top 10 inflows list: the Vanguard Total Bond Market ETF (BND), the iShares Core U.S. Aggregate Bond ETF (AGG), the iShares MBS ETF (MBB), the iShares U.S. Treasury Bond ETF (GOVT) and the Vanguard Total International Bond ETF (BNDX).
In a huge inflow year, here are the biggest losers.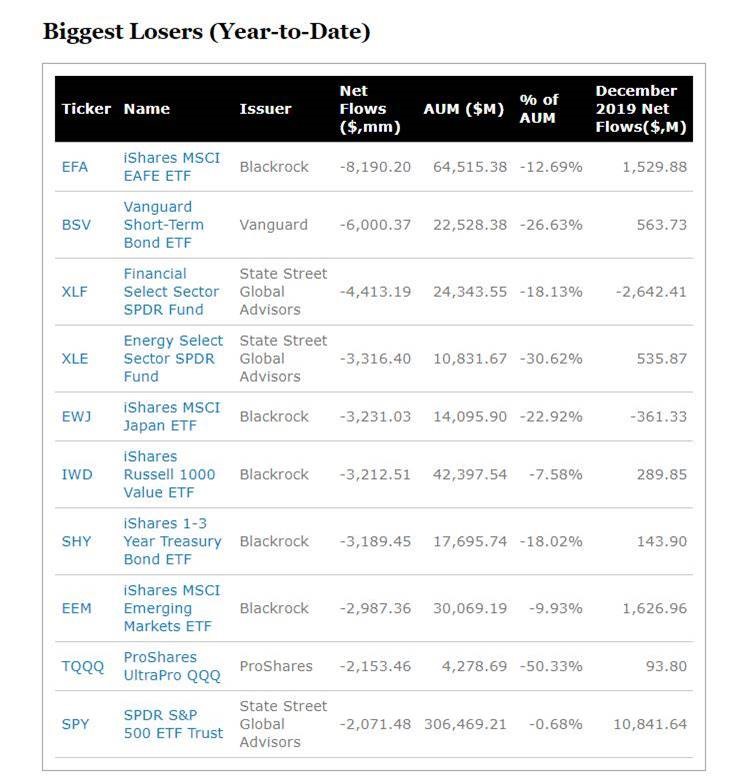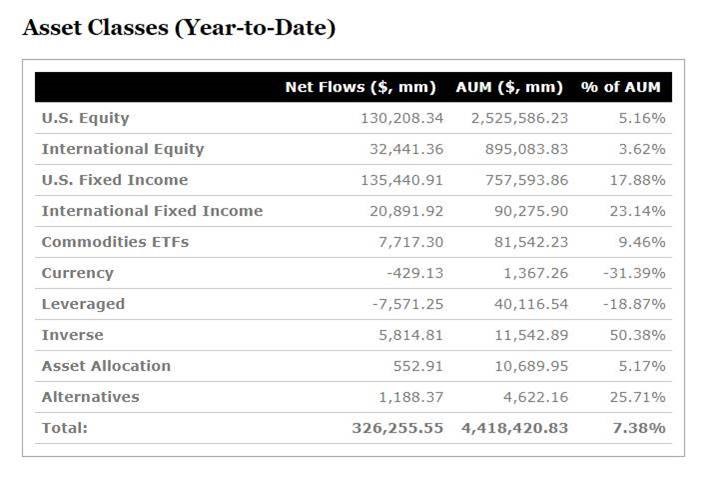 https://www.etf.com/sections/monthly-etf-flows/etf-monthly-fund-flows-december-2019
5.Volatility of Primaries is Often Followed by Strong Returns.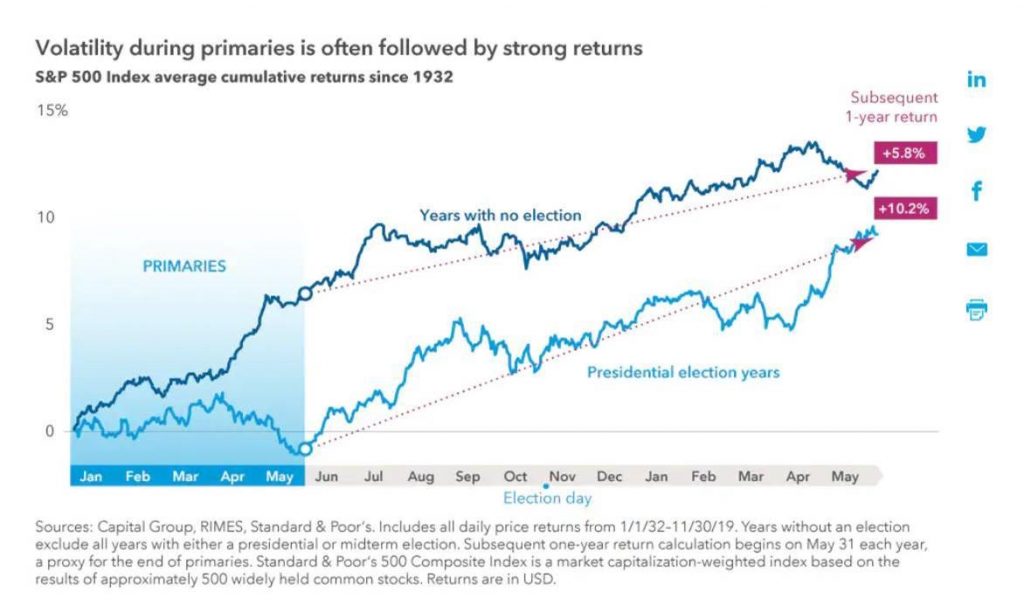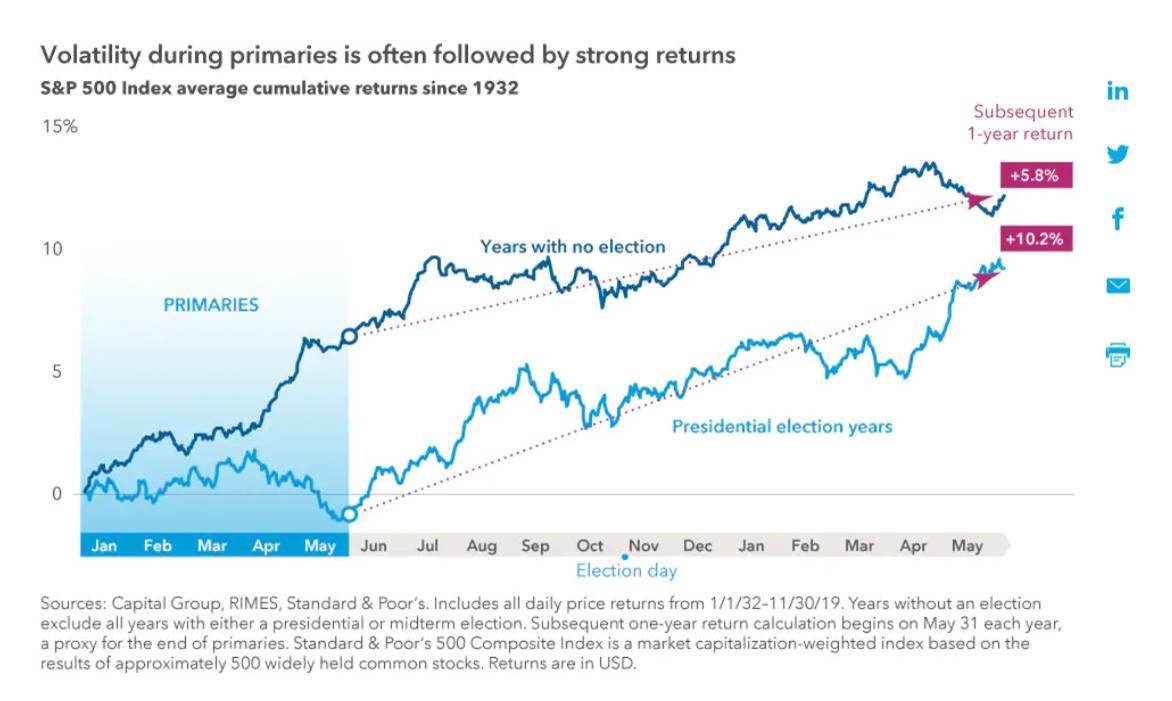 5 keys to investing in 2020-Joyce Gordon, Darrell Spence and Mike Gitlin.
https://www.thecapitalideas.com/articles/5-keys-investing
6.The U.S. Dollar Still Used in 88% of Foreign Exchange Transactions.
Euro fails to reach "parity" with the dollar.
The creation of the euro came with a lot of hopeful rhetoric that it would reach parity with the US dollar in every way, including as global trade currency, global financing currency, and global reserve currency. The euro has been replacing in phases the national currencies of EU member states, starting with five currencies, including the Deutsche mark, a major reserve currency at the time, but far below the dollar. During the initial phase of the conversion of European currencies to the euro, the euro's share of global reserve currencies rose and the dollar's share fell from 71.5% in 2001 to 66.5% in 2002.
Now, the Eurozone, with its 19 member states, would be the largest economy in the world if it were counted as a country. And it was assumed by euro boosters that given the size of the Eurozone, its currency would reach parity with the dollar and end the dollar hegemony. These hopes were trashed by the sovereign debt crisis in the Eurozone, and the euro's share has since been hovering in the range of 19% to 21%. In the third quarter, the euro's share of global foreign exchange reserves ticked down to 20.1%.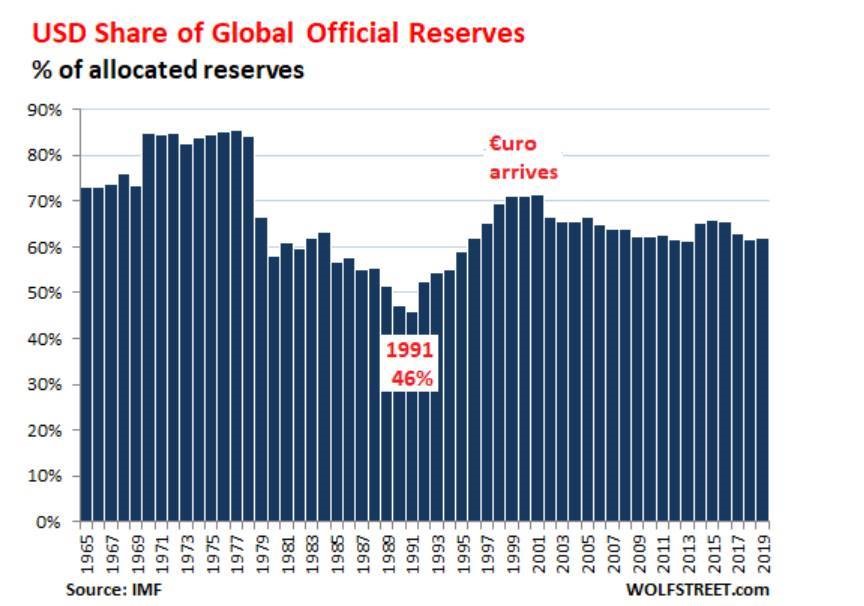 7. The World Of Wine: Visualizing An Industry Ripe For Disruption
by Tyler Durden
Zero Hedge.

Winemaking is often thought of as a symbol of transformation.
While the fermented drink dates back 9,000 years, Visual Capitalist's Katie Jones points out that the wine market is now experiencing its own transformation due to technological innovation, and the introduction of new business models. Generating $370 billion in revenue in 2019, the global industry is expected to grow considerably over the next decade—but not as we know it.
Today's infographic from Raconteur explores wine consumption by region, and looks at how changing tastes are driving a new era of the millennia-old staple.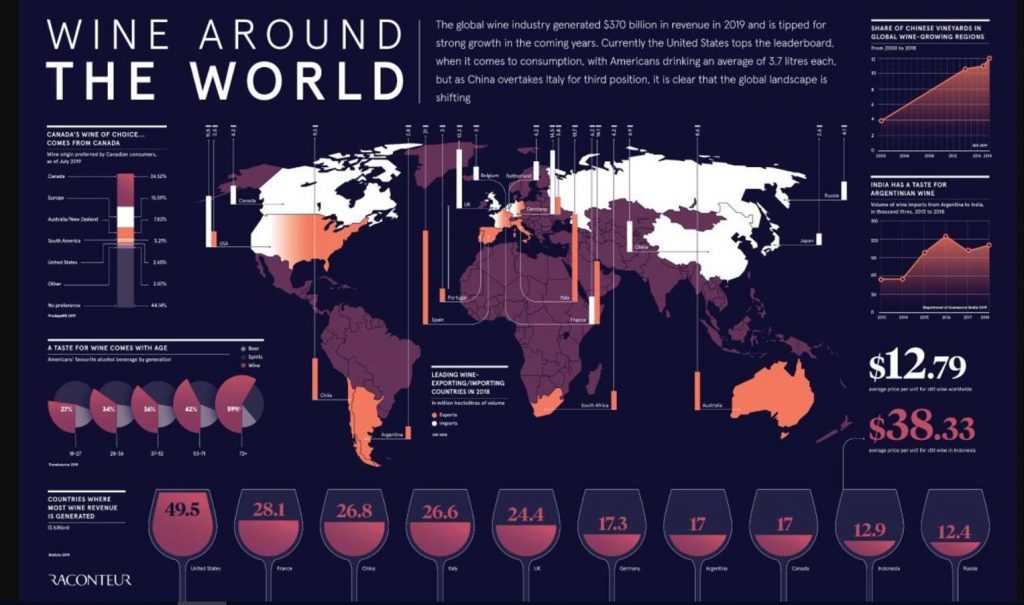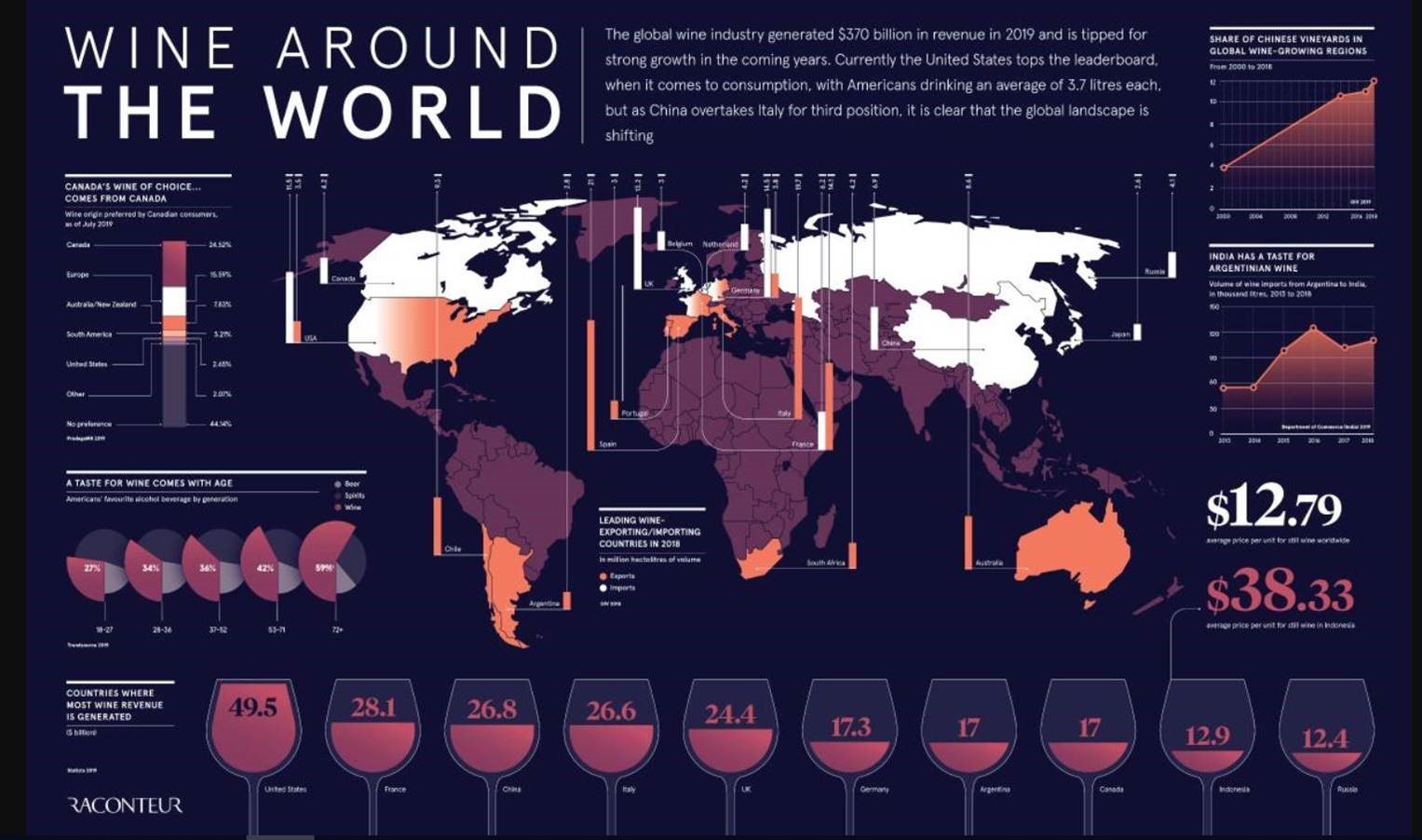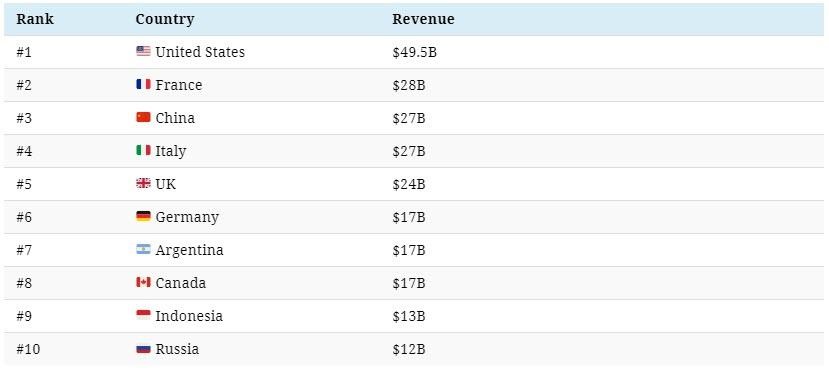 https://www.zerohedge.com/health/world-wine-visualizing-industry-ripe-disruption
8.The Expectation Trap: The Mindset That Makes You Overreact to Disappointments
Setbacks do a little bit more than just slow you down. They actually threaten to make you stuck
By 
Thomas Oppong, Founder of Alltopstartups
If you've felt disappointed about something, recently, you are not alone.
Many people immediately feel disappointed in themselves when they fail to keep their resolutions, reach a goal, or deliver on their deadlines. They feel let down and somewhat defeated.
It's human nature, but there is a way around it to get back on track immediately after a major setback. Disappointments shouldn't feel like a trap. Even though it's an emotion triggered unconsciously, you can deal with it, and keep moving.
Manage your expectations: put yourself in a better mental state
Failure can take a massive toll on your emotions — what's important is the mindset before and after the disappointment.
When we consider taking any action, we form prior expectations (both big small). And if the outcome is worse than expected, we experience disappointment. If the outcome exceeds our expectation, we feel happy or even motivated to keep pursuing other goals.
In other words, when things go right, you feel happy. But when things go wrong, you feel frustration, regret and yes…often disappointed in yourself.
Expectations sometimes stem from misguided certainty.
Expectations can trap us when we cannot see past them. Your expectations going into any situation will always determine how you will feel after the event has taken place.
When we lead with them and come out with something very different from our desires, disappointment is typically the result. When an expectation is not met, the result is anxiety, inner turmoil, and disappointment if not managed.
Expectations in and of themselves are actually harmless. But they can get the better of us only when they become rigid barriers keeping us from taking the right actions or moving past our disappointments.
In many situations, attachment to the outcome is the real culprit. Whilst you need an emotional connection to your goals, sometimes the same emotion becomes a trap. Instead of staying locked in a constant struggle to get specific results or experience, maintain a flexible mindset about your expectations.
"It's very possible that you initially aimed a little too high and too quickly. A modified objective will provide you with a realistic target you can work towards. And, of course, once you hit that mark you can then raise the bar higher the next time around," explains Adam Sicinski, Founder IQ Matrix.
Set attainable goals, and enjoy the process that leads to the outcome. Bring your consciousness about the outcome (both positive and negative) up to a more neutral or positive level so that you are in a better position to react the outcome— being trapped in the emotional outcome prevents you from thinking logically about both the process and the outcome.
Many people can't get over their disappointments because they are hung up over what reality should be — a single perception or lens with which they see the world.
They think in terms of binary opposition (black or white), a common mental error that can distort your perception of reality. When you are trapped dichotomous thinking, everything becomes "this or that". You fixate on how things "should be" or "must be".
Example, if you think hard skills are the only most important things employers want, a rejection of your application can make it difficult to process that disappointment.
In your mind, you continue to hang on to the perception that you are the right person for the project or job because your hard skills cannot be matched — but this can be an illusion because your prospective employers may be using a different lens — soft skills.
If you improve your perception about both, you could have learned other equally important skills to increase your chances of getting what you want.
By attaching yourself to a single train of thought, or perception about anything, you increase your chances of getting disappointed. It also prevents you from moving on after a major setback.
As long as you are trapped in it, you can't get to where you want to go.
The moment you begin challenging yourself to think objectively about your circumstances is the moment you gain the clarity you need to start figuring things out and getting past outcomes that are not ideal.
Think of your disappointments as an opportunity to understand the gaps in your mental framework
Disappointment sometimes comes from the mismatch between reality and expectation. Use them to understand your mindsets, beliefs, assumptions and worldviews.
"Disappointment can actually be an incredibly powerful emotion that can help you clarify your personal expectations and pave the way forward toward the attainment of your goals," says Adam.
If you know why you're disappointed, you've got a head start on being able to make a better plan based on new mental models (framework or worldview.
Once you understand why things didn't turn out the way you expected, you can correct your blind spots, assumptions, and make set measurable, realistic, and attainable goals.
Dealing with disappointment requires you to let go of your mental illusions and expectations. "Many people get disappointed with something because they view it as a setback. They feel like they have taken a step back from what they want to be," argues Celestine Chua, the writer of Personal Excellence.
When you are disappointed, ask yourself:
What were my expectations about these circumstances? What expectations did I have about myself? What false perceptions or mental models am I clinging on to? What am I expecting from reality that I'm not getting?"
These questions might help you recognize that perhaps your expectations weren't quite flexible or realistic enough.
Question your assumptions about goals, processes of reaching them and outcomes. Become aware of them, improve them and use them to handle the outcomes better. Seek out your personal illusions and improve your mindset.
Managing disappointments take time. As you start living past your disappointments, remember, it's only temporary. Wallowing in disappointment can weigh heavily on your mind, and can keep you stuck.
Although setbacks, roadblocks, and defeats are all obstacles that can stand in your way, cut yourself some slack, give yourself time to overcome them, make peace with your disappointments, learn from them, adjust your perception and regain control to keep moving.
This article was originally published on Medium.
Follow us here and subscribe here for all the latest news on how you can keep Thriving.
Stay up to date or catch-up on all our podcasts with Arianna Huffington here.
— Published on December 31, 2019
https://thriveglobal.com/stories/expectations-how-to-cope-with-disappointment-personal-growth/