1.Record Bond Inflows in First Week of January 2020.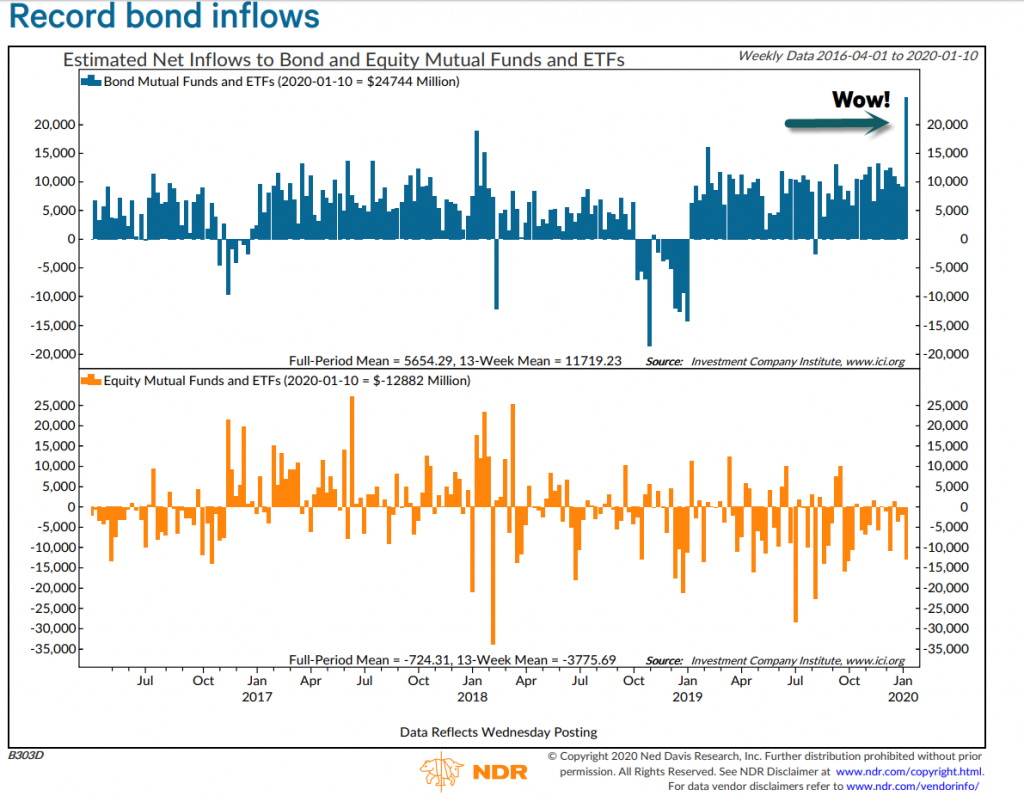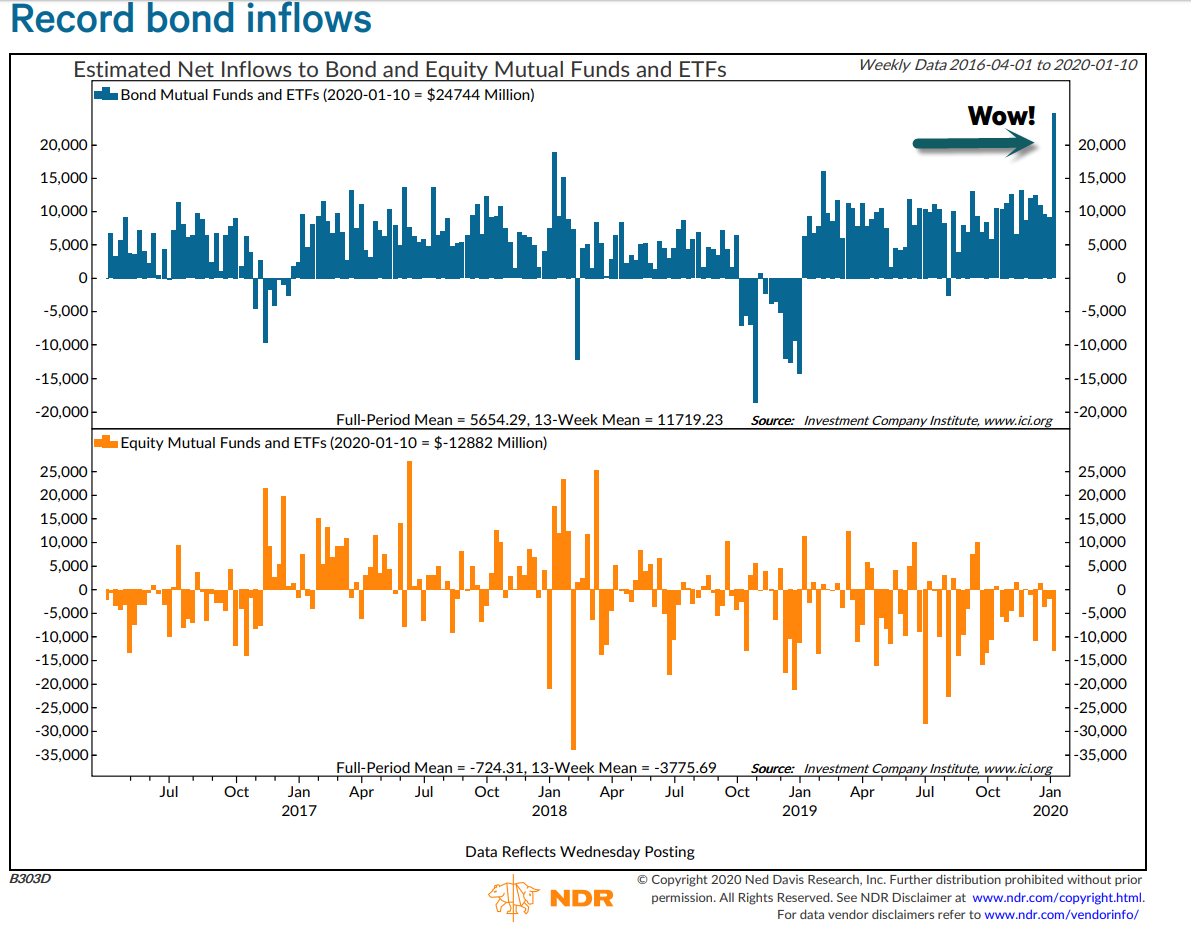 2.Another Way to Look at Value vs. Growth Stocks Hitting 1999 Spreads in Valuations.
#2020Charts Value vs Growth: the investment strategy graveyard is littered with failed calls for a turnaround in the performance of value vs growth stocks. But I think we could be close to the much-awaited and much-forecast turning point. Relative value between the two cohorts is at the lowest point in 20 years, and in terms of macro catalysts, my expectations for higher bond yields, better growth, and higher commodity prices will help the sectors that are slightly over-represented in value vs growth. So don't forget about value. https://lnkd.in/fh96yU3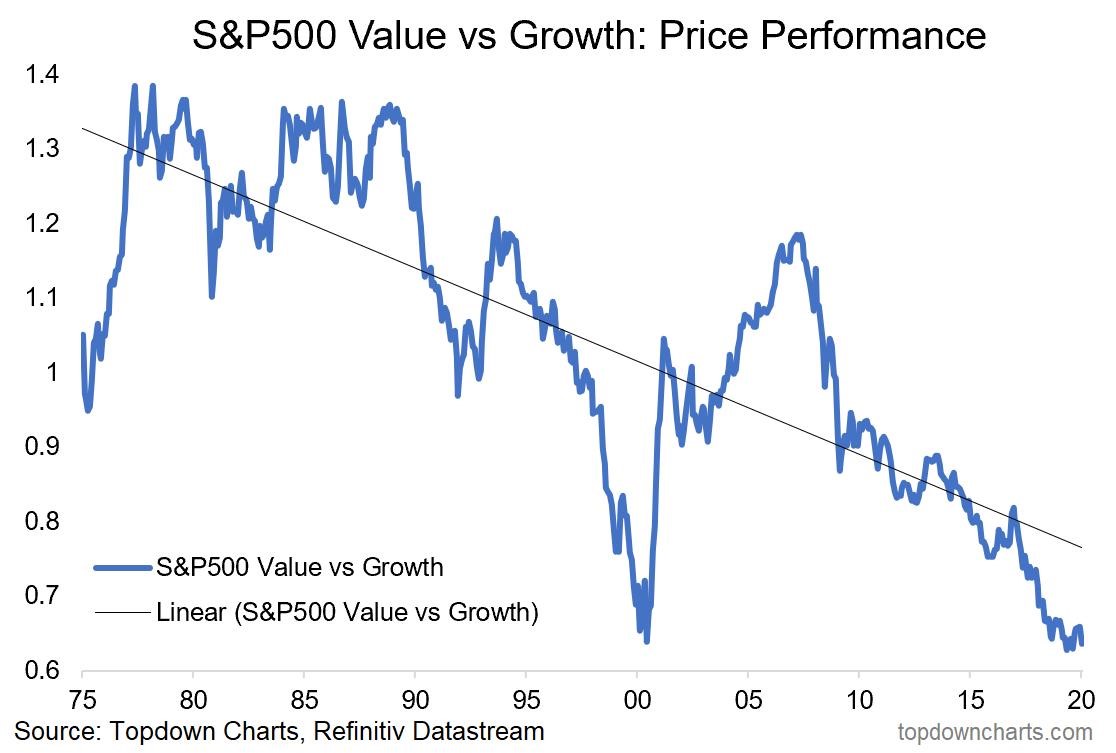 TopDown Charts
https://www.linkedin.com/company/topdown-charts/
3.2019 IPO Stats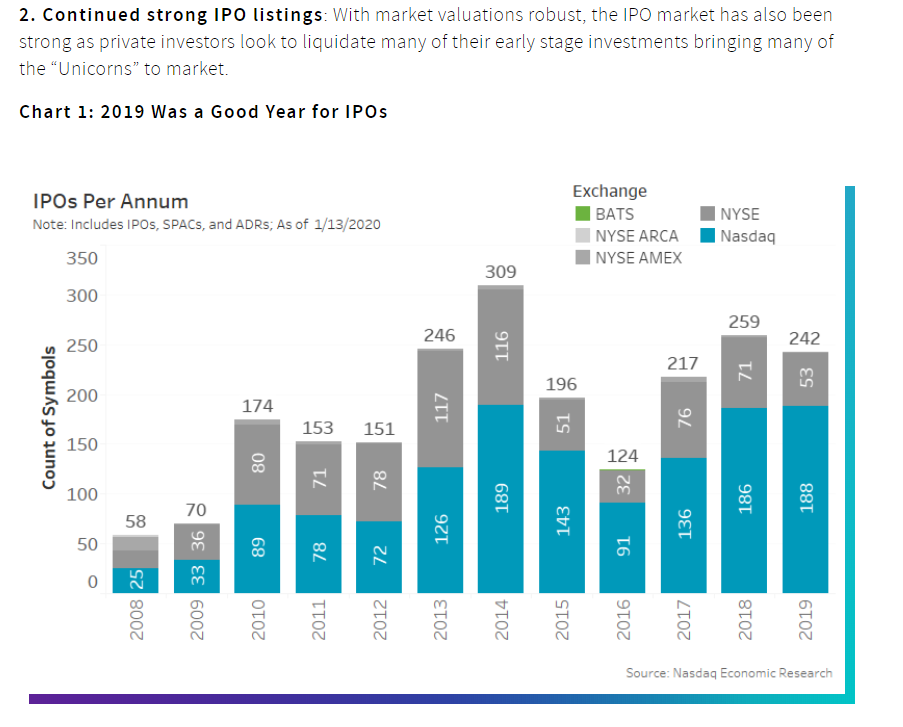 Phil Mackintosh Nasdaq
https://www.nasdaq.com/articles/20-for-20%3A-things-to-watch-in-2020-2020-01-16
4.Blank Check Companies Made UP 1/4 of New Offerings in 2019.
Barrons
'Blank-Check' Companies Are Hot on Wall Street. Investors Can't Ignore Them.-By Nicholas Jasinski
These were special purpose acquisition companies, or SPACs, also known as "blank-check companies." Their goal is to raise money from public and private investors and then identify an acquisition target and buy it, typically within two years. SPACs raised $13.6 billion in 59 IPOs last year.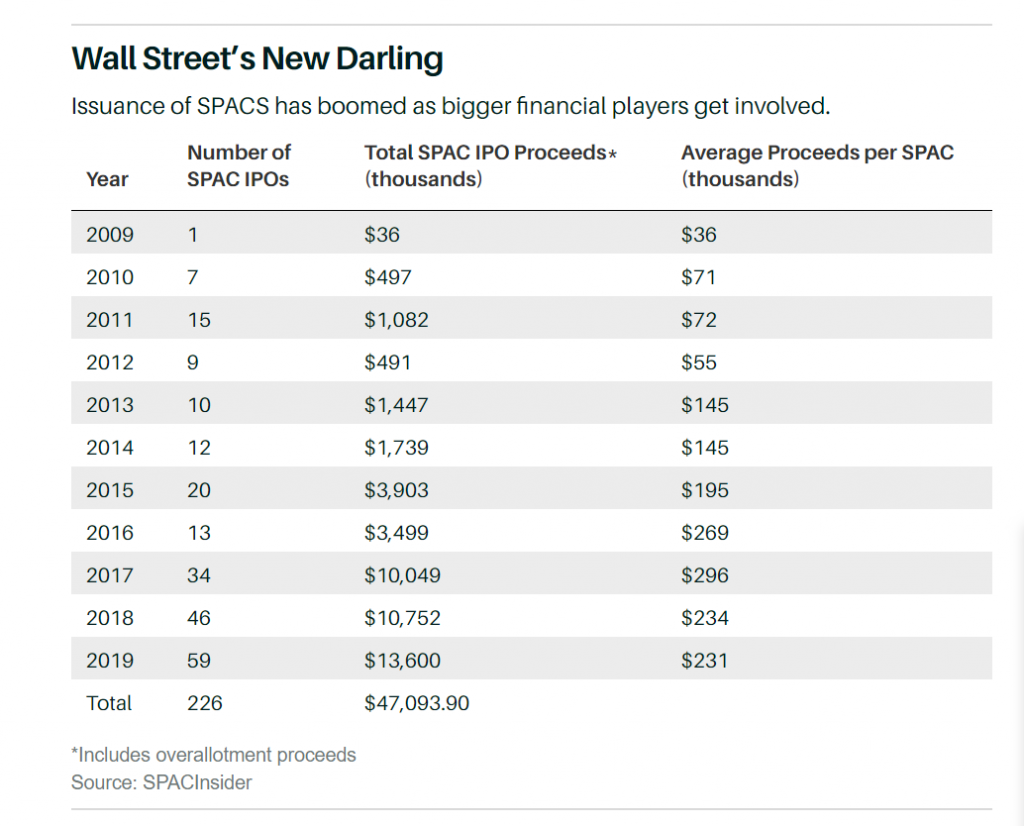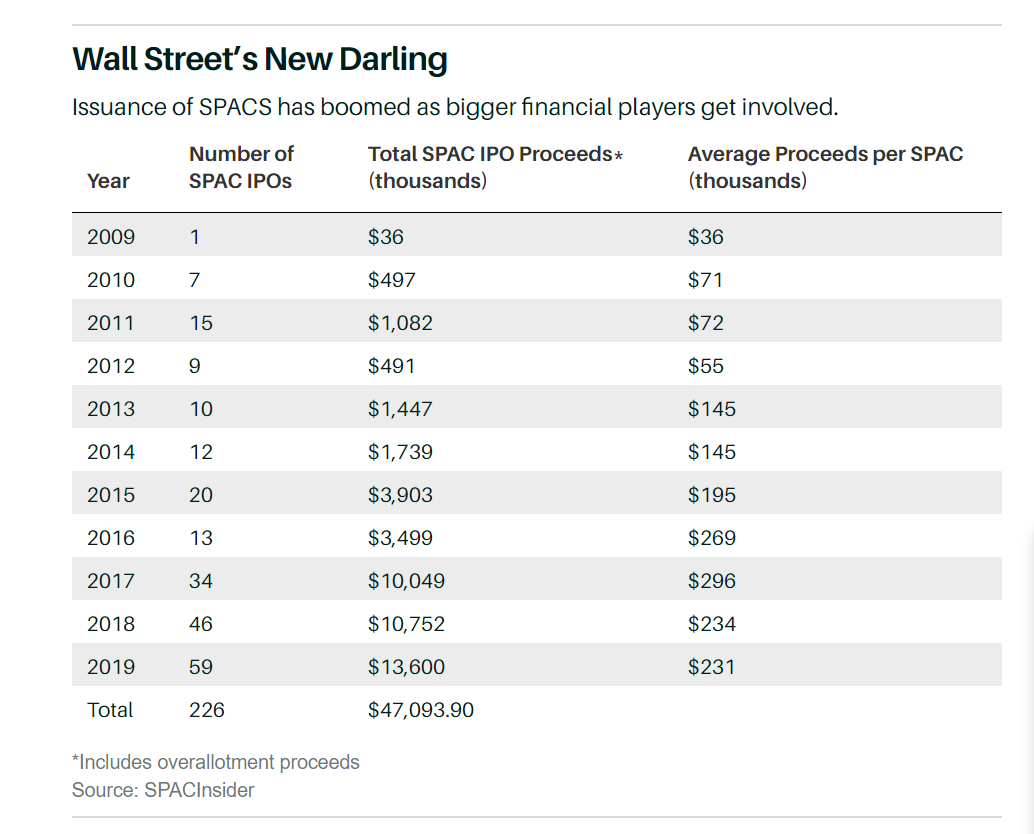 https://www.barrons.com/articles/boom-in-blank-check-companies-or-spacs-what-investors-need-to-know-51579299261?mod=past_editions
5.Taiwan ETF Jumps 25% in 5 Months Post-Election….But Its 25% One Stock TSM.
Rally in Taiwan ETF …Semiconductor/Tech Driven More Than Election?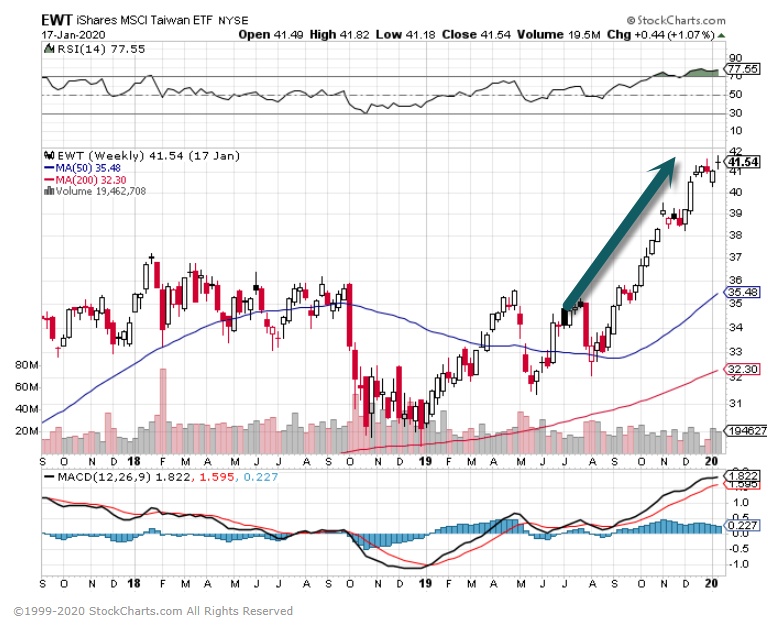 52% Technology Stocks…25% TSM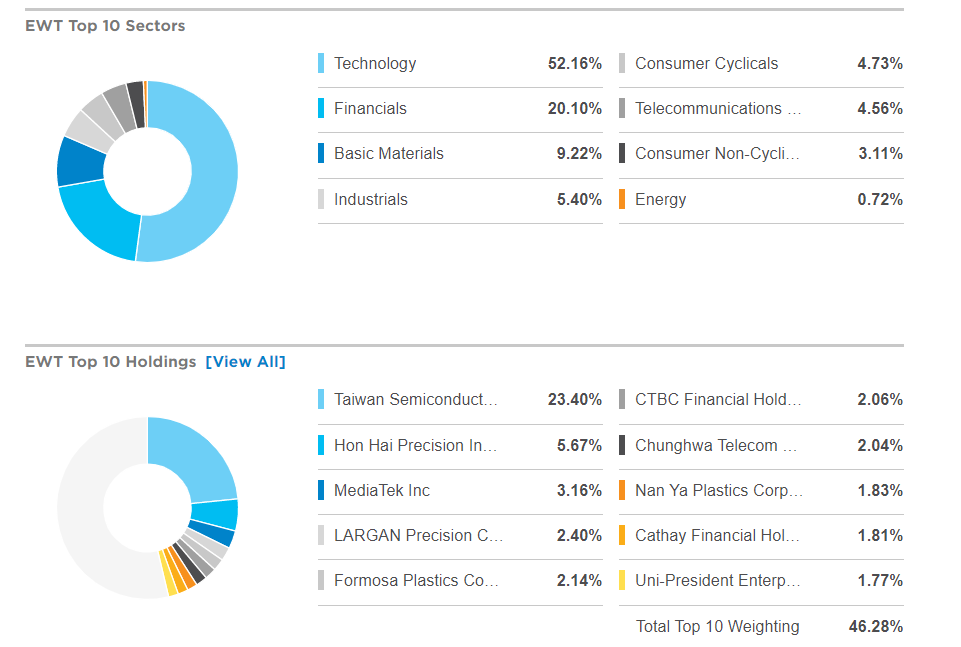 https://www.etf.com/EWT#overview
6.Interesting Economic Data Point….China's Imports Turned Positive from Europe and Japan After All of 2019 Negative.
The Daily Shot WSJ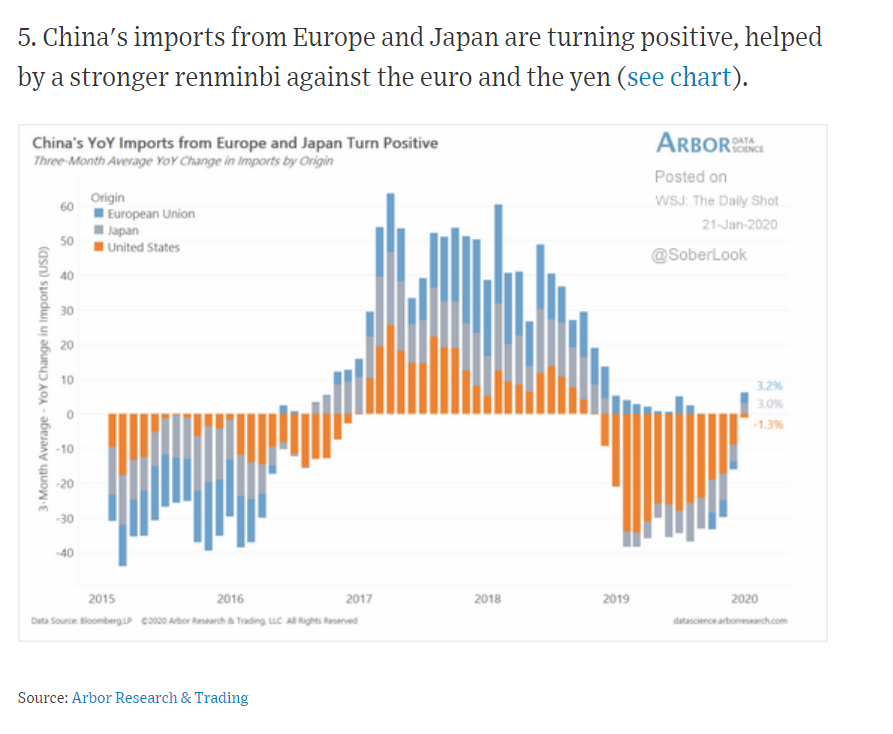 https://blogs.wsj.com/dailyshot/2020/01/21/the-daily-shot-the-wuhan-virus-spooks-global-markets/
7.Stat of the Day…Since Xmas Eve 2018 Pullback….S&P +40% with Dividends but Earnings Up 1.1% in 2019
S&P Driven by drop in interest rates and sentiment ??
The S&P 500's forward P/E hit 18.5 on Tuesday—a cyclical high, according to Yardeni Research's data. The multiple soared from a Christmas Eve 2018 low of 13.5, as the index has since climbed 40% despite sluggish 1.1% earnings growth in 2019.
https://www.barrons.com/articles/the-stock-market-has-climbed-so-far-so-fast-even-some-bulls-are-getting-worried-51579107705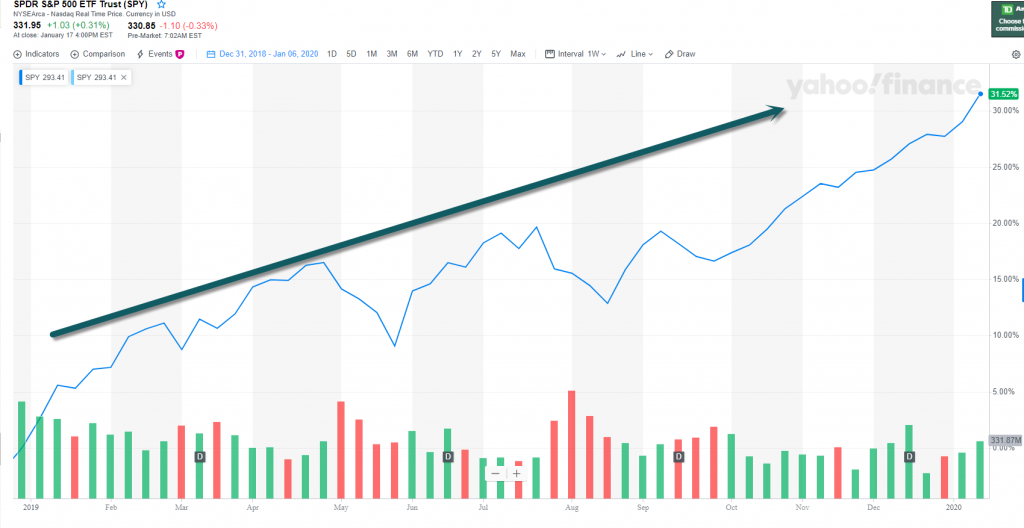 8.Household Debt as a Percentage of GDP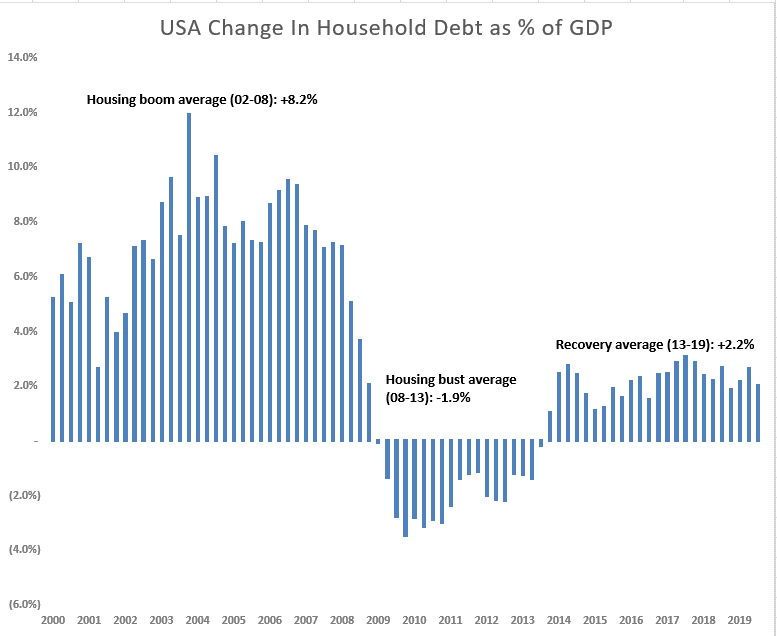 9.Apple Committed $6B to Original Content
Amazon: $6 billion on original content
Amazon (NASDAQ:AMZN) spent $1.7 billion on music and video content in the first quarter of 2019, an increase of 13% year over year that put the company on pace for $7 billion of content spending in 2019. But that combined total makes it tough to figure out how much Amazon is spending on video as opposed to music.
According to one analysis, Amazon's 2019 content budget will include roughly $6 billion earmarked for original content. That figure would put Amazon neck and neck with a new competitor: Apple.
Apple: $6 billion
Apple's (NASDAQ:AAPL) new streaming service, Apple TV+, is designed to take on Netflix and draw customers to Apple's TV app, an Amazon Channels-like service that gives Apple another chance to charge a platform tax. But Apple TV+ is entering a market with established competitors like Netflix, and Apple does not have a back catalog to leverage like Disney does.
What it does have, like its peers in the tech industry, is a lot of cash on hand. Apple is using that cash to play catch-up. Apple's big spending on original content has only gotten bigger since numbers were first reported, and it now stands at an eye-popping $6 billion.
AT&T: $14.3 billion in 2018 and likely more in 2019
AT&T's (NYSE:T) HBO boasts some of the biggest shows in streaming — and some of the priciest, too. AT&T spent a whopping $14.3 billion on content in 2018, according to RBC Capital Markets analysts. With a new streaming service on the way, AT&T is likely to spend even more this year.
AT&T has already beefed up HBO's streaming budget (HBO spent about $2 billion a year before being acquired), and now it's poised to spend even more to get HBO Max off the ground.
Disney: $23.8 billion but not all for streaming ($1 billion on Disney+ originals)
Walt Disney (NYSE:DIS) is making a big push in the streaming space, because it already has a lot of content to offer subscribers, so it's no surprise to find some numbers here that aren't completely relevant and others that look a little low. Disney's entire content budget is $23.8 billion — but that includes content not only for three streaming services (Disney+, ESPN+, and Hulu) but for non-streaming outlets like movie cinemas and Disney-owned television channels (like ABC and Freeform) as well. Take out s
Motley Fool How Much Are the Streaming Giants Spending on Content?–There are some deep-pocketed contenders entering the streaming race.Stephen Lovely
https://www.fool.com/investing/2019/09/08/how-much-are-streaming-giants-spending-on-content.aspx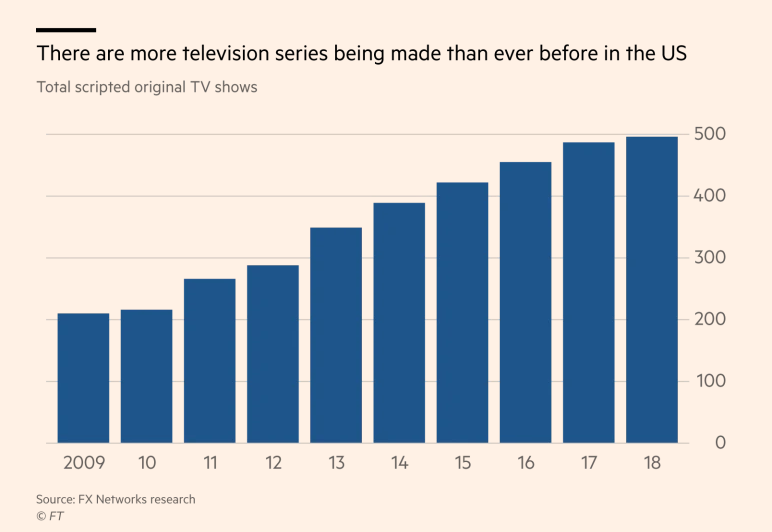 https://www.ft.com/content/03b86b7a-014e-11ea-be59-e49b2a136b8d
10.7 Steps To Reinvent Yourself In 2020
Jack KellySenior Contributor
I write actionable interview, career and salary advice.
The holiday season and New Year is a time for reflection and introspection. In addition to celebrating with family and friends, we tend to start thinking about the direction of our lives and careers.
Heading into a new decade can be a sobering event. It makes you think of where you are in your career and if it's heading in the right direction. You deeply contemplate if you're truly happy and engaged in meaningful work. People may have an existential crisis and grow concerned that they're stuck, and will continue doing the same exact thing next year and the following decade. Sometimes it's disappointment over the compensation, other times your job lacks a purpose. Even if you're well-paid, your job may leave you feeling empty on the inside.
Most people are on autopilot. They go to a job that they hate, promise themselves they'll do something about it, but they never take action. These people become discouraged, bitter and unhappy. We see them all the time at the office. They're passive aggressive, try to get away with doing the bare minimum amount of work, blame others for their lack of career momentum and are generally unpleasant to interact with. If you start feeling that this is happening to you, it may be time to reinvent yourself. The New Year and fresh decade is the perfect time to start. Here is how to begin reinventing yourself:
GETTY
Today In: Leadership
Be prepared, changing course may not be easy. It could require you to leave behind a nice, safe job and career. Your identity is most likely tied-up in your position and you'll lose the social status associated with it. Family, friends and colleagues will look at you differently and wonder what's wrong with you. Since they're afraid to try something new and exciting, they'll assume that you're running away.
Carefully decide what you really want to do next. The chances are high that you've already been secretly thinking of what you'd like to do with your life. Now's the time to put together an action plan to accomplish the switch and achieve your dreams. You need to figure out how long it will take to transition to a new career, job or profession.
It would be helpful if you could maintain your current position while starting your new business, venture or job. Ensure that you have sufficient funds saved to bridge the gap between your current job and the new field you're trying to break into, since you may initially earn a lesser income.
You have to be honest with yourself—do you possess the mental and emotional strength to start all over again? Whenever you start anew, there will be accompanying stress, anxiety and uncertainty.
Conduct due diligence into the job, profession or business that you desire to pursue. Make sure that it will pay enough to warrant the change and that there is solid growth potential. Try to find people who are currently engaged in the profession that you want to go into. Seek out a mentor who can offer advice and guidance. For instance, if you wish to stop being an attorney and become a teacher, speak with as many educators as possible. If you can't find one, read as much as possible about the area you're entering. You want to find out the real deal before you make the leap.
Don't put too much pressure on yourself. Allow a reasonable amount of time to achieve your goal. If the pivot requires going back to school, it could take a number of years. Once you move into the new space you probably won't earn as much as you previously did. However, as time goes on your financial situation will vastly improve. You will gain more experience and grow into your new space. Since you are highly motivated for the change, you will probably work harder than the other employees. You'll be happy, excited and motivated in this new endeavor. People will notice this and you will quickly move forward.
If you find out that this new job or profession is not what you thought it would be, you can always return to your past profession or try something else. Once you have a taste for taking chances, it becomes easier to do it again. As long as you have confidence in yourself, you can keep trying until you find the right fit that makes you happy, fulfilled and looking forward to waking up every morning.
Follow me on Twitter or LinkedIn.https://www.forbes.com/sites/jackkelly/2020/12/30/7-steps-to-reinvent-yourself-in-2020/#5e211622783f From Joe Duran Linkedin https://www.linkedin.com/in/joe-duran-711167/