1.Buybacks Dry Up Heading Into Earnings Season.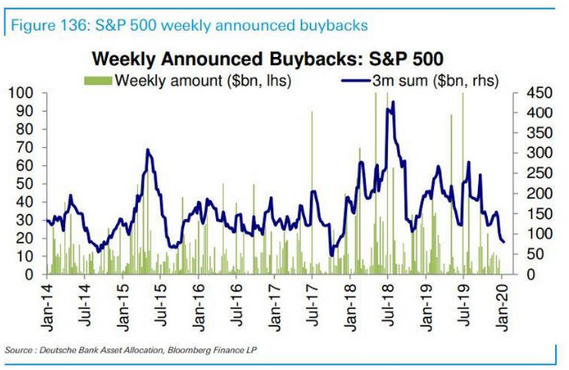 DB shows the collapse of buybacks into earnings, despite the equity rally
From Dave Lutz at Jones Trading.
2.Historical Chart to PKW Buyback ETF.
Buyback ETF Hit $11 in 2008 when companies were at generational low. Companies horded cash instead of buying back cheap shares.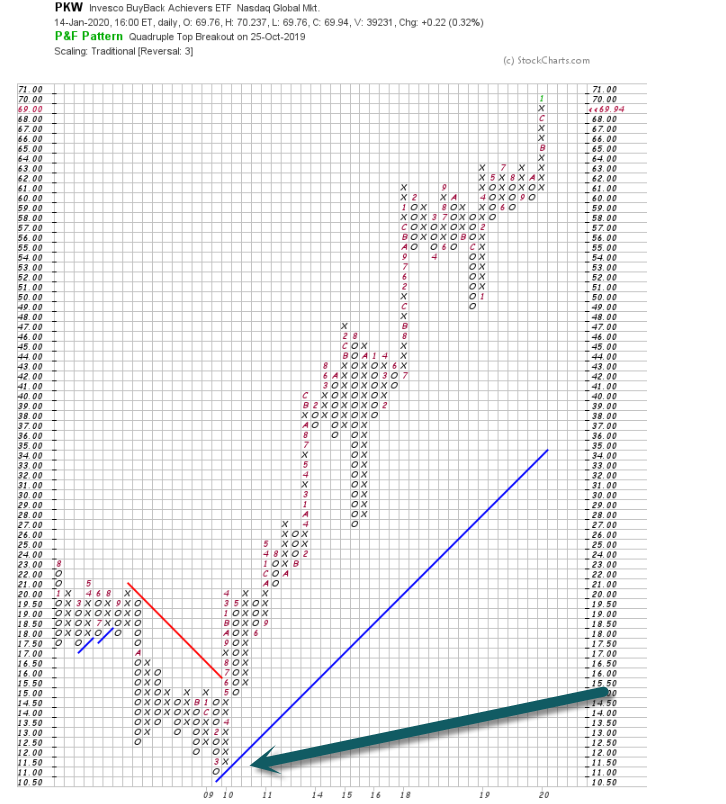 3.Growth of Fixed Income Electronic Trading Following Growth of Fixed Income ETFs.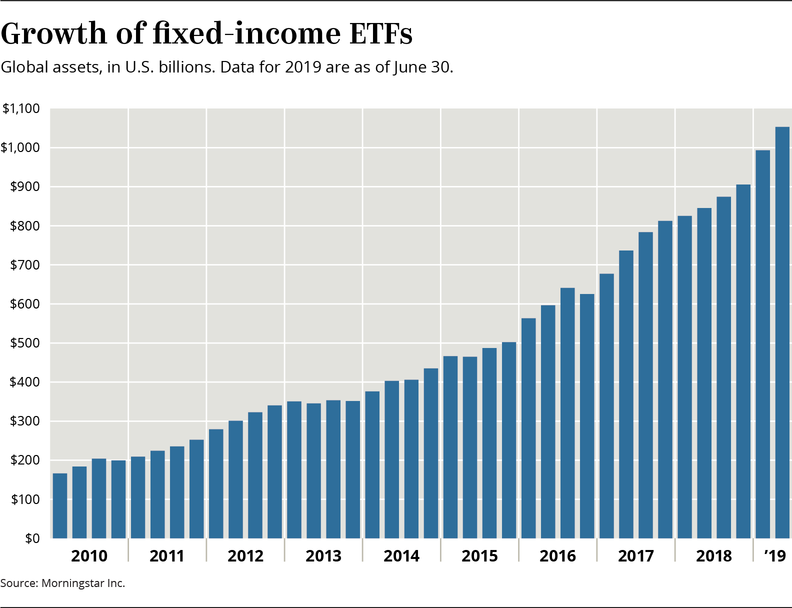 https://www.pionline.com/investing/bond-etfs-hit-1-trillion-now-set-takeoff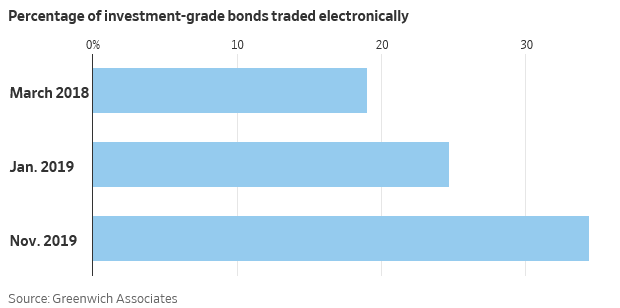 https://www.wsj.com/articles/electronic-trading-surges-to-34-of-corporate-bond-market-11579010400
4.Global Semiconductor Sales Hook Higher and Stocks Make New Highs.
GLOBAL SEMICONDUCTOR SALES (M/M)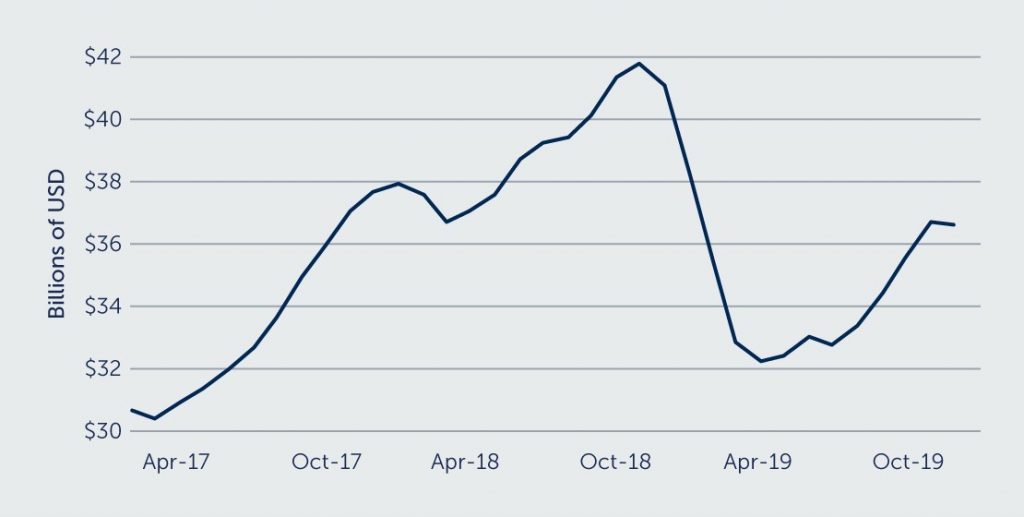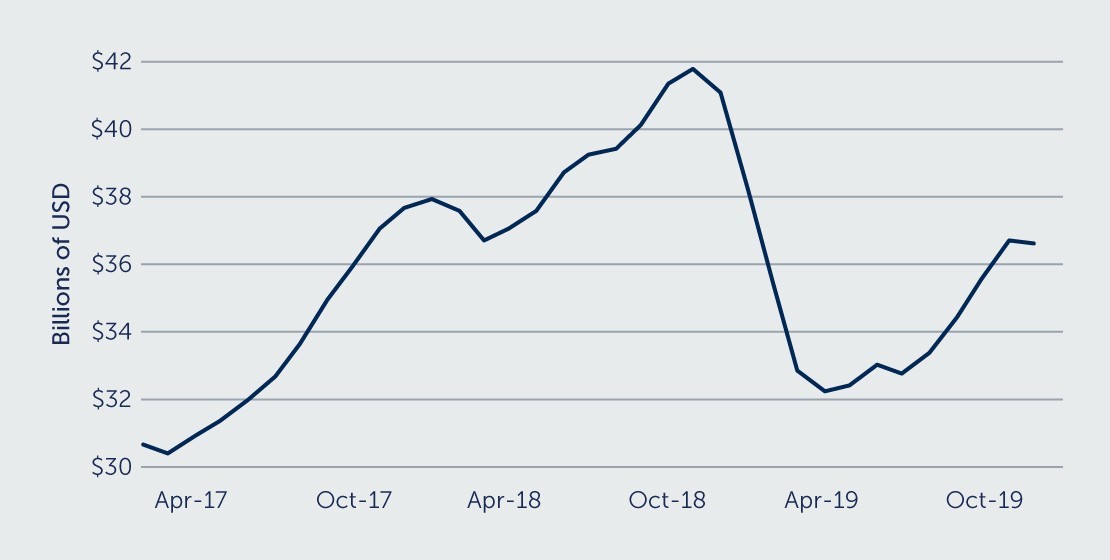 https://www.linkedin.com/pulse/enjoy-twenties-while-you-can-christopher-smart/?trackingId=HmKB5%2B93TFmMFz7tEEYCpQ%3D%3D
SMH-Semiconductor ETF—Global "Risk On" Trade Measure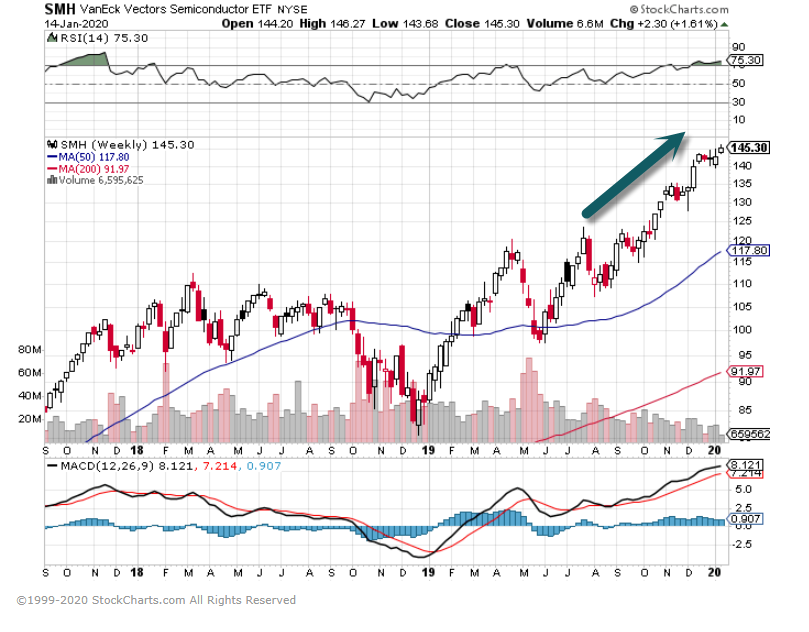 5.Largest Gas Driller in United States Takes Massive Write-Down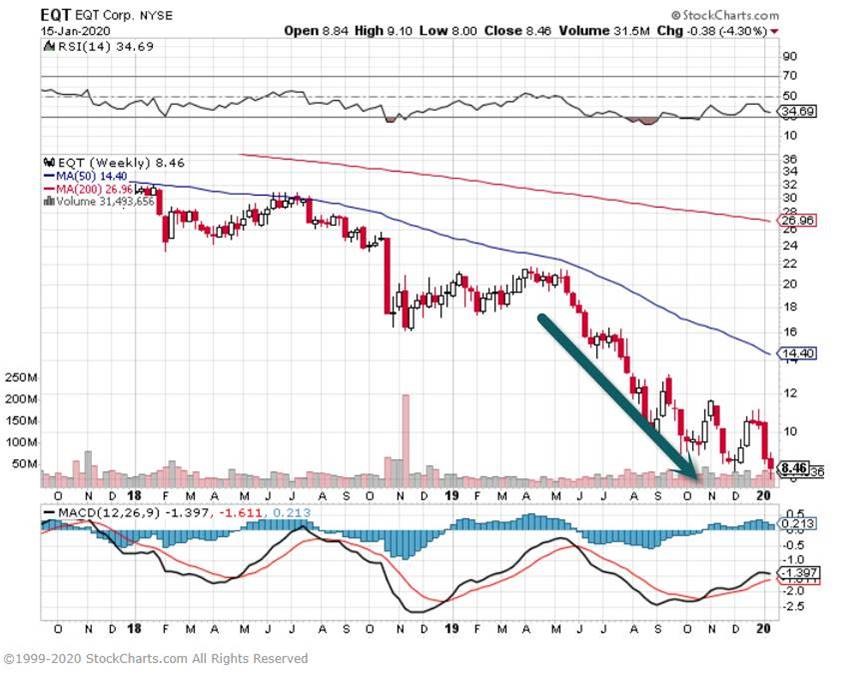 EQT, Largest US Natural Gas Producer, Takes $1.8 Billion Write-Down, Admits it Can't Succeed in Low-Price Shale-Gas Environment
by Wolf Richter • Jan 14, 2020 • 79 Comments
Shares have collapsed 75% since 2017.
By Nick Cunningham, for Oilprice.com:
The largest natural gas driller in the United States just announced a massive write-down for its assets, offering more evidence that the shale sector faces fundamental problems with profitability.
In a regulatory filing on Monday, Pittsburgh-based EQT took a $1.8 billion impairment for the fourth quarter, as the natural gas market continues to sour. EQT said that the write down comes as a result of the "changes to our development strategy and renewed focus on a refined core operating footprint," which is a jargon-y way of saying that some of its assets are now worth much less.
6.U.S. Pension Plans Sticking With Hedge Funds.
Pension Plans Will Boost Hedge Fund Investments in 2020, Study Says
Dismay over low-yielding fixed income will cause shift, industry research group Agecroft Partners predicts.
Pension funds will increase their allocations to hedge funds in 2020, due to lower interest rates and credit spreads, according to Don Steinbrugge, CEO of hedge fund consulting firm Agecroft Partners and a renowned expert in the industry.

Part of Agecroft's trend predictions for the new year, the pension projection rests on the entirely reasonable notion that fund chiefs will want to lower their exposure to fixed income.
Public funds, which various research findings say invest about 5% of their assets or less into hedge funds, have an actuarial rate of return assumption of 7.5%. With 10-year Treasury notes yielding less than 2% and all but the riskiest junk bonds exceeding 7.5%, the large amount devoted to bonds (around 40%, by State Street Global Advisors' count) looks increasingly ill-advised.
"With the yield on the aggregate bond index in the mid- 2% range, the bar is low forhedgefunds to add value on a risk adjusted return basis," Steinbrugge wrote in the report. He suggested that pension plans might choose among a range of different hedge strategies to place their rerouted money, including distressed debit, specialty financing, structured credit, and relative value fixed income.

In performance terms, the hedge fund industry has faced rough going in recent years. But at least 2019 was decent, albeit not overwhelming. Hedge Fund Research's Asset Weighted Composite index rose 7.7% in the 12 months ended December 31, versus a 0.7% dip in 2018. Note that investing in an S&P 500 index fund, which costs a lot less than a hedge fund, would have gained nearly 30% last year. To be sure, hedge fund fans point out that the purpose of this asset class is not to beat the market, but to provide diversification and downside protection during bearish times.
Despite moves by giants like California Public Employees' Retirement System and New Jersey's State Investment Council to trim their hedge fund exposure, there has been a growing movement to adopt this asset class, especially among institutional investors. Steinbrugge predicted that this movement will continue. "Hedgefund industry assets under management will grow for the 11th time in 12 years in 2020," he stated.
Other trends Agecroft's report highlighted include a slight decline in revenue owing to lower fees. The traditional arrangement—of a 2% yearly management fee and 20% of any profit—has come under fire. Meanwhile, he noted, the number of hedge funds will continue to drop, which means the top 5% of the industry, in investors' estimations, will benefit the most from this shrinkage. Steinbrugge has long complained that marginal players are dragging down the overall industry performance.
https://www.ai-cio.com/news/pension-plans-will-boost-hedge-fund-investments-2020-study-says/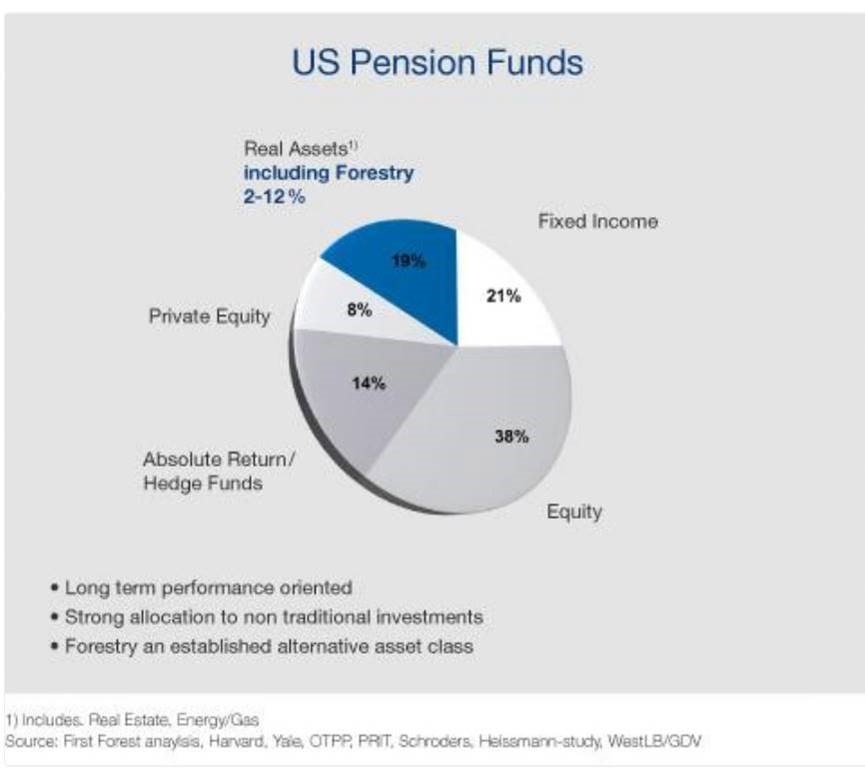 7.Future Projected Growth of Wealth.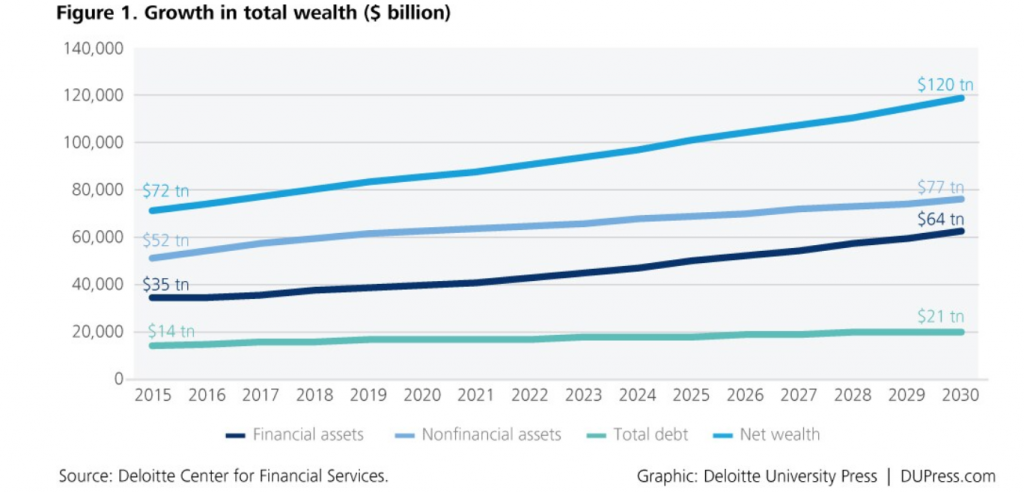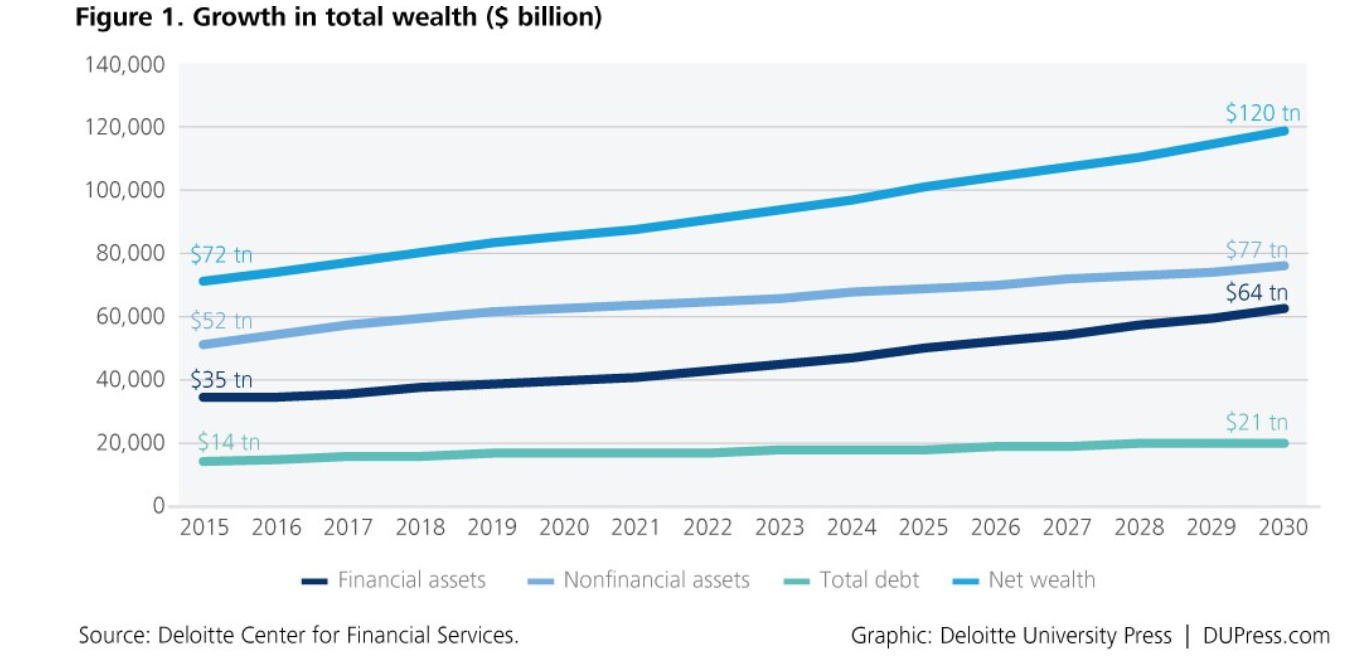 https://www2.deloitte.com/us/en/insights/industry/investment-management/us-generational-wealth-trends.html
8.More Good News for Economy….FICO Scores Rising.
Key findings
The average FICO score in the U.S. hit a record high of 703 in 2019
Millennials' average FICO score has increased 25 points since 2012
Generally, the older you are, the higher your credit score
The silent generation (74+) continues to have the highest FICO score, on average 756
Generation Z (18-22) has the lowest credit score, on average 677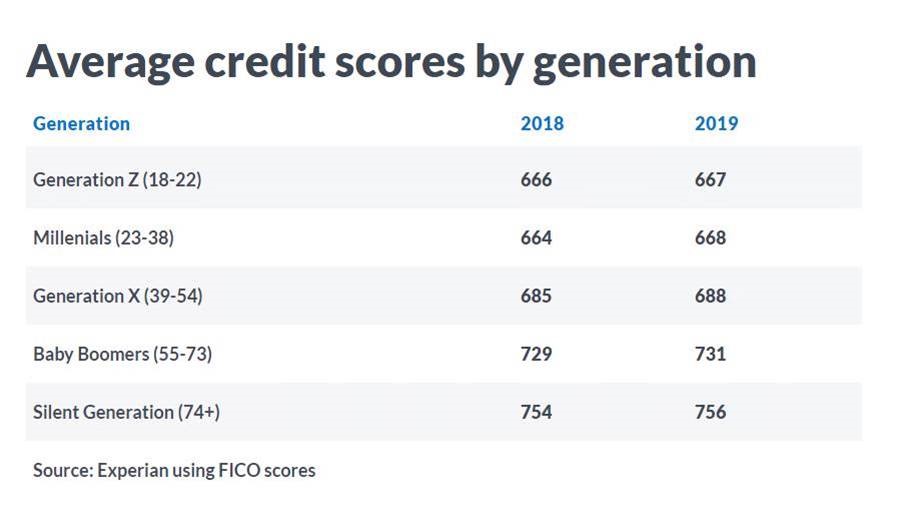 Millennials' average FICO score increased 25 points since 2012—here's the average credit score by generation–Alexandria White
https://www.cnbc.com/select/average-credit-score-by-generation/
9.Porsche Defies Car Industry Gloom With Record Sales
JANUARY 13, 2020 • CHRISTOPH RAUWALD
Porsche AG shrugged off widespread industry malaise, reporting record deliveries for last year and predicting that its first all-electric model, the Taycan, will generate further growth in 2020.
Global deliveries rose 10% to 280,800 cars in 2019, driven mainly by strong consumer appetite for the Macan and Cayenne sport-utility vehicles, Porsche said Monday in a statement.
"We're optimistic that we can sustain the high demand in 2020," sales chief Detlev von Platen said in the statement. Sales momentum should benefit from "the introduction of some new models and full order books for the Taycan," he said.
The most profitable division of Volkswagen AG, the world's largest automaker, is entering a new era with this year's rollout of the Taycan four-door sedan, which challenges Tesla Inc.'s Model S electric car. Porsche's cachet has been shaped for decades by fast sports cars with roaring combustion engines, and success of the costly expansion into electric vehicles is mission-critical for the German manufacturer amid stricter emission regulations in key markets.
Sales rose 8% last year in both China and the U.S., Porsche's two largest markets. It sold 86,752 cars in China, where luxury rides have been less affected by the waning demand hurting the overall market, and 61,568 cars in the U.S. In Germany, sales advanced 15% to 31,618 vehicles.
Porsche's deliveries picked up toward the end of 2019 after sales in the first half of the year were held back by more complex emission tests in Europe and the decision to phase out diesel-engine offerings. Following the roll out of the Taycan, Porsche plans to add a more spacious version of the vehicle dubbed Cross Turismo at the end of 2020.
Porsche embarked on a far-reaching overhaul to mitigate surging development costs for electric cars and new software features, which is aimed at lifting earnings by about 6 billion euros ($6.7 billion). The steps are needed to keep Porsche's operating margin above a long-standing target of 15% return on sales as electric cars are still less profitable than combustion-engine vehicles like the 911 sportscar.
This article was provided by Bloomberg News.
To read more stories , click here
https://www.fa-mag.com/news/porsche-defies-car-industry-gloom-with-record-sales-53555.html?section=75&utm_source=PW+Subscribers&utm_campaign=f16a8a69d8-PW+News_011320&utm_medium=email&utm_term=0_1899ce8517-f16a8a69d8-236049617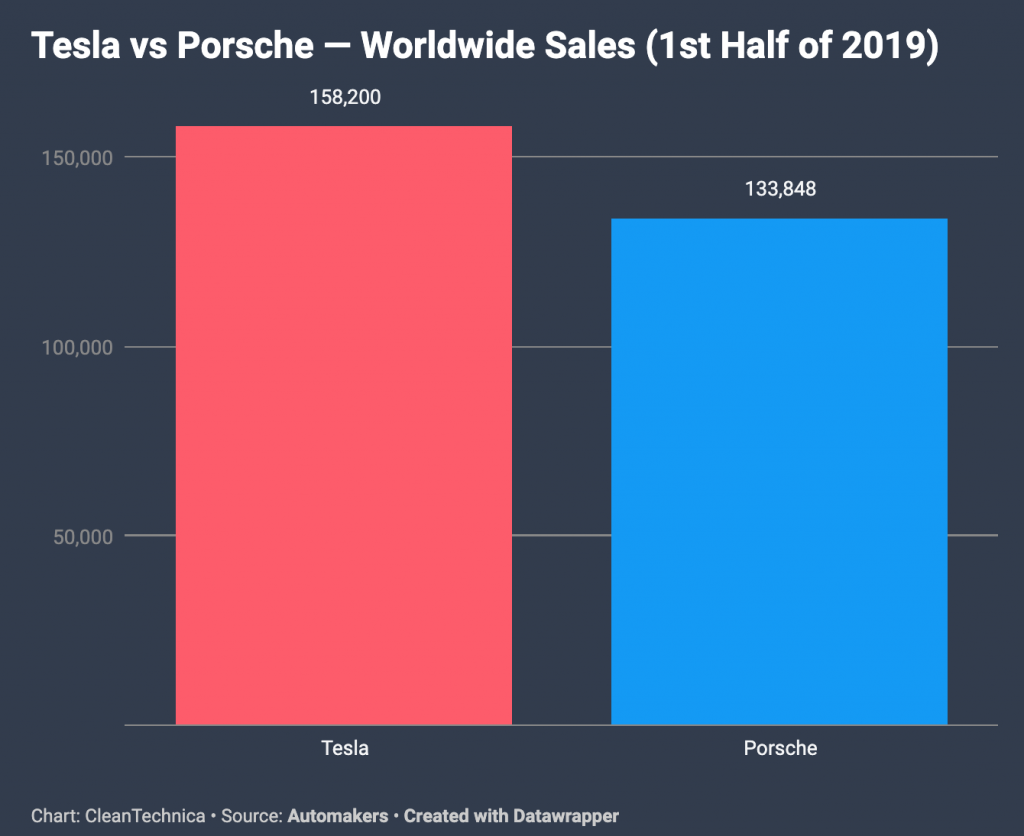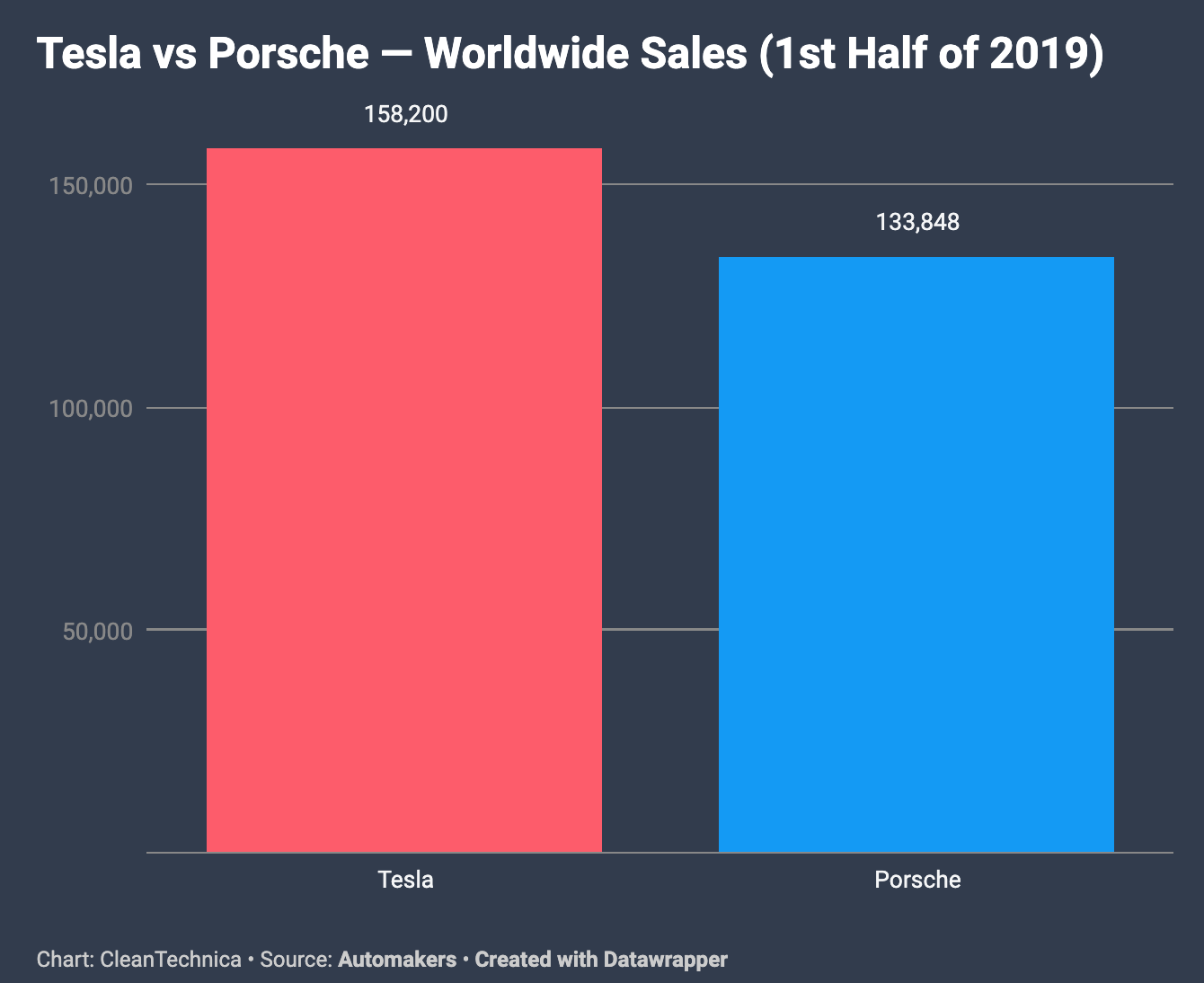 https://cleantechnica.com/2019/09/01/tesla-outsold-porsche-globally-in-1st-half-of-2019/
10.4 Psychological Tricks to Reach Your Goals
These four hacks that will help you reach your goals instead of abandoning them.
The start of a new year is invigorating—something about turning the page always feels so fresh and motivating. In 2020, we're not only entering a new year but a whole new decade. What a great opportunity to reflect, refresh, and turn a new leaf!
Many of us use the new year as an opportunity to set new goals, but as the year goes on, we often find that achieving those goals is surprisingly hard to pull off. How many times have you started a new year feeling gung-ho about exercising only to have your enthusiasm fizzle by February?
Motivation is a tricky thing. But just because you've struggled in the past doesn't mean you can't find success in the future. Motivation is like an engine you can tune. As long as you tinker with it the right way, it'll perform better.
Let's look at four psychological tricks for puttering with your particular motivation engine as you set your goals for 2020.
1. Set a learning goal instead of a performance goal.
Usually, when we set goals, we think of what we want to achieve, what thresholds we want to be able to say we crossed.
Lose 20 pounds
Run a marathon
Get a promotion at work
These goals are specific and concrete. That's good, but research shows that setting long-term performance goals based on achievement outcomes may not be as effective as setting goals for new skills you want to learn.
Entering MBA students who set goals for the skills and knowledge they wanted to gain—like learning to network effectively—felt more satisfied by the end of their program and earned higher GPAs compared to their peers who set achievement-based goals like earning good grades.
So, let's look at an alternative to the weight loss goal I just mentioned. Instead of setting a goal to lose 20 pounds, a better one might be improving your nutrition knowledge by learning five new healthy lunch recipes. Not only does this offer a more specific target, it feels a lot more attainable.
2. Make sure the goal is attached to a life value.
How do you decide on your goals? Are they inspired by what your peers are doing? Are they set by authority figures in your life? Where your goals come from has a big impact on whether you'll achieve them. One place they could come from is your own life values.
Values are not the same as goals. Imagine you're sailing a boat on the ocean. Goals are like the islands on the horizon that you're traveling towards. Values are like the North Star that points you in the right direction. Not everyone's North Star is the same when it comes to values. It's important to know what big-picture things matter to you overall so they can help you navigate.
For some, social connection is a major life value. Perhaps for them, a good goal would be to explore new activities they can do with their friends that help the community. One example might be volunteering at a local animal shelter with them, helping them support the community and just sharing an experience. For some, achieving influence and power is a life value, in which case their goal can be to create (or learn how to create) a more visible public platform for influencing political policy. For some, being engaged with nature is a value, so a value-based goal could be to start a garden or save money for camping equipment.
Ask yourself whether your goals are based on your larger life values. If not, make some adjustments. If your goal reflects a value you hold deeply, you're more likely to be successful than if your goal is just another "should" to check off on your to-do list.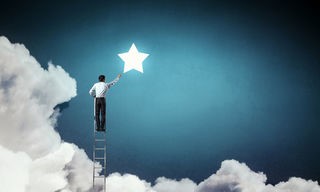 Source: Courtesy of Shutterstock
3. Make the goal about a challenge, not a threat.
If your goal is based on intimidation, you're less likely to achieve it than if it's based on a challenge. Here are some examples:
Threat: If I don't decrease my blood pressure, I'll likely have a heart attack.
Challenge: I want to decrease my blood pressure so I can improve my quality of life.
Threat: I need to step up with my studying because I'll fail the semester if I don't.
Challenge: I need to create a new study routine for myself so I can become the type of student I want to be.
Threat: I have to figure out how not to push my new boss's buttons so I don't continue to have a rocky relationship with her.
Challenge: I want to reset my relationship with my new boss by learning new communication skills.
Notice the difference? The threat versions of the goals sound scary and definite. If you're not making progress toward your threat-based goal, you might find yourself avoiding dealing with the situation altogether. But the challenge-based versions are more hopeful and forward-looking. They give you more of a direction to strive toward.
4. Sign a contract with someone.
Who have you told about your goals? How much detail did you share?
When it comes to motivation, we humans are very much social animals. Sometimes a little social pressure can help us achieve what we want. There's something about committing a goal to someone else that makes it easier to stick with it, or perhaps harder to give up.
article continues after advertisement
If you've already announced your 2020 goals at brunch (or on Twitter!), good for you. Now you've got people to keep you accountable. That's especially true if you've asked friends to hold you to your goals.
But you can even take it a step further by signing a social contract with someone. Yes, I do mean a literal contract that lays out on paper what specifically you're committing to and how you'll measure your progress. What timelines have you set? What rewards will you get for achieving the goals? Both you and your witness should sign this document and agree to review it together to ensure that you stay on track.
This might sound like overkill, but it works! When it comes to increasing their exercise level, people who sign social contracts with their healthcare providers have a high success rate. The contract works on each person for different reasons. Maybe it served as a memory-jogger, provided more social support, or helped them to problem-solve. The key takeaway is that singing the contract helped.
So, go ahead and look forward to a 2020 challenge, but be sure to base it around your values for a higher chance of success.

A version of this piece originally appeared on Quick and Dirty Tips.
https://www.psychologytoday.com/us/blog/the-savvy-psychologist/202001/4-psychological-tricks-reach-your-goals