1.Problem for Bears—Fundamentals…Corporate Profits Rise Most Since 2011
S&P 500 Index earnings are forecast to grow more than 20%
Fundamentals are 'nothing short of spectacular,' analyst says
A stream of rosy profit reports has helped soothe the nerves of investors rattled by this month's stock market plunge. U.S. companies are seeing the biggest growth spurt in quarterly earnings in six years, and the pace is set to accelerate.
The question now is whether that momentum will fuel further stock gains.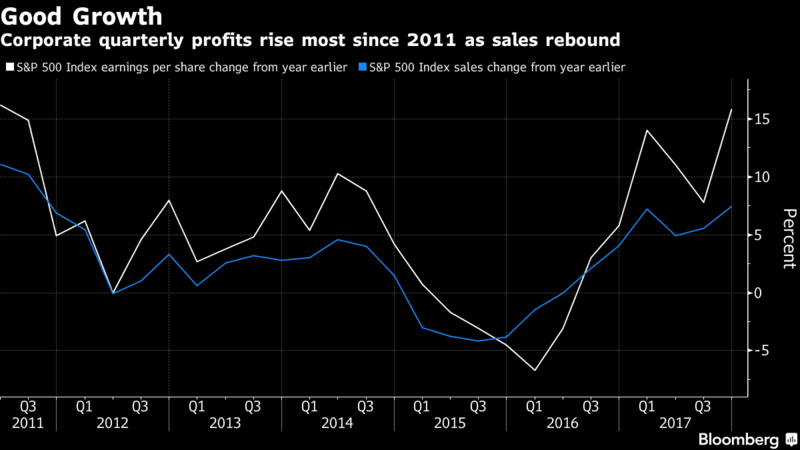 https://www.bloomberg.com/news/articles/2018-02-21/as-stock-jitters-recede-focus-shifts-to-surging-company-profits
2.Inflation 2.5% Increase to CPI Index in Next 6 Months.
Bernstein Blog-
Evidence of Higher Inflation Is Mounting
We do expect inflation to rise this year, and interest rates along with it. In fact, higher inflation has been a key driver of our 2018 forecast for some time.
And we're seeing increasing signs of rising price pressure. Over the last six months, prices are up at a pace (Display) that, if maintained, would translate to a 2.5% increase in the consumer price index (CPI) over 12 months. January's data showed an even faster increase—core CPI rose by 0.35% month over month, the fastest in more than a decade.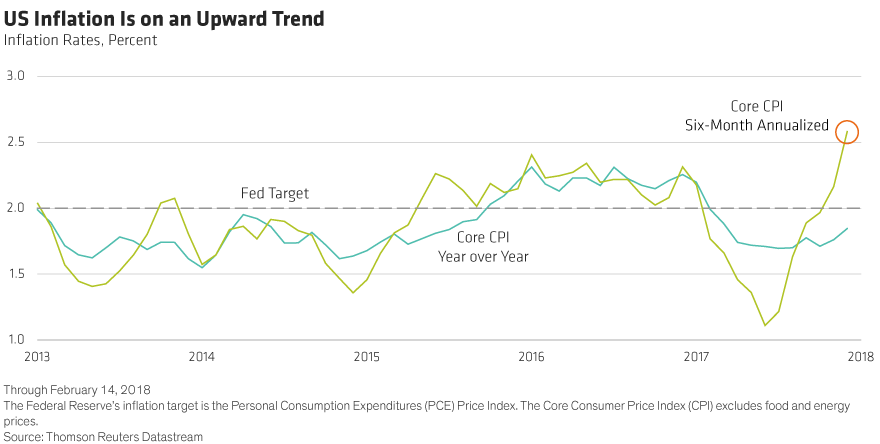 Of course, there's risk in using shorter time horizons to measure CPI, which is typically a slow-moving variable. But other indicators point the same way. Service-price inflation, which is less subject to commodity or currency impacts, is up nearly 2.5% year over year. Wages are rising at their fastest rate this cycle: this should give consumers more to spend and allow businesses to regain pricing power.
Fiscal Deterioration Likely to Play a Role, Too
All this adds up to a strong case for rising inflation, which underpins our forecast for four rate hikes from the Federal Reserve in 2018—up from three last year—and for rising longer-term rates.
Fiscal policy is likely to push upward on prices over time, too. The bill from last year's tax reform and the budget deal earlier this year both generate fiscal stimulus, putting more money into the economy at a time of strong growth and rising inflation. The numbers aren't necessarily big enough to represent a sea change, but the fiscal deterioration is another reason we're confident inflation is headed up.
ERIC WINOGRAD
https://blog.alliancebernstein.com/library/us-inflation-signs-are-pointing-up.htm?seg=66
3.Inflation, Deflation, and Stock Market Returns
Inflation! Deflation!
Two words that strike fear into the hearts of investors.
Are such fears justified? Let's take a look…
If we segment calendar year changes in the Consumer Price Index (CPI) into quintiles, we observe the following:
The lowest equity returns have occurred in deflationary (quintile 1) and inflationary (quintile 5) environments.
The highest equity returns have occurred in periods of low (quintile 2 & 3) to moderate (quintile 4) inflation.

Source Data for all tables herein: YCharts, BLS, Stern.NYU.edu/~adamodar
During years with the highest inflation (quintile 5):
Stocks generated the lowest nominal returns, 4% on average, with 56% of years posting a positive return. The real equity returns, at -3.5%, were also the lowest.
Many of the years represented in this quintile occurred during the 1970s (1970, 1973, 1974, 1975, 1976, 1977, 1978, and 1979) early 1980s (1980, 1981). Stagflation was the great concern of this period.
Many of the worst stock market returns in this quintile occurred during years in which the economy was in recession (1969, 1973-74, 1981, 1990).
Read Full Story https://pensionpartners.com/inflation-deflation-and-stock-market-returns/
Found at www.abnormalreturns.com
4.Speaking of Inflation…Miner Rally Since January 2016 China Induced Sell Off?
Glencore +240% Since Jan. 2016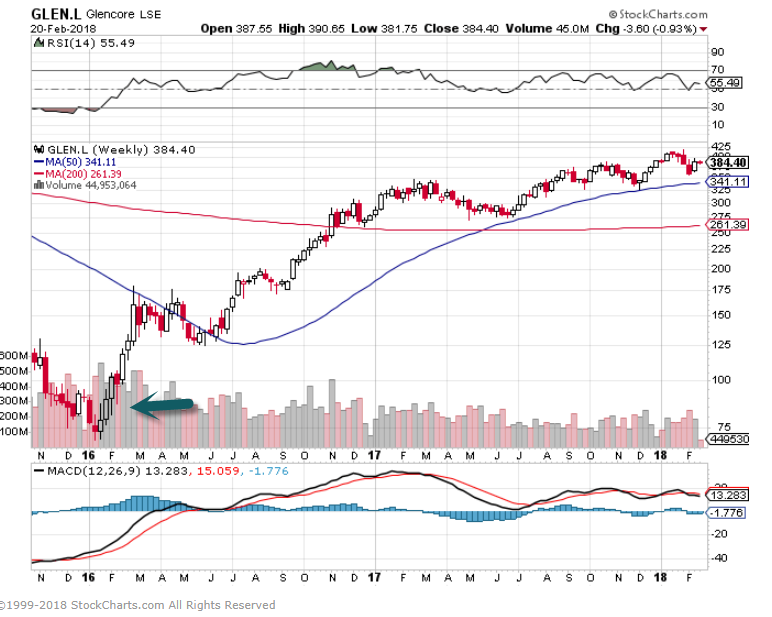 World's Biggest Miners Emerge From Their Hole in a $200 Billion Comeback
Rio Tinto, BHP and Glencore dig up boom-era profits again, rewarding investors and looking for deals
https://www.wsj.com/articles/worlds-biggest-miners-emerge-from-their-hole-in-a-200-billion-comeback-1519036200?mod=ITP_businessandfinance_0&tesla=y
5.One Man's List of Potential Bubbles.
Many economists believe that it's impossible to recognize bubbles before they pop. However, Alberto Gallo of Algebris Investments has compiled a list of the largest potential bubbles around the world today, ranked by degree of risk based on size, duration, percent appreciation, valuations, and the types of irrational behavior driving them higher.
Seeking Alpha
https://seekingalpha.com/article/4121369-bitcoin-real-estate-faang-stocks-investment-manager-compiles-list-worlds-largest-bubbles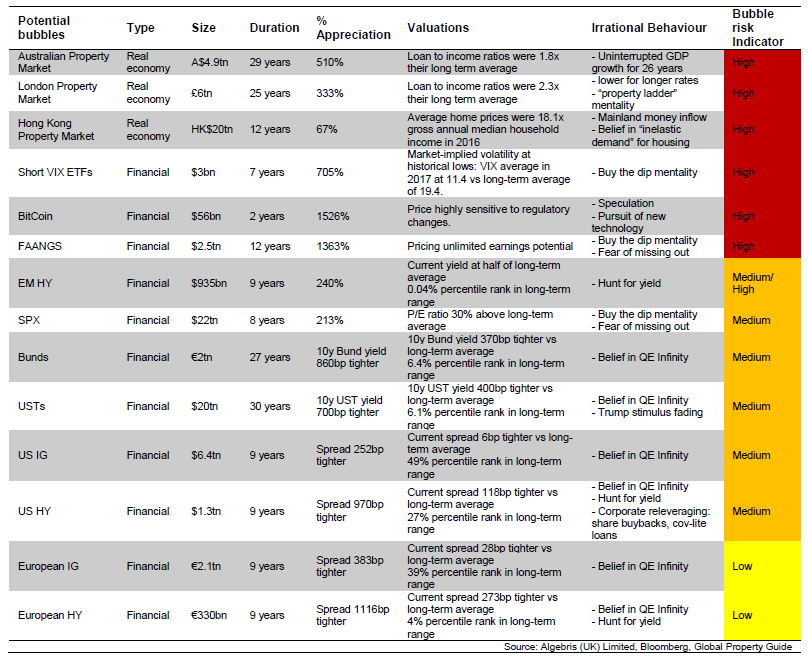 6.China Attracting More Artificial Intelligence Start Up Funding Than U.S.
China's AI startups scored more funding than America's last year
Of $15.2 billion invested in AI startups globally in 2017, 48 percent went to China and just 38 percent to America. So says a new report from CB Insights about the state of AI. So long, America: It's the first time China's AI startups surpassed those in the US in terms of funding. While America still has more AI startups than China, they're starting to lose out in striking equity deals: the US accounted for 77 percent of them in 2013, but that fell to 50 percent last year. AI startup investment rose 141 percent in 2017 compared with 2016
AI Projected Revenue Growth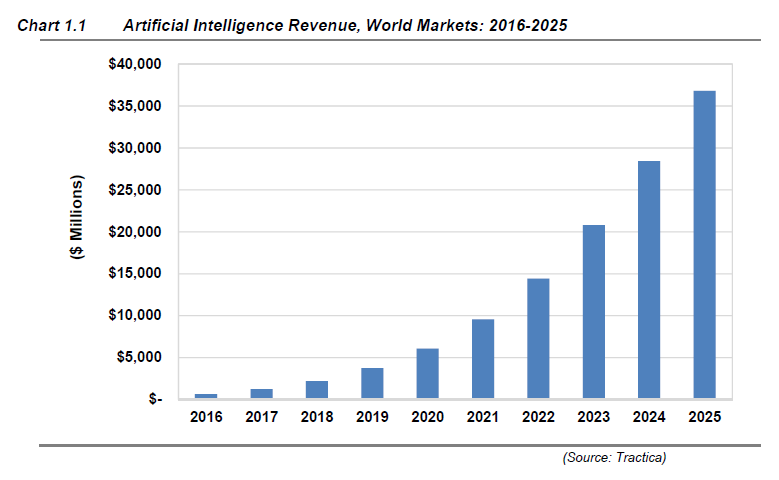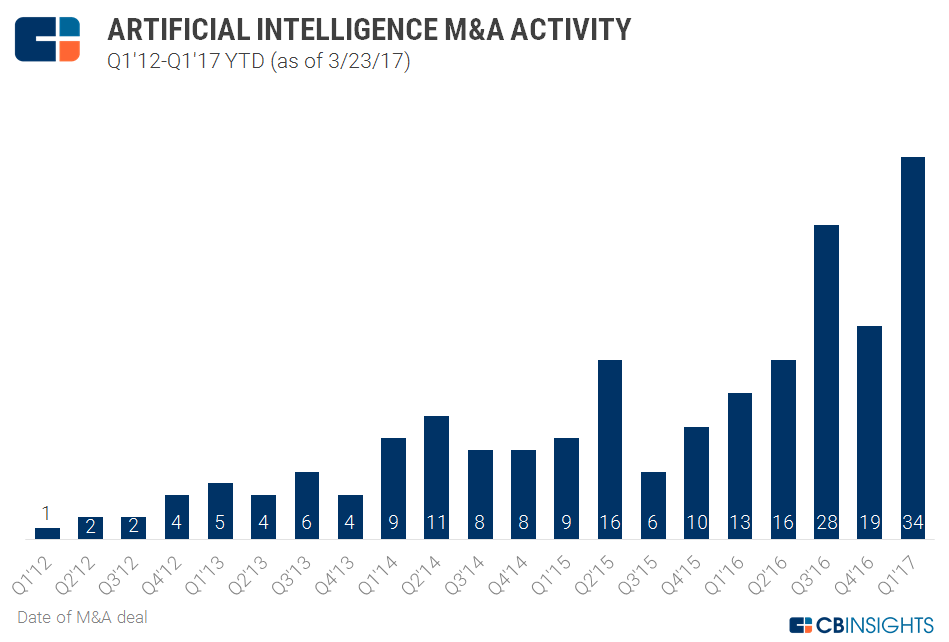 https://enterprise.microsoft.com/en-ca/articles/industries/microsoft-in-business/grow-your-business-with-microsoft-ai/
7.How drones will change the world in the next 5 years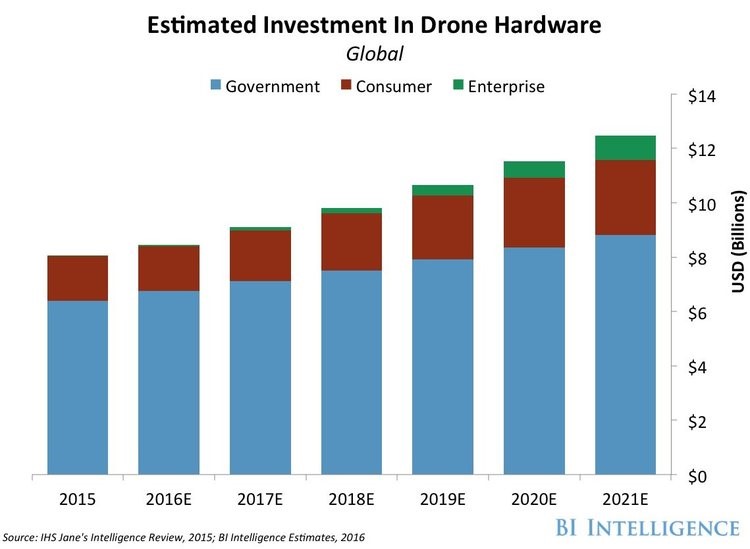 BI Intelligence
This is a preview of a research report from BI Intelligence, Business Insider's premium research service. To learn more about BI Intelligence, click here.
In a report from BI Intelligence, we take a deep dive into the various levels of the growing global industry for commercial drones, or unmanned aerial vehicles (UAVs). This report provides forecasts for the business opportunity in commercial drone technology, looks at advances and persistent barriers, highlights the top business-to-business markets in terms of applications and end users, and provides an exclusive list of dozens of notable companies already active in the space. Finally, it digs into the current state of US regulation of commercial drones, recently upended by the issuing of the Federal Aviation Administration's draft rules for commercial drone flights. Few people know that many companies are already authorized to fly small drones commercially under a US government "exemption" program.
Here are some of the key takeaways from the report:
We project revenues form drones sales to top $12 billion in 2021, up form just over $8 billion last year.
Shipments of consumer drones will more than quadruple over the next five years, fueled by increasing price competition and new technologies that make flying drones easier for beginners.
Growth in the enterprise sector will outpace the consumer sector in both shipments and revenues as regulations open up new use cases in the US and EU, the two biggest potential markets for enterprise drones.
Technologies like geo-fencing and collision avoidance will make flying drones safer and make regulators feel more comfortable with larger numbers of drones taking to the skies.
Right now FAA regulations have limited commercial drones to a select few industries and applications like aerial surveying in the agriculture, mining, and oil and gas sectors.
The military sector will continue to lead all other sectors in drone spending during our forecast period thanks to the high cost of military drones and the growing number of countries seeking to acquire them.
In full, the report:
Compares drone adoption across the consumer, enterprise, and government sectors.
Breaks down drone regulations across several key markets and explains how they've impacted adoption.
Discusses popular use cases for drones in the enterprise sector, as well as nascent use case that are on the rise.
Analyzes how different drone manufacturers are trying to differentiate their offerings with better hardware and software components.
Explains how drone manufacturers are quickly enabling autonomous flight in their products that will be a major boon for drone adoption.
Simply put, The Drones Report is the only place you can get the full story on the rapidly-evolving world of drones.
http://www.businessinsider.com/the-drones-report-research-use-cases-regulations-and-problems-2016-3
8.Top 15 Cities Globally Hold $24 Trillion in Wealth.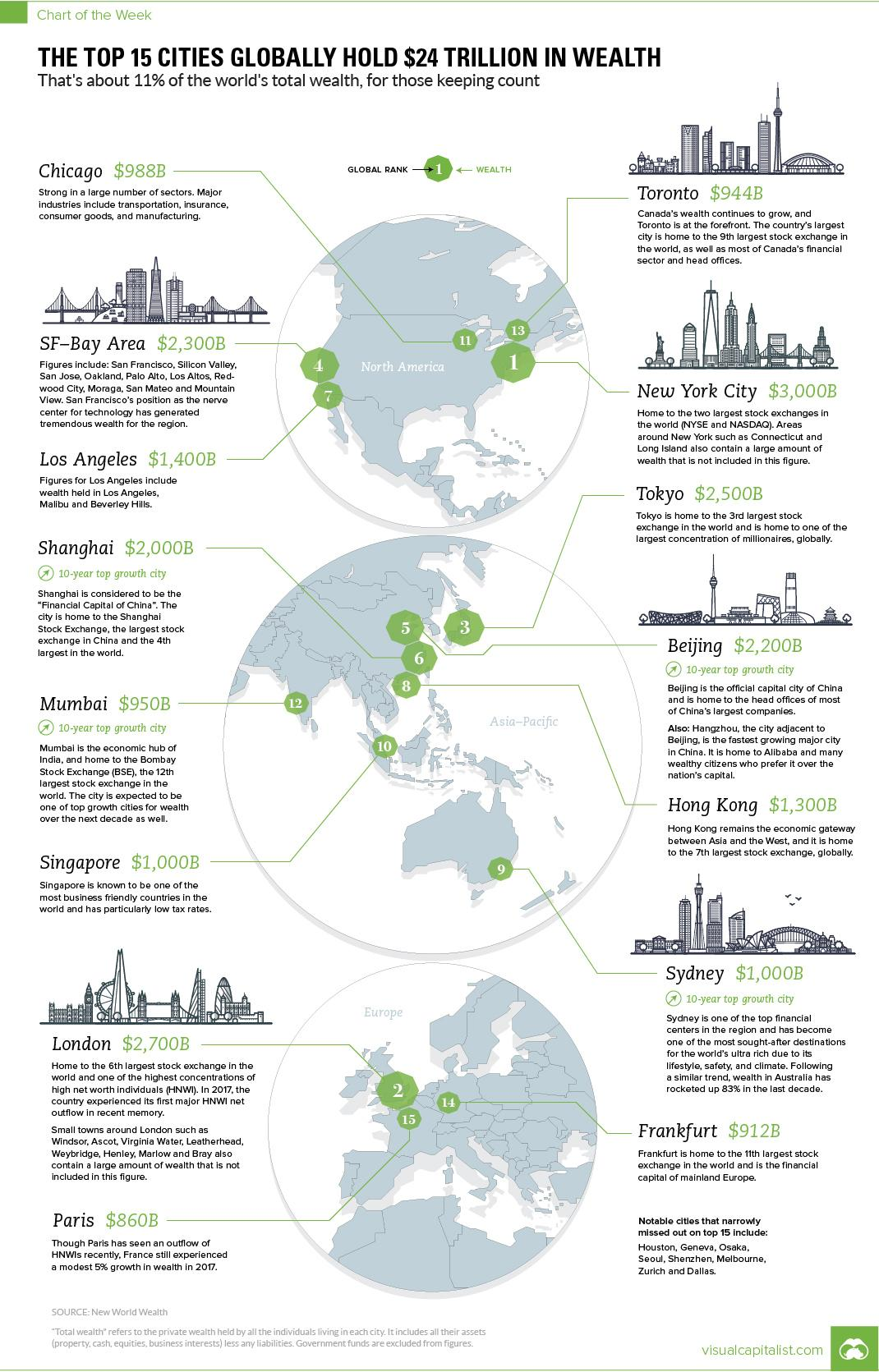 9.The Barbell Is Crushing the Supply of Affordable Homes
by Adam Artunian February 14, 2018
If you need any further convincing that we need to build more lower-priced homes, take a look at resale supply. The supply of low-tier listings (defined by Zillow as listings priced in the bottom one-third of home values in the market) has been declining steadily since mid-2014 and are down a whopping 20% YOY in the 31 largest housing markets. In comparison, top-tier and middle-tier listings are down 8% and 12%, respectively.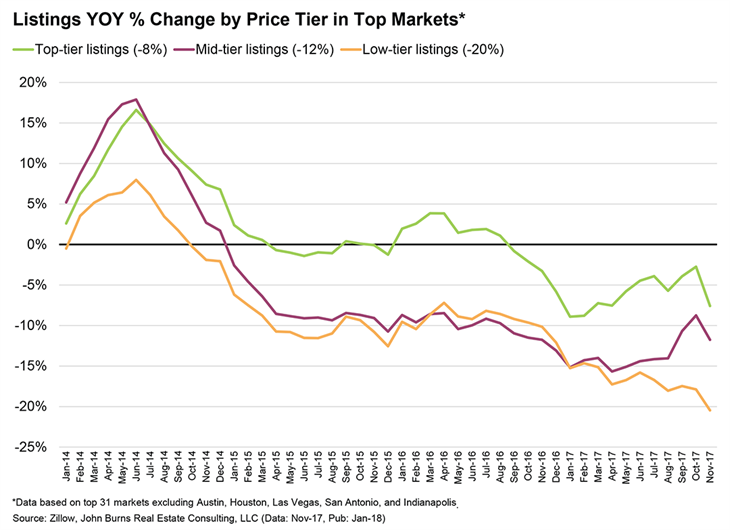 This begs the question: What has changed to cause the plunge in lower-priced listings? The answer lies primarily in the surge in entry-level and move-down home buying. Consider the following demographic trends:
Strong pent-up demand from millennials who are finally forming families and looking to buy homes for the first time.
Increasing demand from move-down buyers looking to take advantage of recent price appreciation and cash out of homes that are too large. We expect the growing retiree population will purchase 77% more homes over the next 10 years than the last 10 years, with many buying a less expensive home so they can tap into the equity in their current home.
These two groups represent the barbell of demand we keep talking about.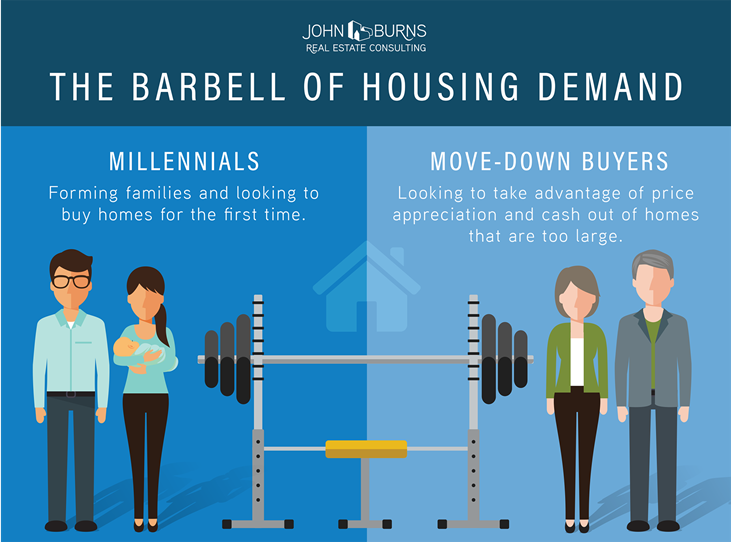 Young family and move-down buyers actually have a lot in common: they typically don't want (or need) large homes and are price conscious. Whether strapped with student debt or living on a fixed income, these buyers often opt for smaller, more affordable homes in a desirable location (close to employment and/or grandkids, good schools, etc.). As supply in the resale market continues to tighten, the need to provide new innovative housing solutions for these barbell buyer segments has perhaps never been greater.
For great entry-level and move-down housing solutions, contact any of our consulting leaders or reach out to me directly at (949) 870-1213 or by email.
https://www.realestateconsulting.com/barbell-crushing-supply-of-affordable-homes/
10.The Twelve Core Psychological Characteristics of Olympians
Research reveals what makes Olympic champions tick.
Posted Feb 19, 2018
Never underestimate the power of dreams and the influence of the human spirit. We are all the same in this notion: The potential for greatness lives within each of us.
~ Wilma Rudolph
Vinita Mehta Ph.D., Ed.M.Head Games
Wilma Rudolph was born in 1940 in Tennessee. Before she became the first American woman to win three gold medals in track and field at a single Olympic game, she was a sickly child. She overcame polio, and even wore a brace on her left leg.
The Olympics are far more than the glory of sport and athleticism—they are a testament to human potential fulfilled. With every Olympic games, athletes' stories about what it took to get there never fail to inspire. Consider figure skater Adam Rippon, who just won a bronze medal in the current games. He lived in his coach's basement and ate more than his fair share of apples courtesy of his gym because he was short on money.
But what does it take to become an Olympic champion? Given the level of excellence in this most rarefied group, it is a question that fascinates. Thankfully, it is a line of inquiry that has been taken up by Daniel Gould of the University of South Carolina at Greensboro and his collaborators. More specifically, they were interested in the psychological characteristics of Olympic athletes. To that end, they designed a study to reveal just what it takes, psychologically speaking, to become an Olympian.
So here's what the investigators did. They recruited 10 U.S. Olympic champions (six men and four women) who participated in open-ended in-depth interviews, as did a parent, guardian, or significant other. The athletes also completed a psychological battery of tests. They were an impressive bunch. Together they won 32 medals— 28 of them gold. These athletes had competed in one or more Olympic Games between the years of 1976 and 1998, with an average of 2.4 Olympic games each. And they represented a wide array of sports, including skiing, wrestling, swimming, ice hockey, speed skating, and track and field. The investigators analyzed the interviews and assessment measures, and in the end, found 12 core psychological characteristics shared by these Olympic champions. They are:
The ability to cope with and control anxiety.This includes somatictrait anxiety (i.e., the physical symptoms of anxiety, like butterflies in one's stomach), worry, concentrationdisruptions, and overall anxiety.
Confidence.This concerns the extent to which an athlete is confident and positively motivated, consistently gives their all during practices and games, and works assiduously to improve his or her skills.
Mental toughness.This pertains to resilience, perseverance, and the ability to successfully cope with adversity.
Sport intelligence. This refers to the ability to analyze, being innovative in relation to one's sport technique, being a student of the sport, making sound decisions, understandinghow elite sport works, and being a quick study.
The ability to focus and block out distractions. This entails the ability to automatize, to focus on what you can control, and to focus and not be easily distracted.
Competitiveness. This broke down into three themes: having a killer instinct, being intense (e.g., having an aggressive and go for it attitude), and being competitive (e.g., being a fighter and never giving up).
Having a hard-work ethic.Athletes reported being motivated, driven, a hard worker, and having a strong work ethic.
The ability to set and achieve goals.These Olympians showed a greater capacity to set and work toward specific performance goals, plan and mentally prepare for games, and has a clear strategy to perform their best.
Coachability.This encompasses whether an athlete is open to and learns from instruction, and accepts constructive criticism without taking it personally and becoming upset.
Hopefulness.As it was defined in this study, having hope meant having a signature way of setting, seeking out, and achieving goals.
Optimism.Optimism is a generally stable trait in which people by and large feel that positive things will happen. Optimistic people also confront challenges with confidence and persistence.
Perfectionism.There are two kinds of perfectionism, maladaptive and adaptive, with both types being known for setting high personal standards and exhibiting a strong preference for organization. Yet while maladaptive perfectionism is associated with being overly concerned with making mistakes, being criticized, and self-doubt, adaptive perfectionism—the kind these Olympians possess—is positively linked with achievement.
https://www.psychologytoday.com/blog/head-games/201802/the-twelve-core-psychological-characteristics-olympians