1.Interesting 2018 YTD Performance by Sector—Risk on Sectors Tech and Consumer Discretionary Down the Least…
Utilities and Staples Down Big—Sector Leadership Still with Risk On Sectors.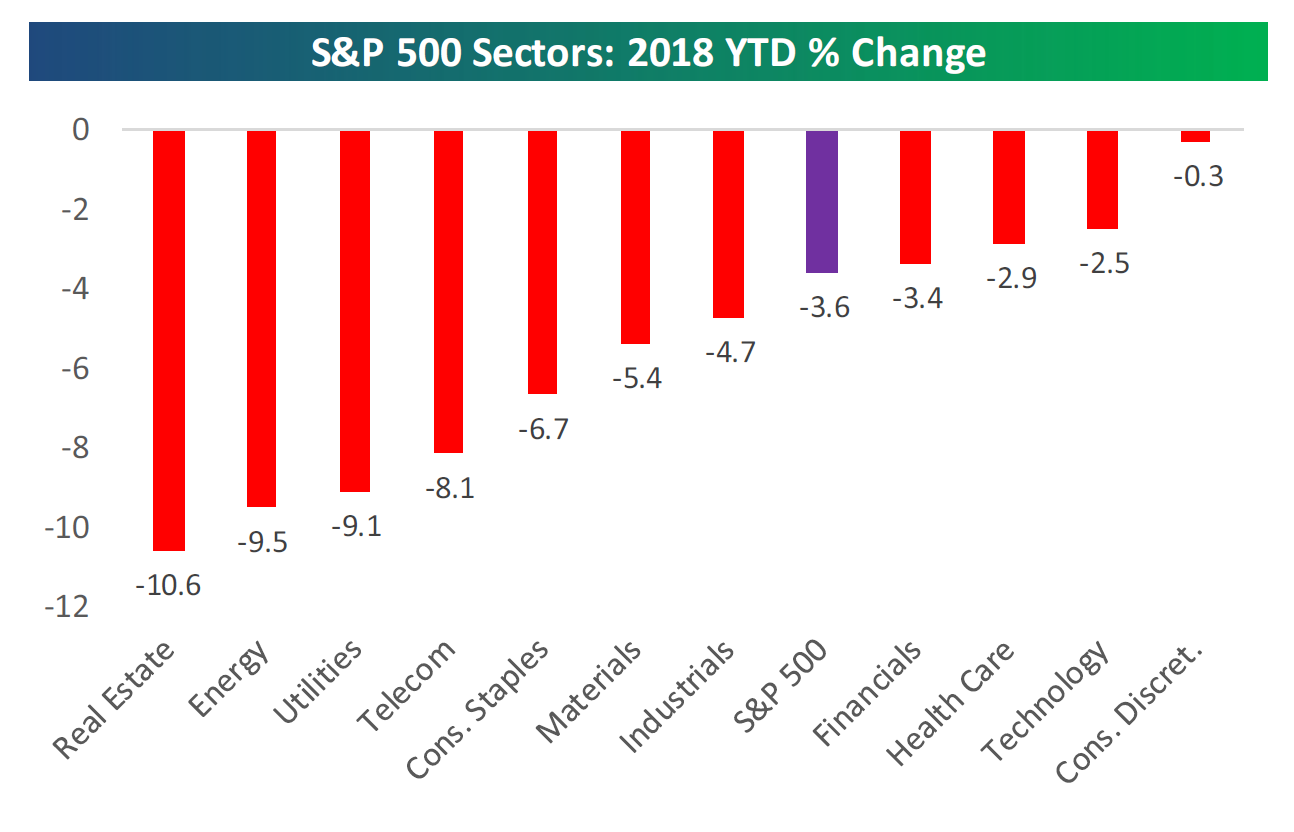 Bespoke
https://www.bespokepremium.com/get/The_Bespoke_Report_020918.pdf
2.Positive Correlation Between Bonds and Stocks Breaks Down.
When interest rates were low, and there were no signs of inflation equities would do well. This was the Goldilocks scenario which has worked so well since 2009. Now we are beginning to see more signs of inflation, including in wages, and the decade-old investment thesis of "buy everything" no longer holds true. The game changer is inflation because inflation pushes up the risk-free rate, and a higher risk-free rate makes risky assets such as stocks relatively less attractive. That is why the breakdown in the positive correlation between yields and stocks is a big deal; it will have a profound impact on how investors look at the relative attractiveness of US rates relative to US equities, see chart below, and my latest client presentation here, and our DB House View here. Over the coming months we should expect to see more turbulence as evidence of higher inflation becomes clearer, in particular once the base effects from wireless phone services begin to disappear in March and April.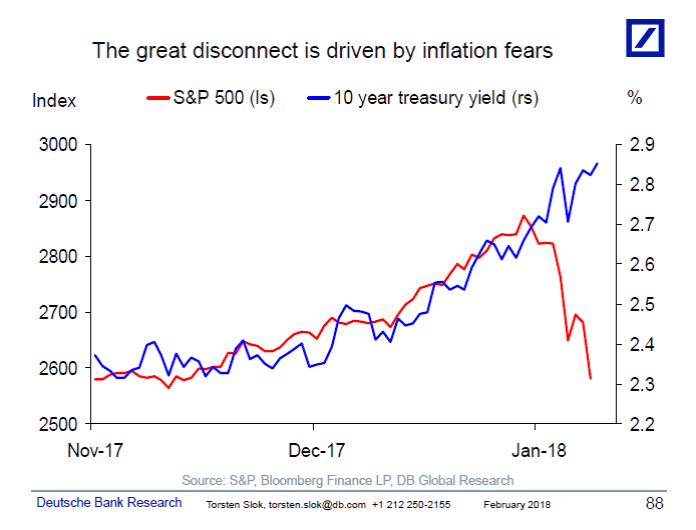 ———————————————–
Let us know if you would like to add a colleague to this distribution list.
Torsten Sløk, Ph.D.
Chief International Economist
Managing Director
Deutsche Bank Securities
60 Wall Street
New York, New York 10005
Tel: 212 250 2155
3.Forward Price to Earnings Below 25 Year Average.
Valuations have come down off "frothy" highs. The S&P 500 Index forward 12-month price-to-earnings ratio is now at 17 times, which is below the 25-year average.5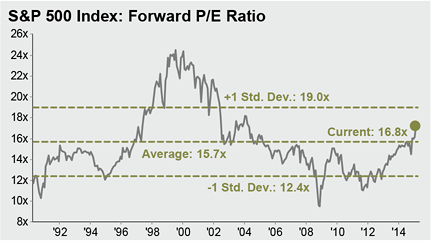 Takeaway 3: This market selloff has created more opportunities for investors because of these four factors:
Valuations have come down off "frothy" highs. The S&P 500 Index forward 12-month price-to-earnings ratio is now at 17 times, which is below the 25-year average.5
Earnings growth is strong. Fourth-quarter earnings growth is tracking up 13% year-over-year while sales growth is up 8%.6
Earnings sentiment is strong. Firms are beating sales estimates by 0.9%, which is more than four times the five-year average beat of 0.2%. At the same time, 69% of firms are beating on earnings per share, 79% are beating on sales and 59% are beating on both. This puts companies on track for the most beats since 2000.7
Global growth remains robust as the Eurozone is on track for the strongest growth since 2010. The IMF recently upgraded global growth forecasts by 0.2% to 3.9% for 2018 and 2019.8
http://blog.spdrs.com/post/3-key-takeaways-and-3-charts-from-the-market-sell-off
4.Short-Term We Hit Extreme Fear.
Fear and Greed Index Hits Lows.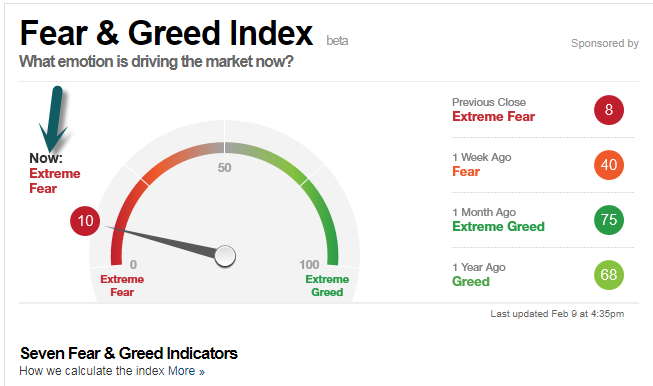 http://money.cnn.com/data/fear-and-greed/
5.Last 3 Recessions…Wage Growth Peaked at 4%….Today 3%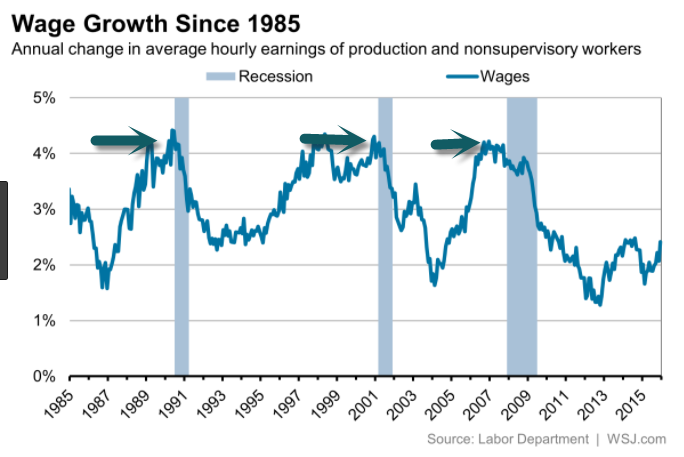 6.Private Equity Sitting on $1 Trillion of Unspent Powder.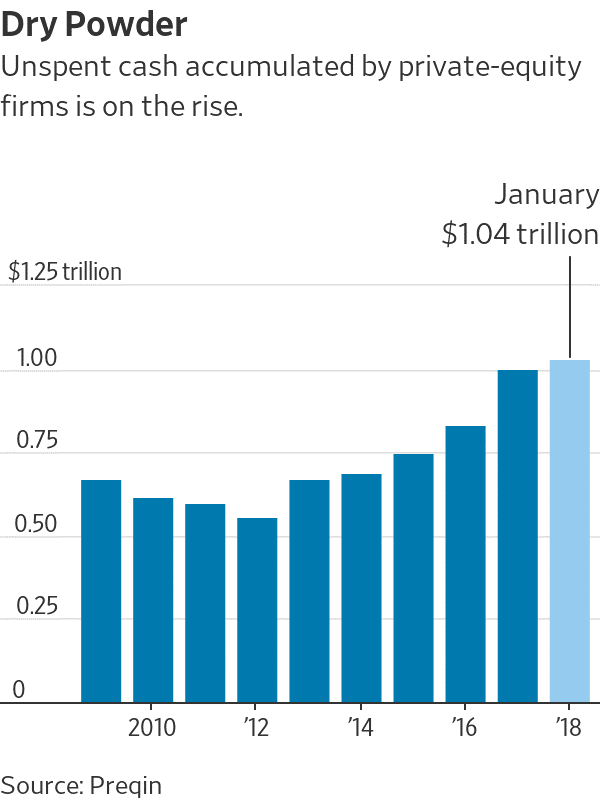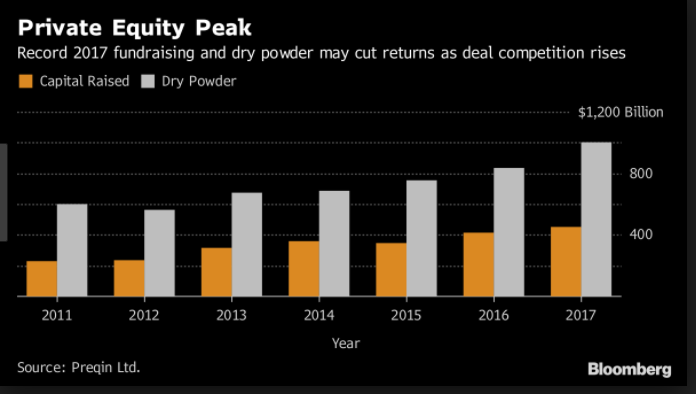 https://www.bloombergquint.com/business/2018/01/04/calpers-seeks-manager-for-40-billion-private-equity-portfolio
7.Ray Dalio Developed a World Populism Index….It's at the Highest Level Since 1930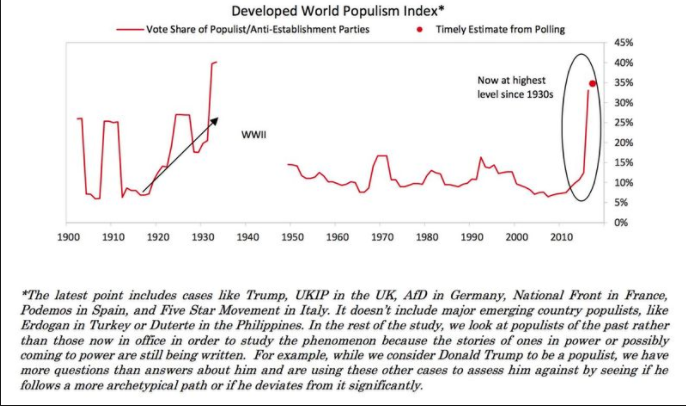 https://www.bloomberg.com/news/articles/2017-03-22/dalio-says-populism-may-be-stronger-than-fiscal-monetary-policy
8.Rising Rates Should Have Minimal Impact on Housing
by Rick Palacios Jr February 9, 2018
Twitter: @RickPalaciosJr
Mortgage rates have risen 1.0% or more ten times in the last 43 years, with little impact on home sales and prices when the economy was also strong. Here is the paper we shared with our clients a few years ago. Historically, rising confidence, solid job growth, and higher wages have more than offset reduced demand for housing resulting from higher mortgage rates. When rates rise during a weak economy, home sales and prices get crushed.
Today's economic backdrop clearly supports continued home buying demand. Confidence among consumers and businesses continues to hit multiyear highs. Job and wage growth remains solid, with an increasing number of workers rejoining the workforce.
Home builders agree. In our survey of 300+ home builders this month, 85% said sales would decline less than 10% if rates were to rise all the way to 5.0%. 29% (generally luxury and active adult builders whose buyers are quite affluent) don't believe sales will fall at all.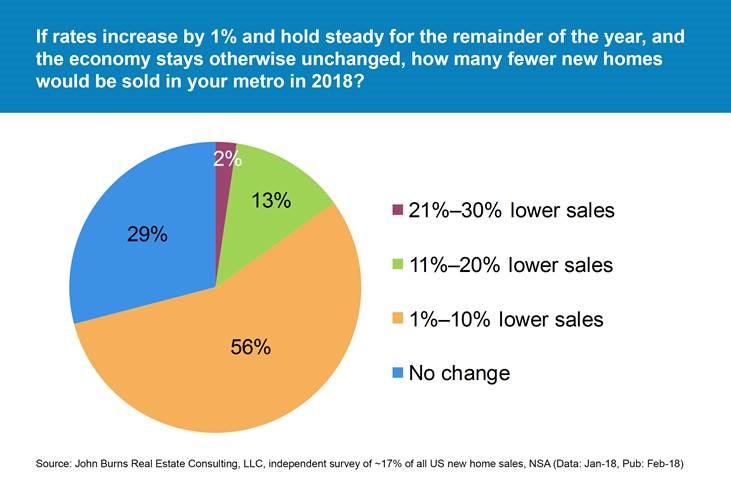 Builder stocks typically overreact very strongly to rising and falling rates, so don't follow builder stock prices to assume what will happen to new home sales and pricing.
For perspective, mortgages rates have increased from 3.78% in September 2017 to 4.32% today, equating to a 6.7% increase in one's mortgage payment. Rates rose even more last spring, jumping from 3.41% in July 2016 to 4.30% in March 2017 (11.5% spike in mortgage payment). Despite rising rates, housing had its best spring since 2013 last year, with a strengthening economic backdrop more than offsetting reduced demand from higher rates. All signals point to a similar scenario for builders as we kickoff spring 2018, with rising rates unlikely to ruin housing's recovery.
If you would like to join the 200+ companies who subscribe to our research reports and services to make informed decisions, please fill out this form, and we will get back to you.
https://www.realestateconsulting.com/rising-rates-minimal-impact-housing/
9.Read of the Day…China Bans Crypto
China to stamp out cryptocurrency trading completely with ban on foreign platforms
Offshore platforms targeted after recent efforts to shut down domestic exchanges failed to eradicate trading
22 Jan 2018
China is to block all websites related to cryptocurrency trading and initial coin offerings (ICOs) – including foreign platforms – in a bid to finally quash the market completely.
"To prevent financial risks, China will step up measures to remove any onshore or offshore platforms related to virtual currency trading or ICOs," said an article published on Sunday night by Financial News, a publication affiliated to the People's Bank of China (PBOC).
Bitcoin latest: prices, policies and politics
The article acknowledged that recent attempts to stamp out digital currencies by shutting down domestic exchanges had failed to completely eradicate trading.
"ICOs and virtual currency trading did not completely withdraw from China following the official ban … after the closure of the domestic virtual currency exchanges, many people turned to overseas platforms to continue participating in virtual currency transactions.
"Overseas transactions and regulatory evasion have resumed … risks are still there, fuelled by illegal issuance, and even fraud and pyramid selling," the article said.
US news groups targeted by bogus email claiming Hong Kong bitcoin crackdown
China's official Xinhua news agency quoted the PBOC on Monday afternoon as saying it would tighten regulations on domestic investors' participation in overseas transactions of ICOs and virtual currencies, as risks are still high in the sector.
Beijing's tougher stance – which effectively bans all forms of activity related to digital currencies – aims to put the breaks on the ICO and virtual-currency trading mania that has been sweeping China. The frenzy among retail investors led to huge price volatility and several reported incidents of fraud, causing a headache for regulators increasingly worried about social unrest.
http://www.scmp.com/business/banking-finance/article/2132009/china-stamp-out-cryptocurrency-trading-completely-ban
10.Stop Writing New Goals, Create Habits Instead
Finally become the person you want to be
Posted Feb 11, 2018
Source: Jay Koppelman/AdobeStock
The scenario: You declare a change you want to make to achieve the results you desire. You eagerly set a goal and plan the steps. You tell yourself this time, you will commit to your goal.
Then you go back to days full of urgent emails and texts; projects falling behind; messes to clean up; fires to put out; agendas, lists and people who need to be heard out.
You think about your goal between frantic interruptions, but the days feel so overwhelming and out-of-control, you cling to what you have done in the past. You say, "Next week I'll change, when I have more time." Lapses of distraction and masterful rationalizations crush your best laid plans.
Sound familiar? You might feel guilty for a while, but then you conveniently forget your goal so you can focus on the more important things you must do. Or you say things like, "I am who I am" and people should accept me for that.
Humans are creatures of habit. Nearly half of what you do each day is repeated behavior. 1
No matter how invested you are in your goals, taking consistent action to change your habits is difficult. There is safety going back to old thinking and behaviors. You must take deliberate, consistent actions repeatedly over time to defy your brain if you want to achieve the results you desire.
To achieve a goal, don't plan on taking progressive steps. You must first create new habits.
People do like change, they just forget they do.
Your desire to create different outcomes is not enough to sustain change.2 To create new habits of behavior, your brain needs consistent evidence that your goal is achievable and worth the effort. Without consistent evidence, your brain will fabricate rationalizations for not changing, and give you reasons for decreasing the value of the goal. You forget why the goal is so important unless you have someone help you see your way through these typical blocks to progress.
Change is a continuum, not an event.
Your brain's primary function is to protect you from harm and discomfort. You must convince your brain that you will not only be safe if you change, you will be better off.
To convince your brain, you must compose easily attainable steps that you will repeat for a period of time until they comfortably fit into your routine. You need visual reminders that there is a feel-good payoff for the change you want to make. Then every day, you want to recognize every time your remembered and tried to meet your commitment, even if the attempt was small. You have to show your brain that you will succeed, little by little over time.
The key to transforming your choices into a long-lasting behavioral change is to:
Use pictures and notes to visually remind yourself of what you want to create.
Plan and repeat small shifts in behavior so you can see early and consistent evidence that you can be successful.
Document the evidence of each positive step when you journal and dialogue about your progress.
article continues after advertisement
First, make sure you define specific activities you can celebrate. Chunk your goal into small behaviors that will move you forward to achieving your goal one step at at time. For example, if you are trying to improve your relationships by being a better listener, you might start with the practices of releasing a full breath before you respond to a question. Notice when you do this for days or weeks until the pause becomes a habit. Follow-on steps might include 1) noticing and shifting your emotions to feeling curious after your breath, 2) making sure you have fully stopped walking and working to be present with people you talk to, and 3) seeking to understand more clearly what people need and already know before you respond.
Take time with each step. Don't be impatient. You are making shifts in your routines and behaviors, not drastic changes.
You can spend as many days as you like on each step until you see consistent progress but acknowledge yourself each day for even minor attempts at achievement. Keep reminding your brain you can succeed so it will support you instead of protect you.
The transformation is more likely to stay on track if you make a point of noticing your accomplishments every day. Write about your victories in your journal. Talk about them with others who support your growth. Send congratulations notes to yourself.
Piece-by-piece, you shift your mind and behavior. Little by little, you create new habits. Eventually, you become the person you vision yourself to be.
Dialogue keeps your brain on track
Even if you accept that you must change a behavior or habit, the act of letting go of old ways takes constant self-encouragement. It is easy to be discouraged. You might feel rejection and embarrassment if your attempts to change are rebuffed by others. You have to try out less than perfect behaviors, which can be frightening.
article continues after advertisement
Asking for support and assistance can make you feel vulnerable, yet social support is important to help you override the emotions that can trigger your brain to give up your plans.
Just sharing your desires with others will strengthen your commitment. Research shows that making a new behavior automatic can take 18 to 254 days, with 2 months being the average.3 During that time, ongoing dialogue with a coach or a trusted friend can:
Remind you of your overarching desires when you question your choices.
Call on your strengths when you question a goal's achievability.
Celebrate wins with you, no matter how small, as significant steps in your journey.
Mine the learning from each lapse so all actions are seen as valuable instead of setbacks.
Creating consistent evidence that you will succeed and using a social support system that includes a coach or mentor can help become the person you want to be.
https://www.psychologytoday.com/blog/wander-woman/201802/stop-writing-new-goals-create-habits-instead