1.December-Nearly All the Gains Happen at End of Month.
Twits remind us what your average December for the S&P 500 looks like – "Nearly all the gains happen late in the month."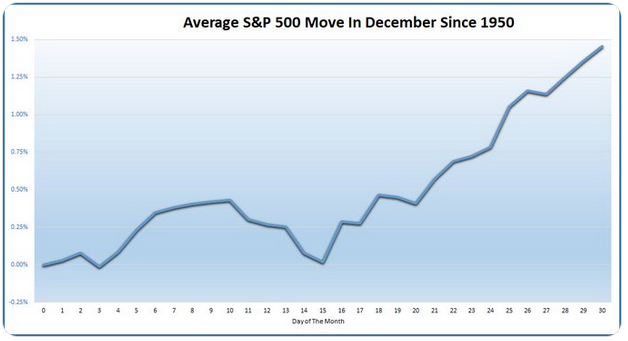 From Dave Lutz at Jones Trading.
2.December Even Stronger in Pre-Election Years.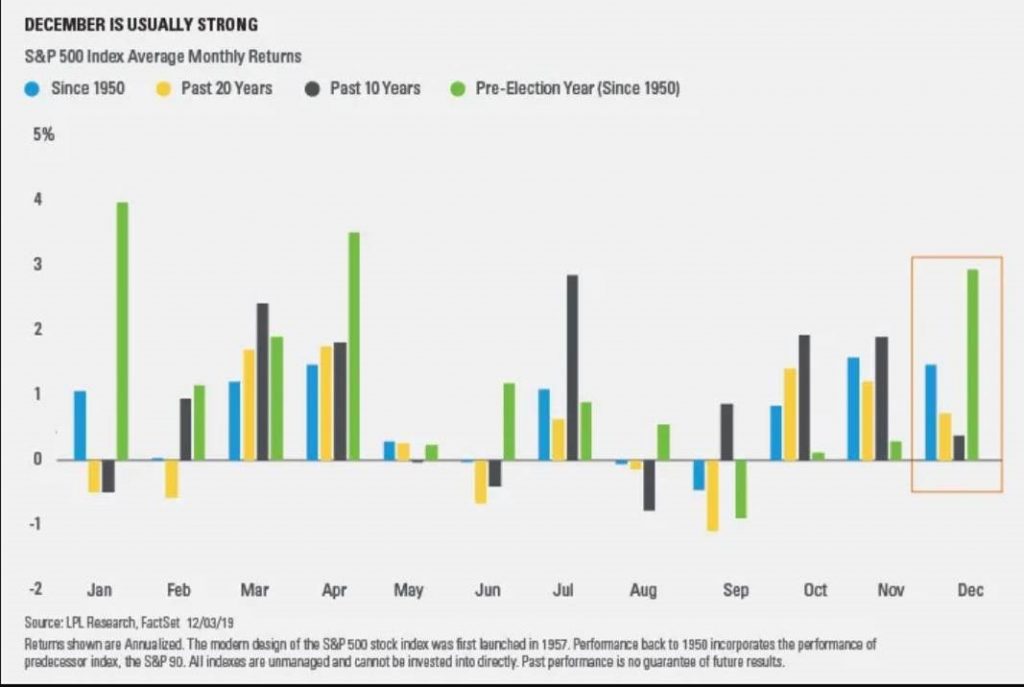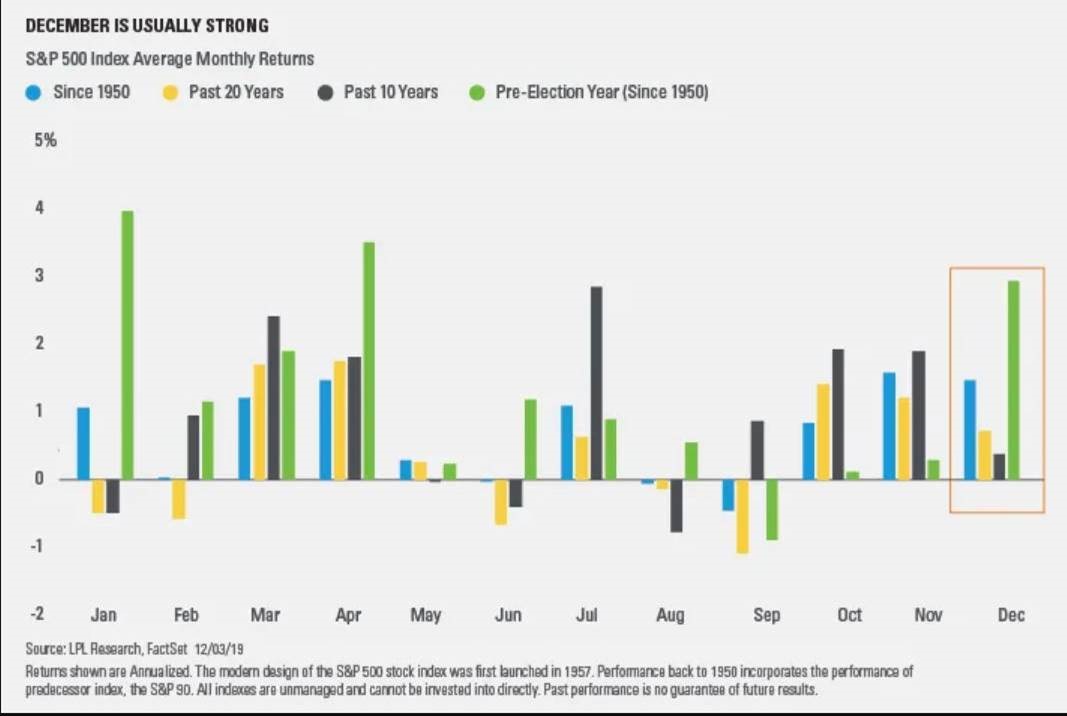 Reasons We Still Believe In December
Posted by lplresearch
Market Blog
December 4, 2019
It has been a rough start to the most wonderful month of them all, with the S&P 500 Index down each of the first two days of December. Don't stop believing just yet, though.
Everyone knows December has usually been a good month for stocks, but what happened last year is still fresh in the minds of many investors. The S&P 500 fell 9.1% in December 2018 for the worst December since 1931. That sounds really bad, until you realize stocks fell 30% in September 1931, but we digress.
One major difference between now and last year is how well the global equities have been performing. Heading into December 2018, the S&P 500 was up 3.2% year to date, but markets outside of the United States were already firmly in the red, with many down double digits.
"We don't think stocks are on the verge of another massive December sell off," said LPL Financial Senior Market Strategist Ryan Detrick. "If my Cincinnati Bengals can win a game, anything is possible. However, we are quite encouraged by the overall participation we are seeing from various global stock markets this year versus last year, when the United States was about the only market in the green heading into December."
Stocks have also overcome volatile starts to December recently. The S&P 500 was down four days in a row to start 2013 and 2017, but the gauge still managed to gain 2.4% and 1%, respectively, in those years.
As the LPL Chart of the Day shows, December has been the second-best month of the year for stocks going back to 1950. It is worth noting that it was the best month of the year before last year's massive drop. Stocks have historically been strong in pre-election years as well, and December has never been lower two times in a row during a pre-election year. Given stocks fell in December 2015, bulls could be smiling when this month is wrapped up.
3.Twitter Stock Drop Since Sept. 2019…Now Offering $600m Junk Bond.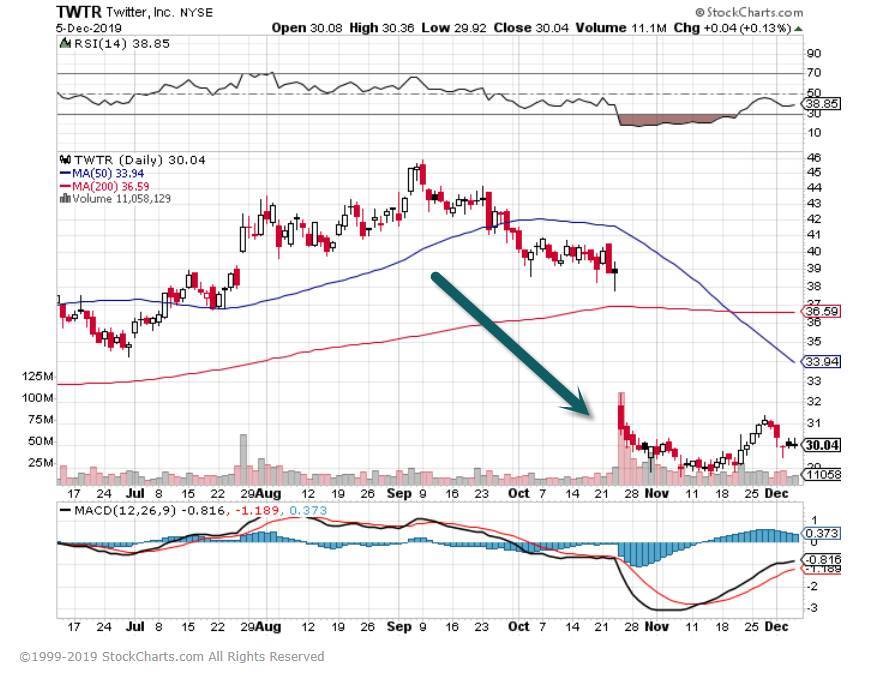 Twitter Is Seeing Plenty of Demand for Its First-Ever Junk Bond — Maybe Too Much Demand
Twitter is marketing $600 million of high-yield bonds this week, and they have been met with plenty of investor demand.
Underwriters' early Tuesday estimates put the yield of the eight-year non-callable note around 4.5%. That has since been cut to 4% and then to 3.875% by midday Thursday.
That is unusually close to the yield on benchmark Treasuries for a high-yield bond, according to CreditSights. S&P Ratings puts the bonds at BB+ and Moody's rates them at Ba2, one and two tiers below investment grade, respectively.
Twitter (TWTR) currently has two convertible notes outstanding: a 2021 note with a 1% coupon, and a 2024 note with a 0.25% coupon. Together they add up to $2.1 billion of debt.
The high-yield bond pricing Thursday will be its first ever nonconvertible bond.
The social-media platform has $5.8 billion of cash, cash equivalents and short-term investments, which likely supported investor demand for its bonds. CreditSights analysts said that the company's debt should trade at a narrower spread to Treasuries than Netflix (NFLX).
But a yield below 4% would leave Twitter's bond yield 0.6 percentage points closer to Treasuries than Netflix's, they write, which "is a lot given [Netflix's] significantly larger equity cushion."
Write to Alexandra Scaggs at alexandra.scaggs@barrons.com
https://www.barrons.com/articles/twitter-junk-bonds-scooped-up-by-investors-51575579988?mod=hp_DAY_4
4.Palladium Doubled in 12 Months.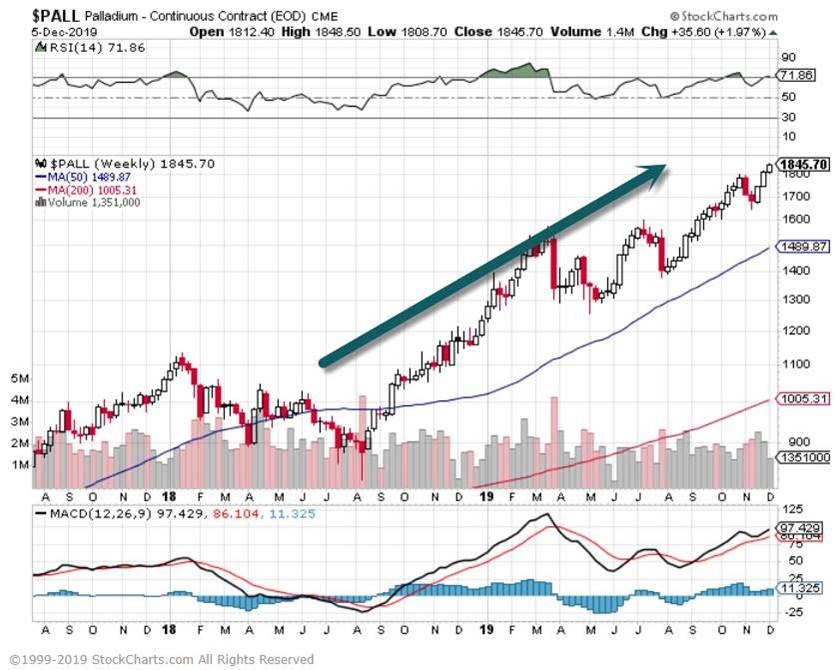 Higher Emissions Standards Help Extend Booming Palladium Rally
Supply deficits persist, despite predictions car makers will replace the metal with cheaper alternative
By 
Amrith Ramkumar
Updated Dec. 5, 2019 3:17 pm ET
Prices for a rare metal used to filter emissions in gasoline car engines continue rising, defying predictions that substitution of a cheaper alternative by auto makers would halt a yearslong rally.
Palladium, a silvery-white material used in catalytic converters, has risen to new highs in recent days, bringing its rally for the year to about 54%. Most-active futures inched up less than 0.1% to a record of $1,845.70 a troy ounce Thursday, erasing an earlier drop. They have roughly doubled since the summer of 2017.
The gains highlight the challenges facing investors trying to predict how changing environmental standards and shifting technologies will affect commodity markets. Analysts have long predicted that palladium will be replaced by platinum in gasoline cars, but so far, demand continues to exceed supply.
Supply deficits persist in large part because of the logistical hurdles associated with replacing palladium with platinum, analysts say.
Palladium is more than twice as expensive as its close relative and is still one of the market's best-performing assets in 2019, supported by stricter emissions standards in Europe and China that are expected to lift consumption.
https://www.wsj.com/articles/higher-emissions-standards-help-extend-booming-palladium-rally-11575558578?mod=itp_wsj&ru=yahoo
5.Longest Bull Without 20% Drawdown…Last December Didn't Hit 20%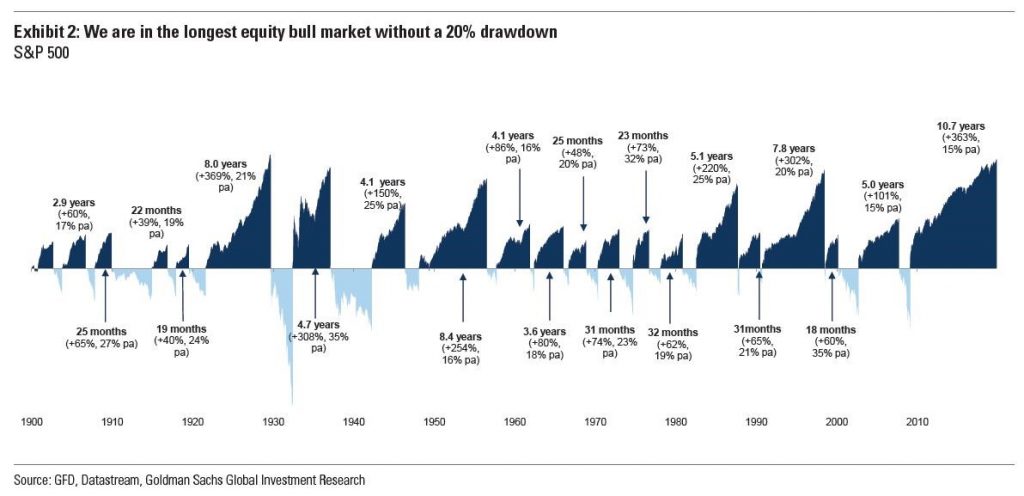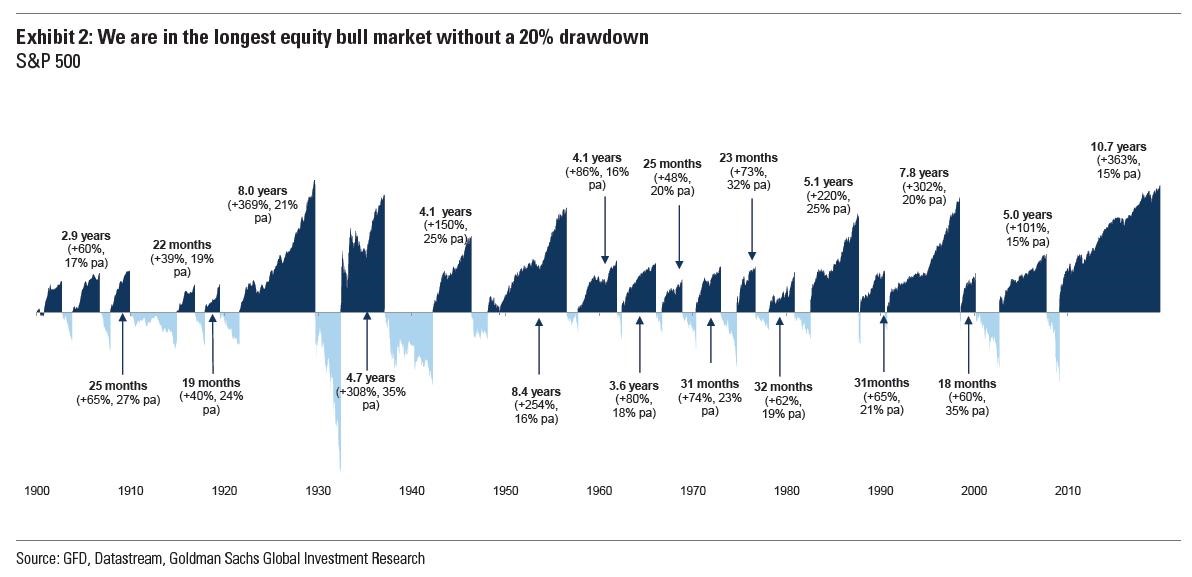 https://www.linkedin.com/in/scottkegler/
6.Central Banks Developed vs. Emerging.
First, the story of the moment for markets has been the U-turn by central banks in the developed world, who are now pumping out liquidity, even as emerging markets see liquidity tightening. This was illustrated beautifully by this chart from CrossBorder Capital of London which we billed last month as "The Only Chart You Need to Understand 2019's Global Markets":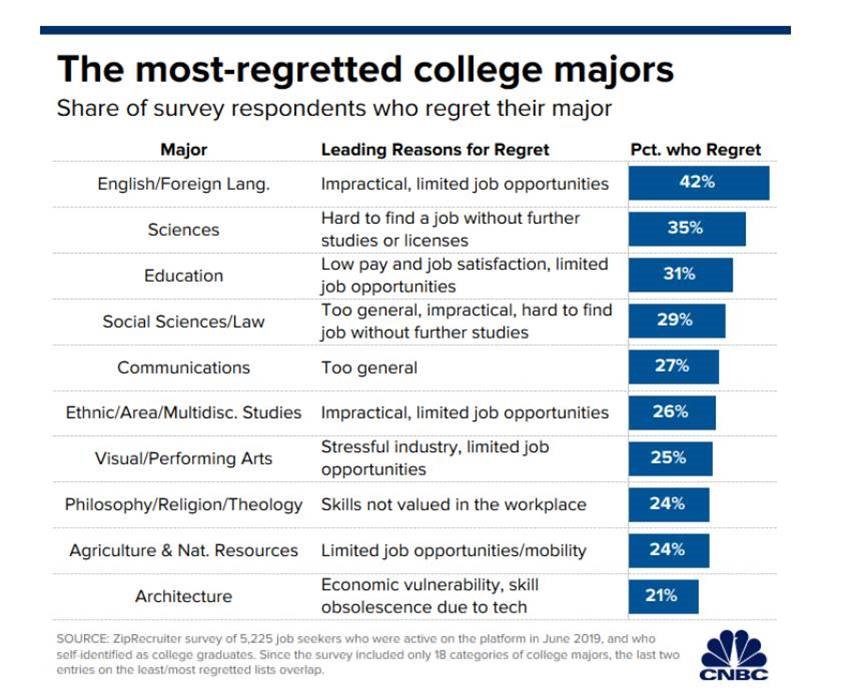 https://www.bloomberg.com/opinion/articles/2019-12-06/these-numbers-mean-more-to-markets-than-u-s-jobs?srnd=premium
7.The Most Regretted College Majors…Interesting Sciences #2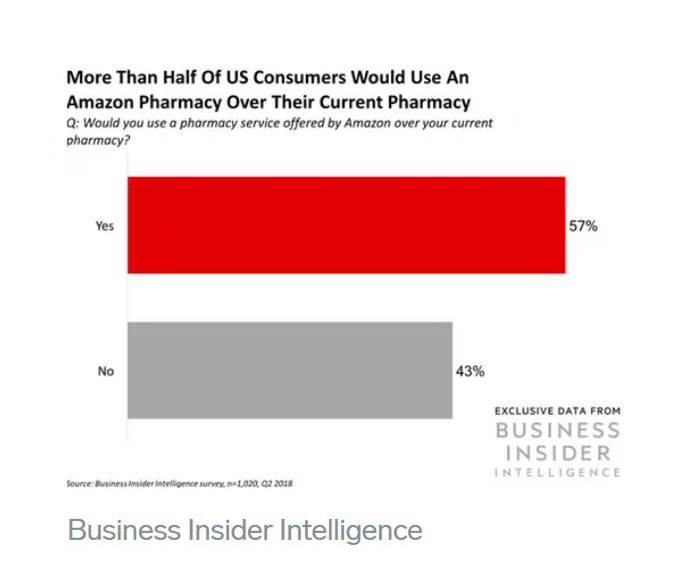 The top 10 college majors American students regret the most
PUBLISHED THU, DEC 5 20198:34 AM ESTUPDATED THU, DEC 5 20199:27 AM EST
https://www.cnbc.com/2019/12/05/the-top-10-college-majors-american-students-regret-the-most.html
8.Big Tech and Healthcare.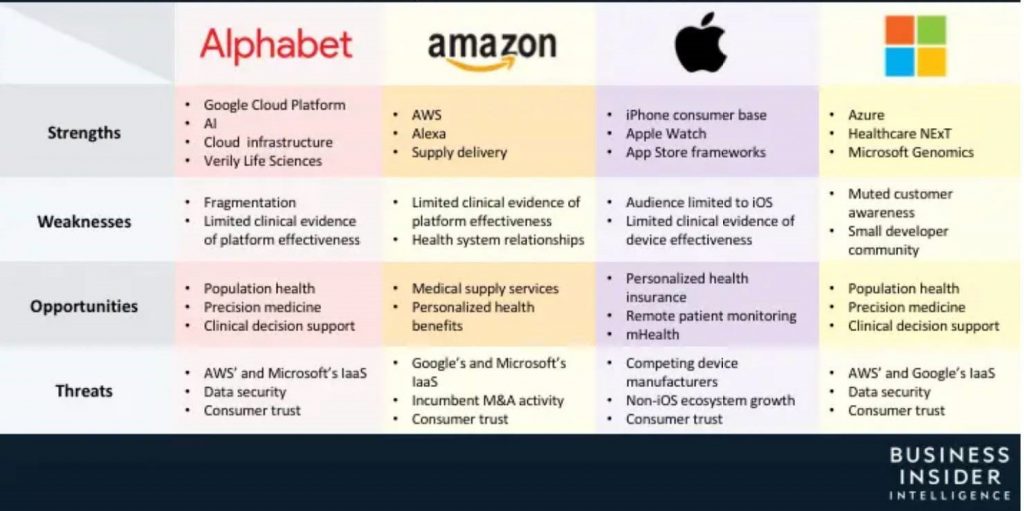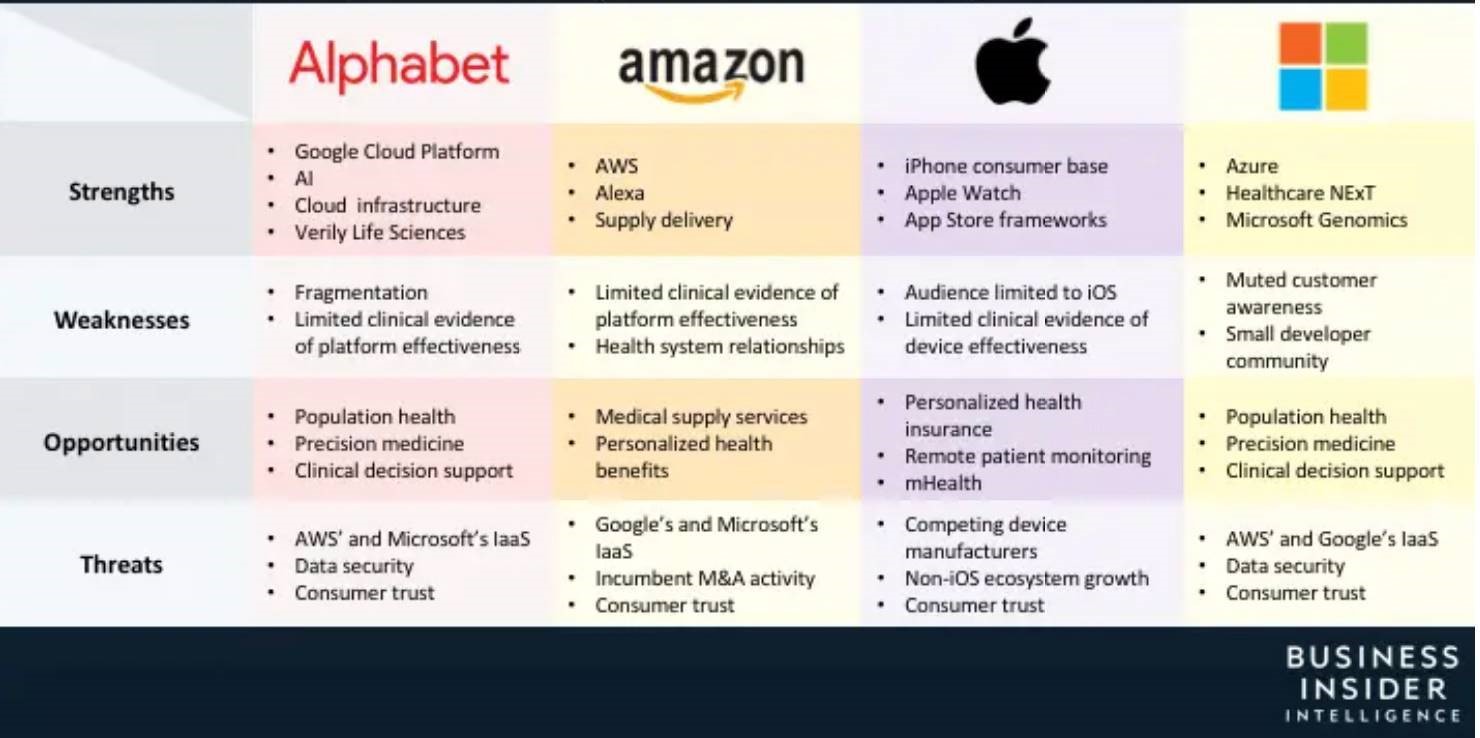 Here are some of the key takeaways from the report:
Tech companies' expertise in data management and analysis, along with their significant compute power, can help support healthcare payers, health systems, and consumers by providing a broader overview of how health is accessed and delivered.
Each of the Big Four tech companies — vying for a piece of the lucrative healthcare market — is leaning on their specific field of expertise to develop tools and solutions for consumers, providers, and payers.
Alphabet is focused on leveraging its dominance in data storage and analytics to become the leader in population health.
Amazon is leaning on its experience as a distribution platform for medical supplies, and developing its AI-assistant Alexa as an in-home health concierge.
Apple is actively turning its consumer products into patient health hubs.
Microsoft is focusing on cloud storage and analytics to tap into precision medicine.
Health organizations can further tap into the opportunity presented by tech's entry into healthcare by collaborating with tech giants to realize cost savings and bolster their top lines. But understanding how each tech giant is approaching healthcare is crucial.
· BIG TECH IN HEALTHCARE: How Alphabet, Amazon, Apple, and Microsoft are shaking up healthcare — and what it means for the future of the industry
https://www.businessinsider.com/alphabet-amazon-apple-and-microsofts-influence-in-healthcare-2018-7
8.Youth Tobacco Highest in 19 Years.
Youth tobacco use highest in 19 years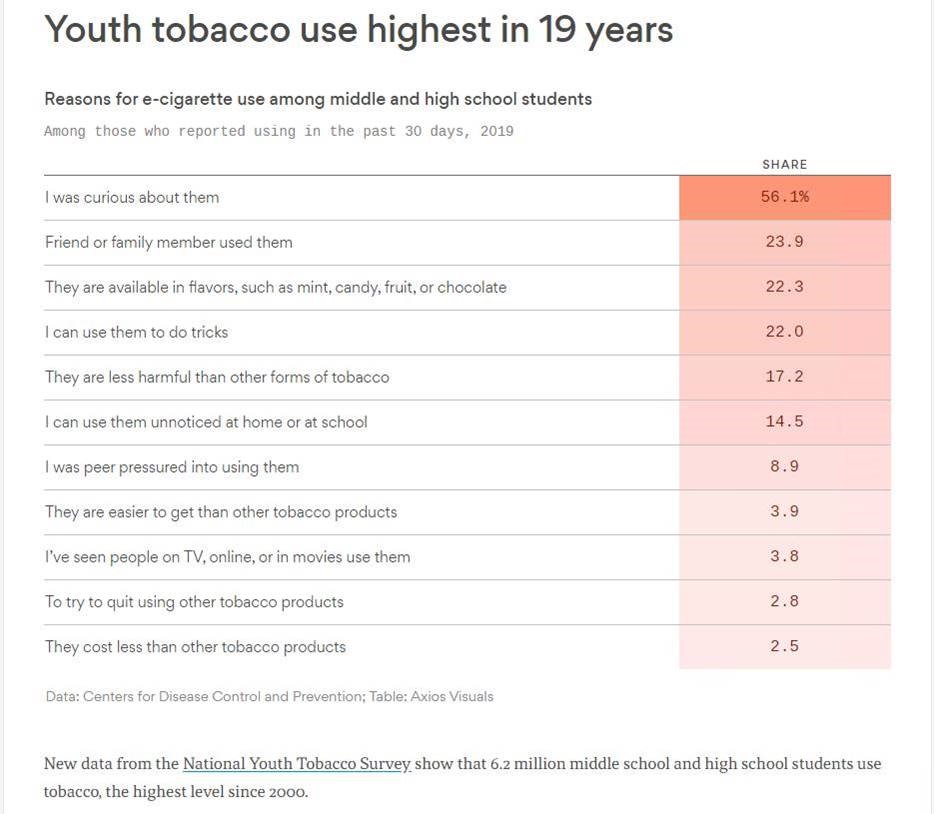 Data: Centers for Disease Control and Prevention; Table: Axios Visuals
New data from the National Youth Tobacco Survey show that 6.2 million middle school and high school students use tobacco, the highest level since 2000.
Why it matters: Tobacco use among middle schoolers and high schoolers remains high thanks to the popularity of e-cigarettes.
https://www.axios.com/youth-tobacco-use-highest-since-2000-4091ae90-8c55-4b2d-b25a-b1e17328e9c6.html
9.4 Daily Stretches for a Healthy Body
By Tiffany Cruikshank | November 30, 2019 | 6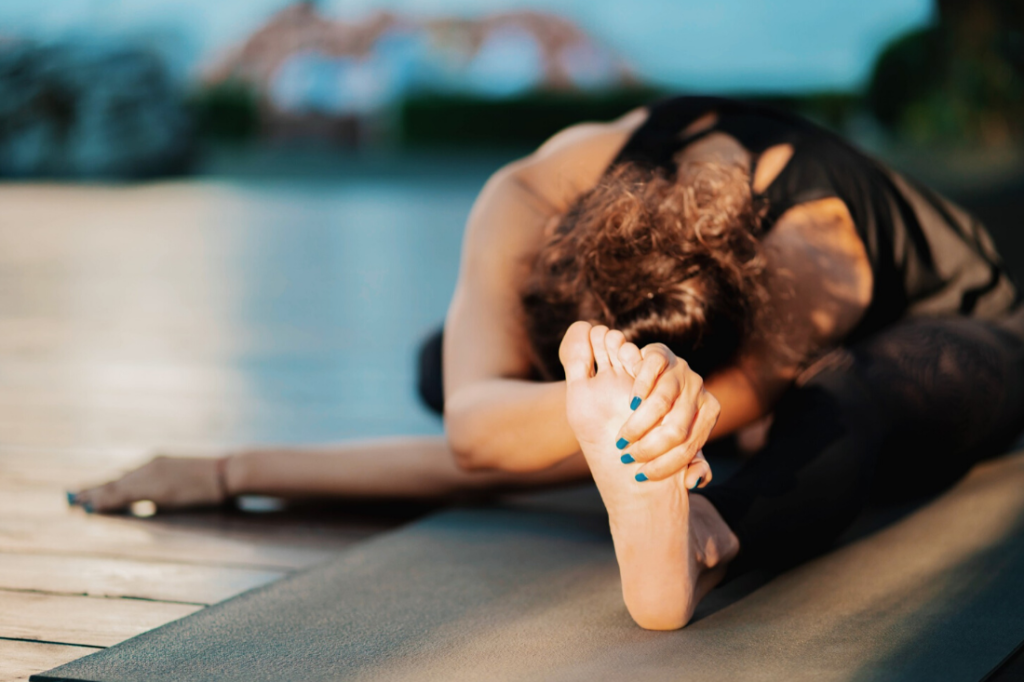 No matter how old you are or what you do for a living, we are all part of a society that spends way too much time sitting.
The following poses are aimed at keeping your body healthy as a counterbalance to all of the time we spend in a sedentary state. Keep in mind that more isn't necessarily better, and try to find a gentle stretch you can breathe into. Happy stretching!
Figure 4 Hip Stretch
This pose is an accessible way to release the posterior hip and take pressure off of the sciatic nerve, which is great for athletes, as well as those who spend most of their day sitting.
Lie on your back with both feet on the floor, then place your right ankle on your left thigh just above your knee. If you feel a stretch here, stay. Otherwise, draw your legs in toward your torso and grab either behind your left hamstring or around your left shin. Stay here for one to two minutes, resting your head and back on the floor as you take a few deep breaths.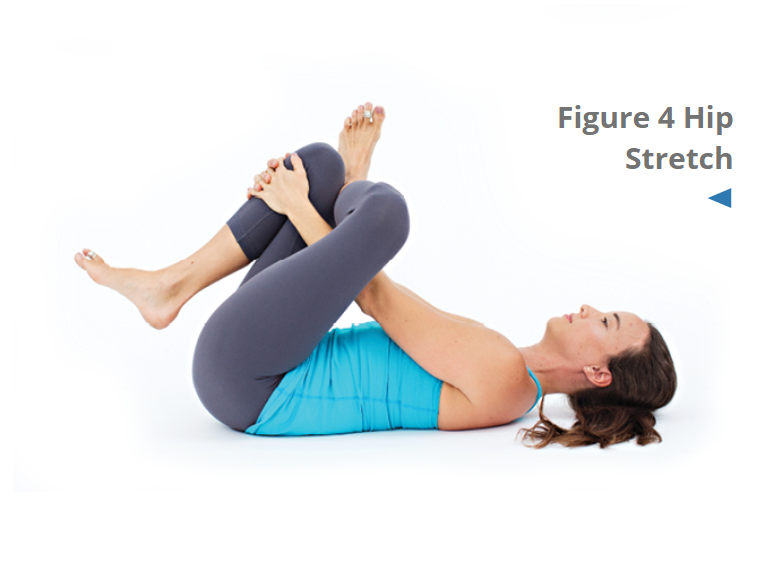 Supine Hamstring Stretch and Back Release
The hamstrings are notoriously tight, especially for those who sit a lot. The wonderful thing about this pose is that it stretches the hamstrings while also taking pressure off of the back.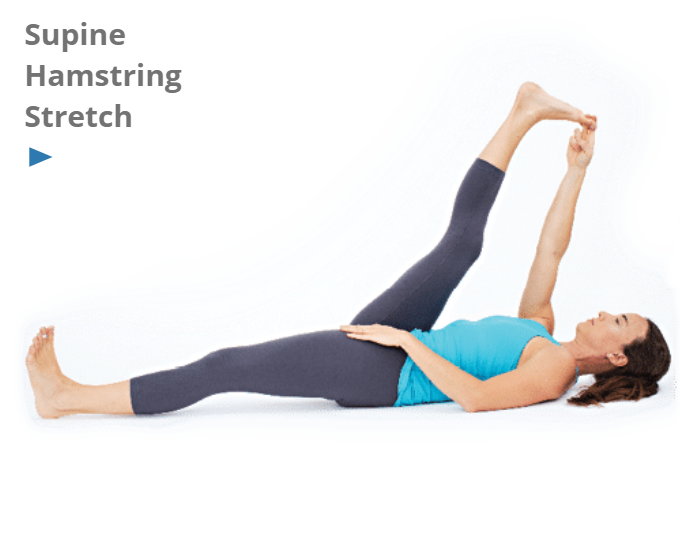 Lie on your back and bend one knee in toward your chest. Start to straighten your leg until you feel a gentle stretch through the back of the leg. Grab behind the thigh or calf—somewhere you can relax into as you rest your head and back on the floor. Stay for one minute on each side.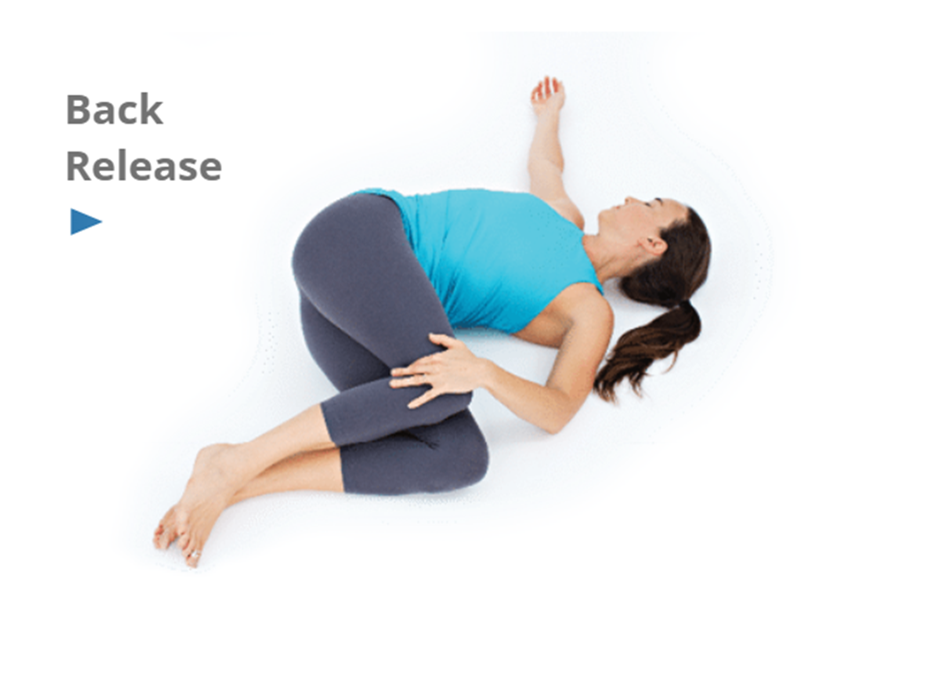 Anterior Hip Stretch
Releasing the front of the hip can be a great way to prevent lower back and hip issues.
For this stretch, you'll need a large bath towel rolled up tightly to about three or four inches in diameter. Lie on your back and place your feet on the ground, then lift your hips to place the rolled towel underneath your sacrum (the bone on the back of your pelvis, at the bottom of your spine). Hug one knee in toward your chest and stretch the other leg out on the floor. Relax and stay for one to two minutes on each side.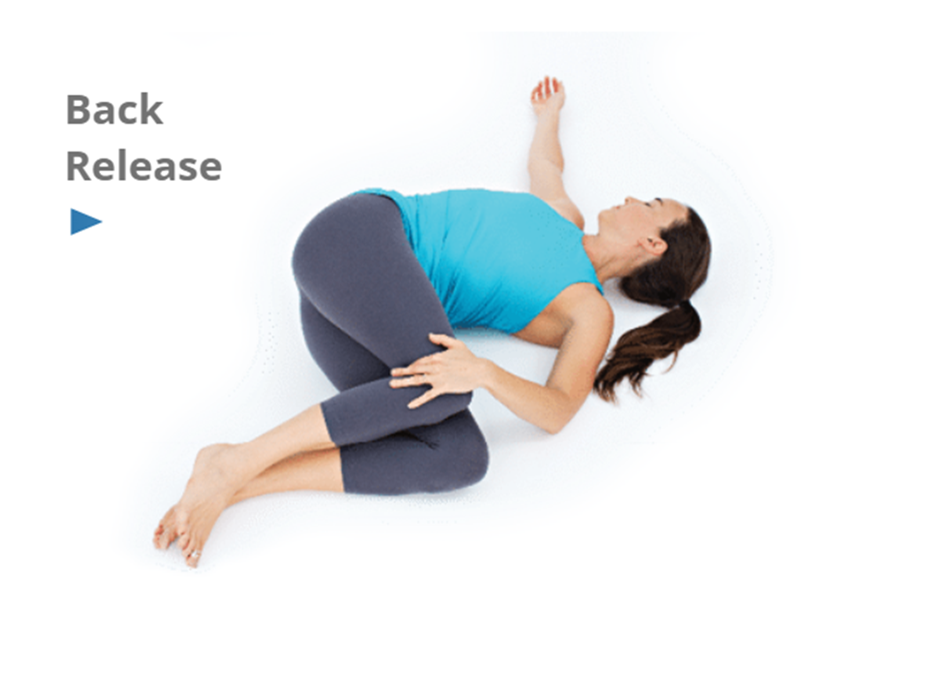 Related: 8 Yoga Poses for Optimal Digestion
This article originally appeared in the November/December 2019 issue of SUCCESS magazine.
Photo by @shanti / Twenty20
10.Exercise for Your Aging Brain
Researchers say benefits can be reaped after a single bout of physical activity.
A single exercise session reaps mental benefits.
Source: Clker-Free-Vector-Images/Pixabay, used with permission
A study out of the University of Iowa's Department of Psychological and Brain Sciences has found that a single exercise session can do as much to improve cognition and memory in the minds of some older people as a long-term regime of regular exercise. Why? The mental boost is temporary, regardless of how often you exercise. So on a day-to-day basis, you get the same benefit every time you exercise. If you want the benefit to continue, you exercise every day. But if the thought of exercising every day is overwhelming, or seems like too much of a commitment, you can use this information as motivation to exercise just for today. Wake up tomorrow, and you can revisit the idea.
This small study included 34 healthy, cognitively normal men and women ages 60 to 80 who were not normally active. The participants undertook a 12-week aerobic training program wherein they exercised on a stationary bicycle for 50 minutes, three times a week. They were divided into two groups: a moderate intensity workout and a lighter intensity workout. The groups switched so that all participants exercised at both levels of intensity. To measure and compare improvements in cognitive function and working memory after each single episode of exercise at different intensities, and after they completed 12 weeks of training, the participants underwent brain scans (fMRI) and took computer-based, flash-card recognition tests for working memory.
The results showed that some of the study participants gained the same mental benefits after a single spell of exercise as they did upon completing the same activity routinely for 12 weeks. They also found that those participants whose brain scans showed increased connectivity in regions of the brain that are involved in cognition and memory also performed better on the computer memory test. There was little to no difference between light and moderate-intensity exercise results.
Although most participants demonstrated both short and longer-term improvements, some showed little or no change at all. The same researchers are currently running a larger, longer study to confirm their findings and find out more about the effects of exercise on the brains of older adults.
https://www.psychologytoday.com/us/blog/cravings/201908/exercise-your-aging-brain?collection=1136365