1.$Trillion Dollars in Stock Buybacks…Record.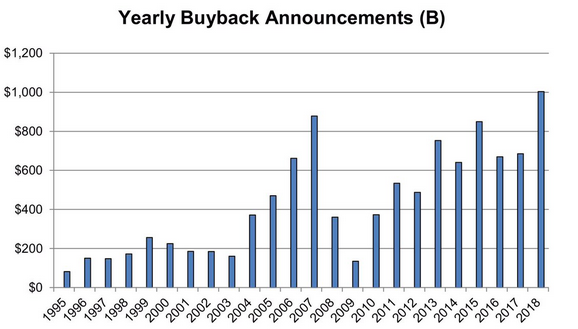 Buybacks certainly helped in the afternoon – With today's buyback announcements, value announced so far this year now above $1 trillion, highest yearly figure ever … even backing out Apple's $100 billion announcement this year, 2018 is still the highest on record
From Dave Lutz at Jones Trading.
BUYBACK ETF PKW Trailed S&P All Year.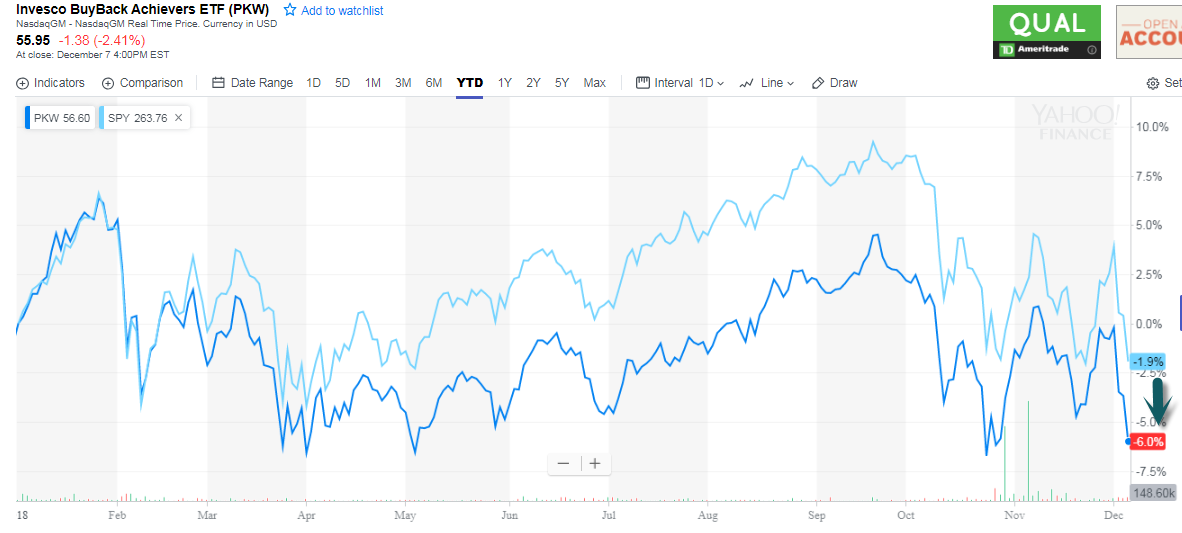 2.AAPL $100 Billion Buyback this Year…
AAPL -25% still above YTD lows…2017 open was $110…Good to keep in mind, correction is after a double.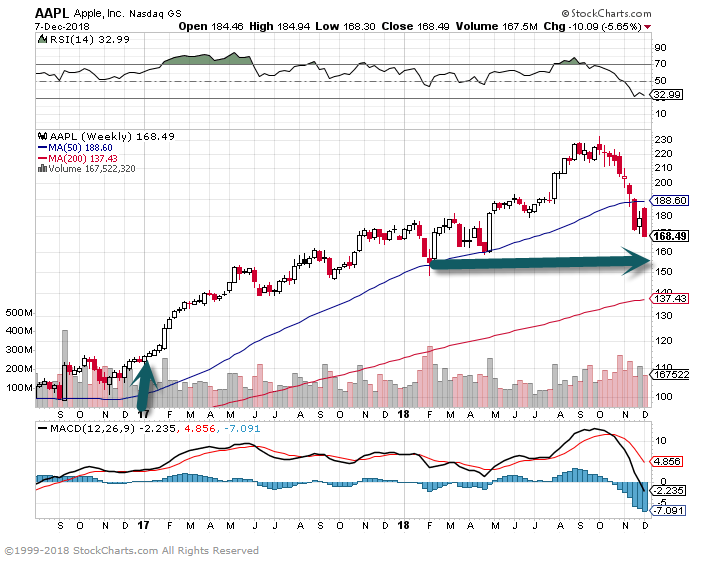 3.CHART OF THE DAY: The Late-Cycle Expansion Clock Ticks a Little Louder
Christian Drake
Editor's Note: Below is a chart (and excerpt) from today's Early Look written by Hedgeye U.S. Macro analyst Christian Drake.
INITIAL JOBLESS CLAIMS
We highlighted this in an institutional note alongside the latest weekly data yesterday but it's worth reduxing here.
Peak improvement in initial claims has been one of most consistent lead indicators of the cycle with peak improvement in rolling 3Mo. claims preceding the peak in the economic cycle by an average of 7 months over the past 7 cycles.
So long as initial claims continue to make lower lows, the separations side of net employment remains supportive of further labor market tightening and the expansionary party can persist without acute risk of large-scale dislocations (consumer credit or otherwise), particularly in a consumer-centric domestic macroeconomy.
What's notable is that peak improvement in rolling Initial claims now appears to be rearview with the inflection coming off the cycle low registered in October.  The peri-holiday period can be noisy and subject to distortions but with claims progressively increasing over the last couple months and the global and domestic economy now traversing the backside of the growth curve, a retrace back to multi-decade lows is increasingly less probable.
Is it a harbinger of imminent recession?  No, but like the implications of yield curve inversion, it does mean the cautionary drone of the late-cycle expansion clock starts to tick a little louder.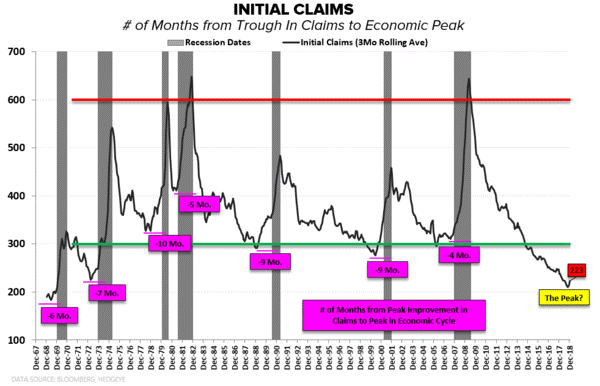 https://app.hedgeye.com/insights/71977-chart-of-the-day-the-late-cycle-expansion-clock-ticks-a-little-louder?type=macro
4.Silver Approaching 2008 Lows.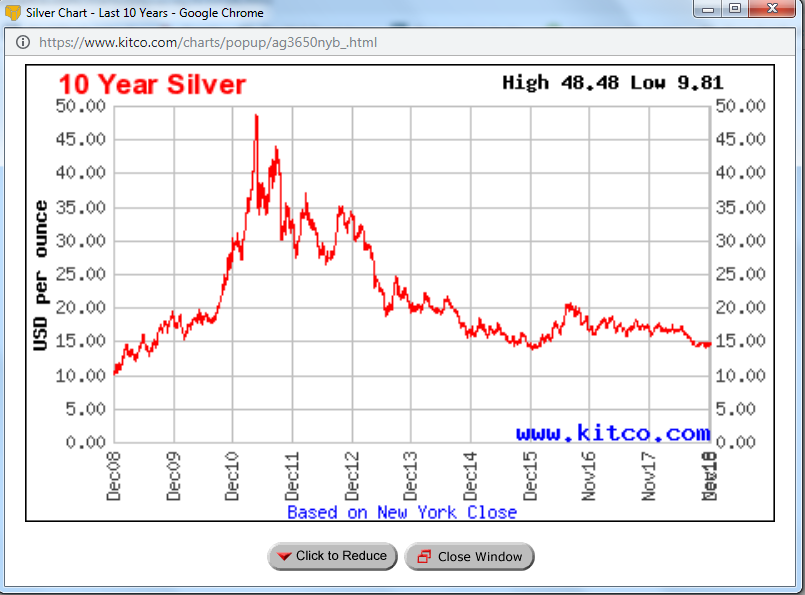 Silver ETF chart on bottom.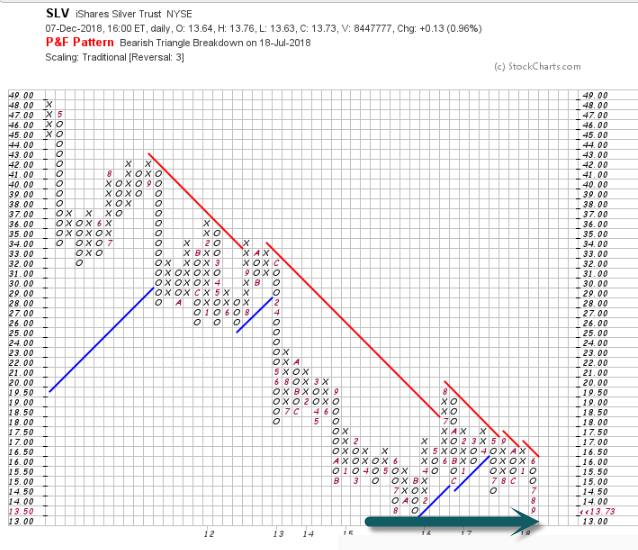 5.10 Years Since Madoff…Erin Arvedlund from Philly Inquirer broke the story..$65B Scheme Lasted 45 Years and Might Still be Going if not for 2008 Crisis…..75 cents on dollar recovered.
Lessons From the Bernie Madoff Fraud, 10 Years Later
Madoff's $64.8 billion Ponzi scheme imploded following the plunge in stocks in 2008. Illustration by Joel Arbaje; Source Photo by Mario Tama/Getty Images
Crime pays.
That's the lesson for investors from Bernie Madoff's $64.8 billion Ponzi scheme, which exploded into the headlines 10 years ago this week.
Crime pays for the perpetrators, their families, and their friends. Madoff ended up in prison, but a lot of people got rich during his long-running scam.
That's why Ponzi schemes survive today, duping even "smart money" professionals on Wall Street.
I wrote Barron's first skeptical article about Madoff, in May 2001. The article questioned his too-good-to-be-true returns and his practice of forsaking standard 20% performance fees.
An options expert then with Deutsche Bank , Ken Nakayama, had tipped me off to Madoff's can't-lose "split strike conversion" strategy. That's what Madoff's hedge fund claimed to be investing in, according to feeder-fund offering documents.
Read full Barrons Story
https://www.barrons.com/articles/bernie-madoff-lessons-1544141839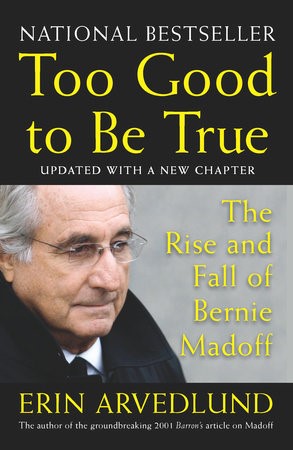 https://www.amazon.com/Too-Good-Be-True-Bernie-ebook/dp/B002JPGQ1Q/ref=sr_1_1?ie=UTF8&qid=1544396957&sr=8-1&keywords=too+good+to+be+true+erin
6.BID-Sothebys -38%
Some watch Sotheby's as a measure of international super wealthy spending..Broke thru 2017 lows.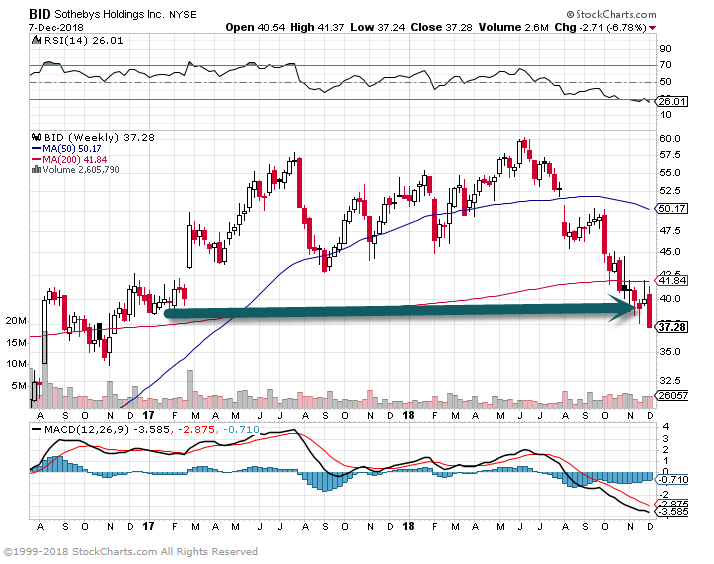 7.75% of U.S. Stocks Below 200 Day Moving Average.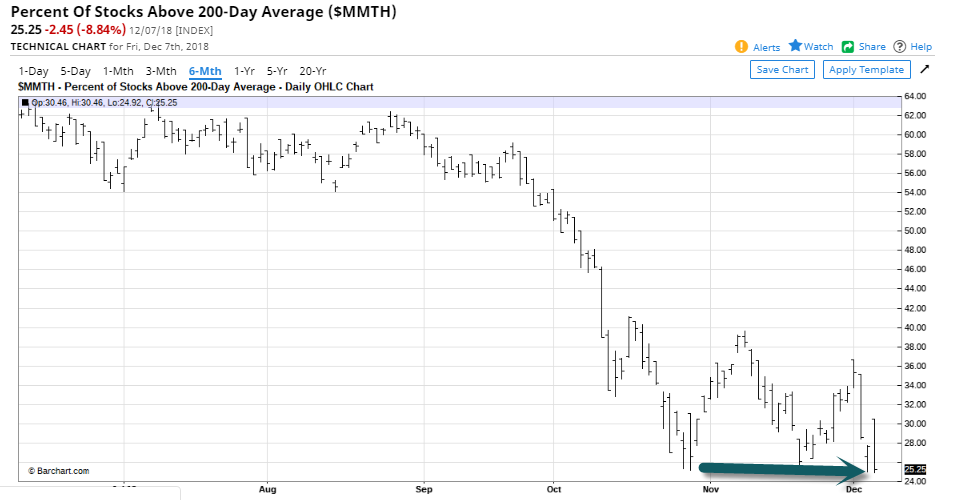 https://www.barchart.com/stocks/quotes/$MMTH/technical-chart
8.Interesting Chart Fed Holdings of Treasuries vs. S&P 500
Callum Thomas@Callum_Thomas  Yesterday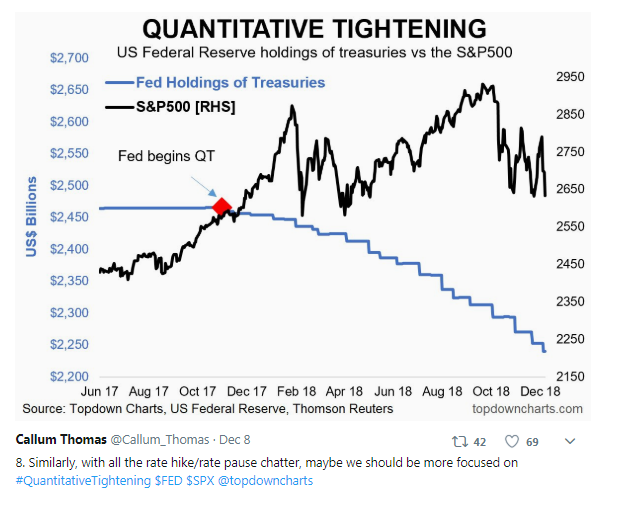 https://twitter.com/i/moments/1071475332698464256
9.Read of the Weekend…

By
James T. Areddy
Dec. 7, 2018 10:37 a.m. ET
SHANGHAI—Fifteen years ago in California, a tall technology geek named Steve Mushero started writing a book that predicted the American dream might soon "be found only in China." Before long, Mr. Mushero moved himself to Shanghai and launched a firm thatAmazon.com Inc. and Alibaba Group Holding Ltd. certified as a partner to serve the world's biggest internet market.
These days, the tech pioneer has hit a wall. He's heading back to Silicon Valley where he sees deeper demand for his know-how in cloud computing. "The future's not here," said the 52-year-old.
For years, American entrepreneurs saw a place in which they would start tech businesses, build restaurant chains and manage factories, making potentially vast sums in an exciting, newly dynamic economy. Many mastered Mandarin, hired and trained thousands in China, bought houses, met their spouses and raised bilingual children.
Economic Chill
Foreign direct investment growth in China has cooled, and company formations are off their peak.
Now disillusion has set in, fed by soaring costs, creeping taxation, tightening political control and capricious regulation that makes it ever tougher to maneuver the market and fend off new domestic competitors. All these signal to expat business owners their best days were in the past.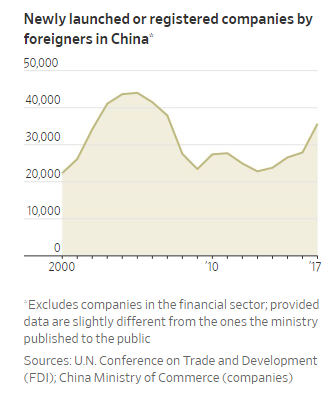 https://www.wsj.com/articles/american-entrepreneurs-who-flocked-to-china-are-heading-home-disillusioned-1544197068?mod=itp_wsj&ru=yahoo
10.My Journey From Wharton to the NFL
Without an agent or splashy SportsCenter highlights, NFL hopeful Greg Van Roten W12 went undrafted. Instead of giving up, he went to work.
Any Given Someday: Hard work, determination, and some marketing savvy helped Van Roten realize his gridiron dream. (Photo: Melissa Melvin-Rodriguez/Carolina Panthers)
It was the spring semester of 2012, and my classmates at Wharton were taking job interviews, flying across the country, and figuring out what their first jobs in the "real world" would look like. Exam season is always stressful, and I had even more on my mind: I was hoping to be selected, late that April, in the NFL draft—the fulfillment of a dream I still remember writing about in fifth grade when I was asked what I wanted to be when I grew up.
I studied for finals with the draft playing on the television in my apartment. I didn't think I would be selected, but as the rounds wore on, I kept wondering if my phone might ring. I didn't have an agent, but I had worked out in front of NFL scouts at my pro day and registered numbers that placed me among the top five athletic offensive linemen in the draft.
My phone never rang. My dream seemed to be ending before it had a chance to start, and I wondered: What now?
As a Wharton student, I had been exposed to extraordinarily accomplished professors and students with limitless potential. Being immersed in that environment gave me the confidence to bet on myself. As a student, I concentrated in marketing, so I decided I would market myself. I started building a website—aptly named Gregvanroten.com—that became my football résumé; it featured my game film, highlights, and athletic testing scores. My dad helped me find contact information for NFL executives and scouting departments, so I could email them the link. I wondered if I should consider a "fallback option" if football didn't work out, but my mom told me, "If you have a plan B, you won't fully commit to plan A." My parents inspired and supported me diving headfirst into pursuing my goals.
The intensity of training camp was familiar, in a sense—it was Wharton, but for football instead of finance.
I used the website as a tool to get my foot in the door of the NFL, and it worked—I was invited to rookie minicamp with the New York Jets. After stoning the Jets' number one draft pick on three straight pass rush attempts and performing well overall, I expected an invite to training camp. Instead, a team official came into the locker room and handed me my stipend for a weekend's work. I returned to campus for my last final. In lieu of walking at Wharton's graduation ceremony, I attended the Chargers' rookie camp the following weekend. The result was the same.
The day before NFL training camps opened that July, I was invited to Green Bay for a workout in front of the general manager, offensive coaches, college scouts, and staff. I performed well enough in this "interview" to be invited to training camp the following day. The experience was dizzying. NFL playbooks are extremely complex compared to college schemes; the physical and mental stress is acute (the roster is trimmed from 90 players to 53 in a six-week period); and you're competing against the best athletes in the world on a daily basis. The intensity of camp was also familiar, in a sense—it was Wharton, but for football instead of finance. In one of the first practices, I pancaked a Pro Bowl defensive tackle, to the surprise and delight of both myself and my coach. I earned a roster spot and played in seven games my rookie year.
Just when it seemed my NFL ambitions were realized, my career in Green Bay was cut short in my second year by a season-ending injury that sapped me of confidence. Ironically, I had chosen a field in which my Wharton degree was actually a hindrance. Teams were skeptical because I didn't have the proper football "pedigree," or because they thought my options beyond the sport would diminish my commitment. Meanwhile, my options within the NFL seemed to have vanished.
Instead of throwing in the towel, I revised my business plan. My agent, Bill Baldini, encouraged me to build a better résumé, so I crossed the border, playing two seasons for the Toronto Argonauts in the Canadian Football League and establishing myself as one of the CFL's most outstanding linemen. Though I got my swag back and had a few NFL tryouts, I didn't find a new home. I made a highlight tape of my CFL game film, which led me last summer to Buffalo and then to Carolina, for what was probably my last NFL opportunity.
The Panthers invited me to training camp, and I performed well enough to earn a one-year contract. I saw my first action in the middle of the season, on Monday Night Football, after a teammate was injured. My reward for getting in the game: facing Ndamukong Suh, one of the top defensive linemen in the league. We scored two touchdowns with me at center. My moment was quick, but I'd seized it. Those nine snaps I played served as validation of what I had believed a lifetime ago back on Penn's campus: I was good enough to succeed.
The 2017 season ended, and two weeks later, this past February, the Panthers offered me a two-year contract—a signal that finally, an NFL team appreciates my grit, work ethic, and persistence. At 28 years old, I head into my seventh professional training camp this summer, competing for the first time in my NFL career to be a starter.
I never thought I would delay putting my Wharton education to use for so long, but in a sense, I haven't. I've been using skills I learned at Penn to market myself and rise to the highest level of competition in my field. Whenever the day comes to trade my helmet and jersey for a suit and tie, my Wharton degree will help open doors. Until then, I plan on chasing my dream for as long as I can, by any means necessary.
Greg Van Roten W12 was named the starting left guard for the 2018 Carolina Panthers.
Published as "Playbook for Success" in the Fall/Winter 2018 issue of Wharton Magazine.
http://whartonmagazine.com/issues/fall-2018/my-journey-from-wharton-to-the-nfl/#sthash.ySJiEVi8.dpbs