1.Read of the Weekend…$700B BBB Bonds in 2008…$3Trillion 2018
Barrons
Ray Kennedy, a high-yield portfolio manager at Hotchkis & Wiley, notes that when BBB debt—more than twice the size of the $1.2 trillion in junk debt—falls, the high-yield market expands. Some investors, such as certain insurance companies, aren't allowed to hold junk and will become "forced sellers," he says, intensifying the downdraft. Only 10% of the junk market is composed of bonds that originally were investment-grade but later were downgraded to junk. That's far below the median of 15.5% and the historical peak of 32% in 2002-03. So, a large influx of fallen angels would be far from unprecedented.
In a crunch, investors trying to go up the ratings scale would "have a limited pool of choices," warns Joseph Kalish, chief global macro strategist at Ned Davis Research Group. Higher-quality credits, such as AA or AAA-rated bonds are now just some 10% of the investment-grade universe, versus 20% to 25% in 1999-2000, he says. Investors could turn to U.S. Treasuries but would have to give up over one percentage point of yield. That's significant in the fixed-income world.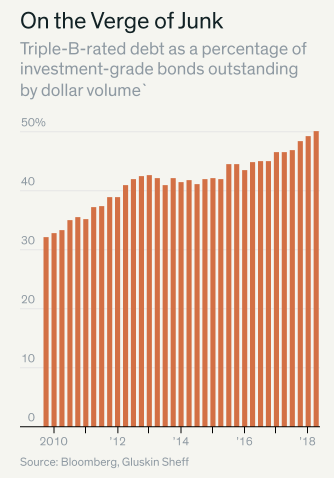 Where the Bond Market's Next Big Problem Could Start
By
Vito J. Racanelli
https://www.barrons.com/articles/where-the-bond-markets-next-big-problem-could-start-1534536183
2.High Yield Market Historically Breaks Before Equity Market.
HYG High Yield…No Sign of Break New Highs in 2018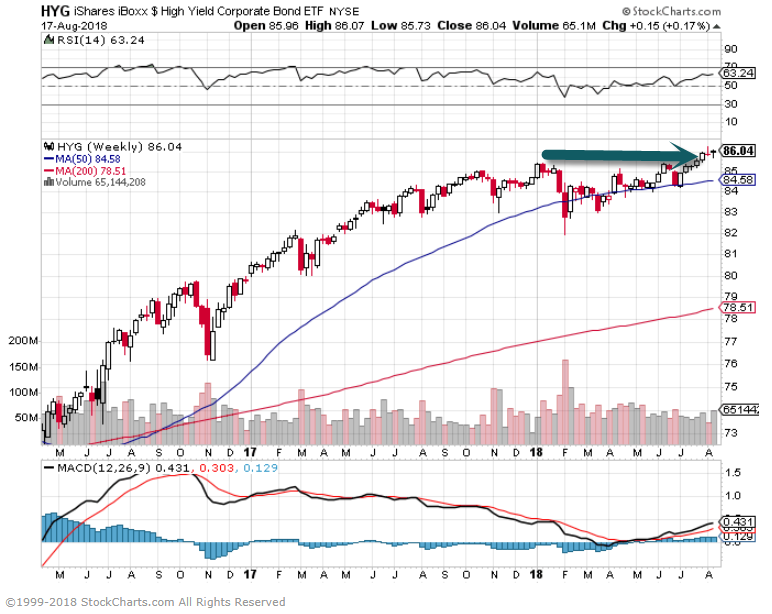 3.Chart: S&P500 Long Term Earnings Growth Outlook
This is quite the chart – it shows the consensus estimates of the longer term earnings growth outlookfor the S&P500, and it's the highest since the later stages of the dot com bubble.  But back then it was all about "the new economy" as dot com companies were disrupting industries left right and center and promising a tech revolution.  Now it's tax cut euphoria, and the hope of a shaking of the old "secular stagnation" fear that took hold in 2015/16.  Indeed, it's interesting to reflect on the history of this chart, it seems to speak more about sentiment than fundamentals (or maybe some mix of the two).  With the US economy still going strong, one may be tempted to channel Irving Fisher's "permanently high plateau" quote…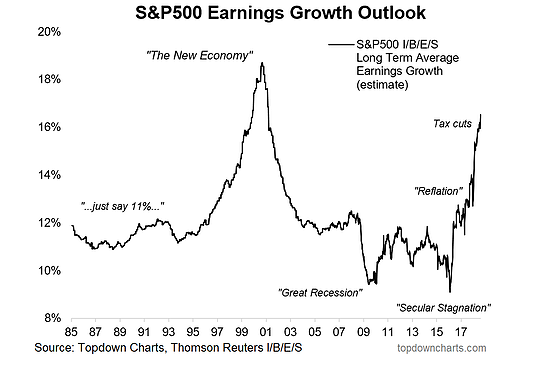 Looking for deeper insights?  Try taking a free trial of our institutional research service
https://www.topdowncharts.com/single-post/2018/08/18/Chart-SP500-Long-Term-Earnings-Growth-Outlook
Found at Abnormal Returns Blog www.abnormalreturns.com
4.Rising S&P Margins Almost Entirely Driven By Tech.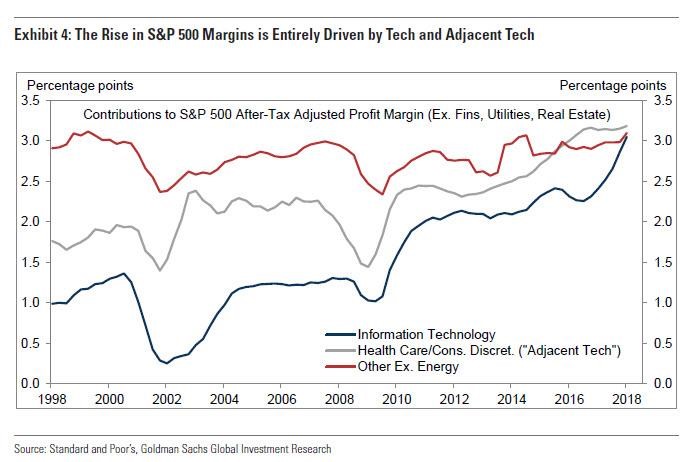 Indeed, as Credit Suisse remarks in a recent note, while concerns around Turkey have been held up as the primary reason for emerging market underperformance, one shouldn't forget the significant role played by the sharp decline in the EM tech sector, especially after the recent collapse in Tencent stock and more recently, the sharp drop in JD.com following poor earnings. Since the start of June, the EM tech sector has accounted for c.40% of the decline in the value of EM equities, with the Chinese internet names the primary drivers following recent regulatory challenges and poor results. And, as the chart below highlights, this has opened up a record divergence in tech performance between the US and EM.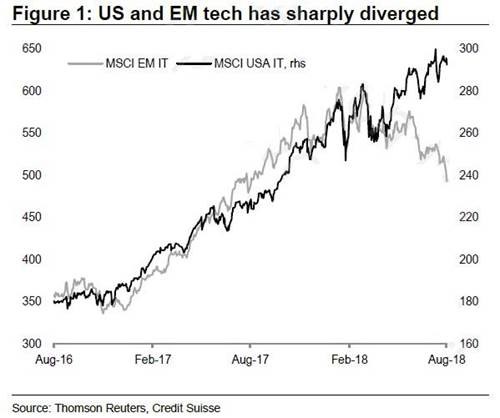 A "Record Divergence": Why The Market Thinks The US Is The Absolute Trade War Winner
by Tyler Durden"
Sun, 08/19/2018 – 21:20
https://www.zerohedge.com/news/2018-08-19/record-divergence-why-market-thinks-us-absolute-trade-war-winner
5.Emerging Markets Are Incredibly Volatile…Bear Markets Every Other Year?
Bear markets are the norm in emerging markets. While they're fairly rare in the S&P 500, bear markets have occurred once every other year, on average, since 1994 for EM stocks. That number is just one out of every 6 years for the S&P.
A Short History of Emerging Market Corrections & Bear Markets
Posted August 19, 2018 by Ben Carlson
Emerging market stocks as a group are dangerously close to the accepted definition of a bear market.
Since peaking in late-January earlier this year, the MSCI Emerging Markets Index is now down 19.65% (not including dividends). It's down around 10% on the year.
If history is any guide, the stocks of these developing nations will fall 20% or more. And if it doesn't happen now, it will likely happen in the not-too-distant future.
There is plenty of data on the history of corrections and bear markets for the S&P 500 but I couldn't find much on emerging markets. So I took the daily data going back as far as I could find it and ran the numbers from 1994 to present: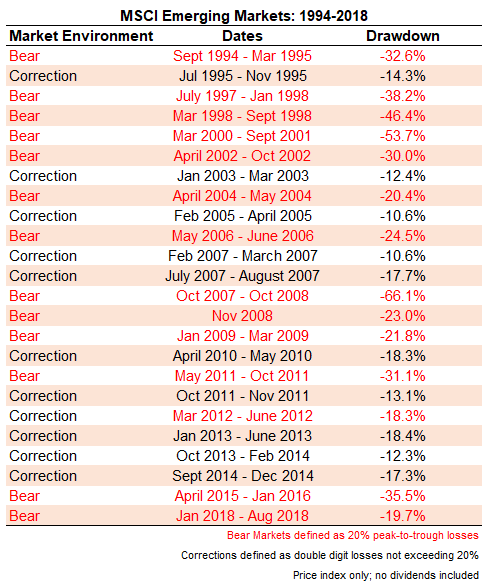 Read Full Story
http://awealthofcommonsense.com/2018/08/a-short-history-of-emerging-market-corrections-bear-markets/
6.U.S. Government Bonds Best Hedging Strategy.
Vanguard
Looking forward
Using the Vanguard Capital Markets Model® (VCMM)†††, we analyzed various economic indicators to project how future outcomes can vary for investors. We simulated 10,000 scenarios for each asset class over the next 10 years (2018–2027). Then we focused on the bottom 10% of the lowest-performing quarters for the global equity asset class for each simulation. The chart below shows how some popular hedging strategies performed during these periods of poor equity performance.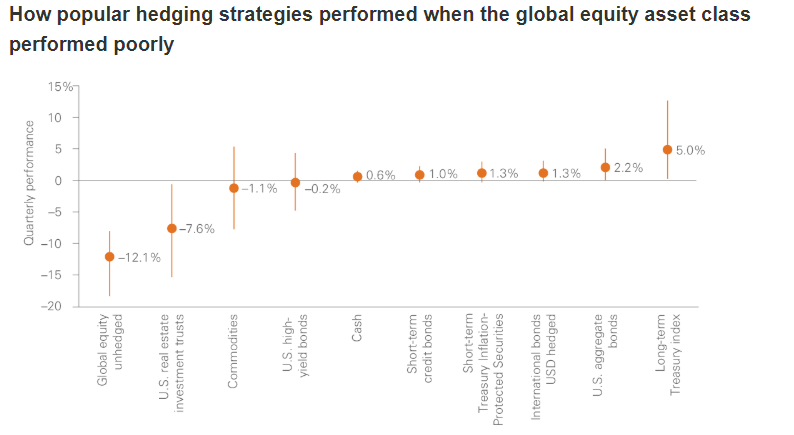 https://vanguardblog.com/2018/07/09/exploring-the-relationship-between-stocks-and-bonds/
7.Blockchain-Gartner Group Projecting $3 Trillion Value by 2030.
Barrons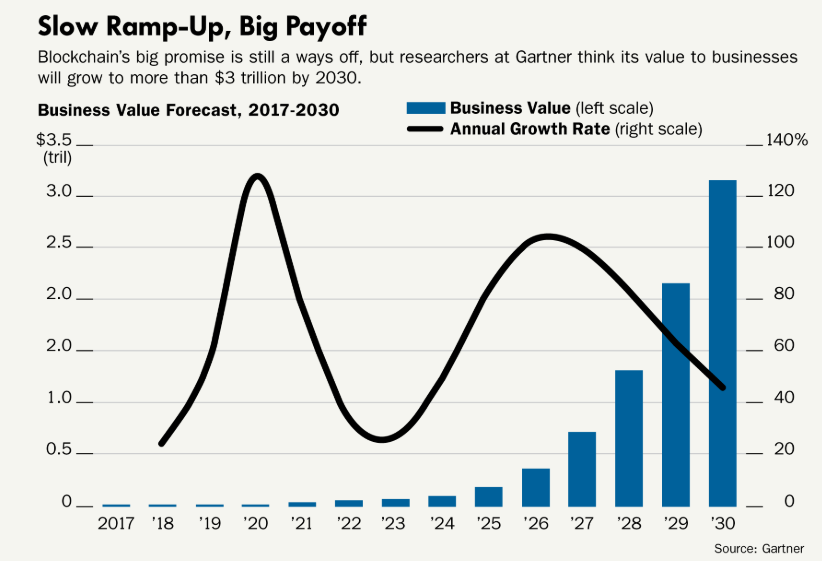 Blockchain Is Starting to Show Real Promise Amid the Hype
By
Avi Salzman
https://www.barrons.com/articles/blockchain-is-starting-to-show-real-promise-amid-the-hype-1534554901
8.We Talked About Gold Breaking Down Last Week….Silver Hits New Lows.
The U.S. dollar continues to strengthen and act as safe haven versus Gold/Silver.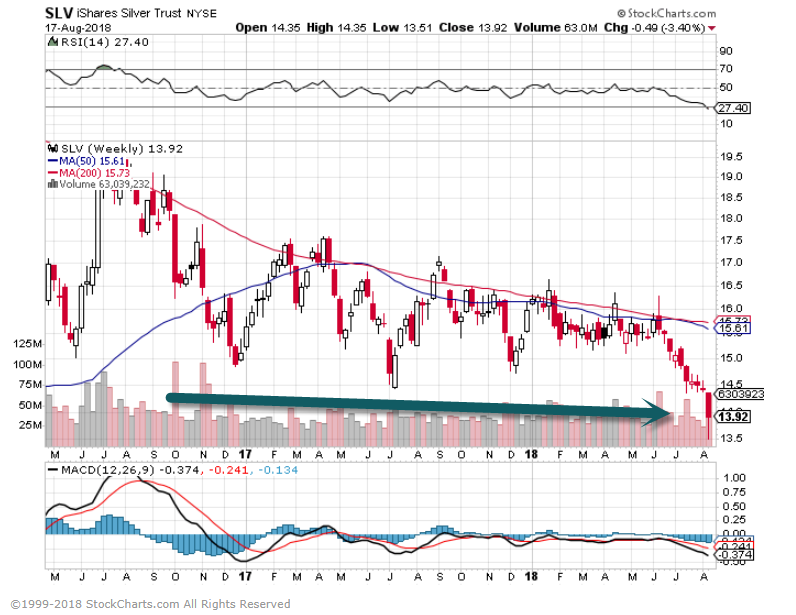 9.Air Force Short 2000 Pilots.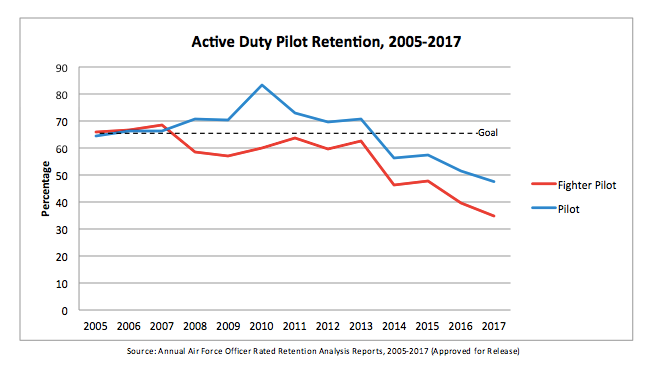 Air Force faces serious 2,000-pilot shortage
BY ELLEN MITCHELL – 11/14/17 06:00 AM EST 152
© Greg Nash
Top Air Force leaders and lawmakers are warning that a pilot shortage of 2,000 could cripple the service, leaving it unready to handle its responsibilities.
"With 2,000 pilots short, it'll break the force. It'll break it," Air Force Secretary Heather Wilson said on Thursday during the annual State of the Air Force news conference.
The Air Force needs 20,000 pilots minimum to fly its wide range of aircraft, including fighter jets, helicopters, transport planes, support attack planes and cargo aircraft. At the start of the year, it said it had 18,500 pilots, well short of its minimum.
http://thehill.com/policy/defense/360211-air-force-faces-serious-2000-pilot-shortage
10.9 Navy SEAL Sayings That Will Improve Engagement And Accountability In Your Organization
Brent GleesonContributori
Engagement and accountability are critical elements for growth, productivity and profitability in any organization. But in this fast-paced twenty-first century age of disruption, improving engagement and accountability seems more challenging than ever before.
According to the 2017 KPMG Global CEO Outlook Report, 74% of CEOs claim they plan to invest more heavily in improving culture and engagement to sustain growth and their competitive edge. And even though organizations are investing more time and resources to improve engagement, few have moved the needle far. The good news is that when successful, companies that have higher levels of engagement experience 17% higher productivity and 20% higher EBITDA.
As a Navy SEAL combat veteran, I can assure you that – in the Teams – engagement and accountability are not issues we have to deal with. If you are lacking in these areas, you don't make it far in our selection and training process. But we have the most challenging special operations training program in the world. It costs millions of dollars to acquire one SEAL. So you can imagine how important talent acquisition, engagement and retention are to the organization.
Obviously, we can't replicate this process in the civilian sector but there are some principles from our culture that I have ingrained in my own companies and companies I work with. And you can do the same.
The following sayings are derived from our philosophy and the Navy SEAL Ethos. They define our culture and how we approach life and work.
The only easy day was yesterday. There really are not truly "easy" days for individuals and organizations seeking an existence of excellence. Excellence can be defined as the constant pursuit of perfection – something that is impossible to achieve. Our lives and careers are full of challenges. We simply have to face those challenges head on, controlling what we can and ignoring what we can't.
It pays to be a winner. During SEAL training, the class is broken into boat crews – seven-man teams. We often compete against the other crews which encourages leadership, teamwork and accountability. The instructors would shout, "It pays to be a winner gentlemen!" Winning boat crews would sometimes be allowed to sit out during the following evolution to get some rest. When leaders make engagement and accountability and cultural priority, winning results are sure to follow.
Get comfortable being uncomfortable. You learn on day one of training to get comfortable being uncomfortable. When individuals and teams push the boundaries of their comfort zone on a regular basis, the wider that area becomes. And in my experience, it's outside the comfort zone where the magic really happens. When you practice this philosophy with discipline, things that used to be seemingly impossible can become part of your everyday life.
I persevere and thrive in adversity. One of my favorite quotes is by Dr. Martin Luther King Jr. and says, "If you can't fly, then run. If you can't run, then walk. If you can't walk, then crawl. But whatever you do, you have to keep moving forward." This quote carried me through SEAL Hell Week. When organizations can ingrain resilience into their culture, they too will thrive in adversity and crush the competition.
In the absence of orders I will take charge, lead my team and accomplish the mission. In the Teams, we expect leadership at all levels. We operate with agility in a decentralized command model. Everyone is expected to both lead and be led. The most successful organizations today are adopting a similar model – doing away with old hierarchies and replacing them with networks and ecosystems of truly empowered teams. Which in turn improves engagement and retention.
Uncompromising integrity is my standard. Integrity and trust have a direct and measurable impact on productivity and profitability. And like anything else, it starts at the top. But regardless of rank, title or tenure, this is a lead by examplemodel and must happen on and off the battlefield. Organizations with high levels of integrity experience better employee and customer retention – which of course positively impacts the bottom line!
We demand discipline. We expect innovation. Organizations today are faced with almost constant change, forcing them to attempt to grow faster with fewer resources and face challenges they have never experienced – hence the need for creativity and innovation. The "this is the way we've always done it" mindset no longer applies. Unless of course you're a fifty-year-old BBQ joint in Nashville – then you should never change! Leading change successfully requires discipline and innovation. Focus and follow-through are critical.
Embrace the pain. This one is my favorite. This is the ONLY mindset that gets you through SEAL training. Those that maintained a positive mental attitude through the worst parts of training, were the ones standing tall at graduation. We face more challenges in business than we ever have before. And as my friend Quinn (Deputy CEO of Optos) says, "Organizational change is pain plus a plan."
I am never out of the fight. I believe in this life philosophy so much that I have it tattooed on my arm in Latin. It needs no interpretation.
If any of these philosophies inspire you, I encourage you to share them with your team. Now go get after it!
Brent Gleeson is a Navy SEAL, speaker and bestselling author of TakingPoint: A Navy SEAL's 10 Fail-Safe Principles for Leading Through Change. Follow @BrentGleeson on Twitter. Visit his website.
I am a passionate and globally recognized motivational leadership speaker, entrepreneur, Navy SEAL combat veteran, and currently the founder of TakingPoint Leadership. I am the author of TakingPoint: A Navy SEAL's 10 Fail-Safe Principles for Leading Through Change – an accla…
https://www.forbes.com/sites/brentgleeson/2018/07/11/9-navy-seal-sayings-that-will-improve-engagement-and-accountability-in-your-organization/#c963c1c63120