1.1999-First Day Return of 476 IPOs Averaged 71%.
Barrons
So far, the 2019 crop of gig-economy IPOs aren't performing like the dot.com era, when investors just "had" to own internet stocks. IPO research from Jay Ritter shows the first-day return of 476 IPOs in 1999 averaged a whopping 71%. What's more, the Nasdaq Composite rose another 100% between the middle of 1999 and the market's peak in March 2000. Dot.com stocks kept working even after internet companies sold shares to the public.
Pinterest Stock Is Hot After Its IPO. Why You Should Keep Your Cool.Al Root
https://www.barrons.com/articles/pinterest-ipo-soars-investors-risk-getting-burned-51555601498?mod=past_editions
Nasdaq 100% Rise in One Year…Aug. 1999-March 2000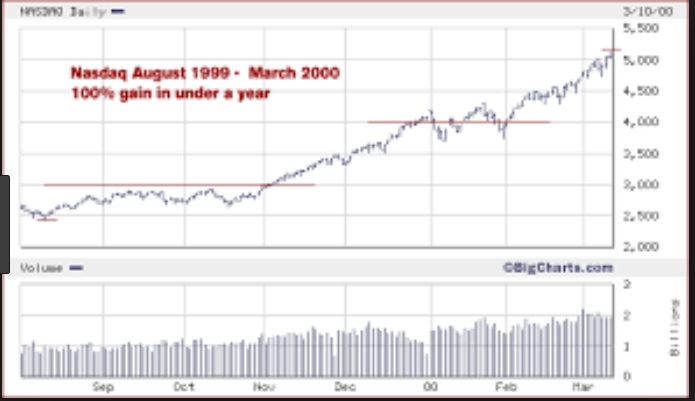 2.Sector YTD Update…Healthcare Negative on Year…Tech on Track for 100% Gain.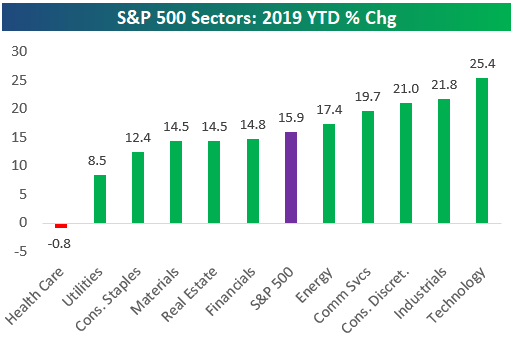 https://www.bespokepremium.com/interactive/research/think-big-blog/
3.Goodwill Paid in Mergers Hits Record.
Barrons
Large mergers and acquisitions typically generate the most goodwill, and are the biggest destroyers of it as buyers overpay. Kailash Concepts, a quantitative analysis firm, found that companies in the Russell 1000 index that make large acquisitions underperform the market by as much as eight percentage points in the following 12 months. What's more, the companies doing the largest deals tend to be in the top quintile of firms based on a ratio of goodwill to total assets. "Historically, high goodwill-to-assets has been detrimental to forward 12 month returns" says Bill Roddy, a partner at the firm.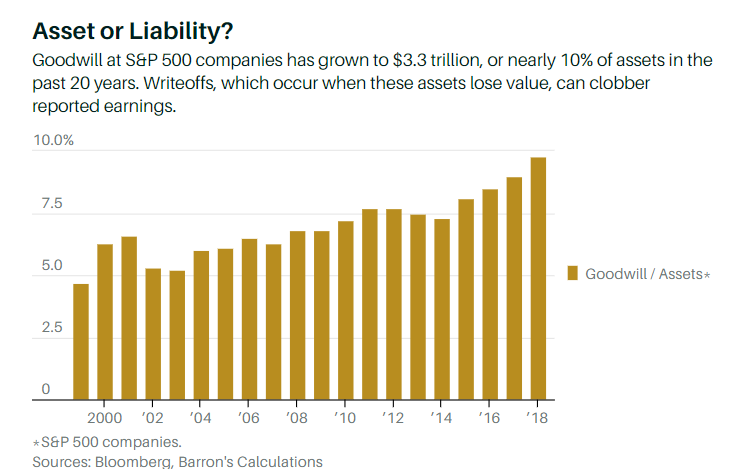 'Goodwill' Write-Offs Are an Earnings Killer. How to Spot Trouble Coming.  By AL ROOT
https://www.barrons.com/articles/goodwill-write-offs-51555531363?mod=past_editions
4.Jamaica Stock Market Best Performer in World Last 3 Years.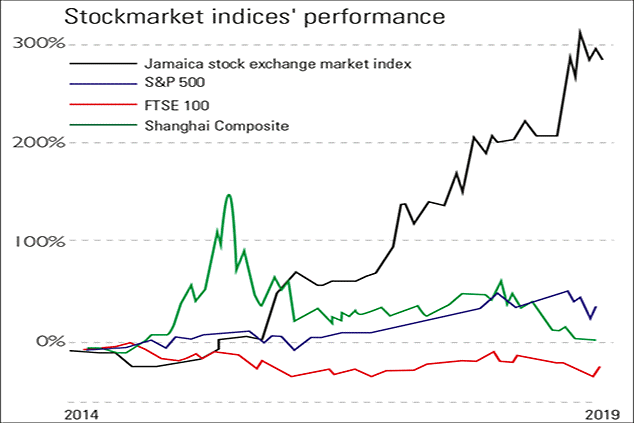 In 2018, Jamaica's benchmark stockmarket index rose by 29% in US dollar terms, the world's best equity-market performance. In the past five years, it has quadrupled. This sort of jump usually reflects a radical improvement in the macroeconomic backdrop.
But in this case it's chiefly due to the market's small size and illiquidity. It "doesn't take much investment to make a tiny market boom", says Bloomberg. The total value of the index's 37 stocks is less than $11bn, "smaller than the valuation of Chipotle Mexican Grill Inc". Moreover, many companies are majority-owned by foreign conglomerates, which further reduces the number of shares available. Some stocks don't trade "for days or even weeks".
https://moneyweek.com/501107/chart-of-the-week-why-jamaican-stocks-are-racing-ahead/
5.Aluminum Usage in Cars Accelerating.
Increased Use of Aluminum in Cars Sparking Build Out of Plants in U.S.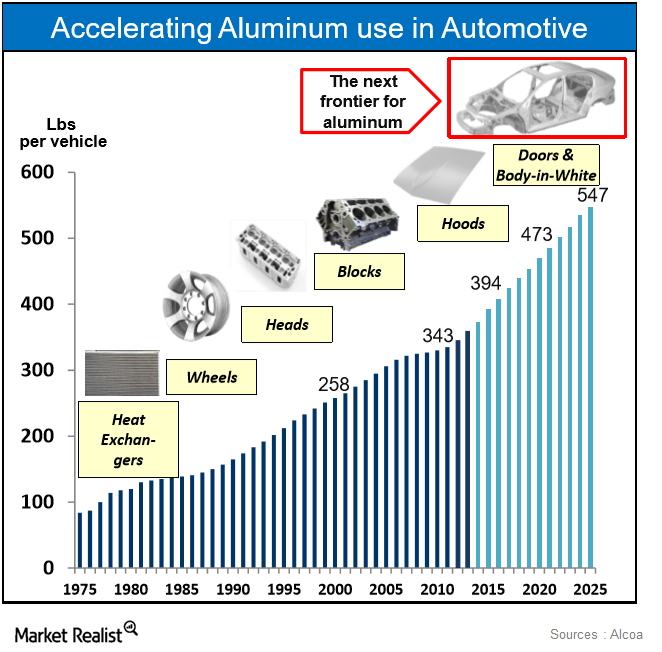 Price of Aluminum Still Flat?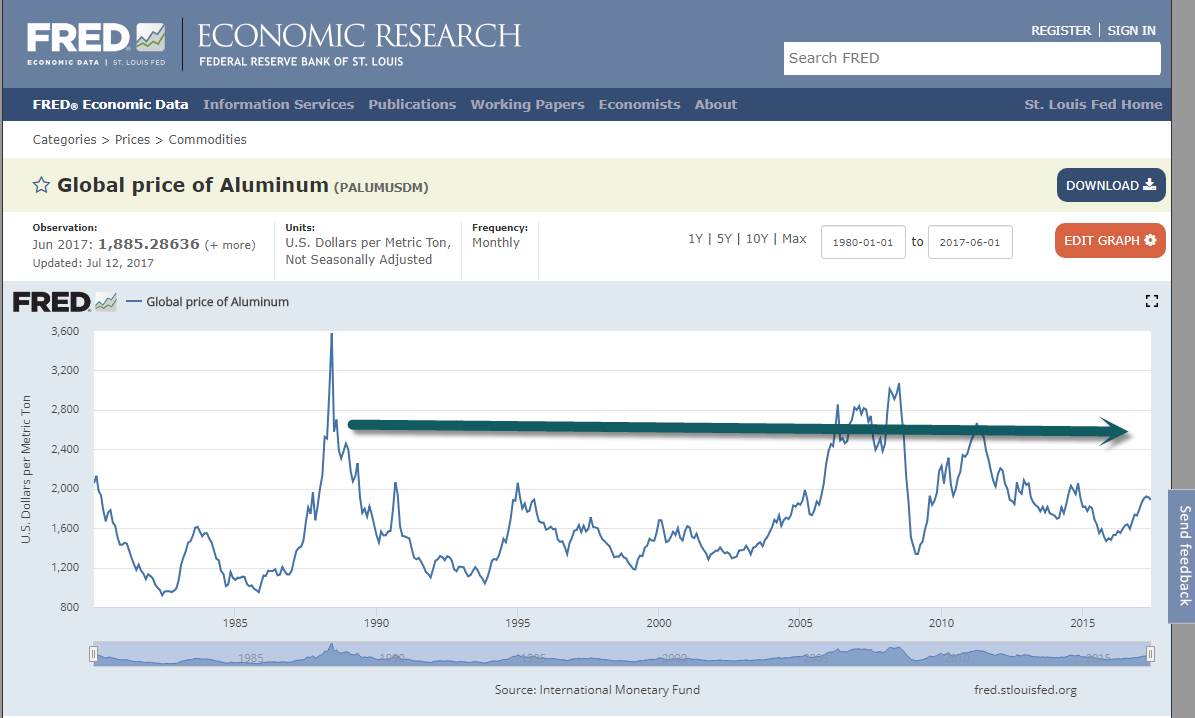 https://fred.stlouisfed.org/series/PALUMUSDM
6.Cash Out Crash…. Re-Financings From $350B in 2006  to $80B Today.
In the past, the extra spending was often financed by borrowing against housing. Freddie Mac , the government-backed mortgage company, has been tracking home-equity extraction by its borrowers since the early 1990s. In 2000, Americans with mortgages held by Freddie Mac took out $60 billion from their homes using cash-out refinancings, second mortgages, and home-equity lines of credit. At the peak in 2006, Americans with Freddie Mac mortgages took out $350 billion. The current rate of equity extraction is just $80 billion a year.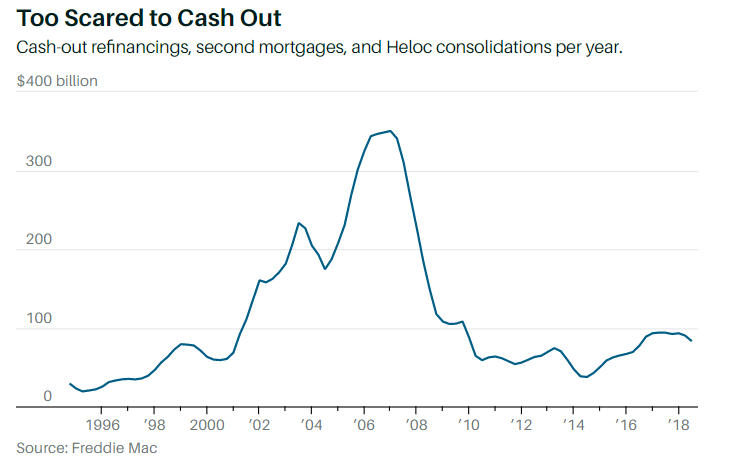 https://www.barrons.com/articles/americans-are-spending-less-even-as-incomes-are-growing-can-it-last-51555694906?mod=past_editions
7.Homebuilders Big Rally in Last Month.
Homebuilders' (and related) shares are soaring. Here is the relative performance over the past month.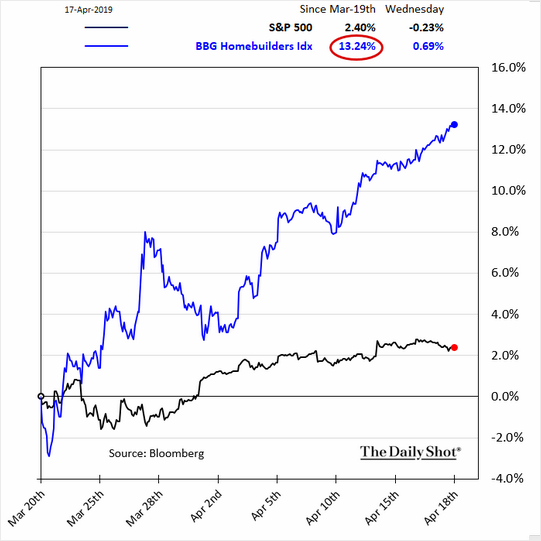 8.U.S. Population Growth Lowest in 80 Years.
A historic low for U.S. population growth
The U.S. population growth rate of 0.62 percent for 2017-2018 is the lowest registered in 80 years. While the nation's growth rate varied through wars, economic upheavals, baby booms, and baby busts, the current rate reflects a further dip in a trend toward a lower level of growth—below 0.80 percent—registered since the Great Recession of 2007-2009.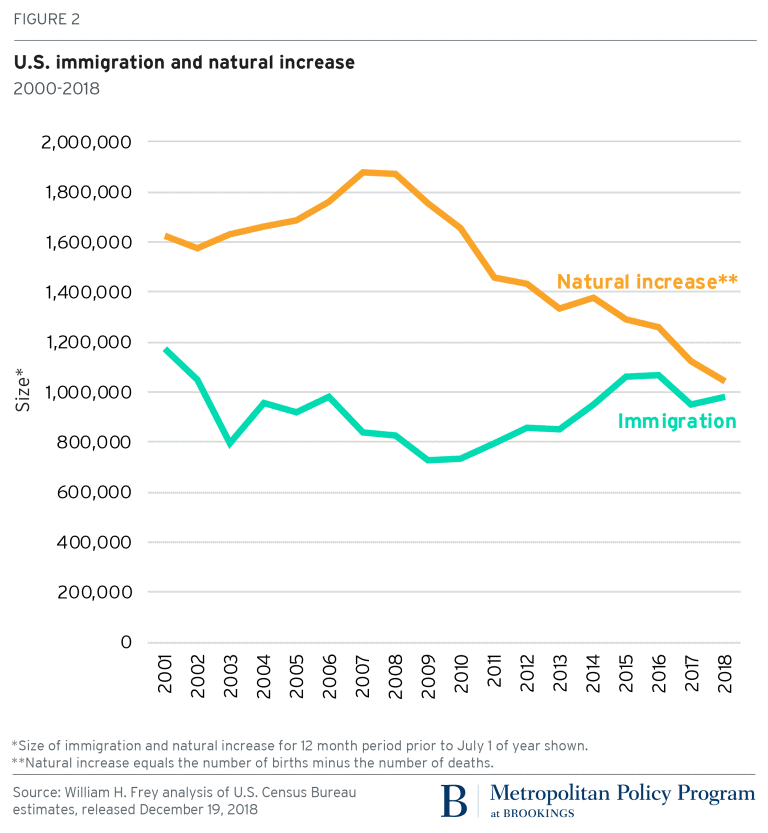 https://www.brookings.edu/blog/the-avenue/2018/12/21/us-population-growth-hits-80-year-low-capping-off-a-year-of-demographic-stagnation/
9.New Marijuana ETF Goes Live
April 18, 2019
LARA CRIGGER
Today the market's second marijuana ETF, the AdvisorShares Pure Cannabis ETF (YOLO), launched on the NYSE Arca.
As we reported earlier this week, YOLO will track an actively managed portfolio of cannabis companies domiciled in the U.S. and Canada, whose industries range from consumer products to real estate to health care (read: "New Marijuana ETF On The Way").
YOLO will have total annual expenses of 0.74%, or a cost of 0.01% less than that of the other pure-play marijuana ETF on the U.S. market, the $1.18 billion ETFMG Alternative Harvest ETF (MJ).
Investing In 'Pure Cannabis'
YOLO will invest 80% or more of its assets into companies that derive 50% or more of their revenue from the marijuana and hemp industry. These securities could originate from a variety of industries and sectors, including agriculture, biotech, pharmaceuticals, real estate, retail and finance.
At least 25% of the fund will be invested in pharmaceutical, biotech and life sciences companies using cannabis and cannabinoid-related substances.
The ETF will also invest in federally legal U.S. companies that don't touch the plant directly, such as Innovative Industrial Properties, a U.S.-listed REIT that focuses on medical marijuana facilities (read: "Proposed Marijuana ETFs Rooted Differently").
However, the fund will not invest in the stocks of large alcohol or tobacco companies, as opposed to MJ, which invests in a range of forward-looking cannabis plays, including Turning Point Brands (TPB), Philip Morris International (PM) and Scotts Miracle-Gro (SMG).
(Use our stock finder tool to find an ETF's allocation to a certain stock.)
Inside The Starting Portfolio
In YOLO's starting portfolio are several names familiar to marijuana ETF investors, including Green Organic Dutchman Holdings (8%), Supreme Cannabis (3%), Aurora Cannabis (5%), Tilray (4%) and Canopy Growth (4%). All these names and more appear in MJ.
However, YOLO holds other marijuana stocks that investors have yet to be able to access in an ETF wrapper, including Aleafia Health (3%), WeedMD (2%), Neptune Wellness Solutions (5%), Khiron Life Sciences (2%), Village Farms International (5%) and Innovative Industrial Properties (6%).
All told, about 23% of YOLO's starting portfolio is distinct from MJ.
Active Approach To Cannabis
Though the starting portfolio is 100% equity, the fund's active managers have sweeping discretion to invest in a range of other securities, including derivatives, swaps, futures, other ETFs and even IPO opportunities, according to the fund's prospectus. (The starting portfolio is 100% equity.)
However, YOLO's prospectus places strict limits on what can and can't be defined as a cannabis-related business. For starters, the fund can't invest in companies with operations inside the U.S. unless that company is also legal at a federal level, nor will it invest in companies whose businesses are legal at state or local levels, but not federally.
Furthermore, the fund is currently limited to stocks trading on the NYSE, Nasdaq, Toronto Stock Exchange and TSX Venture exchanges.
New ETF Addresses Custodial Risk Head-On
These restrictions are the result of a year's worth of conversations with the Securities and Exchange Commission and Bank of NY Mellon (BNY Mellon), which serves as YOLO's fund custodian, administrator and transfer agent.
As we covered on Tuesday, AdvisorShares worked closely with BNY Mellon to prepare a list of preapproved securities in which the portfolio managers could invest for YOLO. The company did something similar for the cannabis stocks in the AdvisorShares Vice ETF (ACT).
That list was also provided to the SEC, as well as a full legal opinion (by request) and due diligence on each of the securities in the investable universe from an outside law firm.
"We took a lot of aggressive steps to do our due diligence and get this fund approved legally and properly," Dan Ahrens, COO and portfolio manager of AdvisorShares, told ETF.com.
Contact Lara Crigger at lcrigger@etf.com
https://www.etf.com/sections/features-and-news/new-marijuana-etf-goes-live
10.11 common traits of highly intelligent people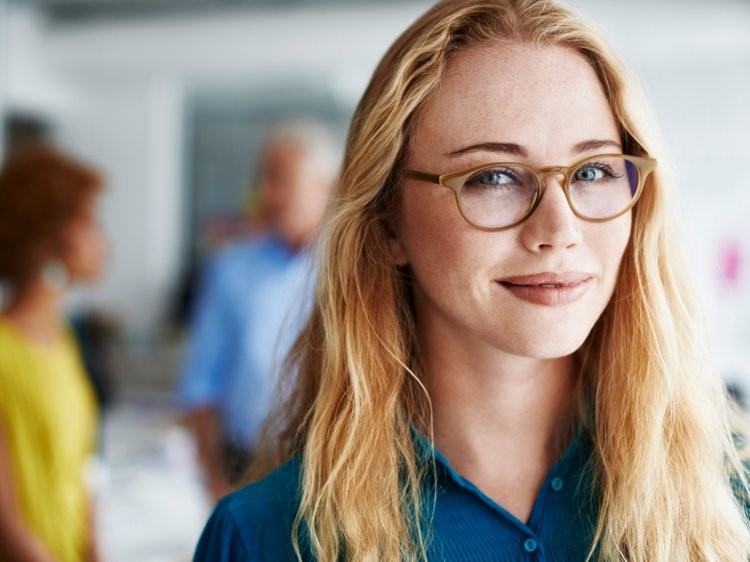 Apr. 19, 2019, 11:11 AM
Smart people don't always think they're smart. Portra Images/Getty Images
Smart people have a number of traits in common.
For example, they're curious and funny — and they understand how much they don't know.
Check out these other common characteristics of highly intelligent folks.
Smart people aren't just defined by their outrageously high scores on IQ tests.
They tend to share a bunch of other characteristics, like insatiable curiosity and a good sense of humor.
We took a look at a Quora thread where users have listed some common traits of highly intelligent people, and checked out the science to see if it backs them up.
Here are 11 qualities of super smart people:
They're highly adaptable
Several Quora users noted that intelligent people are flexible and able to thrive in different settings. As Donna F. Hammett writes, intelligent people adapt by "showing what can be done regardless of the complications or restrictions placed upon them."
Psychological research supports this idea. Intelligence depends on being able to change your own behaviors in order to cope more effectively with your environment, or make changes to the environment you're in.
They understand how much they don't know
The smartest folks are able to admit when they aren't familiar with a particular concept. As Jim Winer writes, intelligent people "are not afraid to say: 'I don't know.' If they don't know it, they can learn it."
Winer's observation is backed up by a classic study by Justin Kruger and David Dunning, which found that the less intelligent you are, the more you overestimate your cognitive abilities.
In one experiment, for example, students who'd scored in the lowest quartile on a test adapted from the LSAT overestimated the number of questions they'd gotten right by nearly 50%. Meanwhile, those who'd scored in the top quartile slightly underestimated how many questions they'd gotten right.
They have insatiable curiosity
Albert Einstein reportedly said, "I have no special talents, I am only passionately curious."
Or as Keyzurbur Alas puts it, "intelligent people let themselves become fascinated by things others take for granted."
Research published in 2016 in the Journal of Individual Differences suggests that there's a link between childhood intelligence and openness to experience — which encompasses intellectual curiosity — in adulthood.
Scientists followed thousands of people born in the UK for 50 years and learned that 11-year-olds who'd scored higher on an IQ test turned out to be more open to experience at 50.
They read a lot
Peter Bernik/Shutterstock
Because they're so curious, smart people are also inclined to be voracious readers, writes Cheikh Mbacke Diop.
Indeed, many of the world's most successful people— Bill Gates and Oprah among them — say they educate themselves by reading anything they can get their hands on.
They're open-minded
Getty Images
Smart people don't close themselves off to new ideas or opportunities. Hammett writes that intelligent people are "willing to accept and consider other views with value and broad-mindedness," and that they are "open to alternative solutions."
Psychologists say that open-minded people — those who seek out alternate viewpoints and weigh the evidence fairly — tend to score higher on the SAT and on intelligence tests.
At the same time, smart people are careful about which ideas and perspectives they adopt.
"An intelligent mind has a strong aversion to accepting things on face value and therefore withholds belief until presented with ample evidence," says Alas.
They like their own company
In a since-deleted answer, Richard He points out that highly intelligent people tend to be "very individualistic."
Interestingly, 2016 research published in the British Journal of Psychology suggests that smarter people tend to derive less satisfaction than most people do from socializing with friends.
They have high self-control
Zoher Ali writes that smart people are able to overcome impulsiveness by "planning, clarifying goals, exploring alternative strategies and considering consequences before [they] begin."
Scientists have found a link between self-control and intelligence. In one 2009 study published in the journal Psychological Science, participants had to choose between two financial rewards: a smaller payout immediately or a larger payout at a later date.
Results showed that participants who chose the larger payout at a later date — i.e., those who had more self-control — generally scored higher on intelligence tests.
The researchers behind that study say that one area of the brain — the anterior prefrontal cortex — might play a role in helping people solve tough problems and demonstrate self-control while working toward goals.
They're really funny …
Advita Bihani points out that highly intelligent people tend to have a great sense of humor.
Scientists agree. One 2011 University of New Mexico study found that people who wrote funnier cartoon captions scored higher on measures of verbal intelligence. Another University of New Mexico study found that professional comedians scored higher than average on measures of verbal intelligence.
… and they appreciate dark humor
Yves Herman/Reuters
Elora Amber mentions research that suggests intelligent people have a "twisted sense of humor."
Indeed, a 2017 study published in the journal Cognitive Processing found that people who score higher on tests of verbal and nonverbal intelligence are most likely to enjoy and understand "black humor." (For example: "Here is the answering machine of the self-help association for Alzheimer patients. If you still remember your topic, please speak after the tone.")
Those who appreciated the dark humor did not, however, appear to be in any way disturbed or aggressive.
They're sensitive to other people's experiences
Eugenio Marongiu/Shutterstock
Smart people can "almost feel what someone is thinking/feeling," He added in the deleted answer.
Some psychologists argue that empathy, being attuned to the needs and feelings of others and acting in a way that is sensitive to those needs, is a core component of emotional intelligence. Emotionally-intelligent individuals are typically very interested in talking to new people and learning more about them.
They think outside the box
Scott Olson/Getty Images
Being smart is about thinking differently.
Teodora Motateanu writes that highly intelligent people "question the status quo. They question the old ways to do things. They have unusual, out of the box, apparently 'crazy' ideas."
In fact, sticking to the status quo may sabotage your success. Scott Galloway, a clinical professor of marketing at New York University's Stern School of Business, previously told Business Insider that successful people (like successful companies) are always asking, "What if we did it this way?"
SEE ALSO: 8 science-backed signs you're smarter than average
https://www.businessinsider.com/8-common-traits-of-highly-intelligent-people-2016-7