1. Global Fund Managers Biggest Switch Ever into U.S. Stocks Out of Emerging Markets
Marketwatch-By Steve GoldsteinGlobal fund managers have just made their biggest shift ever into U.S. stocks and out of emerging market equities, according to Bank of America's long-running monthly survey released Tuesday.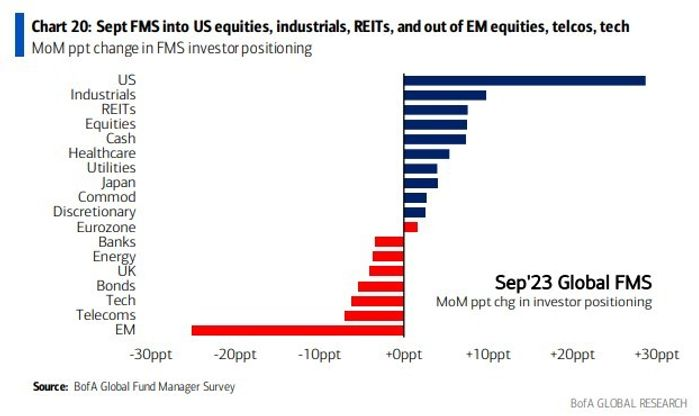 https://www.marketwatch.com/story/fund-managers-just-made-their-biggest-shift-ever-into-u-s-stocks-and-out-of-emerging-markets-4e187674?mod=home-page
---
2. Zero Percent of Investors Expect Positive Chinese Economy Next 12 Months
The Daily Shot Brief https://dailyshotbrief.com/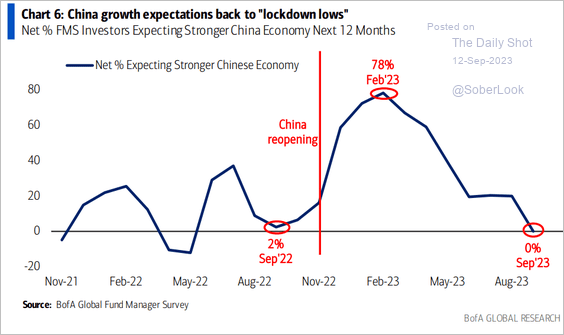 ---
3. U.S. Tech Stocks Outperformance Vs. Global Tech Stocks
Top Down Charts Key point:  US tech stocks massively + persistently outperformed global tech stocks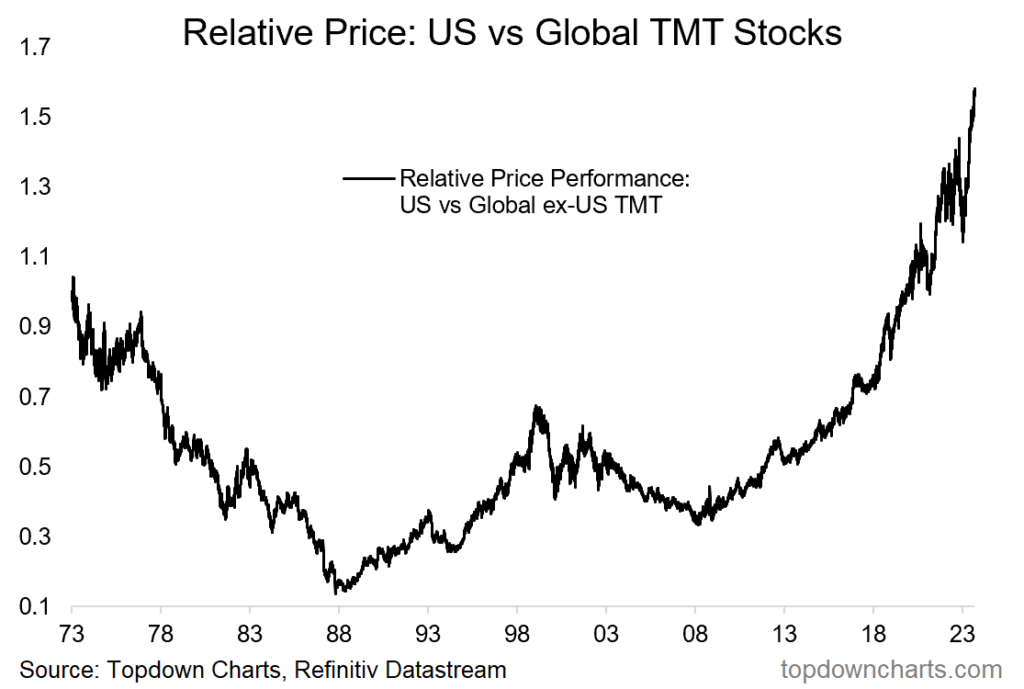 ---
4. Equal Weight S&P and Energy Sector
Jim Reid Deutsche Bank A few other things look different YoY than YTD. Today's CoTD looks at two interesting YoY lines that are now broadly flat.
Firstly, we have oil, which in June was c.-45% YoY, but is now +0.3% YoY. That's helping to reverse the sharp pace of falls in the headline US CPI over the last 12 months or so, and is topical for tomorrow since rising gasoline prices mean we expect a +0.6% mom print for headline CPI – the highest since June 2022. See our economists' preview here.
Secondly, the equal-weight S&P 500 is now 'only' up +0.5% YoY, which relative to history is a notable underperformance, especially when you think of the buoyant equity mood this year. The same index is up +4.3% YTD but all of those gains were made by January 11th.
As we know, the mega cap tech stocks mean the actual S&P 500 is +16.8% YTD and +9.2% YoY with the "Magnificent Seven" (equal-weighted) almost solely responsible and +95% YTD and +45% YoY.
What does it say about the economy that the equal-weighted S&P 500 is actually now flat since April 2021? Does it suggest more difficulties adjusting to the higher rate world than broader market cap indices in 2023 suggest? Or is reducing the weight of those mega caps data mining too much and is big tech an important part of the modern US economy? For context the Russell 2000 is -2.67% YoY and back to November 2020 levels. Since then, consumer prices are +16.7% higher so a dramatic underperformance in real terms.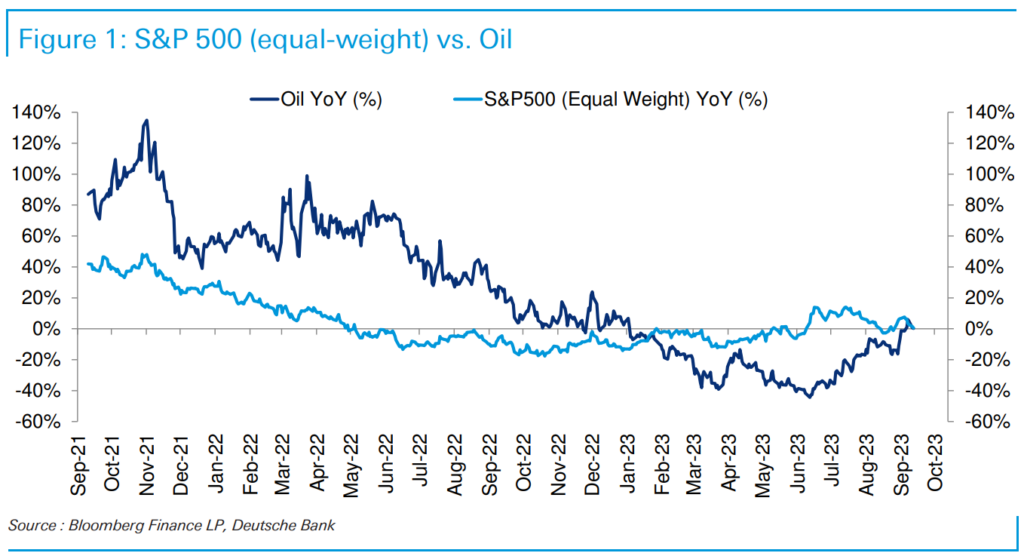 ---
5. AAPL Support $170-172…Then 200day Moving Average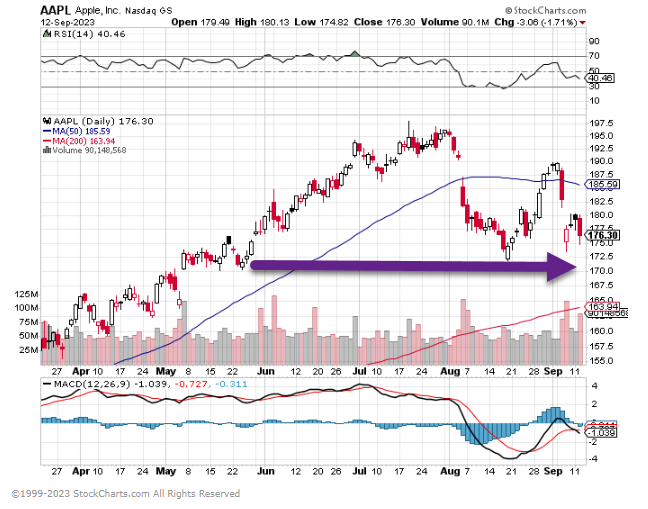 ---
6. Tesla +150% YTD….Down -8.5% One-Year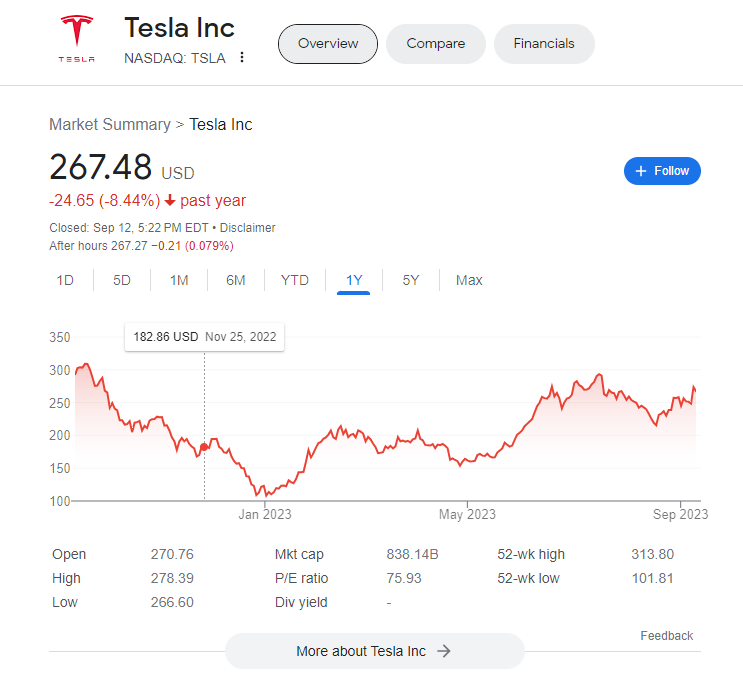 Tesla Highs were Over $400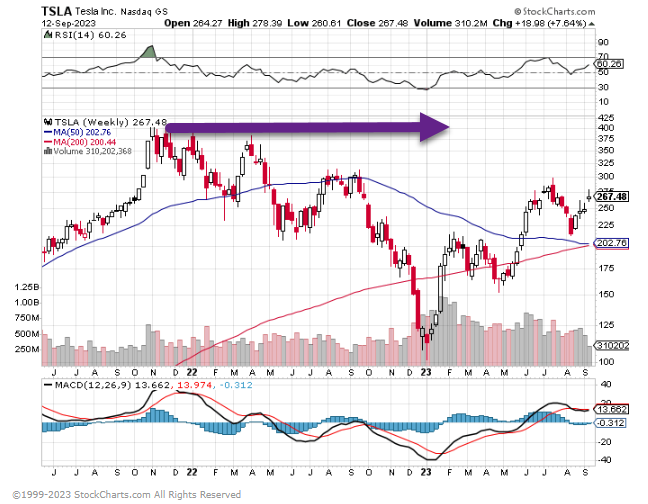 ---
7. PTON Breaks to New Lows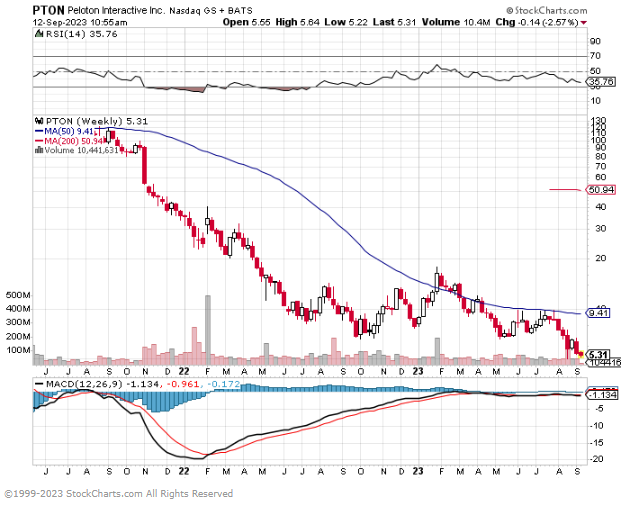 ---
8. What Powers the World? Visual Capitalist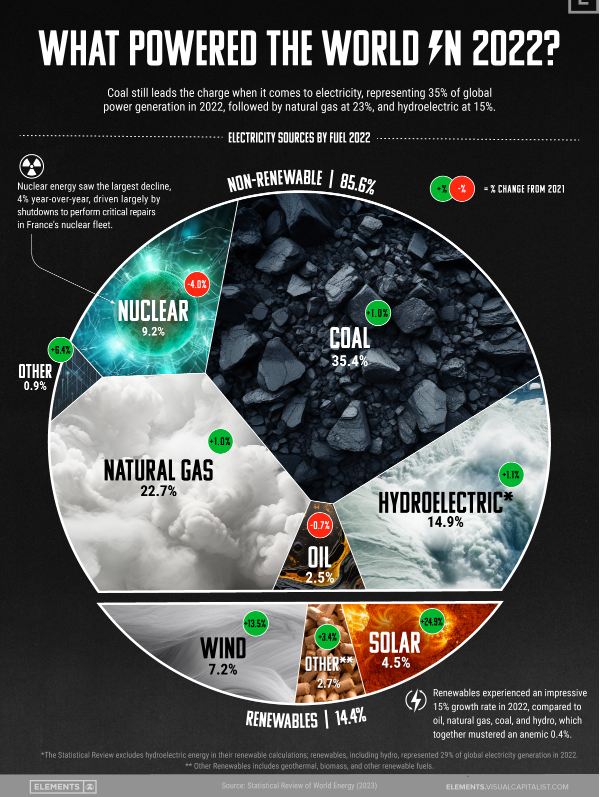 https://www.visualcapitalist.com/electricity-sources-by-fuel-in-2022/
---
9. Starbucks CEO: 'I don't know if we can keep our bathrooms open'
The coffee giant told employees in May 2018 to let anyone use the restroom, even if they haven't bought anything.
WASHINGTON — Starbucks may consider reversing its policy to let anyone, including non-customers, use their bathrooms, according to Starbucks interim CEO Howard Schultz. 
Schultz, a longtime Starbucks leader who rejoined the company as interim CEO in April, was chairman when the open bathroom policy was first implemented in May 2018. 
The policy was introduced after the controversial arrest of two Black men at one of the company's Philadelphia locations. The men had been asked to leave a store after one was denied access to the bathroom. They were arrested by police after sitting down to wait for a business meeting. Witnesses captured the incident on video and it went viral. 
At the time the policy was announced, Schultz said he didn't want the company to "become a public bathroom" but they didn't want people to feel "less than" if they were refused access. 
During an appearance Thursday at The New York Times DealBook D.C. policy forum, Schultz said a growing mental health crisis was making it hard for employees to manage stores.
"We serve 100 million people at Starbucks and there is an issue of just safety in our stores, in terms of people coming in who use our stores as a public bathroom," Schultz said. "And we have to provide a safe environment for our people and our customers. The mental health crisis in the country is severe, acute and getting worse."
"We have to harden our stores and provide safety for our people," Schultz explained. "I don't know if we can keep our bathrooms open." 
https://www.king5.com/article/news/nation-world/starbucks-open-bathroom-policy-may-end-ceo-says/507-70615a1f-fb2b-4b9a-893b-afee9e3396b3
---
10. My 95-year-old Japanese grandfather is a former cardiologist—his 8 'non-negotiables' for a long, happy life
This summer, I visited my 95-year-old grandfather in his hometown of Osaka, Japan. I wanted to spend more time with him and learn about the activities that keep him so healthy and happy.
A retired cardiologist, his creative, community-driven outlook and purposeful way of living have always inspired me. He's a great example of how to age gracefully.
Here are his eight non-negotiables for a long and happy life:
1. He takes an early morning walk
My grandparents are early risers. By 5 a.m., they've already begun their morning stroll. They usually walk for 30 minutes to an hour, and get in at least 7,000 steps.
Whether they're hiking mountainous trails to the Minoh Falls or doing laps around the Ikeda neighborhood, my grandparents' use their walks to start their days from a place of strength.
Don't miss: 100-year-old sisters share 5 simple tips for leading a long, happy life
2. He does an intentional workout
After his walk, he does a tailored workout routine. He starts by stretching, then does a series of strength training and balancing exercises.
He carefully chooses different exercises every day based on his abilities and needs to ensure he stays active without straining his body.
3. He connects with loved ones on social media
After he completes his workout, he pulls out his laptop and logs into Facebook and Instagram.
Studies have found that social isolation of older adults results in high rates of loneliness, particularly among older men. 
My grandfather has my grandmother to boost his emotional well-being. But he also maintains strong ties to people in his global community, including his grandchildren in the U.S., through this time online.
4. He writes in his blog
Since 2014, he has spent a few minutes almost every day writing his thoughts, experiences and insights on his blog. It now has well over 1,000 posts.
It's easy to lose our drive when we don't see immediate results, but my grandfather's blog is a culmination of a few minutes of writing spanned over several years. It's a good reminder of the value of small, consistent actions.
5. He creates art
My grandfather is an accomplished artist. Every day he sits down and draws his self-portrait. As he carefully sketches each line, shading and detail, he uses the time to get a better understanding of himself. 
In a world where we are often on the go, seeing him take the the time to slow down and look inward has motivated me to do the same.
6. He makes time for new hobbies
During the pandemic, my grandfather started gardening after being inspired by the flowers and plants he saw on his walks.
And at my grandmother's suggestion, he started playing the recorder, a woodwind musical instrument, because he thought it would help with his breathing and swallowing.
It's never too late to learn new skills. I love how my grandfather remains open-minded and adventurous, always seeking novel experiences to fuel his curiosity — and is never afraid to fail.
7. He takes multiple naps
After all that exercise, he makes sure to stop and refuel several times per day in order to maintain his energy. 
He usually takes his first half-hour nap in the morning, around 8 or 9 a.m., and often falls asleep again in the afternoons while reading.
His self-awareness to know when to take these breaks has been a major contributor to his longevity.
8. He eats indulgent meals
My grandfather is incredibly active, but he also has a real love for life's pleasures, including savoring red meats, cheeses and drinking fine wines.
However, on the healthier side, my grandmother always serves a variety of vegetables in her homecooked Japanese meals, like her delicious curry.
While Western norms might label some of his dietary choices as unhealthy, his exceptional well-being at 95 is a testament to the fact that many different factors contribute to longevity, and balance is perhaps the most important.
In Japan, we have a concept called "ikigai," or "sense of purpose." There is no single precise set of instructions for good health and happiness. The most important thing is to find out what your purpose looks like, and like my grandfather, pursue that path with care, intention and joy.
Mika Cribbs is a content creator and graphic designer from Los Angeles. She currently works at GUESS as a content producer, and has worked in fashion, beauty and entertainment. Beyond the screen, you'll find her trying new foods, traveling, and cherishing moments with family and friends.
https://www.cnbc.com/2023/09/07/95-year-old-cardiologist-shares-rules-for-a-long-healthy-and-happy-life.html