1. SPLV Low Volatility ETF…. Popular ETF Pre-Covid.
SPLV Well Below Highs….Did not protect against Covid volatility….Traded above 20x P/E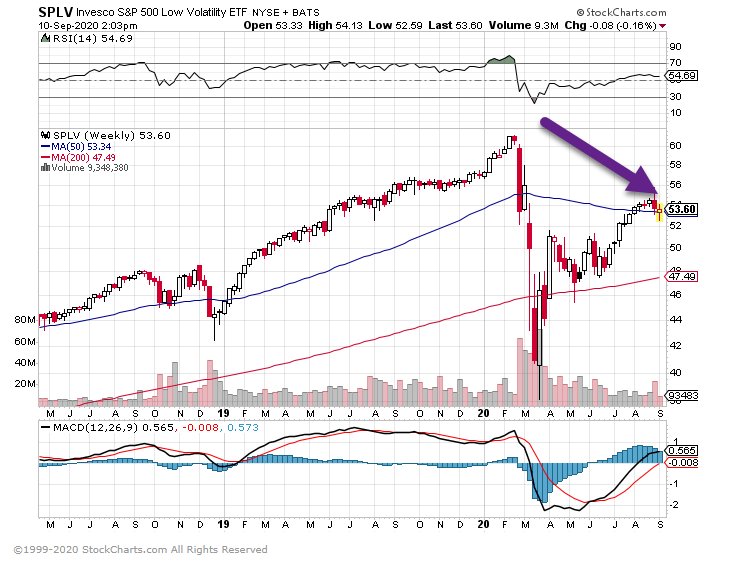 SPLV -12% vs. S&P YTD …Trailed in Covid correction….Popularity of Low Vol drove P/E of ETF to over 20x
2. Another Look at Record 3 Day -10% Correction in Nasdaq
The last three trading sessions (9/3, 9/4, and 9/8) resulted in steep losses for major US equity indices. The S&P 500 Index SPX was down -6.95% while the Dow Jones Index DJIA had a loss of 5.50% during this short period. As tech shares continued to sell off, the tech-heavy Nasdaq Composite NASD was pushed into correction territory as it experienced a decline of -10.03%. In fact, this was the quickest correction for the Nasdaq, where it only took 3 days to move from an all-time high to down 10%. Looking at previous occurrences where the index had fast corrections, forward returns are actually quite strong. While the one-month return, on average, is down -0.24%, 3-month, 6-month, and 12-month returns are generally positive. As shown in the table below, one year after the Nasdaq hit correction territory (on average) the index posted a gain of 26.72%, doing so with 90% of the occurrences having a positive return.

Nasdaq Dorsey Wright
3. TIPS Real (Inflation Adjusted) Yield is Negative.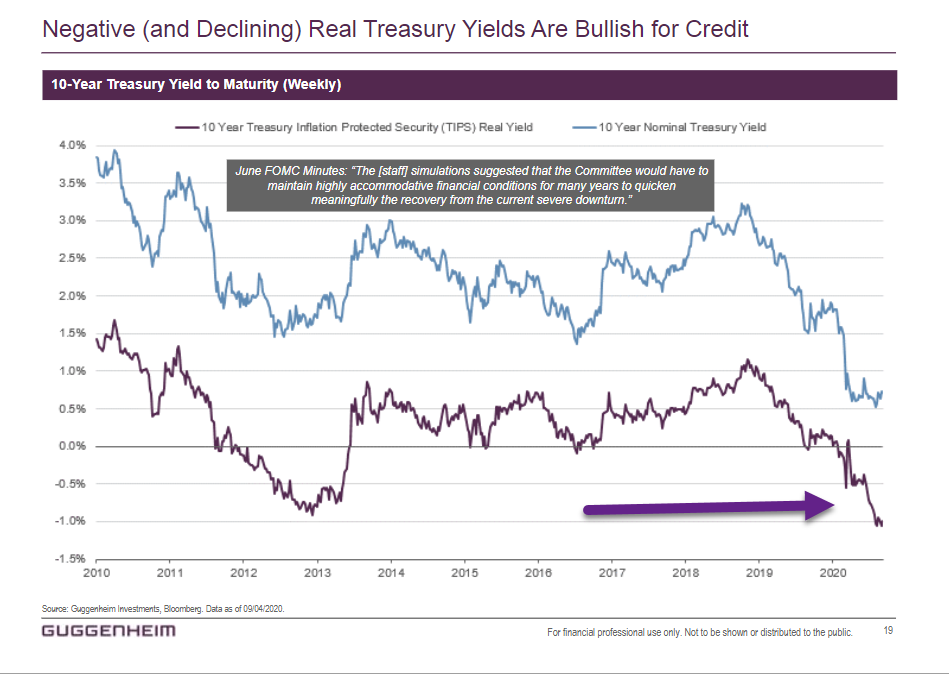 https://www.guggenheiminvestments.com/perspectives
4. Mega-Cap Stocks Have Dominated Leadership….Top 5 Stocks=25% of Index…XLG Top 50 ETF Holding Above 50 Day Moving Average.
XLG-first technical break would be closing below 50day.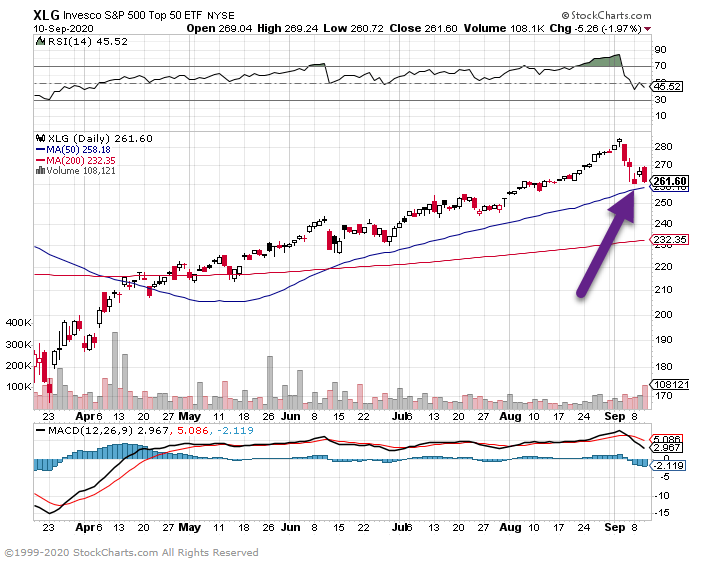 5. Retun Distribution of S&P 500….60% of Stocks Down and 40% Up.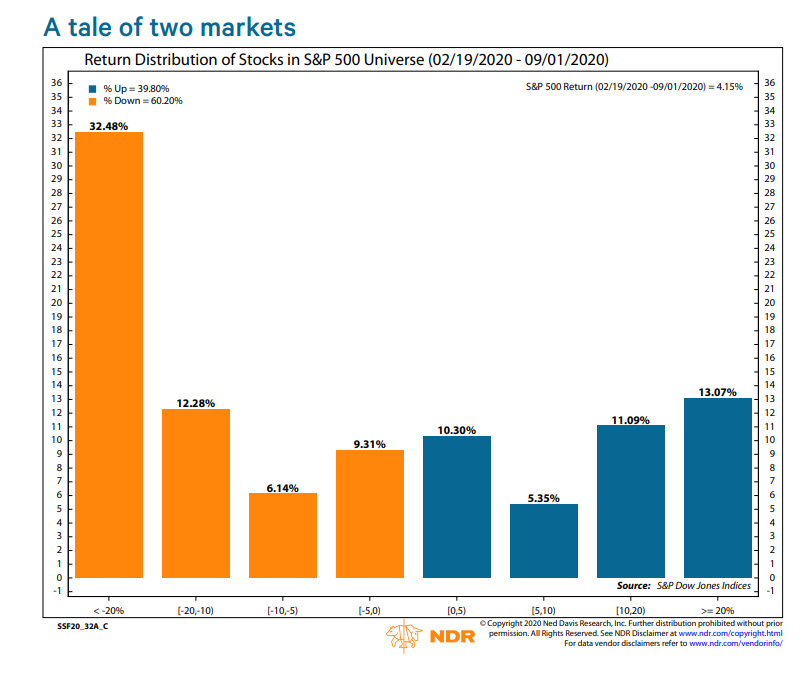 NED DAVIS RESEARCH www.ndr.com
6. 18.4% of Labor Force on Unemployment Insurance.
Unemployment Crisis Going in Wrong Direction: Week 25 of U.S. Labor Market Collapseby Wolf Richter
Continued unemployment claims rise for second week, to 29.6 million, worst since Aug 1, meaning 18.4% of labor force is on unemployment insurance. State & federal initial claims jumped to 1.7 million in the week (not seasonally adjusted).
Total continued claims for unemployment insurance (UI) under all state and federal programs rose by 380,000, to 29.6 million people (not seasonally adjusted), the highest since August 1, according to the Department of Labor this morning. This was the second weekly increase in a row, after the 2.2-million jump last week.
These 29.6 million people who continued to claim UI under all programs translate into 18.4% of the civilian labor force of 161 million: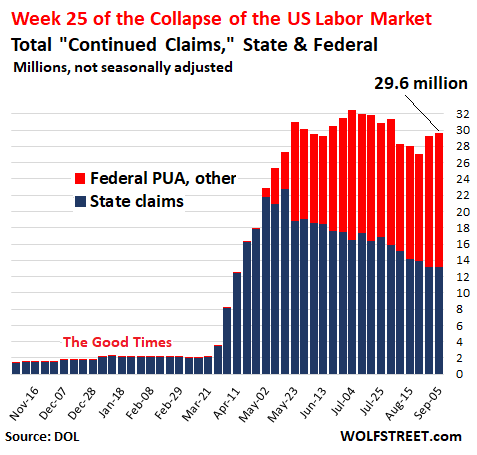 7. Airlines, Unions Running Out of Time to Get More Federal Aid
Statista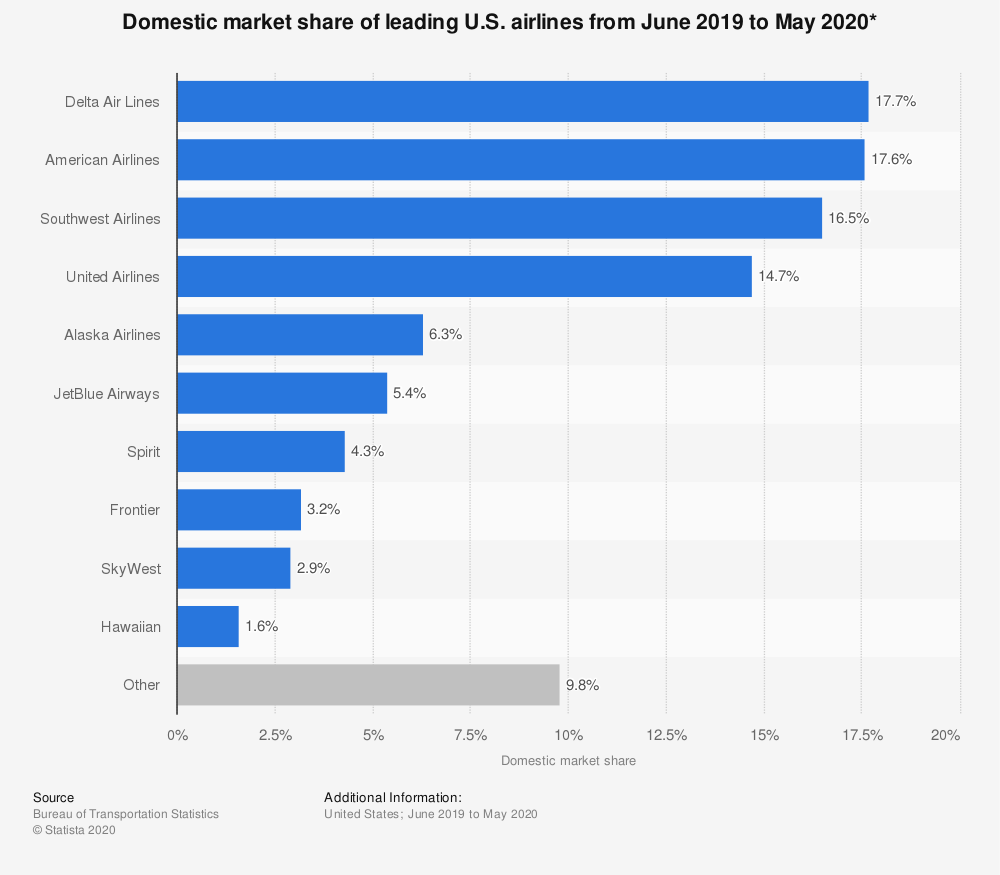 https://www.statista.com/statistics/250577/domestic-market-share-of-leading-us-airlines/
Airlines, Unions Running Out of Time to Get More Federal Aid-Airline workers are making a last-ditch push for $25 billion in federal money to avoid furloughs for six more months.
By Associated Press, Wire Service Content Sept. 10, 2020, at 5:11 p.m.
Airlines, Unions Running Out of Time to Get More Federal Aid
FILE – In this May 24, 2020 file photo, a Southwest Airlines flight attendant prepares a plane bound for Orlando, Fla. for takeoff at Kansas City International airport in Kansas City, Mo. Airline workers are making a last-ditch push for $25 billion in federal money to avoid furloughs for six more months. But critics including some lawmakers say the airlines need to shrink because fewer people are traveling. (AP Photo/Charlie Riedel, File) THE ASSOCIATED PRESS
BY DAVID KOENIG, AP Airlines Writer
A couple hundred flight attendants and pilots rallied this week on Capitol Hill and tweeted at lawmakers, asking them for $25 billion in additional federal funds to prevent airline furloughs next month.
More than half of Congress is on record as supporting the request by airlines and their unions, and President Donald Trump says he wants to help an industry that has been devastated by the pandemic.
Any chance that Washington will give airlines more money soon hinges on Congress and the White House approving a comprehensive coronavirus-relief package — there won't be a plan that only helps airlines.
But the prospects for a big deal suffered a blow Thursday, when Senate Democrats blocked a scaled-back Republican plan. While the GOP bill had no money for transportation, its failure could make major coronavirus relief before the November election less likely.
A sharp drop in travel has left the airlines with tens of thousands more employees than they need to operate the vastly reduced number of flights. This spring, the airlines began receiving $25 billion in federal grants and loans to keep workers on their payrolls for six months. With that money ending Sept. 30, the three biggest U.S. carriers are expected to furlough or lay off about 40,000 workers starting Oct. 1.
Some Republican senators say airlines have been helped enough by taxpayers.
Rick Scott of Florida told airline union members he opposed "bailing out airlines and other large corporations." He added, "It's unfortunate that any airline would furlough thousands of of employees after accepting billions in taxpayer dollars."
Scott's view is shared by Sen. Pat Toomey, R-Pa., who played a role in shaping the airline-related provisions of the first virus-relief package back in March.
"This is a tough, tough situation, and there is no question that the airlines are facing unprecedented challenges," Toomey told The Associated Press. "But there is a real serious policy question we have to ask ourselves, which is for how long are the taxpayers supposed to prop up firms in an industry that clearly has massive overcapacity at this moment?"
An agreement this week between United Airlines and its pilots to avoid furloughs could provide more ammunition to opponents who believe further aid for airlines is unnecessary. The agreement, which still needs final approval, would save nearly 3,000 jobs at United. Pilots at Alaska Airlines, JetBlue and Spirit Airlines have reached similar deals, making unspecified contract concessions to avoid furloughs.
"If labor and management can come together and reach an agreement whereby furloughs are avoided … that's very encouraging," Toomey said.
"The relationship between employees and airlines should be the problem of airlines, not of taxpayers," said Veronique de Rugy, a research fellow at George Mason University and columnist for a libertarian magazine. "Certainly the coronavirus has put airlines in a really difficult position, but that's not the only industry that has suffered dramatically."
De Rugy said more taxpayer money would merely postpone the need for airlines "to furlough workers and adjust to the new situation," in which far fewer people are flying than were a year ago. Over the past two weeks, air travel in the U.S. has been down 66% from the same period last year.
Flight attendants, mechanics, baggage handlers and other airline labor groups have not been able to copy the pilots' success at negotiating no-furlough bargains. Pilots have more leverage because their training and certification requirements make it harder and slower for airlines to recall pilots when travel recovers.
Sara Nelson, president of the Association of Flight Attendants, said United plans to cut 60% of flight attendants through furloughs or voluntary departures. She said that will dismantle a key work group and "is putting the airline in jeopardy of being able to ramp back up when that demand returns" once the virus is contained.
Furloughs require airlines to give laid-off union workers first preference to return to work once the industry is able to rehire. But Nelson said it's cheaper for taxpayers to help keep airline workers on the payroll, with health insurance, than to provide them with unemployment benefits and health care.
"This is a proven jobs program," she said. "It kept people (in jobs) so they were spending back into the economy and they were also paying taxes."
Nelson said the unions still have the support of majorities in the House and Senate, including 16 Senate Republicans. Some, like Sen. John Cornyn, R-Texas, face re-election battles in November in states with thousands of airline workers.
All along, the unions have based their strategy on a belief that Trump and congressional Republicans will want to avoid headlines about large-scale job cuts just a month before the election. They are betting that Democrats and Republicans will break their current stalemate and approve another virus-relief package, that it will include billions more for the airlines, and it will happen before furloughs take effect in three weeks.
"When the two parties want a deal," Nelson said, "it can come together in an hour."
David Koenig can be reached at www.twitter.com/airlinewriter
Copyright 2020 The Associated Press. All rights reserved. This material may not be published, broadcast, rewritten or redistributed.
https://www.usnews.com/news/politics/articles/2020-09-10/airlines-unions-running-out-of-time-to-get-more-federal-aid
8. Mid-July U.S. Airline Employment Up 7,000 from Mid-June
U.S. airlines employed 706,824 workers in the middle of July 2020, 7,101 more than in mid-June 2020 and 46,461 fewer than in March 2020. The July 2020 numbers consist of 597,982 full-time and 108,842 part-time workers.
Regulations require airlines to report employment numbers to the Bureau of Transportation Statistics for employees who worked or received pay for any part of the pay period(s) ending nearest the 15th day of the month.
Total employment (full-time + part-time) by U.S. airlines (passenger + cargo):
July 2019 743,917
June 2020 699,723 (revised)
July 2020 706,824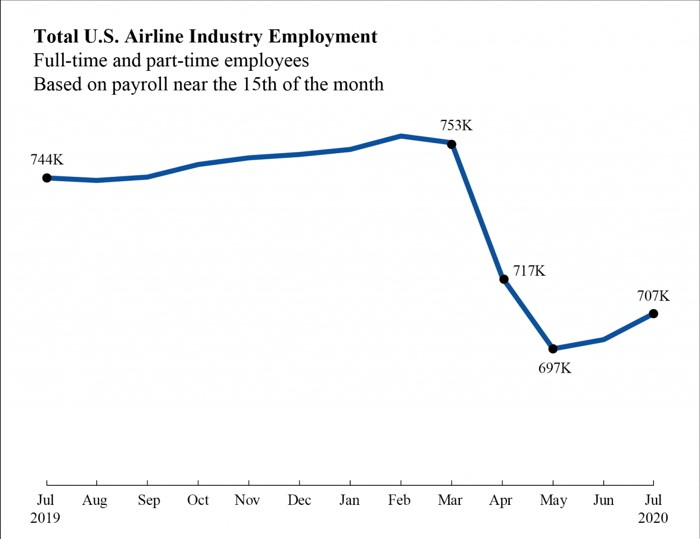 Individual airline numbers are available on the BTS airline employment web page. The web page provides full-time and part-time employment numbers by carrier by month from 1990 through July 2020.
Reports are from all U.S. airlines including scheduled passenger, charter and cargo that meet the reporting standard. Airlines that operate at least one aircraft that has more than 60 seats or the capacity to carry a payload of passengers, cargo and fuel weighing more than 18,000 pounds must report monthly employment statistics.
https://www.travelindustrywire.com/article112421.html
9. Five things you need to know about the new NFL season
By Weston Blasi
Multiple NFL teams have opted to have fans at games for the 2020 season
Patrick Mahomes of the Kansas City Chiefs celebrates after defeating the San Francisco 49ers 31-20 in Super Bowl LIV in Miami.
ANDY LYONS/GETTY IMAGES
The NFL begins its season Thursday night with a heavyweight matchup between the Super Bowl champion Kansas City Chiefs and the Houston Texans. The league plans on playing its normal schedule this season, despite the prevalence of the coronavirus pandemic in much of the U.S.
Here are five things to know about the start of the NFL season:
1. Coronavirus protocols have been a home run so far
Even though home run is a baseball term, it's apropos here.
Since NFL training camps began in July, players and team personnel were tested for the coronavirus multiple times per week. From August 30 to September 5, 44,510 tests were administered, leading to one new confirmed positive test among players and seven confirmed positives among team personnel.
That's a positive test rate of 0.017 percent, far below the average in the United States, which hovers around five percent, according to Johns Hopkins University
Players and personnel have been wearing masks indoors at all times during training camp. The league has also lowered the number of players that teams can invite to camp.
In addition to testing, all NFL team facilities have adopted daily symptom screenings and temperature checks for everyone who enters and exits. The league has hired a third-party contact tracing company, IQVIA, to help stop the spread of the virus among those who do test positive, according to ESPN.
Brian McCarthy, vice president of communications for the NFL, told MarketWatch that the league is "prepared to make adjustments as necessary" to its coronavirus protocols.
2. There will be no "bubble"
Multiple sports leagues including the NBA, MLS and WNBA have been playing games in a "bubble" during the coronavirus pandemic. This bubble, located at the ESPN Wide World of Sports Complex at the Disney resort in Florida, has been an effective location for those leagues during the pandemic. The NFL has opted against using a bubble system for this season.
Teams will host games, as scheduled, at their home stadiums.
Dr. Allen Sills, chief medical officer of the NFL, told the NFL Network that the league had no interest in creating a bubble.
"We do not feel it's practical or appropriate to construct a bubble," Sills told Tom Pelissero. "Anyone who tests positive will be isolated until medically appropriate to return."
In an interview with CNN in June, Dr. Anthony Fauci, the director of the National Institute of Allergy and Infectious Diseases, said he thought the NFL should create a bubble
"Unless players are essentially in a bubble — insulated from the community and they are tested nearly every day — it would be very hard to see how football is able to be played this fall. If there is a second wave, which is certainly a possibility and which would be complicated by the predictable flu season, football may not happen this year," he said at the time.
Major League Baseball also opted to not construct a bubble, and has had mixed results. Over 40 baseball games have been postponed so far this season because people from one of the organizations tested positive for COVID-19.
3. There will be (some) fans at games
Six of the 32 NFL teams have said there will be at least some fans at their games for the 2020 season. Many other teams have stated they will begin the season with empty stadiums, but are not ruling out a midseason change.
The teams that will have fans at games this year are the Cleveland Browns, Dallas Cowboys, Indianapolis Colts, Jacksonville Jaguars, Kansas City Chiefs, and the Miami Dolphins, according to the Sporting News. Of the teams hosting fans, no team will fill its stadium more than 25% capacity. Some teams that will not host fans will have cardboard cutouts in some of its stadium seating, similar to how the MLB has done in 2020.
Teams will be allowed to pump in artificial crowd noise during games, according to NFL executive vice president Troy Vincent. The NBA, which doesn't allow any fans at its games during the pandemic, has also done this.
Is it an unfair advantage for some teams to have fans and other teams to have empty stadiums? NFL Commissioner Roger Goodell doesn't think so.
"We do not believe it's a competitive advantage," Goodell said last week. "We discussed it very early on with our Competition Committee and with our clubs. We do not see that."
4. Gameday rule changes
As stated above, players and team personnel are required to wear masks inside facilities and while traveling to and from games.
During games, there is a mask mandate, regardless if the stadium is an outdoor or indoor arena. The mandate, however, applies to coaches and staff only, not players.
The NFL has made a "strong recommendation," but not a mandate, that players wear masks while on the sidelines during games, according to ESPN. The recommendation applies only to players who are not currently in the game.
Due to local regulations, players on the sidelines during games played at the San Francisco 49ers' Levi's Stadium and Bills' Stadium in Buffalo must wear face coverings.
For the players on the field, the league created a helmet with an added face shield covering, but those helmets are voluntary to wear.
The face shields have failed to gain traction among players. On two teams, the Los Angeles Rams and the Los Angeles Chargers, no players have been using the face shields.
The NFL has made many granular changes for the upcoming season too, even making alterations to the coin toss and postgame pleasantries.
The ritual pregame coin toss, which usually features several players from each team standing in the middle of the field, will now be conducted by one player from each team. The NFL has outlawed postgame interactions among players and coaches? that don't adhere to six-feet of social distancing, which include handshaking and the popular jersey swap among players, according to NFL Media's Tom Pelissero.
5. What's been canceled
While the NFL intends to play its full schedule of games, there have been some cancelations. All of the NFL's preseason games have been canceled and so have the league's international games. This season, several games were set to be played in London and Mexico City, but those games will now be played in the U.S.
The NFL also canceled its in-person draft in April, opting for an all-digital product. In-person minicamps were canceled in favor of online variants, and staff at team facilities were cut to essential personnel only over the summer.
Also, 67 NFL players have opted out of the NFL season due to coronavirus concerns.
https://www.marketwatch.com/story/5-things-you-need-to-know-about-the-new-nfl-season-11599762752?mod=home-page
10. Eleven Science-Backed Ways to Become a Morning Person
By SUCCESS Staff | December 19, 2016 | 0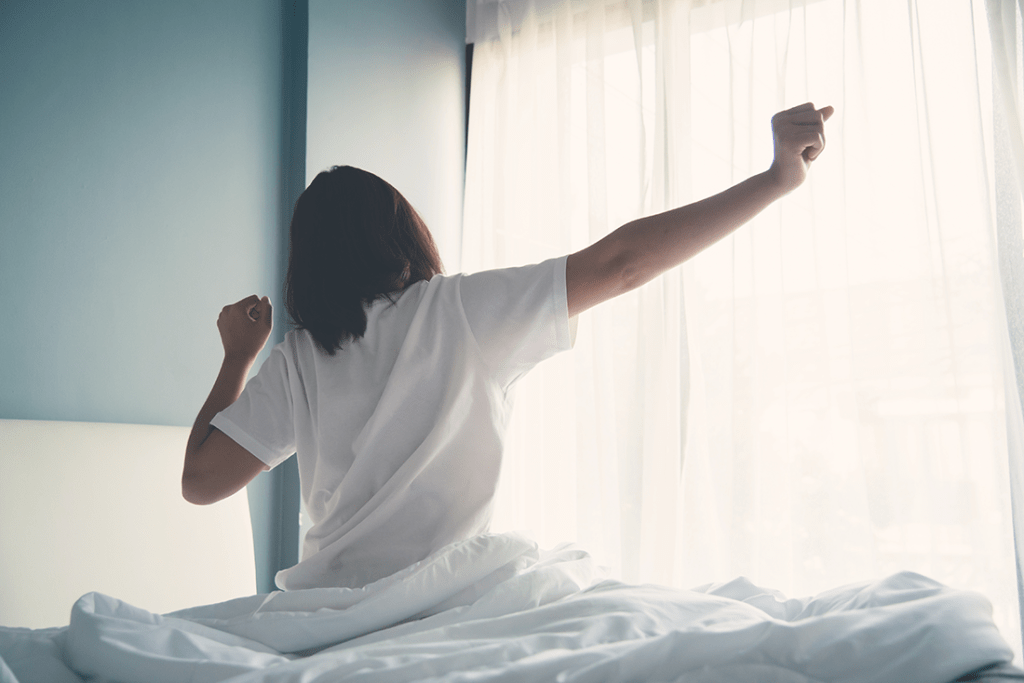 If the first meaningful interaction you have each morning is with your snooze button, you probably don't consider yourself a morning person. But whether you're a morning person has just as much to do with how you face the mornings as it does with your default genetic settings. Science has shown that 50 percent of us can make the switch from a night owl to morning lark with a few techniques. And if that thought still has you reaching for your snooze button, consider this: Morning people are happier, more productive and better at solving problems than those who rise later in the day.
Related: The New Secrets of Perfect Sleep
So what can you do to make the switch? For a start, it's time to ditch that snooze button. Studies suggest that the broken sleep pattern that comes with repeatedly nodding off for "another five minutes" in the morning can disrupt your natural cycles for the rest of the day. It's like you keep hitting restart on your computer before it has a chance to finish booting up.
The below infographic explores several science-backed techniques to get you out of bed, while also looking into the benefits of doing so. For example, try using some natural methods to get with the flow of your circadian rhythm. If the sun rises at a reasonable hour where you are, sleep with the curtains open to be naturally, gradually woken up. And be sure to get plenty of sunlight throughout the day to keep your body in tune with the environment. If the sun isn't so well-tuned to your work schedule, think about getting a dawn simulator instead. It can help improve your alertness in those first dreadful moments of consciousness.
Related: How I Became a Morning Person (and How You Can, Too)
Read more tips below, see what works for you, and soon you'll be rising with the birds.

SOURCE: CASHNETUSA.COM
Disclosure
Lansing Street Advisors is a registered investment adviser with the State of Pennsylvania..
To the extent that content includes references to securities, those references do not constitute an offer or solicitation to buy, sell or hold such security as information is provided for educational purposes only. Articles should not be considered investment advice and the information contain within should not be relied upon in assessing whether or not to invest in any securities or asset classes mentioned. Articles have been prepared without regard to the individual financial circumstances and objectives of persons who receive it. Securities discussed may not be suitable for all investors. Please keep in mind that a company's past financial performance, including the performance of its share price, does not guarantee future results.
Material compiled by Lansing Street Advisors is based on publicly available data at the time of compilation. Lansing Street Advisors makes no warranties or representation of any kind relating to the accuracy, completeness or timeliness of the data and shall not have liability for any damages of any kind relating to the use such data.
Material for market review represents an assessment of the market environment at a specific point in time and is not intended to be a forecast of future events, or a guarantee of future results.
Indices that may be included herein are unmanaged indices and one cannot directly invest in an index. Index returns do not reflect the impact of any management fees, transaction costs or expenses. The index information included herein is for illustrative purposes only.